As small-bore smokeless powder cartridges began appearing in the late nineteenth century designed specifically for lever-action rifles, the popularity of the proven big-bore black-powder levergun cartridges began to decline. When the Great Depression became especially severe in the 1930s, business economics mandated discontinuing all big-bore leverguns such as the Winchester Model 86 (aka 1886).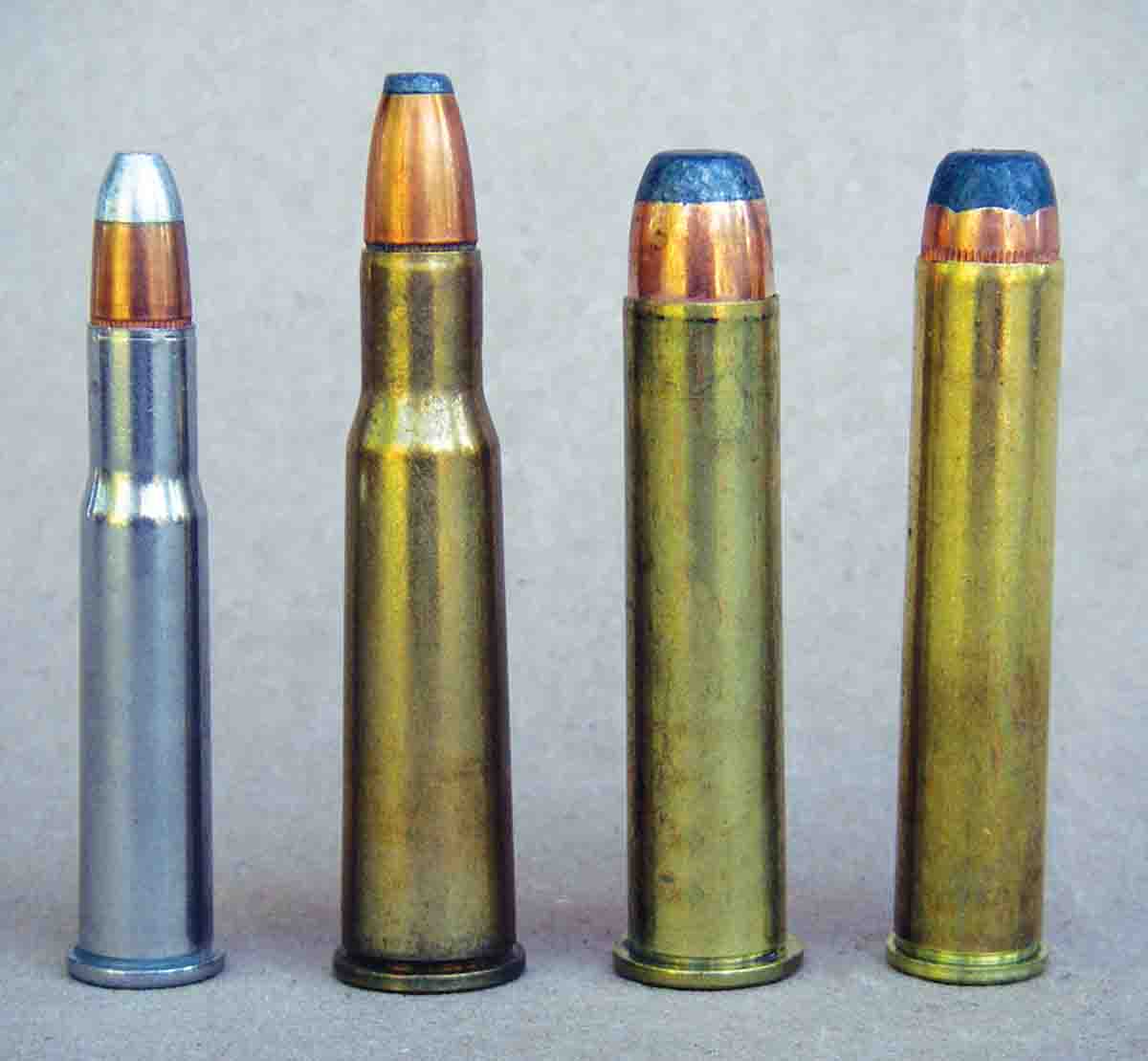 However, in 1935 Winchester announced the Model 71, essentially a modified Model 1886 action but chambered for the modern smokeless .348 Winchester cartridge. While this gun and cartridge were widely respected among brush and timber hunters and proved effective on heavy game including moose, large bears etc., rifles and ammunition were expensive to manufacture, and it was ultimately discontinued in 1958. This left a huge void, as there were no big-bore leverguns offered that were really suitable for larger game.
In response to consumer requests, Marlin formally announced the Model 444 lever-action rifle in 1964, with production beginning in 1965. It was chambered for a completely new cartridge known as the .444 Marlin. Marlin and Remington jointly created the new round, which was advertised to launch a 240-grain JSP .44-caliber bullet measuring .429 to .430 inch in diameter at 2,400 fps from a 24-inch barrel, making it the most powerful lever-action cartridge available. The case is straight tapered and not an elongated .44 Magnum case, as has been stated in various publications. Rather, it is based on the .30-06 Springfield case with a rim added to accommodate feeding and extraction in lever actions. Industry pressure guidelines were established at 44,000 CUP but have now been updated to 42,000 psi using piezoelectric pressure measurement methods.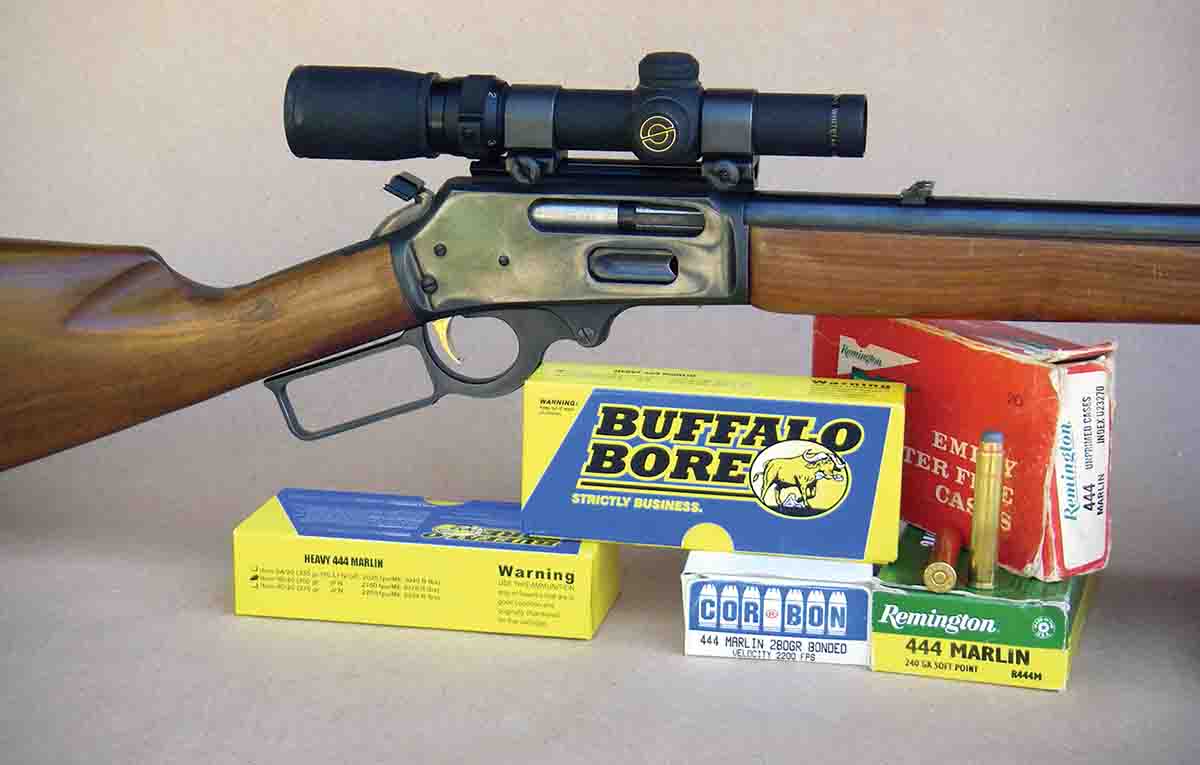 The .444 became reasonably popular, but the 240-grain JSP bullet that Remington utilized in factory loads is the same one used in its .44 Magnum revolver ammunition. While this bullet can be effective on deer, when pushed to 2,400 fps its relatively thin jacket and construction results in rather poor penetration. To address that problem, in 1967 Hornady introduced its 265-grain InterLock FP bullet designed specifically for the cartridge, and it was a notable improvement.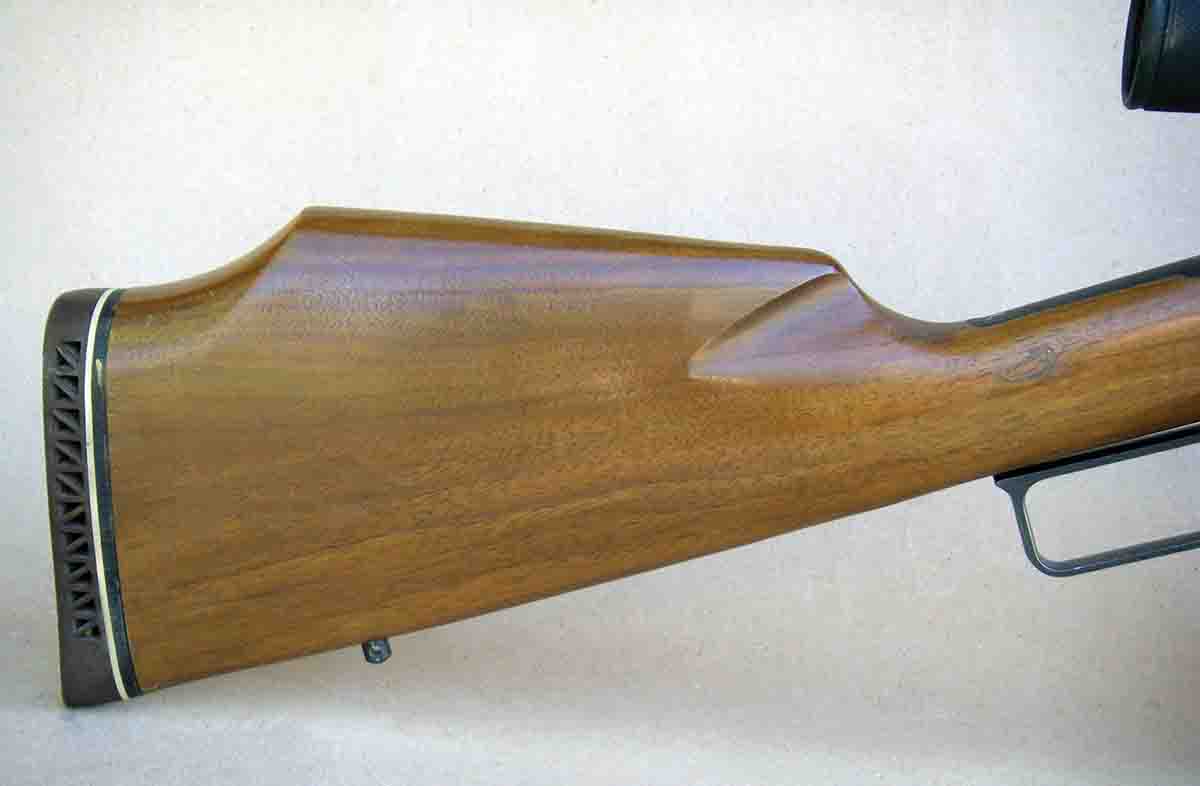 The Model 444 is based on the 336 action which is the same size used to house the .30-30 Winchester cartridge; however, it has been internally modified to accommodate the larger .444 cartridge. It features Marlin's solid top receiver with side ejection and is drilled and tapped for scope mounting or can accommodate top- or side-mounted aperture sights. By design, it is especially strong but also serves to keep dirt, moisture and debris out. The receiver is constructed of top-grade, heat-treated, solid steel (hot) forgings by a manufacturing process that pounds and roughly shapes the part, compressing it to rearrange the grain structure that results in outstanding strength. The lever, hammer, carrier, trigger guard plate and locking bolt are also constructed of hot-forged, heat-treated steels, which has been a standard process used to produce Marlin rifles since the company's earliest beginnings. This is significant because during the 1960s competing companies had already taken manufacturing shortcuts in an effort to reduce manufacturing costs, though Marlin continued to make high-quality products.
The Model 444 also features a special alloyed steel round bolt (rather than rectangular or flat) that is chrome plated. This design was originally developed and first offered in 1948 with the Model 336 to improve feeding, assure smooth functioning and increase strength. It also features the "Marlin Safety" firing pin system that effectively prevents firing if the breech bolt is not in full engagement when the trigger is pulled. The coil mainspring and trigger springs are almost unbreakable.

The Model 444 was initially introduced in a rather nontraditional configuration that featured a 24-inch barrel, dual barrel bands, a two-thirds-length magazine with a four-plus-one-round capacity and a straight-finger lever. The American black walnut stock featured a high comb designed specifically to position the shooter's eye for a telescopic sight while maintaining a proper cheek weld. Open iron sights were also standard, along with a ventilated rubber recoil pad. Suggested retail price from 1965 through 1968, about the time Dave Wolfe began publishing Rifle magazine, was a whopping $124.95.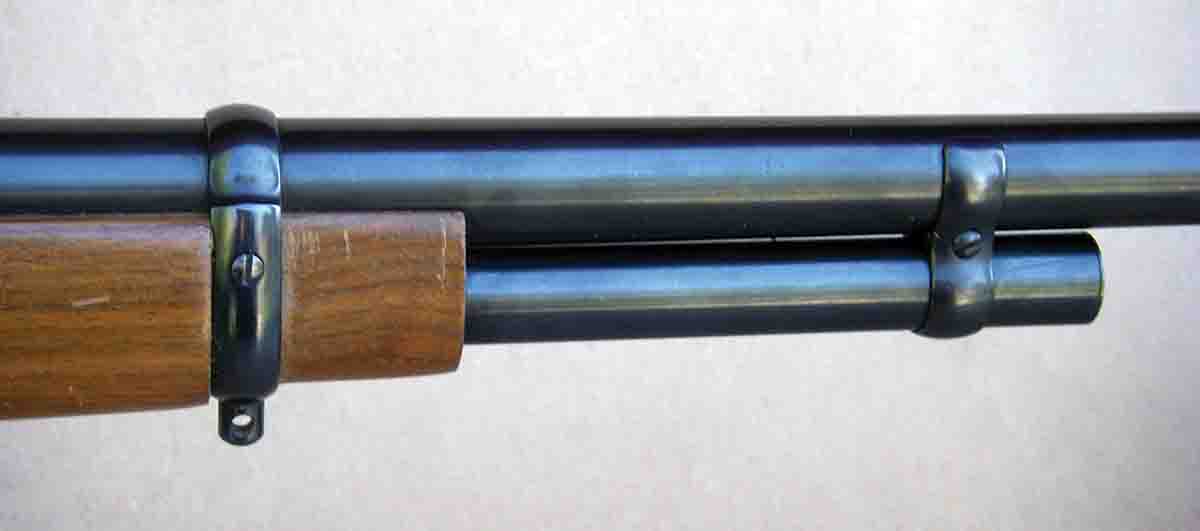 In 1953 Marlin introduced Micro-Groove rifling, which was produced by pulling a preformed, hardened tungsten carbide swedge through the barrel. In Marlin form, the rifling features at least 10 lands and grooves with comparatively shallow rifling. Although some traditionalists were slow to accept the new rifling, Marlin obtained patent No. 3,100,358 (credited to Thomas R. Robinson, Jr.) and extensively tested the rifling prior to offering it in production rifles. The company listed advantages including uniformity in rifling shape, improved groove and bore finishes, increased tool life, dimensional uniformity and reduced machining time. Its tests also indicated the new rifling reduced chamber pressures, produced higher velocities and was easier to clean. Technical engineers pointed out that the comparatively shallow lands and grooves engraved the bullet less and resulted in less deformation while firmly holding the bullet for proper stabilization. Internal tests indicated that there was a 20 percent increase in accuracy. By 1957 Marlin began offering Micro-Groove as its standard rifling on all rifles. (However, by 1972 Ballard rifling appeared briefly, then again in the 1990s on various Cowboy models.)
The 1965 Model 444 rifle used here features Micro-Groove rifling with 12 lands and grooves; however, it is modified and deeper than previous Micro-Groove barrels found on rifles chambered for other calibers. While this rifling is occasionally controversial, I have experienced good results with it using both cast and jacketed bullets, which is a future subject worthy of additional discussion. Suffice to say that many rifles (in several calibers) have yielded groups of 1 to 1.5 inches, proving the accuracy potential of the Micro-Groove rifling.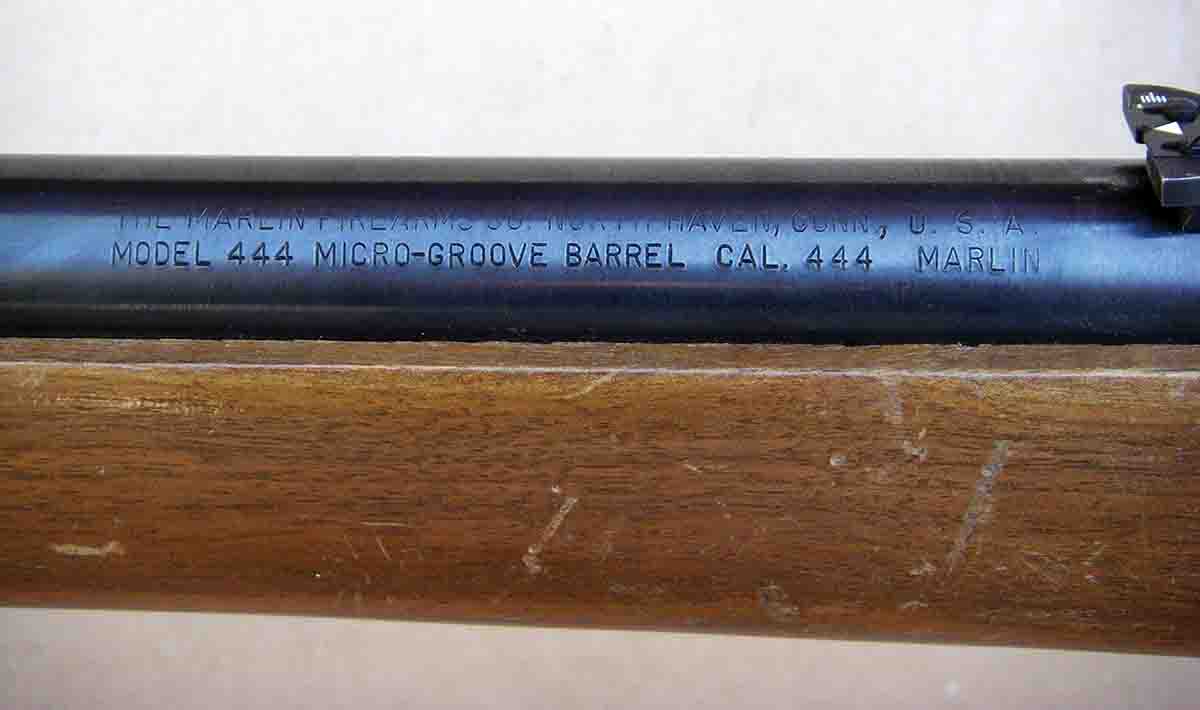 The .444 Marlin has a 1:38 rifling twist and has produced respectable accuracy with the original 240-grain factory loads. As heavier bullet weights became available, typically weighing 300 to 335 grains, they changed the potential of the cartridge for use on large and dangerous game. However, concerns that the relatively slow-twist barrels could not possibly provide adequate bullet stabilization have been expressed. In testing heavyweight bullets in several rifles, as well as gathering reports from other shooters and two ballistics labs, accuracy can be good, with groups often hovering around 1.5 inches. It is noteworthy that the best accuracy is usually obtained with loads that reach velocities of 2,000 fps or higher.
Using vintage Remington 240- grain JSP factory ammunition, velocities from the Model 444 reached 2,355 fps while modern Remington loads reached 2,265 fps. Most 100-yard, four-shot groups measured between 1.5 to 2 inches, which is plenty accurate for taking game with this rifle and cartridge.
Switching to modern ammunition, Hornady's 265-grain Inter-Lock FP Superformance load reached a muzzle velocity of 2,339 fps, with the tightest groups measuring 1.25 inches. Buffalo Bore 270-grain JFN loads reached 2,179 fps and produced similar groups ranging from 1.125 to 1.75 inches.
Two handloads were also tried that included a 265-grain Hornady InterLock FP bullet loaded over 54.0 grains of Hodgdon H-322 powder in Hornady cases with CCI BR-2 primers for 2,238 fps. Performance was similar to factory loads with groups clustering around 1.25 to 1.5 inches. Moving up to the Speer 300-grain PSP bullet, 51.0 grains of Accurate 2200 powder reached 2,166 fps, and several three-shot groups stayed within 1.25 to 1.5 inches; however, the fourth round repeatedly opened groups up to 2 inches. Nonetheless, all loads produced adequate accuracy for any big game that may be hunted with the .444.
In spite of Marlin introducing the Model 1895 chambered in .45-70 Government in 1972, as well as the .450 Marlin in 2000; the .444 Marlin continues to be popular among big-bore levergun shooters and hunters. When stoked with bullets designed specifically for heavy game, it is capable of taking all game in North America and most African species.
.444 Marlin Update
By 1971 the original Model 444 was replaced with the 444S that was fitted with a 22-inch barrel and curved pistol grip, and the high comb stock and two barrel bands were eliminated, generally improving accuracy. Additional models have included the 444SS (the same model but with cross-bolt safety), 444XLR (stainless steel with laminate stock) and the 444P Outfitter with an 18.5-inch ported barrel, straight grip and Ballard-style rifling.
During the 1990s I met with several Marlin officials regarding items that could improve the company's product line. Included in that discussion was increasing the rifling twist rate on the Model 444 to 1:20, which first appeared with the 444P Outfitter in 1999. This would serve to increase accuracy and bullet stabilization at all velocities and would potentially aid in bullet penetration on heavier game. Due to Marlin's move to Ilion, New York, in 2010, the Model 444SS has been out of production for the past eight years, but the company has retooled and is again producing the Model 444SS with a 1:20 Ballard-style rifling. Recent testing of a sample rifle proved that select loads with jacketed and cast bullets from 240 to 335 grains were capable of MOA accuracy. With improved bullets from Barnes, Cutting Edge, Hornady, Speer and Swift, many of which are available in factory loads from Hornady, Buffalo Bore and others, the .444 Marlin is far more potent and versatile than ever.