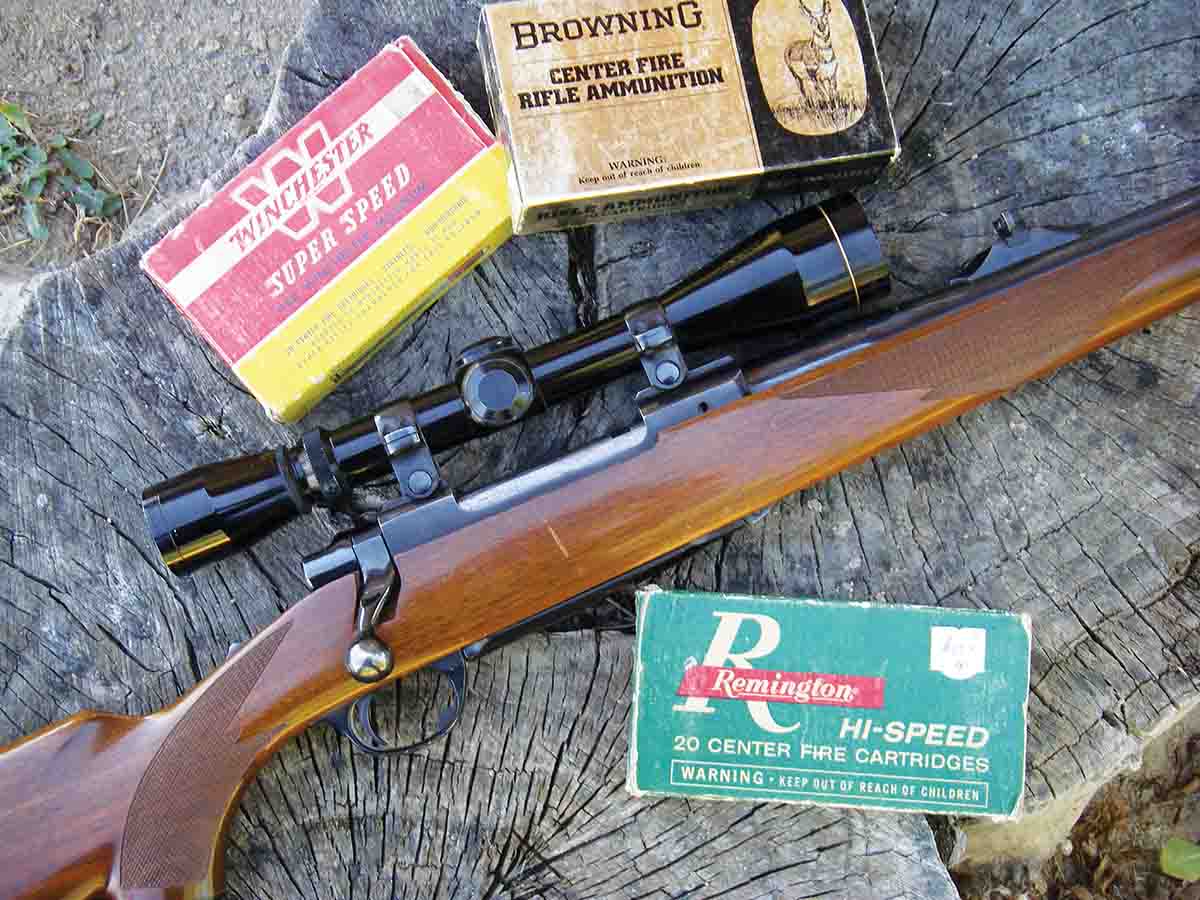 After years of engineering, testing and obtaining patents, the Ruger M77 was formally announced in 1968. Although its action is based on the revered Mauser '98 design, there were several significant differences and distinct improvements, but other changes were controversial. The rifle showed up in an era when many competing rifles were gussied up with high-gloss finishes, contrasting forend caps and Monte Carlo stocks. However, the Ruger bolt action was conservative and usually featured a straight-grained, American walnut stock in classic configuration with a simple, yet attractive checkering pattern. Its design and appearance were refreshing to many riflemen as the initial production run quickly sold out, and over the next 22 years more than 1,000,000 rifles were produced, which is impressive by any standard.
This story really began when Jim Sullivan joined Sturm, Ruger & Co. in 1965 by personal invitation from Bill Ruger. Sullivan had worked for Gene Stoner at Armalite and played a major role in the development of the M16 rifle and other firearm designs. He arrived at Ruger in time to help with the final engineering touches to the No. 1 rifle, but his first real assignment was to develop a bolt-action rifle to compete directly with the Winchester Model 70 and Remington Model 700, with the two 7s of those models eventually becoming "77" in the M77 nomenclature.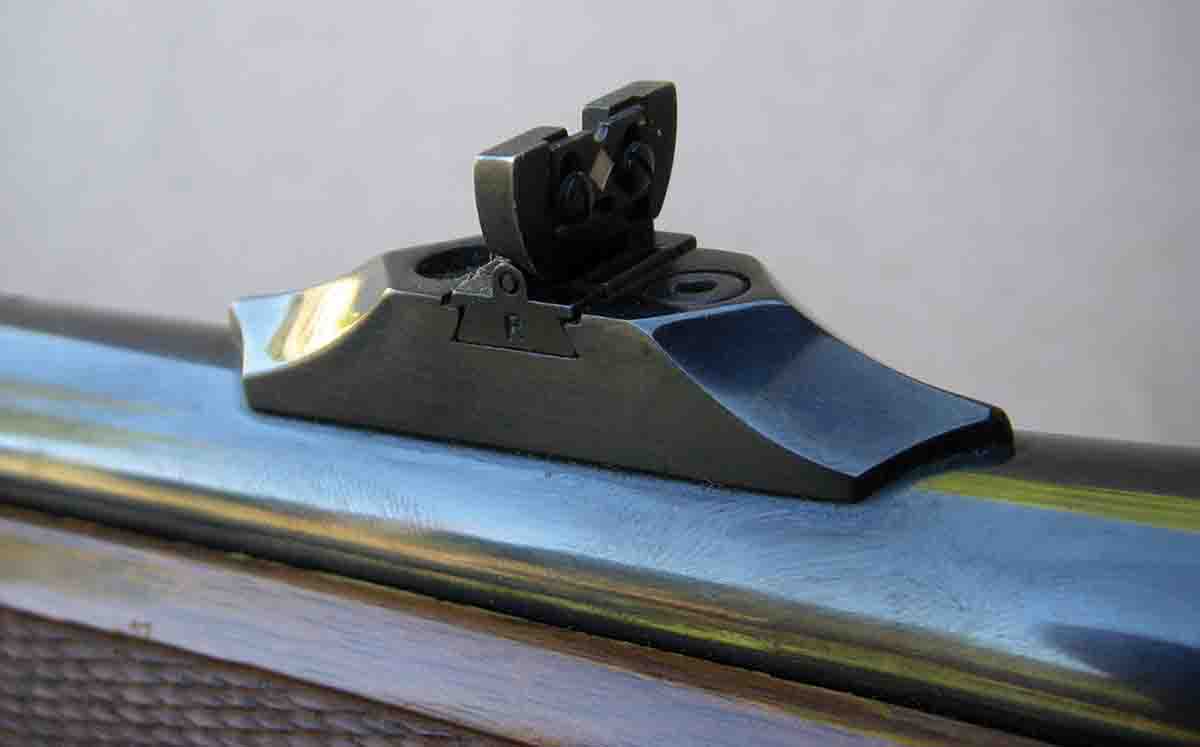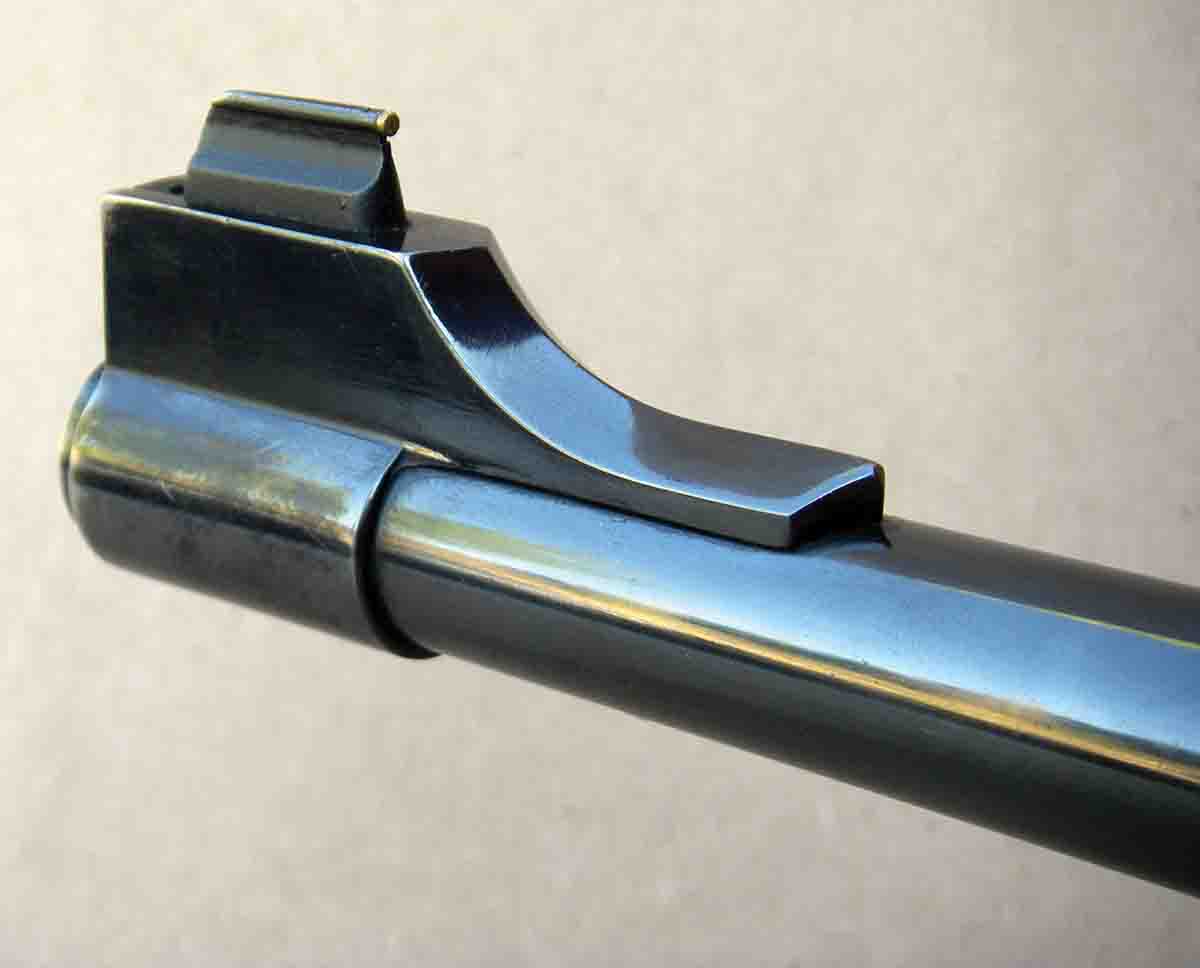 Ruger outlined his ideas of what the new rifle should be and had continual influence in its design features throughout its research and development period. However, Sullivan is generally credited for being the actual designer. Ruger had great admiration and respect for the Mauser '98 action, which is reliable, durable and tough as nails. He also requested that the M77 be closely patterned after that design with forward twin locking lugs, a 90-degree bolt lift, etc. He also wanted a shotgun-style tang safety that locked the bolt when in the "on" position, which was changed on later production rifles to allow the bolt to be lifted with the safety in the "on" position for improved safety. Also requested were a hinged floorplate and a flange to the left side of the bolt sleeve to protect shooters from gases in the unlikely event of a ruptured case. Ruger also came up with the idea for a slanted front guard screw designed to pull the action down and to the rear when tightened.
Sullivan's experiments during the development of the M77 are revealing. For example, from the beginning it was planned to be manufactured using investment castings for the receiver and bolt. Industry "experts" warned that a cast bolt would not last and that it must be machined from solid bar stock steel. However, testing revealed that bolts machined from bar stock featured a lengthwise grain structure that set them up with a natural fracture point when put under extreme stress, whereas cast bolts feature a rearranged grain structure that proved much stronger. Tests were conducted on M77 bolts as well as major competing rifles using a Tinnius-Olsen dynometer with a hydraulic ram, which recorded the pressure required to shear off the locking lugs. Remarkably, the cast Ruger bolt proved strongest of all.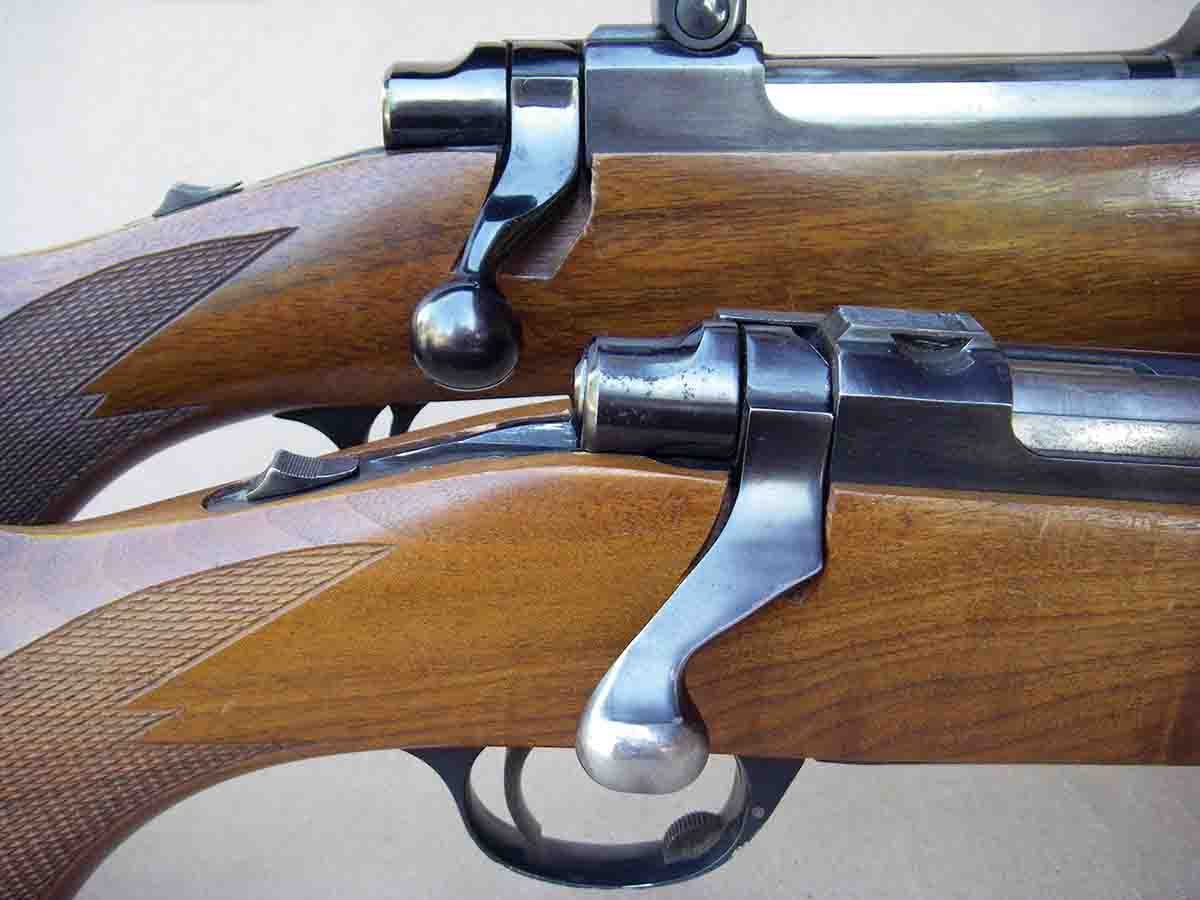 The bolt is a one-piece design (for greater strength) with an integrated bolt handle that results in it being nearly impossible to break off, and it also serves as a third locking lug. Early M77s were fitted with a flat bolt handle at the request of Mr. Ruger and had a unique swept S-shape that was soon changed to a more conventional design with a round bolt handle.
A bolt guide (anti-bind lug) was dovetailed into the bolt, but that was soon changed to be machined as a part of the bolt body that, along with other design features, resulted in smooth operation. The bolt stop is similar in shape and size to the Mauser '98, but it is simpler, strong and features a unique buffer that serves to absorb shock.
Similar to the Mauser '98, the M77 features a full-length, non-rotating claw extractor. The bolt is fitted with a plunger ejector, however, and the bolt face is countersunk with approximately half the circle measuring around .120-inch deep and the other half .030-inch deep. This is a rather unique arrangement as it is not a controlled-round feed system. Rather, as the cartridge is stripped from the magazine, it stays in front of the extractor until it is chambered, at which point the beveled extractor snaps over the cartridge rim when the bolt closes. After firing and extracting the case, the plunger ejector kicks the case out the ejection port as soon as the case mouth clears the receiver ring.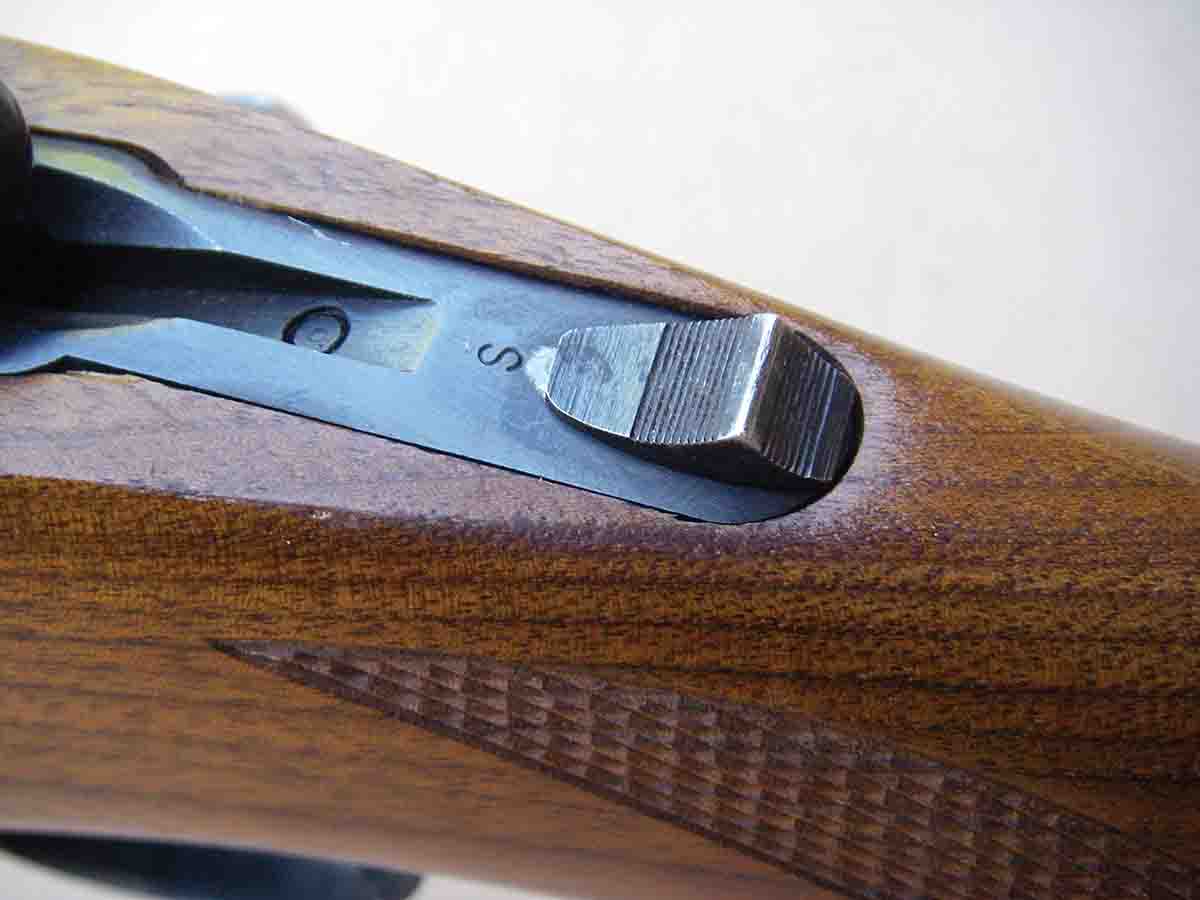 Ruger's remarkable casting technology results in the receiver weighing a mere 20 ounces in billet form, which only requires around 3.7 ounces of steel to be machined off to reach its final form. This is just a fraction of the machine time (or expense) that is required by competitors to bring their actions to final form (not to ignore considerably less wasted steel). This manufacturing process substantially reduces production costs and allows Ruger to offer rifles at an attractive price.
The Ruger receiver has a rather distinguished shape. For example, the sides are flat, as is the bottom. The resulting profile is attractive to many people, this writer included, but it should be pointed out that this is more of a personal taste. Steel is AISI 4140 heat-treated chrome-moly.
While space will not permit a detailed discussion, the M77 features a gas arrest and deflection system that receives high marks for shooter protection. The one-piece firing pin is robust, has a mass of 1.784 ounces and is encompassed in a coil mainspring that results in a lock time of 3.5 milliseconds. The floorplate is hinged, and the release is located inside the trigger guard. While this locking system was okay, it had a tendency to be rather loose, and in rough conditions the aluminum trigger guard could be broken. The simple trigger was adjustable for pull and after-travel.
The recoil lug is rather conservative in size and is often criticized. Some shooters feel that it fails to adequately secure the action in the stock while others are quick to point out that it prevents popular aluminum pillar bedding that normally surrounds the guard screws. My two cents worth is that the recoil lug is fully adequate when firing standard-caliber cartridges. However, I personally glass bed the lug area when firing heavy-recoiling magnum calibers. The walnut used by Ruger is rather soft and prone to splitting with heavier recoiling rounds, and the glass bedding serves primarily as a preventive measure. It is true that the flat-bottom receiver combined with the 62-degree angle guard screw that mounts directly into the recoil lug is not a common or popular choice among precision rifle builders, but in sporter-weight field rifles it can produce excellent accuracy.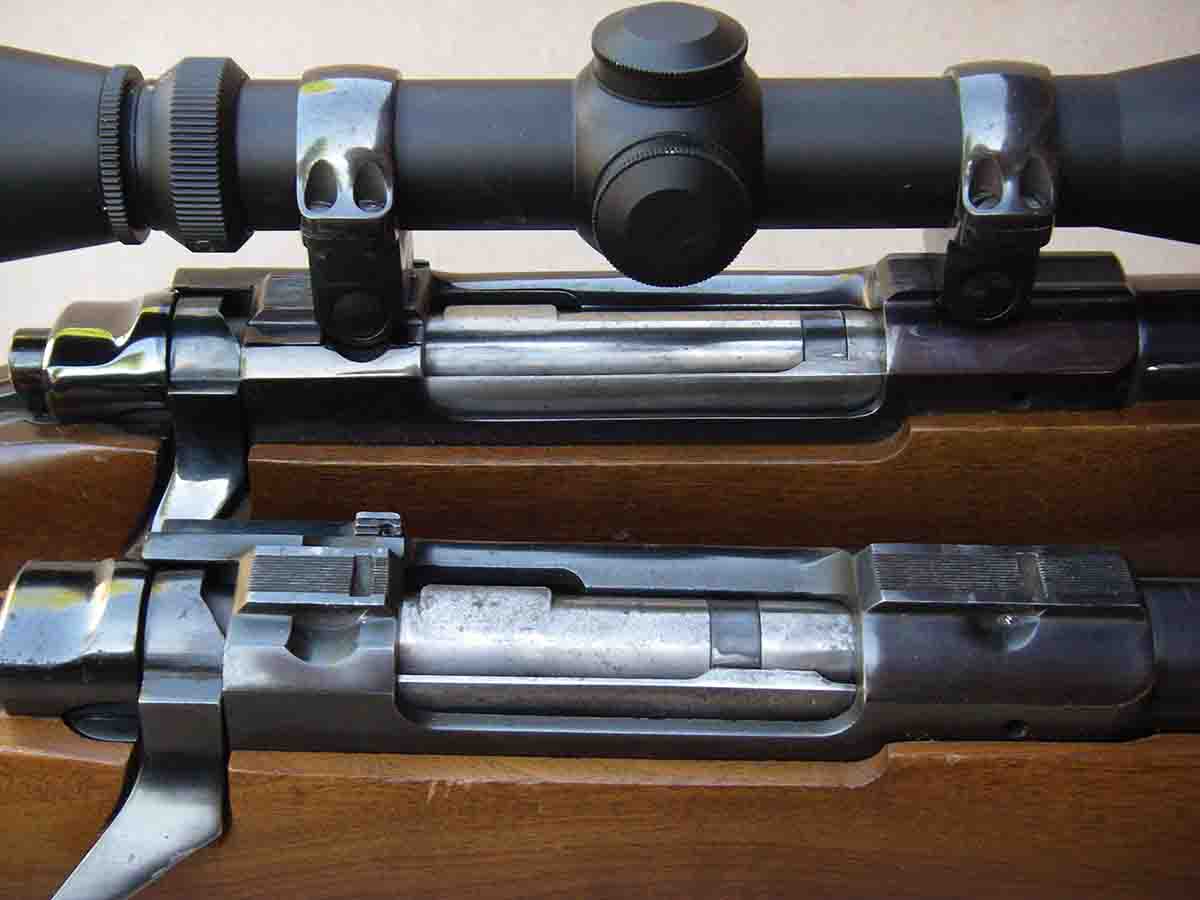 Many Ruger M77s (of all three generations and in many calibers) are in my personal hunting rifle collection. When fitted with a quality barrel and bedded correctly (including free floating, partially bedded or full-length bedded), many of these rifles are capable of almost unbelievable accuracy, with many chambered in so-called "deer" cartridges producing 100-yard groups under .5 inch with carefully tailored handloads.
Though early production rifles were fitted with a drilled and tapped round-top receiver that accepted traditional bases and rings (M77ST and M77PL), almost immediately the integral Ruger rings that attach directly to the receiver were offered as standard, with the "R" in 77R indicating factory rings included at no extra cost. The Ruger mounting system has several advantages, including that there is no base to install, and neither can it work loose from recoil. The rings are available in different heights and allow proper mounting for virtually all common scopes. Constructed of solid steel with four attaching screws per ring, they are very strong. If different rings are desired, Leupold, Warne, Redfield, Burris, Millet and Barska offer versions, and Weigand and Burris offer bases that clamp directly to the receiver to permit the use of cross-slot Weaver-style rings.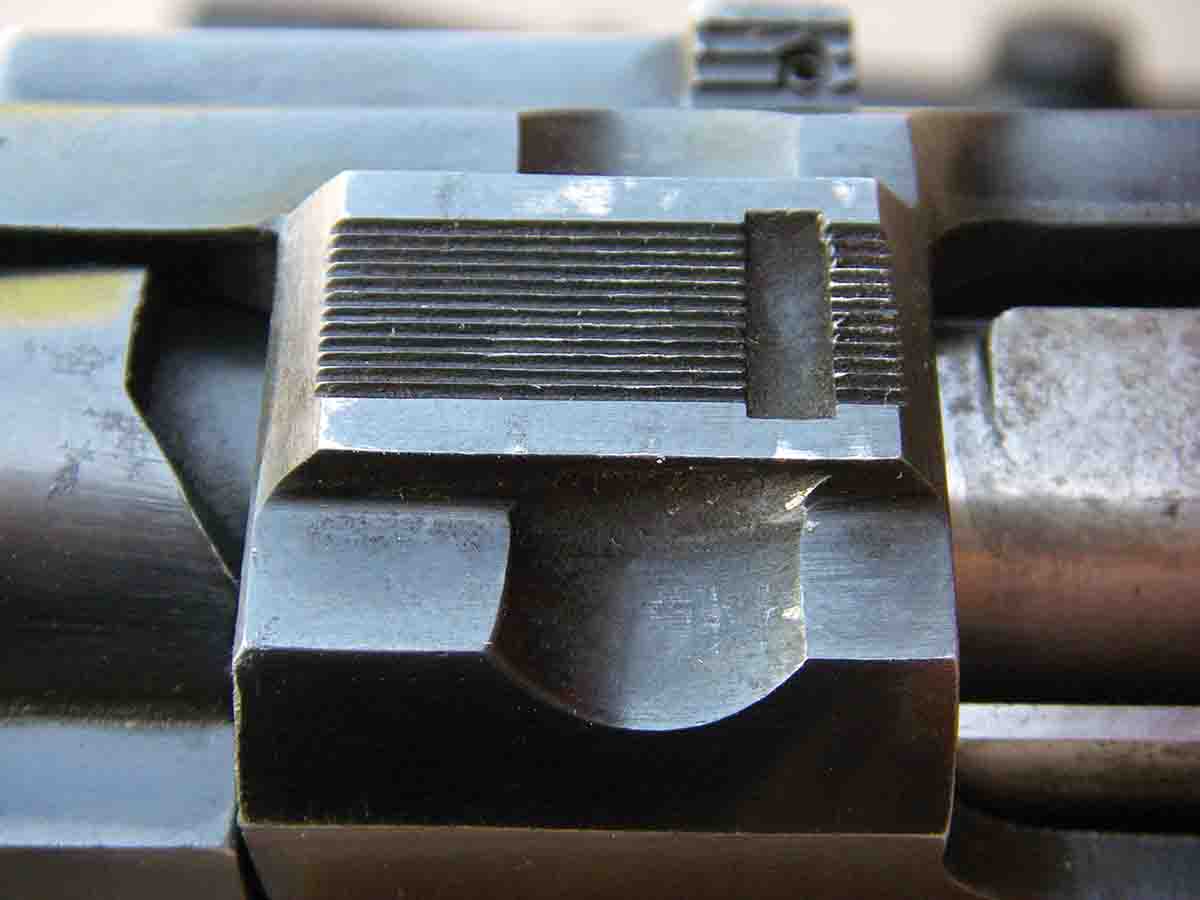 Open sights are available in most calibers (as noted by the "S" in models M77RS, M77RSI and others.). The M77 is offered in two action lengths to accommodate .308 and .30-06 cartridge lengths of 2.810 and 3.340 inches, respectively, and in both standard and magnum calibers.
Perhaps the one item that has hurt the M77's reputation most is barrel quality. During most of its production life, barrels were supplied by several manufacturers. Some were of truly outstanding quality and produced remarkable accuracy. For example, on hand are two M77RS .338 Winchester Magnum rifles that each produce cloverleaf groups upon demand and are among my most accurate sporter-weight rifles. On the other hand, many 7mm and .30-caliber barrels (as well as others) are of lesser quality, which results in groups that often vary from 1.5 to 2.5 inches (sometimes larger) even when using top-quality ammunition. While this may not sound great by today's standards, during that era this level of performance was acceptable by most shooters and hunters and was within the accuracy standards of most bolt-action rifle manufacturers.
In an effort to further improve the M77, Ruger started purchasing machines to begin producing cold hammer-forged barrels during the 1980s. While there was a transition period to produce barrels for all calibers in house, by the end of original M77 production in 1992, most rifles were fitted with Ruger-made barrels, substantially improving overall accuracy.
Regardless, the M77 has proven to be a great rifle. I have seen them used extensively in Alaska on fishing boats where they have rusted severely from salt water, and used by brown bear guides that virtually never maintain or care for them but are willing to stake their lives on the rifle's reliability – the old Rugers just keep working. Over the years I have used many dozens of Ruger rifles to hunt game, test-fire and develop extensive handload data. Again, they have proven to offer outstanding reliability and very rarely have mechanical issues while usually offering respectable accuracy.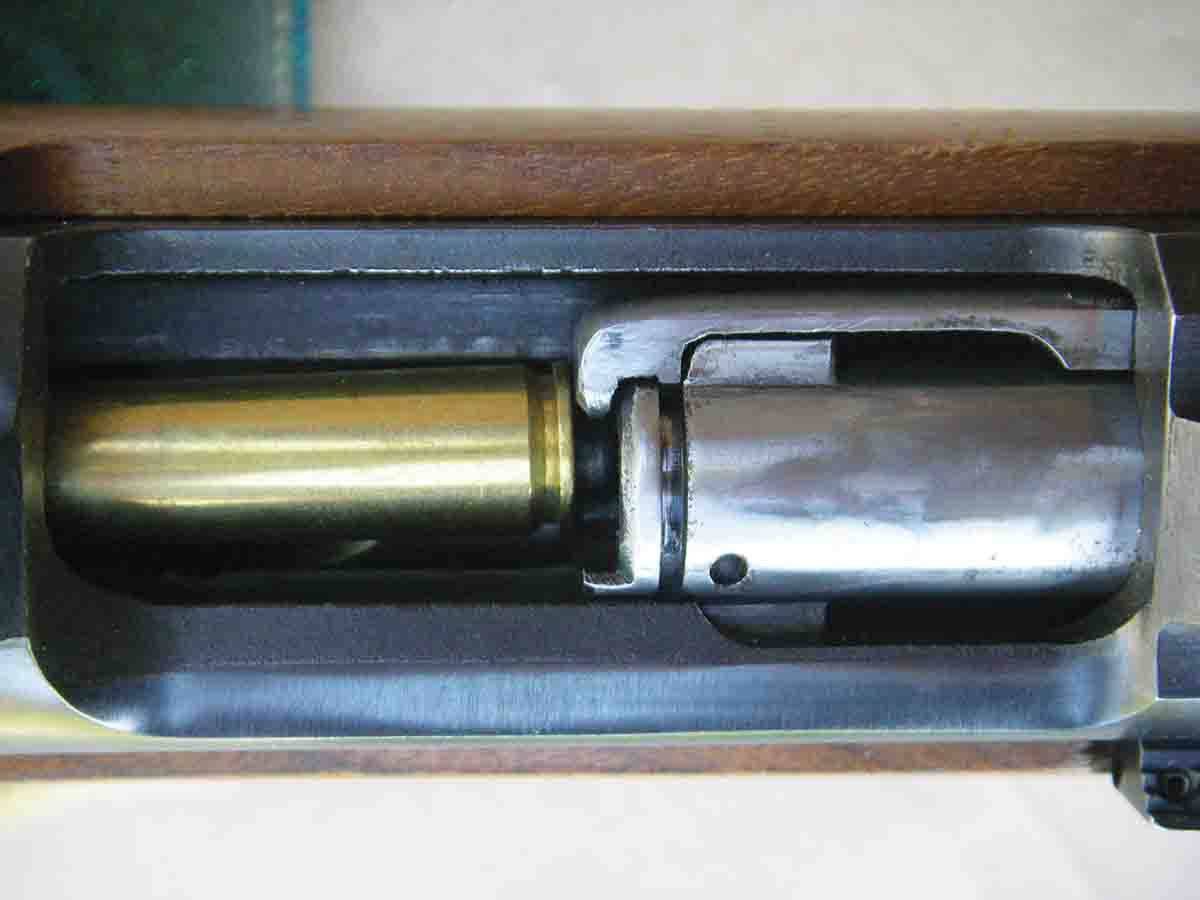 Apparently I am not the only one fond of M77s, as many variations and rare calibers are being snatched up by collectors, bringing a premium. During its 24 years of production, more than one million rifles were sold, which is more than twice the total production of the Winchester pre '64 Model 70 that was in production for around 28 years.
One of Bill Ruger's goals was to produce a quality, reliable rifle that could be purchased for "about a week's pay" of an average American worker. He certainly achieved that goal and created a highly respected classic in the process.
Ruger M77 MK II and M77 Hawkeye
By 1989 Ruger began offering the M77 MK II rifle that shared many of the same features as the original M77, but it was a significant redesign. For example, the bolt was changed to offer controlled-round feeding, and the ejector was changed to a blade type, which was a desirable change especially appreciated by dangerous-game hunters. The bolt body and handle were also constructed of stainless steel. The tang safety was replaced with a three-position, wing-style safety that locked the bolt closed when in the "on" position but still blocked the firing pin in the middle position, allowing safe removal of a cartridge from the chamber.

The trigger guard was changed to steel and included an improved floorplate released from outside the trigger guard. The new design positively locked the floorplate in place. A new, nonadjustable trigger appeared, but in spite of its rather heavy pull it is a reliable design. (Incidentally, a skilled gunsmith can change springs and hone it to a crisp 1.5- to 2-pound pull and install an after-travel stop for a reasonable fee. There are also several after-market trigger units that can be installed.)
The M77 MK II also became available in many variations such as the popular All-Weather (stainless steel), Compact, Frontier, Target and others. Among the more interesting variants are the M77RS Express and M77RSM Express that feature premium-grade Circassian walnut stocks, ebony forend tips, folding express rear sights that mount in the quarter rib machined as part of the barrel, and a handsome banded front sight. This classy rifle was offered in calibers ranging from .270 Winchester to .458 Lott, as well as the large .416 Rigby.
The M77 Hawkeye first appeared in 2007 and was based on the MK II action with a steel floorplate and a new LC6 trigger that offered a lighter pull. The stock was more rounded and received a new checkering pattern that provided a refreshed appearance. The Hawkeye is also offered in a left-hand version.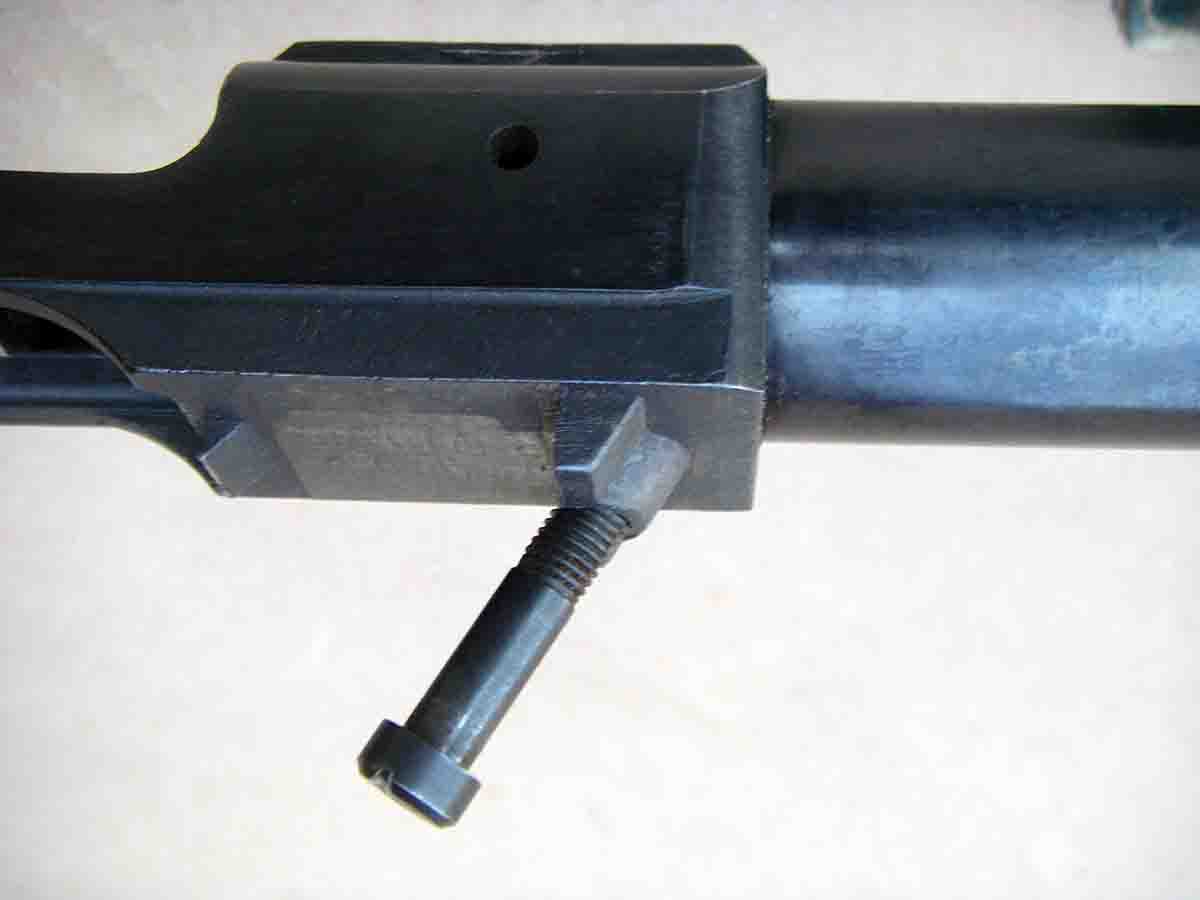 M77 MKII and M77 Hawkeye rifles have sold very well; however, some shooters miss the butter- smooth operation of the original M77. However, I maintain that the latter two models are significant improvements in design and function. When the 77-GS Gunsite Scout rifle was developed in 2011, one of the masterminds behind that project told me that the Ruger was chosen because it was "by far the most rugged and reliable bolt action readily available . . ." I heartily agree!
In spite of retail prices creeping up in recent years, the Hawkeye remains reasonably priced. It has rightfully earned a good reputation and will be with us for many years to come.