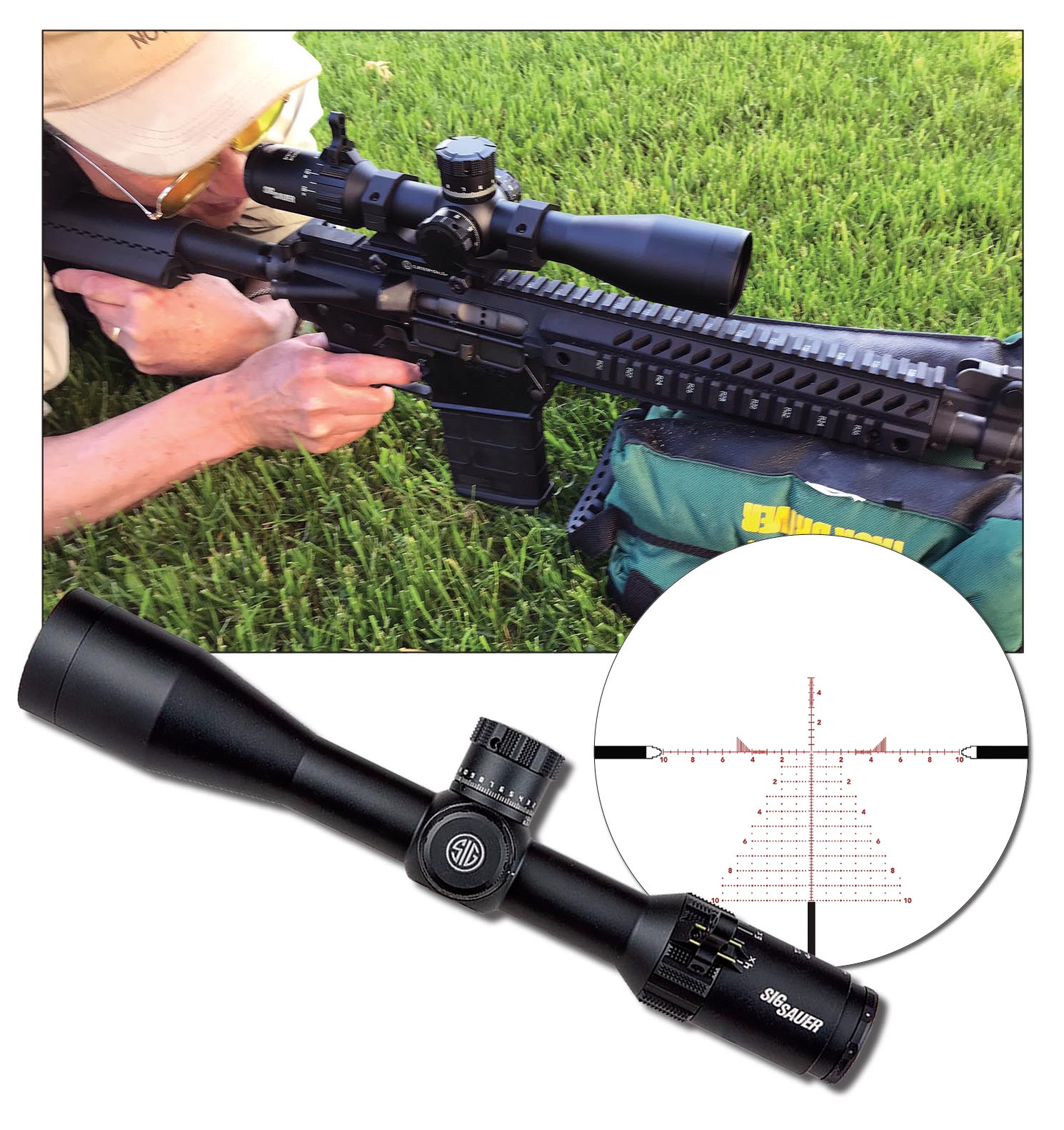 SIG Sauer's new line of TANGO4 scopes designed for AR-type rifles are made for mid- to long-range shooting and hunting, according to SIG. TANGO4 scopes include 1-4x 24mm, 3-12x 42mm and 4-16x 44mm options. The scopes include features such as a 4:1 magnification zoom ratio, LockDown Zero System turrets and the choice of several motion-activated, illuminated reticles in the first focal plane.
I chose big and mounted a TANGO4 4-16x 44mm on a Colt LE-901 .308 Winchester. The Colt is a battle-ax of a rifle, emitting a braying muzzle blast from its 16-inch barrel as its bolt slams back and forth like a dungeon door while emptying a 20-round magazine. But once the scope was sighted in, it never wandered an inch from zero after shooting about 150 cartridges.
Two reticles are available for TANGO4 1-4x and 3-12x scopes. One is a Horseshoe Dot with bars spaced on the lower vertical wire to match trajectories of the 5.56 and 7.62 NATO cartridges or .300 Blackout. A second reticle contains hash marks on the vertical and horizontal wires spaced in milliradian (MILS) or minute of angle (MOA) units.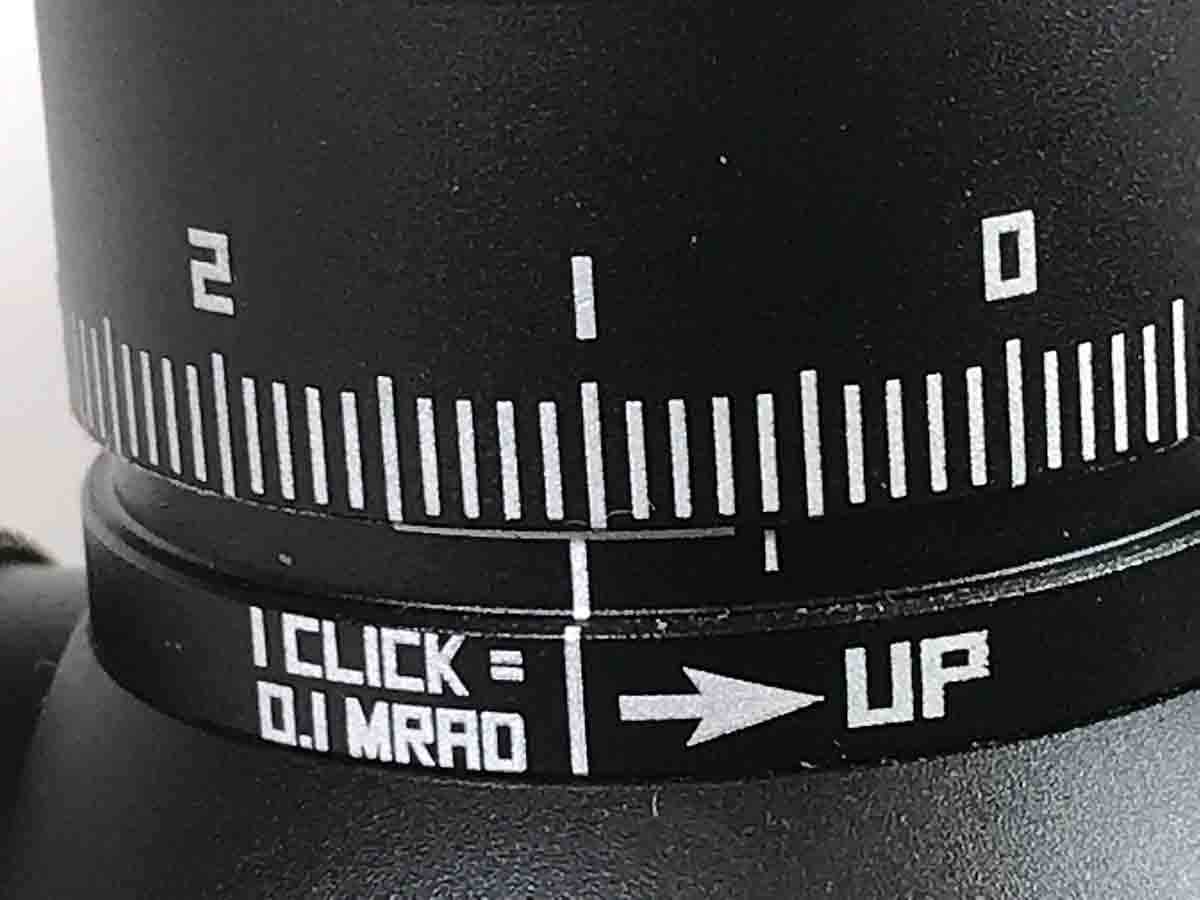 Reticle choices for the 4-16x include hash marks on the vertical and horizontal wires spaced in MILS or MOA and an MRAD or MOA DEV-L reticle. The MRAD DEV-L reticle in the scope I used is divided with abundant index lines in a Christmas tree-shaped pattern on the lower half. Spacing remains constant at any magnification, as the reticle is in the first focal plane. The lower vertical wire is marked in one-MRAD intervals from one down to 10. Every second hash mark is numbered, which allows a shooter to quickly find the correct aiming point. Dots extend out on both sides of the hash marks in 2 MILS at the first and second bars, 4 MILS at bars three and four, 6 at bars five and six, 8 at bars seven and eight and 10 at the last two bars. The upper vertical wire is marked up to 5 MILS in 0.5-MIL divisions. The top two MILS are further divided into 0.20-MIL. Both sides of the horizontal wire are divided into 0.5-MIL marks, numbered every 2 MILS out to 10 MILS.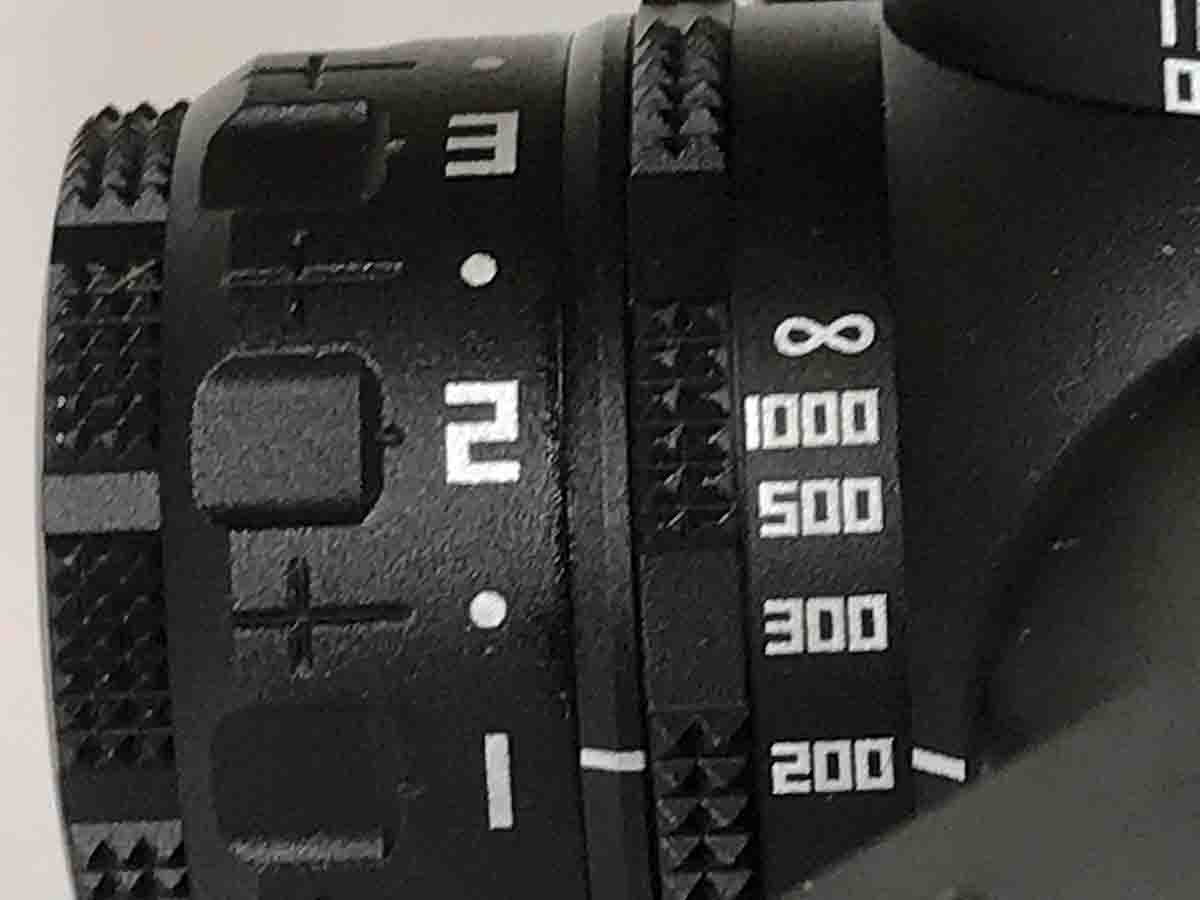 The scope's elevation and windage dials have 5 MILS (50 clicks) of adjustment per rotation and a total of 22 MILS of correction. Twelve MILS of upward elevation remained once the Colt .308 was sighted in at 100 yards.
The LockDown Zero System maintains the scope's zero setting. Once engaged, the elevation turret can be turned back to the "0" mark, or if desired, a few clicks below it, and the dial locks in place. The elevation dial can be pulled up and adjustments made.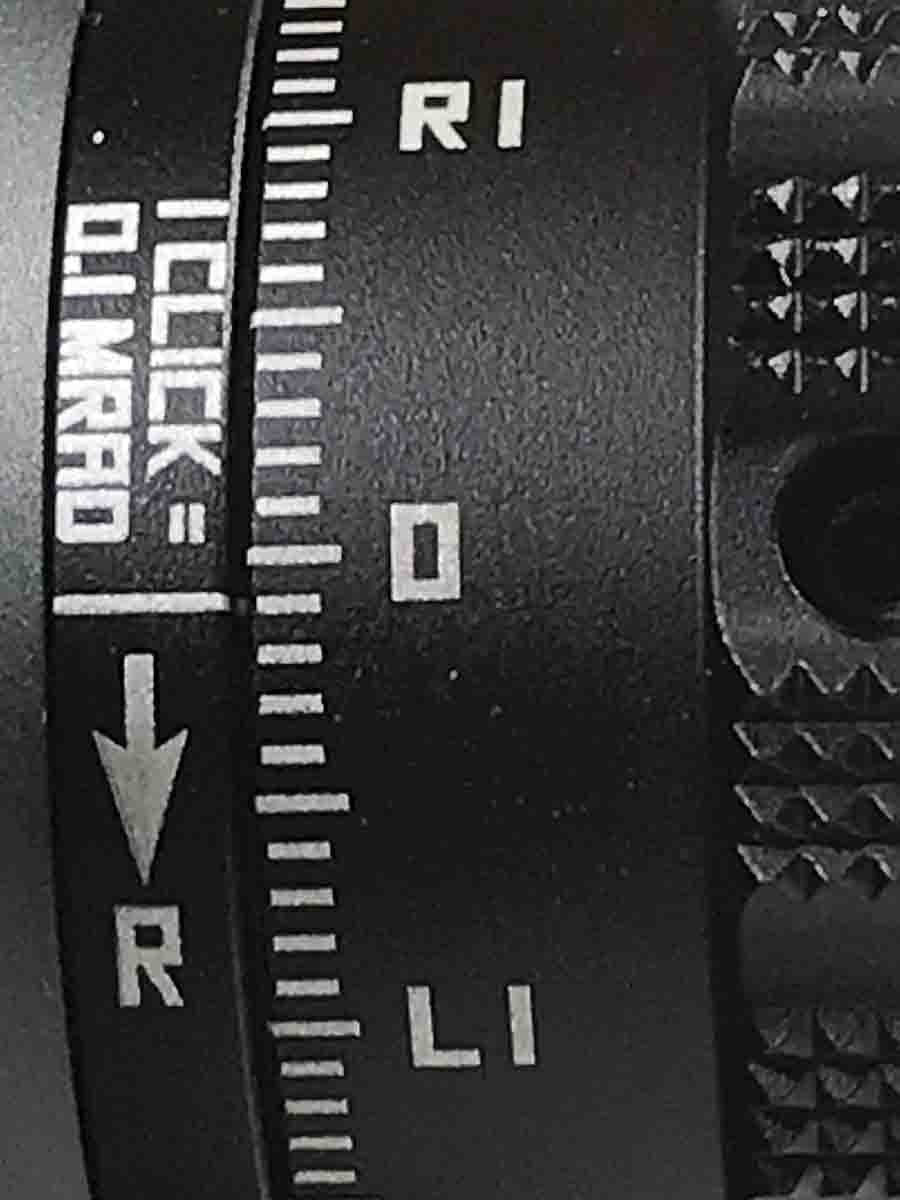 A free SIG ballistic turret is available with TANGO scopes. You send the ballistic information of a given load, such as bullet ballistic coefficient, muzzle velocity and environmental conditions, and SIG returns an elevation dial laser-etched with index lines that compensate for the load's bullet drop at various distances. The original can always be reattached if you want to shoot a different load in your rifle or put the scope on a rifle chambered for another cartridge.
The TANGO4's controls are easy to see and operate by feel. Parallax and reticle brightness wheels are together on the left side. The Parallax wheel is raised and grooved. The brightness rheostat has intensities numbered 1 to 8 and are indicated with recessed squares. Between each setting is an "off" position. Reticle illumination turns off after two minutes of inactivity to preserve battery life. It lights back up when the scope is moved. The magnification dial turns smoothly and an attached lever is really unnecessary. The tall lever, though, has three apertures, and looking through one of them at a distant target somewhat aligns the target with the scope's reticle.
The view through the TANGO4 was bright in the midday sun. Looking at a 1951 USAF resolution test chart at 100 yards with the scope on 16x, 10x and 6x, its resolution was the same as a similar-priced 4-16x 44mm scope made in China. The TANGO4 resolved two larger sets of elements compared to a scope with similar magnification and objective lens size five times its price. The view was sharp all the way out to the edge. As evening arrived, the view dimmed some. View seemed brightest with the scope set on 10x. Part of the dimming may have been the electronics in the scope interfering with light transmission. The view further dimmed a slight amount with the reticle illuminated.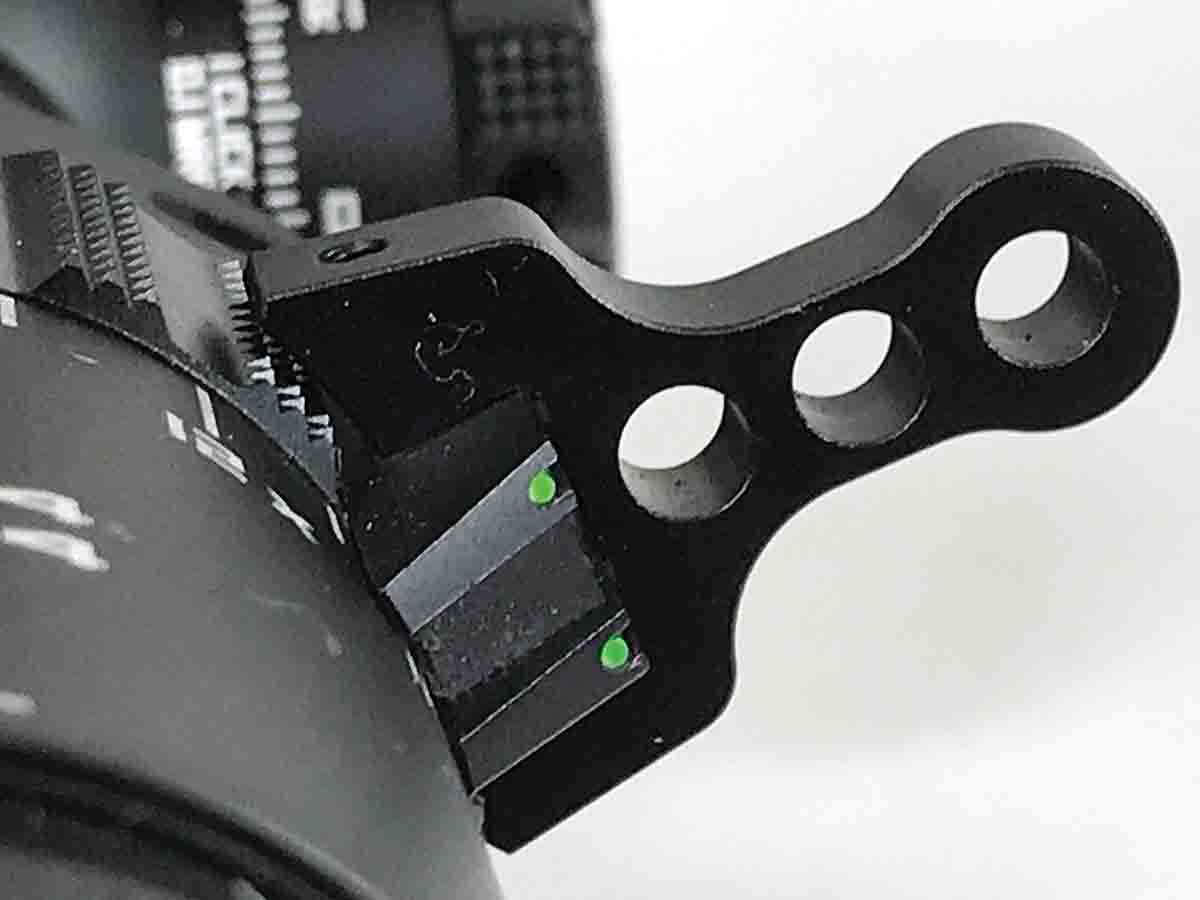 The plan was to shoot three different .308 Winchester factory loads through the Colt to test the reliability of the SIG scope's elevation turret by turning it back and forth and also aiming with different hash marks on the reticle to compensate for the three separate trajectories at 300 yards. Trajectories were within 2 inches of each other at 300 yards when shooting Federal American Eagle 130-grain JHP, SIG Elite Performance 150-grain FMJ and Sierra GameChanger 165-grain Tipped GameKing .308 loads.
I dialed up the elevation turret to compensate for the Sierra's drop at 300 yards. One bullet hit the bullseye and two more landed 1.5 inches higher, for a 1.95-inch group. Turning the elevation dial back to 0, I aimed with the reticle shooting the SIG load. More than a few seconds were necessary to count down to the correct hash mark for each shot. Three bullets landed in 2.46 inches, but 2 inches above the bullseye. Back to dialing up, three American Eagle 130-grain bullets bracketed the bullseye in a 3.38-inch vertical spread. Bullets from all three loads varied horizontally about an inch.
The Philippine-made TANGO4 4-16x will most likely continue as a more than fair-priced target scope and, with its locking turrets, double as a scope for those hunters who like extra magnification within easy reach.
SIG Sauer electro-optics are guaranteed forever, but electronic components are warranted for five years.