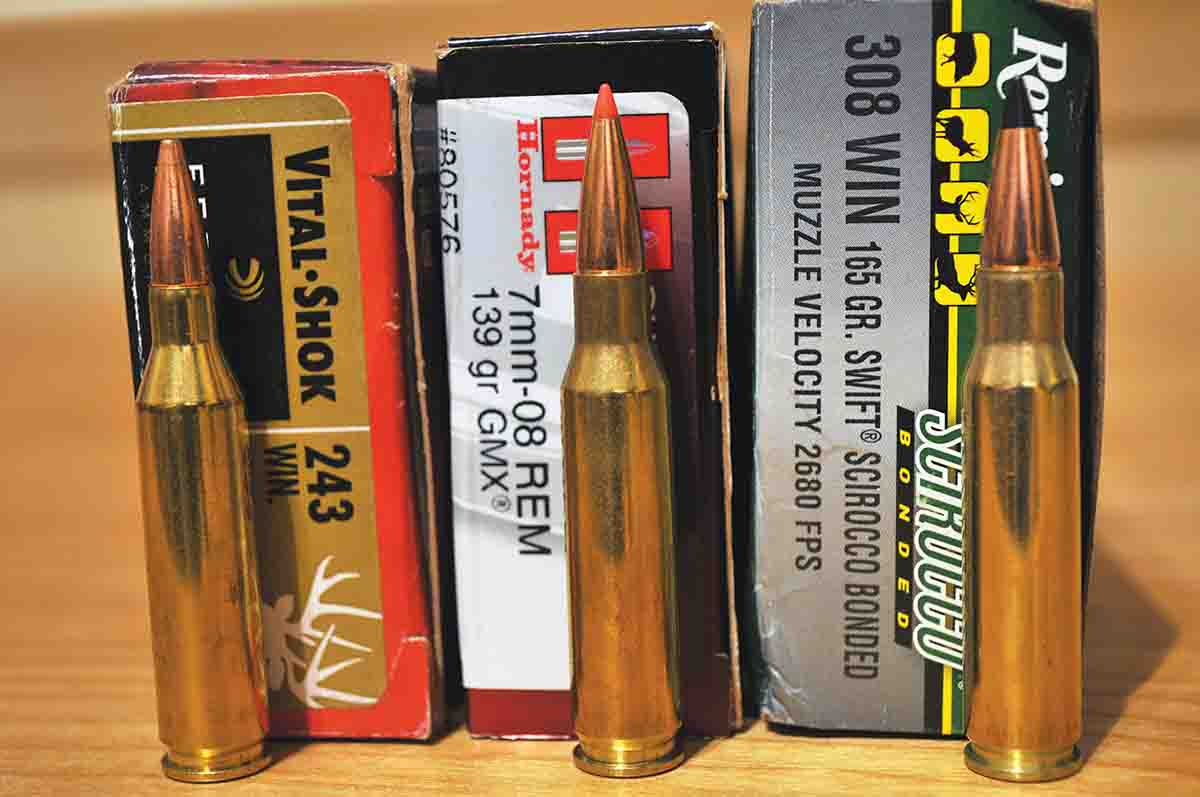 At
Rifle
, we try to answer readers' queries in a timely and helpful manner. Most questions of a technical nature are cleared up easily enough by our editorial staff, and advice is provided when requested or deemed necessary. What's more, since most readers are sportsmen, other less technical topics pop up now and then.
Take, for example, letters received in the past few months (and many like them over the years) regarding an appropriate rifle and cartridge for the "biggest and rankest" feral hogs "weighing up to 300 pounds or more!" Three similar notes were mailed by readers who planned out-of-state deer hunts this year and wondered if their favorite rifles chambered for traditional cartridges such as .270 Winchester, 7mm-08 Remington or .257 Roberts would also handle the biggest boars, game that was new to these riflemen.
The topic of pig rifles and cartridges apparently gets too little play in much of the shooting press, where the newest cartridges and long-range potential of bullets with high ballistic coefficients (BC) too often take precedence. The number of feral hogs shot each year is impossible to know because most game departments don't bother to keep track. The most recent U.S. Geological Survey estimate is more than 6 million feral hogs in the U.S. spread over 35 states, and counting. So, owing to the increasing popularity of hunting non-native, invasive hogs, and the more important need to keep their numbers in check (an apparently impossible task), the subject of hog rifles is worth exploring.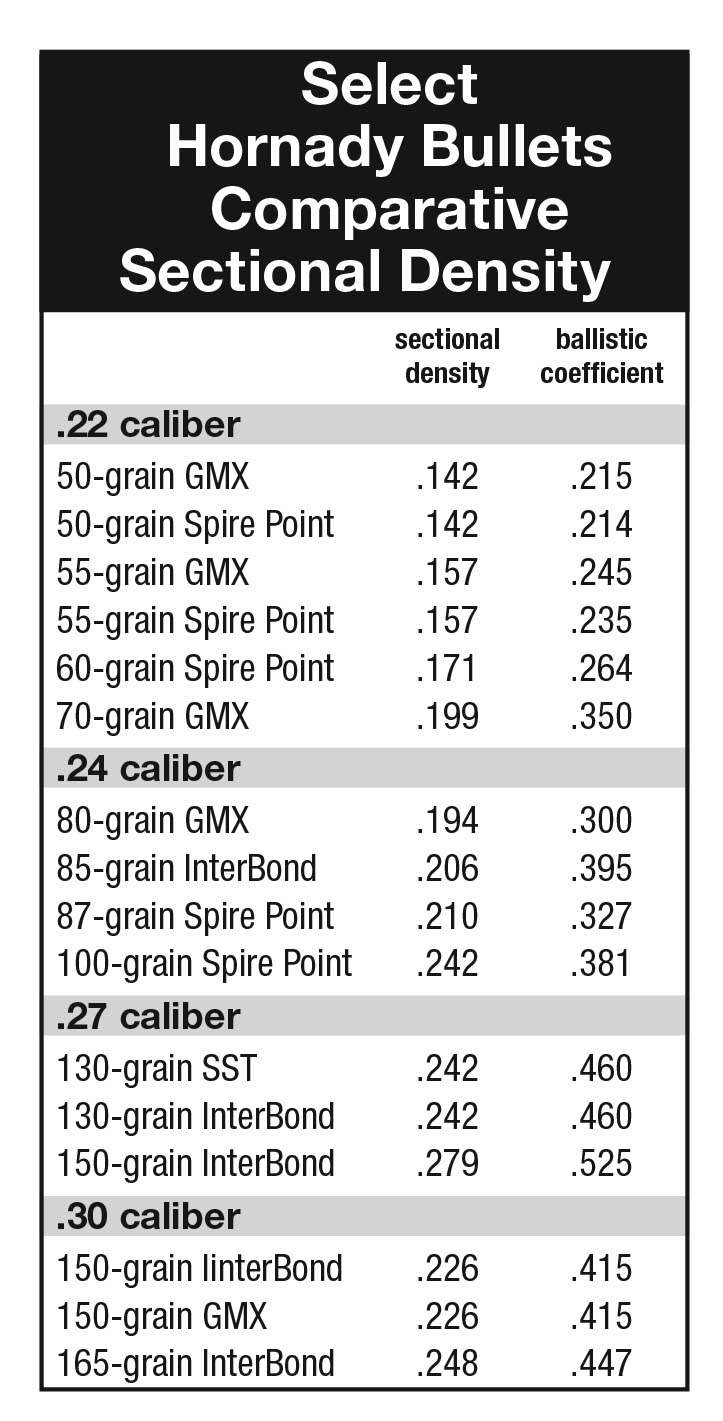 Insight based on nearly four decades of shooting wild pigs with 12-gauge slug guns, AR-type rifles and various bolt rifles chambered for cartridges from the .243 Winchester to the .300 Weatherby Magnum and .50-caliber muzzleloaders in several states may clear up some misinformation and misconceptions. For example, where I've hunted them, few truly free-range boars will ever weigh 300 pounds unless fed by a landowner.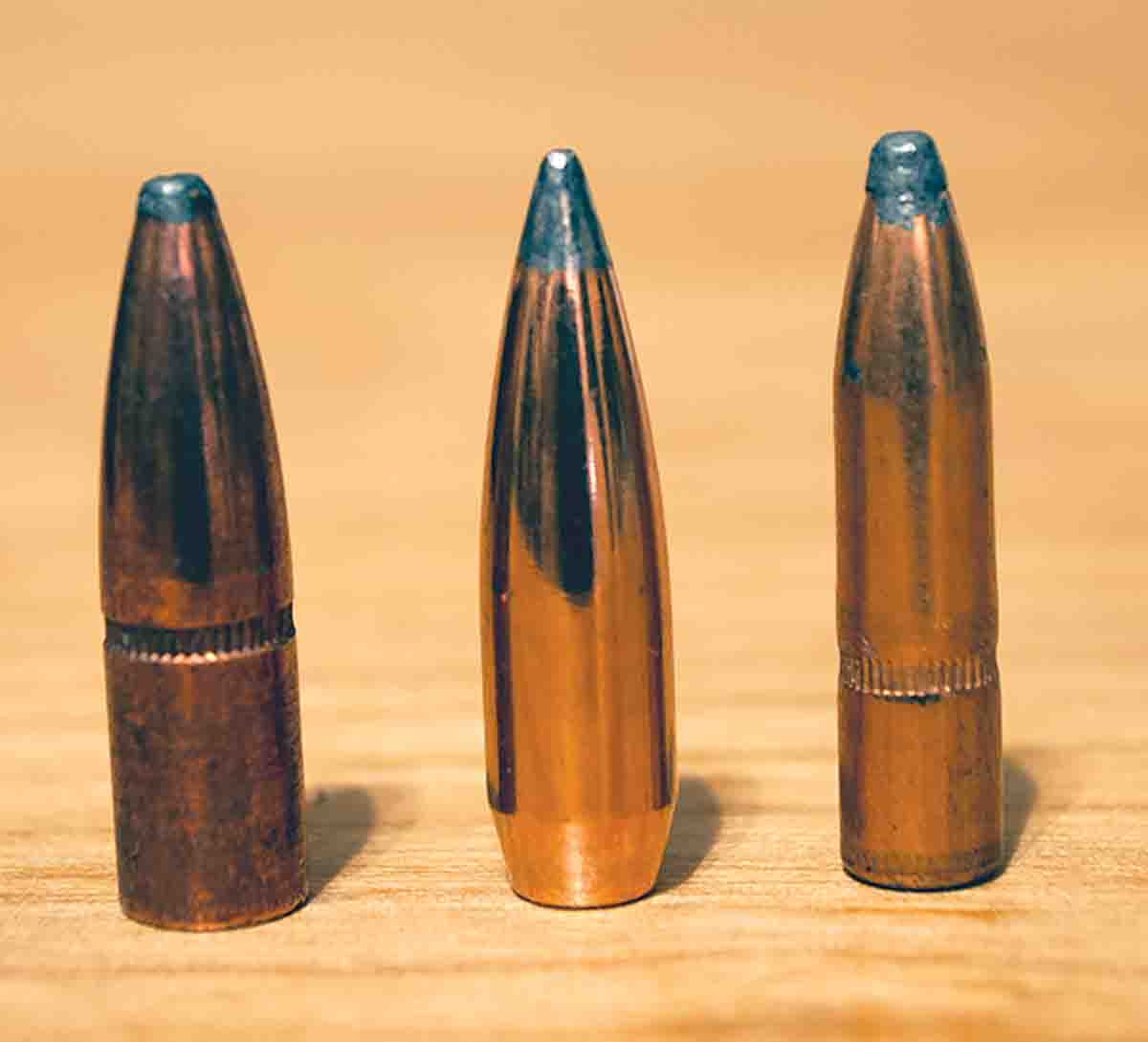 Choice in sporting rifles and cartridges is therefore a fair topic considering all the tall tales that have been told and retold about how tough pigs are and how dangerous they can be when wounded. I received such cautionary hand-me-downs as a youngster, and believed them until gained experience proved otherwise. Because of increasing distribution, hogs may now be among the most hunted game in the U.S., but they are not as tough as some rumors may have us believe.
Years ago, the most common advice was to "use the biggest rifle you can shoot well," suggesting something on par with the .300 Winchester Magnum or larger. Most riflemen learn quickly that smaller "deer calibers" are just as potent on hogs out to 300 yards or so, and a poor shot from a belted magnum is just as troublesome as a botched attempt with "standard" cartridges. Big bullets are of little help if they smack a wild boar in the paunch. All the hoopla about heavier bullets better penetrating through dense brush is, well, hogwash. Nonetheless, heavy bullets have value, as I have discovered.
Notes sporadically kept over the past 15 years indicate my longest shot of roughly 150 yards anchored a large boar in its midday bed. At least a dozen have been shot within 40 yards or so, including two shot in the head – one with a bolt rifle, the other with a Ruger SR-762, both .308 Winchesters. As it goes with deer, most pigs are shot within 100 yards. So, the answer to the readers' queries was/is: "Yes, use your favorite deer rifle/caliber." Yet there's more to consider.
Wild hogs are indeed more difficult to kill than an equivalent- sized deer. Their rib and shoulder bones are probably twice as big and the fatty hide is at least twice as thick. The vitals are also placed farther forward, protected behind the shoulder and foreleg. The oldest boars are even tougher because they develop a "shield" of gristle over their forelegs to protect their heart/lungs when fighting other rank boars. This thick layer of flesh and cartilage can literally stop an insufficient bullet. I've witnessed such pigs skinned and found old, festering wounds with equally old bullet fragments. Occasionally, bullet fragments have even been found in sows.
Using numerous calibers throughout the years has proven the .30-06 is an excellent choice (about as much gun as needed), but hunting pigs with milder cartridges from .243/6mm up to the .308 Winchester is much preferred. Personal preference varies, however, and these days suitable cartridges start with the .223/5.56mm for some riflemen. There is a trend toward using this cartridge for all types of hunting, but its lightweight bullets don't impress me on medium-to-large hogs.
Another trend for most hunting is the use of bullets with high BCs at any cost – bullets that penetrate the air with the "greatest of ease." This is a form factor that becomes relevant for shooting at extremely long range. In my humble yet quite extensive experience, wild hogs are shot at short enough range to make BC all but totally irrelevant.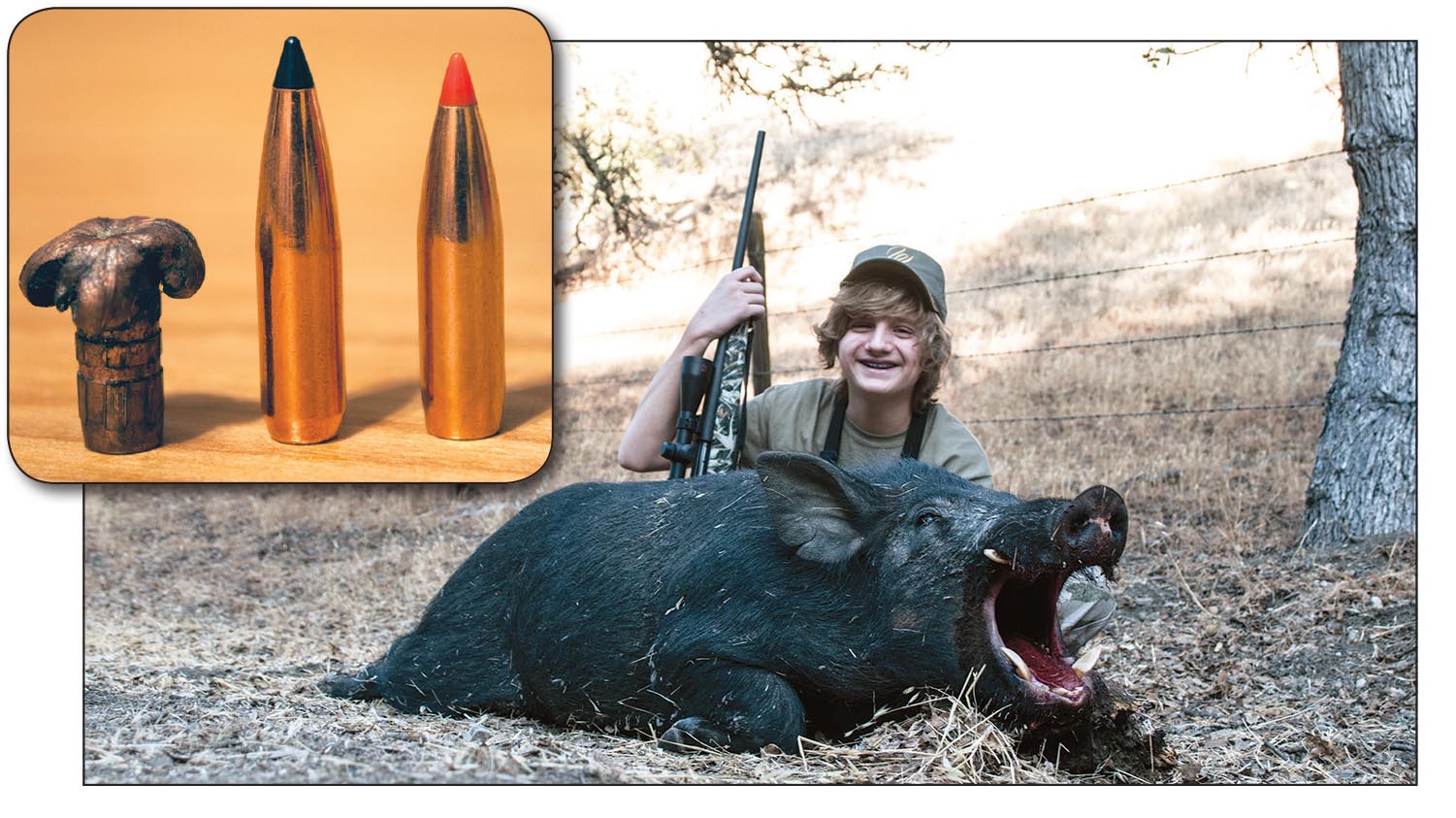 Because of this, I tend to consider a bullet's sectional density (SD) more useful when hunting wild boar. SD is an often over looked form factor. To quote from the Speer Reloading Manual, Number 11 (1987), SD is "A bullet's weight, in pounds, divided by the square of its diameter, in inches." What's more relevant here is that SD is a somewhat reasonable "tool" in predicting a bullet's ability to penetrate. Generally speaking, given similar velocities and bullet construction, the higher the SD, the more likely a bullet will plow deeply.
A nearby table includes SD figures for various Hornady bullets chosen for both convenience and the fact that I've shot hogs with some of them, including the .24-caliber 80-grain GMX, 100-grain Spire Point and the .30-caliber 165-grain InterBond. The table shows that SD obviously increases with bullet weight and diameter. Also notice that the 70-grain, .22-caliber GMX has nearly the same SD as the 80-grain .24-caliber GMX. At reasonably close velocities, both bullets are likely to provide similar penetration. Still, there is no hard-and-fast rule that they will, so I'd rather use the .24-caliber bullet or any of the larger, heavier bullets listed. (For readers who are interested, note that as SD increases, so does BC. This may seem to suggest my opinions on good hog bullets are contradictory, but since most hogs are shot close distances, BC remains a non-factor.)
Not everything rides on SD either. Given a reasonable range, about any "hunting" bullet will work, though I've become quite fond of lead-core bullets with bonded jackets, including the Nosler AccuBond, Hornady InterBond and Swift Scirocco II. With Swift now selling loaded ammunition and Remington once again producing Premier Scirocco Bonded loads, new options are increasingly available.
Personal preference aside, there is no reason a would-be hog hunter should rule out otherwise traditional non-bonded lead-core bullets. As two examples I've used extensively, traditional Winchester Power-Point or Remington Core-Lokt bullets perform well enough to get the job done, assuming good shot placement and SD.
A last consideration is that any rifle with a scope or open sights weighing more than about 8 pounds is cumbersome. There's no need whatsoever to carry a heavy rifle through oak motts, along steep ridgelines or down in swamp bottoms. A lighter rig relieves hunters from hauling something with a stretched barrel chambered for an oversized cartridge. Having carried many rifles while roaming for pigs, I've come to appreciate those that weigh no more than 8 pounds scoped; anything heavier is dead weight.
So yes, use your favorite deer rifle on feral hogs, aim small and use a good bullet – one known to expand and penetrate deeply – especially when pursuing big boars.