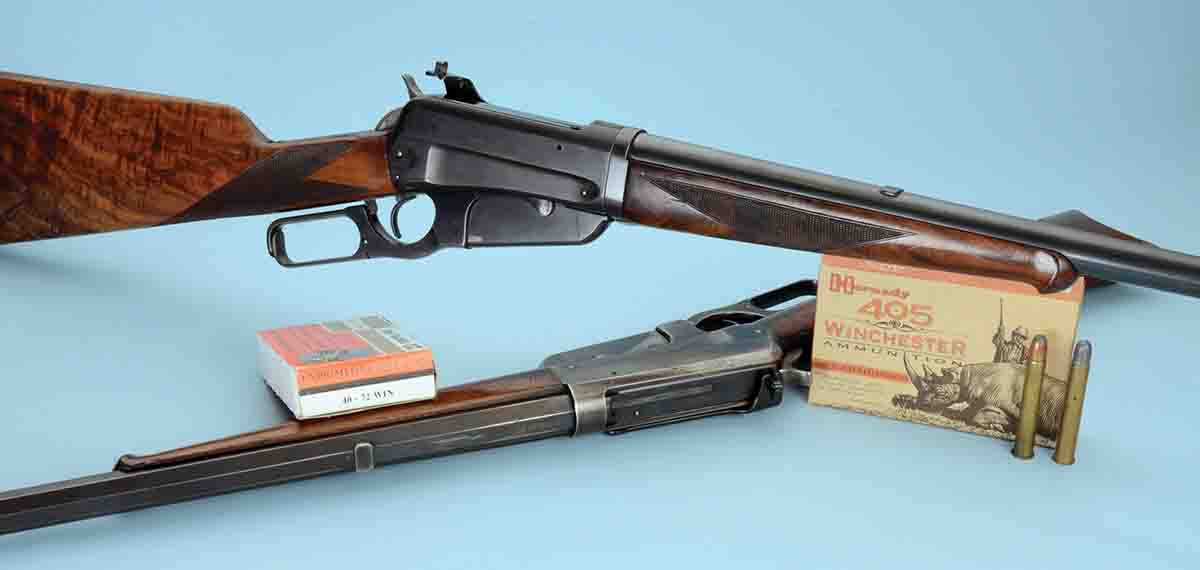 Googling the word
cachet
revealed the definitions of
prestige, distinction
and similar terms. Many guns have received cachet from the shooting world. Ever had a conversation about leverguns with someone who doesn't own one? Invariably, they will say that if they ever buy a levergun it will be a Winchester Model 1886. That's cachet. Same goes for the U.S. M1 Garand. Just about every rifle shooter respects them whether they have fired one or not.
Some firearm models may not especially have cachet but gain it when chambered for a particular cartridge. A prime example of that would be Winchester's Model 1895 in .405. Some years back, someone at Browning, which licenses the Winchester brand, decided that the second cambering for its Miroku-made Model 1895 should be .270 Winchester. The first was .30-06, and mistaken logic was that any firearm capable of handling it would also suffice for .270 Winchester. Never mind that a Winchester Model 1895 in .270 had no cachet. They might have sold a wheelbarrow-load of .270 Model 95s, but when rebarreled to .405 Winchester they sold by the truckload. That's cartridge cachet.
Winchester's introduction of the Model 1895 was a great departure from the company's usual levergun appearance. For almost the first 30 years of the company's existence, its centerfire lever-guns loaded through a gate on the frame's right side with rounds being stored in a tubular magazine hung beneath the barrel. In a nutshell, despite some misgivings by Winchester executives, their design genius, John M. Browning, prevailed on them to manufacture his last levergun idea. It had a five-round box magazine extending under the action and loaded one round at a time from the top.
This was at the dawn of the smokeless powder and jacketed bullet era. Both types of components were feasible in this new rifle. With no tubular magazine, bullet shapes other than flatnose were safe. Regardless, black-powder and lead-bullet ammunition were not ignored, as two of the first three cartridges offered in Model 1895s were such. Those were .38-72 and .40-72. The smokeless offering was .30 Army, aka .30-40 Krag. Actually, that last cartridge deserves more cachet than it receives. At one time, Texas Rangers adopted it as their standard in saddle ring carbine Winchester Model 95s. In my early years here in Montana, I talked with many old-timers who still said .30-40 Model 95s were their best elk rifles.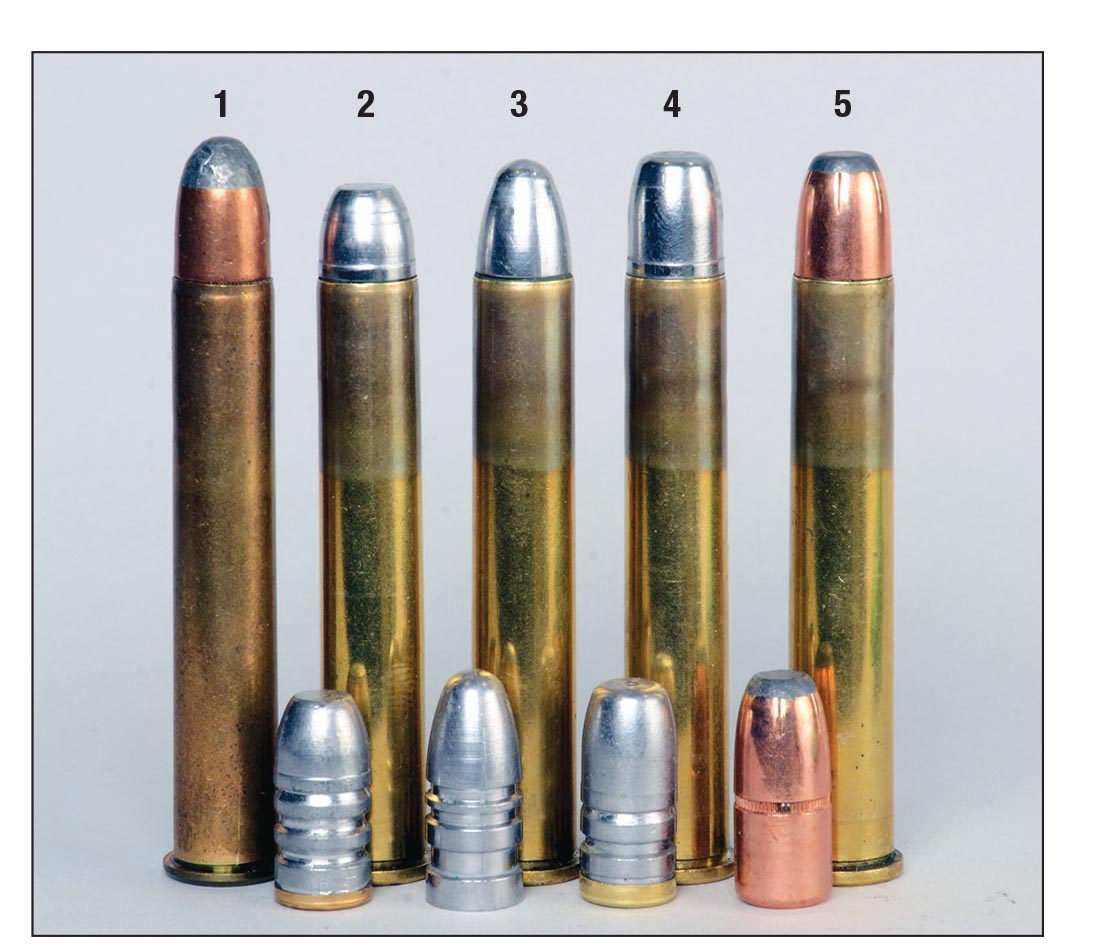 Along the way, Winchester offered the Model 1895 for such notable rounds as .30-03, .30-06, .303 British, 7.62x54R Russian and .35 Winchester. In my opinion, some cachet should go to the 7.62x54R Russian Model 1895s. More were made in that caliber than any other because during World War I (1914-1918) the Russian Government ordered them complete with bayonets for its army. Such were built in "musket" form with a full-length stock and a small device atop the receiver rear so that five-round stripper clips could be used for loading. A friend owns a heavily used example that a relative brought home from the Korean War (1950-1953). That means it had circumnavigated the world!
Despite such history, it's the .405 Winchester cartridge that gets cachet. It didn't arrive in Winchester catalogs until 1904 and continued, at least in limited production, until 1936. The only .405 firearm other than Winchester's 95 (and Winchester/Miroku Model 95s) chambered for .405 of which I am aware was Remington's Keene.
It has been written by others that the .405 Winchester was the most powerful cartridge available in America until the British .375 H&H arrived. That's likely true. When former U.S. President Teddy Roosevelt ventured to Africa for an extended safari, a .405 Winchester was among his battery of rifles. Almost everyone casually informed about TR and his rifles mentions it. As loaded by the Winchester factory, .405s contained a 300-grain jacketed bullet with a muzzle velocity of 2,200 fps. When Hornady reintroduced .405 Winchester factory ammunition, bullets and brass to coincide with the Miroku/Winchester, the same ballistics were used.
I've owned a custom deluxe Winchester Model 1895 .405 takedown fitted with a Lyman No. 38 peep sight for 29 years. For most of that time it was one of my leastfired rifles because it kicks like a mule! Believe me, I've been kicked by both, so I know. Although my .405 has a relatively heavy barrel by Model 95 standards, its weight is still just 9.5 pounds. The buttplate is shotgun style made of checkered steel. Winchester also offered .405s with the curved rifle style steel buttplates. A friend bought one and I warned him that he would not enjoy shooting it. He didn't, and quickly sold it.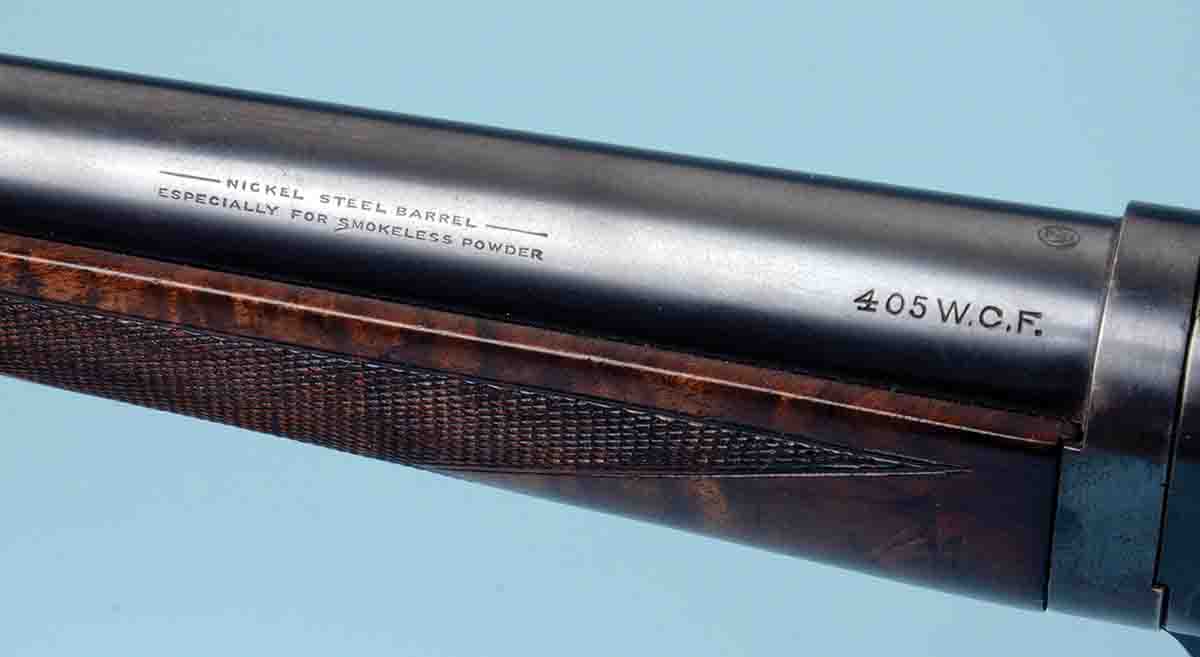 Shooting groups with my .405 never went too well. Mostly they were about 4 inches at 100 yards. I attributed that to me flinching at the benchrest. Then a Miroku sample arrived and it shot groups around 2 inches. The same ammunition was used for both – Hornady's 300-grain factory loads. At long last, my .405's barrel was slugged (twice) and the problem was evident. Its groove diameter was .413 inch instead of .411 inch, and .411 inch is the size of Hornady's 300-grain softpoint bullets. If someone wants to duplicate factory loads, 53 grains of IMR-3031 is a good load with 300-grain Hornady bullets.
Many shooters have asked me why Winchester upped bullet diameter to .411 inch when all its other ".40" barrels were about .406 to .408 inch in their grooves. My theory is that Winchester knew that eventually someone would try shooting a .405 round in one of the old black-powder Sharps or Remington Hepburn .40-70 Straights. The company increased bullet diameter, case length and rim thickness to prevent the problem. Case length for the .405 Winchester is 2.58 inches and rim thickness is .073 inch. For .40-70 Straight, the figures are 2.50 inches and .062 inch. At this point I'll own up to a mistake. For years I thought both .405 and .40-72 Winchester rounds were 2.58 inches with the same rim thickness. Not so; .40-72 rims are basically the same as .40-70 Straight.
And that finally brings us to a manner in which I actually enjoy my .405 Winchester. That is to load it down to equal .40-72 ballistics by using cast bullets. Several were tried in 280-grain weight and 300-grain plain-base, but the best came from a mould I ordered from Buffalo Arms of Ponderay, Idaho. It drops a 300-grain, flatnose gas check design intended specifically for the .405 Winchester. It is listed as .413-inch diameter and the company also offers a .413-inch lube/sizing die. Cast of 1:20 (tin-to-lead) alloy and loaded over 26 grains of Western Powder's Accurate 5744, the .405 gives 1,347 fps velocity. Even better, now that bullets fit the barrel groups are in the sub-3-inch range at 100 yards.
Finally my .405 Model 1895 gets my personal cachet.