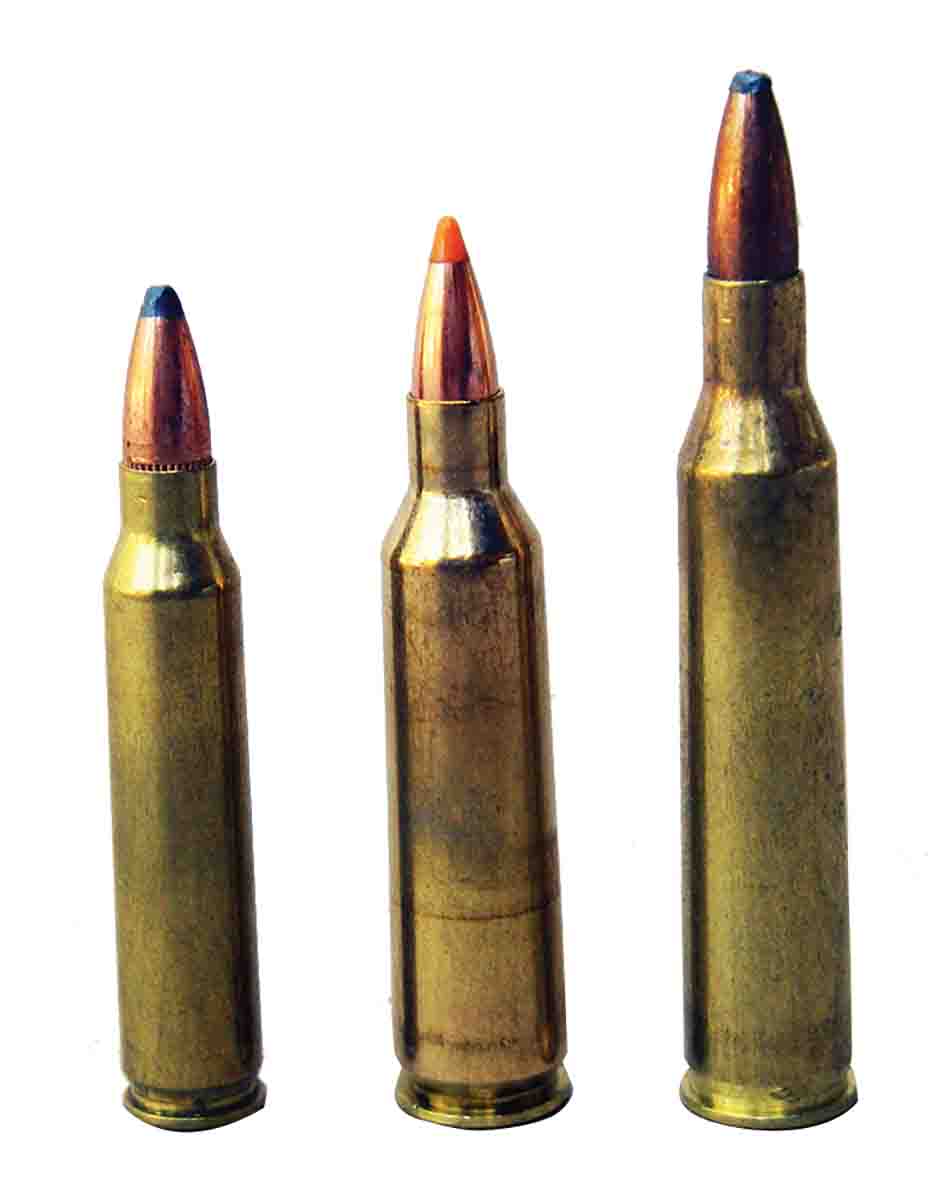 Last Sunday was a rather lazy day spent with family and friends, followed with an early dinner that, as usual, was followed by a discussion of guns, ballistics, handloads and hunting. Afterward, a walk was in order so several family members and a couple of working Australian Sheppard cow dogs left the house for a 2-mile walk through our place.
We had scarcely covered 75-yards when we observed a coyote in the hayfield, then a second and a third. We had sixguns, but the distance was too far and would require the luck of a lottery winner to connect. So I kept my eye on them as my son Porter high-tailed it back to the house and retrieved his Savage Model 10 Predator Hunter Max 1 .22-250 Remington along with a SIG laser rangefinder, but somehow forgot to grab a rifle for me!
By now three more coyotes had appeared for a total of six. They were milling around and on the move, so a shot must be timed correctly to connect. Porter went prone, obtained a good rangefinder reading and waited for just the right moment to squeeze off a shot. About 15 seconds later his rifle cracked and a coyote went down at a distance well beyond 400 yards. The other five coyotes instantly scattered, with two going into a nearby irrigation ditch for cover while three others ran all out across the field. Porter remained prone, so I whistled and one stopped to look back from a distance of more than 600 yards, which was its last mistake as Porter launched another Hornady 53-grain V-Max bullet that put it down instantly. One of the two coyotes that had taken cover in the ditch suddenly returned to the field at a distance pushing 500 yards. The .22-250 cracked again, with that coyote going down in a pile. At a distance well beyond 600 yards, another coyote was still high-tailing it for cover at a quartering angle. Porter fired again, just missing its left shoulder by an inch or two.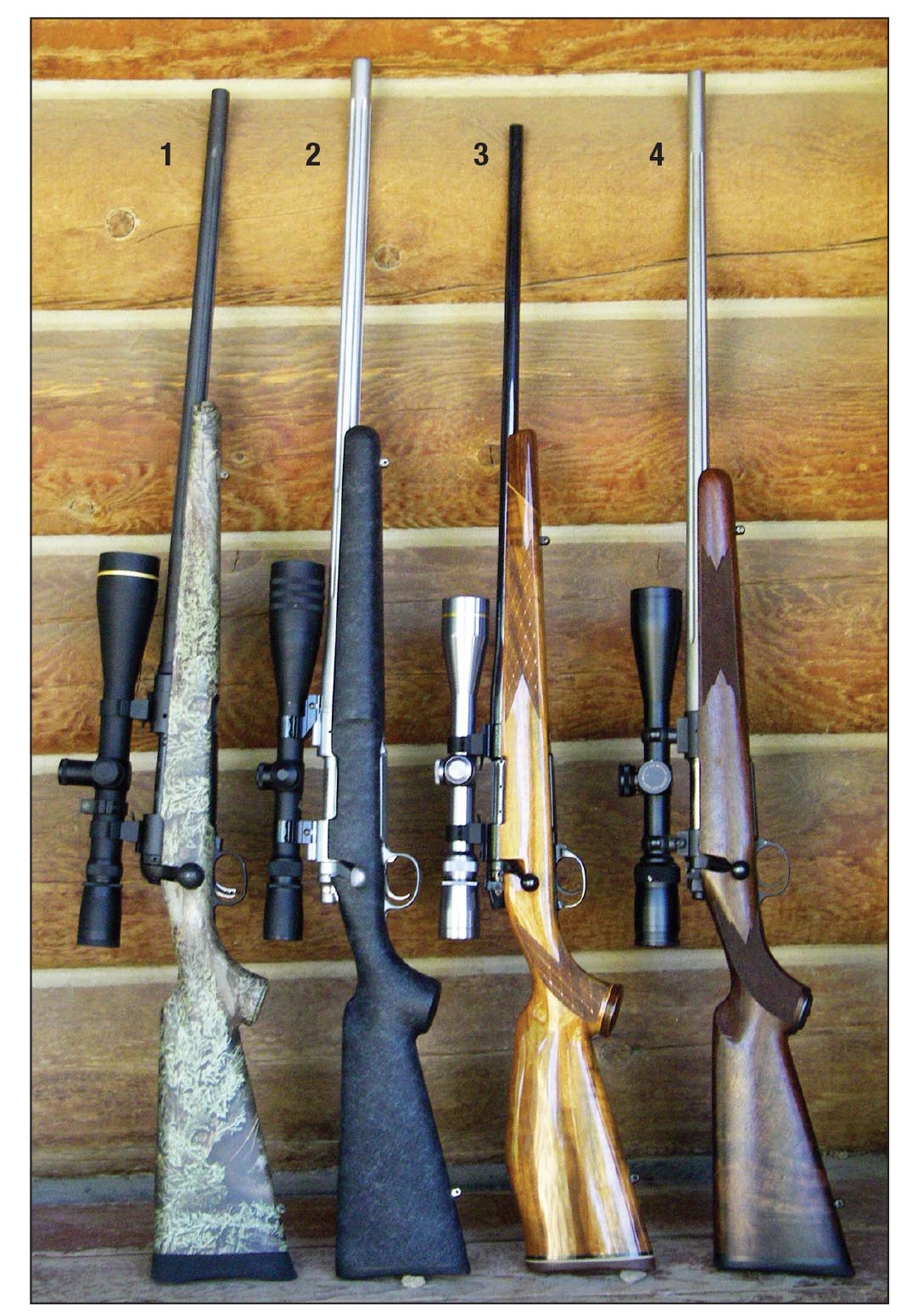 Knowing that he always deserves a little chiding and the fact that he didn't bring me a rifle, I said, "Four shots, three coyotes; not bad. Keep practicing and you'll get there." His wife, Aurora, grinned from ear to ear, knowing that I was only keeping him humble.
Although Remington introduced the .22-250 commercially in 1965, its origins date back prior to 1920. The parent cartridge is the .250-3000 (aka .250 Savage) that was first offered in 1915 in the Model 99 rifle. Charles Newton is generally credited for designing that cartridge with his load containing a 100-grain bullet at 2,800 fps; however, Savage wanted to increase velocity and chose to drop the bullet weight to 87 grains to reach 3,000 fps, thus the .250-3000 name. It was the first U.S. commercial cartridge to break that velocity barrier. During the development of that cartridge, Savage experimented with the .250 case by necking it to .22 caliber but put further development on hold, probably from the lack of really suitable powders during that era.
As new powders appeared that were better suited for a high velocity .22-caliber cartridge, around 1930 experimenters such as Harvey Donaldson, Grosvenor Wotkyns, J.E. Gebby, J.B. Smith, John Sweany, Phil Sharpe and others began wildcatting the .250 Savage case by necking it to .22 caliber, which took on many different names. However, J.E. Gebby trademarked the name ".22 Varminter," which is probably the most commonly encountered among period wildcat rifles.
Winchester developed the .220 Swift and began offering rifles and ammunition in 1935. It was advertised to push a 38-grain bullet at 4,110 fps, which was a remarkable velocity for that era; however, it suffered from several design shortcomings. Most significant was that it had a comparatively short barrel life (in part due to period barrel steels, but also from poor case design) that resulted in it becoming controversial with limited sales.
The wildcat .22-250 was without question a better design that was not plagued with some of the other problems associated with the .220 Swift. It featured a 28-degree shoulder that served to help the powder burn in the case, rather than in the throat, which resulted in greater shot-to-shot uniformity, longer barrel life and less case stretching. It also featured a rimless case, a shorter powder column with lighter powder charge weights and was easy to develop accurate handloads. Muzzle velocity was still impressive as it launched 50-grain bullets at nearly 3,900 fps or 55-grain bullets around 3,750 fps. The in-flight bullet disintegration that occasionally occurred with the Swift was largely eliminated with the .22-250. It likewise offered low recoil, a flat trajectory, outstanding accuracy and terminal results.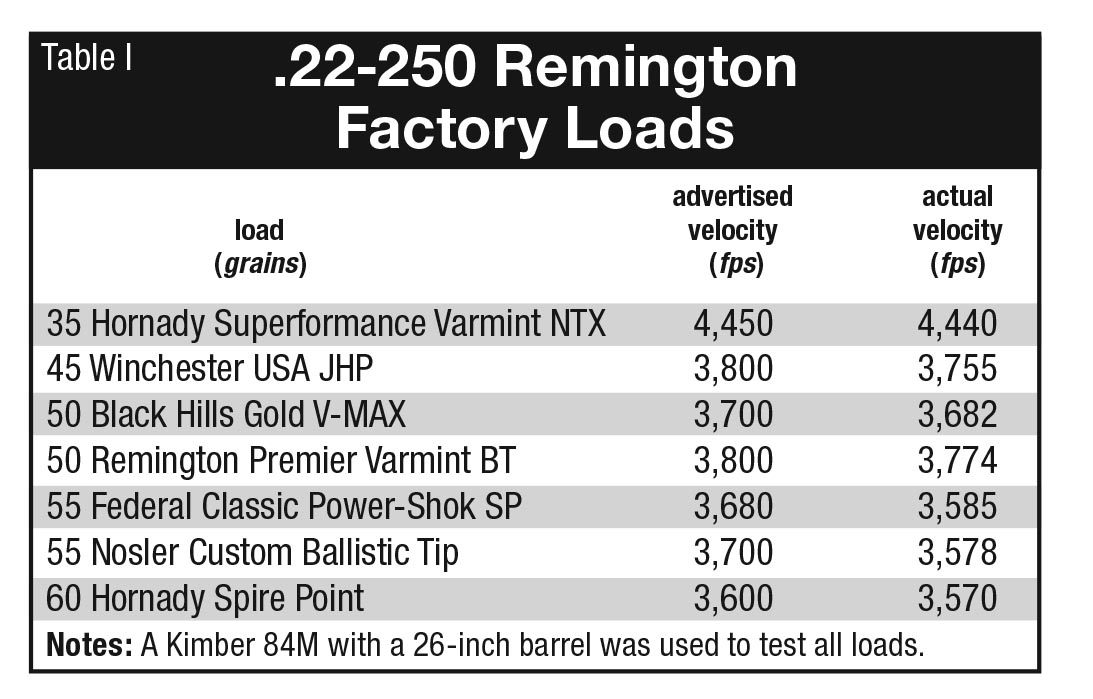 For the next several decades the popularity of this remarkable varmint cartridge grew steadily, ultimately resulting in Browning offering rifles prior to it becoming an industry-standardized cartridge, and certainly played an influential role in Remington choosing to offer it commercially. Early loads were advertised to push a 55-grain bullet at 3,760 fps, but today that figure is generally reduced to 3,680 fps.
In addition to Browning and Remington, virtually every major rifle manufacturer offers guns chambered in .22-250, including bolt, lever and single-shot action designs. Almost immediately after its introduction it became one of the most popular reloaded rifle cartridges and remains so to this day. Among hunters, it is most often the varmint cartridge that all others are compared to. Additional high velocity .22-caliber cartridges have been introduced that were intended to supplant it; however, thus far they have failed.
Many varmint hunters have found great favor with the .204 Ruger; however, it is not as versatile as the .22-250, and neither does it hit larger varmints (such as coyotes) as hard. There are several excellent 6mms that are better at extreme long range on coyotes, etc., but their increased performance comes with greater recoil and ammunition cost, both of which are undesirable when shooting in a heavily-populated prairie dog town where 600 or 800 rounds are fired in a single day. The .22-250 performs many year-round "varminting" tasks so very well that it is a go-to cartridge with my family.
While occasional 1930's-era custom-built rifles chambered for one of the wildcat versions were fitted with a 1:16 barrel twist, the 1:14 twist became an industry standard when the .22-250 was introduced in 1965 and is still in wide use by most manufacturers, including Remington, Browning, Harrington & Richardson, Husqvarna, Mossberg, Ruger, Savage, Weatherby, Winchester, Kimber, etc. Sako, Thompson/Center and Howa utilize a 1:12 twist. During the 1990s Savage changed to the 1:12 twist as standard. Savage also offers a 1:9 twist as a special order option. While interesting, it is intended primarily for specialized long, heavy-for-caliber bullets that limit the .22-250's versatility and will not be discussed further.
The 1:14 twist is widely popular due to excellent accuracy with bullets that range in weight from 35 through 60 grains and are fired at most normal distances that varmints are hunted. However, when fired at extended distances they can lose stability, resulting in loss of accuracy.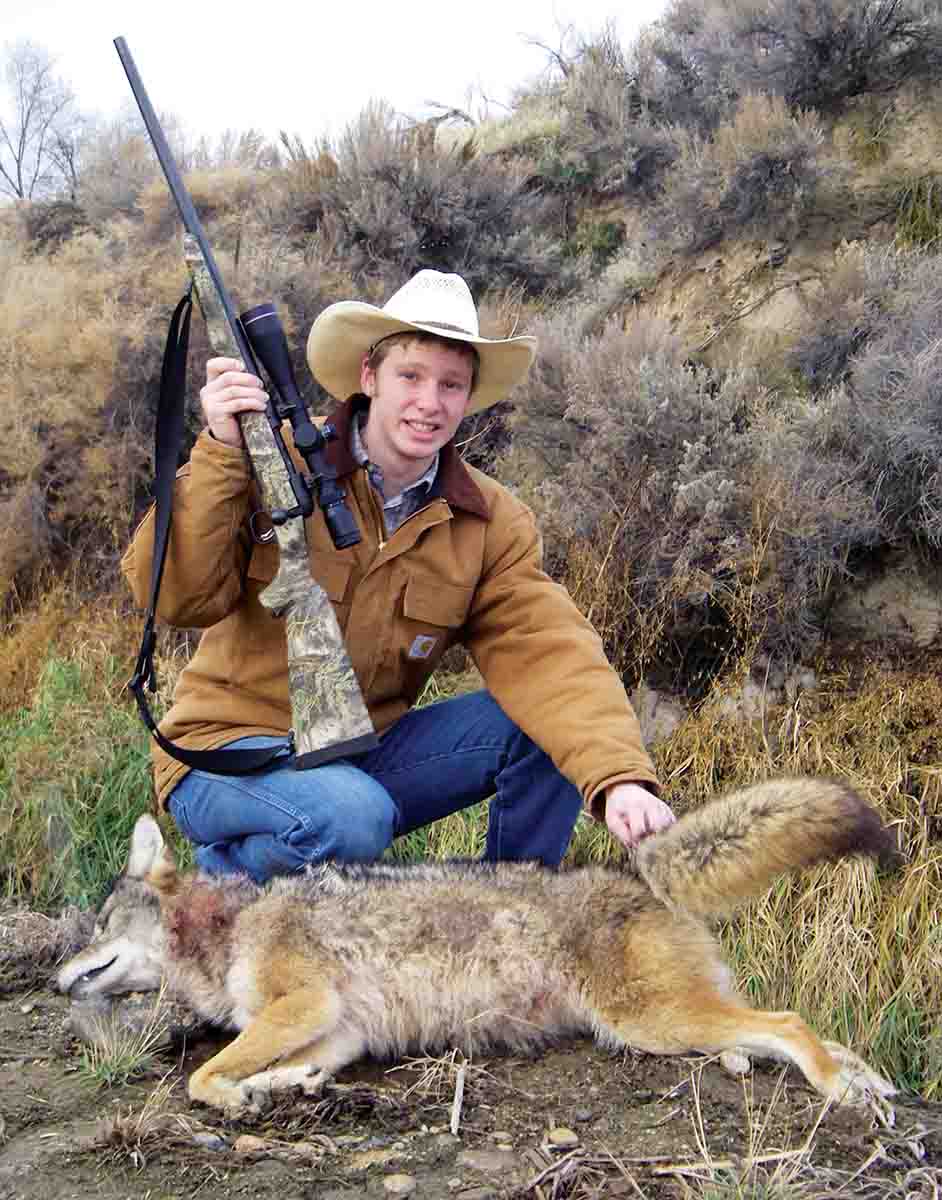 Rifles with a 1:12 twist will readily stabilize all bullets from 40 to 60 grains while offering notably better stabilization at extended ranges. However, due to the faster bullet rotation and other factors, the 1:12 twist can occasionally cause lightweight and highly frangible bullets to disintegrate during flight, at least with full-throttle loads. Nonetheless, this is my favorite twist rate, as it produces top accuracy at all practical ranges with favored all-purpose bullets that typically weigh between 50 and 60 grains.
For example, new bullets with unusually high ballistic coefficients (BC), such as the Hornady 53-grain V-MAX (.290) and Nosler 53-grain Varmageddon FB Tipped (.303), can easily be pushed to 3,800 fps, and even over 3,900 fps with select powders. These bullets have been used to take coyotes at distances beyond 800 yards, which is probably far greater than any of the cartridge's original designers ever envisioned.
For those that may use the .22-250 for hunting deer, there are some excellent bullets, such as the Hornady 55- and 60-grain SP (without cannelure), Nosler 60-grain Partition, Barnes 50-, 53- and 55-grain TSX FB Bullets, Trophy Bonded 55-grain Bear Claw and others that all stabilize perfectly with a 1:12 twist.
New bullets and powders have also significantly improved factory ammunition that offer new levels of accuracy, increased BC and terminal performance. The selection is broad, but generally includes bullet weights that range from 35 to 60 grains. Hornady's Superformance load that contains a 35-grain non-toxic bullet is advertised at 4,450 fps and holds the unique title of being the fastest production cartridge.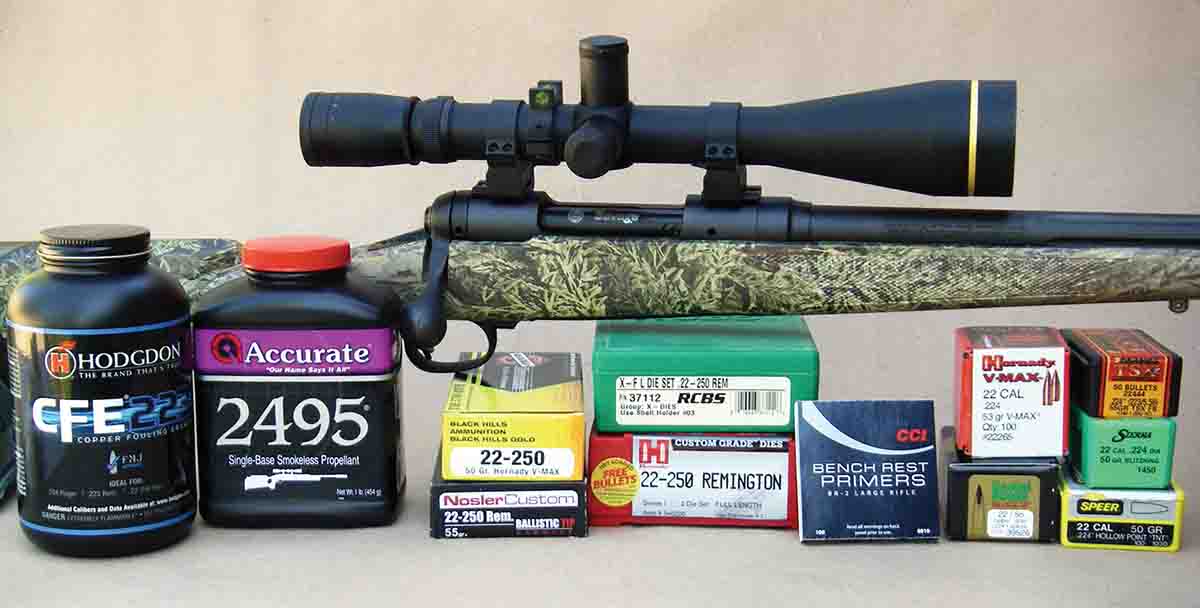 Skilled handloaders can assemble ammunition that exceeds factory load velocities while improving accuracy (see select data in the accompanying table). As indicated, I have been especially pleased with the performance of Hornady's 53-grain V-MAX bullet. In rifles with a 1:14 twist barrel, it can be pushed to over 3,900 fps using 39.0 grains of Hodgdon CFE-223 powder. In rifles with a 1:12 twist, it is best to slow the same bullet down to 3,800 fps or less to achieve correct stabilization and accuracy, with 36.5 grains of Accurate A-2495 powder recommended. In select rifles, the latter load will usually group five shots under .25-inch, and on a rifle's good day around .100 to .150 inch.
In spite of the industry standardized version being 54-years old (and much older in wildcat form), the .22-250 Remington remains a fabulous, all-purpose varmint cartridge that has become better with improved bullets and powders.
Incidentally, the Savage Model 10 Predator Hunter Max 1 rifle my son used to take those three coyotes is rapidly approaching having 4,000 rounds fired through it and has accounted for countless coyotes, foxes, rock chucks and other varmints. While accuracy is beginning to wane when compared to its former self, it shows that the .22-250 can offer respectable barrel life.