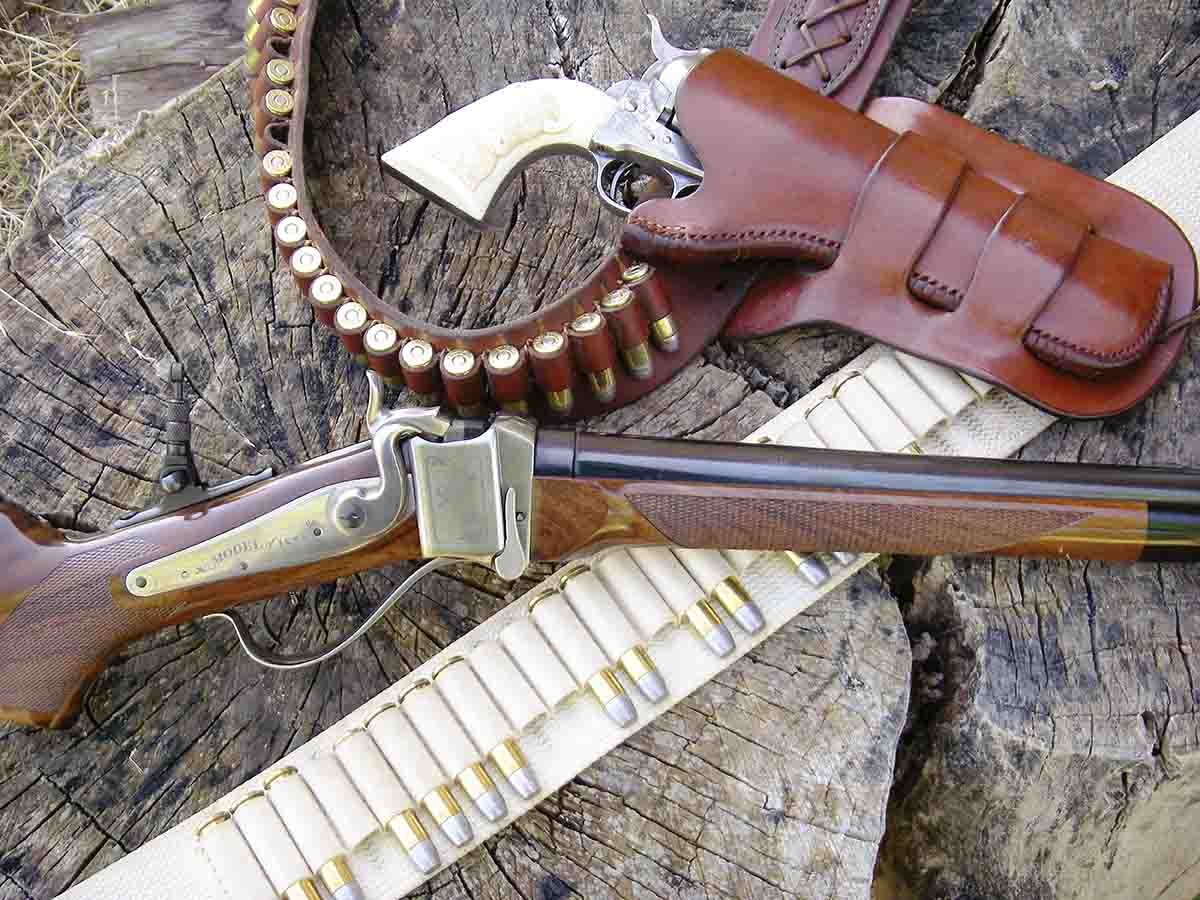 Rifles produced by the (Christian) Sharps Rifle Manufacturing Company, later reorganized as the Sharps Rifle Company, were originally offered from approximately 1851 until 1881, but quickly became a larger-than-life legend famous for their accuracy, power and rugged reliability. Even more remarkable was that their production numbers were very limited. With so few rifles produced, it is amazing that they built such a monumental worldwide reputation. The U.S. won its first world long-range championship using Sharps rifles.
Today, on those occasions when desirable rifles are offered for sale, they command especially high premiums. As a result, several companies have responded with top-drawer reproductions, including Shilo Sharps and C. Sharps Arms, each appropriately manufactured in Montana.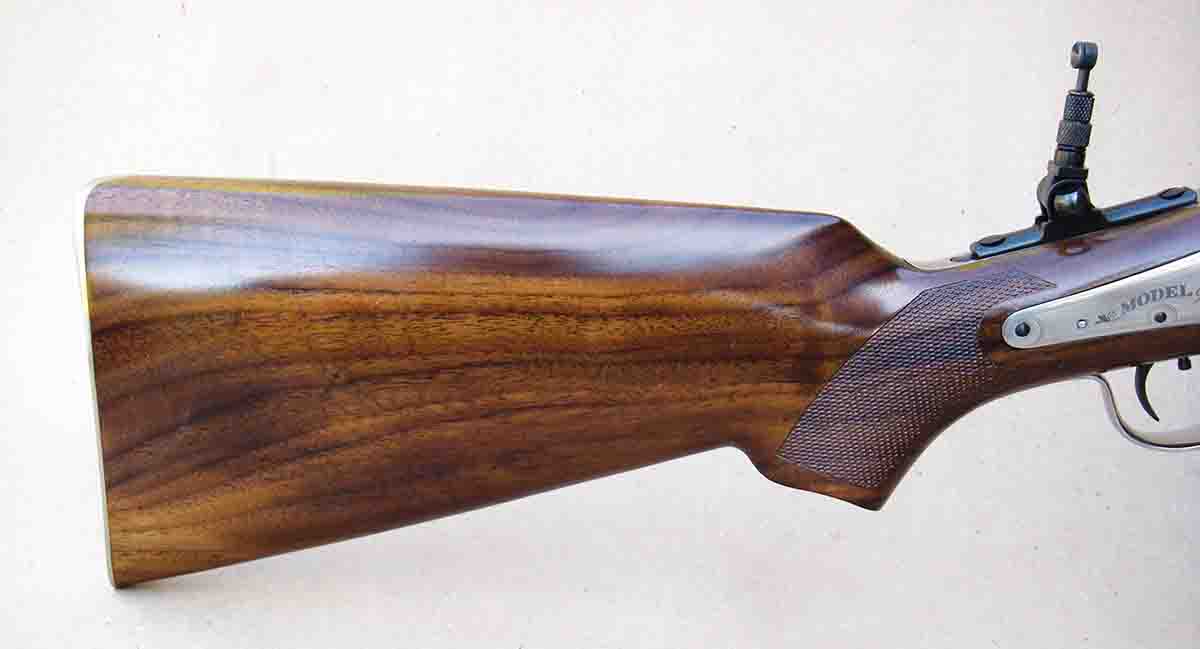 While there are (or have been) several foreign companies that offer replicas with varying degrees of quality, Italian manufacturer Pedersoli produces a quality rifle at an attractive price and is generally considered the best of the imports. Recently, Lyman has teamed with Pedersoli to produce the Model 1878, but it is more or less similar to the very rare Sharps Model 1877 side hammer. My sample rifle is handsome, well made and accurate. With excellent sights and a comparatively lightweight configuration compared to most "buffalo rifles," it will appeal to target shooters and hunters alike.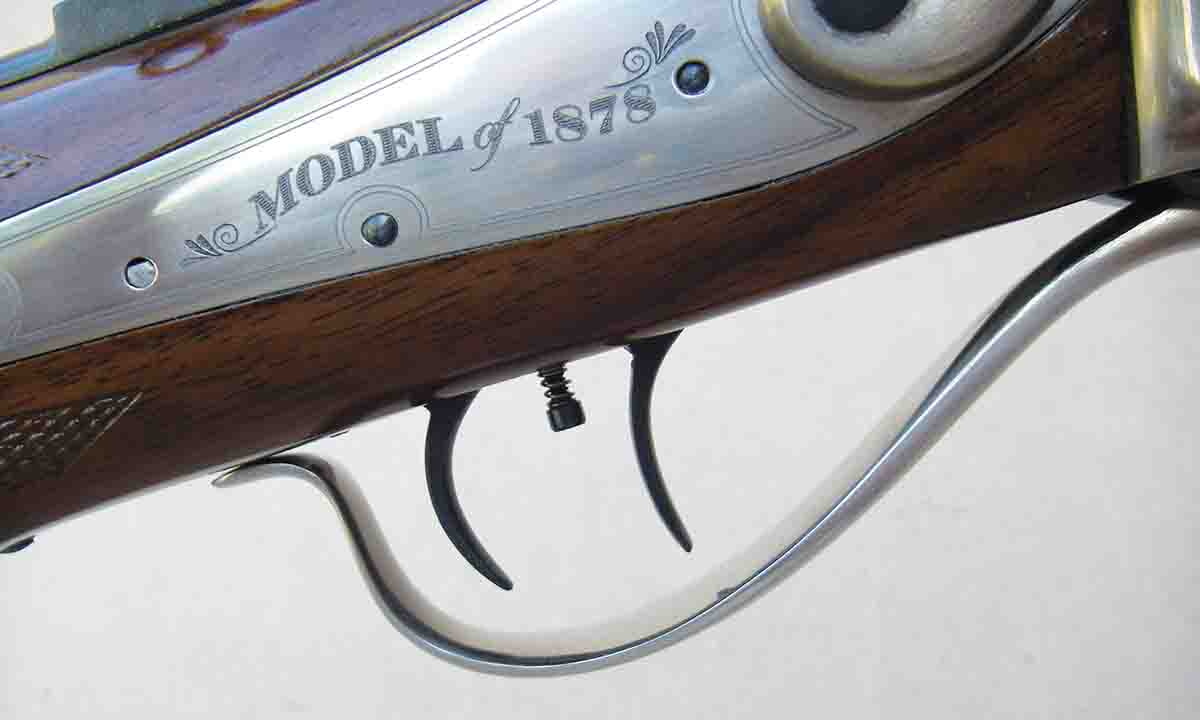 The history, models and variations of original Sharps rifles would literally fill volumes and is not appropriate here. Suffice to say the Model 1874 with side hammer is the one most commonly reproduced. Many original Model 1874s were heavy "buffalo rifles" that usually weighed at least 12 pounds, and even up to 18 pounds, but most were 14 to 16 pounds. The extremely rare Model 1877 was likewise a side-hammer design, but it featured an imported English lock that was trim, lighter in weight and gave it a distinctive, more graceful appearance. While the basic action was similar, the receiver sidewalls are more or less straight up and down, whereas the Model 1874 features sidewalls slanted slightly backward. Clearly Sharps was attempting to lighten the action and streamline its appearance.
The exact number of Long-Range Model 1877s produced is unknown; however, it was probably less than 100. Sadly, the famous manufacturer was struggling and began taking steps to close its doors, with the last of the Model 1877s being made into "sporting rifles" and sold to J.P. Lower in Denver, Colorado, in 1880.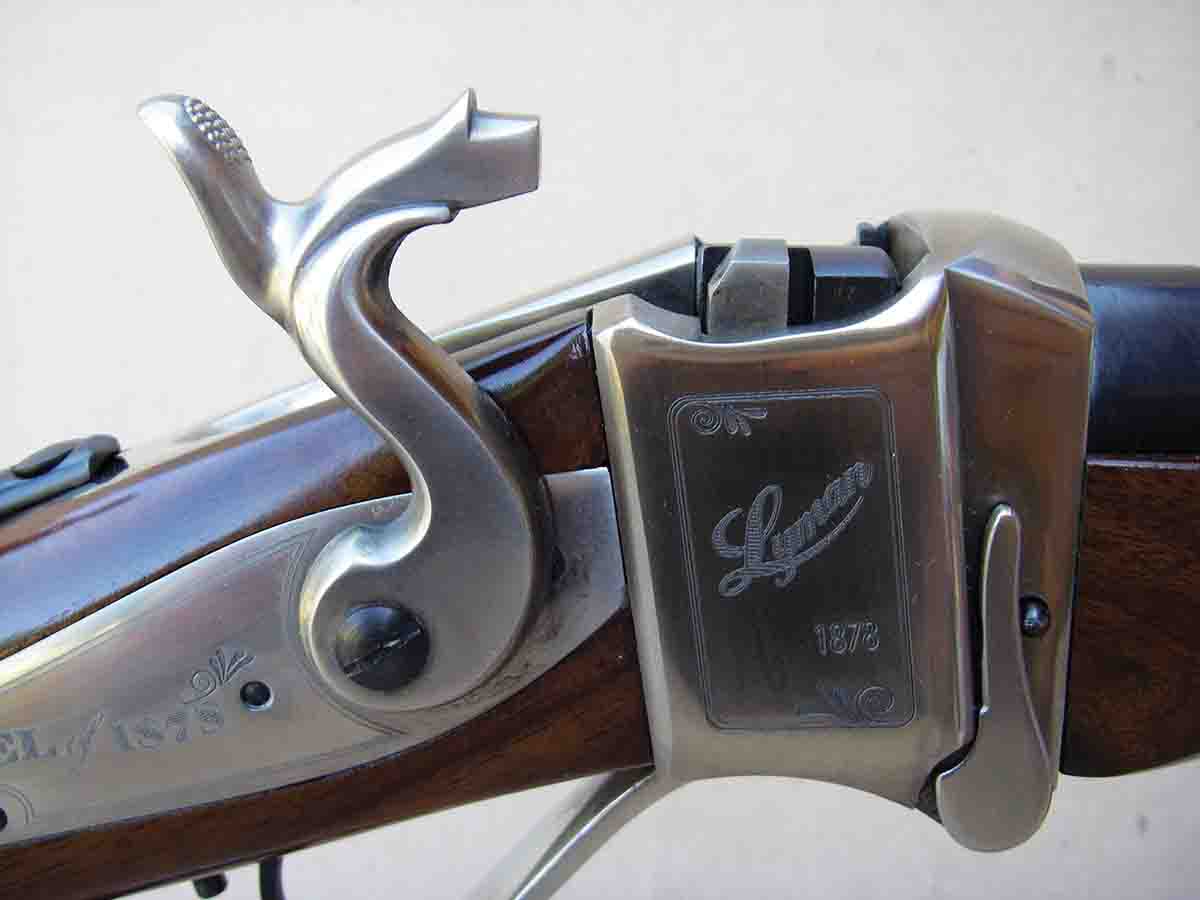 The Lyman "Model of 1878" Sharps certainly resembles the original 1877 side hammer (but should not be confused with the Sharps Model 1878 hammerless Borchardt model). It features a smaller, gracefully shaped lock with side hammer along with a Sharps-pattern falling breechblock. However, it retains the slightly slanted sidewalls of the Model 1874. To reproduce an exact copy of the original (with more or less straight up and down side-walls) would require complete re-tooling and would probably be cost prohibitive. In fairness, most shooters have never seen an original 1877 and probably would not pick up on the subtle differences.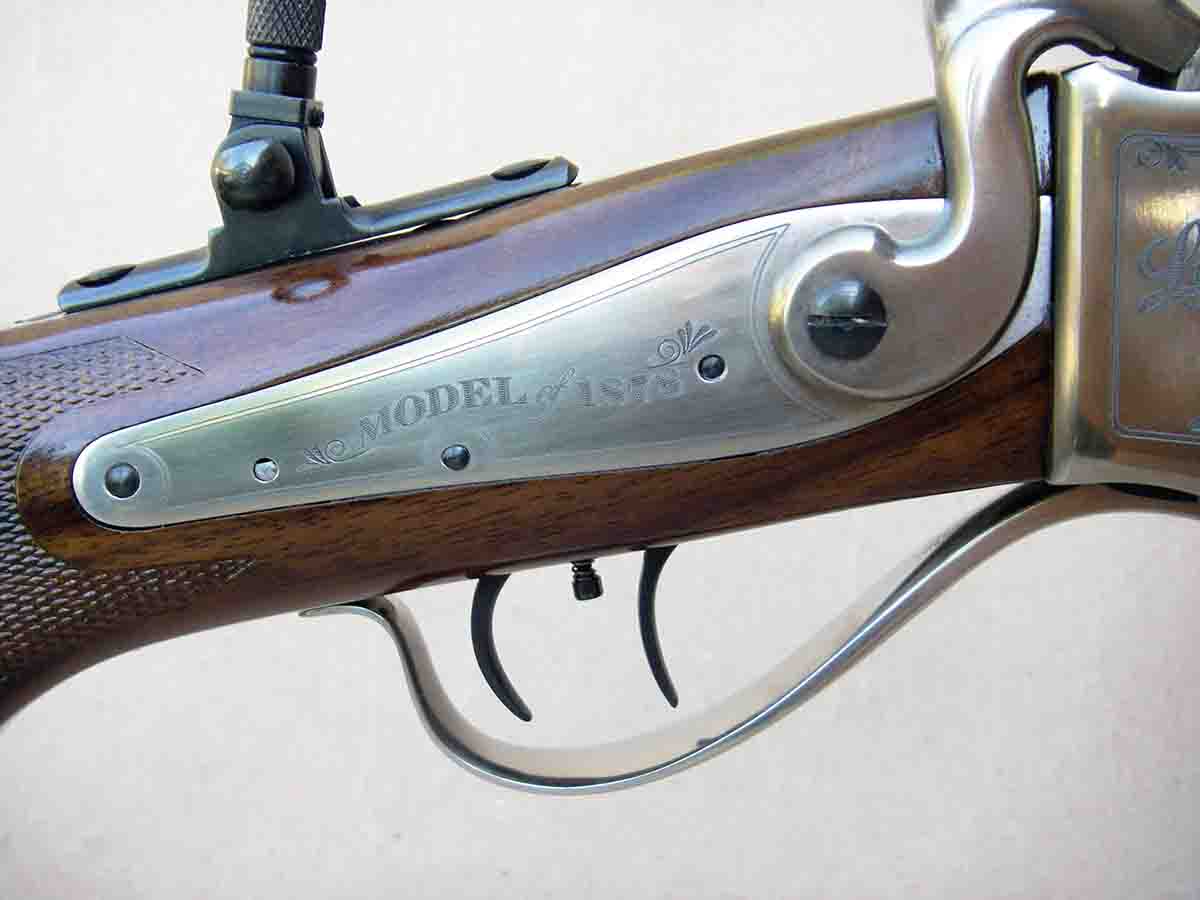 Upon examining the sample rifle, I was impressed. I have worked with several Pedersoli Sharps-pattern rifles in years past. They have proven to be accurate, well-made rifles, but the Lyman 1878 displays better fit and finish than previous guns. The machining is good, the barrel is straight and the bore is beautifully finished with a mirror-like surface. It is only offered in .45-70 Government, a cartridge capable of winning matches and is well suited to taking heavy, dangerous game.

Visual appeal of the 1878 is also outstanding. The European walnut stock is rather straight grained with contrasting dark streaks that make it especially attractive. The forearm is trim and features a black ebony tip that offers a vintage, decorative touch. The stock is checkered and features a pistol grip. The butt is a shotgun style with a steel plate featuring an engraved image of the classic Lyman trademark aperture sight with a running deer. The receiver, lock, lever and hammer are polished steel and left in the "white" with a silver-like appearance that contrasts beautifully with the walnut stock, forearm and blued barrel. The receiver is constructed of 18 Cr Mo4 steel that is first case hardened to achieve proper surface hardness while retaining internal elasticity. The round barrel is 30 inches in length, which further distinguishes the rifle.
The 1878 comes with Lyman's excellent No. 2 tang sight that features interchangeable apertures to help the shooter tune the sight picture for a variety of field or range applications. The front sight is a machined No. 17A globe that comes with seven different sight disks (inserts) to allow a quick change of the sight picture. Also included is a bright yellow plastic insert that serves to brighten the sight picture if desired. With so many sighting combinations, the rifle is at home on a target range or in the field. However, the No. 2 sight is not designed for long-range work; rather it is intended to be used at typical hunting distances that are normally kept within 200 yards or so.
One of the features I very much like about the 1878 is its weight and balance. For instance, total weight is just 9 pounds, whereas many Sharps reproduction and original "buffalo rifles" typically weigh between 12 to 16 pounds. These heavyweight rifles are great for shooting either long-range targets or buffalo, though neither of those activities require much hiking or carrying the rifle for miles.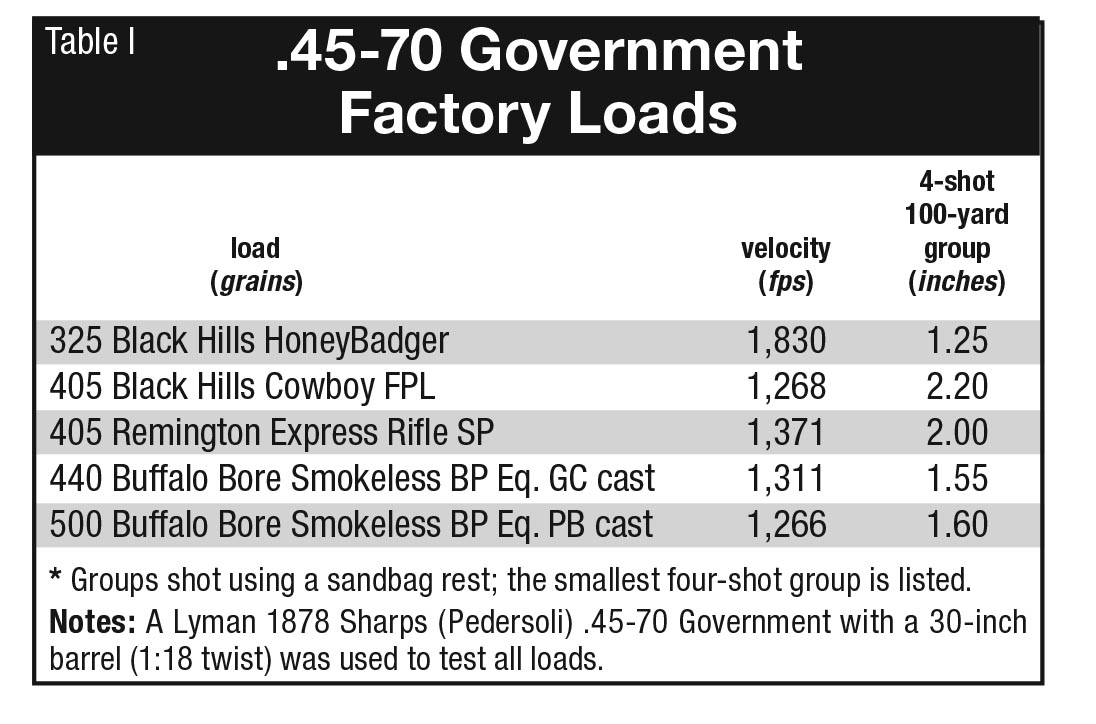 The 1878 carries and balances beautifully and is a rifle that I would gladly take into the mountains hunting. Its balance point is just forward of the receiver on the rearmost part of the forearm, which is rounded and comfortable when cradled in the palm of the hand. While there are no provisions for attaching a sling, there are mounting options that will not detract from the classic lines of this rifle. It also comes to the shoulder comparatively "lively" or "quickly" (as an upland shotgunner would say), making it capable of serving as a brush and timber rifle.
The barrel has an outside muzzle diameter of .820 inch that results in enough muzzle weight to balance properly for offhand shooting while being heavy enough to help control recoil, but neither is it muzzle-heavy. The shotgun style stock serves to reduce felt recoil and seems to fit most shooters very comfortably.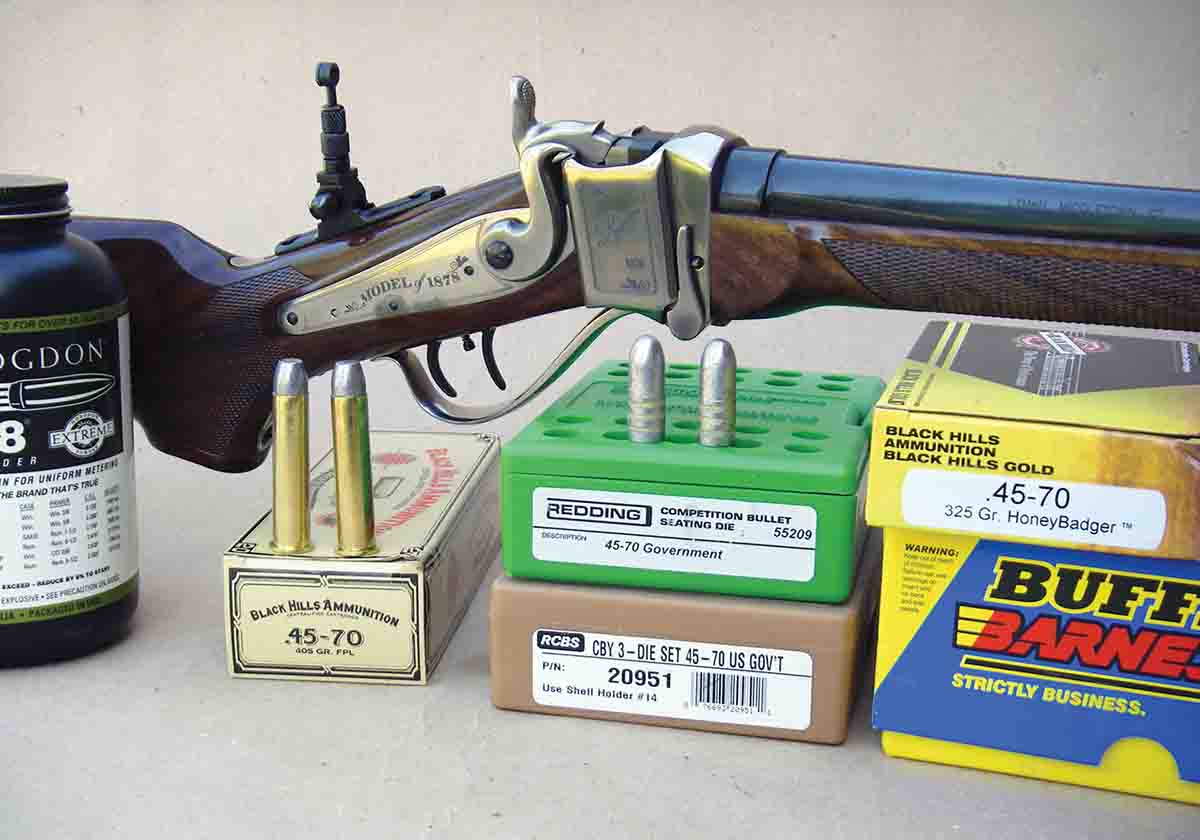 The rifle comes standard with adjustable double-set triggers. While space will not allow a complete discussion of how to correctly adjust them, suffice to say that pulling the rear trigger will "set" the front trigger and results in a light, crisp pull to aid with precise shooting. Out of the box, the front trigger broke in the "set" mode at under 3 pounds. If a shot needs to be taken in a hurry, pulling only the front trigger will fire the rifle, but the pull will be notably heavier (around 7 to 8 pounds) when compared to the excellent pull associated with the front trigger when fired in "set" mode. As a point of interest, the triggers should not be pulled with the hammer in the half-cock position, which may cause breakage. Rather, the hammer should be all the way down or fully cocked when pulling the triggers.
It is important to note the correct method of loading and unloading the Sharps-pattern, side-hammer rifles for safety and to prevent breaking or damaging the firing pin. Before opening the action – accomplished by pushing the trigger guard (aka lever) downward – the hammer must first be placed in the half-cock position. When the hammer is in the fully down position, the firing pin is pushed forward and there is a chance of damage or breakage if the action is opened. Likewise, after each round is fired the hammer should again be placed in the half-cock position before extracting a fired case and inserting a new cartridge. This method also prevents the firing pin from contacting the cartridge's primer as the action is closed on a loaded round. If the action is closed with the hammer in the down position, the extended firing pin will contact the primer and can potentially result in a discharge.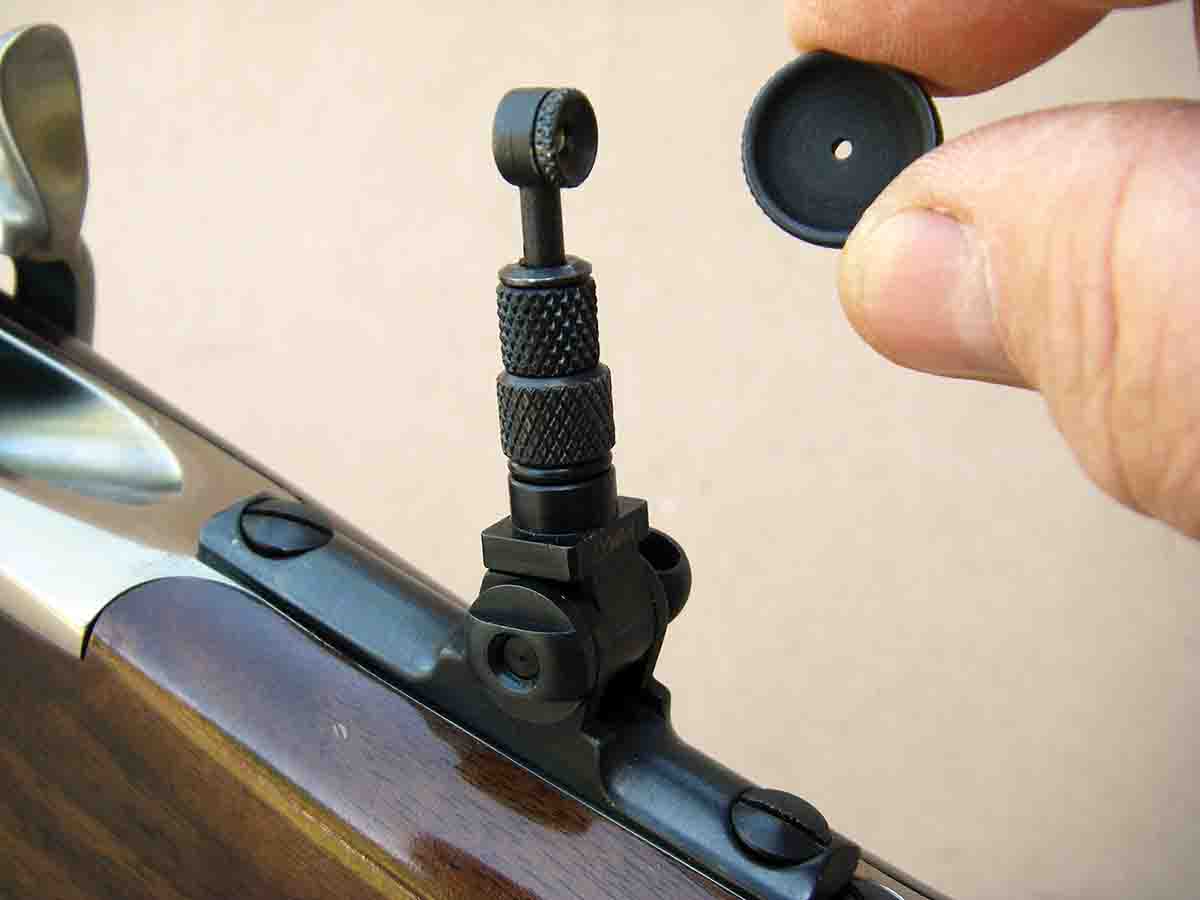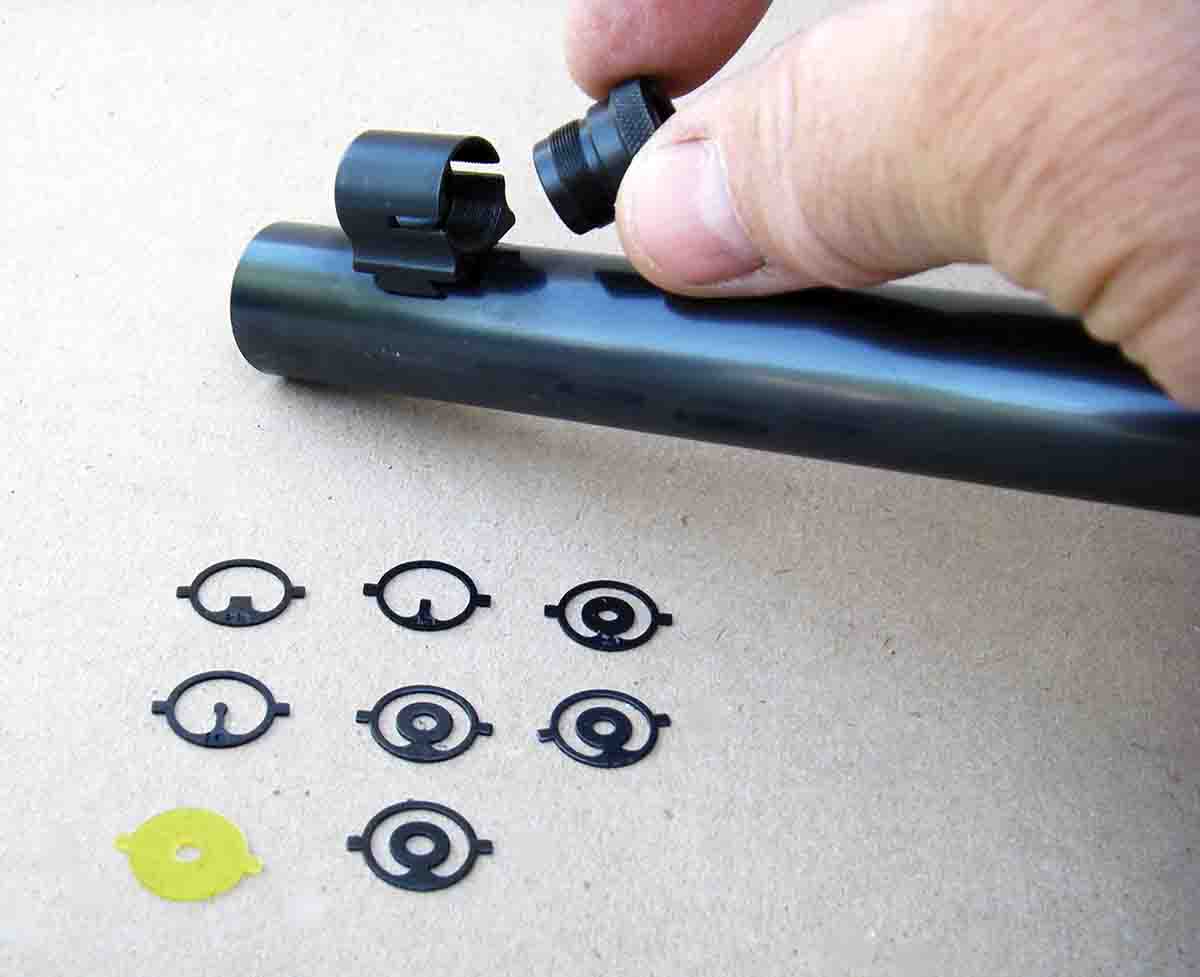 The Model 1878's action is smooth to operate and is notably quiet when opening or closing, which is desirable for a hunting rifle. Some hunters choose to carry their Sharps-pattern rifles in the field with a round chambered and the hammer in the half-cock or safety position, but others prefer to leave the chamber empty then insert a cartridge when the time comes to shoot. As always, the best "safety" is awareness and common sense.
My only criticism of this Pedersoli is rather minor and includes the hammer position when placed in the half-cock mode. The hammers of original Sharps rifles (as well as reproductions from Shiloh Sharps and C. Sharps Arms) are engaged in the half-cock (or safety) position almost immediately after the hammer is lifted off of the firing pin block. By contrast, the hammer of the 1878 rifle is actually approaching the full-cock position when the half-cock notch is engaged. With some minor reengineering, it could be changed to function more like the originals, which would also result in a safer design.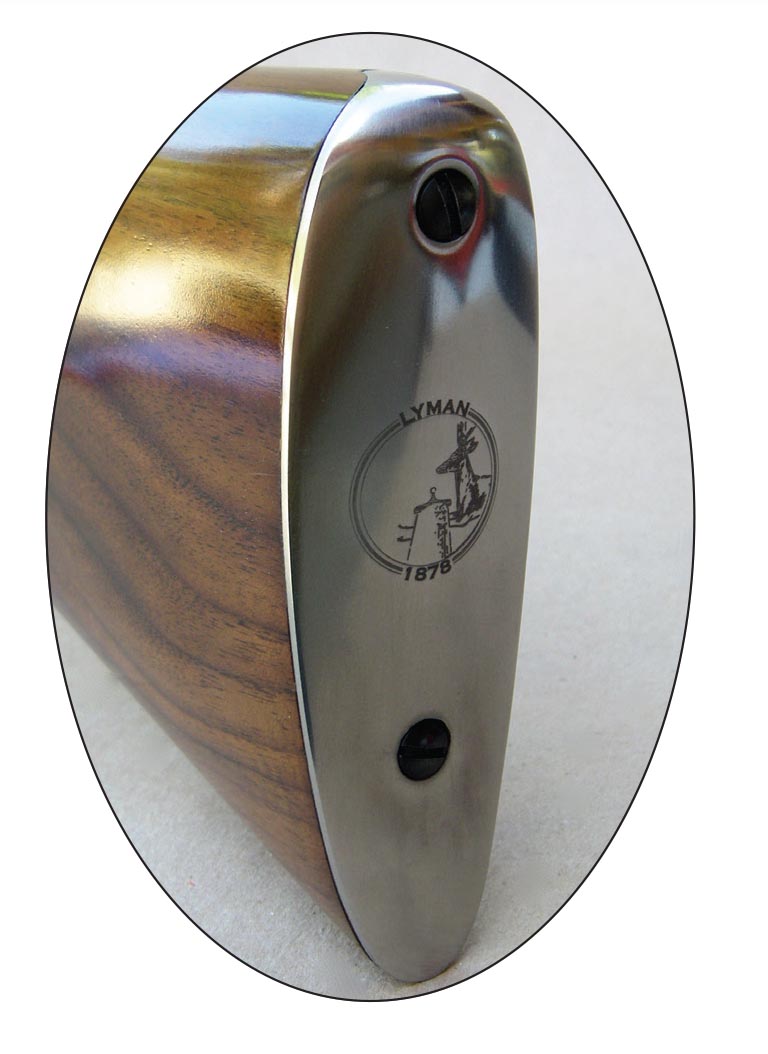 I am aware of some shooters that have put some comparatively high pressure loads through Pedersoli Sharps-pattern rifles; however, for reasons that won't be discussed here, I prefer to limit ammunition to around 28,000 psi, the same figure Lyman suggests for factory and handloads and the standard established by the Sporting Arms and Ammunition Manufacturers' Institute (SAAMI) for maximum average pressure. Incidentally, Pedersoli rifles are Commission Internationale Permanente (C.I.P. – European equivalent to SAAMI) proofed and deemed safe for loads with maximum average pressure of 29,007 psi, which in practical terms is the same as SAAMI guidelines.
For clarification, current .45-70 factory loads as produced by Black Hills Ammunition, Federal Cartridge, Remington and Winchester (all members of SAAMI) are generally loaded to around 18,000 to not over 22,000 CUP, which translates into a similar figure when converted to psi. Pressures of factory loads are intentionally kept below SAAMI guidelines in deference to the comparatively weak actions associated with black-powder era Springfield Model 1873 "Trapdoor" rifles. When the .45-70 is handloaded to 28,000 psi, combined with the velocities produced by the 30-inch barrel of the Lyman 1878 rifle, performance can be notably enhanced when compared to factory loads fired in shorter barrels, such as popular leverguns that often have barrels of 18.5 to 22 inches.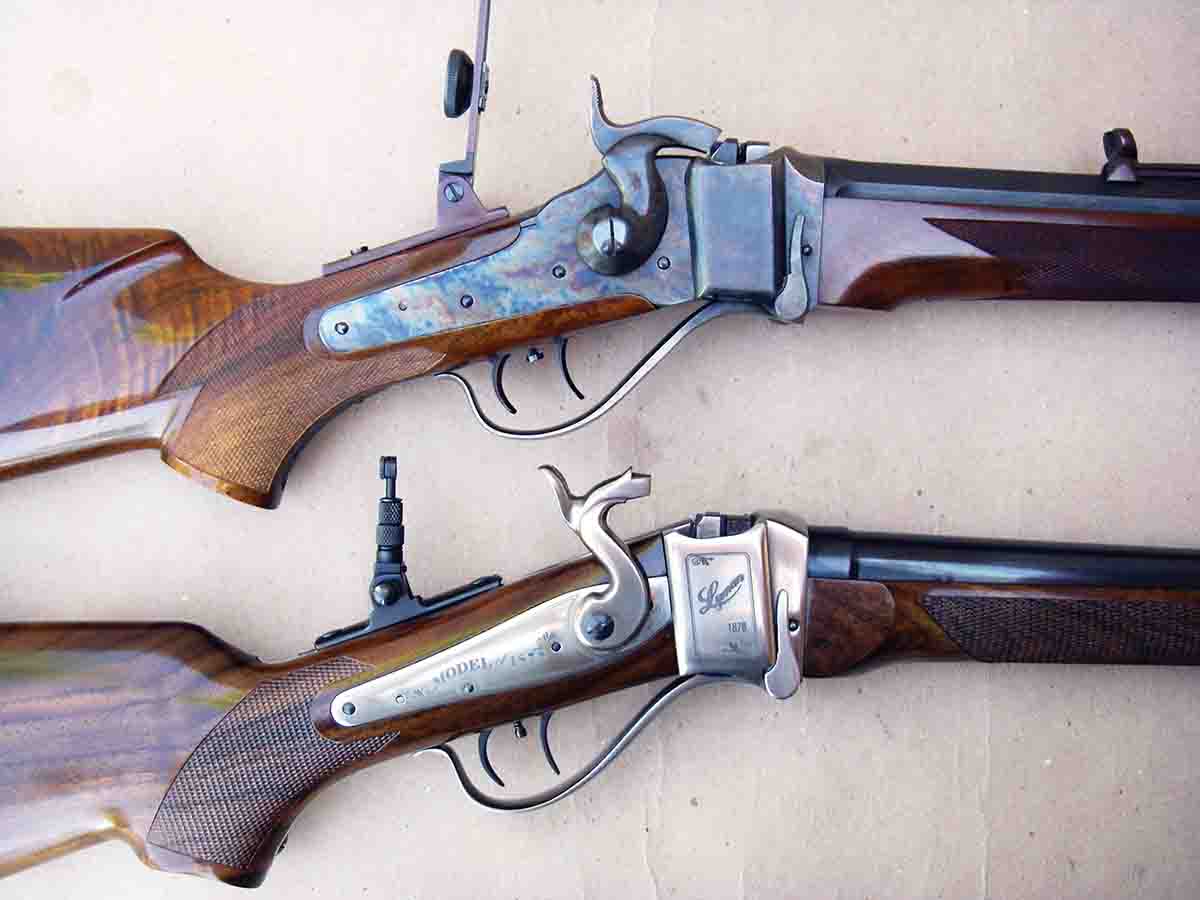 To help break in the bore, it was first cleaned, very lightly oiled then fired with a jacketed bullet, cleaned again and repeated for the first five shots. There was so little fouling between shots that this step was probably not necessary. According to Pedersoli, its barrels have won many "gold medals [and] set world records during international competitions." This Lyman 1878 barrel is what they refer to as "best presentation" and is "qualified Premium Match Grade." It is constructed of the finest material and is drilled, reamed and lapped to a mirror-like finish and broach rifled. Special care is taken to eliminate small disparities found in the "bottom of the rifling." Incidentally, the barrels are slightly choked, which according to Pedersoli serves to "better stabilize the bullet." In shooting a fair number of handloads through this rifle, it sure seems to have a "fast barrel" that produces higher velocities when compared to other barrels of the same length.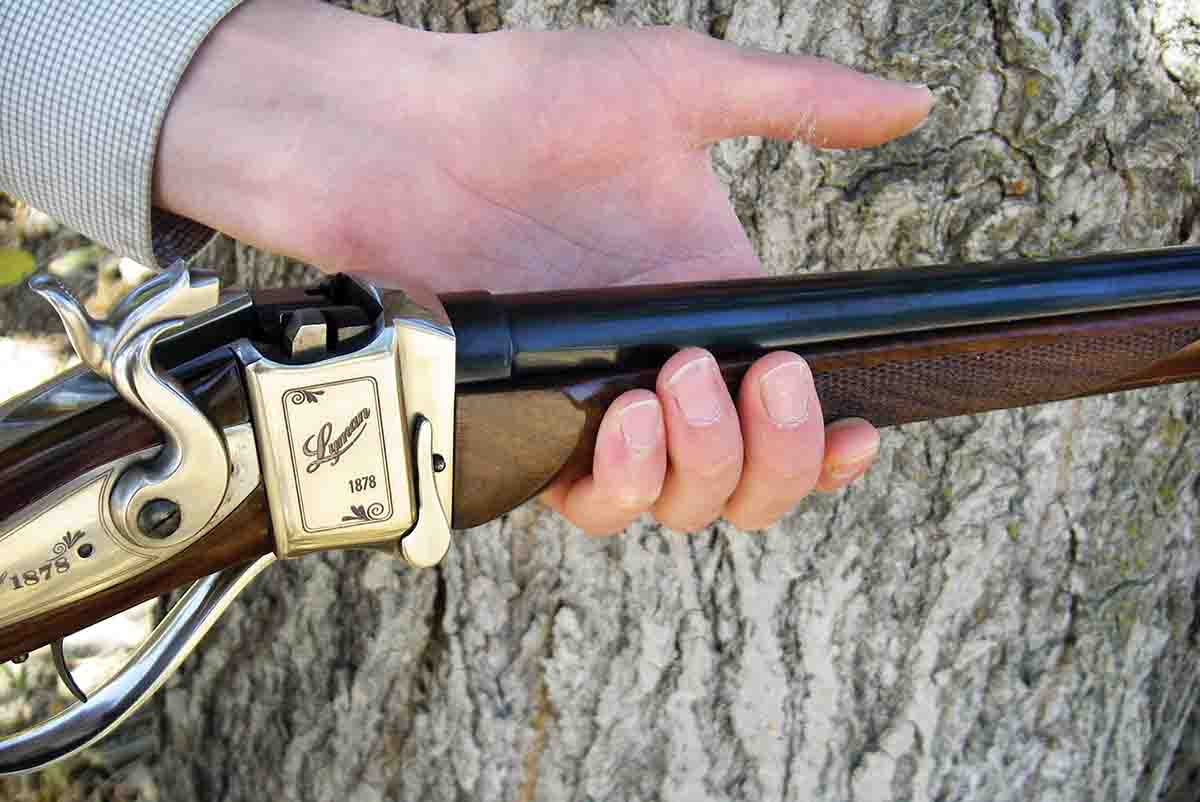 Next the rifle was checked for velocity and accuracy with several factory loads. From a sandbag, select groups hovered from 1.25 inch (Black Hills 325-grain HoneyBadger) to 1.55 inch (Buffalo Bore Smokeless BP Eq. 440-gran Cast GC).
Moving on to handloads, the primary focus was to develop practical loads for hunting and included both jacketed and cast bullets with weights that ranged from 400 to 504 grains. None of the accompanying loads exceed the previously mentioned 28,000 psi limits, and in fact most are well below this pressure guideline.
With carefully assembled handloads the Lyman Model 1878 produced outstanding accuracy with both cast and jacketed bullets. First up was the classic Speer 400-grain SP FN bullet that is so popular in leverguns. Using 48.0 grains of Accurate 2015 powder, velocity was 1,805 fps using CCI BR2 primer, and extreme velocity spreads were single digit while four shots grouped under one inch. Other notable loads included the RCBS 420-grain cast bullet from mould 45-405-FN pushed to 1,725 fps using 47.0 grains of H-4895 powder that produced virtually identical accuracy to the above Speer bullet. The Oregon Trail 430-grain True Shot FP GC pushed to 1,730 fps using 43.0 grains of H-322 powder likewise produced select groups that measured between 1.25 to 1.60 inches. If seeking traditional 500-grain RN cast bullet data, bullets from Redding mould 881 were used (cast at 504 grains with a Brinell hardness number of 9 and lubed with SPG). Hodgdon H-4198 and Accurate 2015 powders were selected, with both producing similar accuracy as the above mentioned handloads. In spite of this bullet being a plain-base design, there was virtually no barrel leading.
The Lyman rifle functioned and performed flawlessly throughout many shooting sessions. It is accurate, offers a beautiful balance and is light enough to carry in the field, making it an excellent choice for hunters.