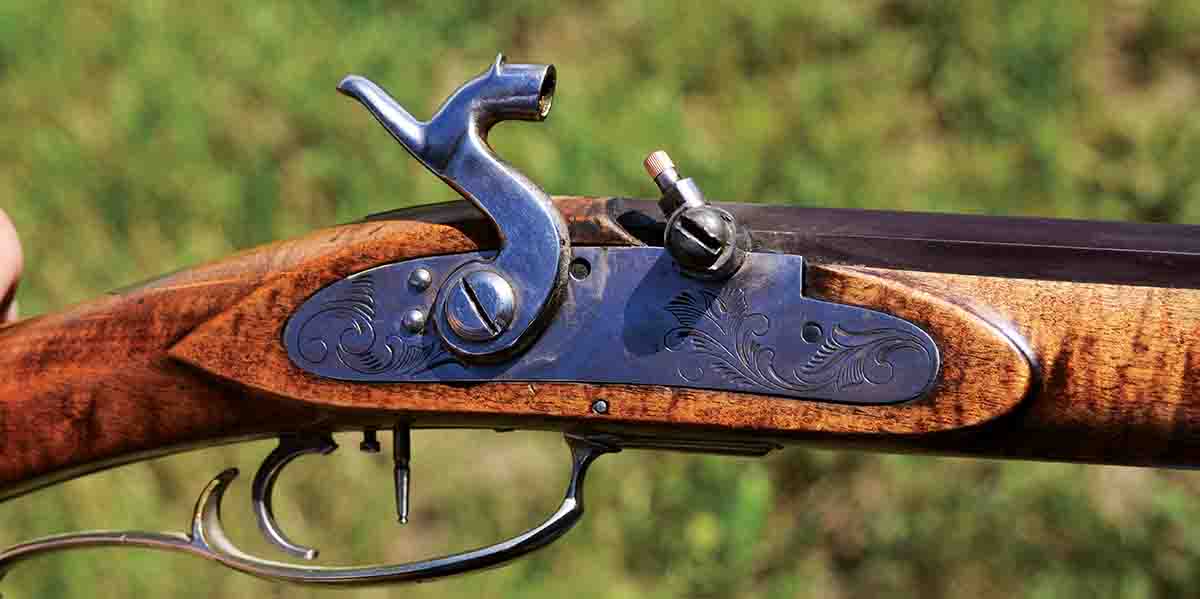 Before modern muzzleloaders, before sabots, before even Maxi balls, there were two basic types of muzzleloading projectiles used in America, the patched roundball and the Minié ball. The first type dates from the early 1700s and was primarily used in rifles of the Eastern "long rifle" type or later western "plains rifle" style.
The second one was perfected by a French military officer named Minié in 1848. It was for military rifle-muskets. By 1851 the British Army had adopted Minié balls, and by 1855 the American Army was also using them. The sole reason both types of projectiles were developed was to enable rifles and rifle-muskets to be loaded in a short time frame and still deliver a shot on target with reasonable precision.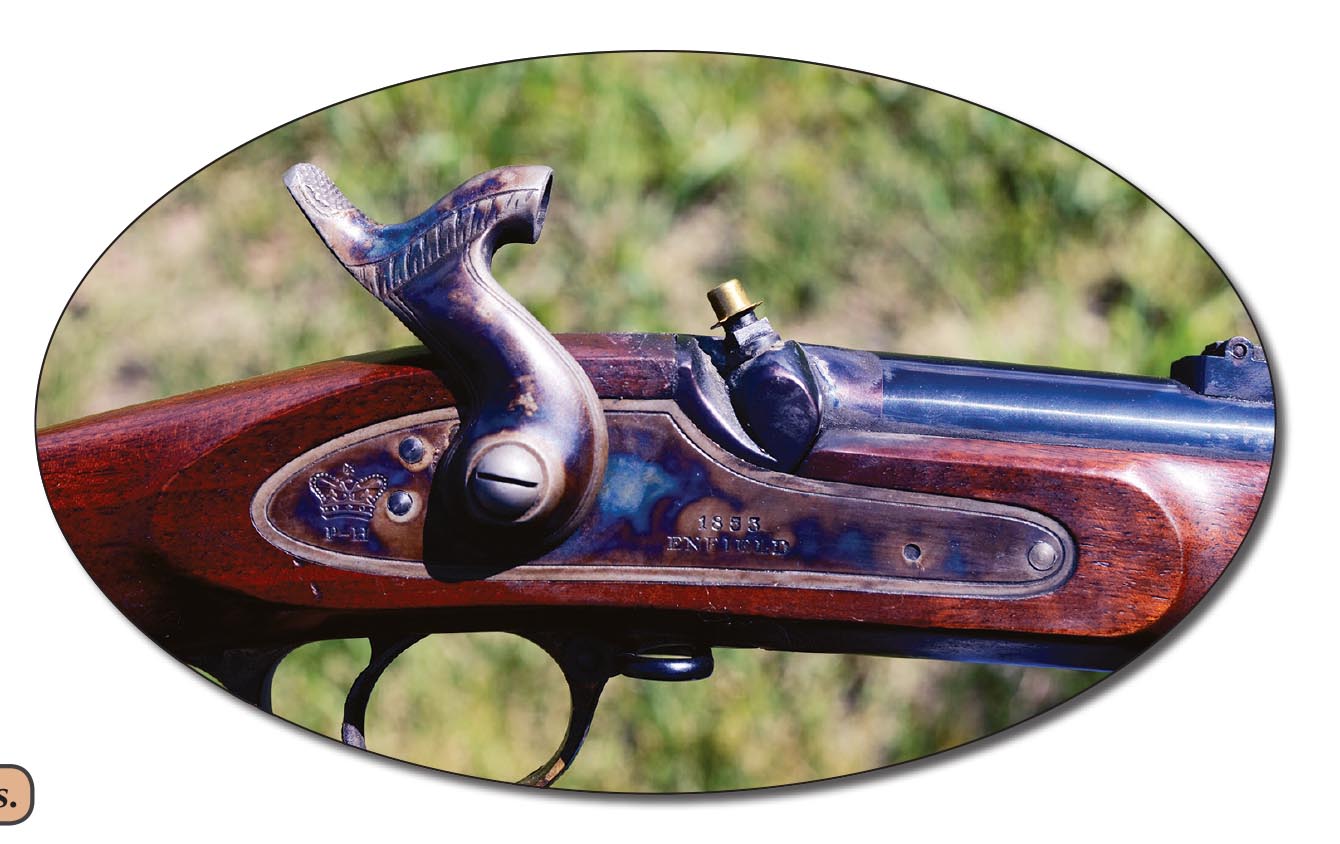 Patched roundballs are usually about .010 inch under a rifle barrel's groove diameter. For instance, a .50-caliber rifle needs a .490-inch roundball. The ball is then loaded with a cloth patch surrounding it. That way the lead never contacts barrel steel, which would result in considerable lead fouling. Yet the cloth patch grips the barrel's rifling, imparting spin to the ball. Roundballs are usually the lightest projectile for a given caliber. Therefore, they do not make good long-range projectiles. A couple hundred yards is likely maximum range for patched-ball rifles. However, due to their light weight, roundballs can be driven remarkably fast, meaning they hit hard at modest ranges.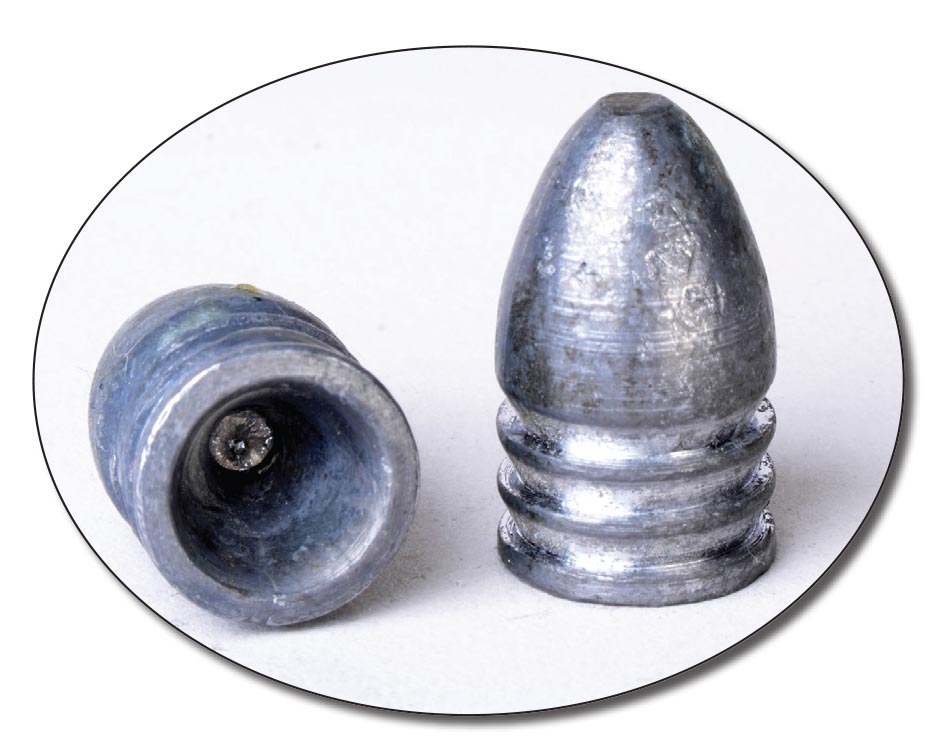 Minié balls are hollowbase and start out undersize of a rifle-musket's barrel land diameter. A Minié ball for a .58-caliber rifle-musket will measure about .575 inch, depending on the exact bullet mould used. When the powder charge ignites, the blast of gas fills the Minié's hollowbase and expands its rather thin, soft lead skirt to grip the rifling. Since lead will definitely touch steel, some sort of lubricant helps. In the old days, Minié balls were sometimes dipped in animal grease and/or beeswax. Military dogma of the Minié ball era suggested they could be used out to 400 yards with a modicum of accuracy. And, being of pure lead, their wounds were devastating.
As to patched-ball rifles, I have only owned three. My first two were a Thompson/Center Hawken and a Dixie Gun Works Tennessee Rifle. Both were .50s with percussion ignition and both displayed respectable accuracy right from their boxes. Then in 2016, from an estate I purchased a beautifully crafted and very ornate .45 Pennsylvania or Kentucky style long rifle. (I prefer the second state's name because I was born about a half-mile from the Kentucky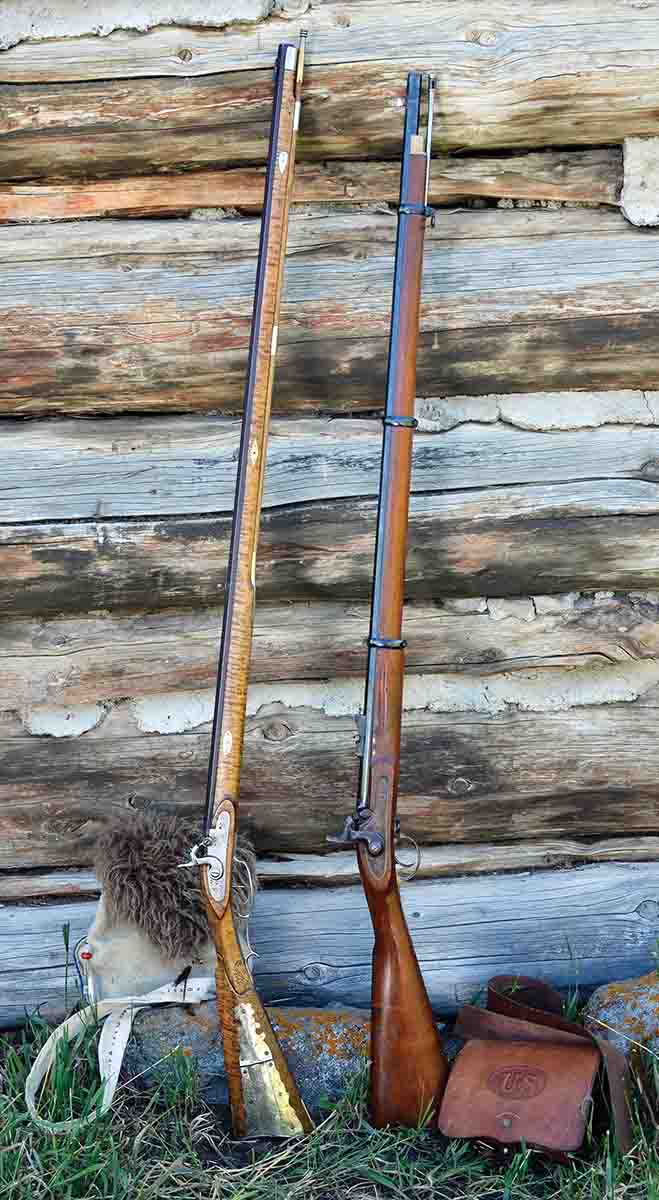 border.) Also of percussion style, it was marked, "A.P. & A.W. Lenhart." Its barrel is 40 inches long. I've read that usual rifling-twist rate of roundball rifles is 1:72. By the available information I received, the rifle had been built especially for the deceased gentleman who perhaps never fired it. Until mid-2019, neither did I.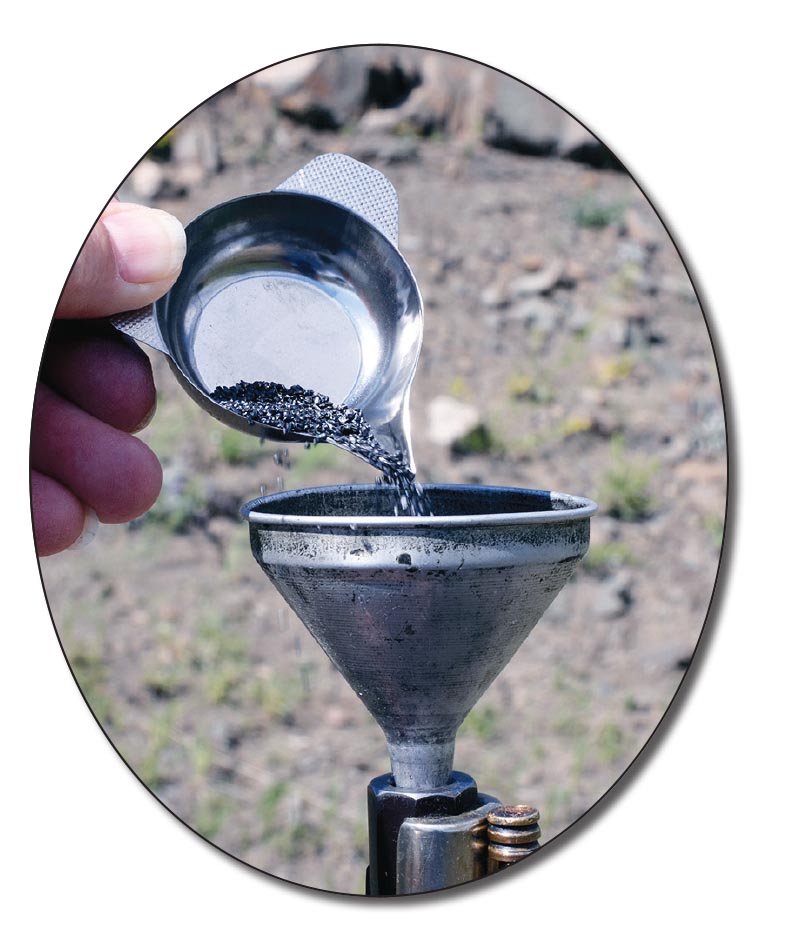 In 1994, as a member of the NRA's Black Powder Committee, I saw a professionally produced video of the North-South Skirmish Association's yearly competitions near Winchester, Virginia. That lit a fire in me, and as usual, I went full-tilt. In the next year or so I bought seven different models of replica rifle-muskets and one original, a Colt Model 1861 Special. All were .58s except the Enfield replicas, which were .577. During the American Civil War thousands of .577 British Enfield Model 1853s were purchased by both sides. American .58-caliber ammunition fit them despite the .003-inch barrel differences.
My plan was to attend one of those North-South shoots and had even progressed to the point that I joined a group from back east with that intention. Then life's complications intervened, my plans fell apart and six of those seven rifle-muskets were sold. The only one kept was an English made Parker- Hale replica of the British Army's Model 1853. My shooting experience with it consisted of a few dozen rounds fired one afternoon right after buying it. The Parker- Hale Model 1853s have 39-inch barrels. Rifling twist rate is 1:48.
At this point it needs be said that I am in no way a muzzleloading expert. In fact, the vast bulk of the hundreds of pounds of black powder personally used have gone down the barrels of metallic cartridge rifles. Until shooting for this article, I had not fired a muzzleloader of any type for over 20 years. After such a lengthy hiatus from muzzleloading and with my fancy rifle not having been fired at all, it seemed appropriate to give myself a refresher course with both types of traditional front-stuffing projectiles. And the details might interest readers considering traditional muzzleloading.

First off, proper components are necessary. Fifty years or so ago, if anyone was going to shoot a muzzleloader he or she would likely be a bullet caster. Hornady and Speer had not introduced their swaged, pure lead roundballs then. (And I still cannot figure out how they make them so perfectly round and exact dimensionally.) Contrary to the plethora of roundballs now commercially available, Minié balls are more a homemade endeavor. Surely some small business offers them, but mine have always been cast in Lyman or RCBS moulds, and of course only pure lead suffices. Minié balls can be a little troublesome to produce in that the lead and mould must be very hot or pinholes appear at the top of the hollowbase cavity. This does nothing for their accuracy.
According to my research, the 1860's U.S. Army's primary load for .58-caliber rifle-muskets was a 450-grain Minié ball in a paper cartridge holding 60 grains of black powder. Lyman's mould 575213OS (old style) drops .575-inch, 460-grain Minié balls. They were hand lubed with SPG. In my stash was a box by Hornady .440-inch roundballls perfect for my Kentucky long rifle. Patches were also needed. My old friend Steve Garbe, editor of our sister publication Black Powder Cartridge News, told me once he lubes his muzzleloading patches with Neats-foot oil. I tried that but got too liberal with the oil, which made them super messy and a pain to use. Back to my stash I went and dug out an unopened bag of Ox-Yoke pre-lubed Wonder Wads for .40- to .49-caliber roundball rifles. My projectile needs were fulfilled.
Plenty of black powder was on hand, and a can of Swiss made No. 1 ½ Fg was randomly chosen. That was the easy part. The harder part was getting powder into a barrel. This is where it would be easy to get into trouble. NEVER pour powder straight from a container such as a powder horn into a recently fired barrel. If a spark remains in that barrel and ignites the incoming powder, the fellow dispensing it is holding a bomb. The proper way is to put a powder charge in a separate cup or pan for dropping in the muzzleloader, and then close up the powder container. Many types of flasks or dispensers are available; mine left over from my excursion into .58-caliber rifle-muskets turned up broken. Therefore, charges were weighed by means of a powder scale and dumped into barrels through an aluminum funnel.
Finally, we come to ignition. There are two basic types of percussion caps: one for rifle-muskets and another for all other percussion black-powder firearms, including revolvers. The rifle-musket caps are nick-named "top-hat." Back in the 1990s I remember buying 1,000 top-hats from Navy Arms. Only about 300 remained, so I must have done considerable shooting with all those rifle-muskets in the past. For the Kentucky long rifle, CCI No. 11 Magnum percussion caps fit perfectly.
Starting out, both firearms' barrels were swabbed clean of old oil and grease. A 60-grain charge was dropped in the rifle-musket and a Minié ball thumbed into the muzzle. The steel ramrod set it upon the powder charge. It is important that the projectile sets directly on its powder charge. A "short started" bullet can result in a bulged barrel, so it is beneficial to mark the ramrod with a scratch or piece of tape when you're sure the ball is seated. Adding the top-hat cap made the rifle-musket ready to fire.
This is where I realized my first mistake. The report of that first shot was definitely heard in two parts. There was the small explosion of the cap, then with a noticeable delay the musket fired. In other words, it was a hang-fire affair. My mistake had been in not making sure the channel between nipple and powder chamber was clear. This is done by putting the unloaded firearm's muzzle near the ground and firing a cap or two. There will be visible disturbance, even from a very long barrel.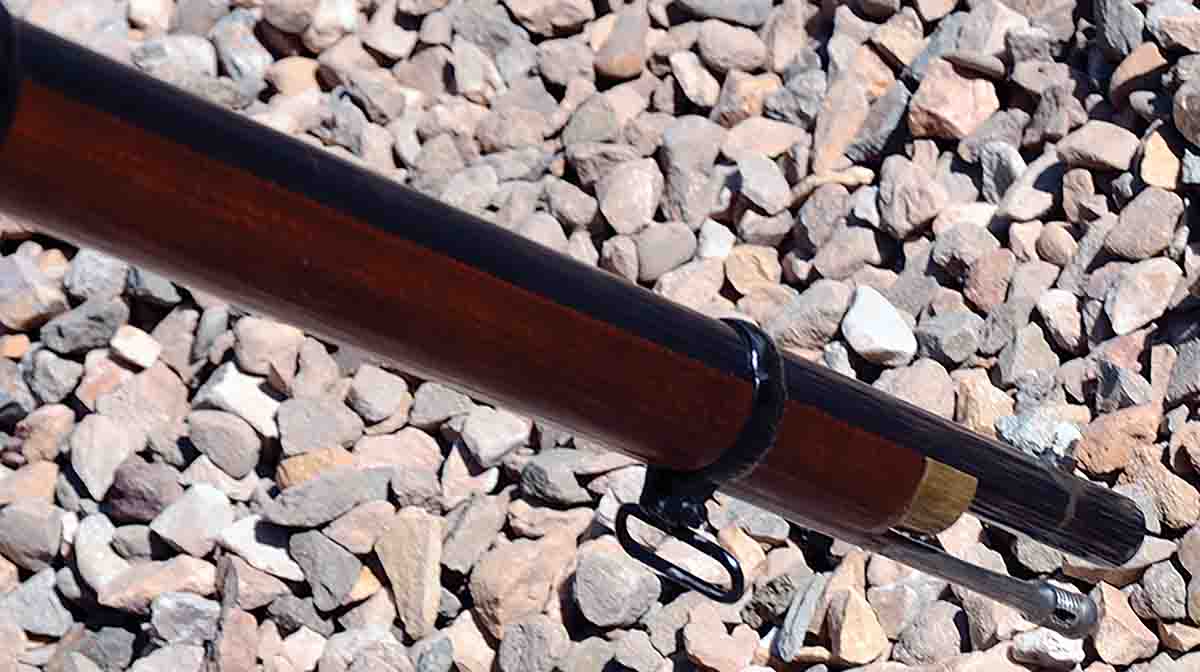 Interestingly, that first shot tumbled the Minié ball and the second shot was also a hang-fire, but those two shots almost touched at 100 yards. With the hang-fires behind me, a three-shot group was fired measuring 3½ inches a bit low and left of the first two bullets. Velocity was 1,035 fps with an 18-fps variation. That's not bad considering open, military style sights.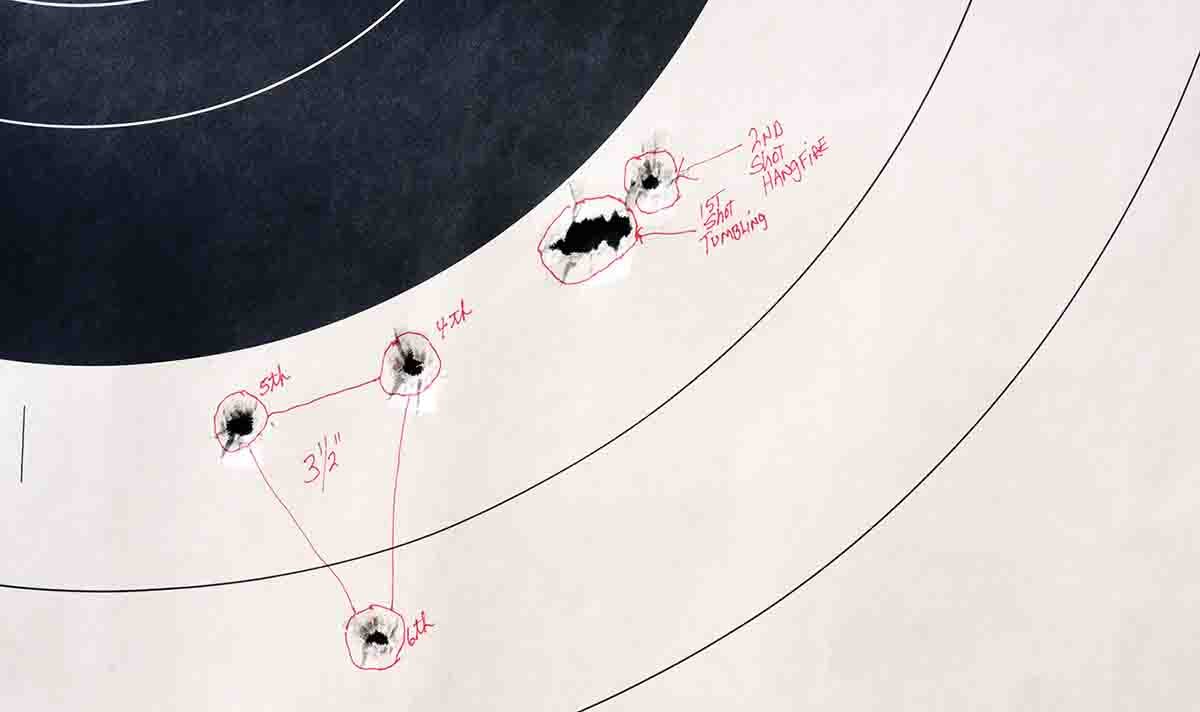 Initial results with the Kentucky long rifle were not as satisfying. At least the nipple channel was cleared properly. Loading the patched ball is more complicated than Minié balls. Starting one with just a ramrod is difficult, which is why ball-starters are sold. Mine is a simple ball of hardwood with a 1⁄8-inch brass protrusion and another prong about 6 inches long. The loading procedure is as follows: Lay a patch over the muzzle, place the ball on top of the muzzle and then press it into the barrel with the brass starter. Next, push the patched ball deeper with the long starter. Then the ramrod can be brought into play. Why not use it in the beginning? Because wood ramrods tend to flex from the pressure of starting the ball, and when they break the jagged end tends to end up in the ramrod holder's hand. (I know from experience!) Again, ramrods should be marked when the ball and patch are solidly seated atop the powder charge.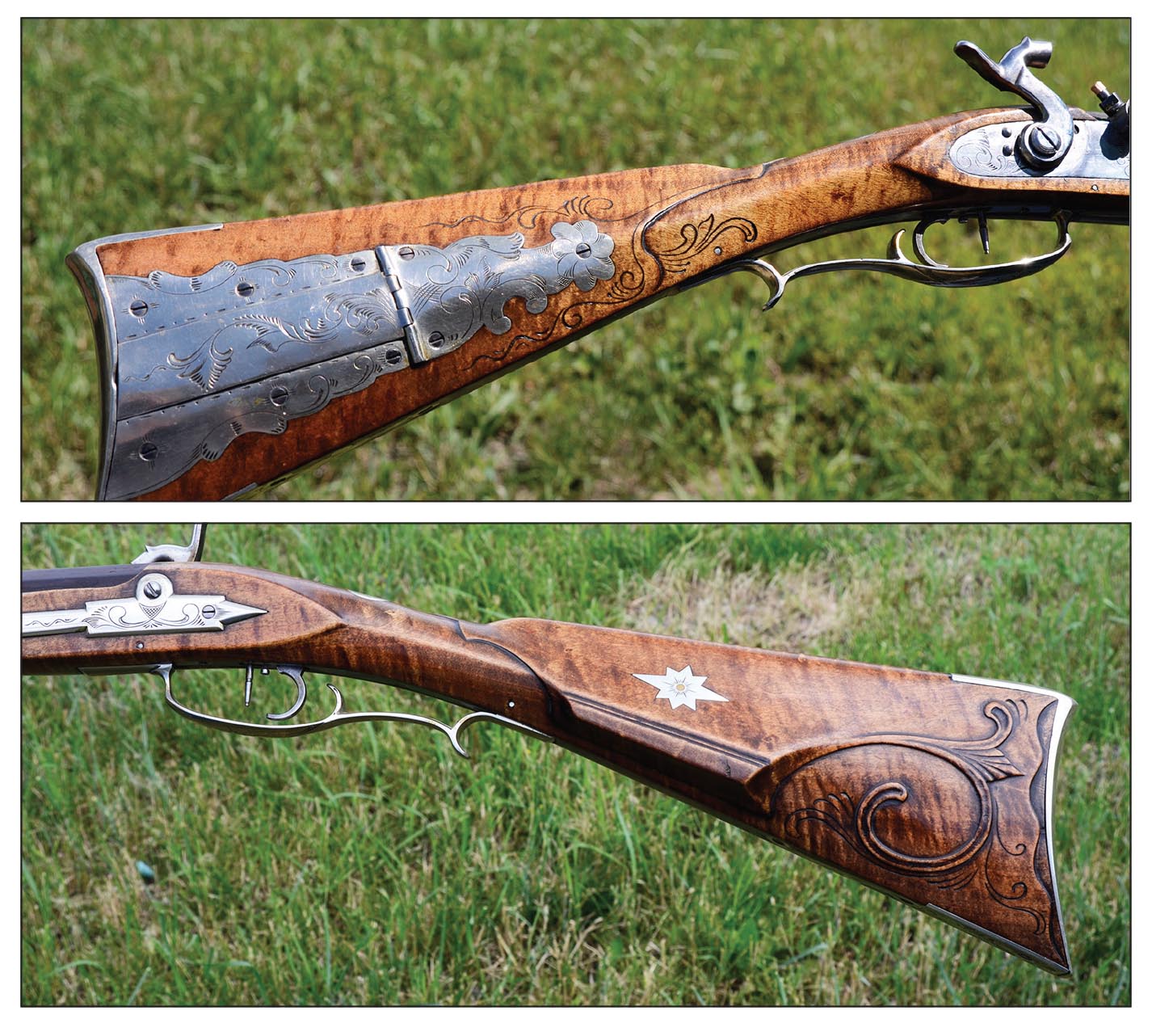 First shots with the Kentucky rifle were with the same 60-grain charge used in the rifle-musket. A three-shot group at 100 yards was about a foot in diameter. Velocity was 1,731 fps for average. Stepping up to 80 grains provided a definite improvement: a 5-inch, three-shot cluster with a velocity of 1,989 fps and 28-fps variation. The Lyman Handbook of Cast Bullets (1958) and Cast Bullet Handbook, Third Edition (1980) have some magnificent chapters on history and development of firearms projectiles. In one of those chapters I read that experimenting with different patching materials and different thicknesses can tighten groups considerably. I'm next going to hunt up some pillow ticking material and, of course, vary powder charges. Most statements of fact such as rifling twist rates in this article were found in those out-of-print Lyman books. Sometimes they are found on the Internet. I highly recommend them.
My shooting with both muzzleloaders didn't consist of just a couple of groups fired on paper. That was to ascertain their point of impact and adjust sights. The rest of the time was spent shooting offhand as both of these muzzleloaders were intended.
At the end, when all my Minié balls were expended except for a couple retained for photography, I decided that rifle-muskets were still my favorites. The Kentucky long rifle was great for offhand shooting with that 40-inch barrel hanging steady out there, and with negligible recoil. Still, the easy loading of Minié balls beat patched roundballs in my book.