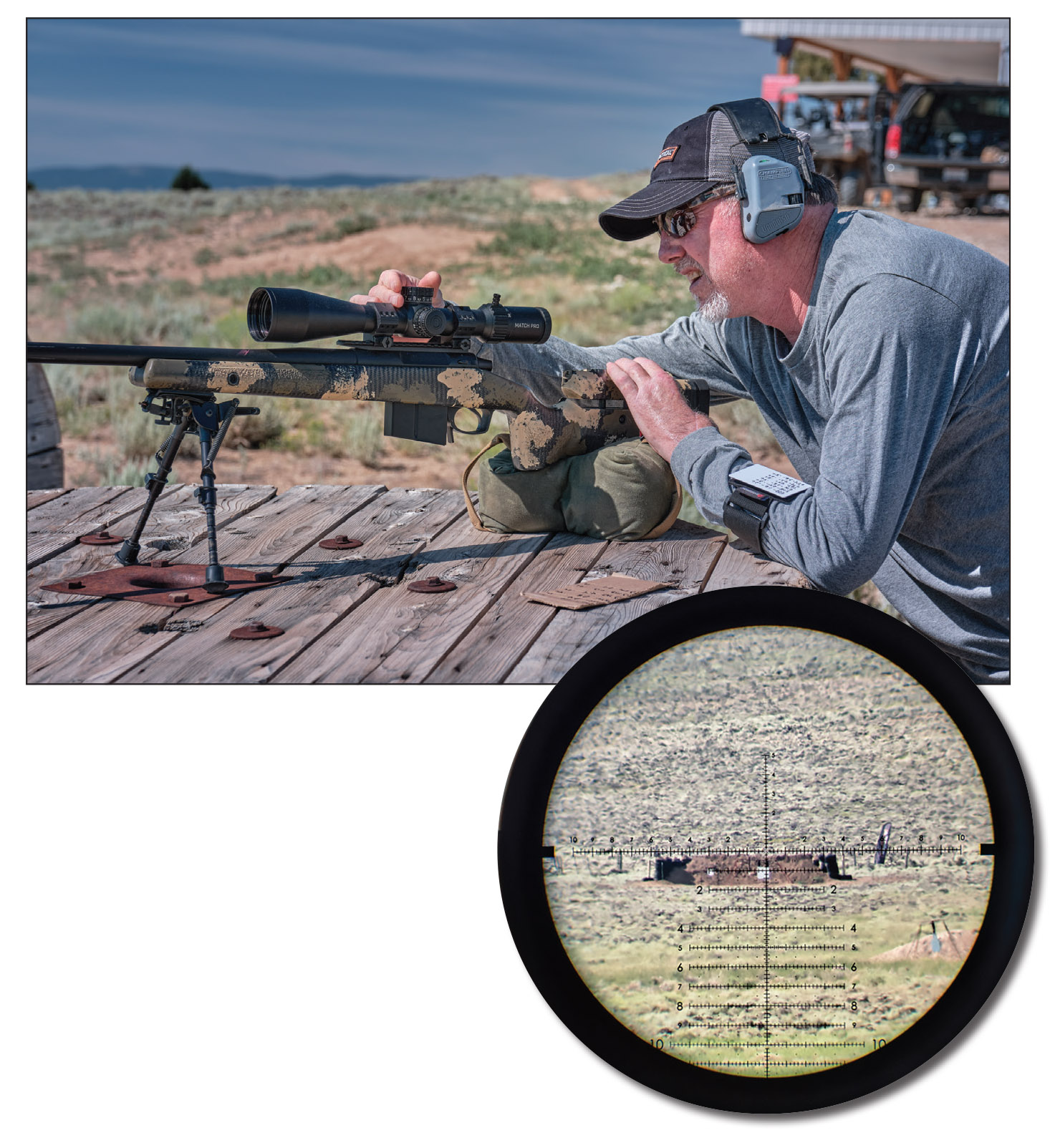 Having dedicated this column to a Bushnell optic just a few issues ago,
Rifle
No. 323 (July – August 2022), it may seem a bit soon for another, but after using the brand-new Match Pro HD 5-30x 56mm riflescope on a recent Wyoming foray, it seemed appropriate. How new is it? It has just been released to the public as you read this. Why is this necessary? Because it is one of the most wholly functional competition/varmint optics I have handled in a while, especially at this price point of $1,450. While in Wyoming, I used it to take a number of tiny Richardson's ground squirrels and chubby white-tailed prairie dogs, as well as bang steel, in breezy conditions, from 1,000 yards out to the incredible range of 1 mile.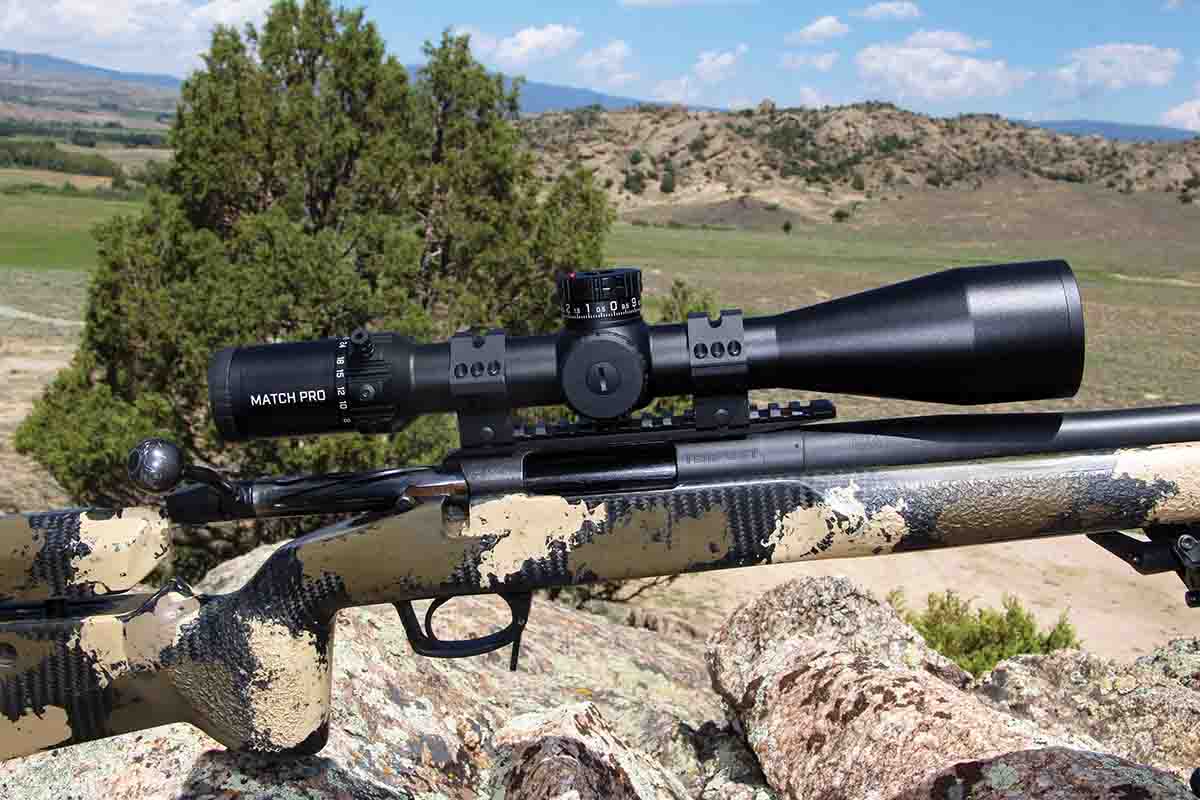 The Match Pro HD is a second- generation version of the First Focal Plain (FFP) Match Pro riflescope, with brand-new features including ED-Prime glass, locking turrets with handy pop-up REV-Indicator, zero stop, illuminated reticles, increased magnification range, a removeable/multi-position throw lever, shorter parallax range and improved fully multi-coated optics system. It also comes with Bushnell's practical EXO-Barrier, new proprietary Deploy MIL 2 reticle (with illumination that is on a timer), absolute fog and waterproofing (IPX7 rating, 1 meter for 30 minutes) with nitrogen purging and a rugged 34mm 6061-T6 aircraft-grade aluminum chassis. A lot of these details require more explanation, obviously.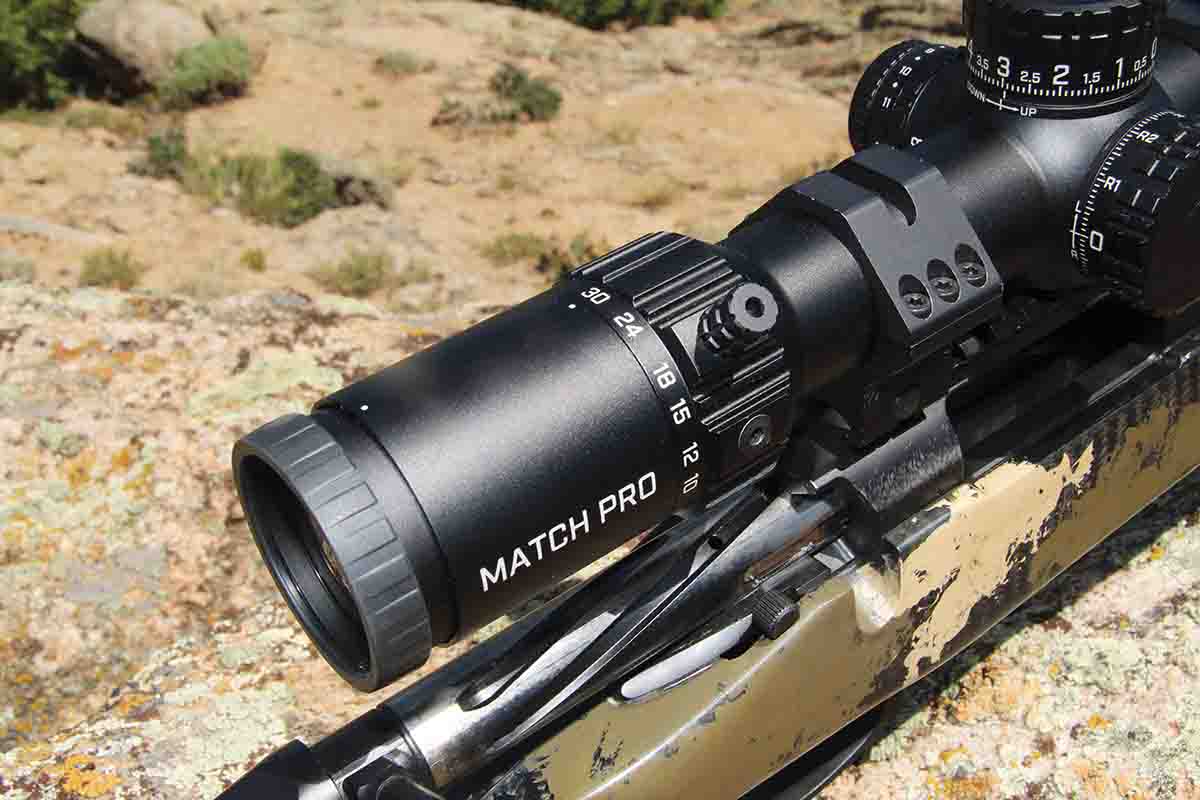 The 56mm ED-Prime, extra-low dispersion objective glass and fully multi-coated optics create remarkably clear viewing, ultra-wideband lens coatings eliminating glare and starbursts. Overall, this optic provides an efficient 92 percent light transmission. Bushnell's EXO-Barrier is a hydrophobic exterior lens coating that also repels finger smudges and allows dust to be easily blown away as drifting dust was a big part of our warm July visit. Looking out across the heat-shimmery high plains of south-central Wyoming, the burrowing rodents we sought stood out sharp and crisp. Running through a PRS course with Bushnell pro-shooter Troy Livesay (a super guy, full of solid shooting advice), the Match Pro HD's optics made it easy to pick out steel plates out to 500-600 yards and get on target fast. The 5-30x 56mm configuration is one I applaud when targets might constitute anything from a ground squirrel at 25 yards or 8-inch steel plate at 100 yards, to a 400-yard prairie dog or a 1,000-yard man-sized silhouette target.
The 32-ounce, 15.4-inch Match Pro HD is made long-range ready through two separately integrated systems. The first are the exposed/locking elevation and windage turrets, the second the sophisticated but comprehensible mil-based Deploy MIL 2 reticle. The Match Pro HD exposed turrets are low profile and include easy-to-read numbers and mil marks. The elevation turret includes a zero stop for fast returns to "0" following large corrections. Part of the Gen-2 package, a two-stage REV-Indicator (a red, spring-loaded button on top of the elevation turret) pops up after the first complete turret revolution, letting the shooter know exactly where they are during long-range corrections. The locking elevation turret provides 30 mils of travel for the longest shots, while the locking windage turret provides 15 mils of vertical travel.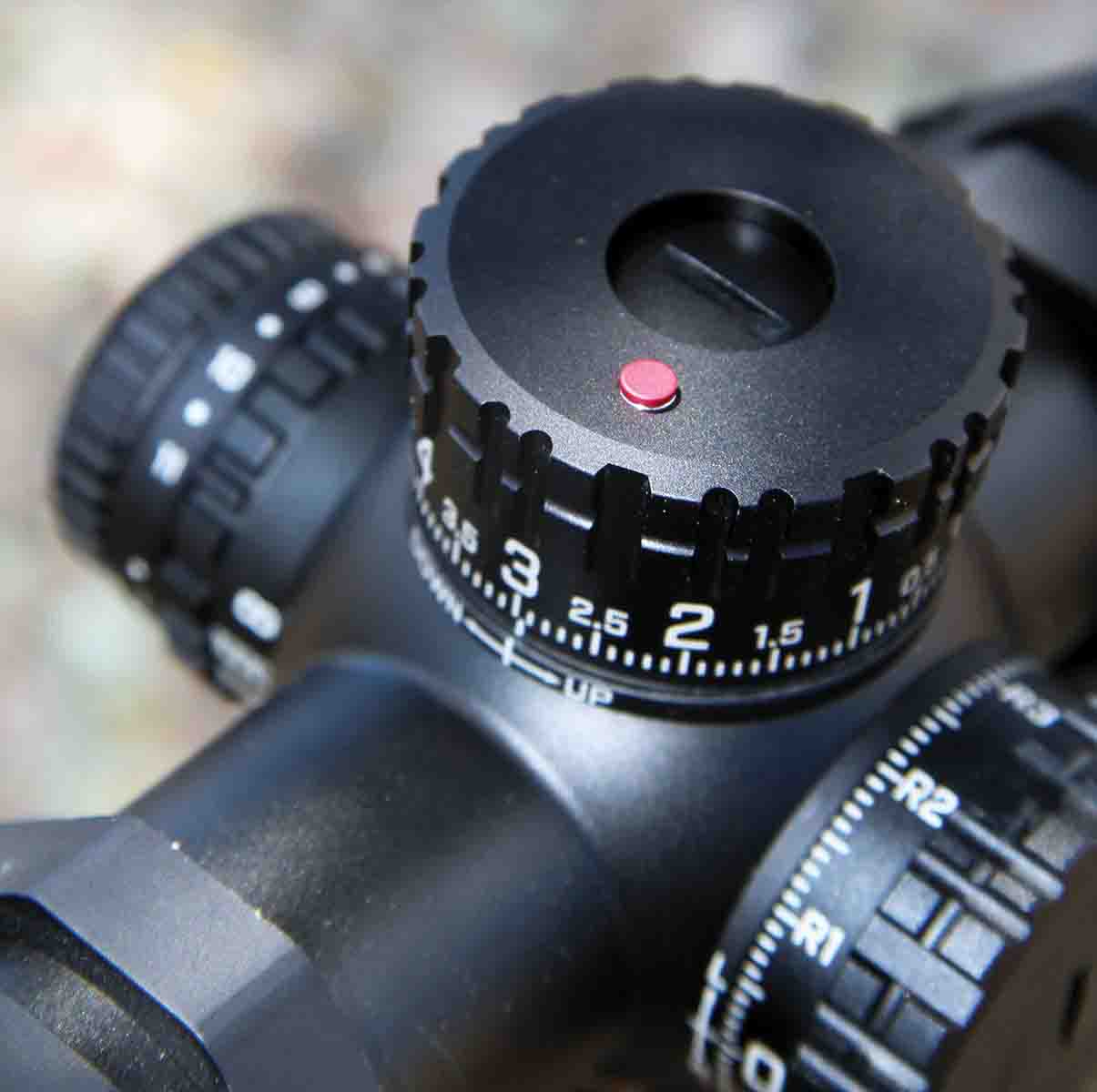 The Deploy MIL 2 reticle might seem a bit busy at first glance, but proved easy enough to grasp. The top of the field of view is mostly wide open, save a single windfall hold-under grid. The floating center dot is .045 mil in diameter. The bisected hash marks are 2/10 mil, windage and elevation side and holdover marks including alternating numeral height. Vertical and horizontal milling sections are centered at 5 mil. I'm usually not a big fan of busy reticles, but I was soon making this one work for me when a quick wind correction was needed while shooting steel on the PRS course, or a slight bump in elevation was required while targeting varmints.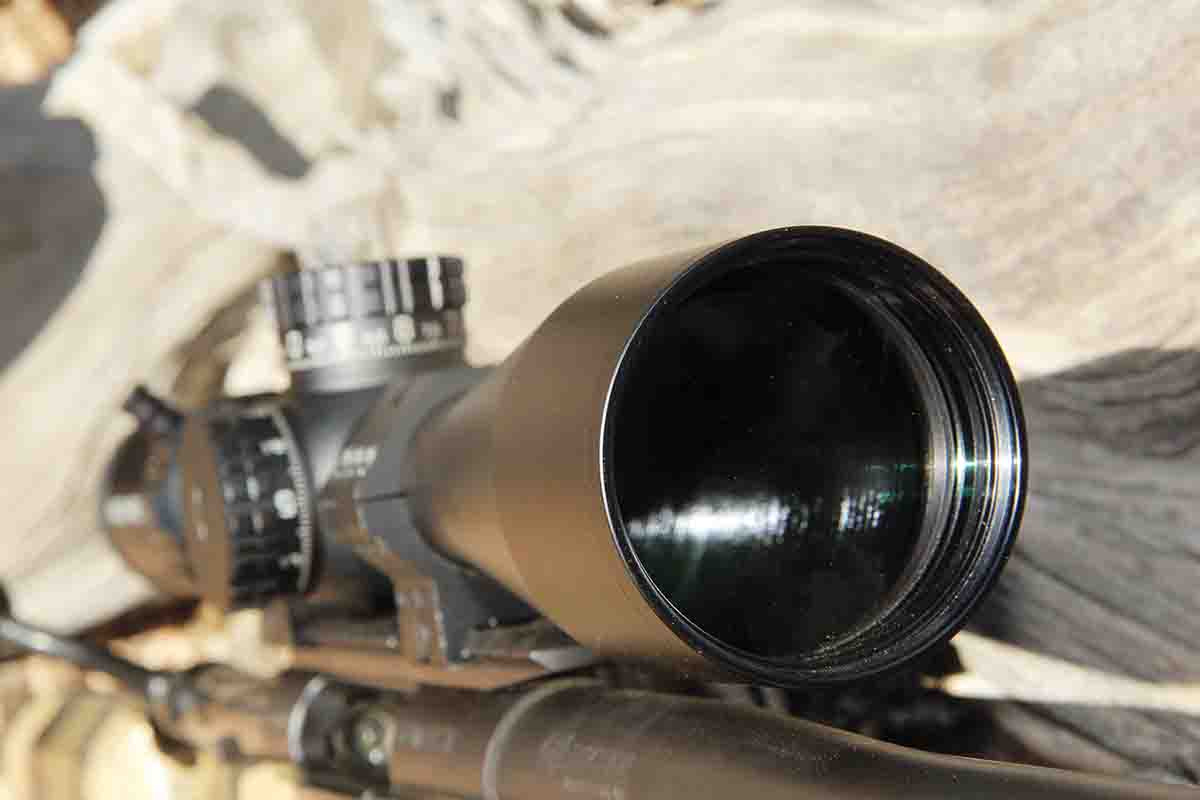 Combining these features, it was easy to dial-in and then quickly correct holds with the helpful reticle should wind change velocity or bearing while executing a shot and cause a miss. The first example arrived while shooting a GA Precision 6.5 Creedmoor across a mile of wind-swept, heat-shimmery Wyoming sagebrush. With input from Livesay, I dialed for the 1,760-yard man-sized target and 12 mph wind, marking a couple close misses. I quickly used the 5 mil horizontal hashes to give the wind a little more due and placed the next three bullets on target. I also used the turret/reticle combination to score on a dozen tiny ground squirrels at an honest – laser-measured and witnessed – 250 to 275 yards. With a .22 LR!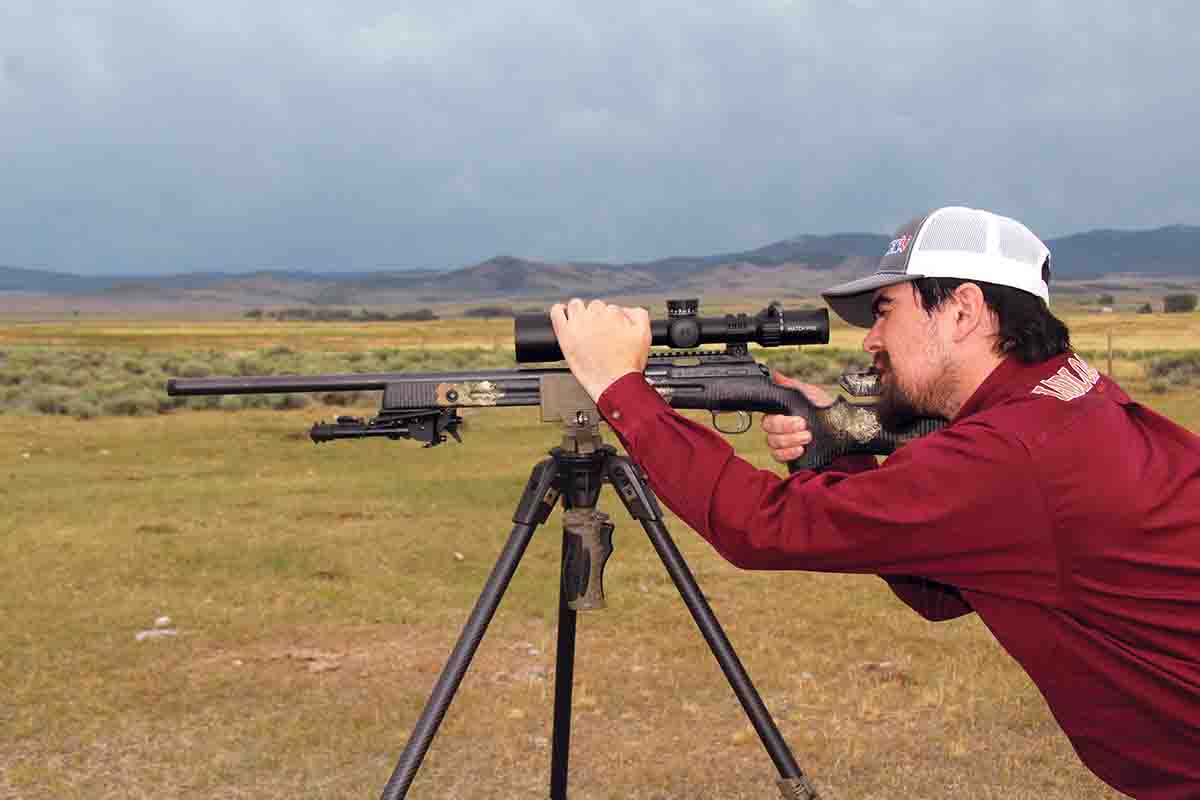 The Match Pro HD's side parallax, sandwiched between the main body and illumination ring, came in handy after leaving the target range and going on the prod for the Spur Ranch's abundant burrowing rodents. I was shooting a CZ-USA 457 Varmint Precision Trainer MTR with a match .22 LR chamber. Some of the more naïve ground squirrels might require focusing back to 15 yards (the scope's closest focus capabilities) for a sharp image, while prairie dogs, and especially, the threesome of badgers encountered, were a bit shier and required longer pokes. The 5x to 30x power span provides a field of view from 24.5 (5x) to 4.1 feet (30x) at 100 yards and provides a generous 3.9 inches of eye relief welcomed when shooting harder-recoiling rifles. The left-side, outside illumination control allows 11 intensity settings and includes a 6-hour auto shut-off timer to save battery life. The ocular lens diopter brings the reticle into sharp focus to any user's eye.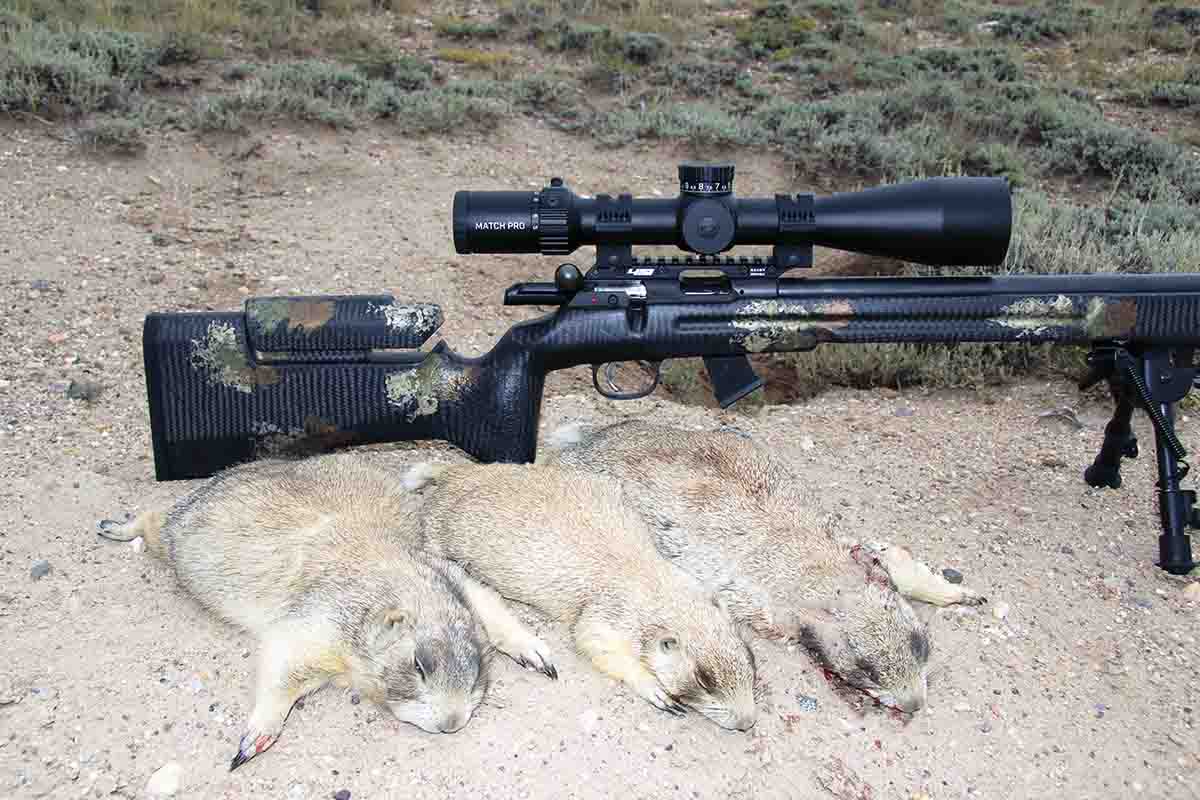 The Match Pro HD comes with a Quick Start Guide (including a thorough rundown of the Deploy MIL 2 reticle), a small but handy Bushnell multi-tool with an Allen wrench and hex screw to help maintain and adjust the scope and a 2.36-inch extended sunshade.
The Bushnell Match Pro HD is ready for serious competition, but it is also long-range varmint or big-game capable. For the money, this is a heck of a lot of scope and suited to today's most demanding shooting.