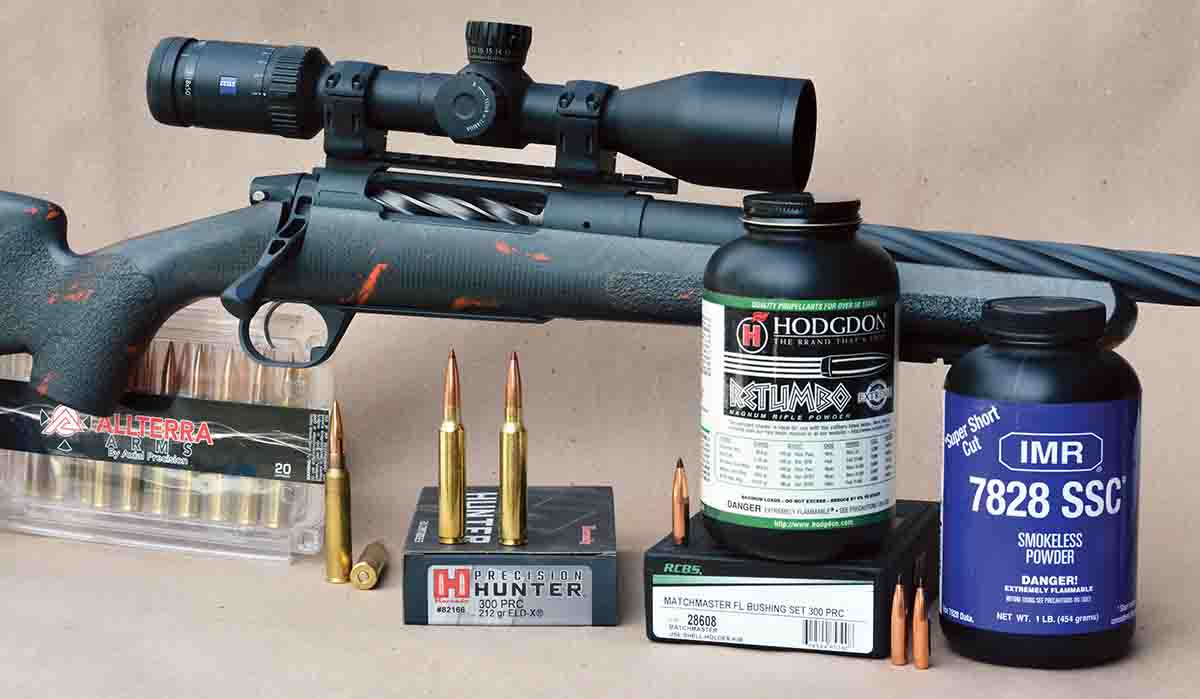 The term "Golden Age" or "Era" is not usually applied until a notably outstanding product begins to decline in terms of quality or design. However, in recent years, the trend with bolt-action sporting rifles has been to offer unusual levels of reliability, precision and accuracy. Many modestly-priced rifles shoot very well, while semi-custom "production" guns are producing high levels of accuracy that was considered extremely rare (or nearly impossible) just a couple of decades ago. In fact, some rifles are so good and so accurate, that they are literally reaching the pinnacle of perfection, or perhaps what may best be described as "Golden Era" even though quality has not begun to decline.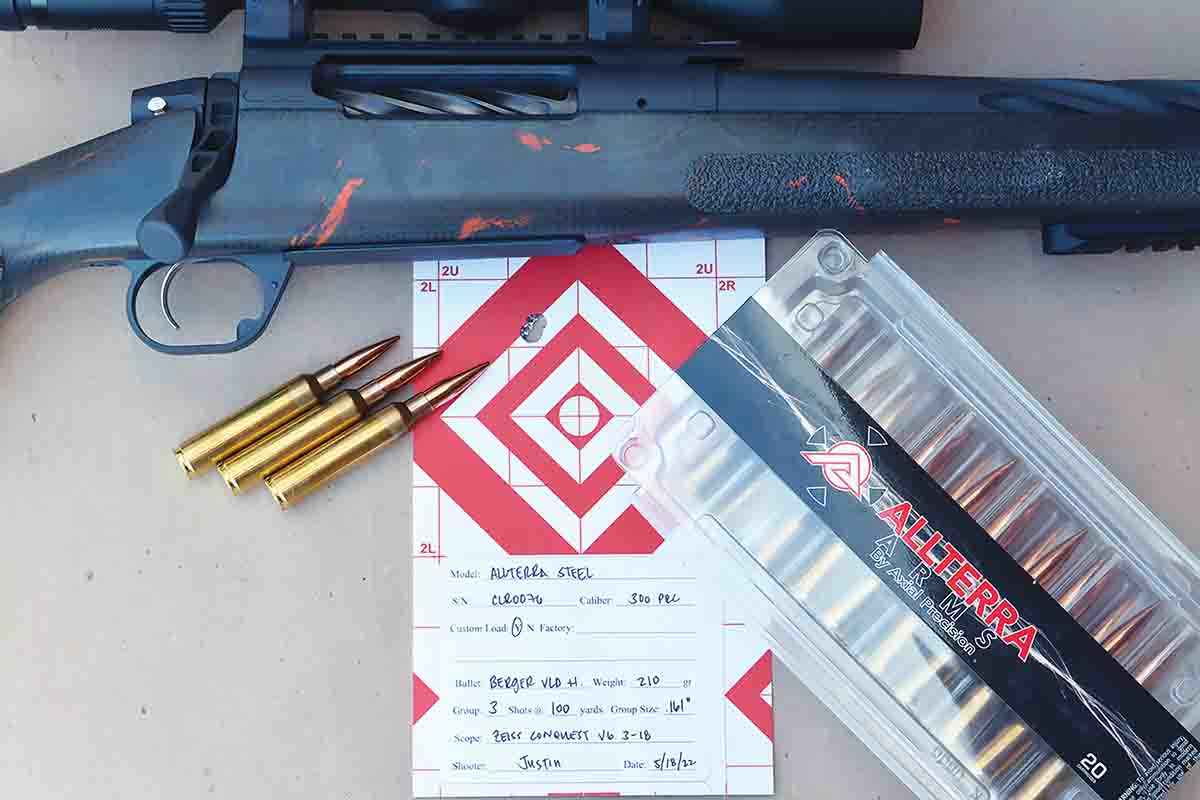 This brings us to the remarkable AllTerra Arms rifles that are produced in Boise, Idaho, and is a relatively young gun company. The company consists of savvy riflemen with self-imposed high goals to produce guns with the simple guarantee to shoot "sub .5" three-shot groups with premium ammunition, have no significant change in accuracy when shooting different bullet weights and that the action does not fail to cycle smoothly in all conditions. For today's purposes, a Convergence Steel Base rifle was ordered chambered in .300 PRC. Using AllTerra Arms factory-produced custom ammunition; the 100-yard test target stacked three 210-grain Berger VLD bullets into .161 inch, which leaves very little room for improvement, especially considering that this is a sporting-weight hunting rifle chambered for a potent .30-caliber cartridge!
After years of experience, testing, development and patent applications, AllTerra Arms was founded in 2015 by Andrew Foster. The goal was pretty simple and included producing "the highest quality, long-range rifles specifically for the hunting market" and with the "industry best accuracy and reliability guarantee." Their rifles are produced 100 percent in the U.S.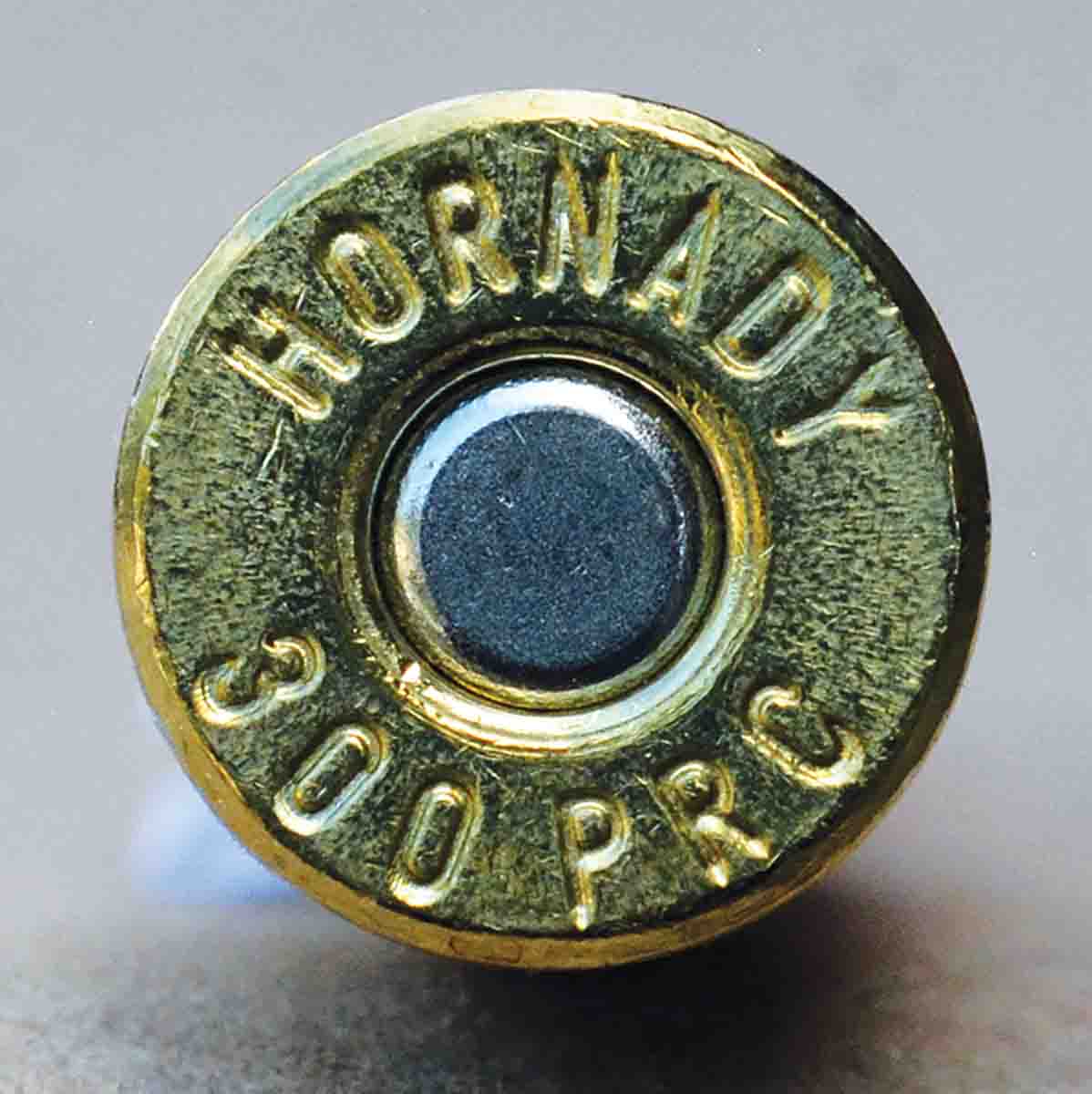 Using new manufacturing technology blended with an education in automotive engineering, primary designer Foster focused on how to achieve absolute perfection in bolt face to bore alignment, and barrel to receiver alignment, which are factors that have always plagued bolt-action rifle manufacturers. This resulted in extensive engineering and experimenting, but ultimately resulted in a new design and manufacturing methodology that assists in achieving high levels of benchrest-type accuracy and overall reliability, but in a hunting rifle. Effectively, the rifle is perfectly dead-straight from every angle starting with the bolt cap to the muzzle and every component in between including the firing pin, bolt body, chamber, barrel and bore. Not only does this feature play a significant role in accuracy, but also results in an unusually smooth anti-bind function, which is further supported by the "feel" when operating the bolt of a very high-quality precision rifle.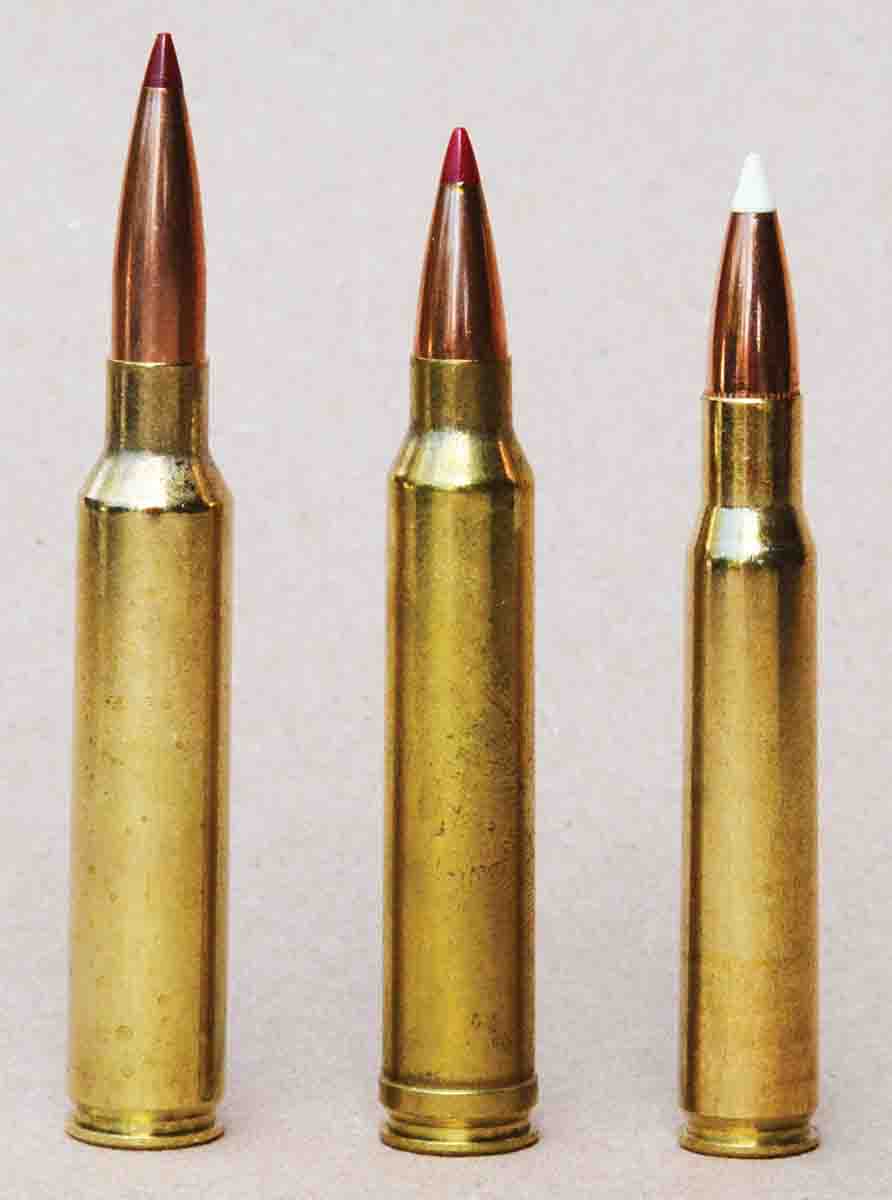 As indicated, an AllTerra Arms rifle was ordered with a Carbon Hunter stock finished in Damascus Orange (with a dark gray undercoat) and a Picatinny forearm rail installed to accommodate various accessories such as a bipod. The 24-inch steel barrel is tastefully spiral fluted (rather deeply) and features a muzzle brake. The trigger is a TriggerTech Primary (with other trigger options available upon request), which broke very clean, a trifle under 2 pounds. The rifle arrived with factory-installed Zeiss Conquest V6 3-18x 50mm scope housed in Zeiss rings that feature an integral (and unobtrusive) bubble level to control cant and was sighted-in with factory loads containing the 210-grain Berger VLD bullet. Furthermore, the AllTerra Arms rifle comes in a custom fit, a heavy-duty impact-resistant hard case that meets all airline requirements and features wheels and two handles (one for carrying and one for rolling). It is capable of protecting the rifle and resisting damage when placed in the back of an off-road 4x4 with hunting gear stacked on top, or the rough handling associated with worldwide airline baggage handlers. This package is truly ready-to-go right out of the box and is the pinnacle of quality in every respect. The .300 PRC (that we will discuss further in a moment) is a great field cartridge that offers unusual benchrest-type accuracy and long-range magnum-type performance for hunting big game.
Before proceeding, it should be noted that the basic "Convergence" action is offered in many model variants with optional barrels, stocks, calibers and even with detachable magazines.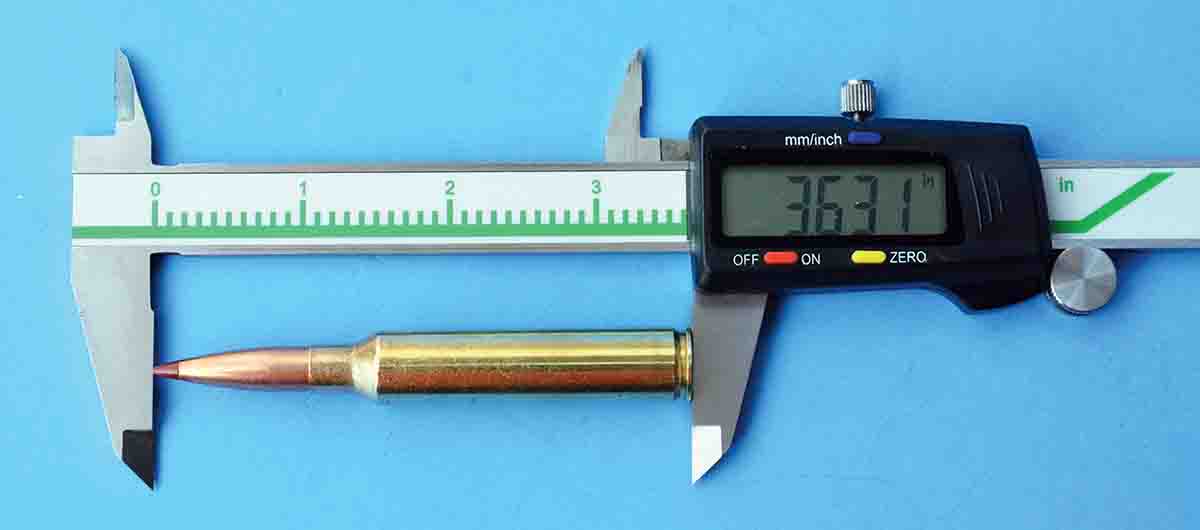 As of this writing, I do not have a factory schematic of the AllTerra Arms rifle, so in discussing its design and features, parts will be referenced in generic terminology that is commonly shared with other bolt-action rifles.
The bolt is solid machined from one piece of prehardened 4140 chrome-moly steel and features twin forward locking lugs with 90-degree bolt lift. The right lug, or bottom lug when the bolt is closed, is slotted to correspond with an anti-bind rail housed within the raceway. The locking lugs are conical (patented) that engage the elliptical raceway (also patented) that serves as a self-cleaning design that also results in ultra-smooth operation, even when dirt and debris accumulate. The bolt body is nickel boron-coated that serves to resist corrosion and add to the (already) smooth bolt operation. Incidentally, the bolt body is spiral fluted to decrease weight and further reduce friction. The bolt face is countersunk and is a push-feed system. It features an AR-15/M16-style extractor, but uniquely twin plunger ejectors are mounted in the bolt face. Not only does this serve to reliably eject fired cases, but also, more precisely controls exactly where the case ejects and further improves reliability. The test rifle seemed to always throw ejected cases to the same spot and neither were cases prone to catch on the ejection port or the receiver ring. The bolt body and bolt handle are machined as a single piece, which essentially eliminates the possibility of breakage or separation. The bolt handle is skeletonized, gracefully swept for natural operation and long enough to offer plenty of leverage when cycling the bolt.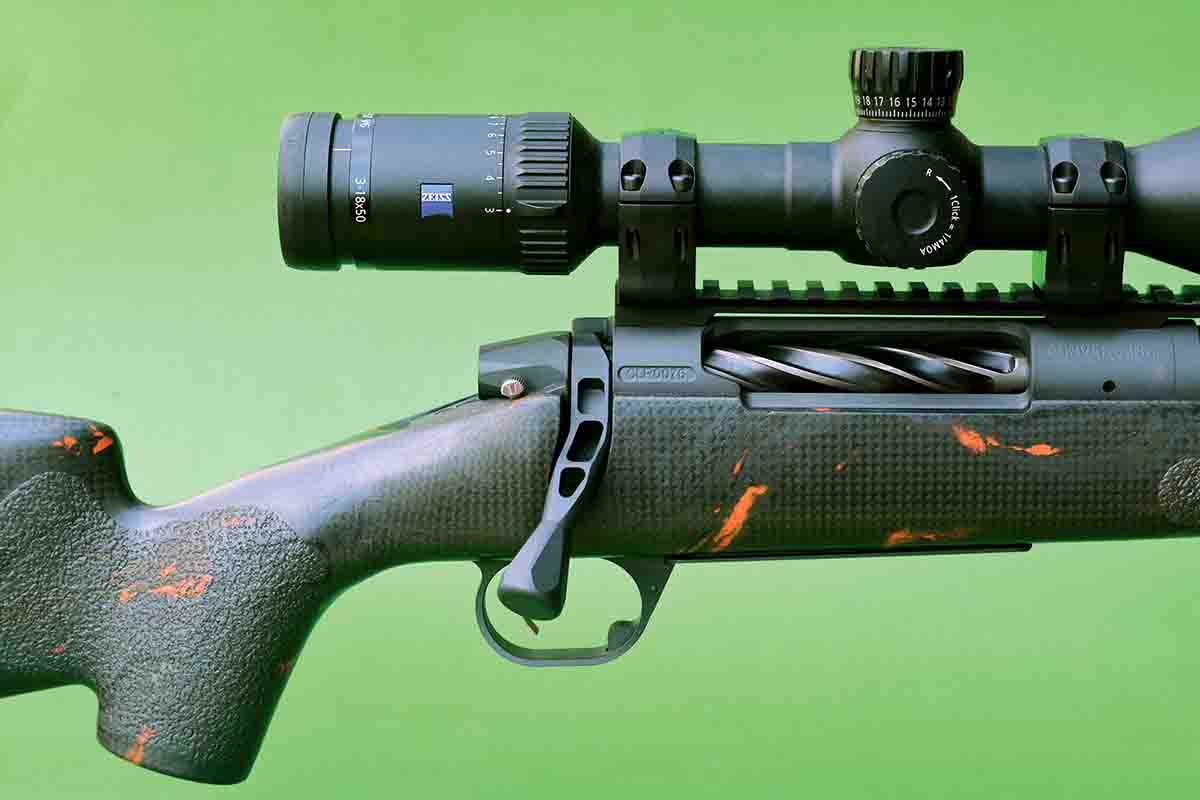 An especially interesting design aspect includes the patented "Dual-Lock Barrel Seat" that is part of the essentially perfect alignment system and is a contributor to AllTerra Arms accuracy foundation. In essence, rather than featuring a conventional threaded barrel tightened into a receiver, the AllTerra barrels feature two precise seating rings (circumferentially speaking) on each end of the barrel threading, while the receiver features two corresponding (front and rear) seating sleeves. The two rings seat (perfectly centered) into the corresponding sleeves. These two solid contact points serve to virtually eliminate flexing and assure essentially perfect bolt to bore alignment.
AllTerra Arms claims that the above design also serves to create a balanced harmonic pattern with every shot and allows a mixed menu of ammunition with minimal changes in accuracy. This sounds too good to be true, but based on some initial testing by this writer, it is indeed true!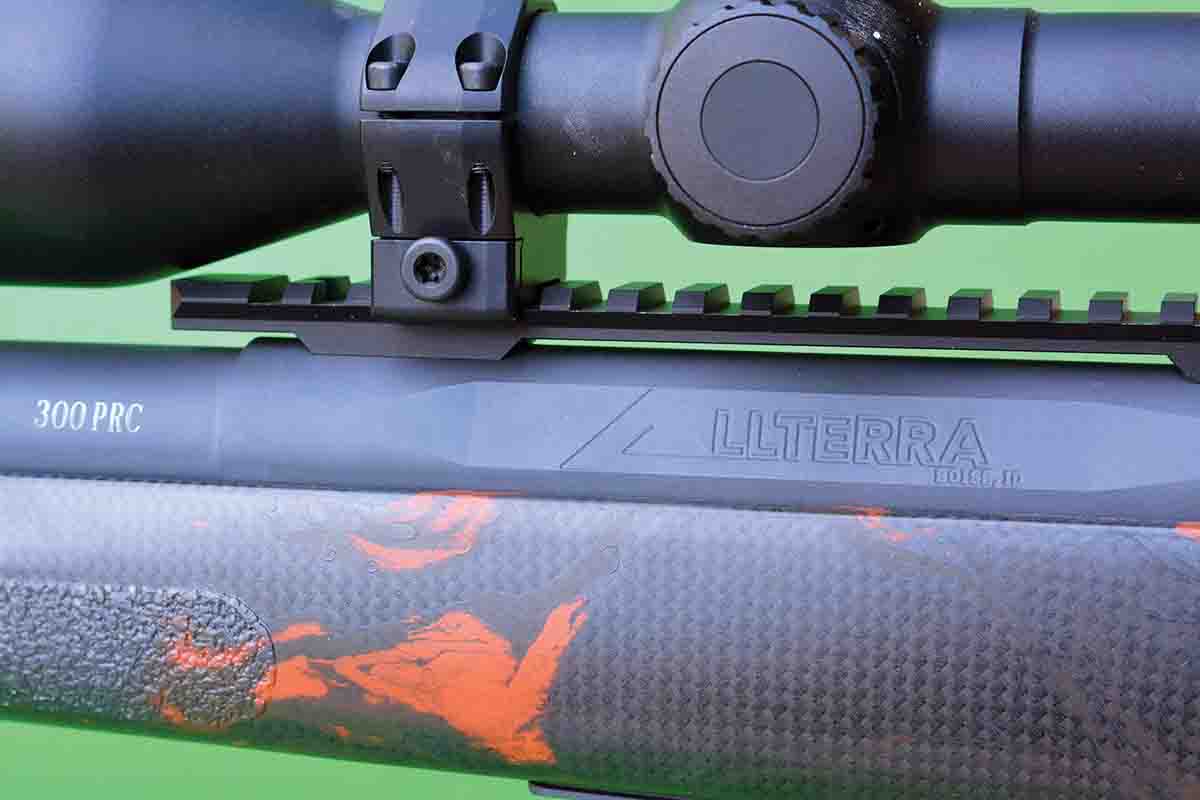 The receiver is CNC-machined from pre-hardened 416 series stainless steel and features wire-cut EDM cut raceways and an integral recoil lug. The two-position safety is located to the right of the bolt cap similar to a Remington Model 700. Incidentally, when it is placed in the ON position, the bolt can be opened to remove a cartridge from the chamber. The ejection port and magazine length are generously long to permit plenty of room for handloaders to seat bullets out for maximum accuracy, yet still allow cartridges to function properly. Space will not allow a detailed discussion of the rifle's gas system, so suffice to say that it is properly vented and designed to protect the shooter in the event of a ruptured case or catastrophic failure. The bottom metal included a hinged floorplate (BDL), and all metal is finished in a matte CERAKOTE-style Sniper Grey, but many other colors are also available.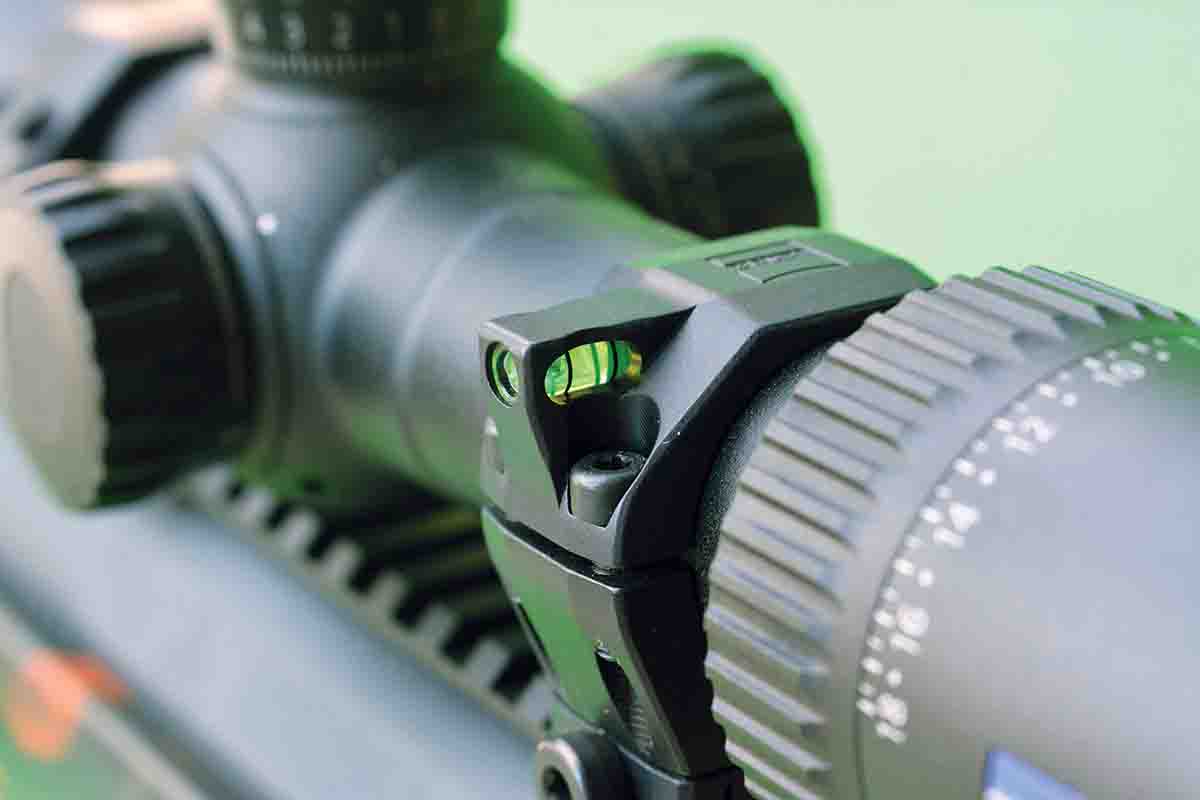 The Bartlein match-grade barrel features the desirable 5R rifling with a 1:9-inch left-hand twist and has been hand-lapped for top accuracy and to minimize fouling. High tech, ultra-precise tooling assures that there is virtually no runout from chamber to muzzle with tolerances being held to an incredible .0005 inch. The barrel also features a removable muzzle brake and is threaded 5⁄8-24 to accommodate suppressors and other accessories. Naturally, it is free floating and is offered in 24- and 26-inch lengths in the Steel Base rifle.
The synthetic stock is constructed of select proprietary materials that offer a blend of ultra-lightweight and strength. In addition to palm swell, it features a negative comb with cheek-piece that has become so popular due to its versatility, that allows it to serve very well in many shooting positions including offhand, sitting and prone, but also minimizes felt recoil. It features a generous Pachmayr Decelerator recoil pad to further reduce felt recoil. Naturally, the pistol grip area and semi-beavertail forearm are textured. As indicated, it is available in a variety of colors and configurations. It is pillar-bedded and is custom fit to each rifle to maximize accuracy.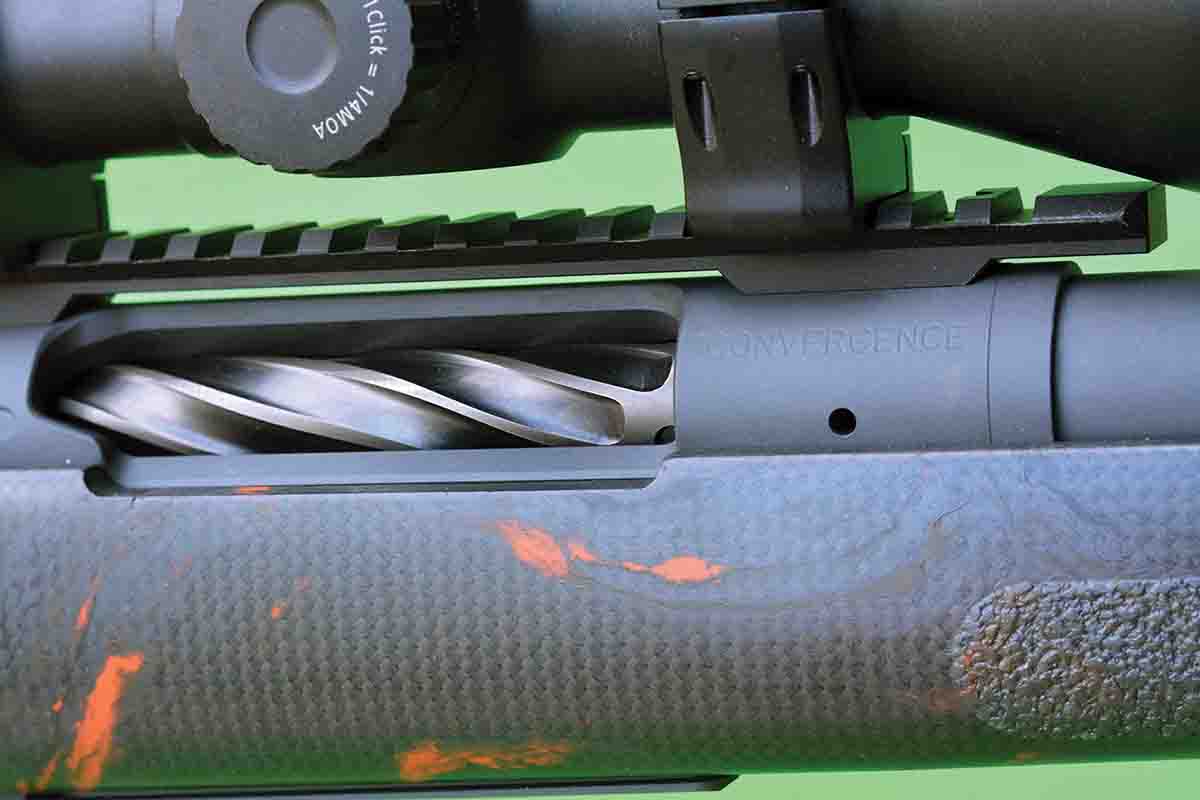 The .300 PRC has gained notable popularity among hunters and target shooters. It is based on the beltless .375 Ruger case that shares more or less the same head diameter as the belt on the .300 and .375 H&H cases, which allows it to work in rifles with the standard .532-inch bolt face. However, the case offers notably greater
capacity than the old H&H Magnum case. Another significant advantage included that the beltless case offers better chamber alignment when compared to the traditional belted case. The shoulder is 30-degrees to offer positive headspace control.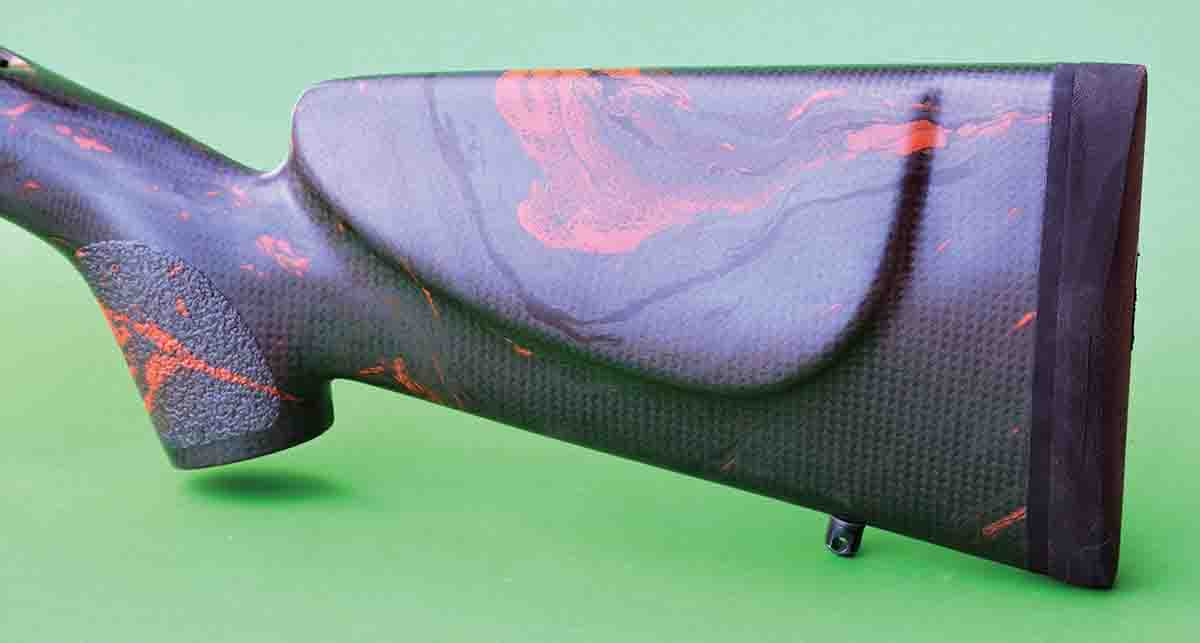 It should be noted that the .300 PRC has a maximum case length of 2.580 inches, however, the maximum overall cartridge length is 3.700 inches, which is notably longer than its sister cartridges the 6.5 PRC and .375 Ruger. I don't want to get too bogged down with the .300 PRC's ballistics, but it is capable of pushing high ballistic coefficient (BC), heavy-for-caliber bullets to around 2,900 feet per second (fps), while offering comparatively low extreme spreads, all of which makes it a completely modern and very formidable long-range target or hunting cartridge. For example, Hornady Manufacturing offers loads in its Match, Outfitter and Precision Hunter product lines. Incidentally, the only two factory loads available at press time included the Hornady Precision Hunter containing the 212-grain ELD-X bullet at a listed velocity of 2,860 fps and the AllTerra Arms custom load containing the 210-grain Berger VLD bullet.
Finally, we get to the heart of the matter; accuracy and function. The AllTerra Arms rifle functioned perfectly as it loaded smoothly, chambered cartridges, fired and ejected empty cases as slick as butter.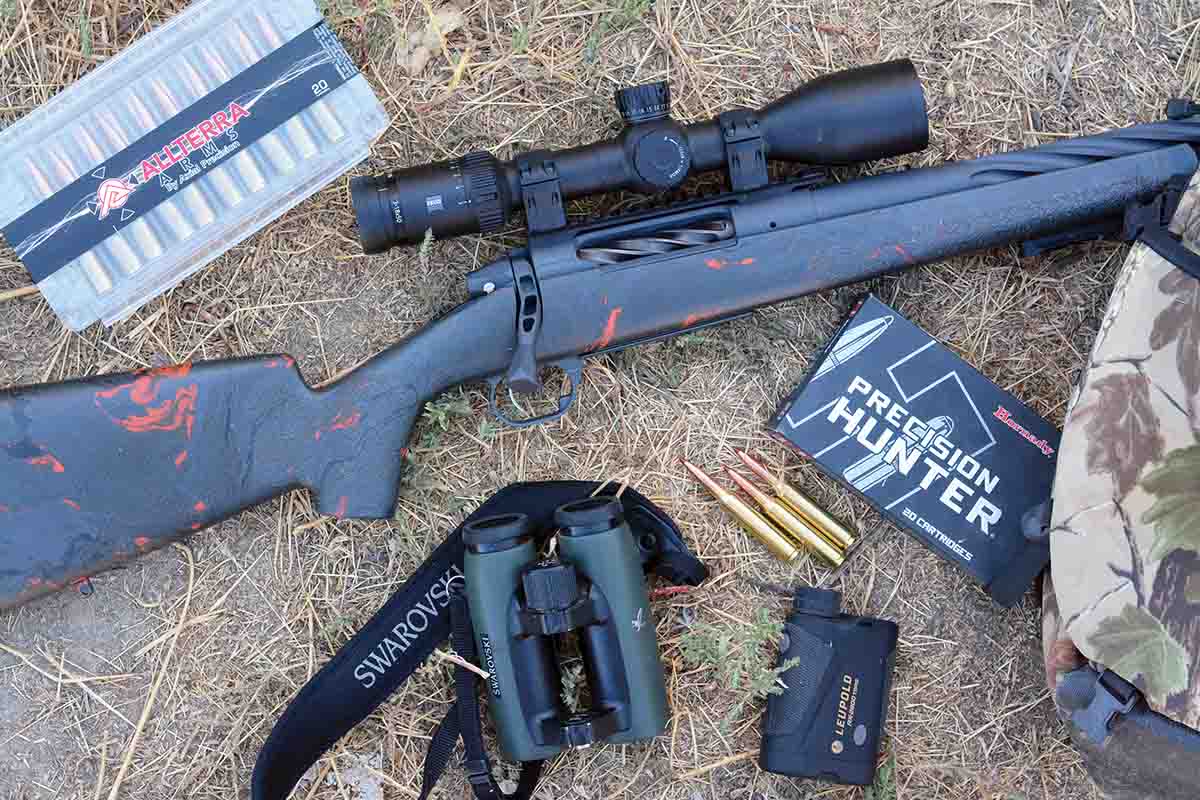 No barrel break-in was performed prior to shooting for groups (although it is recommended), however, after checking sample ammunition for velocity, the barrel was cleaned prior to checking the rifle for accuracy. As a reminder, the AllTerra Arms factory ammunition containing the 210-grain Berger VLD grouped into .161 inches at 100 yards at the factory. Six three-shot groups were fired using the same load and offered an average velocity of 2,767 fps. The best group measured .154 inch center-to-center, while the worst group (the first one fired) measured .331 inch. Once the barrel was properly fouled and the wind virtually nonexistent, three, three-shot groups averaged an impressive .192 inch.
Moving on to Hornady's Precision Hunter product line containing the 212-grain ELD-X bullet with a G1 BC of 663 and listed at 2,860 fps, but actually clocked 2,849 fps, the best three-shot group measured .213 inch, while the three-group average was .241 inch! This is impressive accuracy by any standard, especially considering that this is a hunting weight rifle and production hunting ammunition!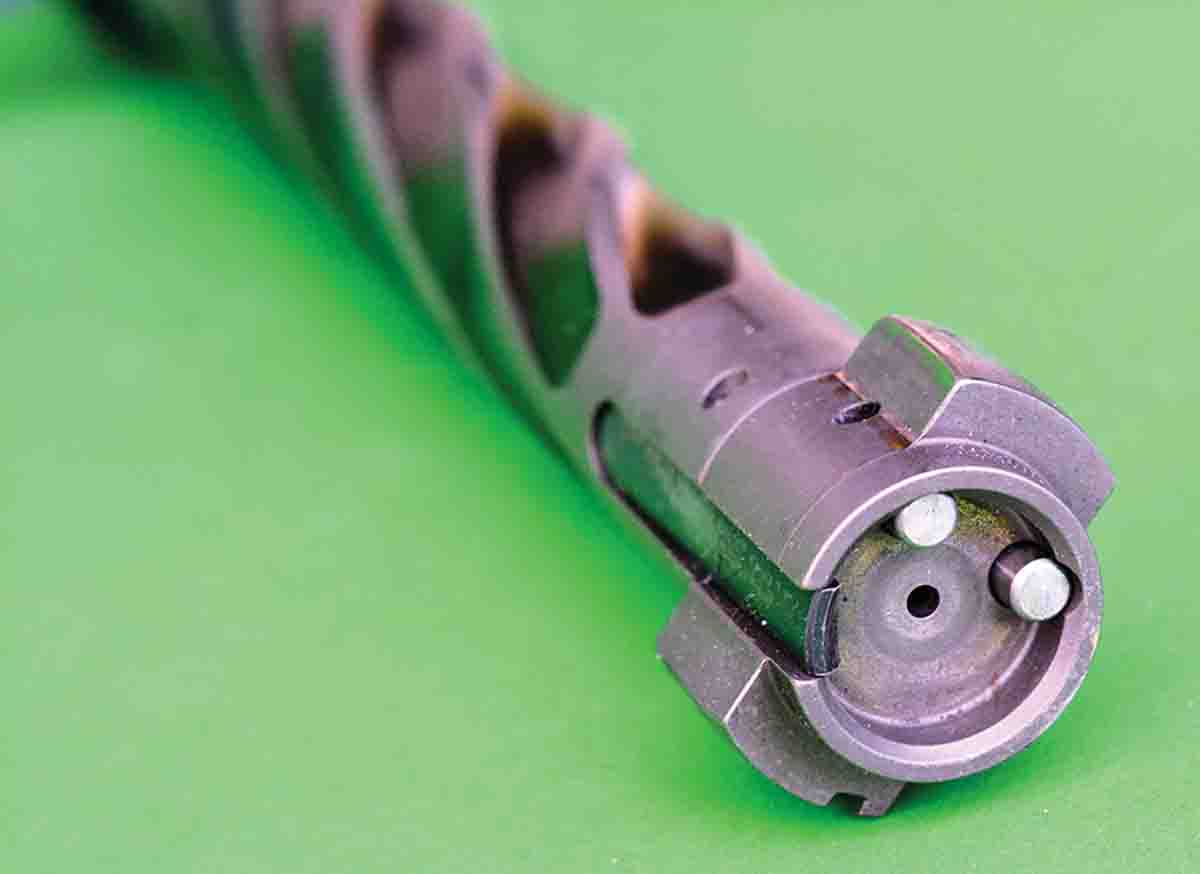 Two handloads were also assembled using the Hornady 212-grain ELD-X bullet seated to 3.625 inches in overall length. The first load consisted of a Hornady case; primed with a Federal Gold Medal 215M Match primer and charged with 78.5 grains of Hodgdon Retumbo powder for 2,885 fps. The second load shared the same components and overall cartridge length; however, it contained 75.7 grains of IMR-7828ssc powder that produced 2,859 fps. The average of three groups measured .233 and .259 inch respectively. My supply of ELD-X bullets is almost depleted, but my impression is that with additional experimenting in regard to powder charge weights and bullet seating depth, will yield even smaller group sizes.
The AllTerra Arms Convergence rifle is on top of the pinnacle of modern, long-range hunting rifles. It boasts of advancements in precision, accuracy and patented engineering that appears to be unparalleled. It certainly achieves the goals of the company and is so close to perfection that it is hard to imagine that it can be improved upon. Clearly, we are living in a "Golden Age."