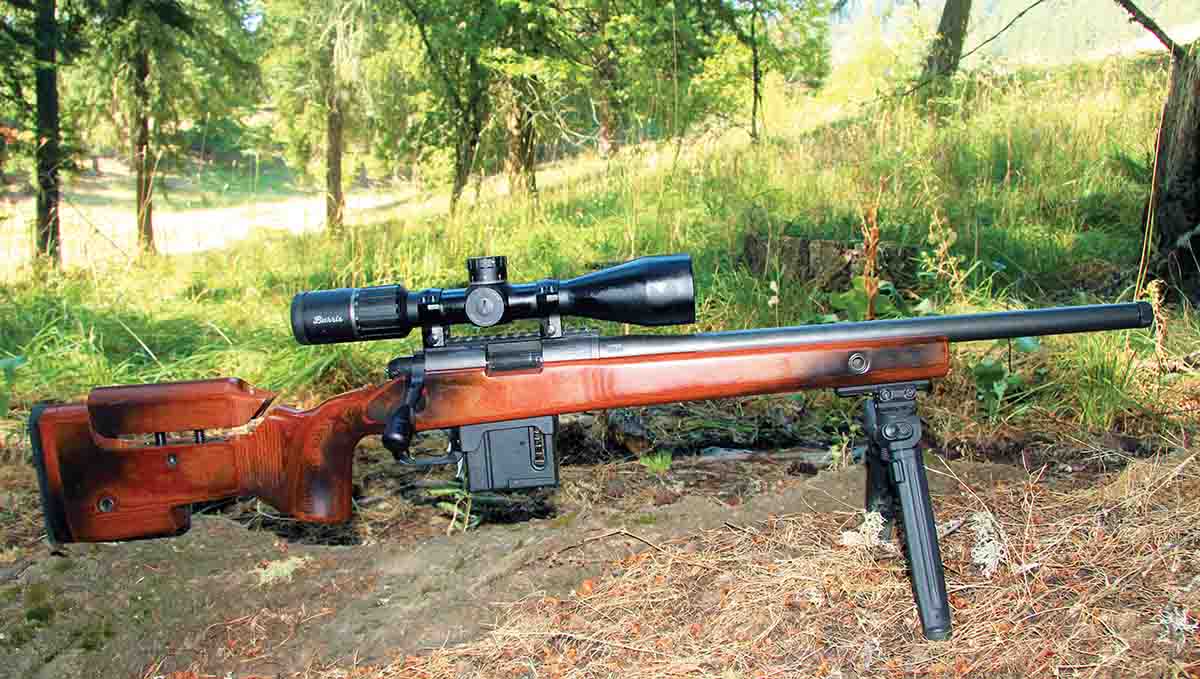 America's favorite cartridge is inarguably the .22 Long Rifle, at least if based solely on total annual round count. U.S. shooters consume some three billion-plus .22 LR shells per year. Like most shooters, my first rifle was a .22, a simple break-action single shot received from Santa when I was nine years old. That rifle remains propped behind my shop door, ready to address pests invading our garden, lawn or bird feeders, despite the introduction of a wide array of .22 LR rifles in the intervening 48 years. Various bolt actions, leverguns, semiautos and pumps have come and gone, with extensively tricked-out Ruger 10/22 semiautos now filling my .22 LR passions. These customized 10/22s, with high-end aftermarket barrels and stocks, Little Crow Gunworks GRX recoil lugs and Timney Triggers, shoot pretty darn well. Yet, the most accurate .22s I've handled lately include Ruger's American Rimfire Long-Range Target and Anschutz's 1761 HB. That was until now.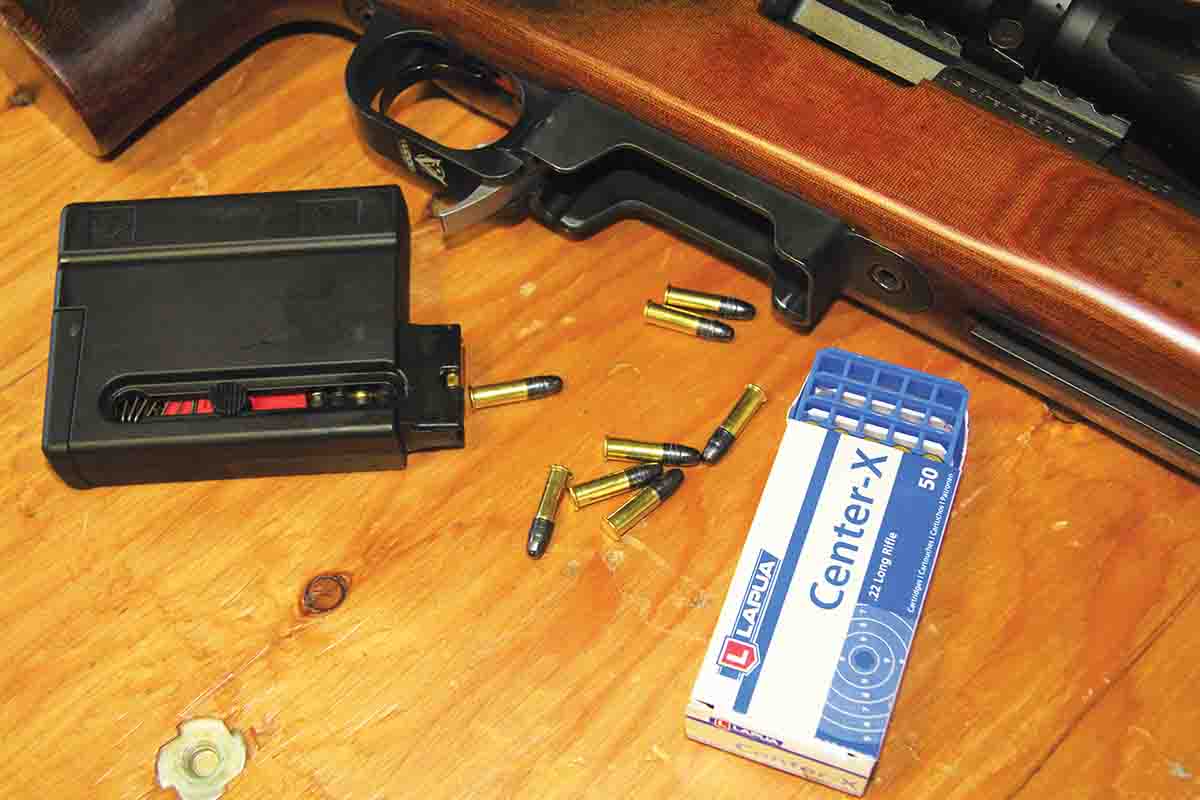 Vudoo Gun Works sprang from the increasing popularity of Precision Rifle Series matches, or PRS. Inevitably, a .22 LR version of PRS appeared, using the same basic format and approaches to matches, but with shots taken at shorter distances (though the longest shots still approach 600-plus yards). Turn any fun game into competition and humans will find a way to gain an advantage through superior technology, invariably inflating the price of admission. Vudoo rifles are superior technology and they aren't cheap.
Vudoo Gun Works, a relatively small, family-owned business operating out of St. George, Utah, was founded with the mission of creating a better, more accurate .22 LR system. Vudoo doesn't sell completed rifles, per say. They provide various actions, stocks, triggers and other associated accessories that allow customers to create a competition .22 LR to fit their specific vision, including right- and left-hand options. Vudoo's Owner, Paul Parrott is obsessed with .22 LR rifles and accuracy, Vudoo Gun Works producing extremely accurate barreled .22 LR actions and rifles in several configurations.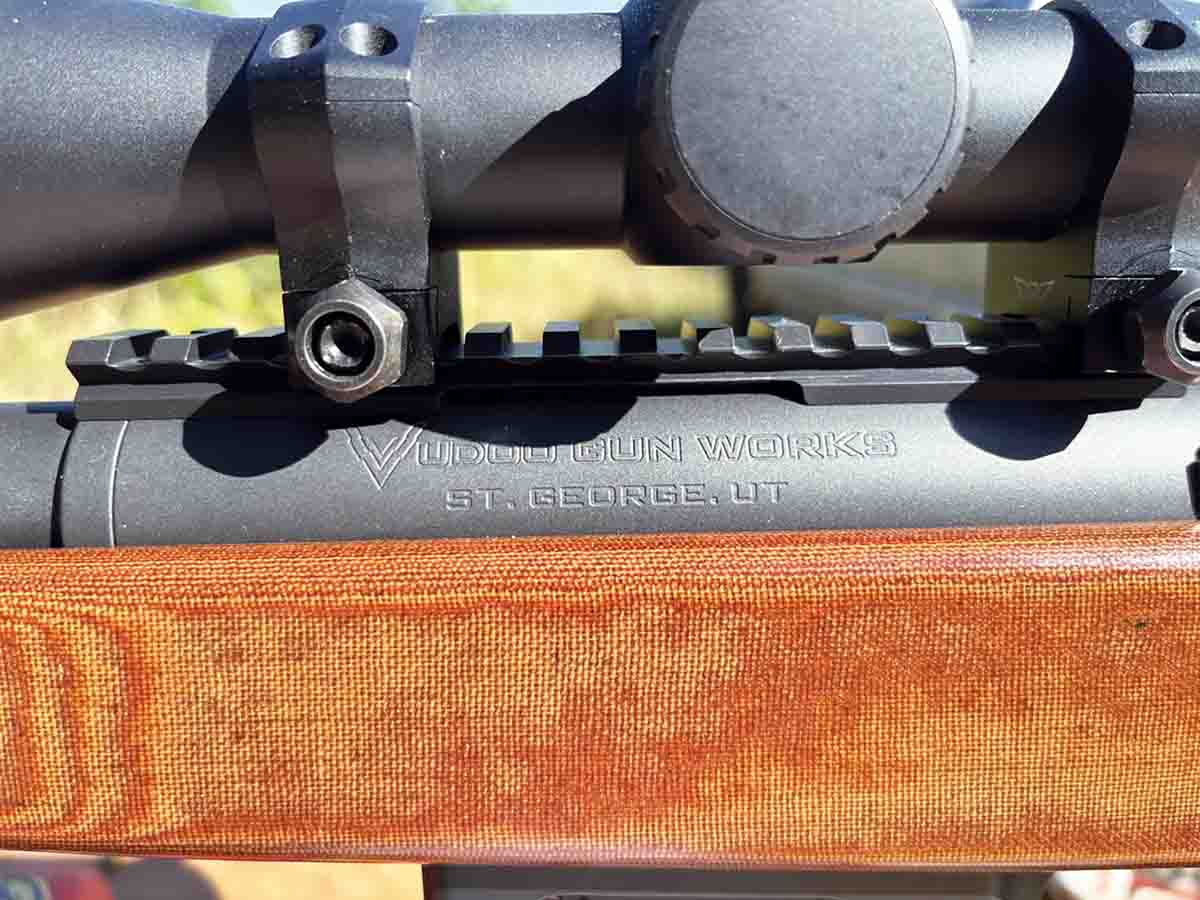 Each Vudoo barreled action can be ordered in .22 LR, .17 Mach 2, .22 WMR or .17 HMR, a 0-, 20-, 30-, 40- or 60-MOA Picatinny rail pinned into place at the factory and rifles finished with Graphite Black, Mil-Spec Green, FDE, Cobalt, Burnt Bronze, Sniper Grey or Vudoo Green CERAKOTE, plus custom colors at an additional cost. A magazine, threaded bolt with bolt knob, ½-28 threaded muzzle and trigger pins (trigger sold separately) are included. Vudoo rifles are held to ultra-tight tolerances and include construction some might deem overkill for a .22 LR.
The test rifle shot for this review was Vudoo's newest offering, a .22 LR Three 60 barreled action mounted to a Foundation Exodus stock. The Three 60 action includes a three-lug bolt with 60-degree throw. The Vudoo Three 60 looks and feels like a centerfire, as it is essentially a scaled version of a short-action Remington Model 700. This analogy isn't a stretch, since the Three 60 action fits neatly into any M700 clone stock/chassis, and can be fitted with any M700 trigger on the market. This produces a solid rifle that is steady on a bipod or rest. The bottom metal is full-sized and Vudoo's V-2210 10-round magazine includes a full-sized AICS (Accuracy International Chassis System) profile with a .22 LR insert molded into its forward edge. The magazine includes handy side-spring compression tabs for easier loading.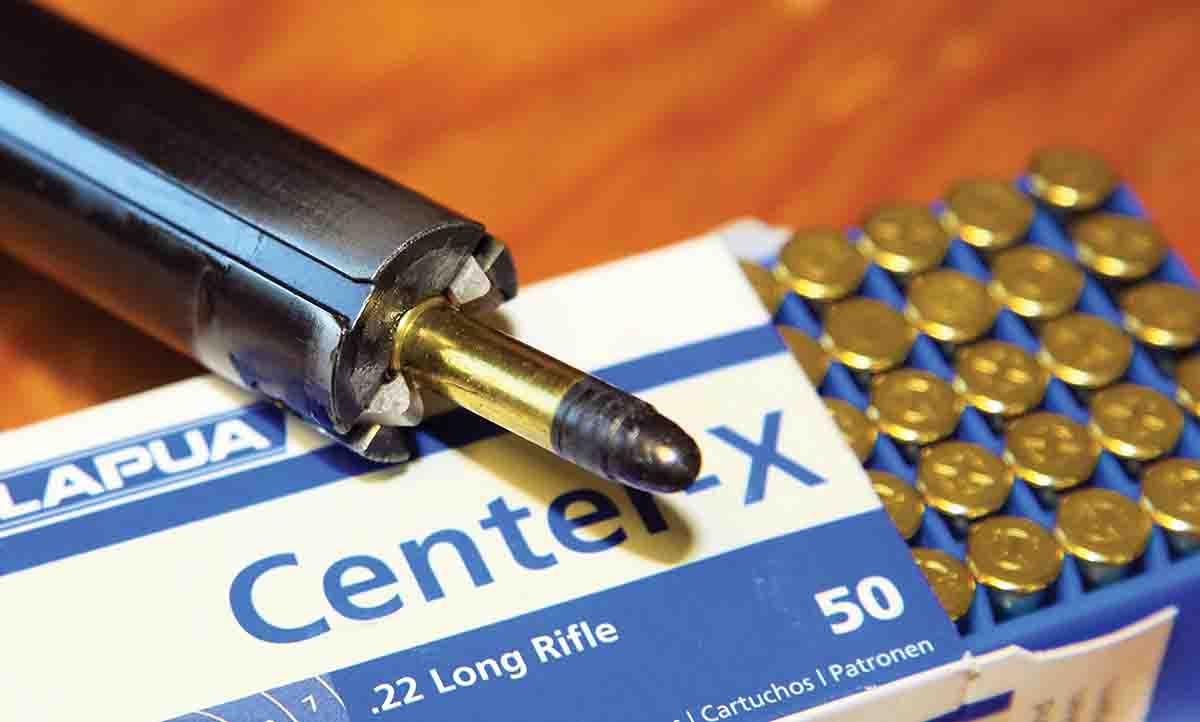 In the past, producing a full-sized .22 LR rifle (like Remington's 40X, for example) involved forcing the centerfire action to handle the tiny .22 LR cartridge. Vudoo rifles were designed from the ground up to provide a true-scale rimfire receiver that also fits the Remington Model 700 footprint.
The bolt operation is silky smooth and the overall feel is of sitting behind a centerfire rifle. The bolt is a one-piece design with the bolt handle integral to the body. The test rifle arrived with a simply superb TriggerTech Diamond Trigger and an oversized bolt handle. The trigger broke at about .75 pound with no creep or overtravel. With many rimfire rifles, particularly older models, excessive dry firing can cause damage to the firing pin and chamber rim. The Vudoo Three 60's bolt is designed for safe dry-firing, allowing dry-run practice drills.
One element of Vudoo's consistent accuracy, included in the Three 60 action, comes through its "control-round feed protocol." While cycling, the Three 60 captures each round and controls both seating into the chamber and ejection. This allows the bolt and magazine to work together to ensure the bullet remains untouched as the cartridge is transferred from the magazine and into the chamber. This eliminates the possibility of creating scrapes or nicks that might be caused by sharp-lipped magazines or feed ramps to degrade accuracy, or upset bullet seating by "bending" rounds out of the magazine and into the chamber. It also creates excellent reliability and extraction. The 416R barrel was 20-inches long (16- and 18-inch also offered) with what Vudoo labeled a Kukri profile measuring .88 inch at the muzzle. The barrel weighs 5 pounds, 13 ounces and included single point cut rifling with 1:16 twist.
Vudoo's accuracy warrantee test involves mounting a high-quality optic (Nightforce ATACR or similar), boresighting, zeroing and fouling the bore with approximately 20 to 30 rounds. Two five-shot groups are fired, supported by a front bipod or rest and rear bag (no sleds or fixtures are used) using match-grade ammunition. If both groups measure smaller than 1-MOA, the gun passes the test. If only one passes, a third group is shot. If two out of three groups are sub-MOA, the gun passes. There are some other details involved, but if the rifle fails this test, it will be repaired or replaced.

The Three 60 chamber was engineered around Lapua ammunition – generally considered the best .22 LR shells made. Unlike centerfire ammunition, where the best results generally occur with the bullet seated a small distance from the rifling lands, .22 LR bullets seat into the lands during loading. While a bullet jammed into the rifling of a centerfire rifle can create pressure spikes following ignition, a .22 LR bullet starts while seated into the lands. This is what makes every .22 LR firearm so ammunition sensitive. Some bullets seat into the established chamber more precisely than others, no matter how much said ammunition costs. The Vudoo likes Lapua, SK and similar .22 LR rounds because it was specifically designed around those bullet profiles.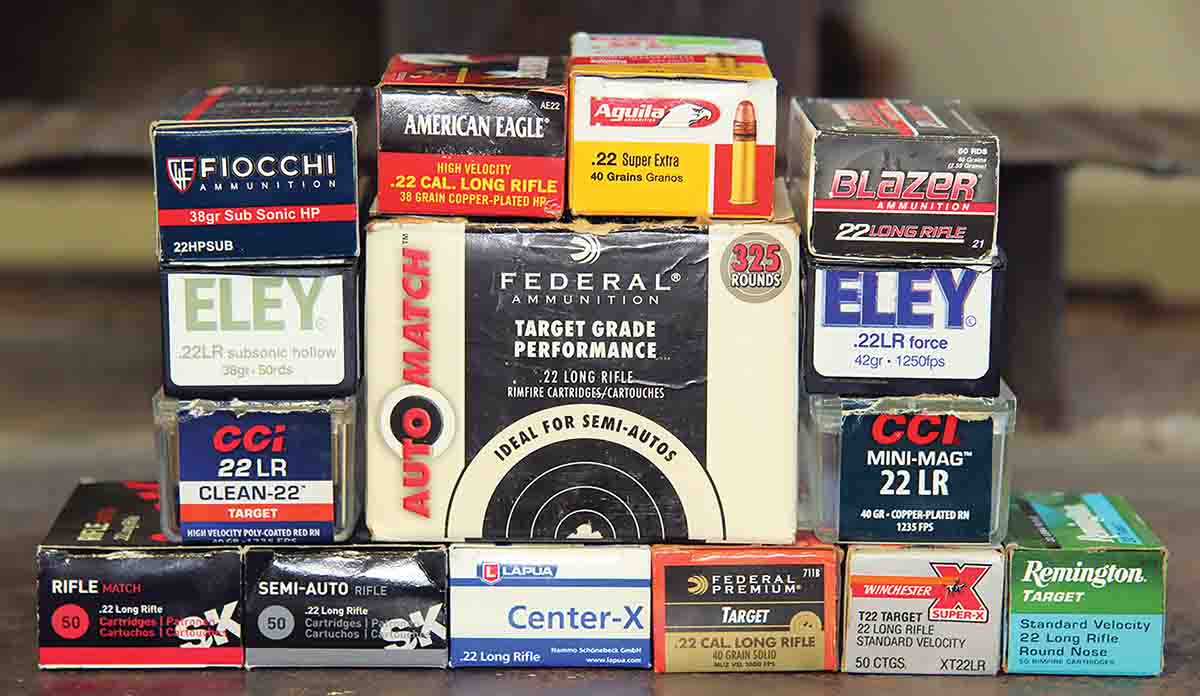 While adding the Burris RT15 3-15x 50mm scope in 30mm rings for testing, chosen because it was the only loose scope I had available with parallax adjustment to allow short-range focus, it seemed a bit much for a .22 LR. But then the guys at Vudoo use much larger centerfire scopes during competition, including some long-range Nightforce numbers to take advantage of the brand's extensive turret/erector travel while shooting at extreme ranges.
The test Three 60 action was dropped into a chunky Vudoo Foundation Exodus Light Destressed stock. The overall look was of honey-hued laminated wood with what might be described as burn marks, but the makeup was actually a highly stable synthetic material known as G-10/Micarta. The comb is height adjustable through a single side-embedded hex bolt, helping to get the eye precisely behind the scope reticle. The grip is vertical and quite comfortable from a bench or while laying prone and the rifle includes a heft that introduces steadiness. With scope and empty magazine in place, the rifle weighed a touch shy of 14 pounds.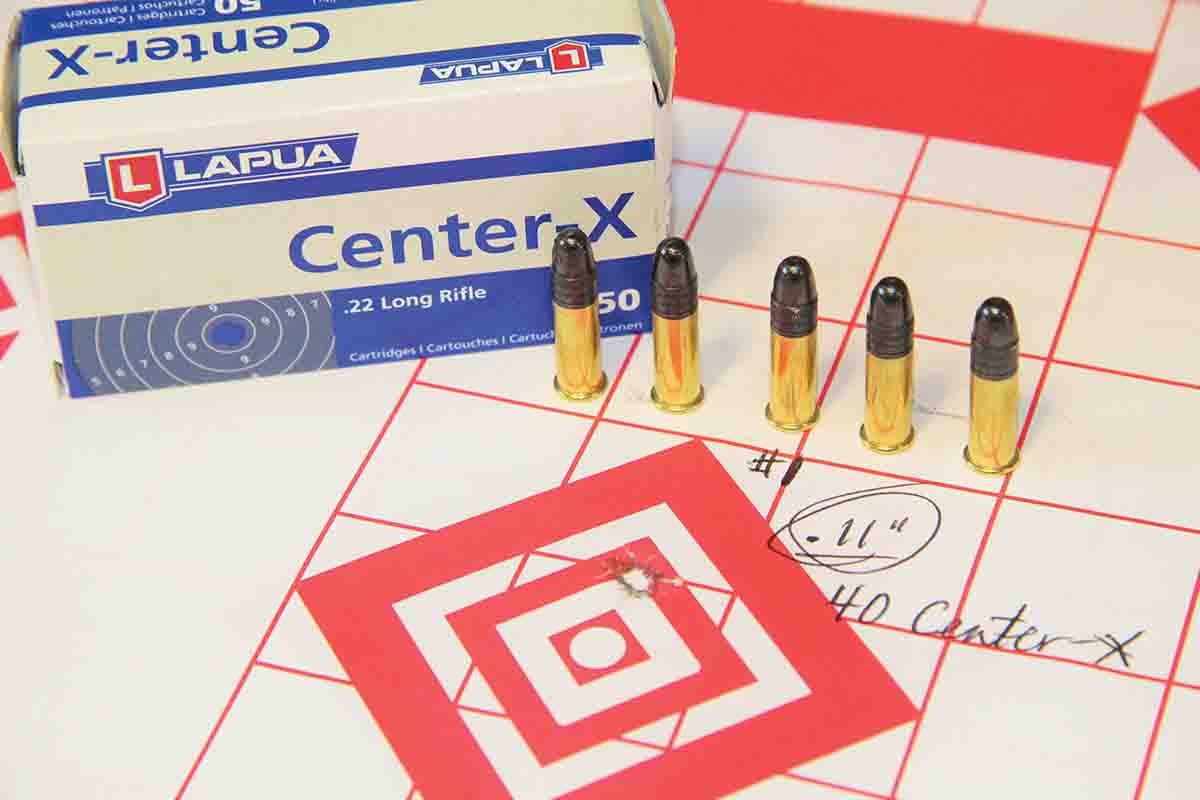 Sighting-in at 25 yards with Lapua Center-X ammunition showed the rifle to be boringly accurate with five-shot groups stacking into .16- to .19-inch clusters. Moving the target to 100 yards and spinning the turrets appropriately resulted in a .58-inch group. I'd decided to conduct accuracy testing at 100 yards, in the interests of separating results more decisively, but then feared some of the lesser ammunitions might assemble patterns instead of groups at that range. Ultimately, I decided to place the target at 50 yards instead of the standard 25 yards used for most .22 LR testing.
Rooting through my hoarded .22 LR stores, I was able to assemble 15 different rounds that provide a decent cross section of price points, intended purposes and bullet styles, with bullet weights ranging from 38 to 42 grains sent at advertised velocities from 1,040 to 1,300 feet per second (fps). Conspicuously absent were any hyper velocity (like CCI Stingers or Winchester Super-X Hyper Velocity) or high-powered hollowpoint hunting ammunition (like Browning BPR or CCI Velocitor).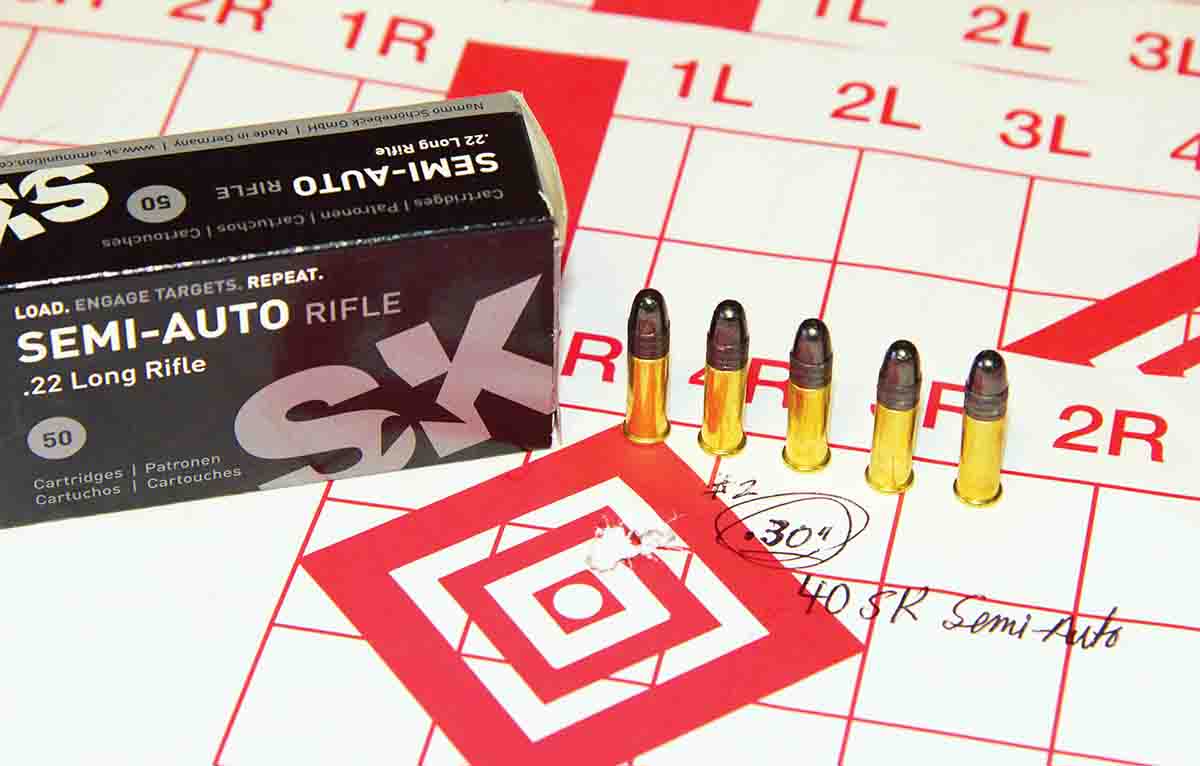 Target grade ammunition was added from several brands. Lapua's Center-X served as the benchmark, its waxed lead roundnose bullet left the muzzle at an advertised 1,073 fps. SK Rifle Match was also included. Its 40-grain waxed lead roundnose included the same muzzle velocity. SK Match is, in fact, Lapua .22 LR ammunition that didn't quite meet the Lapua's strict standards, though it generally comes very close. Federal Premium's Gold Medal Target fires a 40-grain lead roundnose at 1,080 fps. Remington Standard Velocity Target is loaded with a 40-grain lead roundnose with an advertised velocity of 1,150 fps. Winchester's match contribution was the Super-X T22 Target loaded with a 40- grain lead roundnose at an advertised 1,150 fps. CCI Clean-22 High Velocity Target includes a 40-grain bullet treated to a polymer coating said to keep bores cleaner and pushed to 1,235 fps.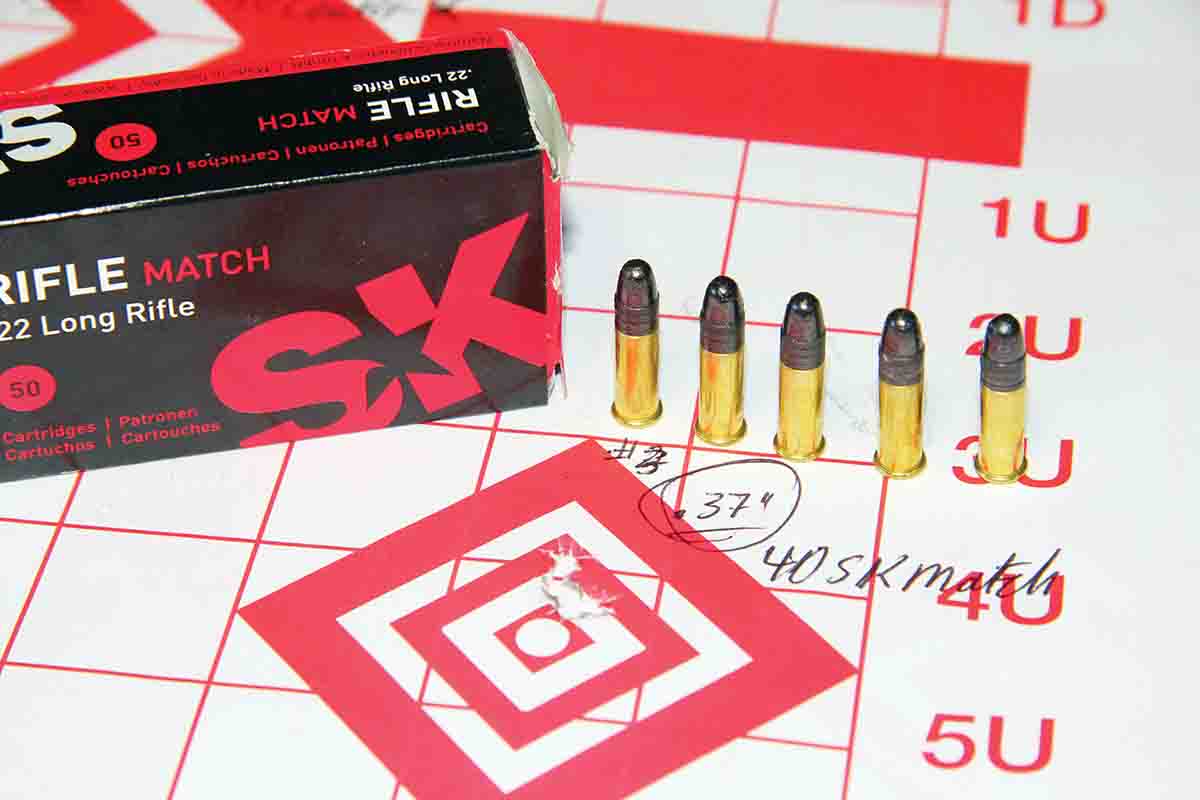 Other odds and ends included ELEY's Subsonic Hollow and Fiocchi's Sub-Sonic Hollow Point, each holding 38-grain lead hollowpoints launched at an advertised 1,040 and 1,050 fps, respectively. Federal Ammunition's American Eagle shoots a 38-grain copper-plated hollowpoint at an advertised 1,260 fps, and the same company's Auto Match generally proving surprisingly accurate bulk ammunition. Auto Match sends a 40-grain lead roundnose at a reported 1,200 fps. Budget-priced 40-grain CCI Blazer was added, its lead roundnose bullet advertised to launch at 1,235 fps, plus SK Semi-Auto, including a 40-grain lead roundnose sent at 1,132 fps. CCI Mini Mag couldn't be left out of the equation, a wildly popular option propelling a 40-grain copper-plated roundnose at an advertised 1,235 fps. Mexican-made Aguila Super Extra, including a 40-grain copper-plated roundnose sent at a purported 1,255 fps, has helped fill gaps in times of shortage, showing more shooters this is serious rimfire ammunition. Winchester Super-X's 40-grain Super Speed included the fastest advertised velocity, with a velocity of 1,300 fps with its copper-plated roundnose bullet. Finally, ELEY Force introduced our heaviest bullet, a 42-grain lead roundnose seated in an oxide-coated case and sent at an advertised 1,250 fps.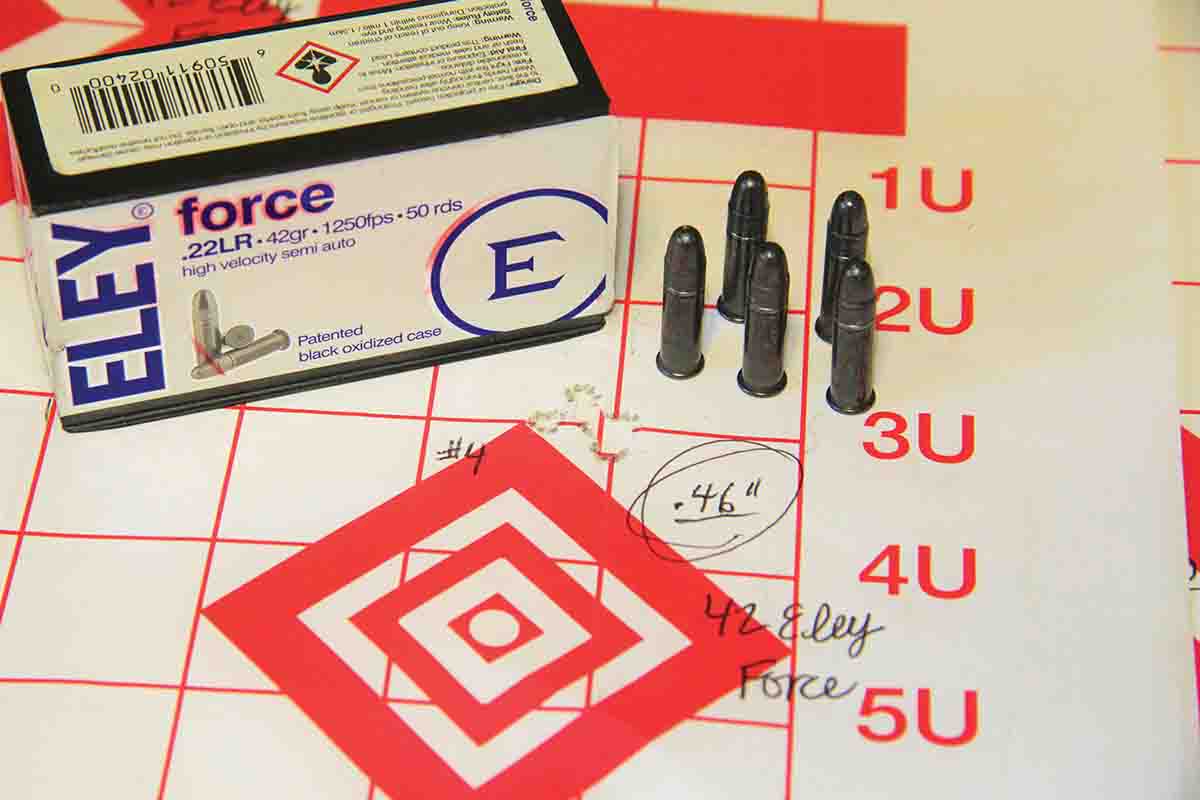 The Vudoo provided an extremely pleasant shooting experience, the trigger divine, nothing moving after the trigger break and the action cycling and feeding flawlessly. Only the hollowpoints presented any feeding glitches, however minor. As expected, Lapua ammunition (and similar SK ammunition) for which the chamber was cut, resulted in the very best groups (Center-X nothing short of astounding), though other target/match-labeled ammunitions posted respectable accuracy. Chambering became tighter as ammunition became "hotter," somewhat tighter using Winchester Super-X's T22 Target and CCI Blazer, considerably tighter firing Mini-Mag, and especially tighter using Aguila Super Extra (though the latter shot respectably). Winchester's Super Speed Super-X chambered so tightly – essentially requiring forcing it into the chamber – and shot so badly, it was discarded from testing altogether.
The top-five group averages resulted from Lapua Center-X (.26 inch), SK Semi-Auto (.43 inch with the smallest group .30 inch), SK Rifle Match (.43 inch with the smallest group .37 inch), ELEY Force (.51 inch) and Federal Premium Gold Medal Target (.56 inch).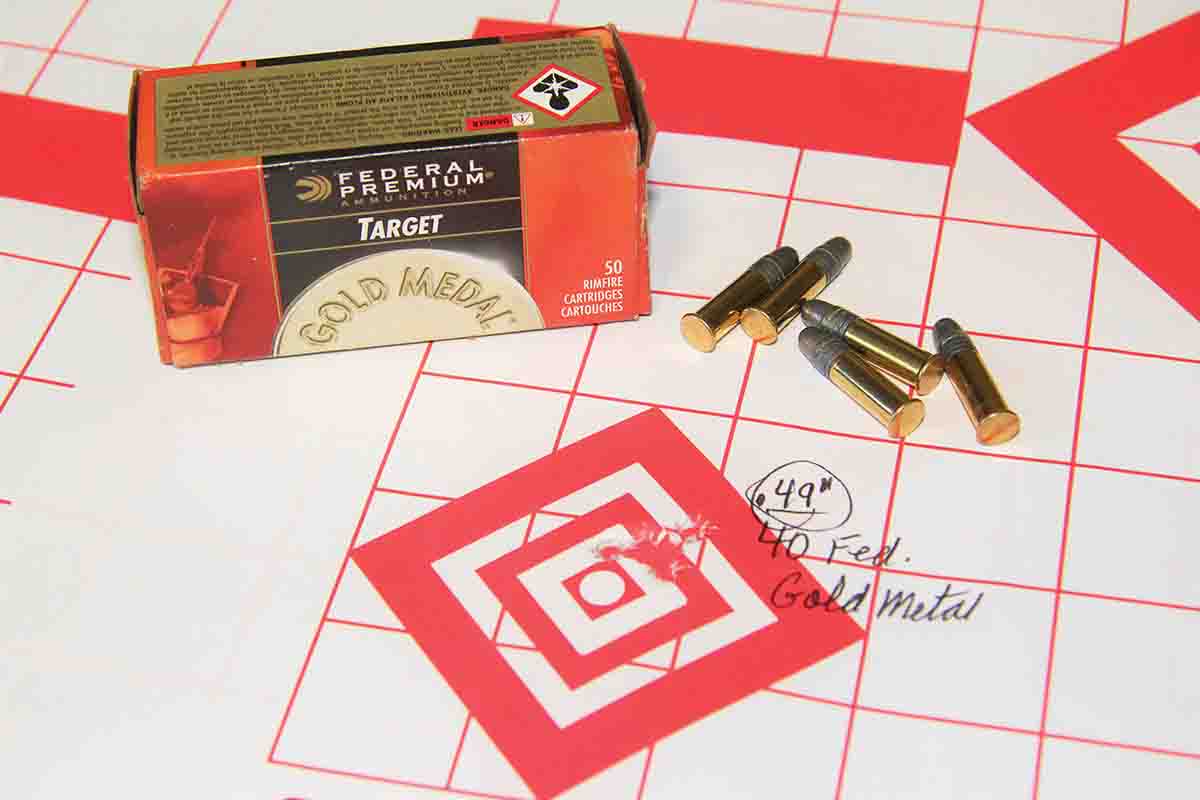 As an obsessive, small-varmint shooter, the Vudoo's performance with hotter ammunitions was disappointing. As tested, this is strictly a target rifle. Vudoo will cut a "looser" Bentz chamber better suited to hollowpoint varmint ammunition, though accuracy will not match that of the tested match chamber – though it would certainly improve accuracy with that type of ammunition. One thing is for certain, this is hands down the most accurate .22 Long Rifle I have ever shot.