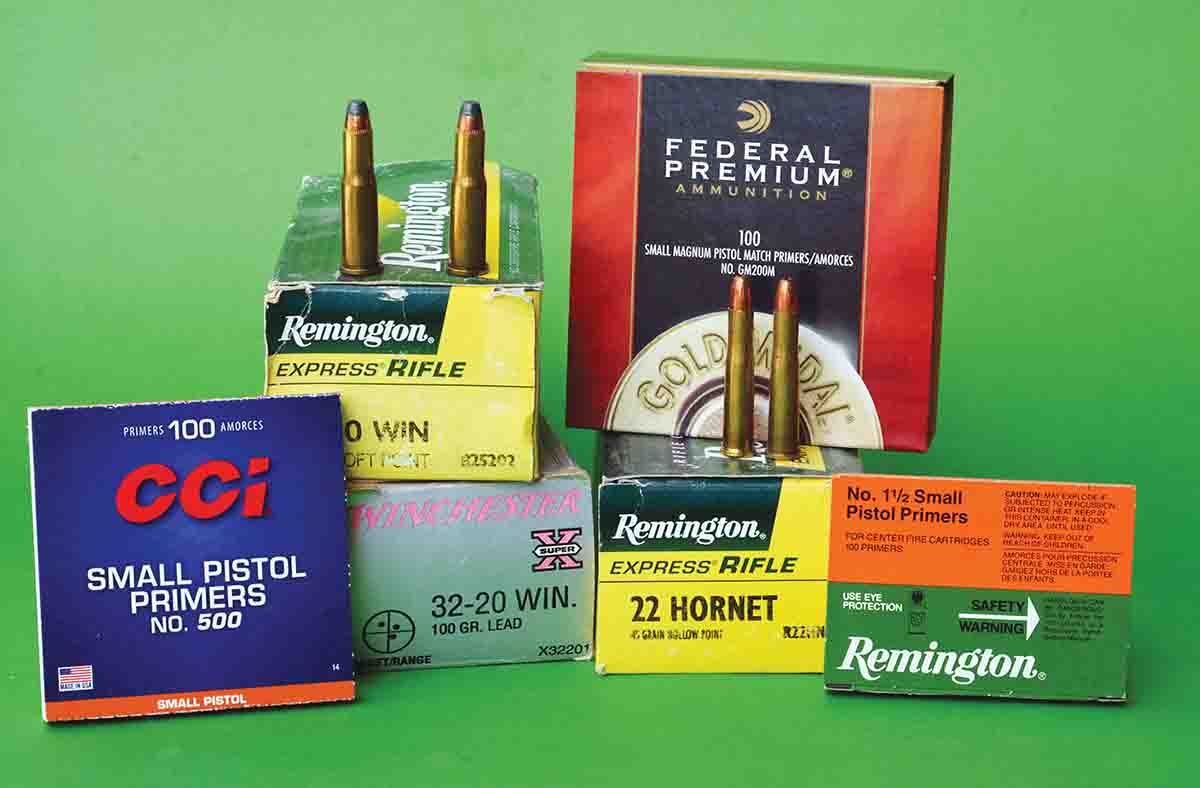 For the past couple of years, primers have been nearly impossible to obtain as a component for handloaders. Even ammunition manufacturers have struggled to either produce enough primers, or purchase enough original equipment manufacturer primers to allow them to meet the demand for their ammunition. As a result, both ammunition manufacturers and handloaders are frequently substituting primers. In other words, primers are being used in applications that are not within their intended purpose. I am aware of handgun primers being used in rifle cartridges and vice versa, with both practices potentially posing problems. While it is generally preferable to always use the correct primer for a given application, sometimes substitutions can work very well. But in other instances, a wrong combination of components can lead to reliability issues, significant changes in pressure, squib loads, bullets stuck in the bore and other issues.
Due to the size of this column, comments must be kept rather general, but hopefully, I will offer a few guidelines that will help handloaders with this rather complicated subject. While a few comments will include primers for handgun cartridges, most of the discussion must necessarily be geared toward rifle cartridges.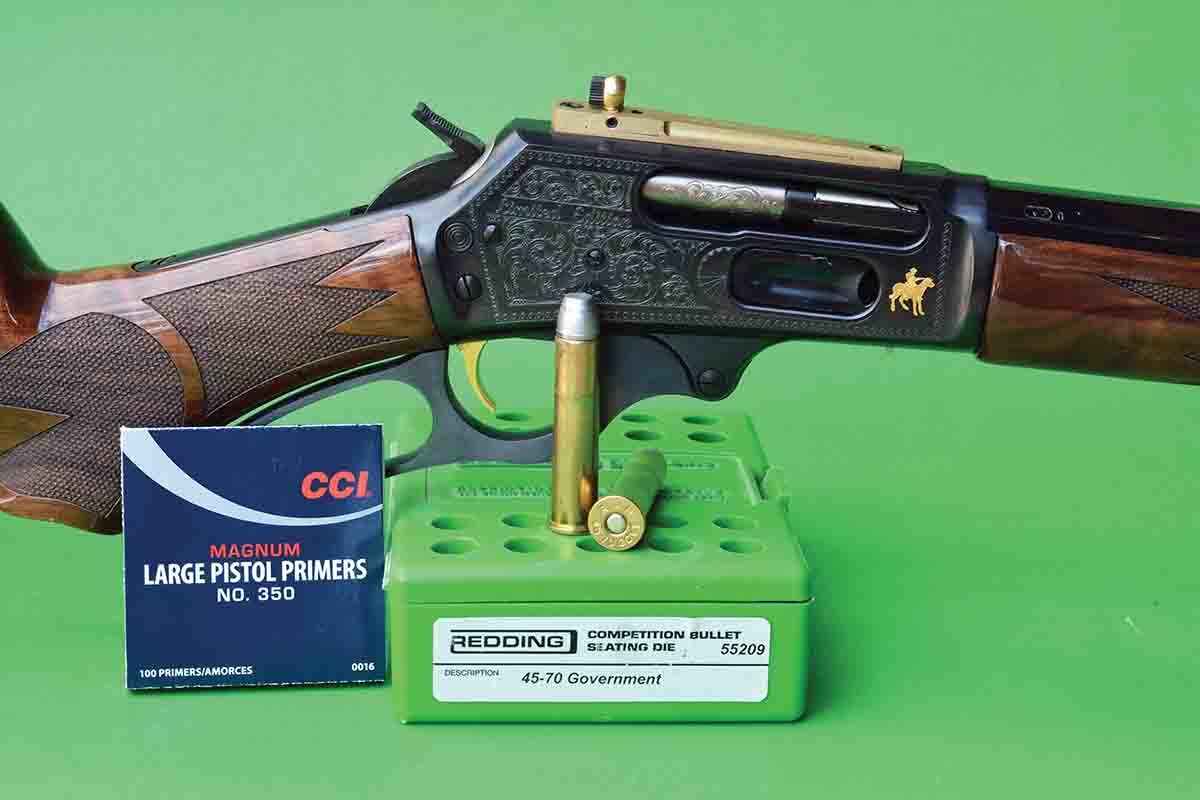 Primers should have enough compound or energy to provide reliable ignition, while featuring a cup that is sensitive enough to reliably ignite the compound when struck by the firing pin, but still offer enough strength to withstand the intended pressures without rupturing. This is a delicate scientific balance of components. Incidentally, tests have proven that the energy differences between primer manufacturers can be substantial. In some instances, changing primer brands will decrease or increase pressures significantly.
First, rifle and pistol/revolver primers are dimensionally different, but not always! Again, space will not allow an extensive discussion, but generally, rifle primers are longer than pistol/revolver primers. In other words, if we substitute a pistol primer in a rifle cartridge case, with the primer seated so that the anvil is in full contact with the bottom of the primer pocket (as it should be), it will often seat deeper than industry specifications that is generally .003 to .005 inch below flush. (Please note that not all primer pockets are dimensionally the same, so there will be variances.) In some guns, a deep-seated primer can cause misfires, as the firing pin cannot reach deep enough to offer reliable ignition. On the other hand, if rifle primers are used in handgun cartridges, again, with the anvil touching the bottom of the primer pocket, the added length of the primer may result in it seating more or less flush, but it can also be high or protruding. In pistols, this can cause a slamfire, which is potentially very dangerous, as the cartridge fires before the gun is fully locked-up. A high primer in a heavy-recoiling revolver has the potential to fire a cartridge (or cartridges) that are not in alignment with the barrel as recoil slams cartridges against the recoil shield area (not to be confused with recoil plate). At the very least, high primers will drag on the recoil shield and plate and can cause the cylinder to bind up. (Note: Primers should never be forced to seat, or crushing the anvil to make them seat to the proper depth!)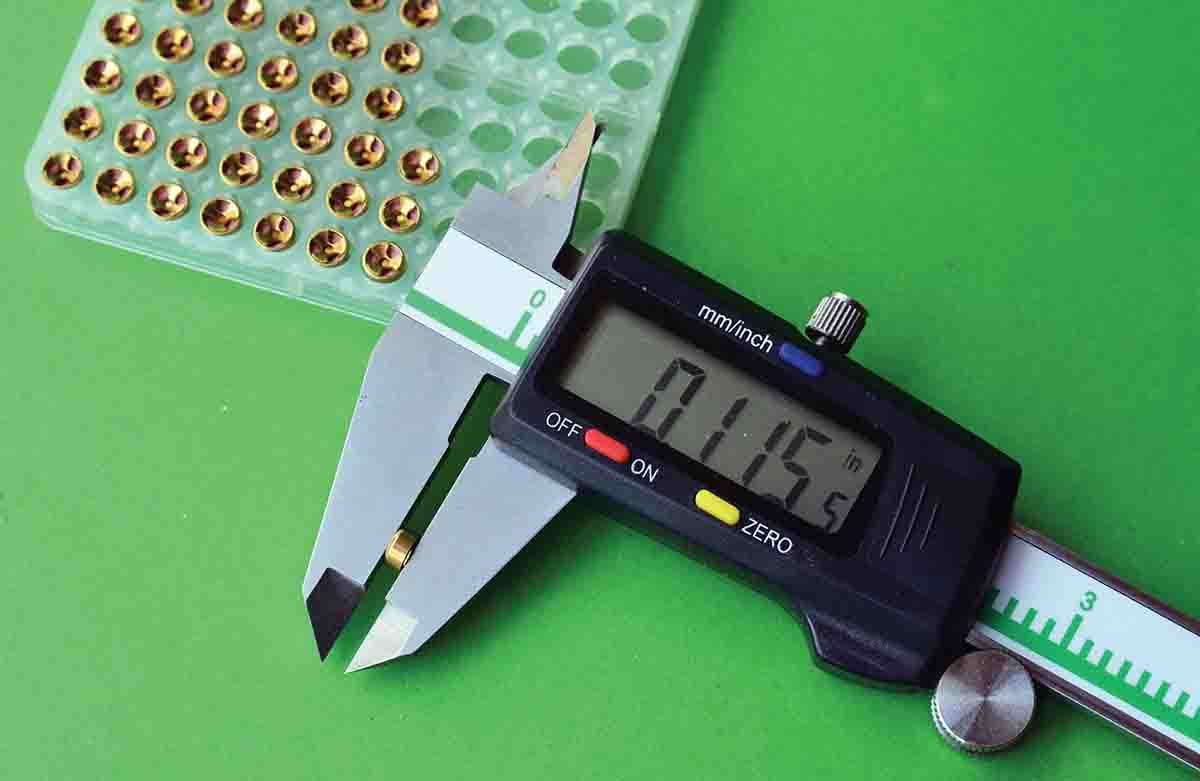 Rifle primers generally have much more compound, and therefore, offer greater energy than pistol primers, which almost always causes pressures to increase if they are used in handgun cartridges. On the other hand, using handgun primers in rifle cartridges will usually cause pressures to drop. The problem is that they may not offer enough priming compound or energy to reliably ignite the powder charge. This is potentially dangerous, as hangfires can occur, which we will discuss further in a moment. Often, small pistol and small pistol magnum primers can be used in small-capacity rifle cartridges with excellent results. Cartridges such as the .17 Hornet, .22 Hornet, .218 Bee, 25-20 W.C.F. and 32-20 W.C.F. frequently utilize small charges of powder that are often between 8 to 12 grains and primers such as the Federal 100 and CCI 500 offer plenty of primer energy for reliable ignition. In fact, with select powder and bullet combinations, extreme spreads can be very low and accuracy high. However, some suitable powders for the above cartridges will ignite more reliably (in all temperatures and with all bullet weights) with small pistol magnum primers such as the CCI 550 and Federal 200. If pistol primers are used in the above applications, be certain that they do not seat excessively deep and that a given rifle will fire them reliably prior to loading a large quantity of ammunition. Also, generally speaking, handgun primers should only be used in small rifle cartridges that operate at similar pressures (or lower) as magnum revolver cartridges such as the .327 Federal Magnum (45,000 psi), .357 Magnum (35,000 psi), or the primer cup may rupture.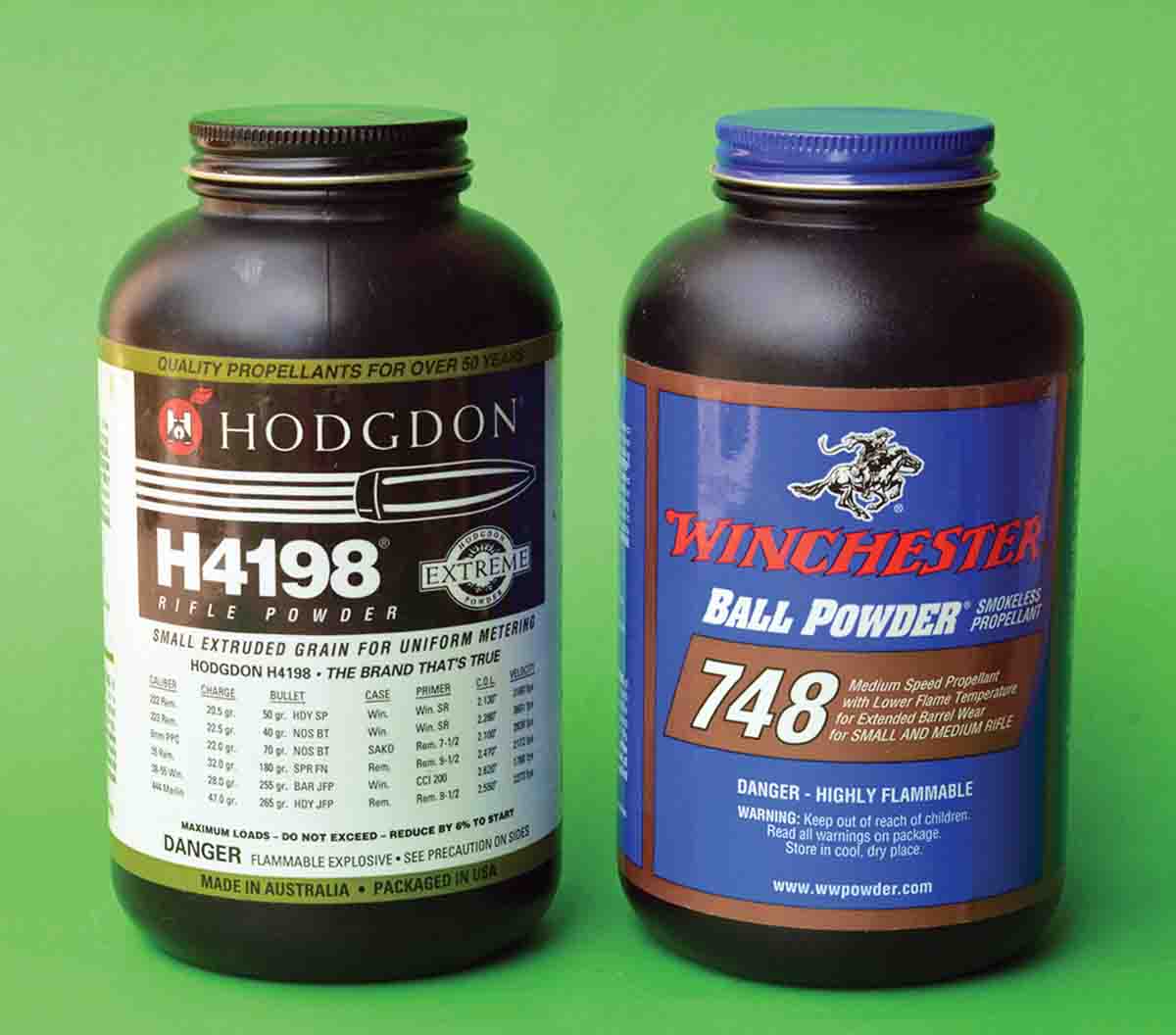 Moving on to our most popular rifle cartridges that utilize small primers, these include the .223 Remington and 5.56 NATO. However, the below comments will also apply to cartridges that are based on the same case (more or less) including .17 Remington, .204 Ruger, .222 Remington, .222 Remington Magnum and others. Generally speaking, these cartridges usually contain powder charges that range from 20 to 26 grains, but can be more or less depending on cartridge, powder choice, and/or bullet weight. Many powders ignite ideally with small rifle standard primers; however, others require small rifle magnum primers, or a high-energy primer such as the Federal 205, to obtain reliable ignition. For example, many spherical or Ball) powders are double-based and will require a magnum or high-energy primer for correct ignition with all loads and under all temperature extremes. This explains why the U.S. military uses the mil-spec CCI 41 primer that is a magnum primer to assure perfect powder ignition under all adverse conditions. On the other hand, select fast-burning extruded powders can be ignited reliably with standard small rifle primers.
I am aware of handloaders substituting small pistol magnum primers in the .222 and .223 Remington cartridges with respectable results. However, in successful instances, a fast-burning, extruded, single-base powder (that is easier to ignite) is selected such as IMR-4198 and Hodgdon H-4198. They are used in conjunction with 55-grain bullets (or heavier) and charge weights are 19 and 20.5 grains respectively, which is relatively low powder volume and easy to ignite. Neither is pressure high enough to cause primers to rupture. Furthermore, shooting is only taking place during the warm temperatures associated with Montana summer months on prairie dog towns. I have conducted tests with handgun primers in the above cartridges and still have concerns of their reliability if used in cold temperatures, wet climates, with lightweight bullets and other variables. So generally speaking, it is not recommended to use small pistol/revolver primers in the above cartridges, however, with careful component selection they can work.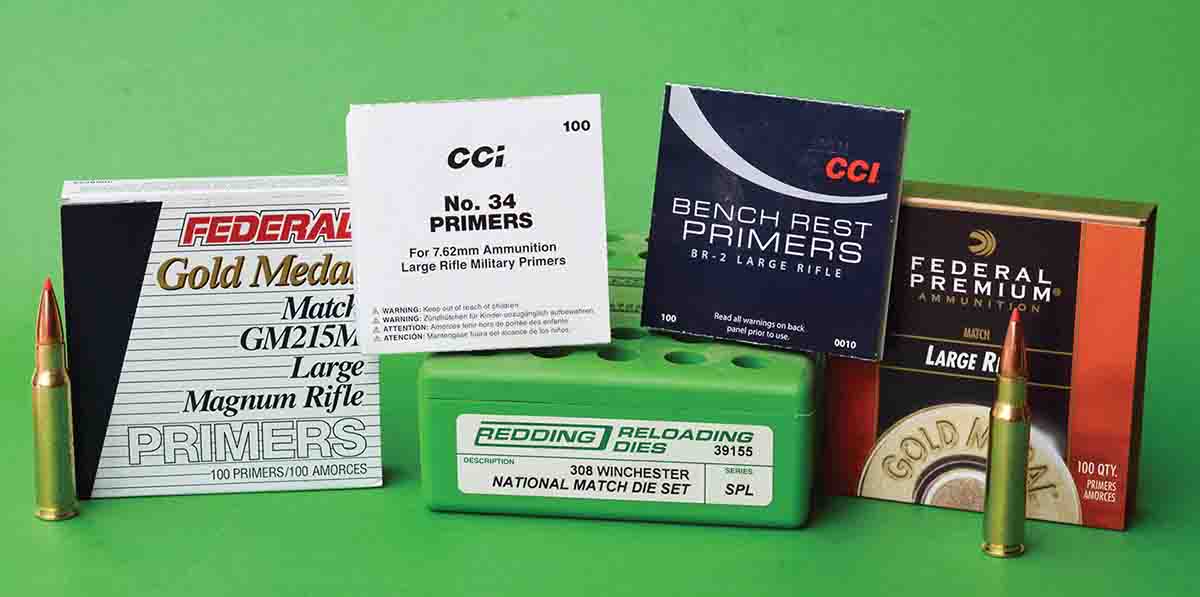 Moving on to rifle cartridges with a medium capacity, such as the .308 Winchester and other short-action cartridges of similar powder capacity and based on the same case, things can become a bit more complicated. For example, the military counterpart of the .308 Winchester is the 7.62x51mm NATO (with slight technical changes), which is ignited with a large rifle magnum primer such as the CCI 34/7.62mm. Again, this is insurance that there will always be proper powder ignition under all temperature ranges and circumstances during combat, and this cartridge is generally loaded with double-base spherical powders that are more difficult to ignite than single-base extruded powders. But when the .308 is used in sporting applications, it is generally ignited with standard large rifle primers that offer plenty of ignition energy for any practical load. Substituting large pistol magnum primers in the .308 Winchester is not generally recommended, especially when using double-base spherical powders. However, if a single-base extruded powder is selected and loads are well below maximum with pressures held to around 45,000 to 50,000 psi, they can work reasonably well.
Briefly, a noteworthy trend among target shooters has been to use small rifle primers in 6.5 Creedmoor and .308 Winchester, which are offered as a primer pocket option from Starline Brass. Many wildcatters are using small rifle primers in the .22 Creedmoor. However, even when used with small rifle magnum primers, all of the above cartridges have turned in erratic pressures and velocities when used in conjunction with double-base spherical powders, which is a practice not recommended by this writer. Changing to single-base extruded powders that are commonly used in competition, performance becomes consistent with reliable ignition and low extreme spreads. There are no real options for primer substitution with the above cartridges when they feature small rifle primer pockets.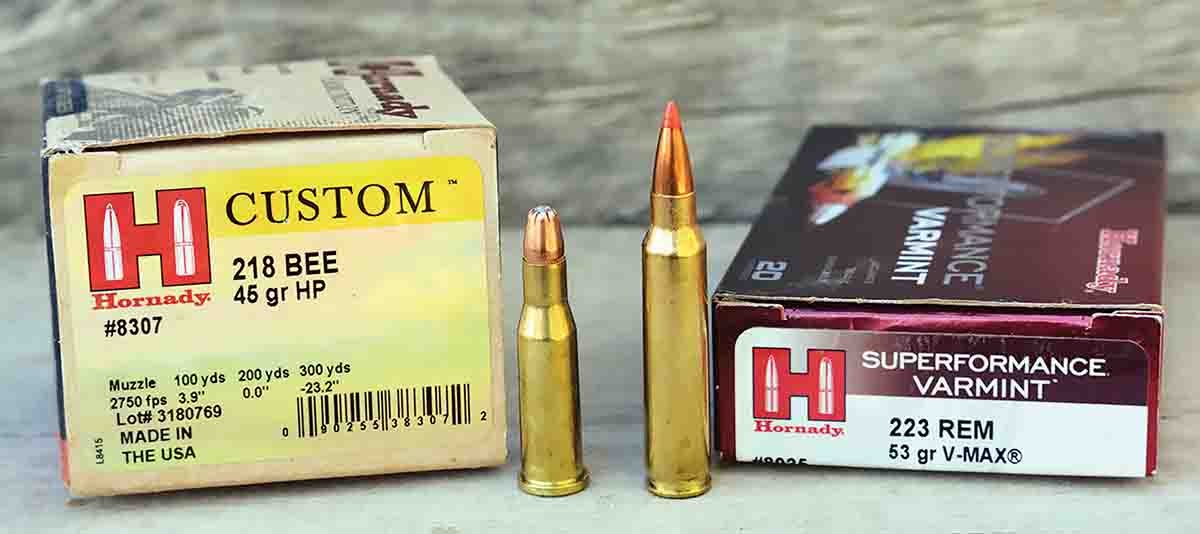 Some levergun cartridges can be used with large pistol magnum primers, but again, only with qualified data. For example, regarding the Marlin Model 1895 lever-action rifles chambered in .45-70 Government; cartridges loaded using select cast bullets featuring wide meplats; the edge of the meplat can directly contact the center of the primer when cartridges are positioned in the large magazine tube belly. During recoil, this has resulted in several magazine tube detonations. Twenty five years ago, a manufacturer asked me to research viable options to solve this problem. While the best general option was to change the bullet (or go to a small rifle primer pocket), it was discovered that by switching to the CCI 350 Large Pistol Magnum primer, it seated around .010 inch below flush, which minimized its contact with the edge of the bullets meplat. In spite of primers being seated deeper than outlined by the Sporting Arms and Ammunition Manufacturers' Institute, there were no misfires in more than a dozen test rifles. When used in conjunction with single-base extruded propellants, ignition was reliable, extreme spreads were low and pressures could be bumped up to around 40,000 psi with the primer cup offering plenty of strength for this level of pressure.
Moving on to rifle cartridges with magnum capacity cases – fair-weather shooters can obtain acceptable results using single-base extruded powders combined with standard large rifle primers, however, this practice should generally be avoided. A magnum primer will produce the consistent, reliable ignition that prevents squib loads, bullets sticking in the bore and erratic (both low and high) pressures.
Again, it is generally advisable to use correct primers for a given application. However, qualified substitutions can be made that produce excellent performance.