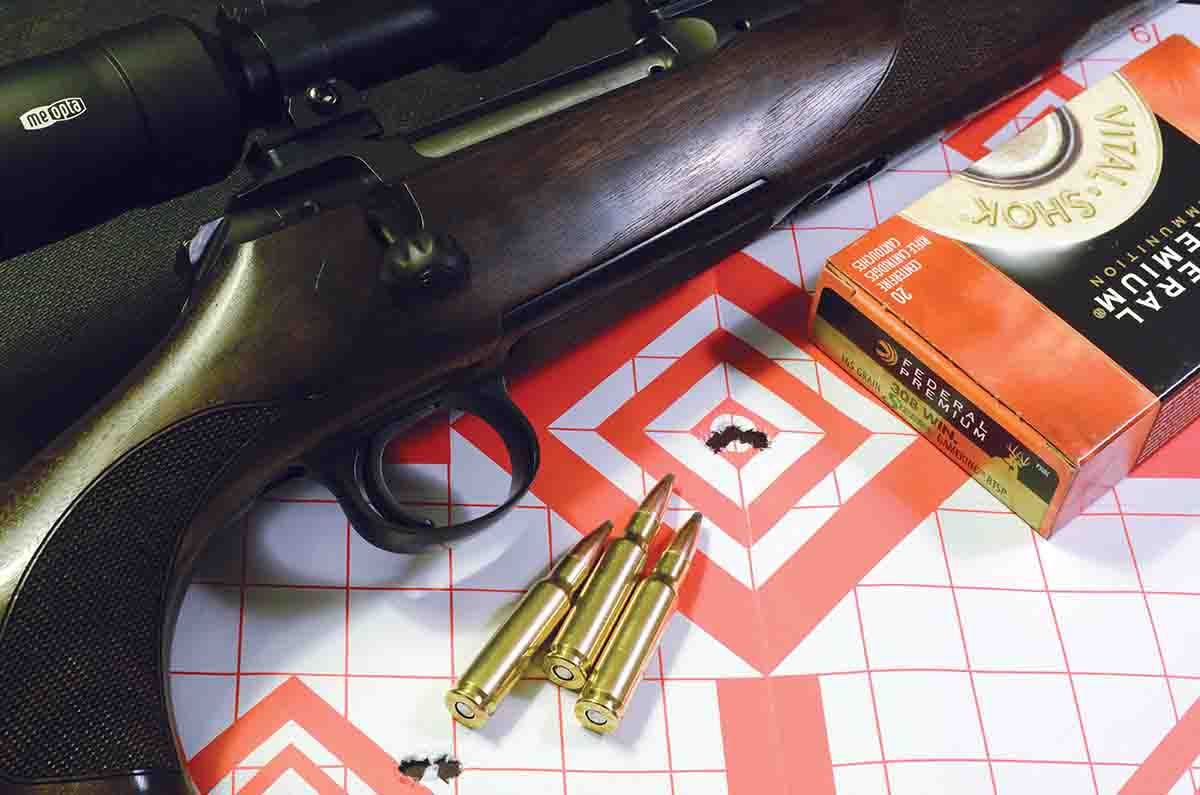 The Sauer 101 has been with us for a decade now, which is not long by the standards of J.P. Sauer & Sohn. The company has been in existence since 1751, and as the second-oldest gunmaker in the world (after Beretta), one would expect any rifle they make to be world-class. The 101 fits the bill.
It was introduced in 2012 as a pared down, economy model for those of us who can't quite afford the company's higher-end rifles, like the newer Model 404. The latter can run up to $10,000, depending on features and options, while the 101 lists for $1,700 and up. That, at least, was the original suggested retail, but a quick glance around the internet finds 101s offered at a wide range of prices.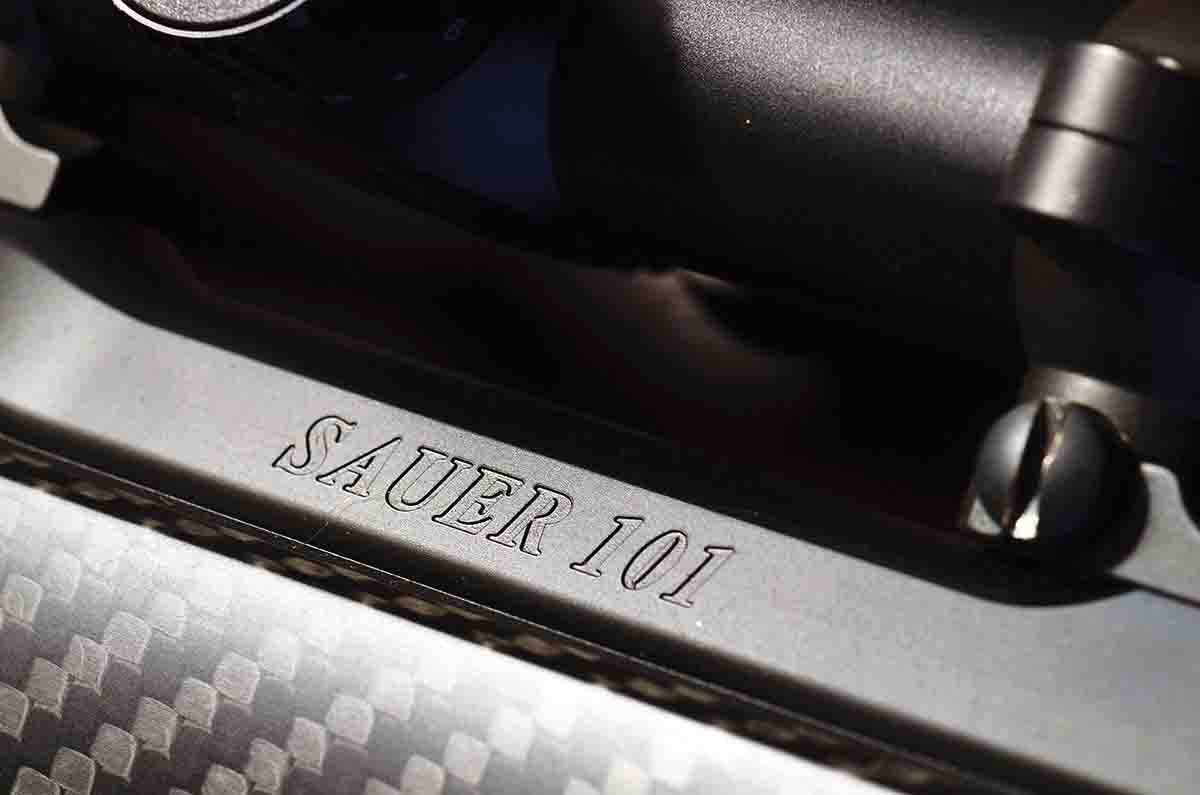 This is a good place for a general warning. If you attempt to research a Sauer 101 on the internet, you may find yourself immersed in a mass of contradictory information. For example, as I write this in October 2022, the Sauer-USA website (
jpsauer-usa.com
) is under reconstruction and (inexplicably) does not even mention the 101. I am assured it will be up-to-date and running by the time you read this article. The German site (sauer.de in English), has all the right information, however.
When combining the varying offers and prices with a list of seven different sub-models of the 101, each with its own specifications, options and calibers, it is a formula for gibbering confusion.
Having reviewed the Sauer 101 a decade ago when it first came on the market, it was time to take another look and see how it had evolved. I asked for the newest variation – the Highland XTC – in .30-06 Springfield. The Highland's major claim to fame is its light weight – "the lightest rifle Sauer has ever offered" – and even used the term "ultralight" in the press release, quoting a weight of 5.4 pounds in .308 Winchester. This is achieved mainly through the use of a carbon-fiber stock and a short, fluted barrel. Of course, the actual weight of any rifle depends on caliber and barrel configuration. Still, 5.4 pounds. That's light.
The one I have, fitted with a Meopta scope, with five rounds in the magazine, weighs exactly 7.5 pounds.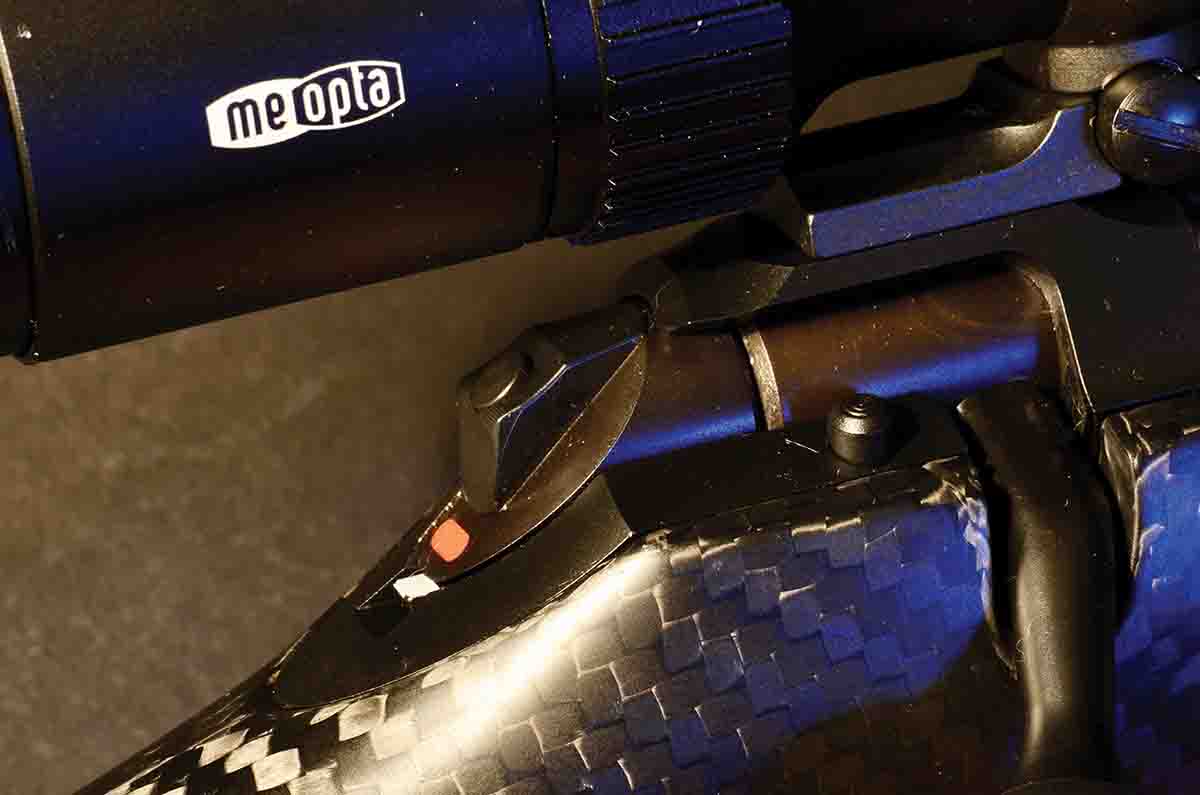 For those not familiar with the 101, it's a bolt action of what could be called the "modern European-type." It has six locking lugs and a low bolt lift, and resembles the original Weatherby Mark V, with its fluted bolt, and the later, smaller, six-lug Weatherby. This is not surprising, since Sauer made the very first Mark Vs in the 1960s, and the two companies learned a lot from each other.
One major difference is the Sauer's safety, which is a sliding catch on the bolt shroud that locks the striker. It pushes up and forward into the "FIRE" position, and can be returned to "SAFE" by depressing a button and sliding it back down. On "SAFE" the bolt is locked, but can be unlocked to work the action by depressing the bolt-release button beside the shroud.
My one complaint is that when the scope has a substantial ocular bell (as does the Meopta and most other European scopes) and is mounted low, it can be difficult to manipulate the safety. Germans tend to like their scopes mounted higher than Americans do, which may explain it.
The rifle has a detachable box magazine made of polymer and, in .30-06 Springfield, holds five rounds (four rounds for the .300 Winchester Magnum or 7mm Remington Magnum).
There are two historical parallels that are relevant. One is the original Ultra Light Arms, Melvin Forbes' company in West Virginia that popularized the term in the 1990s. The other is the experience of the Winchester Model 70 Featherweight, introduced with the .308 Winchester, in the 1950s.
Until Forbes came along, anyone wanting an "ultra-light" rifle had to create his own by "Swiss-cheesing" the magazine box, hollowing out the bolt knob, turning down the barrel, skeletonizing the stock, and various other not-so-good ways of reducing weight. The result was often less weight, but accompanied by less accuracy.
Forbes created his own action, a variation on the Remington 700 built to be light from the ground up, and with a safety of his own design that locked the bolt but also acted (by pressing down) as a bolt release. As I recall, he made different lengths so that a .250-3000, for example, would not be saddled with the extra weight of a .30-06-length action.
Ultra Lights were made with composite stocks, also designed for light weight, and thin barrels. Buyers could have almost any option, so describing an Ultra Light is full of caveats. Dave Petzal, a rifle nut and senior editor of Field & Stream, owned several, and swore by them.

However, Forbes ran into an old problem, which was trying to combine the power of a belted magnum cartridge with extreme light weight, without unmanageable recoil. This takes us to the second example. The Model 70 Featherweight in .308 Winchester, as the combination was introduced in 1956 or thereabouts, was one of the great hunting rifles of the twentieth-century. Everything worked together beautifully and the Featherweight was a runaway success.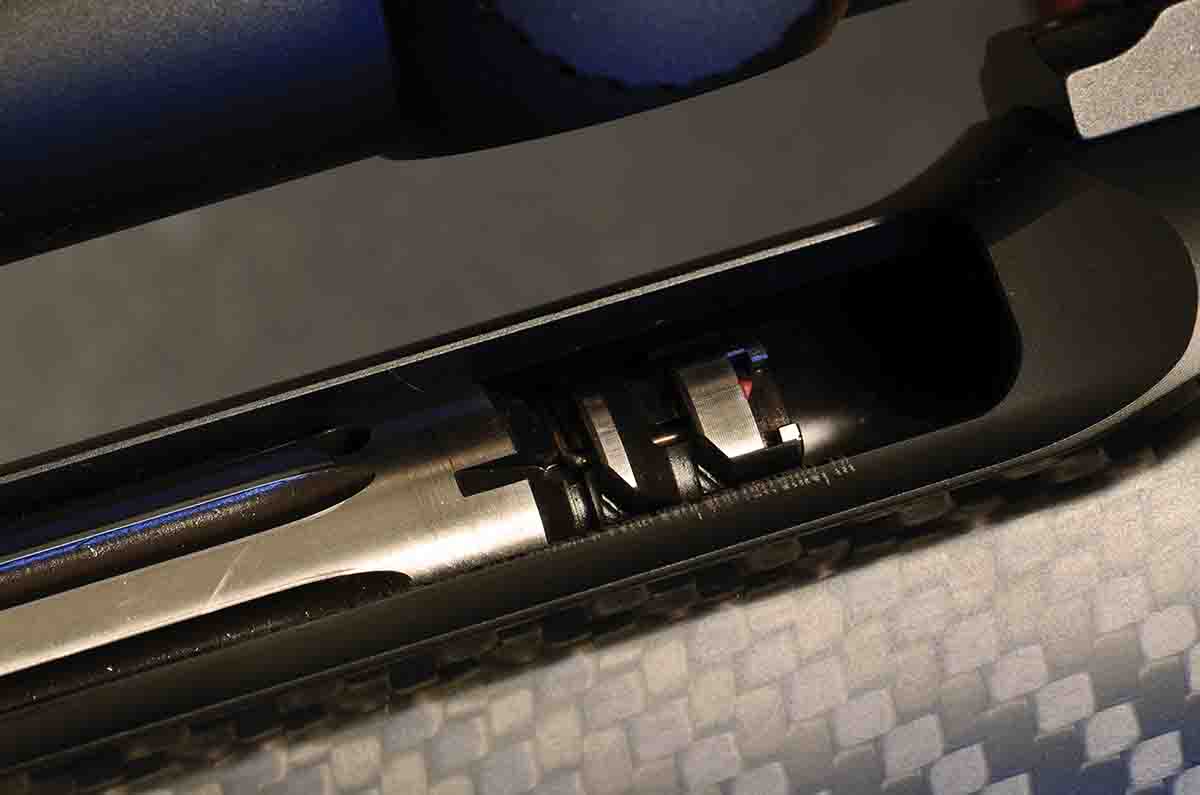 It was, however, the age of belted-magnum mania combined with a certain lack of ballistic sophistication (to say nothing of shooting experience) on the part of company executives and marketing men. When Winchester introduced the .264 Winchester Magnum in 1958, someone suggested it would be a great cartridge to offer in the Featherweight. The company had already expanded the Featherweight line to include cartridges like the .270 Winchester, so why not go whole hog and include the seriously overbore .264?
The result was a disaster that contributed mightily to sinking the .264 Winchester. In the short-barreled Featherweight, the .264 bellowed like a naval gun and kicked like 20 mules, all the while delivering ballistics little better than the .270. More than any other single factor, the experience with the Featherweight killed what is otherwise an excellent cartridge, provided a person buys one in the original "Westerner" configuration, with reasonable weight and a 26-inch barrel.
This lesson was not lost on Forbes. His answer was to build his magnum- chambered rifles with at least 24-inch barrels. He also insisted that, to some extent, his composite stocks minimized recoil. Of course, muzzle brakes were around back then, but while they reduced straight-back recoil and muzzle jump, they always and without exception, magnified blast, sometimes to an unbearable degree. They were not the answer. I don't recall if Forbes offered them as an option.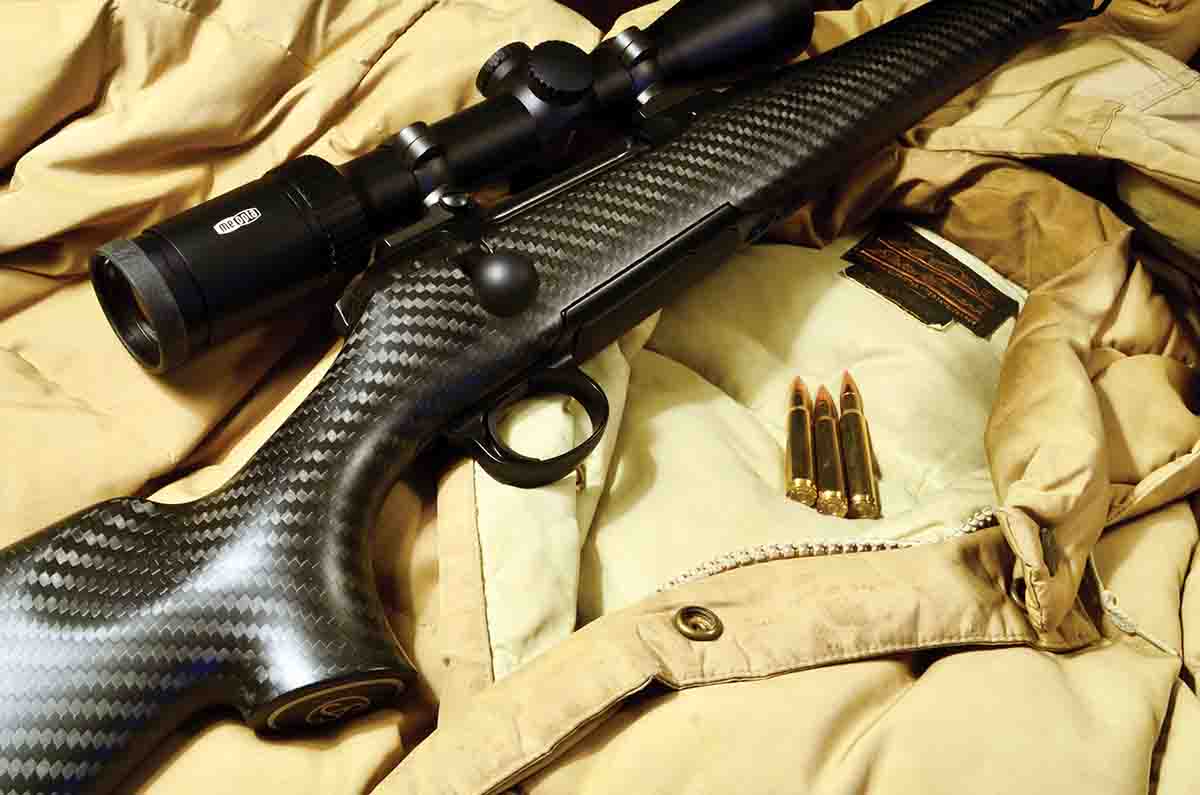 I had one Ultra Light Arms rifle – a 6.5x55 Swedish with a 22-inch barrel that delivered consistent 1.25-inch accuracy for five shots, and never worse than that. Alas, I could put together nothing that improved on it, either, and since I never developed any affection for the rifle, eventually traded it away. Shortly after I got it, Forbes sold the company to Colt, and it was all downhill from there.
Ultra Light inspired other companies and individual gunmakers to offer similarly light rifles, some carrying it to absurd extremes. I remember reading of one so-called mountain rifle that tipped the scales at 4 pounds. How anyone could hit anything with it is beyond me, especially if a person was trying to shoot after racing up a mountain, panting, to get close enough to shoot.
Sauer's Highland XTC strikes an appropriate balance between light weight and manageability, and has a barrel that is certainly short enough for handling, but not long enough for maximum ballistic performance. In standard calibers, it is only 20 inches, and in the two magnum offerings, 22 inches. It is threaded for a muzzle brake, available from Sauer, and protected by a cap when the brake is not installed.
The barrel is narrow profile, protected by a finish Sauer calls "Diamond like Carbon" (DLC), which is virtually weatherproof. All Sauer barrels are hammer forged at the company's plant in Ilny, Germany.
The company guarantees accuracy – "less than one MOA at 100 yards" – for five shots with premium ammunition. I dipped into my tiny remaining stash of high-quality hunting ammunition, by Federal, SIG Sauer and Hornady.
The accompanying table shows the result. I had only enough of each to chronograph and then shoot one five-shot group. As you can see, the chronographed velocities were significantly lower than advertised, which is to be expected with such a short barrel. Two of the three delivered groups of less than a minute of angle, and the Hornady group was spectacular.
In my experience, the velocity shortfall is not unusual, while the demonstrated accuracy, on average, was about as good as it gets with anything less than a match rifle. One good group does not prove anything definitive, granted, but it's better than one bad group, which does.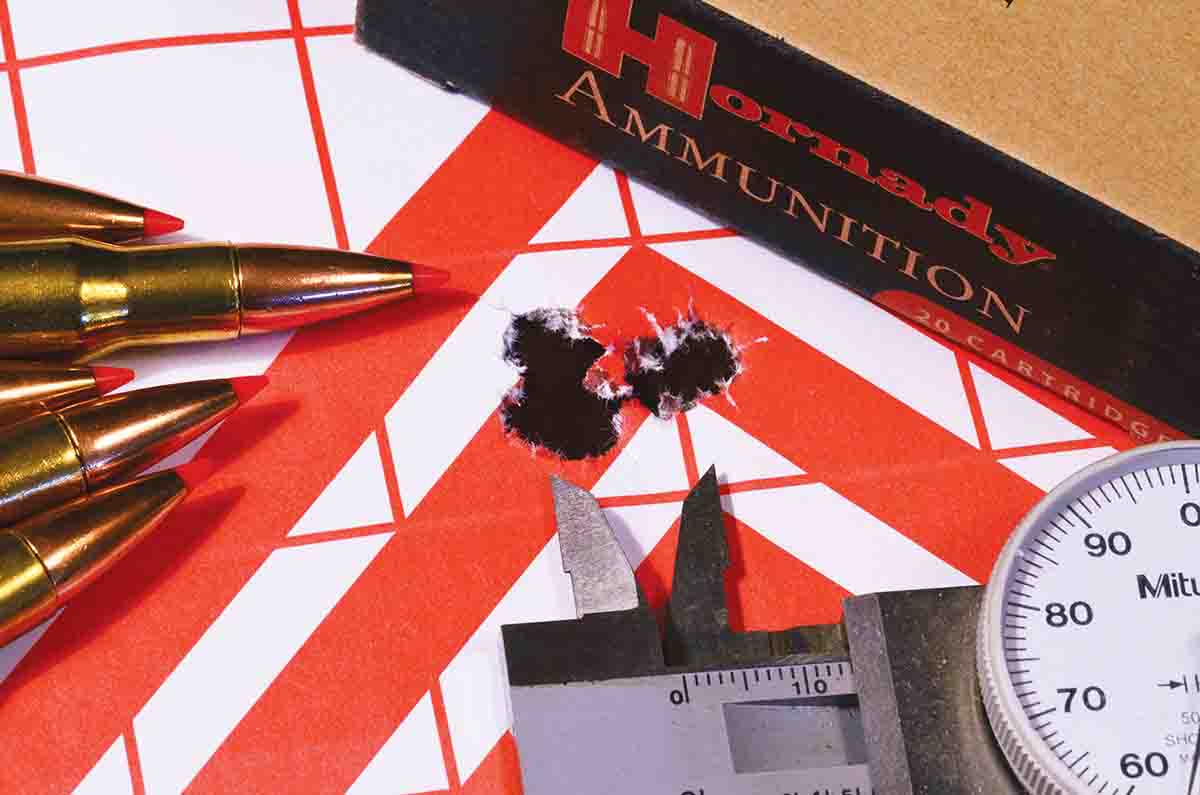 Handloaders are in a position to do something about the velocity loss, and also potentially improve accuracy even further. With a short barrel like this, it is always best to stick to relatively light bullets (165 grains or less, in a .30-06) and use faster-burning powders such as IMR-3031 or Hodgdon H-4895. This is a general rule only, and does not guarantee anything except that you are likely to lose less velocity.
For a mountain rifle, heavier bullets are generally not required anyway, and from the configuration, the Highland XTC is obviously intended as such. It is offered in 10 calibers, from .243 Winchester to 9.3x62, as well as the 7mm Remington Magnum and .300 Winchester Magnum. Some of these I would consider good mountain cartridges – for America, at least – including the .270 Winchester and 6.5x55 Swedish. The 8x57 IS and 9.3x62 are certainly good for the Alps, with red stag and perhaps wild boar.
The two magnum calibers I really question, although I am sure there are people who will buy them. With 22-inch barrels, they almost exactly duplicate the old Winchester Model 70 Featherweight in .264 Winchester. Assuming the magnums weigh slightly more than the Highland's quoted 5.4 pounds, they are still a pound lighter than the old Featherweight (6.75 pounds). I don't like to even imagine the blast and recoil, regardless of Sauer's insistence that their spiffy carbon-fiber stock mitigates recoil. I expect most buyers would have a muzzle brake fitted and, while that would reduce the blow, what would it do to the noise. One can only speculate.
The trigger pull, advertised as 33.5 ounces, averaged 38 ounces on my rifle, but it was as crisp as anyone could ask for and trigger pull is the single most important factor in accurate shooting.
Barrel length? I would certainly prefer another 2 inches in a .30-06, and for that matter, I would like another 2 inches in everything except the magnums, where I would want at least that and preferably four.
The point is often made that we carry a rifle a lot more than we shoot it, which is certainly true. But the shooting is what we carry it for in the first place and if, when the chips are down, it's too light or unstable to hit anything, we might as well have left it at home. Trust me, you will forget the weight of a heavier rifle a lot faster than you will forget missing the shot of a lifetime.
Overall, however, for climbing the Alps after chamois, or scaling the Chugach in search of a Dall ram, the Sauer 101 Highland XTC is as nice a rifle as I've seen.