Many of us tend to obsess over rifle cartridges, or the differences between brands of factory rifles. Some of the more "advanced" obsess over the major parts of modern custom rifles, essentially, the ancient triad of "lock, stock and barrel," though today the lock is the action, the stock usually synthetic and the barrel "custom" rather than factory. Then there are scopes, which these days sometimes approach benchrest scopes in magnification, often have multi-point reticles and precise "target" turrets ready to be clicked to any range.
We obsess over such details because many of us want our deer rifles to group like light benchrest rifles, even when we almost never shoot at deer more than 250 yards away. Often, however, we leave out one of the most important factors in rifle accuracy, the trigger.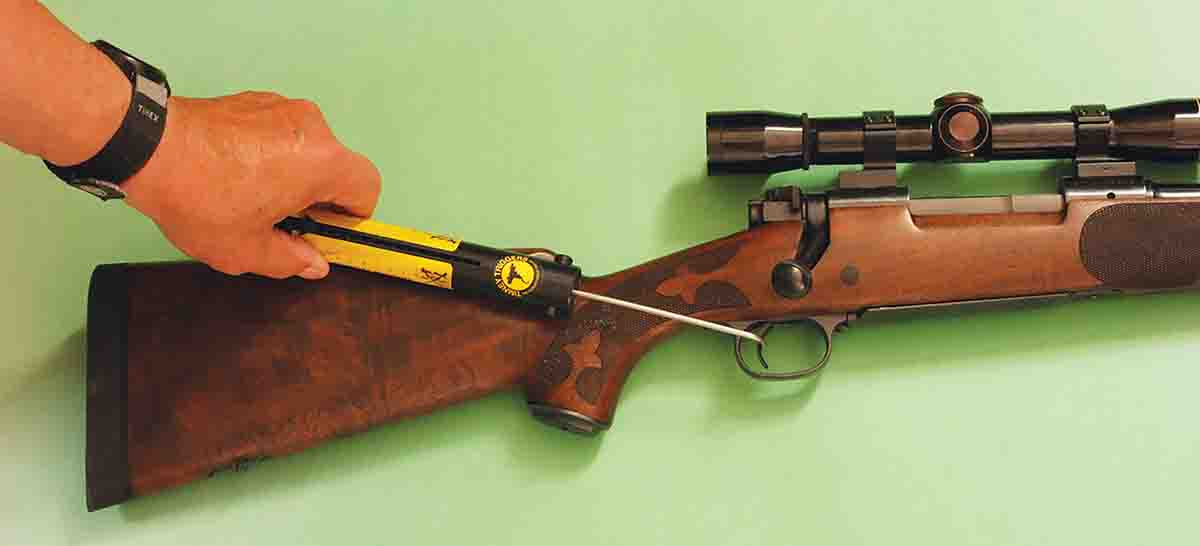 A very fine, cut-rifled barrel, precisely chambered for the latest "accuracy" cartridge, can be essentially cancelled by a hard-to-control trigger. This is exactly why even many of today's "affordable" rifles have more controllable, adjustable and perhaps even safer triggers than many factory rifles of previous generations.
To understand how we got here, we need to look at some history. The first centerfire cartridge rifles were mostly military, and consequently their trigger pulls were pretty long and heavy, primarily so excited soldiers wouldn't fire them accidentally. The oldest centerfire rifle I own is a "first-year production" .50-70 trapdoor Springfield, converted in 1866 from one of the muzzleloaders the Union used during the War Between the States. The trigger pull averages 8 pounds, 3 ounces – though later military rifles often had lighter pulls.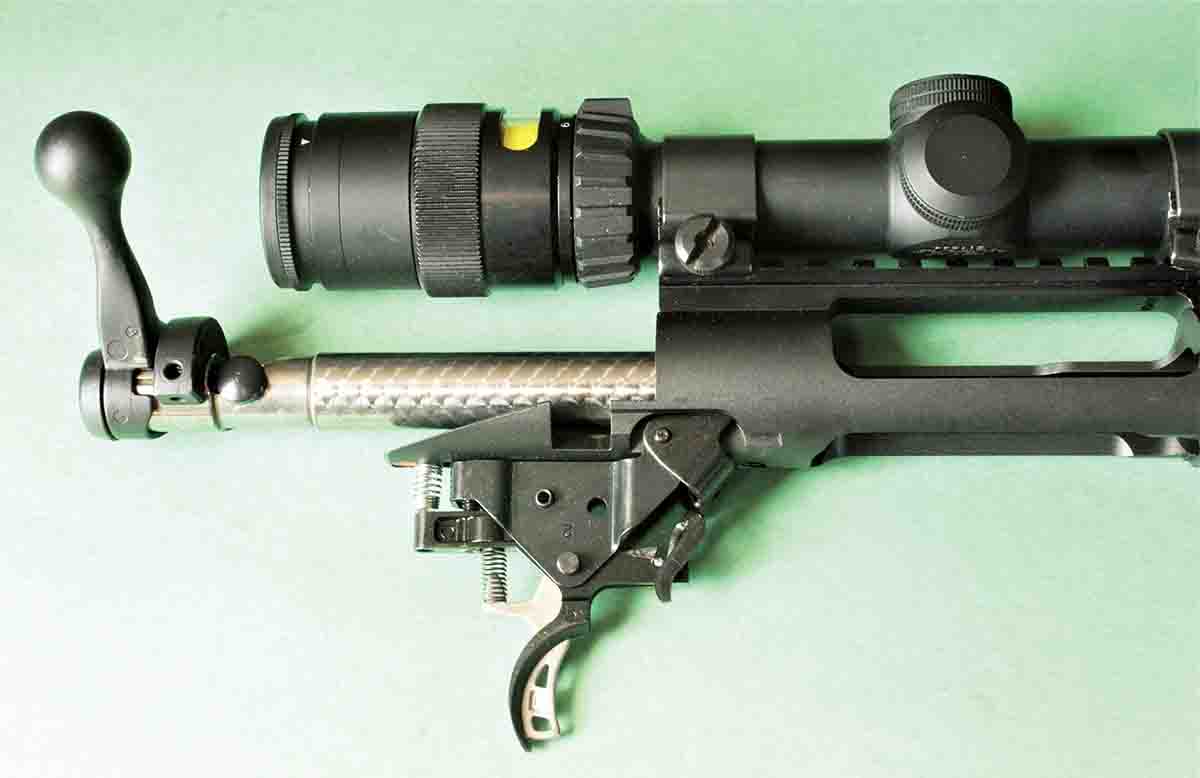 One is a Model 1884 .45-70 Springfield, according to the serial number produced in 1888, with a "newly manufactured" trapdoor action, and a trigger pull averaging an ounce over 5 pounds. A Gewehr 88 German bolt-action infantry rifle, made a little later, has a two-stage trigger averaging an ounce under 5 pounds.
Many much finer triggers appeared on hunting rifles. Today's hunters generally don't believe lever-action rifles have exceptional triggers, but I've owned several produced from the 1890s until World War II, most with very crisp, controllable triggers. One is a Marlin Model 1893, made early in the twentieth century, chambered for the old .32-40 cartridge. The trigger pull measures a very consistent 3 pounds, 2 ounces on my Timney spring scale, with a hint of creep before breaking very cleanly. The trigger pull on a Winchester Model 64 .30-30 made in 1941 was very similar.
At this point, we need to discuss measuring trigger pulls, which in the U.S. is usually expressed in pounds and ounces. The original method involved hanging small weights on a "hook" placed on the trigger blade of a rifle held muzzle up, adding more weights until the trigger broke.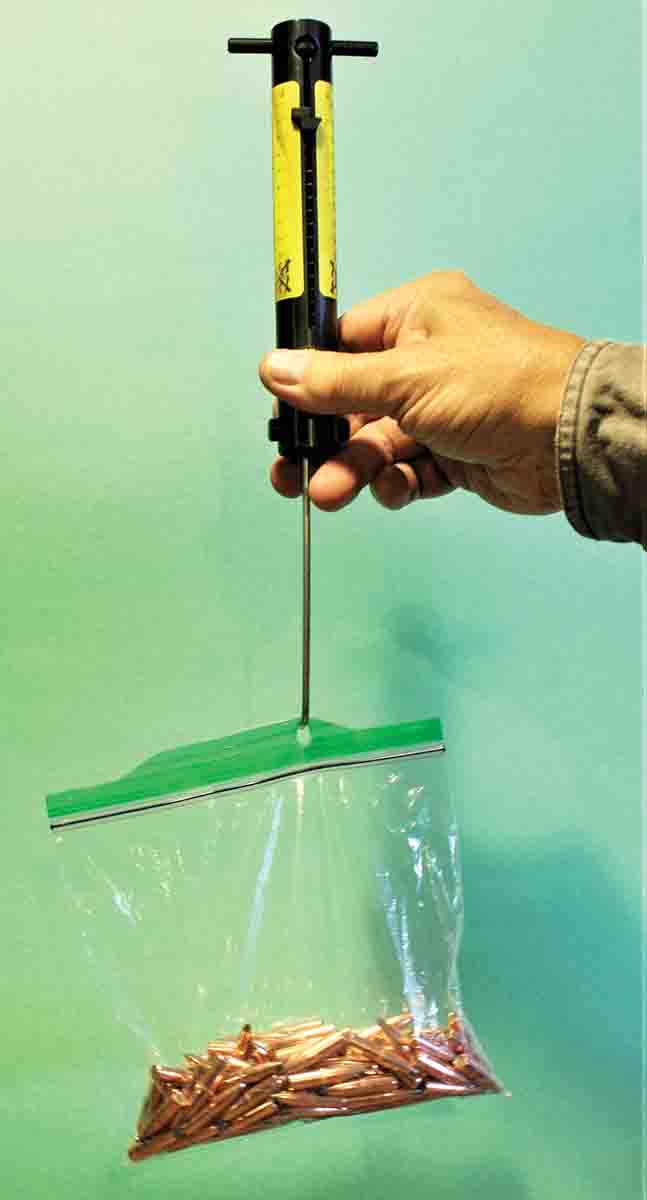 While you can buy such set-ups from companies like Brownells, they usually cost $100-$200. The most popular trigger gauges today – because they cost a lot less – feature springs and a hash-marked scale showing where the trigger broke. I've used a Timney spring-gauge for more than a decade, partly because about a quarter of my "modern" rifles have Timney triggers, including my Bushmaster AR-15. When first acquired, I checked the gauge's accuracy filling a plastic bag with a known quantity of bullets, then lifting the bag with the gauge. The gauge's hashmarks indicate 2 ounces, and over several lifts, it broke right where weight of the bag of bullets indicated it should.
I decided to see if it still worked as accurately today, so I put 100 Nosler Partitions .270-caliber 150-grain bullets in a Ziploc sandwich bag. A sample of 10 of the bullets averaged 149.975 grains in weight, so 100 would weigh very close to 1500 grains, but I also weighed the bag on my Redding No. 2 Master Scale, which stopped balanced at 24.4 grains. The total weight of bag and bullets was 2.142 pounds, and .142 pound amounts to 2.27 ounces. The weight-pointer on the Timney scale sat right next to the 2-pound, 2-ounce hashmark.
During my early writing career I couldn't afford a real trigger scale. (Actually, I could have, but preferred spending my rifle budget on rifles.) Instead, I used a Zebco De-Liar, a small hand scale for anglers, combined with a steel measuring tape, back then priced around a dollar. I bent a wire clothes hanger into a foot-long "trigger hook" so the De-Liar could measure the approximate poundage – and performed a similar bullet test to check its accuracy, because some anglers found some De-Liars not so accurate. Mine was, and I just checked it again with the bag of 150-grain .270s, and it's still on the money.
Back then, most hunting-rifle "experts" considered a pull of 4 pounds about right. In fact, that was one of the things Elmer Keith and Jack O'Connor agreed on. It was also when the Remington 700's adjustable trigger was being praised by many rifle writers.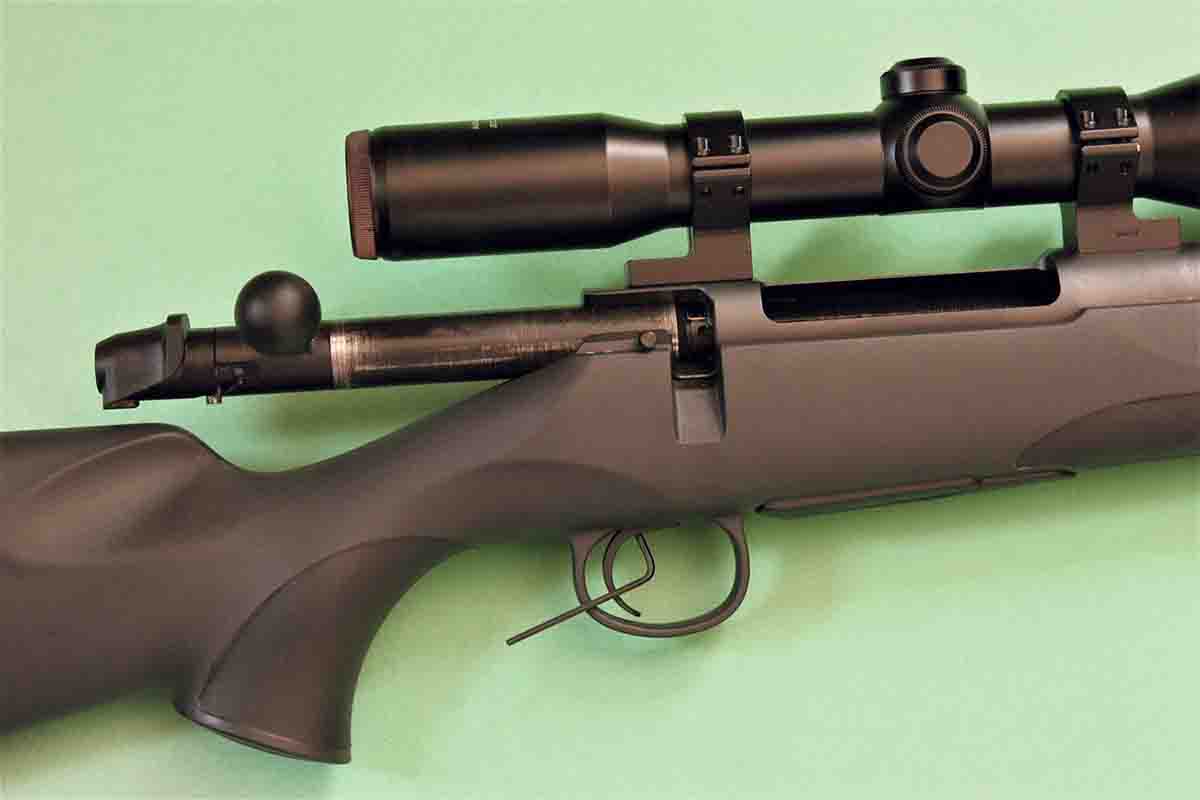 My first 700 was a very lightly used BDL in .243 Winchester, so I adjusted the pull to as close to 4 pounds as the De-Liar could measure. Soon afterward, I also started working over other, non-adjustable triggers, thanks to the
Gun Owner's Book of Care, Repair and Improvement
by Roy Dunlap, (1974), the year after I bought the 700 .243 Winchester. (Dunlap was a long-time professional gunsmith, whose 1950 book Gunsmithing is still in print.)
During the next quarter-century, factory trigger pulls became heavier. Many hunters attributed this to lawsuits against firearms manufacturers, sneering at such "lawyer-proof" triggers. During this period, many factory triggers also essentially became unadjustable, even when the manufacturer claimed they were. I purchased my first Ruger 77 in 1983, a new .30-06 Springfield. From the factory, its trigger pull averaged around 5 pounds, so I followed the trigger-adjustment directions in the owner's manual, which made no difference. I finally took the trigger apart, modifying it to get the pull down to the "ideal" 4 pounds.
However, trigger pulls on some custom rifles were even lighter. One of the first I acquired was an Ultra Light Arms Model 24 in .270 Winchester, which Melvin Forbes personally delivered on a 1993 trip to Montana with his son John, to hunt spring black bears with me. After they flew home, with John's bear parts in a cooler, I started fooling with the .270. The Timney trigger felt very light, and it was, measuring under 3 pounds. I readjusted it to four.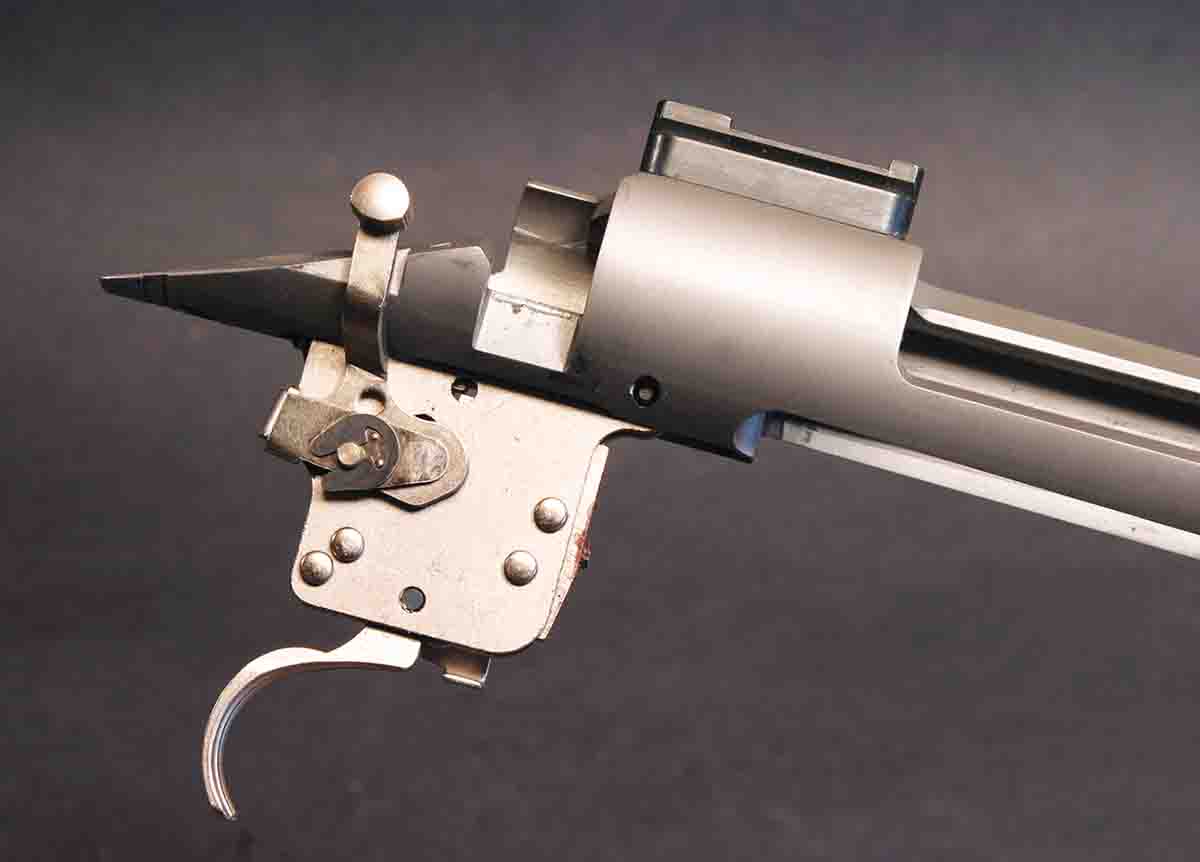 This pattern was repeated over the next several years, as Eileen and I acquired a few more Ultra Lights. The rifles showed up with a trigger pull of around 2.75 pounds, which I readjusted to four. Eventually, however, I quit readjusting them, due to realizing that on such light rifles, a lighter trigger pull resulted in finer accuracy, even when shooting from a benchrest. (The ULA .270 weighed exactly 6 pounds with a 12-ounce, 2-7x variable scope.)
Factory big-game rifles also lost weight during this period, and starting around 2000, many factory triggers became lighter as well – and more easily adjustable. Among the first easily adjustable models was Savage's AccuTrigger, with a thin, spring-loaded "tab" in the middle of the trigger blade, designed to be pressed along with the blade. The rifle couldn't go bang if the tab wasn't also pressed, and turning a small Allen screw could adjust the pull under 3 pounds. However, my latest Savage, a 110 Apex Hunter chambered in Winchester's .350 Legend, does not have an adjustment screw on its AccuTrigger. This is okay, since brand new, it broke consistently at an ounce over 3 pounds.
Another new rifle, purchased early in 2022, is the Weatherby Vanguard First Lite used for the test-shooting in my latest update of 6.5 Creedmoor components in Handloader No. 340 (October – November 2022). It has what Weatherby calls a two-stage trigger, but the pull is very different than early two-stage military triggers, which had a long and soft initial stage, and then a semi-soggy final break. Like the heavy triggers on my pair of trapdoor Springfields, these were partly designed as a safety measure and were also easier to mass produce than a single-stage pull.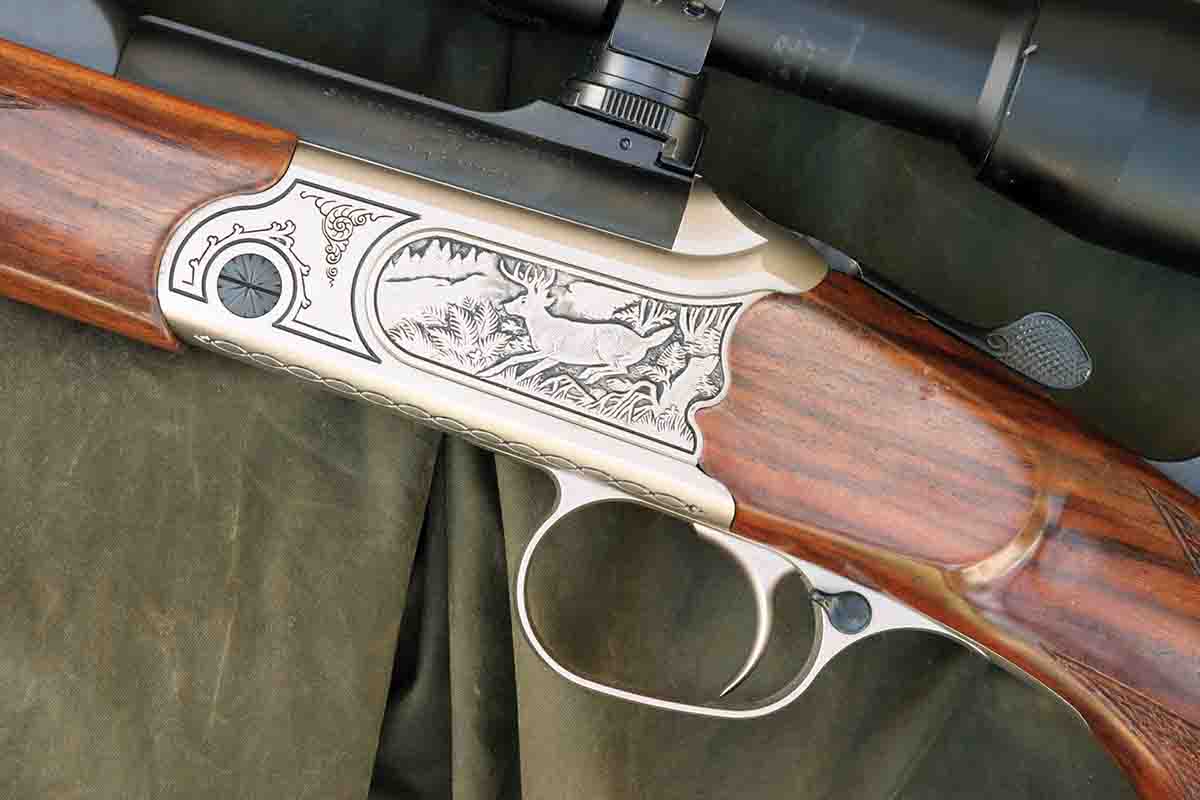 The First Lite's two-stage trigger does not even faintly resemble the two-stage pull on an old K98 Mauser or 1903 Springfield. Instead, the first "stage" is only .05-inch long and extremely light, which quickly comes to a firm and sudden stop, after which, the trigger breaks very crisply at 2 pounds, 12 ounces. I found it extremely easy to use, which definitely aided in the rifle's fine accuracy during my range sessions.
In fact, after recently measuring (and often remeasuring) the trigger pulls on my rifles, it was discovered that only a single twenty-first-century rifle had a pull of more than 3 pounds, 11 ounces – an O'Connor Model 70 Tribute acquired at the 2014 fundraiser auction for the Jack O'Connor Hunting Heritage museum in Lewiston, Idaho. Its trigger is the "new" model called the MOA, which Winchester's website describes as having "zero take-up, zero creep and zero overtravel." This is physically impossible with a mechanical trigger, but the take-up, creep and overtravel are definitely minimal.
The MOA on my rifle averages 4 pounds, 4 ounces. This is still very shootable, especially from a steady position, and the lone big-game animal taken with the rifle, a mule deer buck, was shot at 200 yards while I lay prone with the rifle's forend resting on my fleece daypack. However, the MOA on Model 70s is not adjustable (though the variation on Winchester's new XPR rifle is), and I would still prefer a pull at least a pound lighter. (Actually, the trigger on my O'Connor rifle probably would be adjustable, if the adjustment-screw holes in the front of the trigger housing weren't filled with a glob of very hard epoxy.)
Perhaps this 4-plus pound pull was also considered "traditional" when the O'Connor Tribute rifles were produced. I have owned a number of pre-'64 Model 70s over the years, ranging in age from pre-World War II rifles in .257 Roberts and .30-06, to a few made not long before the "new" Model 70 appeared in 1964. Almost all apparently never had their "adjustable" triggers adjusted after leaving the factory, and all broke between 4 to 4.5 pounds, probably because so many shooters considered a 4-pound pull ideal on a big-game rifle. Plus, despite supposedly being adjustable, none of the triggers on my pre-'64s could be lightened much under 4 pounds without some modification, such as a lighter trigger spring.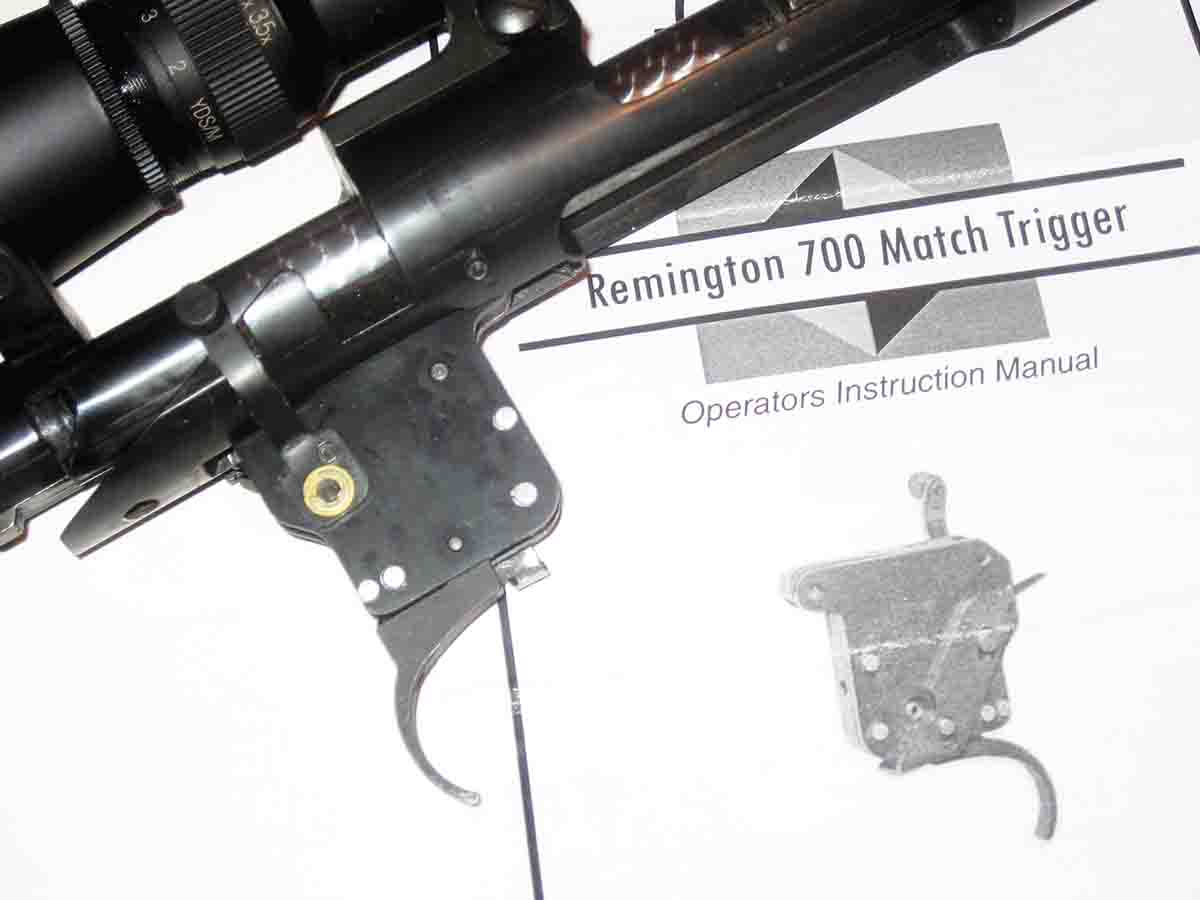 One interesting thing about measuring trigger pulls is not only can they vary slightly from shot-to-shot, but can vary even more depending on the "angle" of the shooter's trigger finger. What might be considered the "traditional" measurement involves pulling the trigger gauge straight back, parallel to the barrel, but on most sporting-rifle stocks the shooter's trigger finger angles downward from the grip.
As a result, the pad of the finger rests higher on the trigger blade. This results in a heavier pull, because it reduces the effective lever-length of the blade. When measuring trigger pulls, I first put my hand on the rifle's grip and my forefinger on the trigger, noting where the center of my finger pad rests and then place the trigger-gauge's hook on that spot.
During a recent spate of measuring, I tried both placements on two rifles. One was the Model 70 Tribute, and the pull measured by the "finger placement" method was about a half-pound heavier than with the gauge held parallel to the barrel.
A similar difference also occurred on the other rifle, a CZ Model 527 in .17 Hornady Hornet, purchased directly from CZ-USA 20 years ago, which has a single-set trigger. Unset, the pull averaged 3 pounds, 11 ounces, with the Timney gauge's hook held on my typical finger-placement, but like the Model 70s measured about a half-pound heavier with the gauge held parallel to the barrel. When set, the pull averaged 15 ounces with the hook on my typical finger-placement, and 1 pound, 2 ounces with the gauge held parallel to the barrel.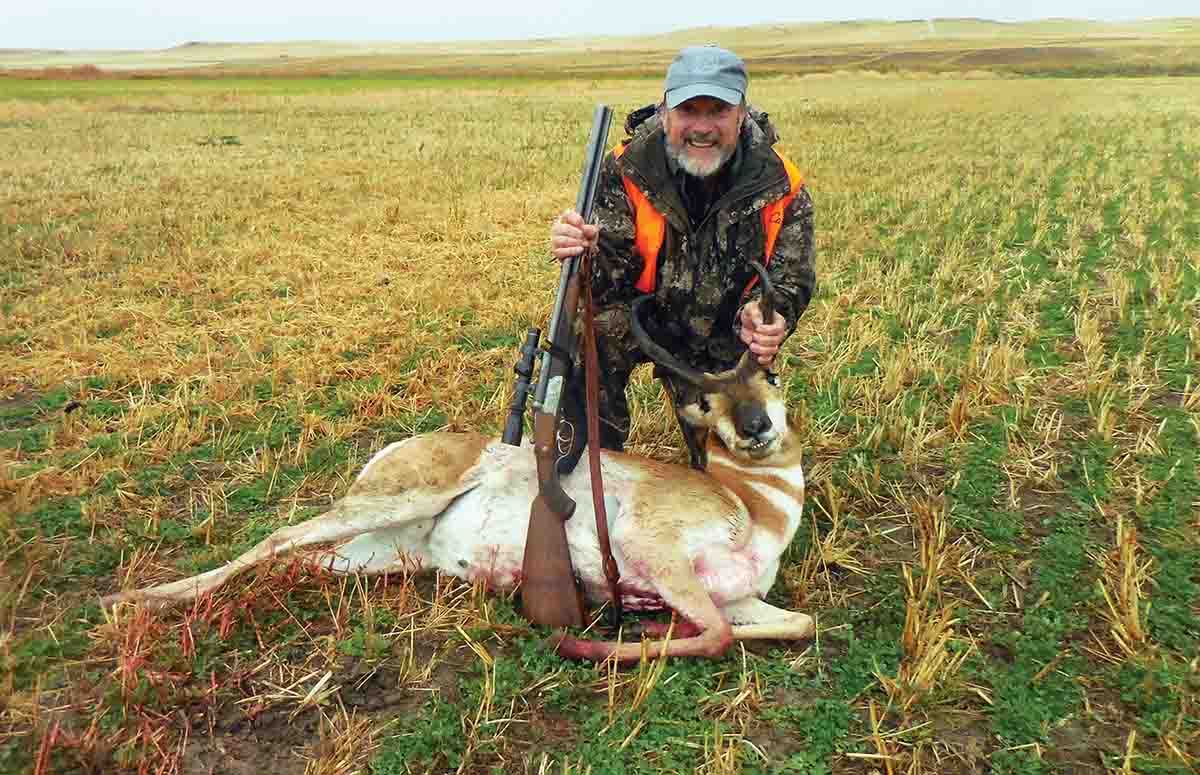 (As a sad sidenote, CZ discontinued production of the 527 in early 2022. This usually occurs because a rifle's sales slip, but soon after the announcement, the price of 527s on various internet sites increased around 50 percent and in some chamberings essentially doubled. This caused some shooters to wonder why CZ didn't try raising the price of the 527.)
Another interesting variation on set triggers is found on my Merkel K1 break-action single-shot .308 Winchester, which is another very light rifle, weighing 6.75 pounds with a 3-9x scope, despite the fancy grain of its walnut stock. Instead of the trigger being pushed forward to "set" it, there's a small three-way switch at the rear of the trigger guard. In the heaviest, forward position the trigger pull measures 2 pounds, 12 ounces; in the middle position 2 pounds 4 ounces; and the rear position 2 pounds. Generally, it's left in the "heavy" position, which is still light enough for an all-around big-game rifle.
While set triggers are common on European hunting rifles, they're "traditional" only on some American rifles. They were common on early muzzleloaders, due in part to many early American gunsmiths being German or Austrian, and also on many early single-shot cartridge rifles. Being a fan of German hunting rifles, as well as combination guns (where the rifle trigger is usually a single set), I have come to appreciate the option of a much lighter trigger pull in some situations. However, you gotta practice with them, or the shot may go off before you planned!