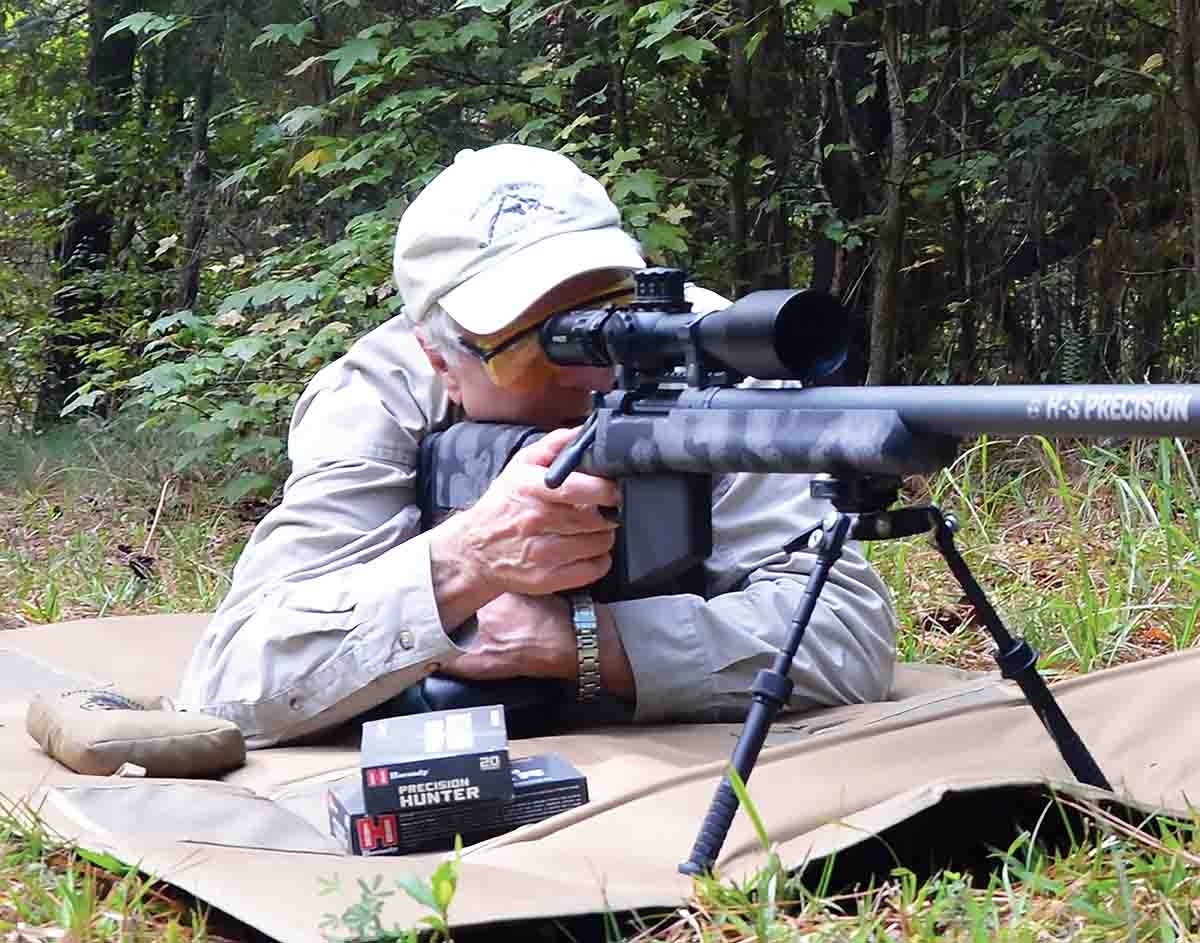 H-S Precision was founded by Tom Houghton in Prescott, Arizona, in 1978. He got his start by making synthetic stocks and extremely accurate cut-rifled barrels for himself and for his fellow benchrest competitors. Excellent quality and match-winning accuracy sell, so when the company outgrew its original facility, it was relocated to a factory in Rapid City, South Dakota, where it remains. By that point in time, Houghton was making every part required to build complete rifles, including the actions, barrels, stocks, fully adjustable triggers and magazines. To this day, the only parts not made in house are optional triggers made by
TriggerTech
and
Timney
, not because they are necessarily better than the H-S trigger, but because they are capable of being adjusted to lighter pull weights for competitive shooting.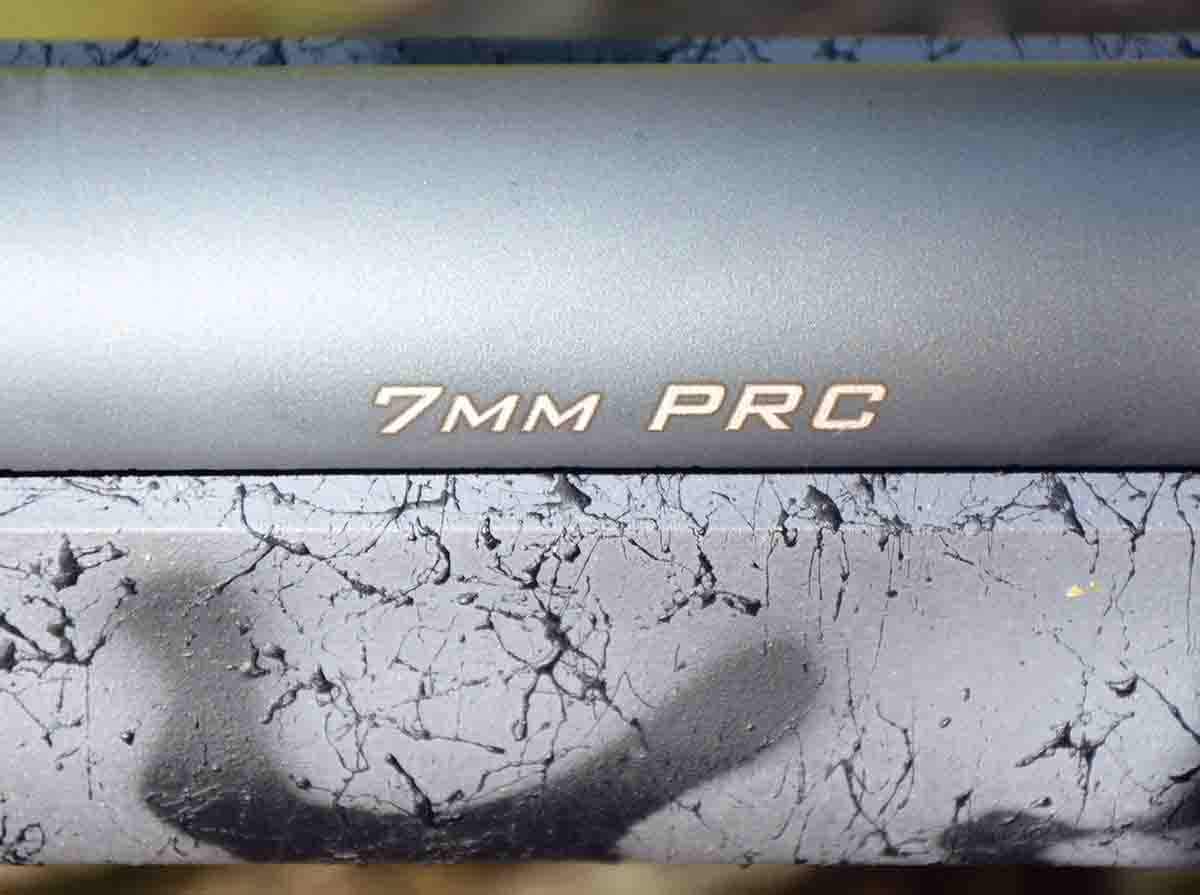 H-S Precision does not warehouse stacks of cookie-cutter rifles. Each rifle is built to the exact specifications of the customer who picks and chooses among many options. They include the action (short or long, right-hand or left-hand) barrel weight, length and twist rate, style of stock, its length of pull and its finish (29 color options) and a CERAKOTE metal finish in one of five different colors. Caliber options are too numerous to count and include many of the "moldy oldies," as well as the very latest introductions. The H-S Precision website lists them all. Other options include muzzle brake (permanent or removable), a mercury recoil reducer in the stock, Atlas or Harris folding bipod, and Talley rails and scope mounts.
Nine basic rifle models are presently offered. Among the more popular are the Sporter Lightweight, the Long Range Carbon Fiber (carbon-wrapped barrel), the Heavy Tactical Precision, the Professional Long Range Hunter, the Professional Hunter Lightweight and the Varmint. Regardless of the model chosen, the accuracy guarantee is half-minute-of-angle for .30 caliber and smaller and minute-of-angle for larger calibers. Each rifle comes with its own factory test target.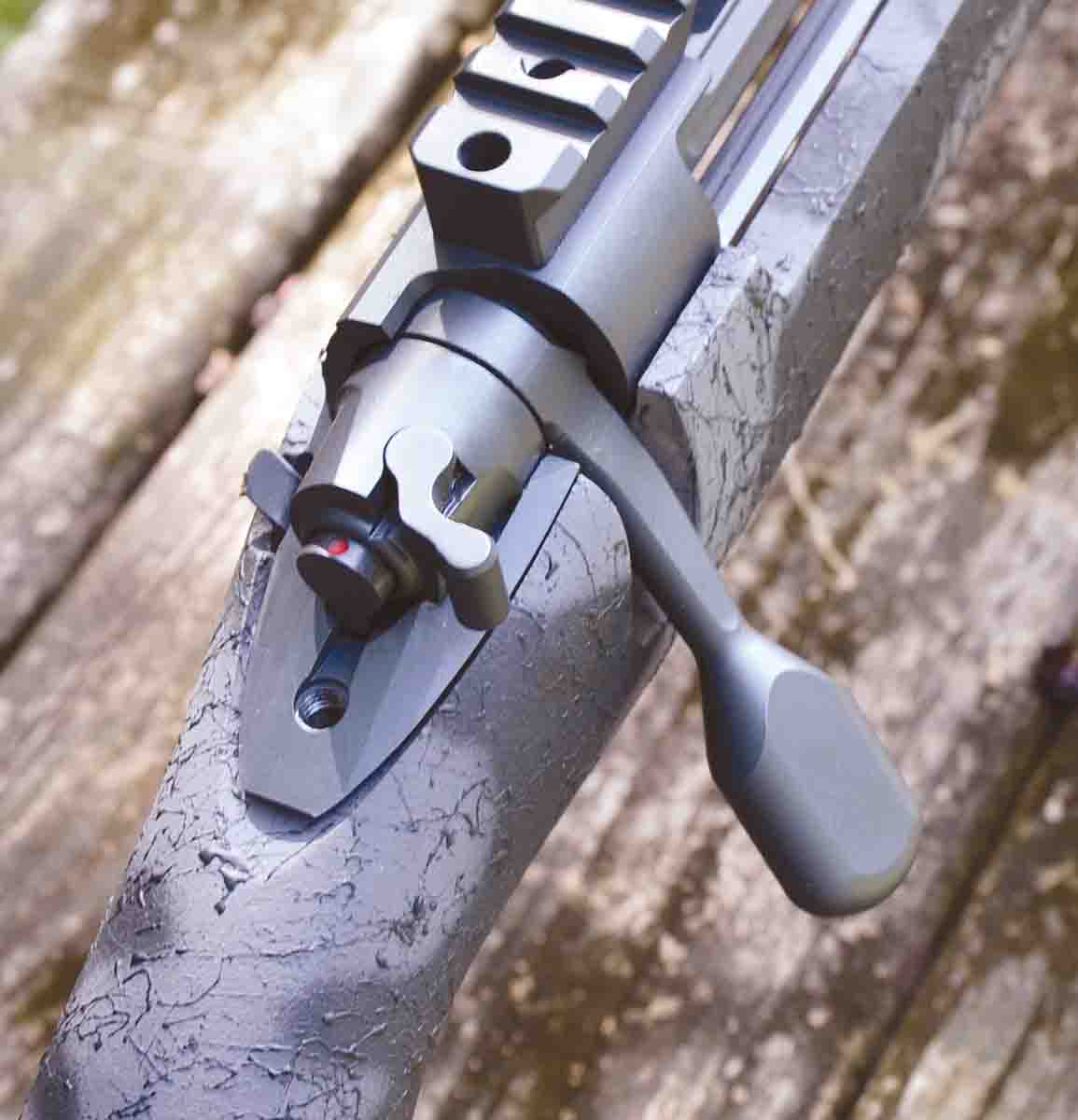 For those who choose to build their own, or to simply replace the stock of a favorite rifle, all the various styles of stocks in left-hand and right-hand are available for Remington Model 700, Winchester Model 70, Howa 1500 and Weatherby Vanguard barreled actions. If the rifle needs a new barrel, contoured stainless-steel blanks (unchambered) of six different weights (fluted and unfluted) with groove diameters ranging from .2045 to .3380 and twist rates ranging from 1:7 to 1:14 are available. Barrel length options range from 16 to 30 inches.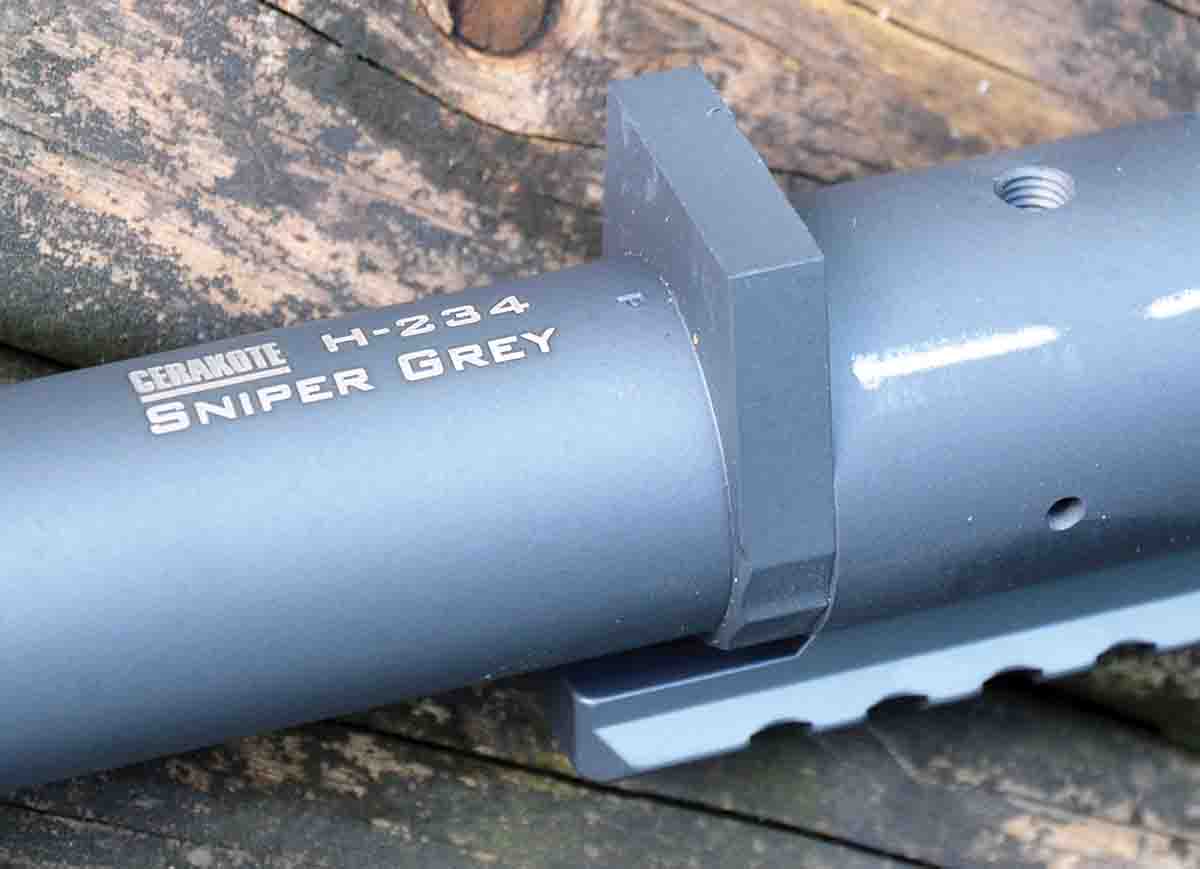 The Heavy Tactical Precision rifle I shot for this report was loaned to me by Josh Cluff, who is vice president of marketing and sales at H-S Precision. It came with a Kahles K624i 6-24x 56mm scope and since its reticle is better suited for whacking steel at great distances than shooting tiny groups on paper, I replaced it with a Nightforce 12-42x 56mm from one of my target rifles. Josh's rifle was built for Extreme Long Range (ELR) competition where steel targets are engaged at distances as far away as two miles and it is quite heavy. To avoid possibly damaging my digital postal scale, I weighed the scope and rings, then the barreled action and then the stock and bipod separately and arrived at a combined weight of 20.5 pounds. About half of the weight is in the action and a 30-inch, non-tapered, 416R stainless barrel with a diameter of 1.190 inches. It was the first rifle to be chambered by H-S Precision for Hornady's new 7mm PRC and its six-groove rifling has a 1:8 twist. The barrel and all other metal have a CERAKOTE finish in Sniper Grey coloration.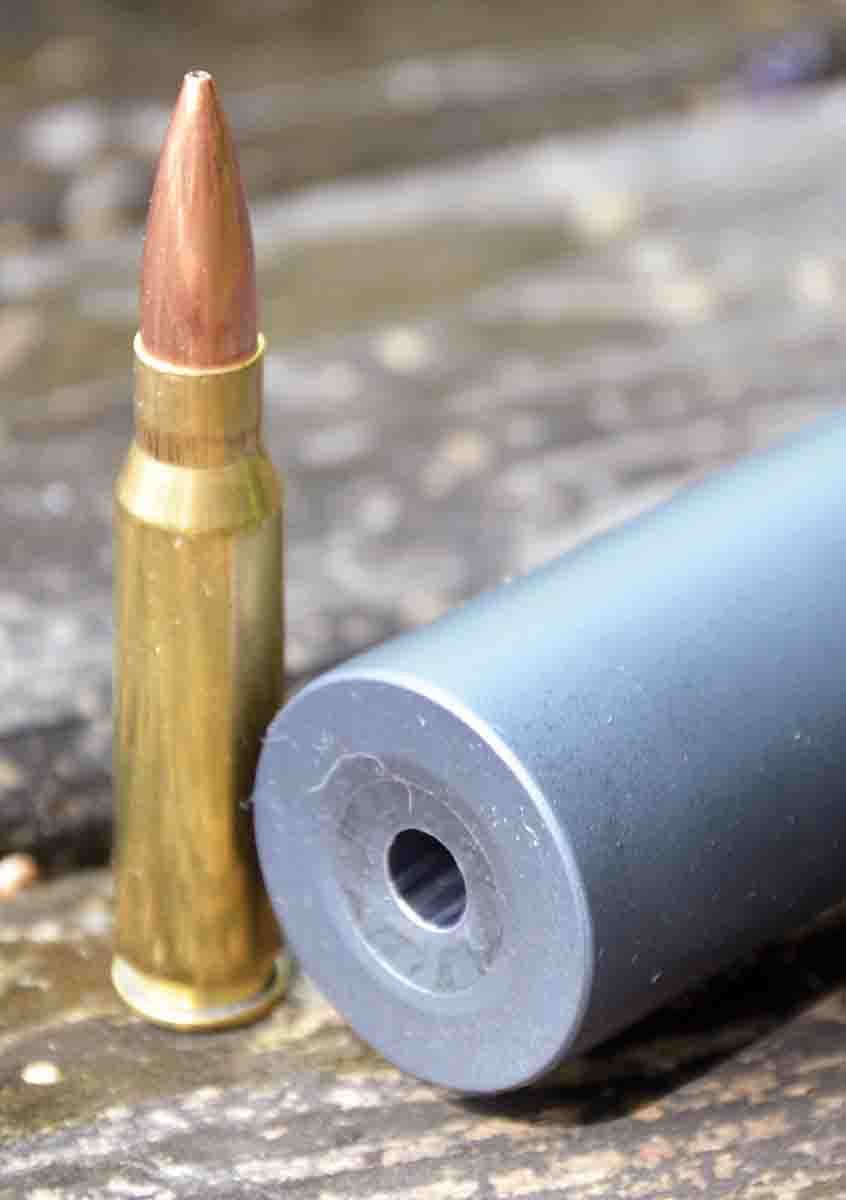 Before leaving the subject of barrels, I will mention that the Three Dimensional Laser Certified (3DLC) device used by quality-control personnel in the barrel-making department is the same technology used by NASA for the precise measurement of extremely critical parts built for the space program. It allows H-S Precision to measure the uniformity of twist rate, groove width and groove depth from one end of a finished barrel to the other with an incredibly high degree of accuracy. Combining the device with using the latest equipment for producing cut-rifled barrels along with barrelmakers with many years of experience, results in chamber-to-muzzle bore and groove diameter variation of no more than .0005 inch. Just how small is that? According to my Starrett micrometer, one page of
Rifle
magazine is .0022-inch thick. If a page could be sliced into four layers, the thickness of one layer would be greater than the end-to-in groove diameter variation of an H-S barrel.
The H-S action with its cylindrical receiver is quite close in size and shape to the Remington Model 700. The roof profiles and footprints of its receivers are the same. The scope mount hole spacing is also the same, although the H-S receiver requires 8x40 screws. The action is 8.70 inches with a receiver ring diameter of 1.360 inches. I have not measured the short action, but its length should be in the neighborhood of 7.85 inches. A bracket-style recoil lug sandwiched between the face of the receiver and a shoulder on the barrel is also the same as on the Model 700 except it is much thicker and precision-machined rather than blanked.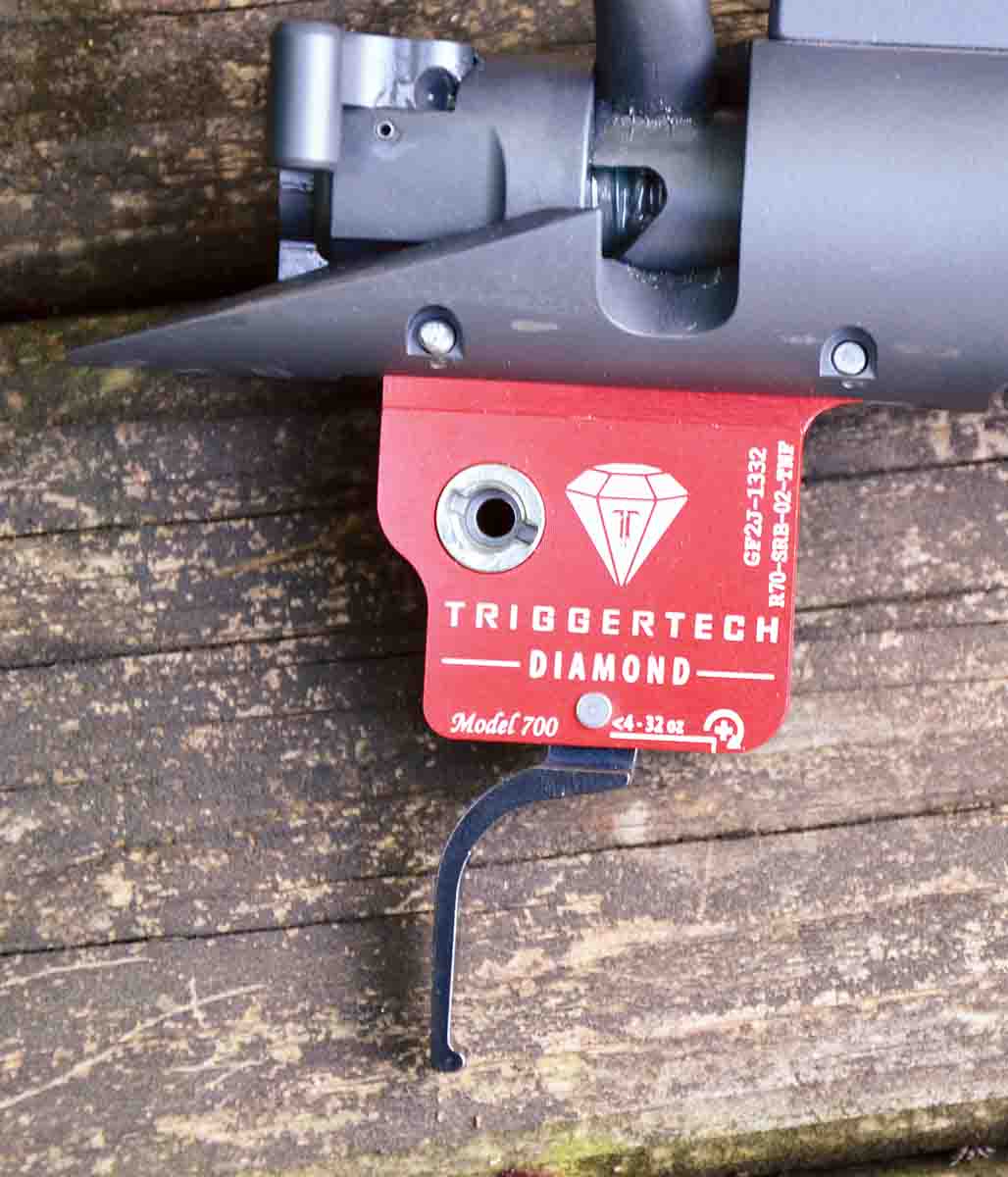 The bolt has dual-opposed locking lugs at the front and its face is deeply counterbored. The counterbore wall is slotted for passage of a spring-loaded extractor located adjacent to the inner edge of the right-side locking lug. The ejector is the familiar spring-powered plunger. In mass-produced rifles built by some of the other companies, there is often irregular contact between the locking lugs of the bolt and their seats in the receiver. I have seen a few two-lug bolts with only one lug making contact. Hand lapping both lugs to bear uniformly is part of the blueprinting job performed by gunsmiths. Precise machining at the factory eliminates the need for that and both lugs of the H-S bolt make full contact with their seats in the receiver. The body of the bolt is lightly fluted and it has a tactical-style handle.
A three-position safety on the bolt shroud operates the same as the safety on the Winchester Model 70; to the rear is "Safe" with bolt rotation blocked; in the middle is bolt rotation unblocked with safety still engaged and all the way forward is "Fire." The middle position allows the chamber to be loaded or unloaded with the safety engaged. Whereas the safeties on many of today's rifles do nothing more than block trigger movement, placing the safety of the H-S Precision rifle in either of its two "Safe" positions deactivates the firing pin by camming the cocking piece to the rear. An exposed red dot on the cocking piece indicates a cocked firing pin. I found that a force of only 7.25 pounds is required to lift the bolt handle to full firing pin compression.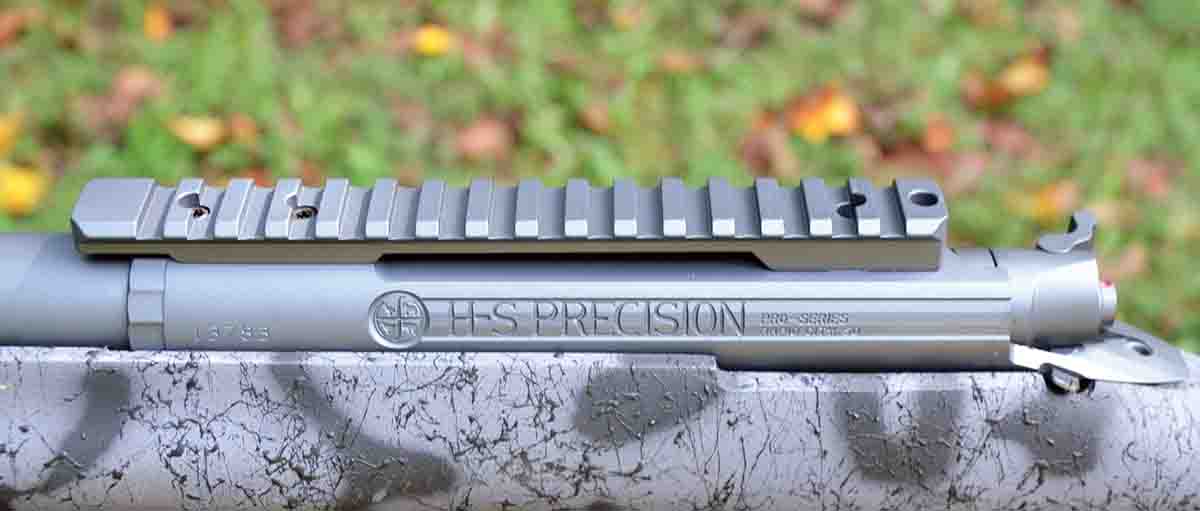 Pull weight adjustment range of the TriggerTech Diamond trigger is 4 to 32 ounces and on the rifle I shot, it had been adjusted to 12 ounces. There was neither creep nor overtravel. The pull weight of the trigger made by H-S, which I would choose for a big-game rifle, can be adjusted from 3 to 5 pounds.
As is typical for all H-S rifles, the Pro Series synthetic stock of the Heavy Tactical Precision begins by CNC-machining a long aluminum bedding block with integral pillars that extend through the stock for solid contact with the steel bottom metal when the action bolts are tightened. It is then placed in a mould where it is hand-encased with a mixture of Kevlar, carbon fiber and fiberglass. After curing, all interior and exterior surfaces receive a proprietary paint coating with a web texture. I could not find an exact match on the H-S website chart for the test rifle, but somewhere in the neighborhood of black/gray Urban Camo seemed pretty close.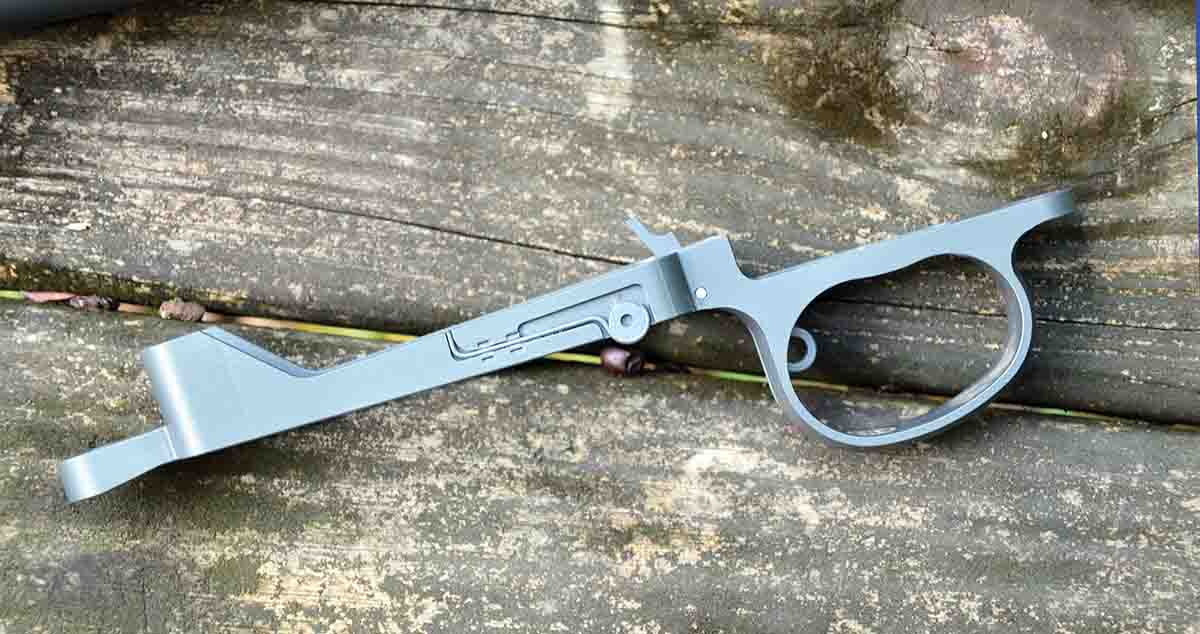 Thumbing a knurled wheel on the stock varies length of pull from 12.5 to 14.5 inches. Josh Cluff is well over 6-feet tall, so I was not surprised to see the stock adjusted to its maximum length. Comb height adjustment range is 2 inches. With comb height set for shooter and scope height, noting which graduation line on the side of the stock is in alignment with the bottom of the comb is good information to have. Then, each time the comb is lowered all the way for removal of the bolt from the receiver for a bore scrub, simply spin the wheel until the bottom of the comb is again in alignment with the noted hatch mark.
All models have a detachable magazine and while described by H-S as single-stack design, cartridges in the magazine actually rest in slightly staggered positions. The magazine is stainless steel with a polymer boot that deadens noise a bit and makes the magazine more comfortable to handle during extremely cold weather. Push on a tab at the inside front of the trigger guard and an empty magazine leaps from the rifle.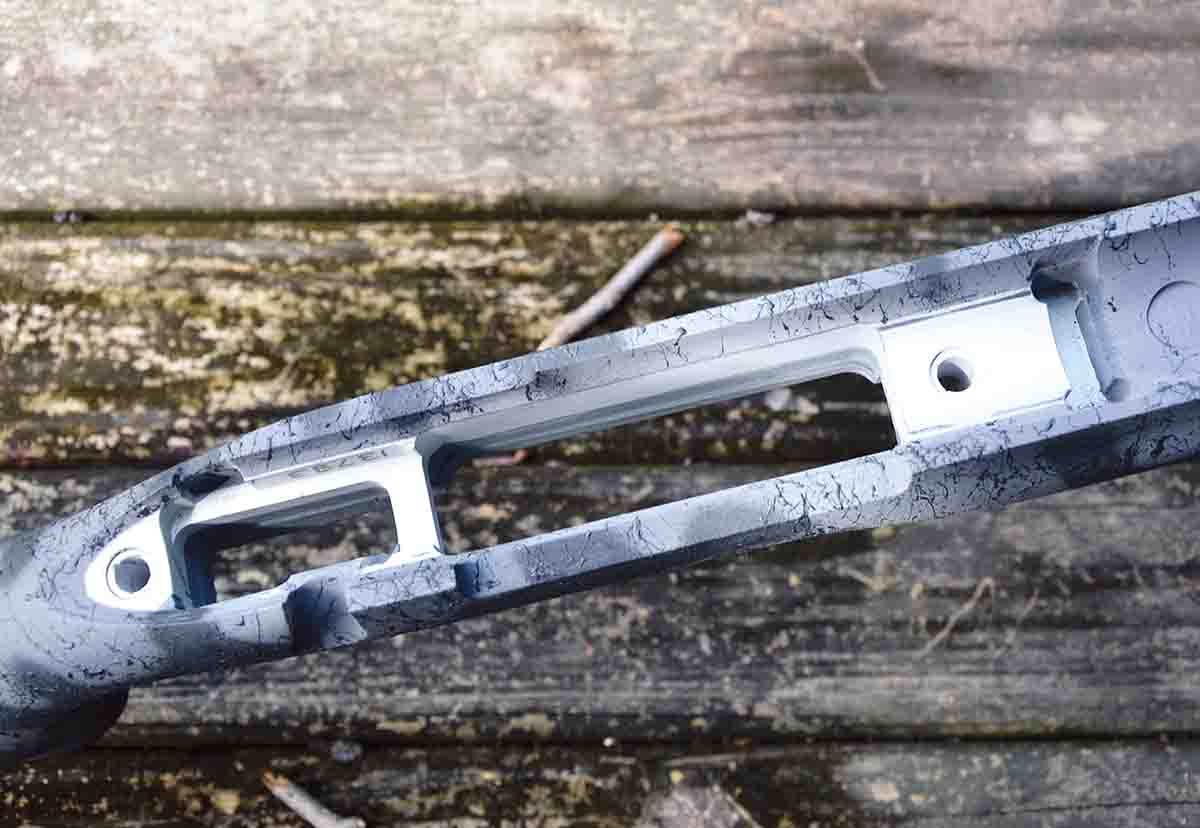 Magazine capacity options for all short-action cartridges are four, five and 10 rounds. Long-action magazine options are three and seven rounds for cartridges such as the 7mm PRC, .300 Winchester Magnum and .338 Lapua Magnum. The lowest-capacity magazines protrude only slightly below the bottom of the stock, making one-hand carry comfortable enough. A rifle chambered for what is usually considered to be a short-action cartridge can be purchased with a long action. Respective interior lengths of short-action and long-action magazines are 2.680 inches and 3.700 inches.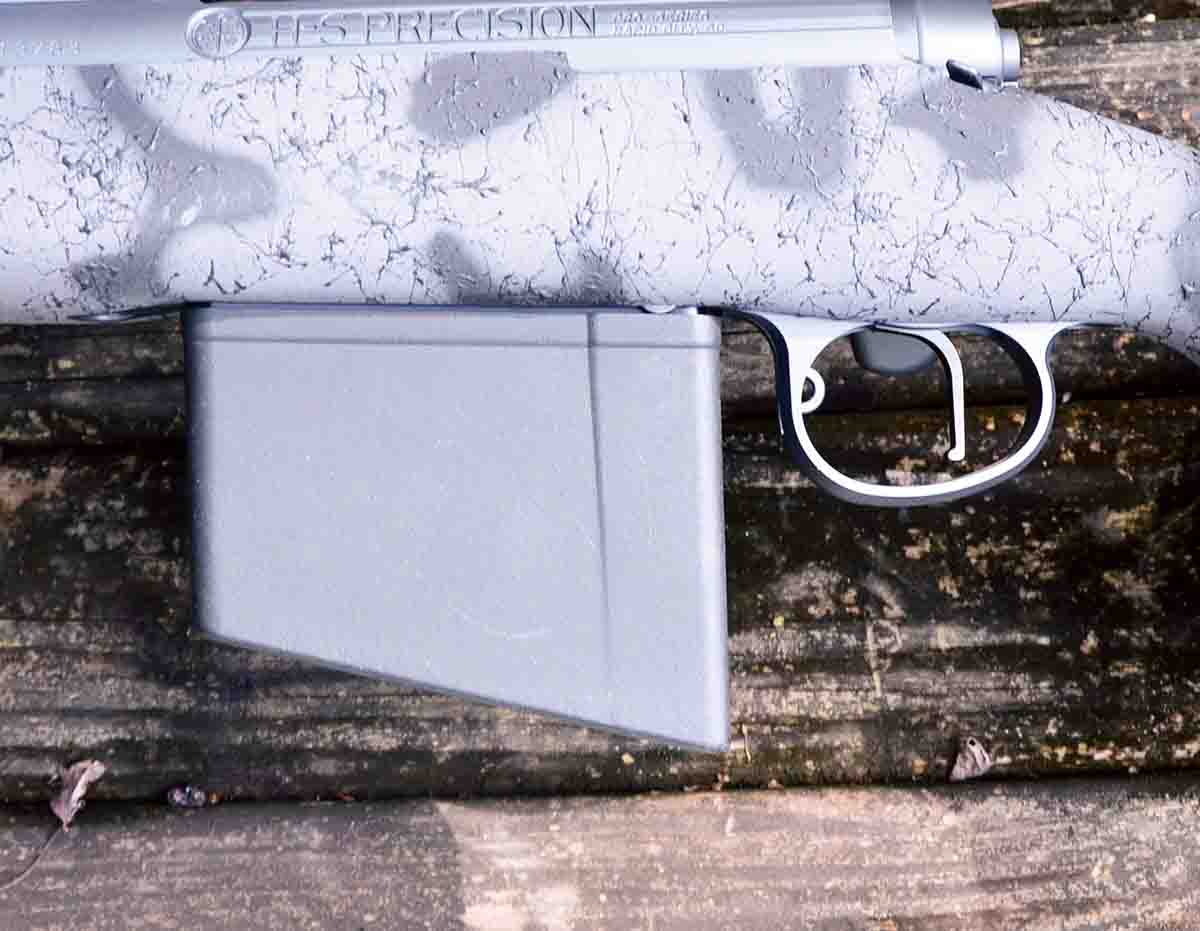 Preparing precision handloads is time-consuming, but doing so can be worthwhile when shooting a precision-built rifle. Virgin cases were full-length resized, trimmed, neck-turned and then capacity sorted. Primer pocket depth was uniformed and flash holes deburred. Cartridge neck diameter ended up at .3126 inch with a .284-inch bullet seated, so a Redding Type S die with a .311-inch bushing was used for neck sizing after each firing. All bullets were ogive-sorted. Each powder charge was thrown by a precision-built measure from Neil Jones of Custom Products and then verified on an Ohaus 304 scale sold by RCBS many years ago. A Hornady die with floating alignment sleeve was used to seat bullets. Cartridges were assembled on a Corbin CS-1 bullet-swaging press converted for ammunition loading. Bullet run out of loaded rounds ranged from zero to no more than .001 inch.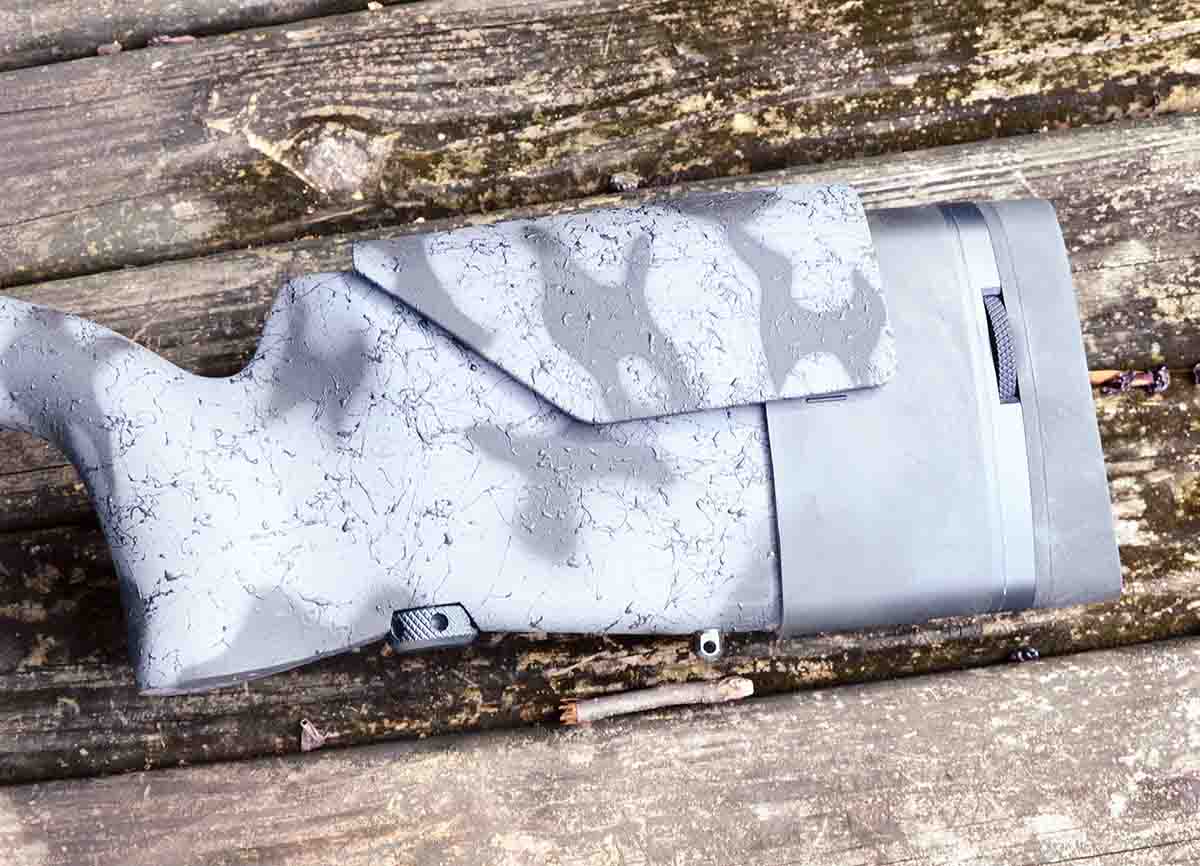 At the range, I placed a Graham wind flag 20 yards in front of the concrete benchrest and another adjacent to the 100-yard target. Both flags were positioned so they could be observed in the scope while aiming. Winds were fairly light but constantly shifting so I sat back and watched the flags long enough to pick out a condition that returned most often. Sometimes, I managed to quickly send five bullets before the wind changed speed or direction, but more often, the condition went away after two or three shots and I had to wait until it returned before finishing that group. The rifle rested on a bunny-ear sandbag at the rear and up front, an Atlas bipod that came with the rifle. I was greatly impressed by the rigid construction and multiple adjustments of that bipod.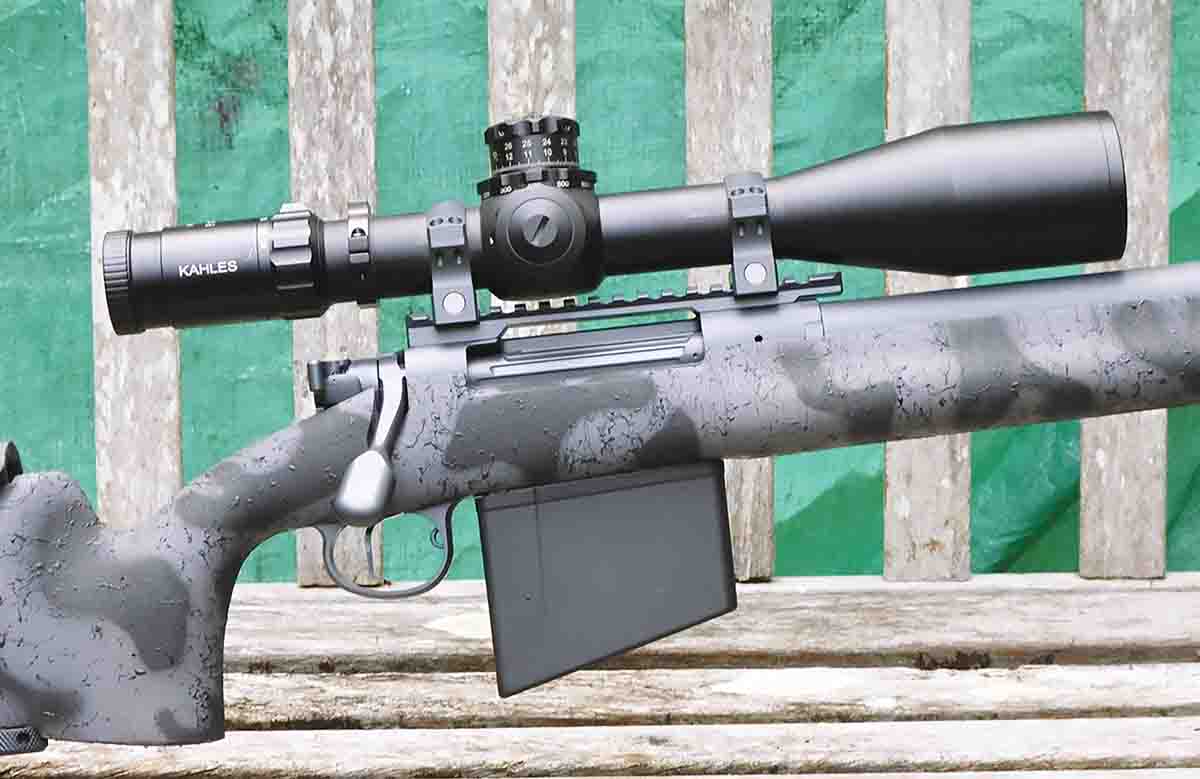 The weight of the rifle along with its light trigger made it easy to shoot accurately. The fat barrel heated up slowly and was even slower at cooling down. Allowing it to cool completely between each 15-round string used up plenty of ticks on the clock, so the two benches to my left had a couple more rifles I was shooting that day. Having a collection of sandbags and front rests allows me to shoot one rifle while the others cooled. Powder fouling was cleaned from the bore of the H-S rifle about midway through the test session, but I never removed the cap from my bottle of Barnes CR10. Back home, a slow tour through the bore with a Lyman Digital Bore Cam revealed no trace of copper fouling, indicating an exceptionally smooth, hand-lapped bore.
There were no malfunctions and everything worked as intended. The safety can easily be operated quietly and while not important on a target rifle, it can be on a big-game rifle, especially one used for hunting dangerous game. Bolt travel was smooth with minimal wobble. Cartridges fed smoothly from the seven-round magazine and its insertion proved to be fumble free. I did find the magazine to be quite difficult to load to full capacity, but that might indicate a need for more strength-training at the gym. Everything else considered, I give the H-S Precision rifle a spotless bill of health.