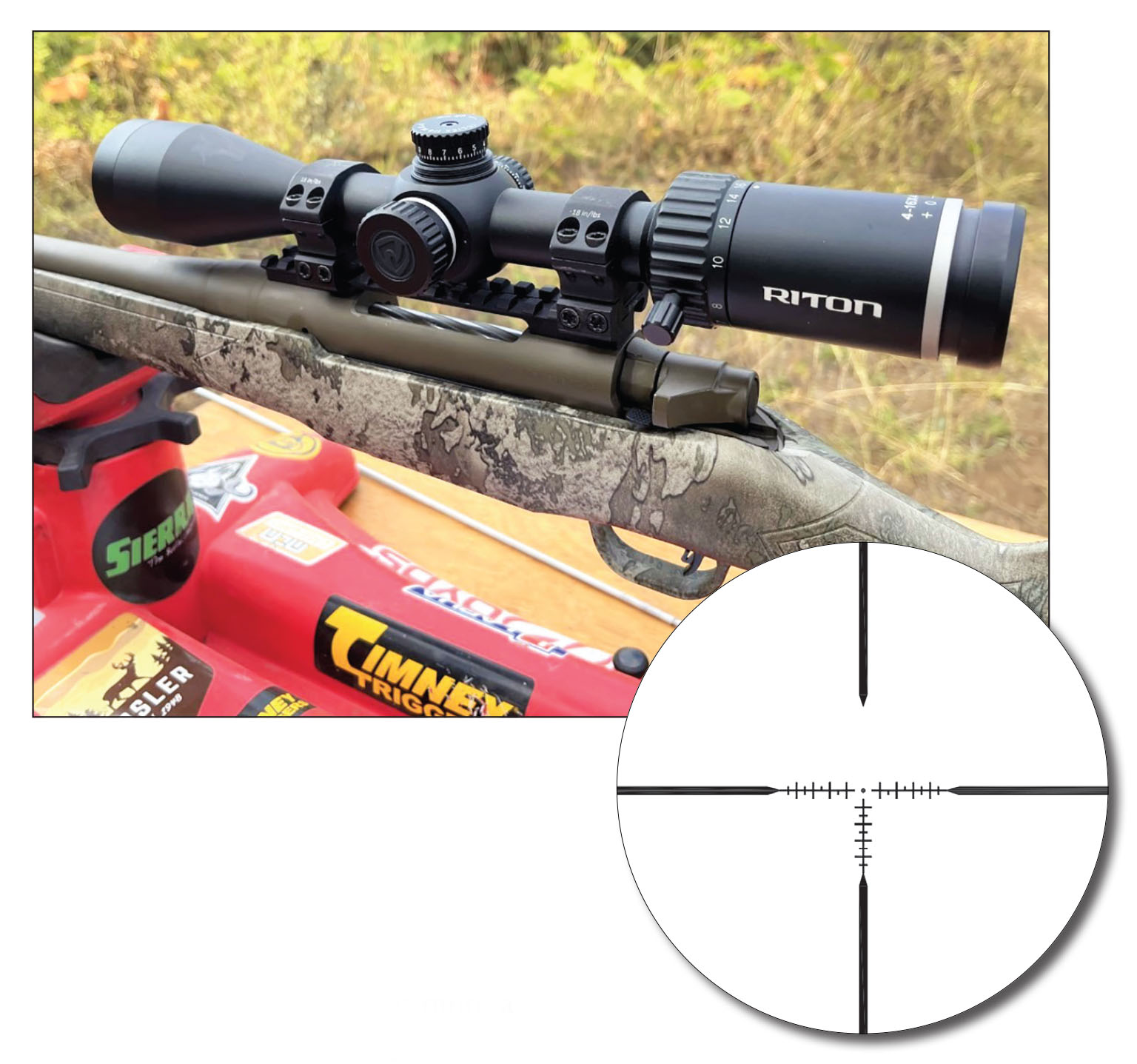 Riton Optics is a veteran-owned company that has made a name for itself by offering solidly-made products at blue-collar prices. In all honesty, I'm at a loss to explain how Riton is able to offer the high quality they do at such reasonable prices, while garnering very high customer ratings and providing an unconditional lifetime warranty requiring no proof of purchase or registration. Every Riton optic undergoes a rigorous, dual-inspection, quality-control testing process by certified technicians in Riton's Tucson, Arizona, headquarters. However, if you should have a problem, simply fill out a form, send the optic in and it will be replaced free of charge. Riton scopes are manufactured in Asia, so that's part of the savings, which does not come with the connotations it once did – at least in terms of craftsmanship and materials…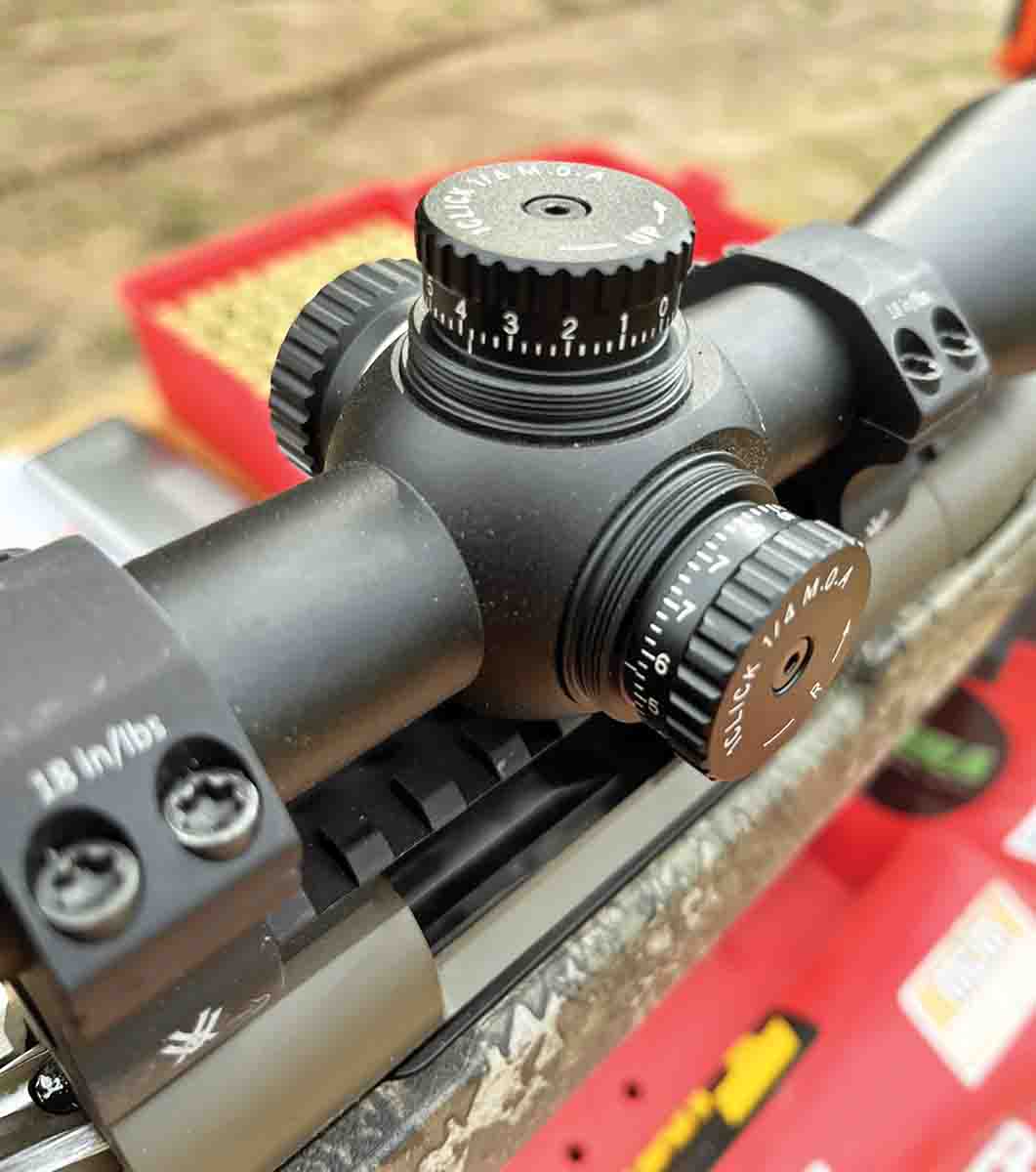 The Riton optic under discussion here, the 12.87 inch, 22 ounce (1.375 pounds) 1 Primal 4-16x 44mm, has garnered a five out of five customer rating and comes with a remarkable manufacturers' suggested retail price of just $275.99. After doing quite a bit of shooting with this optic, topping a Mossberg Patriot Predator in 243 Winchester, and using it for LoadData.com load development, and to then tailor handloads for an upcoming Kansas whitetail hunt, I can find only a couple faults to assign and these largely constitute nit-picking and/or personal preferences.
The 1 Primal includes clear optics and solid construction free of plastic parts. It includes a solid heft that speaks reliability, the one-piece tube and all adjustment parts and caps are CNC-milled from quality 6061-T6 aluminum and treated to Type-III, hard-coated anodizing. It is a hunting optic representing solid value. If I were to pick my nits, it would be that the crosshairs are a touch coarse – only a touch – and the field of view seems slightly constricted, the results of the 1-inch tube, 44mm objective lens and my propensity to leave magnification cranked to its highest setting, in this case 16x. Like I said, personal preferences, and essentially splitting hairs. The field of view at 100 yards is 24.1 feet on 4x, 6.3 feet on 16x.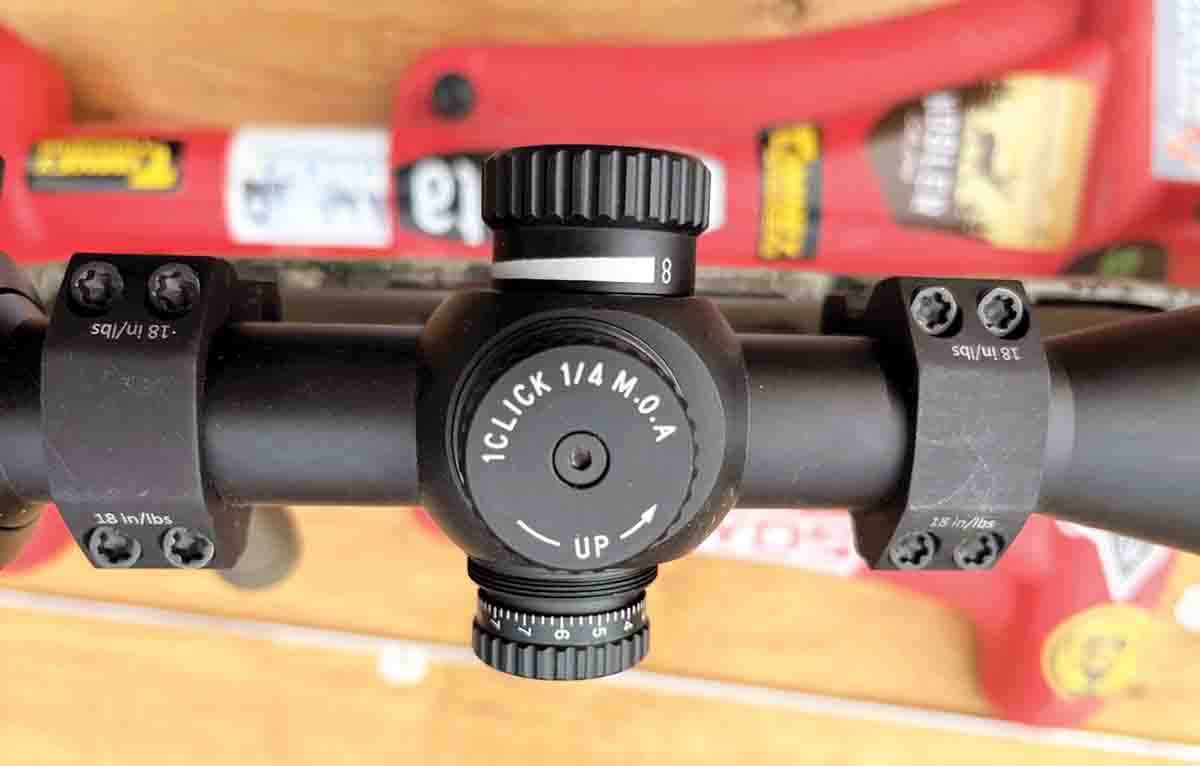 The price tag still seems impossible, though, when considering the features found here. The scope includes capped turrets that can actually be used for dialing corrections. These caps are milled from solid aluminum and ribbed to provide a good grip. A top set screw allows removing the turrets and resetting them to 0 after initial sight-in. This makes the 16x justifiable, allowing for dial-and-shoot, long-range precision built around an 80-MOA adjustment range. Adjustments are made in standard ¼-inch/MOA increments. There is a small amount of drag between correction clicks, but they are otherwise positive.
While load testing for the 243 Winchester, I shot everything from 80-grain monolithic copper bullets to 100-grain cup-and-core classics. This meant tweaking zero between bullets and even loads while on the bench, during which time the 1 Primal tracked precisely, clicks accurately corresponding to the 1-inch grid on the target face. After establishing a big-game load for my Kansas foray, I created a ballistic chart based on recorded velocity, and plugging pertinent data into Hornady's ballistic calculator. With an established 100-yard zero I dialed for 200, then 300 and finally 400 yards. The chart proved on the money, and the Riton optic put bullets on the mark at every range after corrections were applied. Capped as they are, the turrets track quite dependably.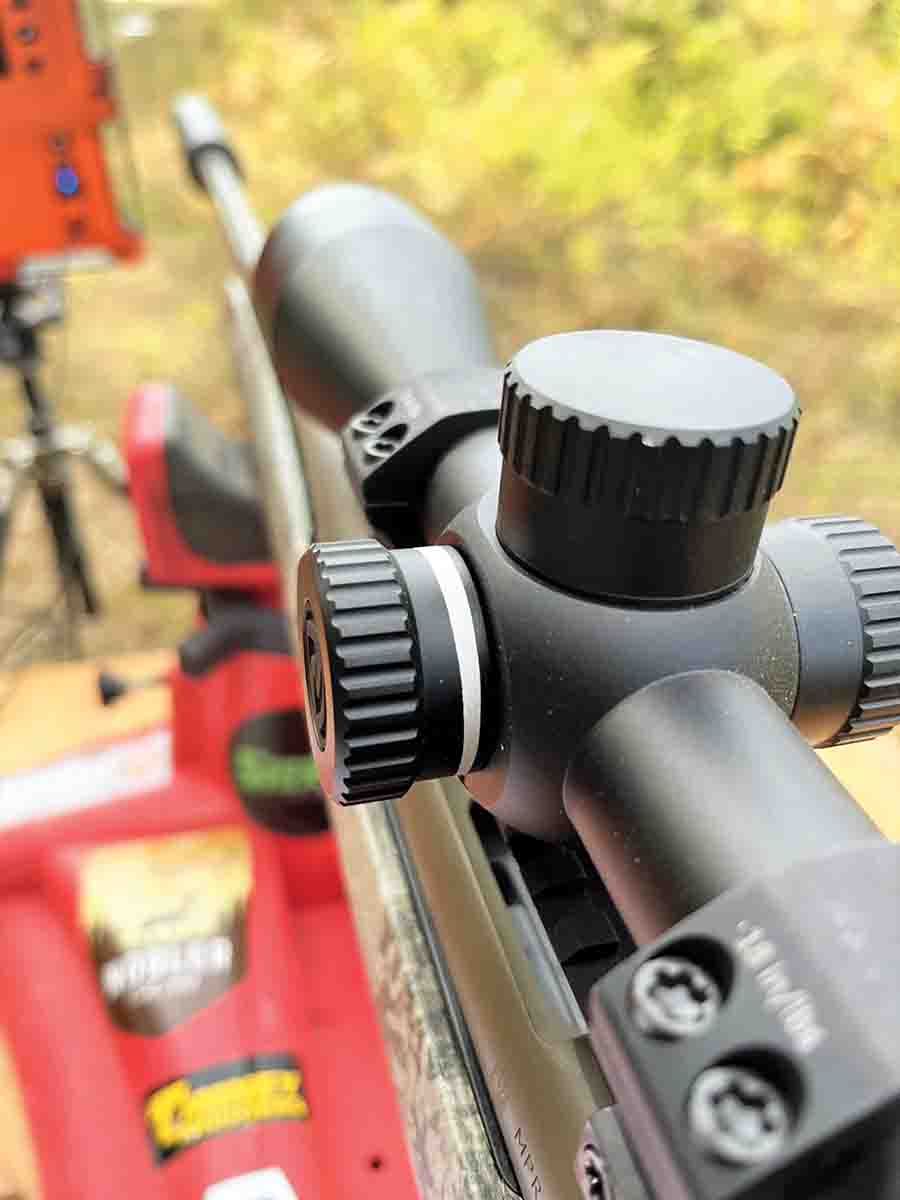 The 1 Primal holds a side parallax adjustment knob, which turns smoothly and with satisfactory tension. Parallax can be dialed to 10 yards at the low end, making it rimfire-compatible. Instead of numeric yardage markers on the parallax knob, there is an elongated wedge, very thin at the 10-yard end, wider at the infinity mark. This knob is aggressively ribbed for a good grip in wet conditions or while wearing gloves. The magnification ring also includes high-relief ribbing for a good purchase, and includes a knurled throw lever at the 8x position, protruding maybe 3⁄8 inch and quickly removeable if a shooter wishes to make things more streamlined. The ocular ring, also milled aluminum and including no rubber cover, offers fast focus for tack-sharp reticle clarity.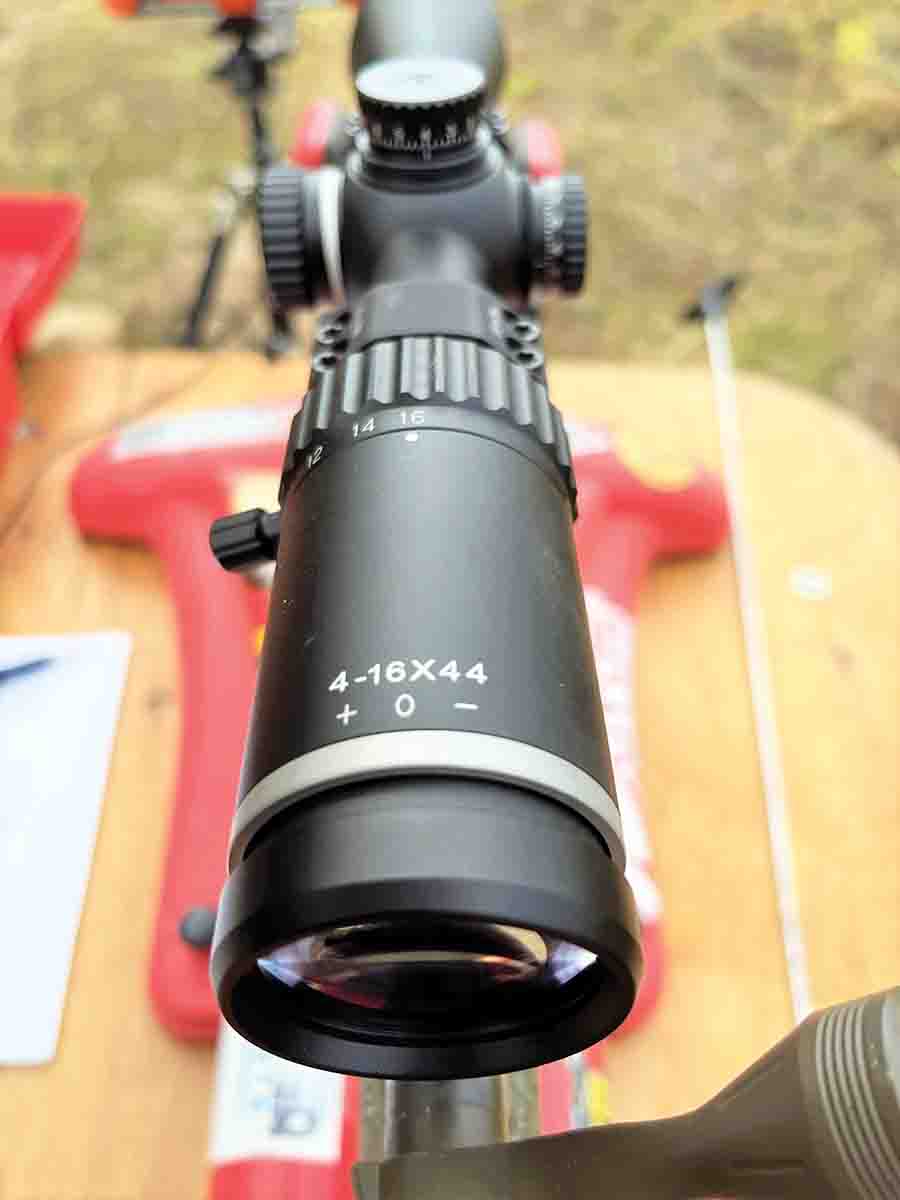 This is a Second Focal Plane (SFP) optic, meaning crosshairs do not grow thicker in relation to the target as magnification is increased. The reticle is one Riton calls the RUT, apparently its most popular style. The system includes a ½-MOA floating center dot, a wide-open top and eight, 1-MOA subtensions running down the vertical wire, and eight to each side of the center dot. It is a clean and wholly worthwhile system that is entirely practical for hunting. I like the floating dot reticle style, which provides an open sight picture for more precise shot placement when addressing smaller targets.
The 1 Primal 4-16x 44mm incorporates Riton HD glass that provides clear viewing and 99.5 percent light transmission. Lenses are fully multi-coated to provide full band widths for enhanced low-light pictures and true color fidelity in any light, while providing waterproof qualities. The exit pupil is 11mm at the lowest magnification, 2.8mm at the highest, and the optic provides a generous 3.9 inches of eye relief that makes it compatible with hard-recoiling magnum rifles. The 1-inch tube allows 5.5 inches of mounting space for compatibility with any rifle or shooting preference.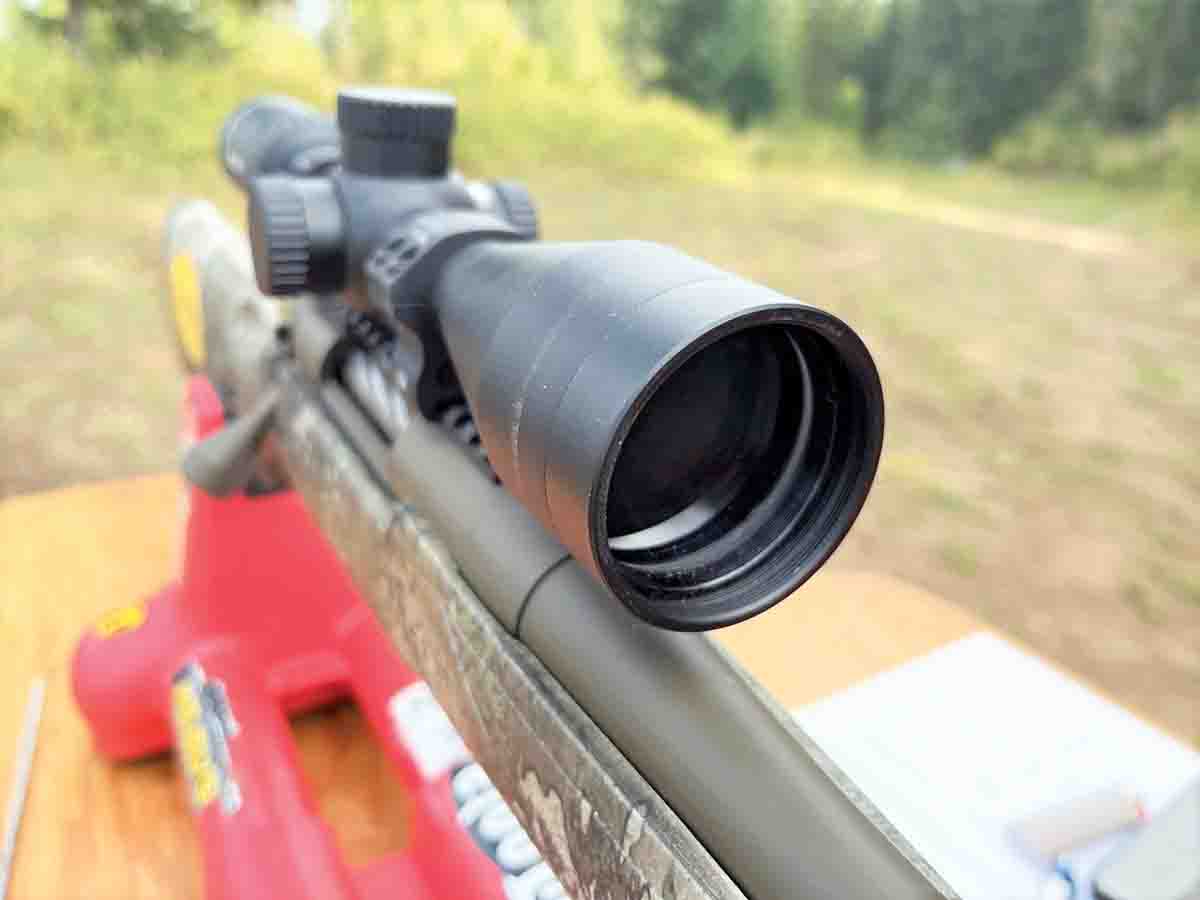 Riton optics are assembled in an EP-level clean room to eliminate interior contaminants, dry nitrogen purged and sealed to guard against fogging in moist environments or cold temperatures for the life of the optic. The scope comes with spring-loaded flip-up lens covers, a soft lens cloth and turret Allen wrench.
For the money, I would be hard pressed to find a better hunting or varmint-shooting optic than Riton's sleek 1 Primal 4-16x 44mm. The bright optics leave little to complain about, the reticle is hunting-practical and the scope is ruggedly-constructed to handle years of hard field use and anything Mother Nature might toss at you.