Lovers of fine old rifles, especially those of us who insist on shooting them, are often faced with a dilemma: When they are chambered for cartridges that are obsolete, impossible to obtain, or unreasonably difficult to make, what do we do?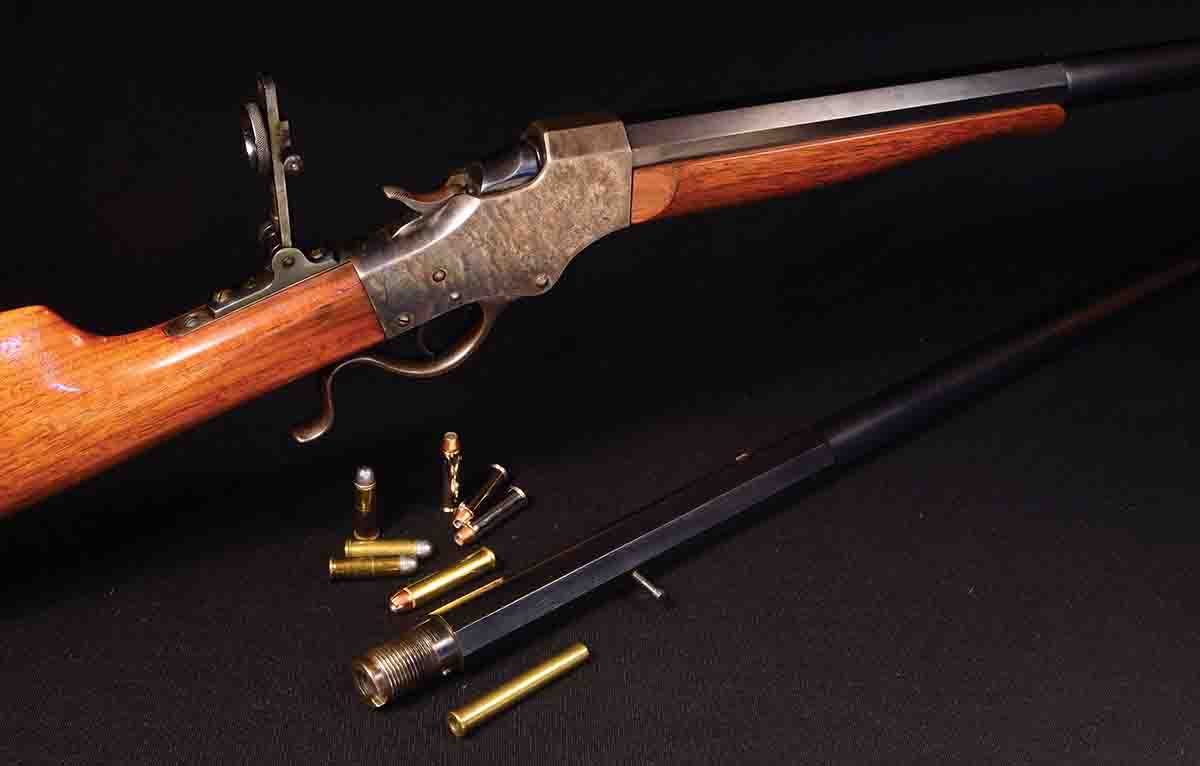 A few years ago, I was fortunate enough to come into possession of a highly-unusual rifle: A near-mint Stevens Model 45, with the excellent number 44½ action, completely original and unscrewed with. It was made sometime between 1903 and 1916, and looked like someone had ordered it from the factory, then got called away on other business, never to return. Given the imminent war in Europe, that may well have been exactly what happened.
Such rifles are rare, not because they are especially fine or expensive, but because, in the 1920s and 1930s, many were cannibalized for their actions.
In the 1890s, the J. Stevens Arms & Tool Co. was a major player in the world of Schützen competition, along with such big names as Ballard and Winchester. In 1894, Stevens introduced its No. 44 action, a smooth rocking block that was offered in various black-powder chamberings, in grades up to the finest of the fine.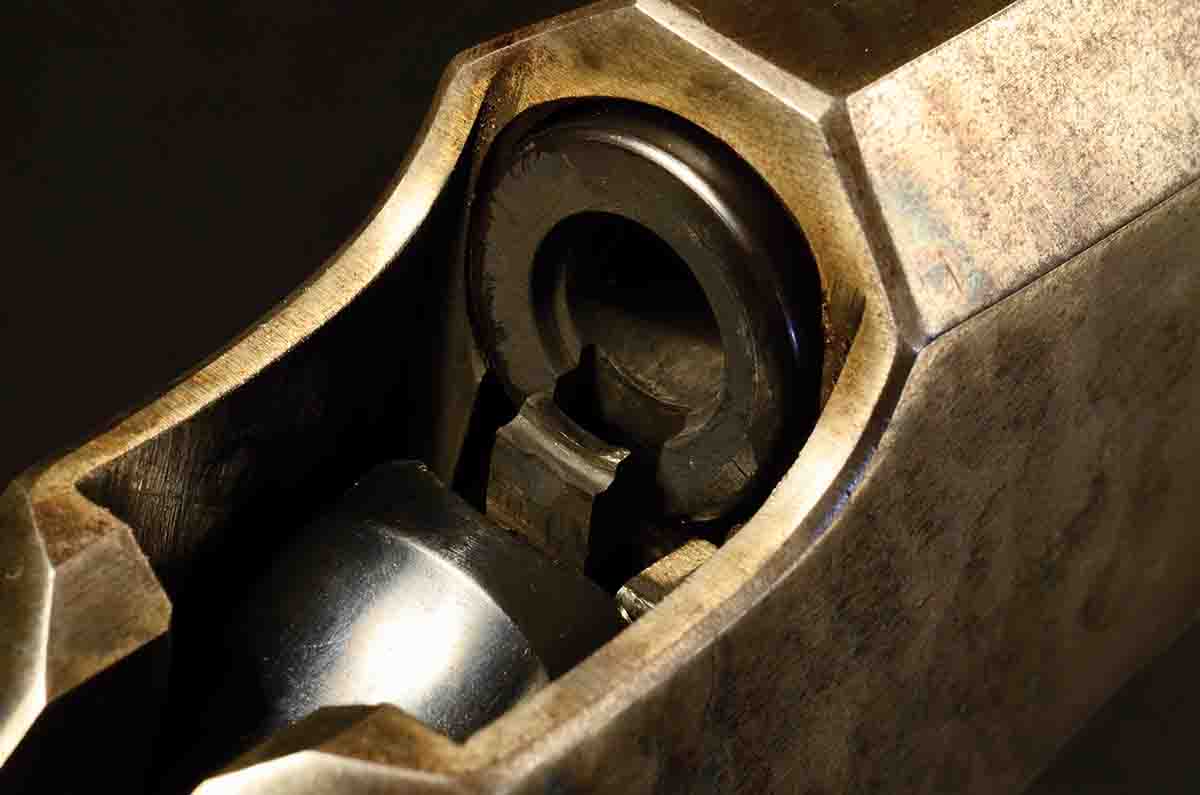 With the advent of smokeless powder, the company decided to redesign the action for greater strength. It enlisted the help of Harry Pope, one of the premier barrel makers and Schützen shooters of the day. The result was the No. 44½ action, a falling block that outwardly resembled the No. 44, but inside was vastly different. The family resemblance, along with the fact that Stevens retained all its old model numbers while building new rifles on the new action has caused endless confusion among collectors and historians. The old 44 was retained for its cheaper rifles in lower-pressure rounds, such as 22 Long Rifle.
The 44½ action was only produced between 1903 and 1916, when the company converted to war production. The 44, however, lived on and was manufactured right up to 1940. Hence, 44s are far more common than 44½s. No one knows how many 44½s were made, because the company records went up in smoke around 1920 in a mysterious fire that followed the news the government would investigate the company for war profiteering. Shortly after, the company itself was acquired by Savage Arms, and the once-revered Stevens name was relegated to a line of cheaper guns and rifles that survives to this day.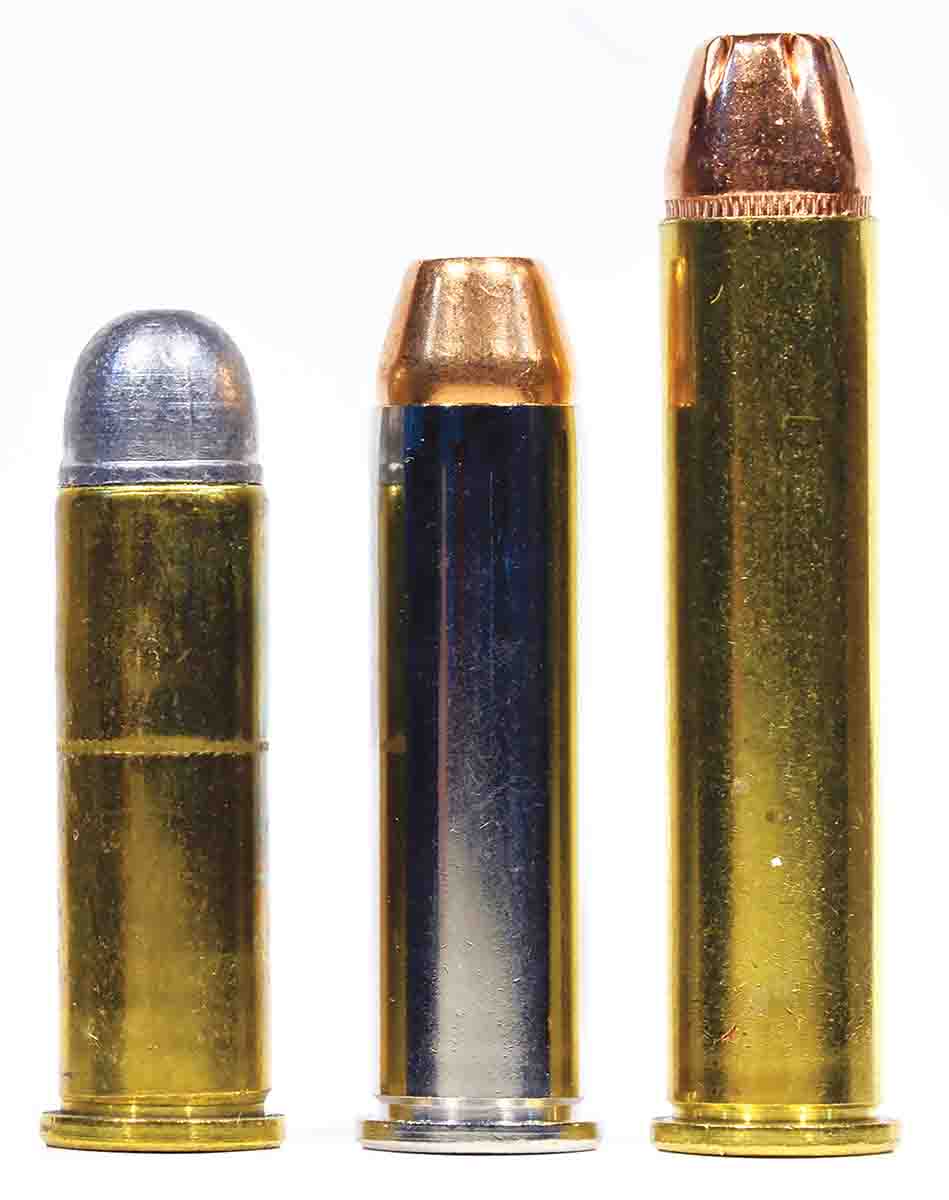 Estimates of the number of 44½ actions produced during a dozen years range from "quite a lot" to "not very many." Frank de Haas of "Single Shot Rifles and Actions,"
Gun Digest Books
(1969), believed they were made in substantial numbers because, even by the 1960s, it was easy to find actions upon which to build a hot varmint rifle and that brings us back to my Model 45.
From the 1920s into the 1950s, 44½ actions were cannibalized and used as the basis for woodchuck rifles chambered in hot newcomers like the .22 Hornet, R2 Lovell, and .219 Zipper Improved. Even the company's finest Schützen models, like the more elaborate Models 49, 51 and 52, were torn apart, much to the dismay of single-shot aficionados like James J. Grant, Single-Shot Rifles (1947). Plainer rifles in good condition, like my Model 45, would have been prime victims for these custom riflesmiths, but it somehow survived intact for more than a century to find its way into my possession.
Like Grant, I have little interest in any rifle I can't shoot and the Model 45 was no exception. The problem lay in its caliber. It's chambered for the 28-30-120, a black- powder target number introduced by Stevens in 1901. Alas, it arrived on the scene just as the world was embracing smokeless powder and, excellent as it was (it was a favorite of Harry Pope), it never achieved the popularity of older cartridges like the 32-40.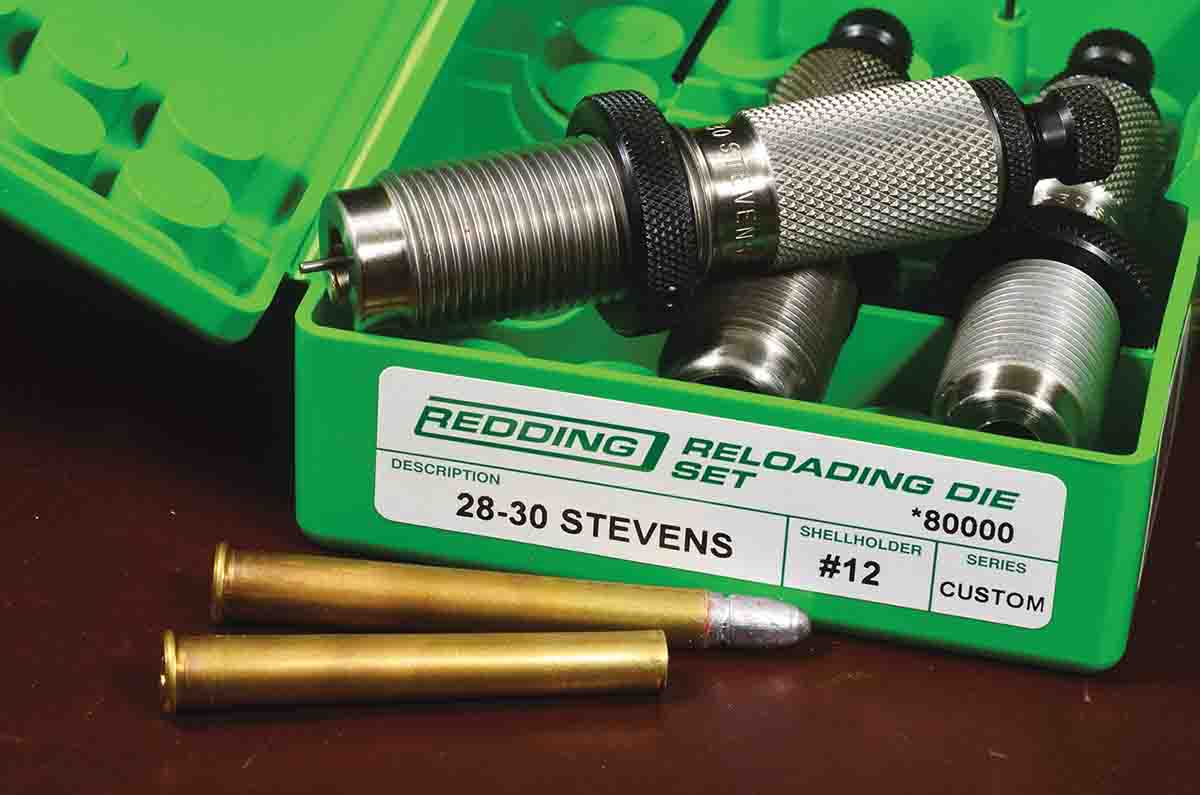 The 28-30-120 is not impossible to load. Brass is available from Bertram in Australia (through Huntington Die Specialties), and you can find cast bullets, but its possibilities are limited. I wanted a more common chambering that would allow me to shoot this beautiful specimen, not just once in a while, but on a regular basis. At the same time, however, I did not want to alter it permanently in any way: No rechambering, no reboring the barrel, nothing like that.
Fortunately, the Stevens 44 and 44½ actions possess one priceless feature: The barrels are easily detachable, held in place by a coarse thread and then tightened with a set screw under the forend. Remove the forend, loosen the screw, and the barrel can be removed with little more than hand pressure. Sometimes, the barrels are stuck in place with dried grease, but this is easily remedied.
As well, replacement barrels are not difficult to make, starting with a blank from any number of companies.
Of course, there are a few problems along the way. The extractor is separate from the barrel, so any replacement has to be of a size the extractor will accommodate, although this can either be modified slightly, very slightly, or a replacement made. Then there is the question of rimfire versus centerfire. This can all get pretty complicated. If, as I did, you want to completely preserve the rifle's originality, you have to settle on a new chambering that fits the existing rifle.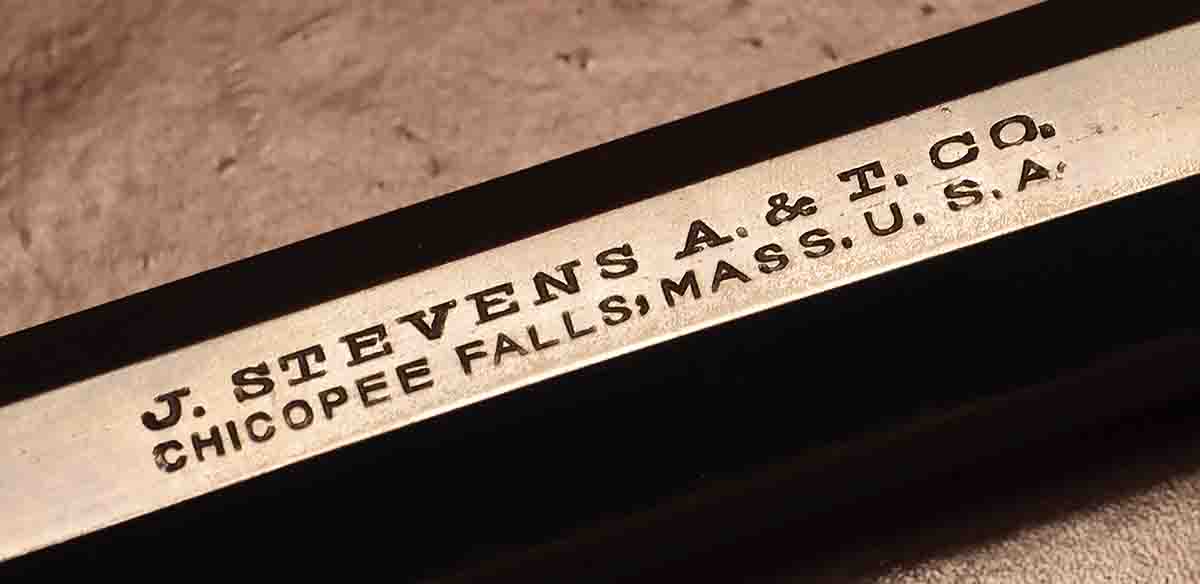 Initially, I considered a barrel in 327 Federal, which would allow me to shoot several of the 32 handgun calibers, but this proved tricky because of extractor difficulties. The 38 Special, on the other hand, is a rimmed case with a diameter so close to the 28-30-120 that it's little more than a rounding error, and that includes its longer brethren, the 357 Magnum and 357 Maximum.
I consulted single-shot specialist Lee Shaver, who assured me that making such a replacement barrel, while maintaining the rifle's pristine originality, would be a straightforward operation.
We decided on the 357 Maximum, a stretched 357 Magnum, which was introduced in 1982. It was originally intended for silhouette shooting with revolvers, but proved difficult because of its high pressures and pretty much fell by the wayside. Still, a straight-walled, rimmed cartridge is ideal for a single-shot rifle, and I figured I could probably get close to 1,800 feet per second (fps) with a 180-grain bullet, given a rifle with a 28-inch barrel.
What's more, the rifle would also cheerfully accept 357 Magnum ammunition, or even common-or-garden, cheap-as-dirt, factory 38 Special, if I felt like roughing it. The deal was sealed when, out of nowhere and in a time of severe brass shortages, a friend presented me with an unopened bag containing 100 rounds of Remington 357 Maximum brass. As well, Redding had a set of dies, gathering dust on a shelf. Obviously, these were signs from on high.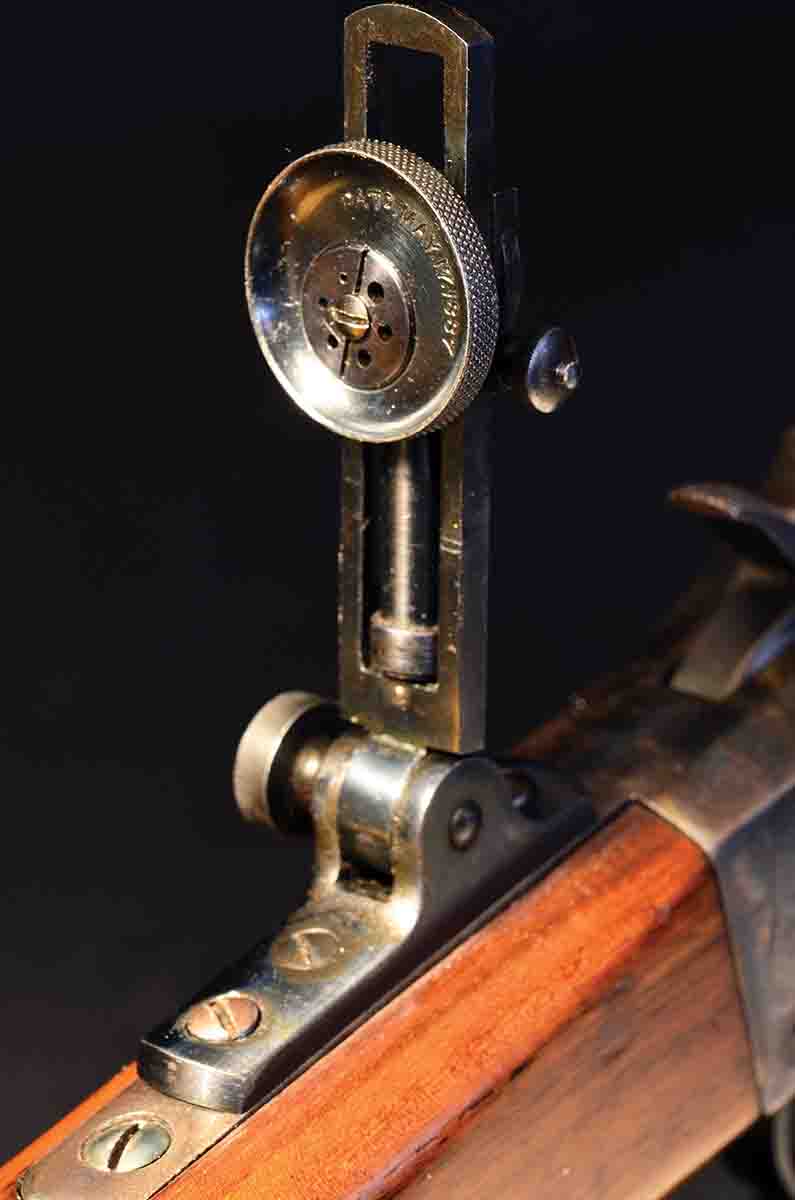 As it turned out, making the replacement barrel was the most painless aspect of the whole affair. Lee obtained a blank from Preferred Barrels of Utah, then contoured it to match the half-octagon, half-round of the original, so the forend would fit snugly. He fitted one of his own globe front sights, but we omitted a barrel sight since the rifle had a lovely old Stevens aperture tang sight that looked as new as the rifle.
One minor difficulty was fastening the forend. It is attached with a screw that goes into the barrel. Unfortunately, the original screw is threaded with a size peculiar to Stevens and unobtainable today. Lee simply used a modern thread in the new barrel, then made a screw for it that matched the original. The original barrel now carries its own forend screw around with it.
The extractor was ever so slightly large, but a couple of strokes with a fine file and a dab of cold blue solved that problem.
The whole operation, including the cost of the barrel blank, was about $1,200, which is considerably less than one would pay for a new single-shot rifle (if you could even find one you liked). This way, I get to shoot a fine old rifle.
At this point, I thought I had everything solved, and when I fired a half-dozen factory .38 Specials without a hitch, I figured it was all over but the shouting. Now all I had to do was load some 357 Maximum, sight it in, and start chronographing.
Alas, it was not as simple as that.
Virtually everyone who wrote about single-shot rifles from the "golden age" of pre-1914, sang the praises of the Stevens number 44½ action, and Ned Roberts was no exception, but he did add one caveat. In The Breech-Loading Single-Shot Rifle (Wolfe Publishing, 1987), which was completed by Ken Waters after Roberts's death, Roberts noted a weakness in the firing pin that often led to breakages. He wrote that it would stick in the primer, and forcing the breechblock down then snapped it off.
His answer was a rebuilding job that included a bushing in the breechblock face, with a smaller pin and a spring to retract it.
Waters, however, noted that he'd never had this problem and suggested either that Roberts was working with very high pressures (he developed the 257 Roberts using a Stevens) or that softer primers were the culprit.
This is where my grand plan went awry. Pistol primers are softer than rifle primers, and the 38 Special and 357 Magnum are loaded with pistol primers. Typically, these cartridges have pressures ranging from 12,000 copper units of pressure (CUP) to CUP in the mid-30s. The 357 Maximum's pressures range up close to 50,000 CUP, and the loading manuals, in spite of insisting one should never interchange rifle and pistol primers, recommend rifle primers for the Max even though it is listed as a handgun cartridge. In fact, they suggest "small magnum rifle" primers, of which, naturally, I had none.
Ned Roberts's warnings about broken firing pins slipped my mind temporarily, as I conditioned 50 rounds of my spiffy new Remington Maximum brass and primed them all with small magnum pistol primers. I then loaded 20 rounds, two different loads and bullet weights, in the midrange of hot. Firing five rounds each, I had seven primer leaks of varying degree, three slightly pierced primers, and two very sticky levers, meaning the firing pin had stuck.
Fortunately, nothing broke, and I spent a half hour dismantling the remaining loaded rounds and depriming the other 30 cases. I then reprimed them all with small rifle primers, loaded some more, and experienced not a single difficulty. A narrow escape.
Serious load development is yet to come, but some initial results with the chronograph are interesting. With a 180-grain bullet, it is not hard to get close to 1,800 fps with the Max, while factory 357 Magnums, rated at 1,356 fps by the manufacturer, deliver 1,789 fps in my 28-inch barrel. Factory 38 Special, rated at 900, measures at 1,120 fps.
The barrel has a twist rate of 1:16, which allows as much leeway as I'll need, since I don't expect to load anything heavier than 200 grains.
One bonus option, given the room in the 357 Maximum case, is that I can shoot black powder should the desire overwhelm me. I will almost certainly do so at some point, if only out of curiosity.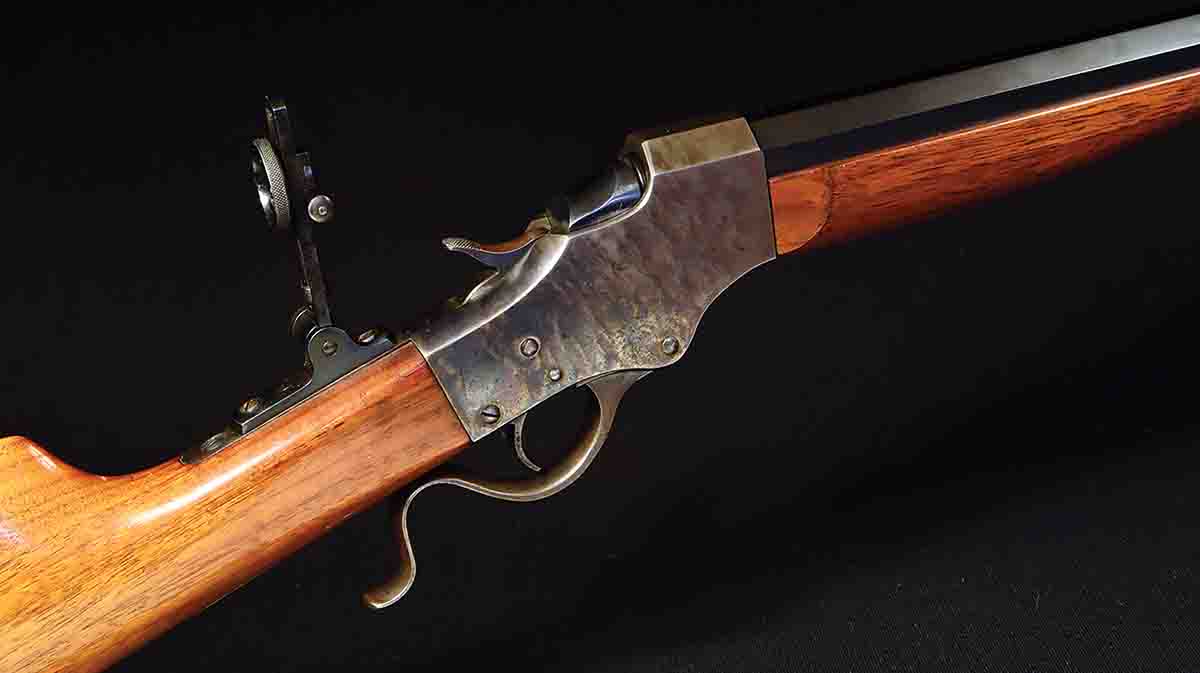 There is a vast array of bullets available in 35 caliber including 357s for handguns, 358s for rifles, and even a few 356s for 9mm rifles. For that matter, there is a vast array, not only of factory loads in 38 Special and 357 Magnum, but of old cartridges that could be fired in it, such as the 38 S&W and 38 Colt, both short and long. Many of these are collectors' items, and it's not a good idea to shoot really old ammunition for a variety of other reasons, but it might be fun to cut some 38 Special brass down and try them with the old loads.
The possibilities with this new 357 Maximum barrel are almost endless, which is a lot more than you can say for the original 28-30-120 – and all accomplished without compromising the rifle's originality even the tiniest bit.