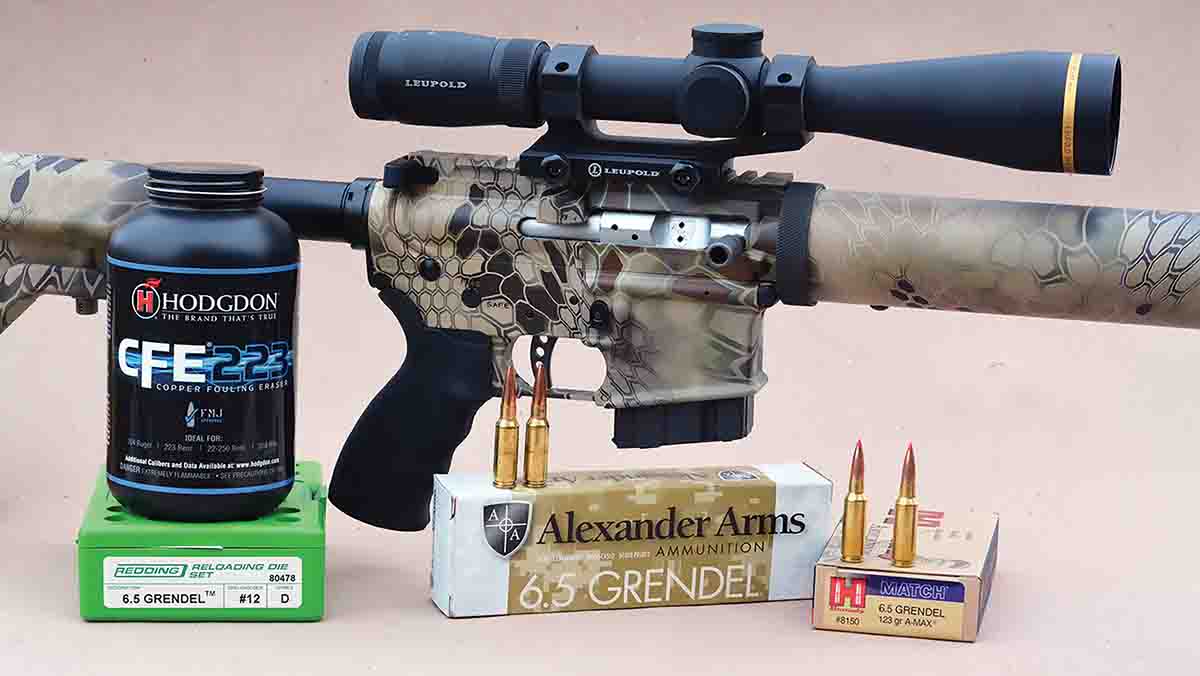 AR-15-pattern rifles, also known as Modern Sporting Rifles (MSR), have achieved huge popularity among shooters of several generations. Many millions have been sold to civilians, which are used for purposes that include personal and property protection, hunting, recreation, various action-shooting events, match target competitions and collecting. Due to the action size and overall cartridge-length limitations, case- head diameter, allowable bolt-head thrust, etc. of AR-15-pattern rifles, they are limited as to cartridge size and power. Switching to an AR-10-pattern rifle permits the use of larger and more potent cartridges such as the 308 Winchester and similar rounds. But on the downside, that rifle is notably larger and heavier. As a result, many attempts have been made to develop the ultimate cartridge for AR-15-pattern rifles.
I do not know what the ultimate cartridge is for the AR-15, but a strong contender that offers versatility and efficiency includes the 6.5 Grendel that was designed specifically to produce outstanding accuracy while offering an impressive blend of power and remarkable long-range potential, especially considering its rather small size. The 6.5 Grendel has roots that date back to the 1970s when Dr. Lou Palmisano and Ferris Pindell developed the PPC series of cartridges primarily for benchrest competition. The PPC was based on the 220 Russian case that was technically an offspring of the 7.62x39 Soviet case, but I digress.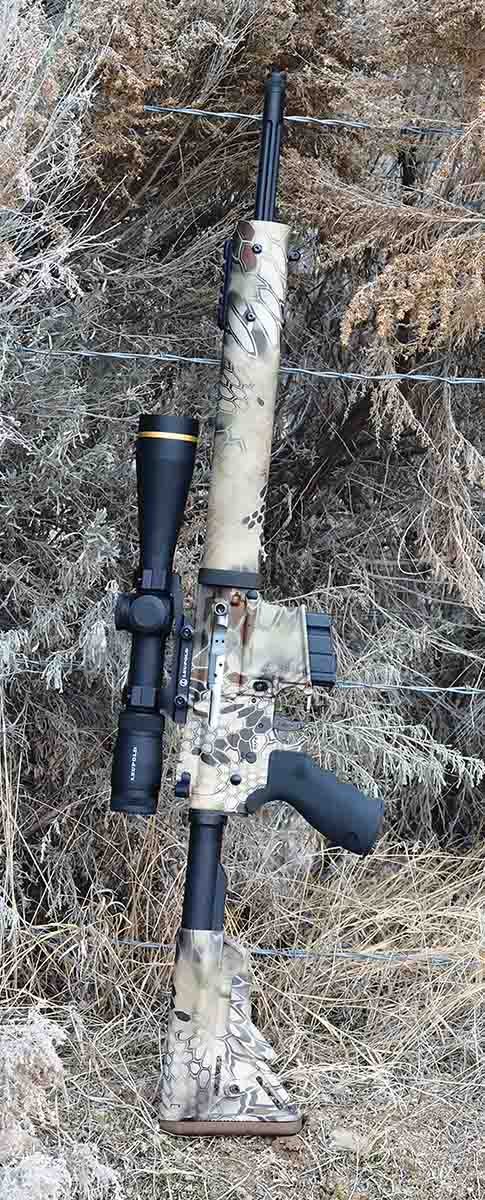 Around 2002, Bill Alexander developed the 6.5 Grendel that was based on the 6mm PPC case, but with the shoulder moved forward, the case neck length measured .243 inch and it was necked-up to accept .264-inch bullets. The shoulder was held at 30 degrees, while the head measured .437 inch. The case length is 1.516 inches, while the overall cartridge length is 2.260 inches to allow proper function in AR-15-pattern rifles with standard-length magazines. It is noteworthy that the 223 Remington loaded to 55,000 psi produces 3,888 pounds of bolt-head thrust, while the 6.5 Grendel loaded to 52,000 psi yields 5,411 pounds of bolt-head thrust. While the cartridge can be loaded to higher pressures, bolt-head thrust will be increased, so the AR-15action becomes the limiting factor and loads should not exceed industry pressure guidelines.
The Grendel boasts many of the same virtues that have made the PPC series of cartridges so popular. In essence, the short, fat case results in a short powder column, which along with the 30-degree shoulder, improves burn efficiency. The design results in low extreme spreads and serves to increase accuracy. Alexander chose the 1:7.5-inch twist barrel that perfectly stabilizes bullets from 85 to 130 grains (and possibly others that this writer has yet to try). There are several lightweight bullets designed specifically for varmint hunting including the Sierra 85-grain HP Varminter, Hornady 95-grain V-MAX and Nosler 100-grain Ballistic Tip. They can be pushed to velocities of 3,000, 2,850 and 2,700 feet per second (fps), respectively, through handloading. Long-range shooters and deer hunters will generally find favor with 120- to 130-grain bullets that can be pushed to around 2,500-2,600 fps.
The Grendel was formally unveiled in 2003 at the Blackwater training facility in North Carolina. It was compared directly with the 7.62 NATO cartridge on the range. The Grendel boasted of being chambered in a lighter rifle and only produced about half as much recoil. But the Grendel also stayed supersonic out to 1,200-plus yards, which the 7.62 NATO could not do, all of which proved its impressive ballistic advantages.
Initially, Alexander Arms offered both rifles and ammunition for the 6.5 Grendel, but it remained a trademarked, proprietary cartridge, which prevented it from becoming a Sporting Arms and Ammunition Manufacturers' Institute (SAAMI) industry cartridge. But as shooters discovered just how good this round really was, along with the escalating popularity of AR-15-pattern rifles, the demand grew. In April 2010, under a license agreement, Hornady Manufacturing began producing ammunition and reloading dies. Alexander Arms next chose to release its trademark and the Grendel was soon presented to SAAMI as a standard industry cartridge, which was accepted, then finalized on June 12, 2012. It has been 21 years since its development and nearly 11 years since becoming an industry cartridge and the 6.5 Grendel has earned a high level of respect due to its benchrest-style accuracy, efficiency, versatility and an interesting power level in AR-15-pattern rifles.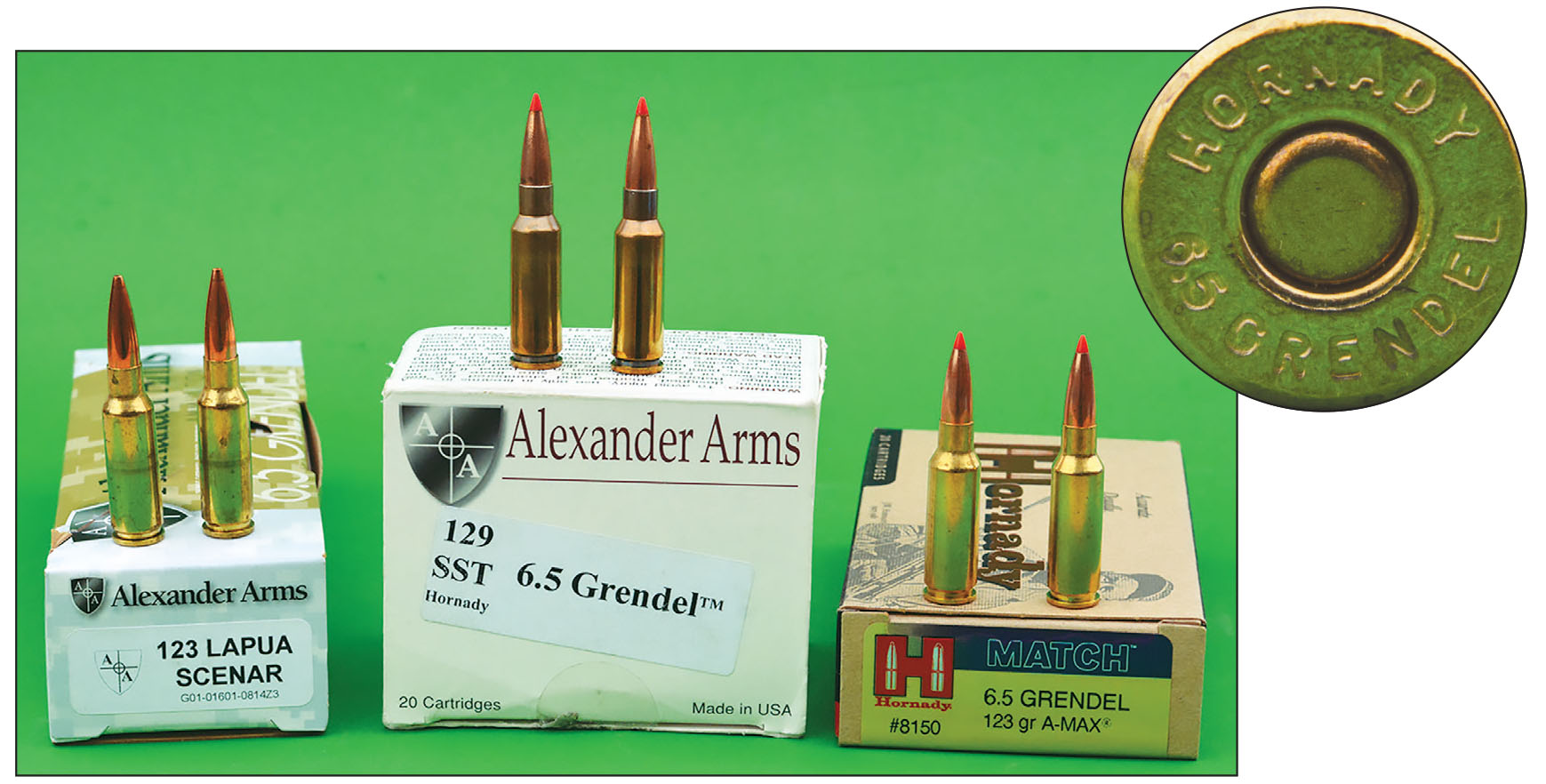 Handloaders can fully duplicate factory load performance in terms of velocity and accuracy, and in the process, can even increase the cartridge's versatility. The Grendel works splendidly with many powders that are popular in the 223 Remington including Hodgdon H-335, CFE 223, LEVERevolution, Accurate 2520, IMR-8208 XBR and powders with a similar burn rate and density.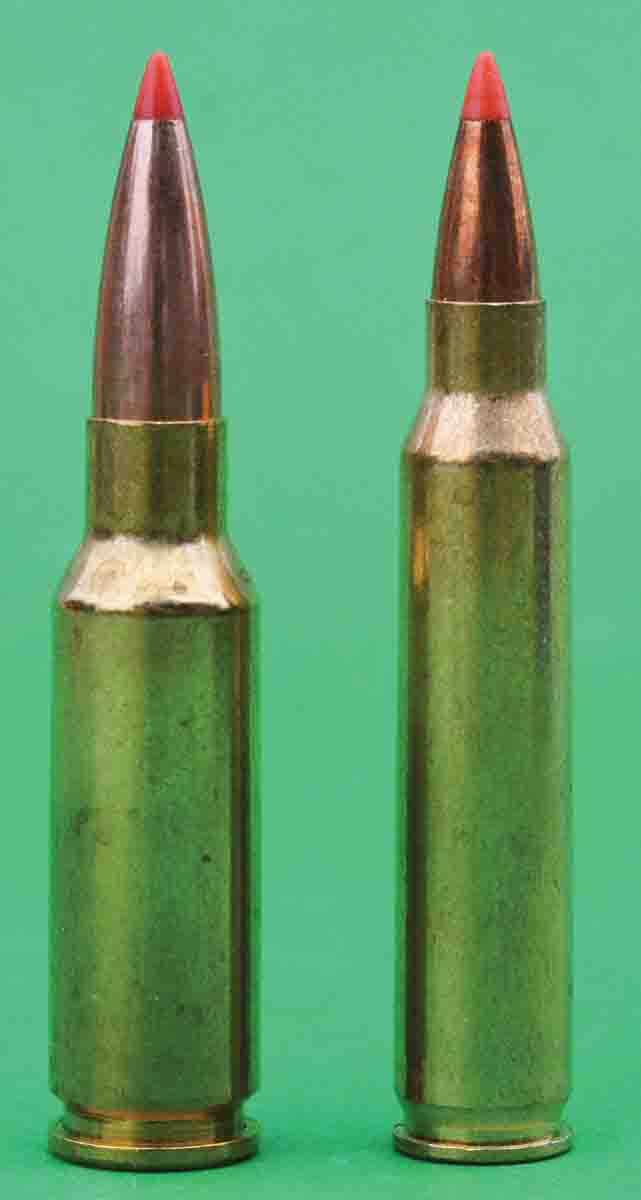 To develop handload data, an Alexander Arms AAR15 Hunter series rifle was selected, which was topped with a Leupold VX-6 3-18x 44mm variable scope. It features a threaded, match-grade, 18-inch barrel that has previously proven accurate. The B5 stock is adjustable for length of pull, while the free-floating forearm is rifle-length to improve reliability. The trigger breaks cleanly at 4¼ pounds. There is no chamber assist; rather it features a titanium side charging handle that allows assisted chambering when needed.
Having spent considerable time at the bench developing handload data for the 6.5 Grendel, it seems almost difficult to assemble ammunition that doesn't work well. As long as reasonable component combinations are selected and care is taken in preparing cases and when assembling ammunition, handloaders should be pleased with the results. Cases should always be cleaned, full-length sized and checked for proper length, then trimmed and deburred as needed. Primers should be seated to .003 to .005 inch below flush. After charging cases and seating bullets to the correct overall cartridge length, as a separate step, the crimp should be applied. Bullet ogive profiles do vary from one manufacturer to the next, but the listed overall cartridge lengths chambered reliably and functioned flawlessly in the Alexander Arms AAR15 test rifle.
If you are looking for an AR-15 platform cartridge that offers impressive long-range performance, benchrest-type accuracy, efficiency and modest recoil, but still offers notable performance with enough power to take deer-sized game cleanly with proper bullet choice, the 6.5 Grendel is not only a worthy choice, but it may be the standout choice.
* * *
Publisher's Note
There was an error in Art Merrill's feature story, "Reloading a Rimfire? Sort of…" in Rifle No. 327 (March-April 2023), pertaining to the designation of 32 Short and Long rimfire cartridges. In that story, the 32 Short and 32 Long rimfire cartridges were referred to as, "32 S&W Short" and "32 S&W Long." The latter two, of course, are centerfire cartridges.
According to resources Cartridges of the World (7th Edition, Frank C. Barnes) and Ammo Encyclopedia (6th Edition, Michael Brussard), the 32 rimfire cartridges were designed and introduced by Smith & Wesson, beginning with the 32 Short rimfire in 1860. The "S&W" designation was an attribute to Smith & Wesson and we apologize for the error.