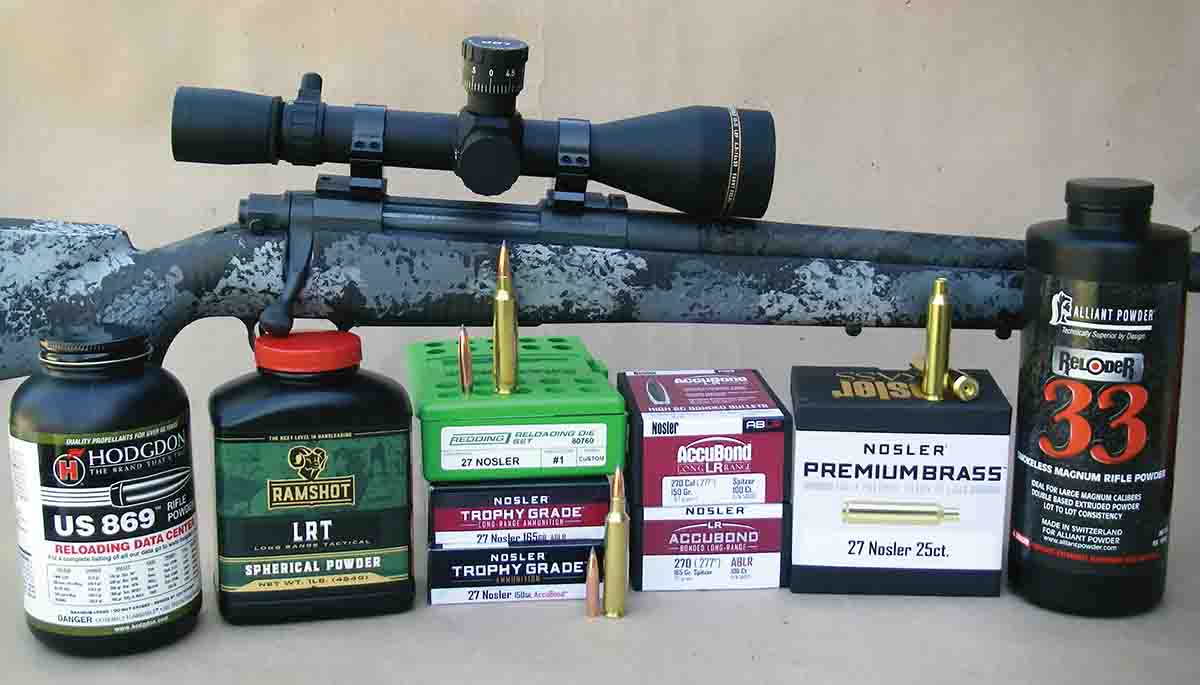 Gun writers are often selected to offer their opinions, test and review new products long before they are announced to the public. Such was the case with the Nosler Model 48 rifle. I had the opportunity to thoroughly wring out a prototype rifle chambered in 300 WSM, which proved to be a worthy field rifle. It was carried on many hunts including through the Alaska Range in pursuit of Dall sheep wherein it was exposed to weeks in the wilderness, subjected to abuse, snow, freezing rain, sand, strapped to the wing of a plane and it had many more than a few tumbles and bruises. After much use, testing and hunting, when that prototype rifle was finally returned to the Nosler factory, despite it being 300 miles from my home, I could nearly hear the "What in the heck happened to this gun?" comments when the box was opened! If memory serves me correctly, that was nearly 19 years ago and that rifle was in step with period demands from shooters that wanted a better, more precision out-of-the-box sporting rifle rather than run-of-the-mill production versions. Accurate, reliable and precise hunting rifles are always interesting and I told Nosler representatives that they had a great rifle.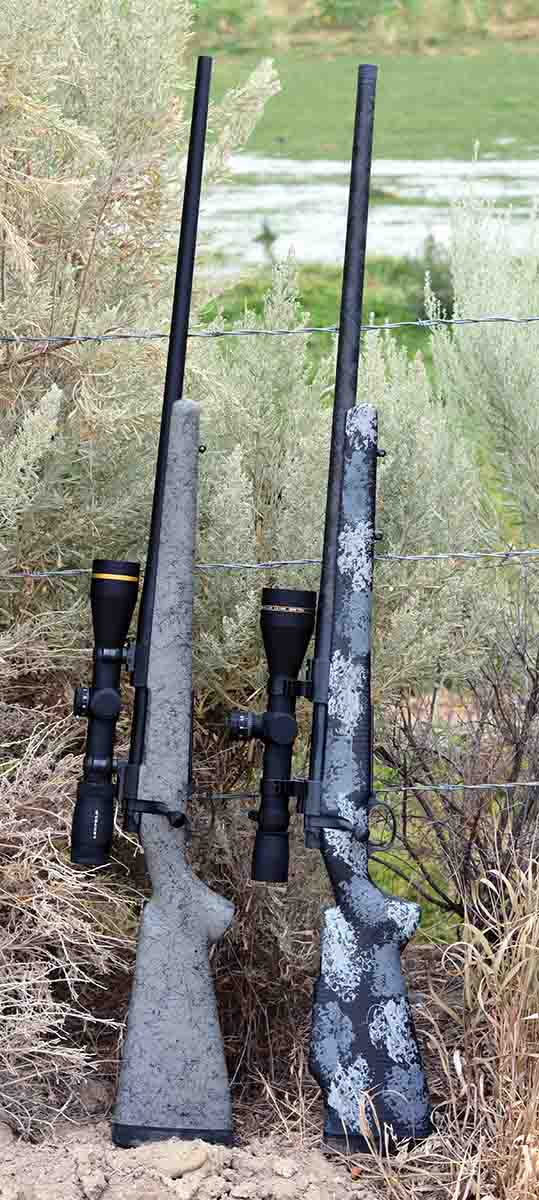 The Nosler success story is truly remarkable and inspiring, and is still making history with the same ambition, innovation and modernization that its founder endorsed more than 75 years ago. In 1946, John Amos Nosler was hunting moose in British Columbia using a Winchester Model 70 chambered in 300 H&H Magnum. The exact load he was using is unknown to this writer, but the bullets were of conventional cup-and-core construction with soft points that failed to offer proper penetration to reliably reach the vitals. Nosler realized the need for a better hunting bullet and began making what he considered the perfect design, but his early bullets were primarily for personal use. Jackets were handmade, turned on a lathe and other operations were likewise performed by hand. But John's bullets were so good, so well designed and proved so effective in the field that by 1948 he formed Nosler, Inc. and began offering them commercially. The famous Nosler Partition bullet (as it became known) was born and quickly gained considerable fame around the world, becoming the gold standard by which other hunting bullets were compared. Further comments on the design are unnecessary at this time, but suffice to say that the Partition is still widely popular and offers reliable, rapid expansion at lower velocities that creates a significant wound channel, while the rear portion acts like an expanded solid to offer deep, reliable penetration. Ammunition companies like Weatherby, Winchester and many others, have offered Partition bullets in factory loads including Federal Premium dating back to 1977. After using Partitions for more than 40 years on a huge variety of game around the world, this hunter holds them in high esteem. In spite of being around for 75 years and facing fierce competition, Partition bullets remain widely popular due to their reliable performance.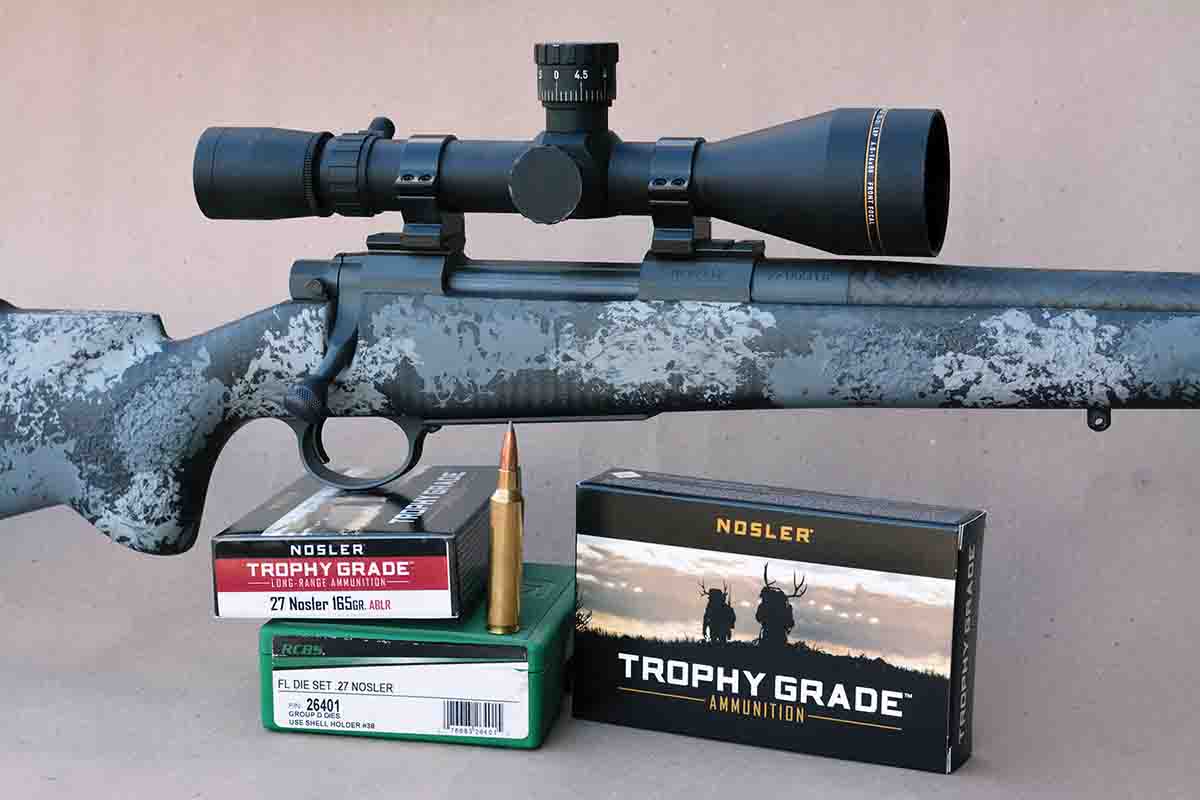 Nosler has steadily grown and expanded its bullet offerings to ideally fit trends with modern shooters and hunters and includes AccuBond, AccuBond Long Range, Ballistic Tip, Ballistic Silvertip, Expansion Tip Lead Free, Ballistic Tip Varmint, Varmageddon, Ballistic Tip Lead Free, Reduced Drag Factor (RDF), Custom Competition Match, Sporting Handgun and Assured Stopping Power (ASP). Nosler has also expanded its product line to offer Nosler premium brass that is weight-sorted, sized, chamfered and deburred, primer pockets deburred and uniformed, fully prepared and ready to load right-out-of-the-box.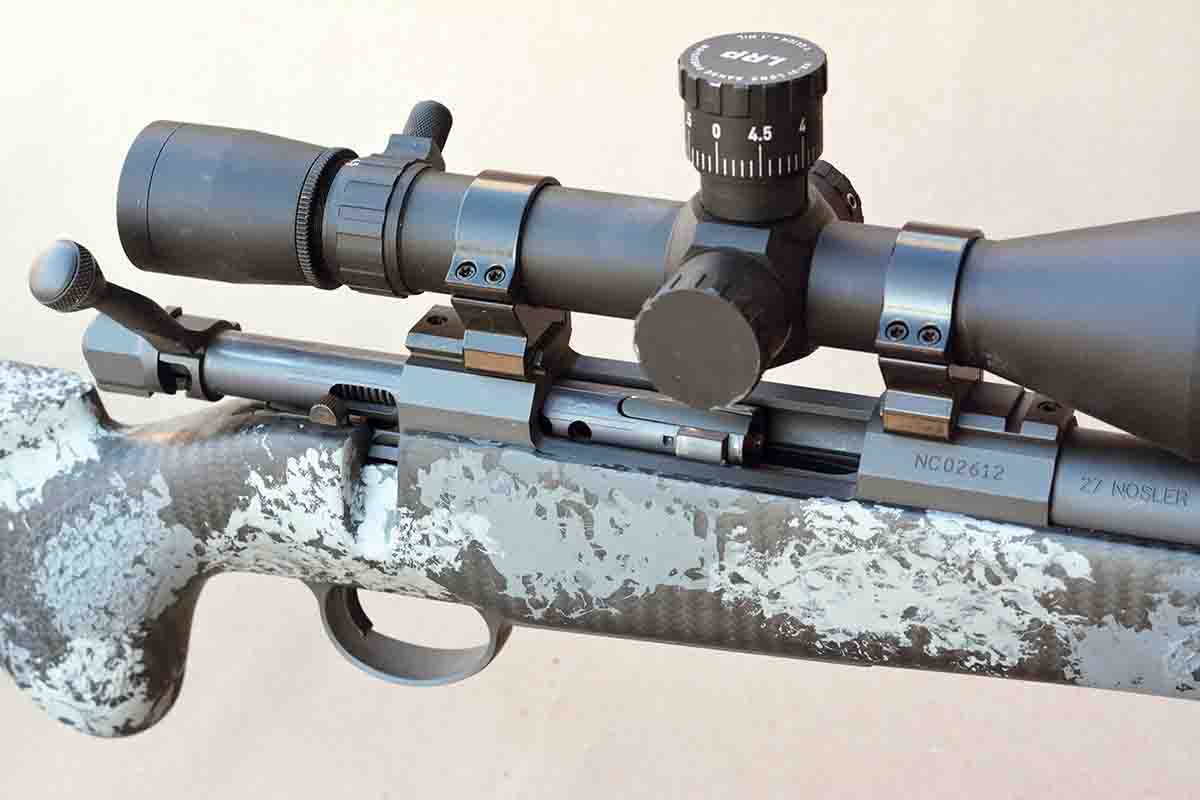 Another popular Nosler product is its high-precision factory ammunition that includes loads utilizing appropriate bullets specifically for hunting big game, varmints and match applications. Over the years, I have tested and hunted with Nosler Ammunition in many calibers and with many different bullets. Stellar performance is expected primarily because it is produced with a focus on precision, combined with a careful combination of powder and components that result in high levels of accuracy. Many times I have seen .25- to .50-inch groups from Nosler ammunition when fired in quality-production rifles. In the same approach that John Nosler started 75 years ago, Nosler, Inc. continues to hold itself to a very high standard of quality and precision.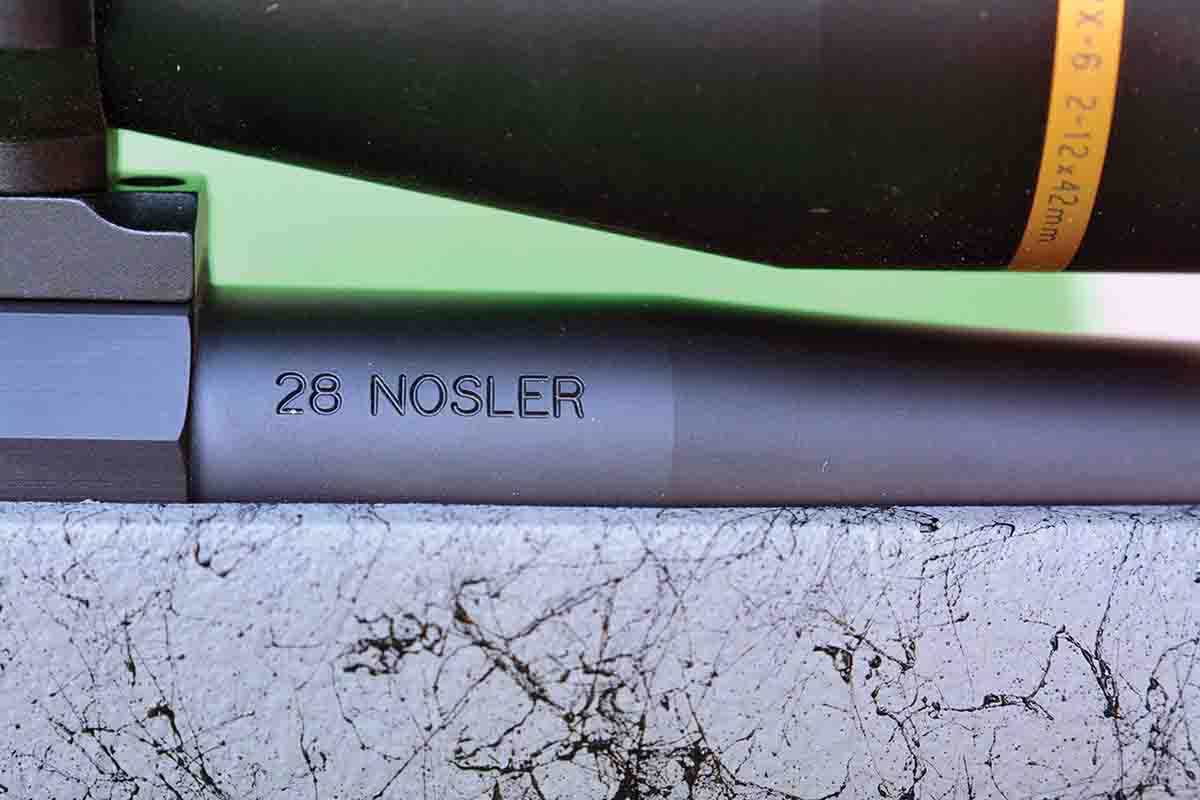 It was a bit of a surprise when Nosler introduced the proprietary 26 Nosler in late 2013, which was the most powerful .264-inch/6.5mm cartridge commercially available – even worldwide. It is based on the beltless 300 Remington Ultra Magnum case, or loosely on the 404 Jeffery case, and features a rebated rim (like all Nosler cartridges discussed herein), but is designed with a maximum overall cartridge length of 3.340 inches to allow it to function in 30-06-length actions. It can push a 120-grain bullet at 3,450 feet per second (fps), a 129 grain at 3,400 fps, 140 grain at 3,300 fps or 150 grain at 3,200 fps. At 400 yards, it retains essentially the same velocity that the 6.5 Creedmoor produces at the muzzle with the same bullet weight. The 26 was never intended to be a long-range competition target cartridge; rather it was designed primarily as a high-velocity hunting cartridge that offers an incredibly flat trajectory at practical hunting distances. Its laser-like trajectory, combined with moderate recoil, is an asset to make reliable hits in the field.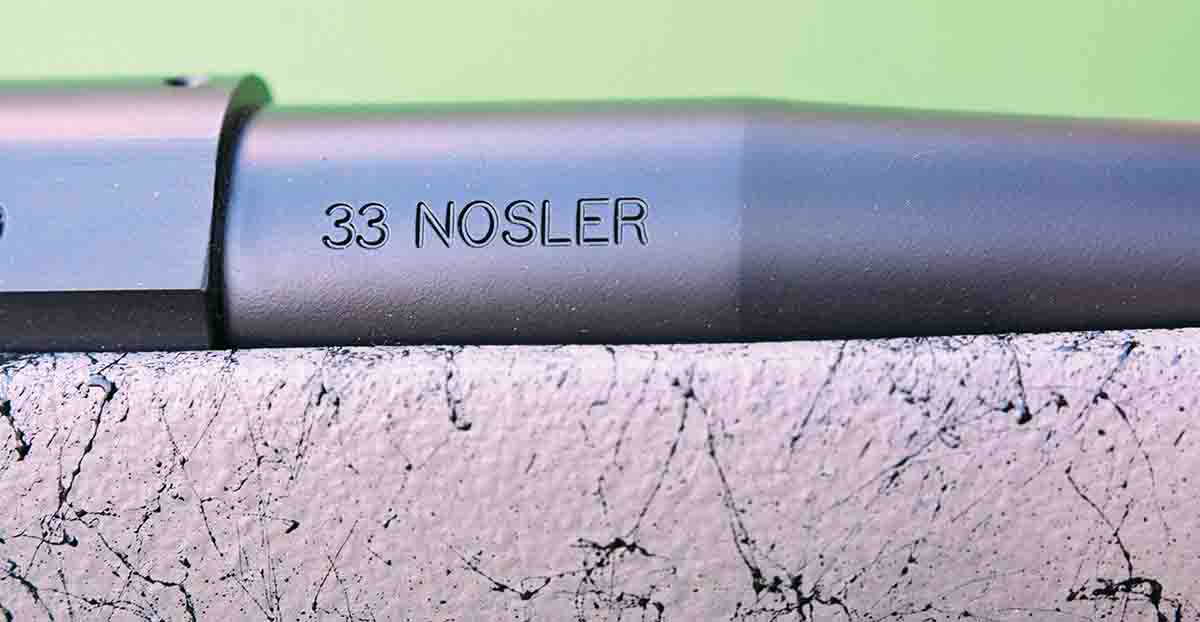 High-velocity 6.5s have historically been known for being rather hard on barrels, but the 35-degree shoulder and 2.590-inch case length (a shorter powder column) serves to maximize powder burn efficiency within the chamber that results in less powder granules forward movement that has historically been a factor in throat erosion. I do not know what the barrel life is for the 26, and neither am I indicating that it is long, but after a rifle is zeroed, it should be capable of accounting for hundreds of big game, assuming that the hunter's skill can make a reasonable percentage of one-shot, one-kill hits – and that is a lot of hunting!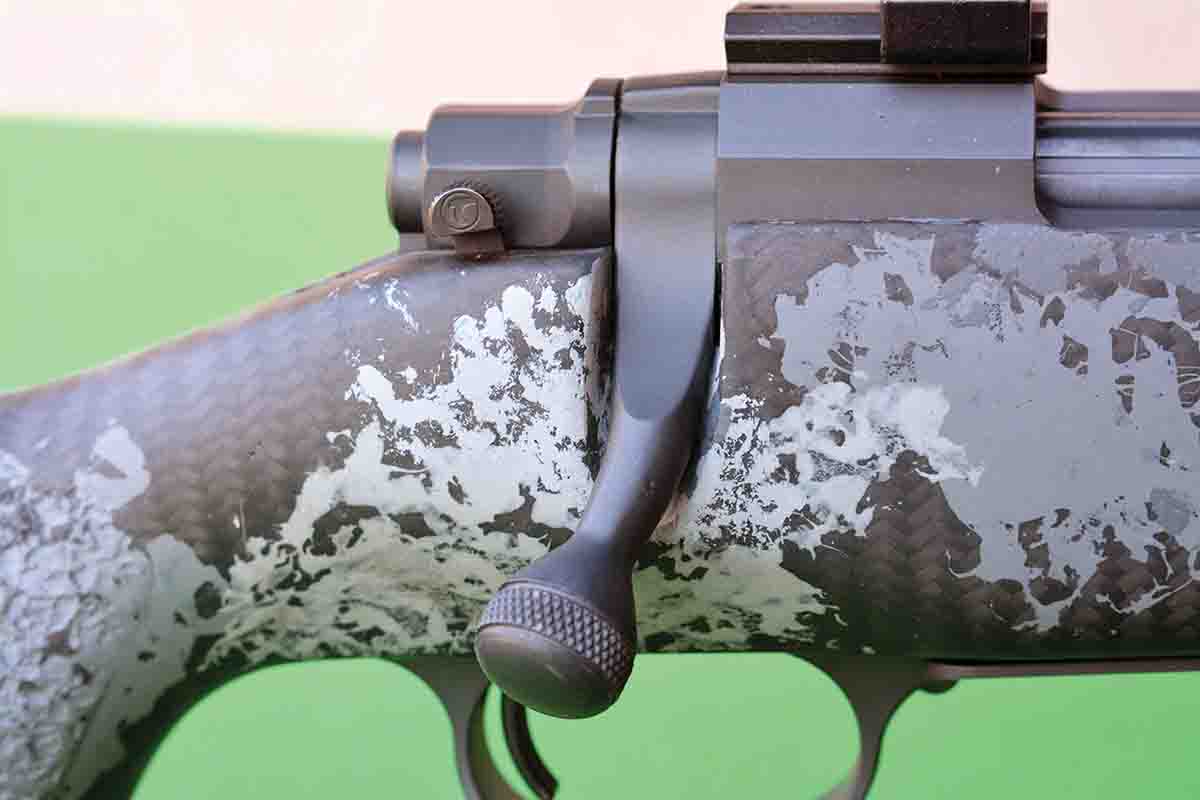 The 27 Nosler was scheduled as its second cartridge introduction; however, properly-designed, heavy- for-caliber bullets with high ballistic coefficient (BC) and low drag, were not completed, so it was delayed until 2020. During its development, the traditional 1:10 twist rate used on 270 Winchester, 270 Weatherby Magnum and 270 WSM was abandoned in favor of a 1:8.5 twist to properly stabilize modern, heavy-for-caliber bullets that feature a high BC. The 27 has truly modernized the .277 caliber for hunters and can push a 150-grain bullet at 3,300 fps (listed on boxes at 3,250 fps), or a 165-grain AccuBond LR at 3,158 fps. Nosler lists the BCs for the 150-grain load at .591 and .620 for the 165-grain load. This makes it a very formidable long-range hunting cartridge and is a contender as the second flattest shooting Nosler cartridge at 1,000 yards. For example, with a 200-yard zero, the 150-grain Nosler AccuBond LR drops 202.3 inches and retains more than 1,800 fps velocity. The 27 is perhaps better suited to larger, thin-skinned game than its little brother, while still offering moderate recoil. Regardless, it is a sweetheart and offers outstanding performance.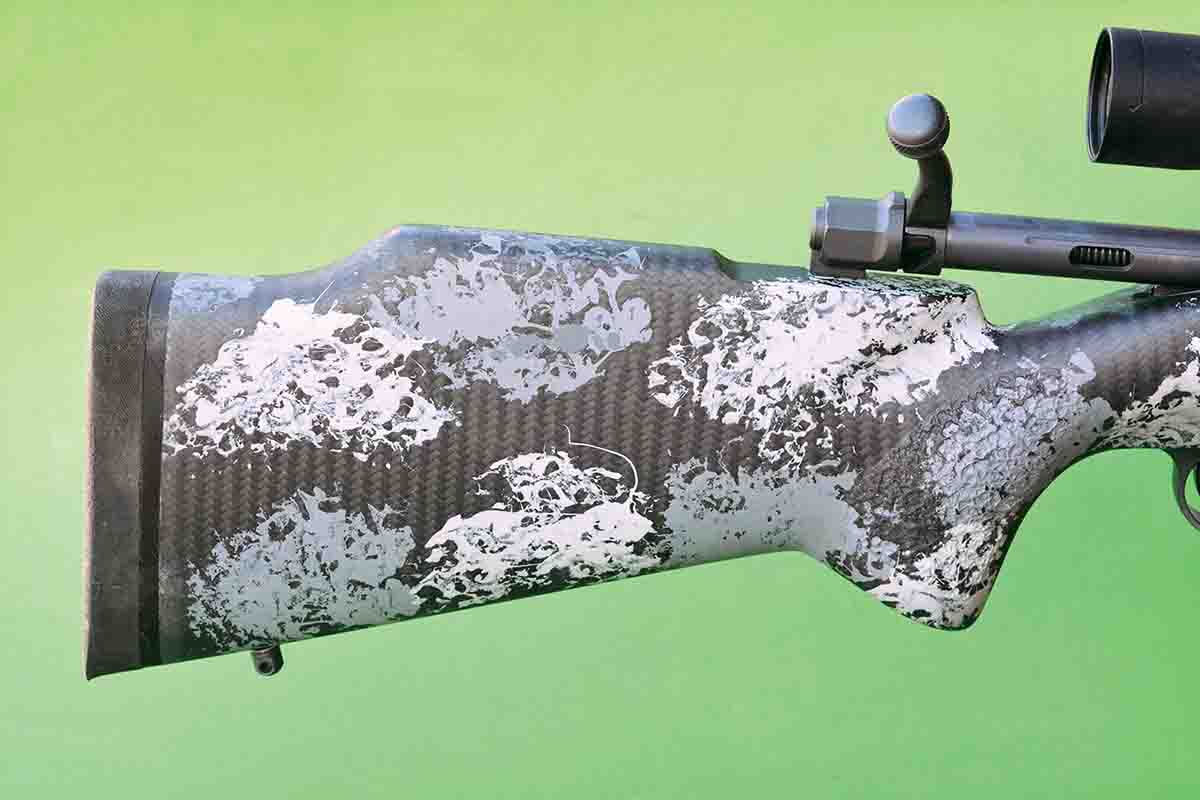 The 28 Nosler was introduced in 2015 as its second proprietary cartridge, and quickly gained a loyal following including myself. It offers a unique blend of long-range prowess, utilizes heavier bullets than its smaller brothers and boasts of a huge selection of suitable hunting bullets that results in greater versatility. Furthermore, it offers a longer barrel life and a recoil level that can be mastered by most hunters. Many shooters have been surprised to learn that the 28 has less powder capacity than the big 7mm Remington Ultra Magnum (RUM), but due to its shorter overall length of 3.340 inches (as opposed to the RUM's 3.600 inches), shorter powder column and a 35-degree shoulder for improved burn efficiency within the chamber, it easily surpasses the muzzle velocity of the Remington. In fact, the 28 boasts of being the world's most powerful 7mm commercial cartridge that is capable of launching 160-grain bullets over 3,300 fps or 175-grain bullets at 3,125 fps. It should be noted that due to its design, it offers notably less throat erosion than the 7mm RUM due to its lower powder, gas volume and less unburned powder granules. Another huge virtue of the 28 includes a lower shot-to-shot extreme spread, which results in notable accuracy increases, especially at longer distances. The 28 and 30 are both strong contenders as being the most versatile of all the Nosler cartridges for hunting in North America.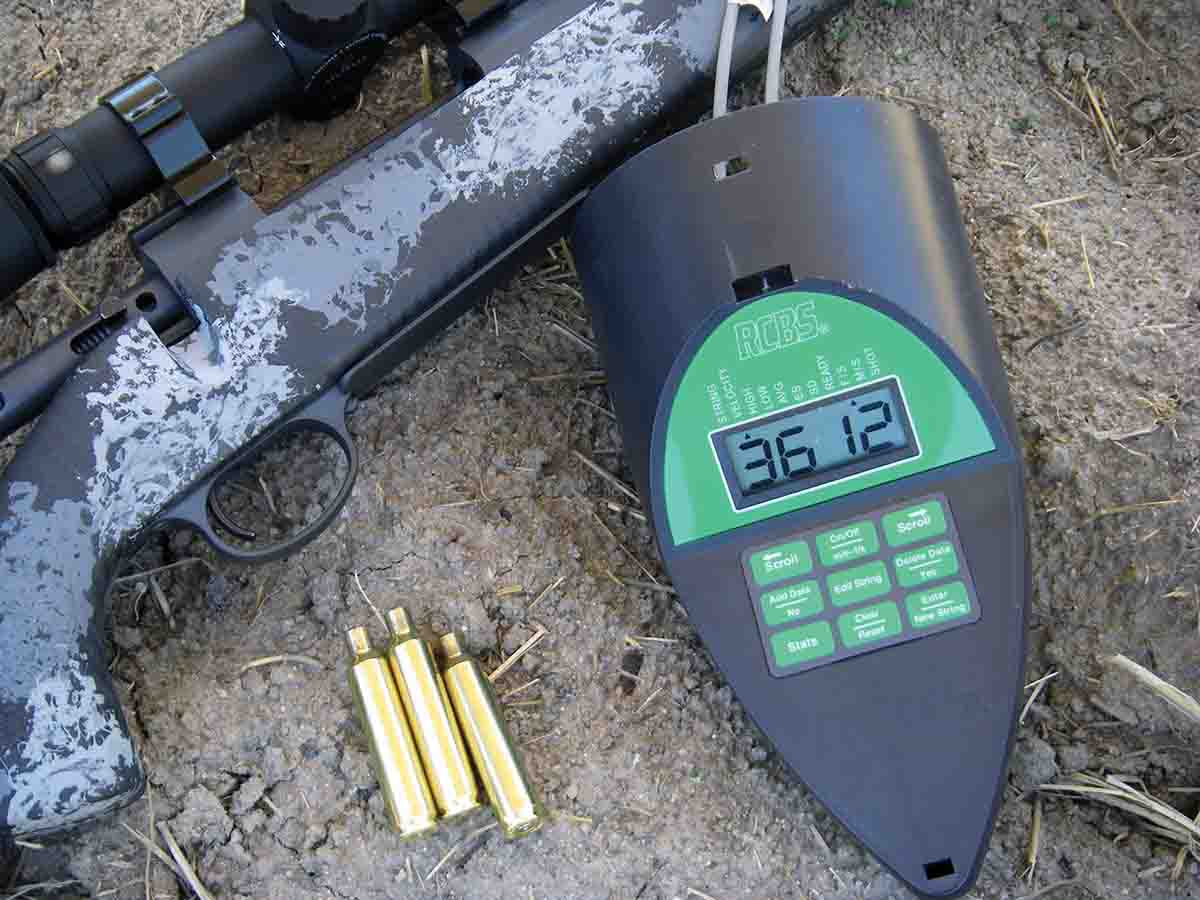 Thirty-caliber magnum cartridges have been steadily growing in popularity among long-range riflemen and big-game hunters since the old 300 H&H Magnum was introduced around 1925, and for good reason. Their versatility and effectiveness on all North American game, African-plains game or when long shots are needed cannot be ignored. In spite of many excellent 30-caliber magnums being offered, Nosler introduced the 30 in 2016 to offer hunters a truly modern magnum that gives performance similar to the 300 RUM, capable of pushing 180-grain bullets to 3,250 fps, but is still short enough to work in rifles with a standard 30-06-length action. Again, with the shorter powder column, combined with the 35-degree shoulder, burn efficiency is improved substantially, while reducing throat erosion by more efficient consumption of powder inside the case. This reduces the amount of unburned powder granules passing through the throat. This improved burn efficiency also increases accuracy by lowering extreme spreads from shot to shot.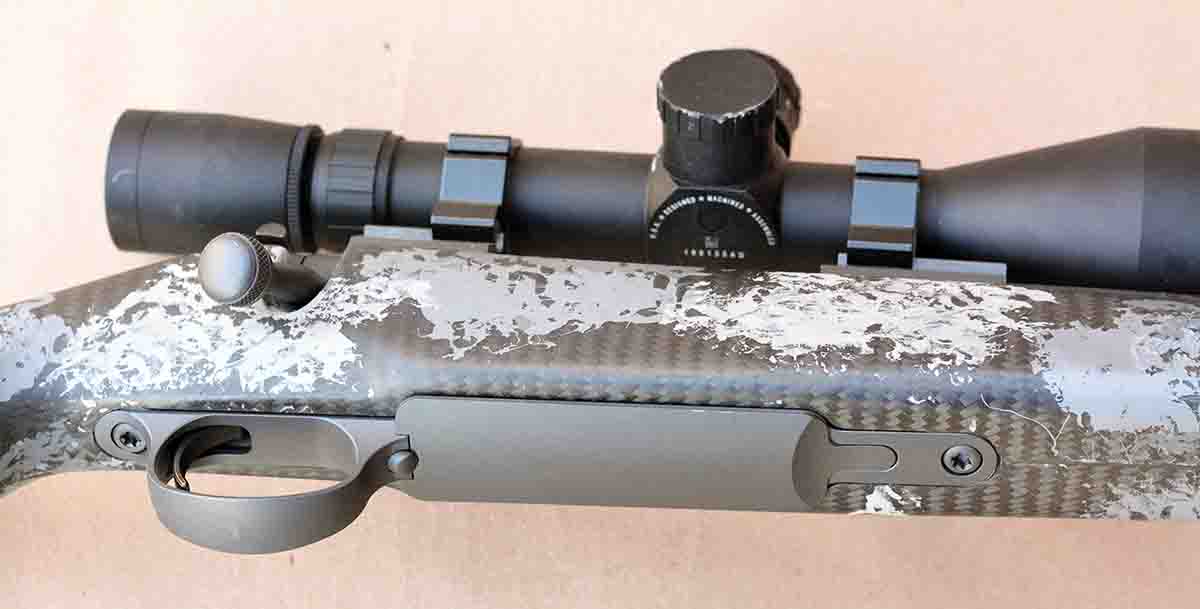 For many decades, I have used extensively all commercially offered, .338-caliber cartridges and a few wildcats, which is a caliber that has earned my respect when used on large, heavy game such as moose, grizzly, brown bear and similar game. Premium bullets offer deep penetration, but still perform admirably at long distances. In essence, 338s perform terminally like a 375, but offer a much flatter trajectory and are generally housed in lighter rifles. The 33 Nosler (utilizing .338-inch bullets) was formally introduced in 2016, is completely modern (based on the same case and basic design as previously discussed Nosler cartridges), while offering ballistics that approach the 338 Lapua Magnum, but again is housed in 30-06-length actions. Due to its efficient design, it utilizes notably less (at least 15 percent less) powder than the 338 Lapua. In developing handloads for the 33, it seems factory loads are loaded rather light. They reach their listed ballistics that includes a 225-grain bullet at 3,025 fps, a 250-grain bullet at 2,750 fps, or a 300-grain bullet at 2,550 fps. But carefully developed handloads can readily exceed those figures while staying within the Sporting Arms and Ammunition Manufacturers' Institute (SAAMI) pressure guidelines. The 33 nonetheless offers plenty of performance for hunting any thin-skinned, big-game animal in North America or most African-plains game. When stoked with long, heavy-for-caliber bullets with a high BC, it is a very formidable long-range target cartridge.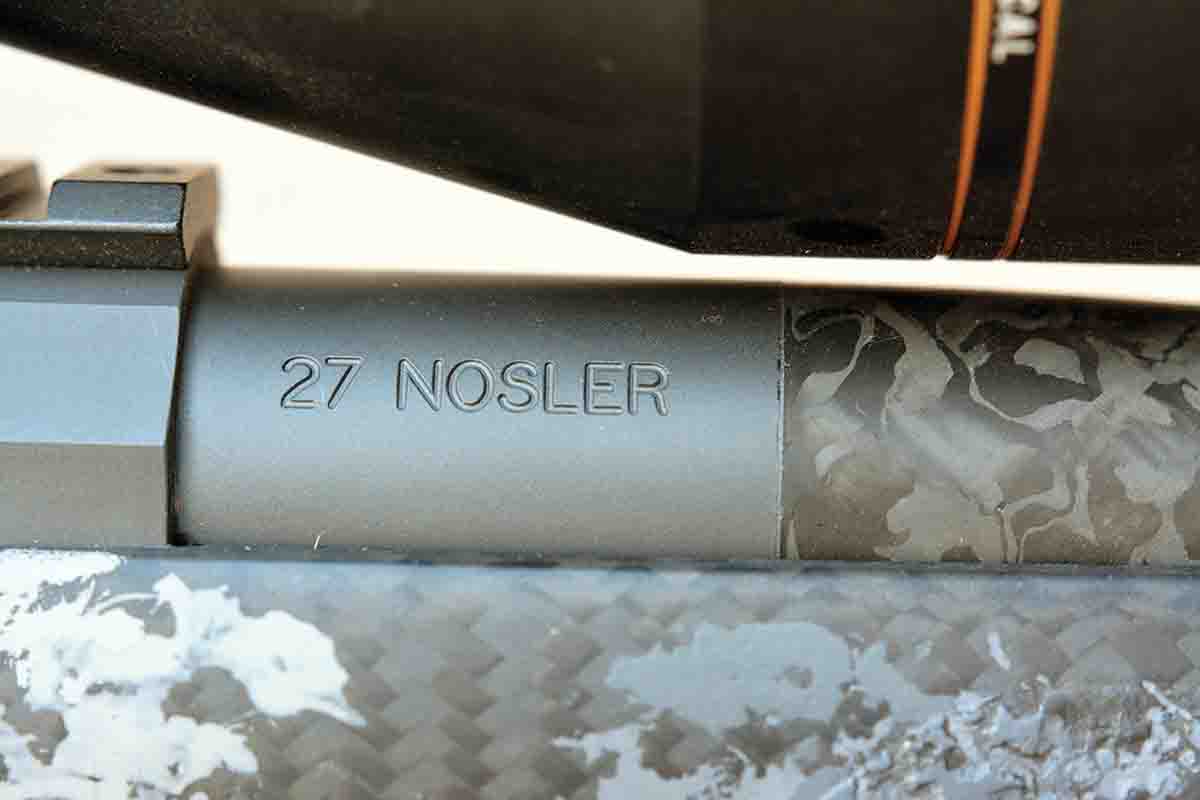 This brings us back to the Model 48 rifle, obviously named for the year that John Nosler officially began what would become a legendary business with high-quality and innovative products. As previously indicated, my experience with several Model 48 rifles has been very positive, with each proving reliable and accurate right out-of-the-box. But times do change, and the original version featuring traditional steel (stainless) barrel and the classic-style stock has been discontinued. Currently, the Model 48 Long-Range Carbon and 48 Mountain Carbon rifles represent the product line. As indicated, they feature a PROOF Research, carbon-fiber-wrapped, match-grade barrel that reduces the overall rifle weight. But these barrels become especially interesting when we consider that they boast of greater stiffness and disperse the heat better than traditional steel barrels. Tests indicate that overall accuracy is generally increased.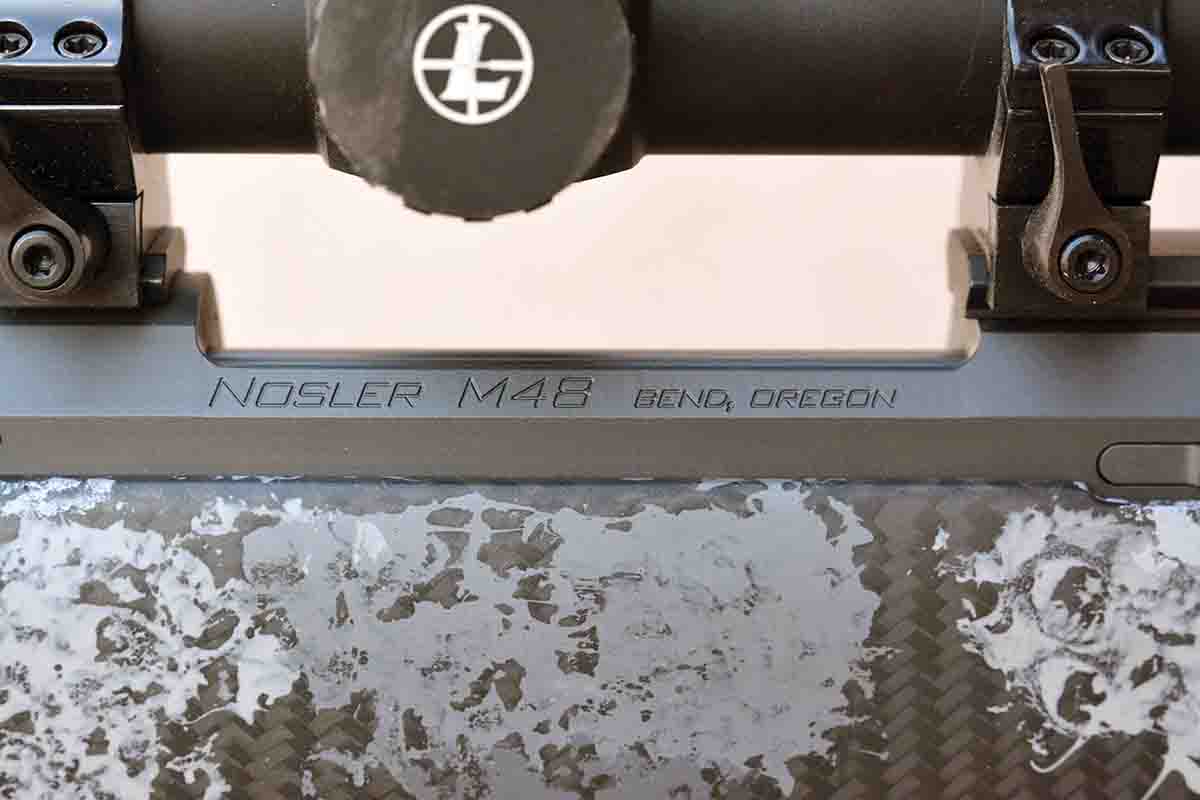 The Long-Range Carbon features a 26-inch threaded barrel with an outside diameter of .800 inch (measured just behind the thread protector). The finish is CERAKOTE sniper grey. The stock consists of a Manners MCS-T Elite Tac carbon fiber in Midnight Camo that is glass and aluminum-pillar bedded. It features a high-profile cheekpiece to accommodate large scopes and is ideal for shooting prone, but this design also accommodates other practical field shooting positions including offhand, sitting, etc. The forearm has a palm swell and is textured. While it looks heavy due to the bulky nature of both the stock and the barrel, it weighs a mere 7 pounds.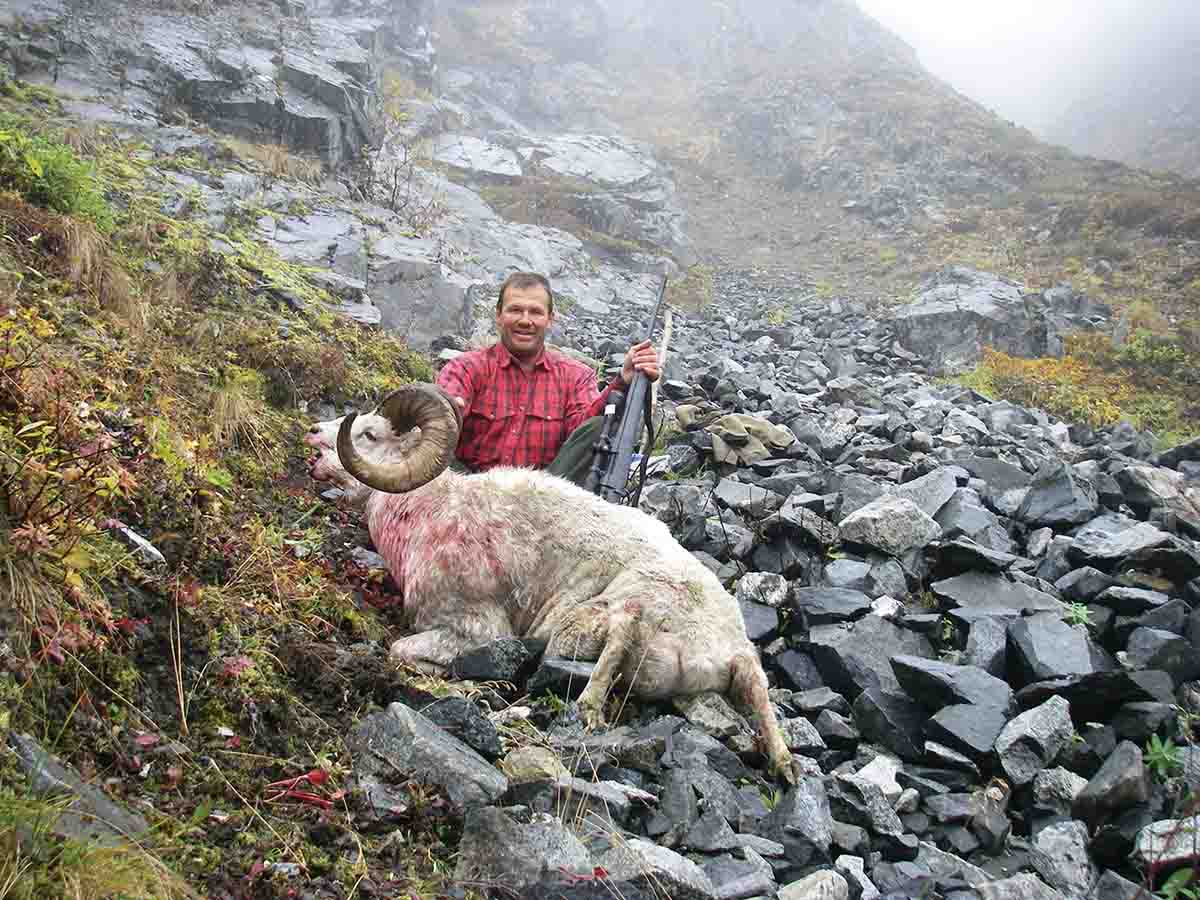 The Model 48 Mountain Carbon also features a Manners stock, but is offered in Granite Green or Shale Gray and features a more traditional profile with a standard-shaped pistol grip, but it still retains a high comb to accommodate scopes with a large objective and properly position the shooter's eye with the center of the scope and also serves to obtain proper cheek weld. Again, a PROOF Research, carbon-fiber-wrapped, match-grade barrel is installed, but is shortened to a handier 24-inch length to help prevent excess velocity loss from high-performance cartridges and features a "Sendero Light" contour to further reduce weight. The total weight is 6 pounds.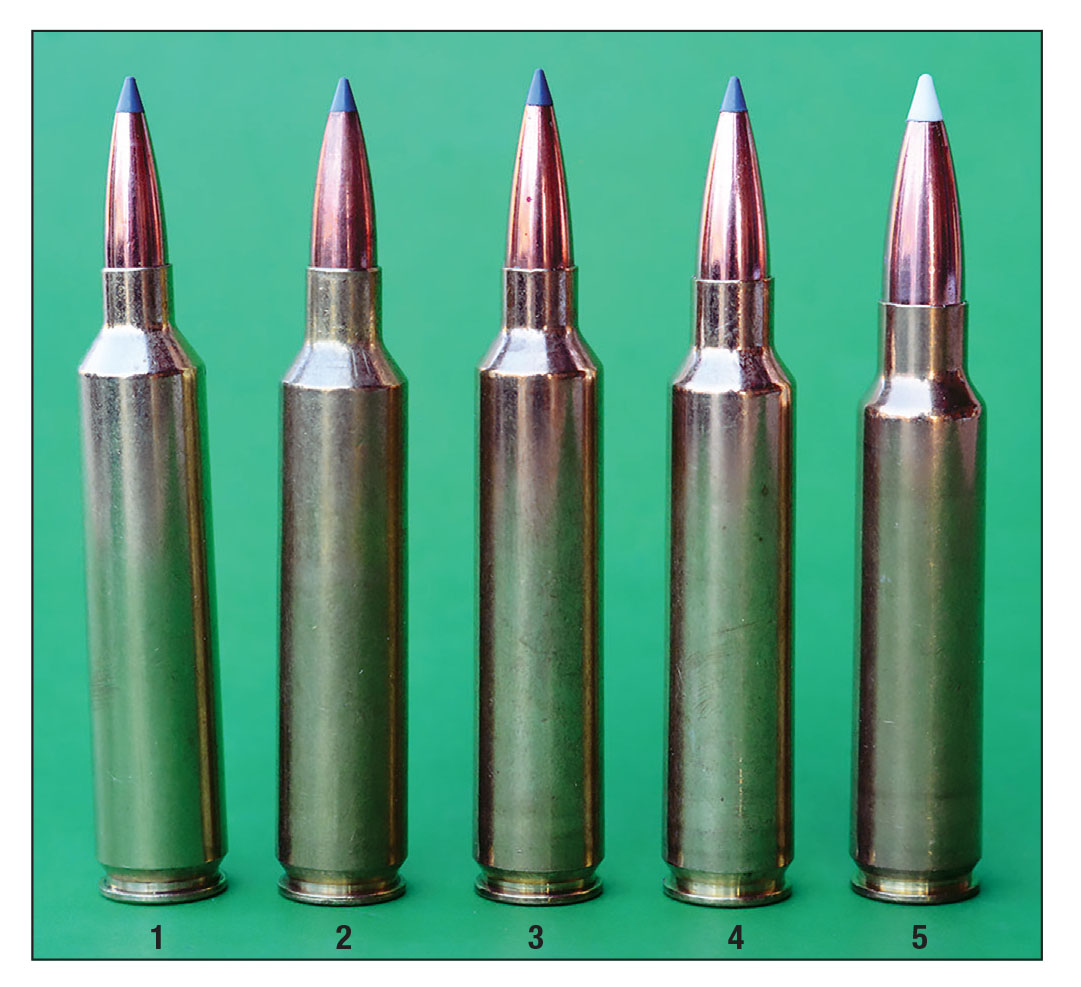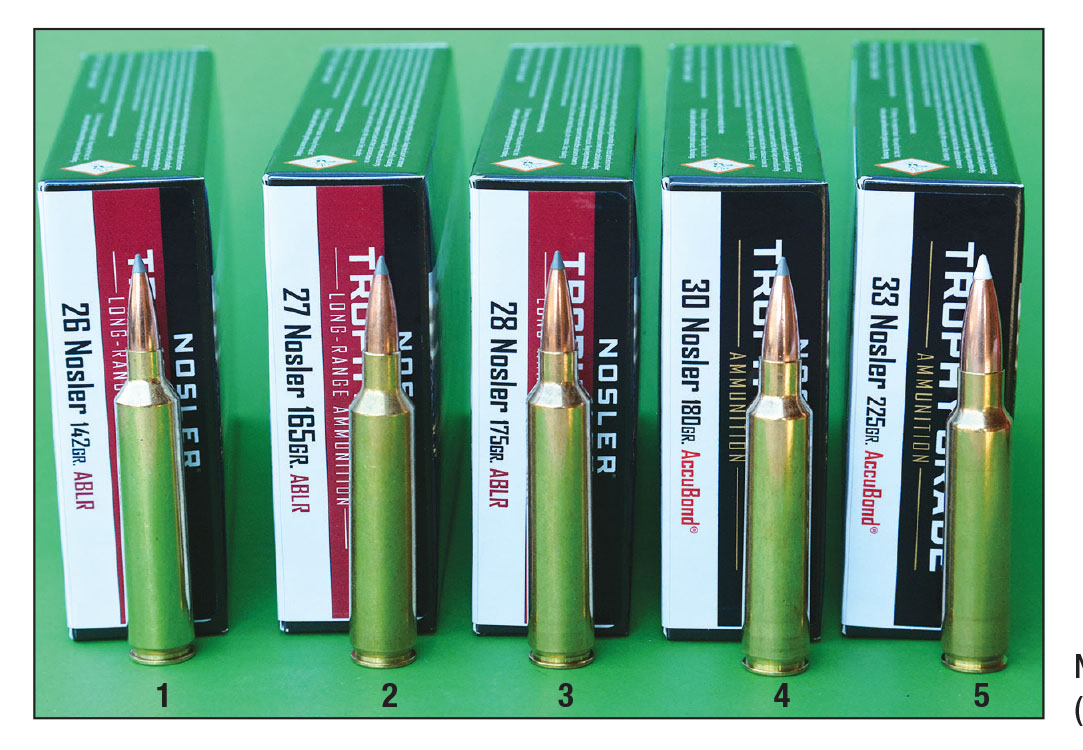 Incidentally, the Model 48 action remains largely unchanged during the past 19 years. It is not innovative; rather it consists of proven design features and boasts of precision machining with a trued and faced receiver that is secured to the stock via two guard screws. The bolt features twin forward locking lugs, a 90-degree bolt lift, a push-feed system with a reliable rotating Sako-style extractor, countersunk bolt face, a proven gas-protection system, 3-plus-1 round capacity, two-position safety, adjustable Timney trigger and hinged floorplate.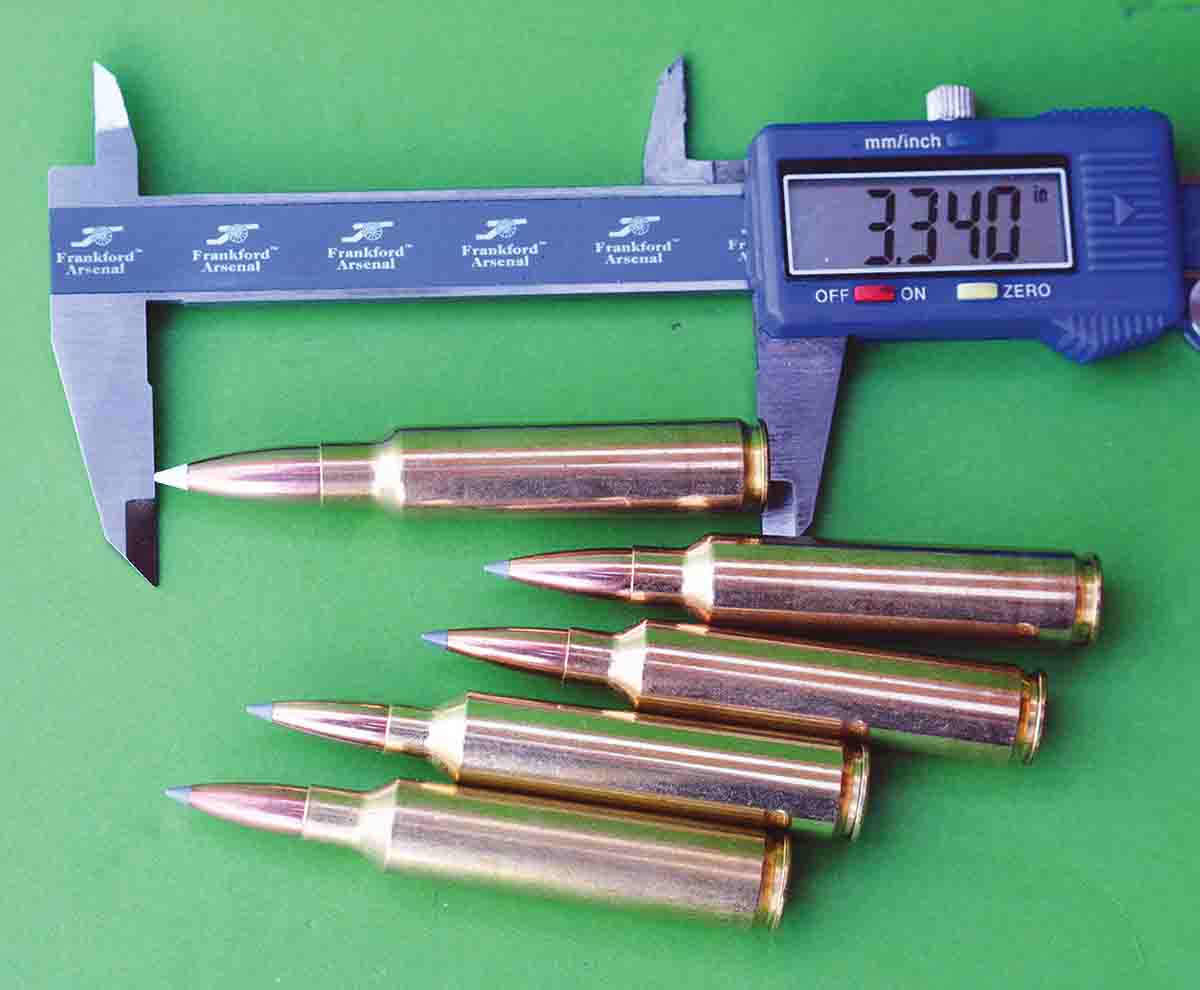 In going back through my notes of testing, evaluating and hunting with at least seven Nosler rifles, in every instance, they proved capable of .5-MOA or sub .5-MOA accuracy with quality, premium-style factory ammunition, or carefully developed handloads. These are precise and worthy rifles for the discriminating shooter and hunter. Manufacturers' suggested retail price for either of the above rifles is just over $3,200, which is a bargain when compared to similar custom-built rifles.
The Nosler story is a wonderful example of a man that had a passion, recognized the need for a better bullet, then went to work to design and build a truly innovative product, combined with a healthy dose of hard work and determination. This is a classic example of a pioneer and the free-enterprise system at work! But the story didn't end there, as John Nosler continually designed new and innovative products, manufacturing methods and wisely expanded his business to include his family. His family has managed to continually expand Nosler, Inc. and constantly offers new and innovative products. I had the pleasure of knowing John Nosler personally (1913-2010). Even with his aging years, he was as sharp as a tack, witty, still enjoyed hunting and retained great enthusiasm for the business that he founded 75 years ago.