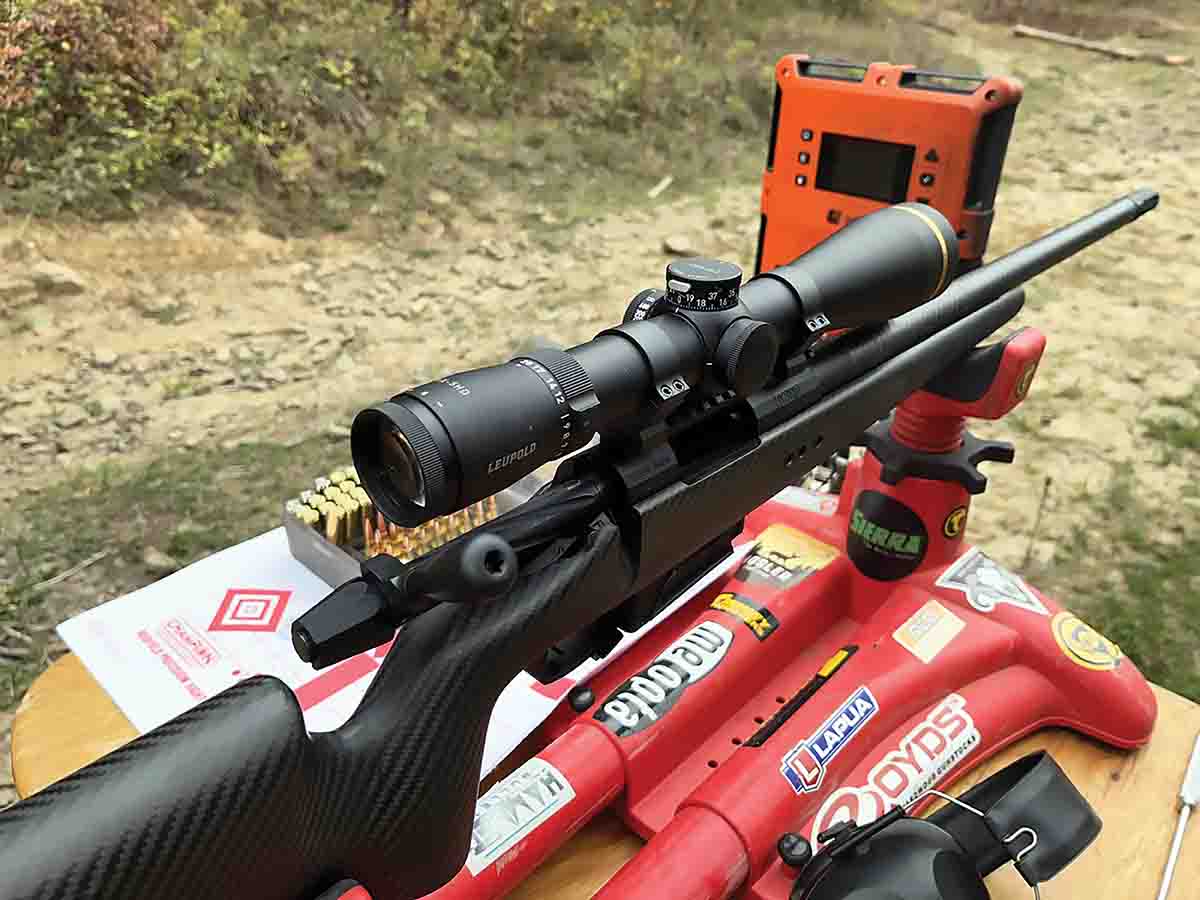 A quick glance at Hardy Rifle's Hybrid bolt action creation reveals a futuristic look comprised of high-grade aluminum and stainless steel, carbon and more carbon. The lightweight tactical-style stock is made of carbon, the intricate weave showing through the clear hard coat. The barrel is comprised of more carbon (stainless steel barrels available). This gives the rifle a feathery 6.7-pound bare weight (9.6 pounds when fitted with a 24-inch stainless steel barrel) – 9.48 pounds with scope and bipod attached, 8.8 pounds as tested without the included quick-detach Hardy bipod. More remarkable, the rifle includes a quick-change barrel and bolt-head system, allowing a single Hybrid Rifle to accommodate an impressive variety of cartridges large and small. It is incredibly versatile and as sleek as a Formula 1 racecar.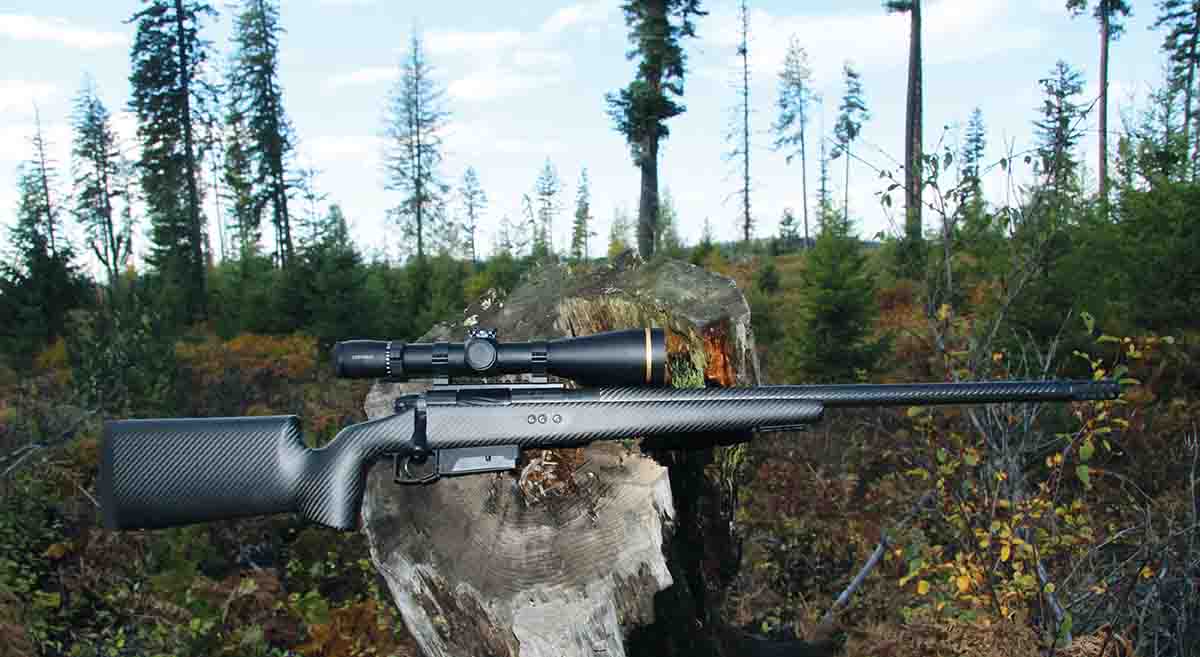 Hardy Rifles, and the Hybrid under discussion here, are manufactured in Manawatu, New Zealand, and distributed in the U.S. and Canada by Legacy Sports International, the same folks who supply the popular Japanese-made Howa rifles. The Hardy Rifle was founded in 2006 by Dan Hardy, a former New Zealand Army armorer and weapons engineer. The design is the epitome of deeply complex engineering resulting in a design that is extremely easy to assemble, while also offering absolute shooting utility. The advanced design features do come at a price, but there is no arguing the Hardy Hybrid is hugely unique and real-world functional.

The Hybrid's ability the change cartridge capabilities in a matter of minutes – simply and without the need for even the most rudimentary gunsmithing skills – is really its best selling point. The test rifle arrived in a quality foam-fitted hard case measuring 5-by-12.5-by-34.5 inches and holding everything to make the rifle function, including barrel and bolt assembly/disassembly tools, steel box magazine and quality bipod. The takedown/interchangeable barrel system creates these compact lines, making it an ideal travel rifle. The system allows traveling with two (or more) rifle barrels for one rifle, one each chambered in, say, big-game and predator-calling cartridges. Hybrid barrels are chambered in an assortment of rounds from 223 Remington to 338 Lapua. The case is substantial, but unfortunately, not airline ready, as it does not include locking capabilities. Compartments are provided for two barrels, a spare bolt head (sold separately), the tools required for cartridge changes, and a spare or cartridge-specific magazine (sold separately).
The barrel's receiver end includes a rounded tab at the 12 o'clock position that aligns action serial numbers with barrel cartridge designation. When the bolt is opened and drawn rearward and the barrel firmly seated, three side screws, accessed through holes in the carbon stock are tightened in a designated order using the provided T-handle torque wrench, turning until two clicks are heard. The barrel is then firmly anchored and headspaced correctly. Reversing this procedure, turning each locking screw just 180 degrees, frees the barrel, which is extracted with minimal effort. Hardy promises the Hybrid will return to within 1 MOA of zero following takedown and reassembly, even after changing barrels chambered in different cartridges.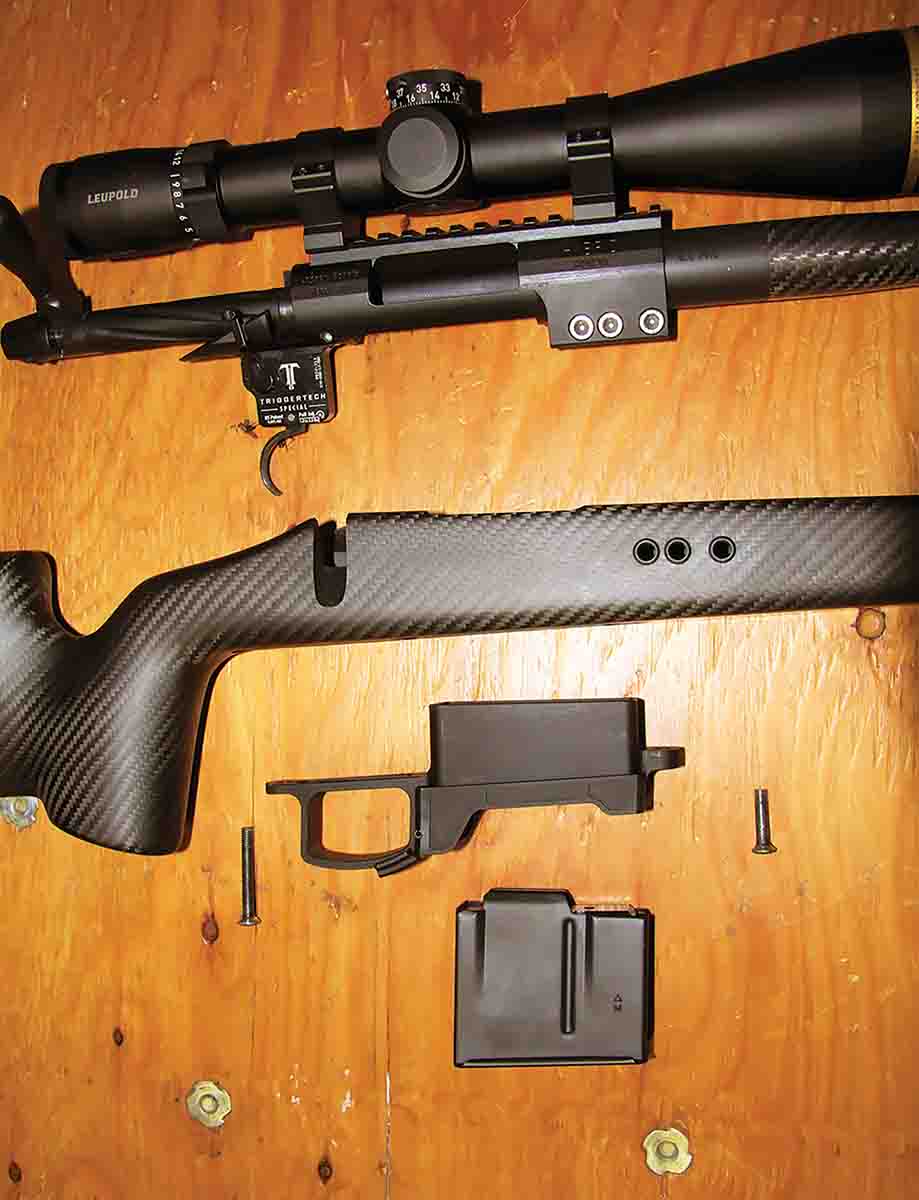 The test rifle's two 22-inch carbon-wrap barrels measured 1.225 inches in diameter at the steel breech, tapering to around .95 inch just behind the muzzle threads/muzzle brake. Both the 6.5 PRC and 243 Winchester barrels tested include 1:8 rifling twist to stabilize long-for-caliber bullets. As a stand-alone, with brake installed, each barrel weighed 3.24 and 3.29 pounds, 243 Winchester and 6.5 PRC, respectively. Hardy manufactures barrels to meet or exceed the Sporting Arms and Ammunition Manufacturers' Institute (U.S.) and Commission Internationale Permanente (Europe) standards, each CNC gun drilled, spill-bore reamed and precision-button rifled to ensure consistency. They are hand lapped for maximum accuracy. The Hardy Directional Tunable Muzzle Brake is milled from 400-grade stainless steel. These brakes reduce recoil and muzzle jump, but also allow tuning harmonics to suit specific loads through the lock-nut design.
The Hybrid receiver is rounded with faceted flats running its length and included an integral 20 MOA Picatinny rail. It is milled from premium 7075 T6 aluminum alloy including titanium content. Printed on the right side is Legacy Sports Reno, Nevada, to the rear of the ejection port, HYBRID and the serial number to the front. The left side is engraved HARDY New Zealand. The right-side thumb safety is a Remington-style two-position toggle, pulled back for safe while also allowing the bolt to function for unloading. The left side holds a rocker-style bolt release. The barrel locking block serves as the recoil lug, resting against the front edge of the milled-aluminum mag well.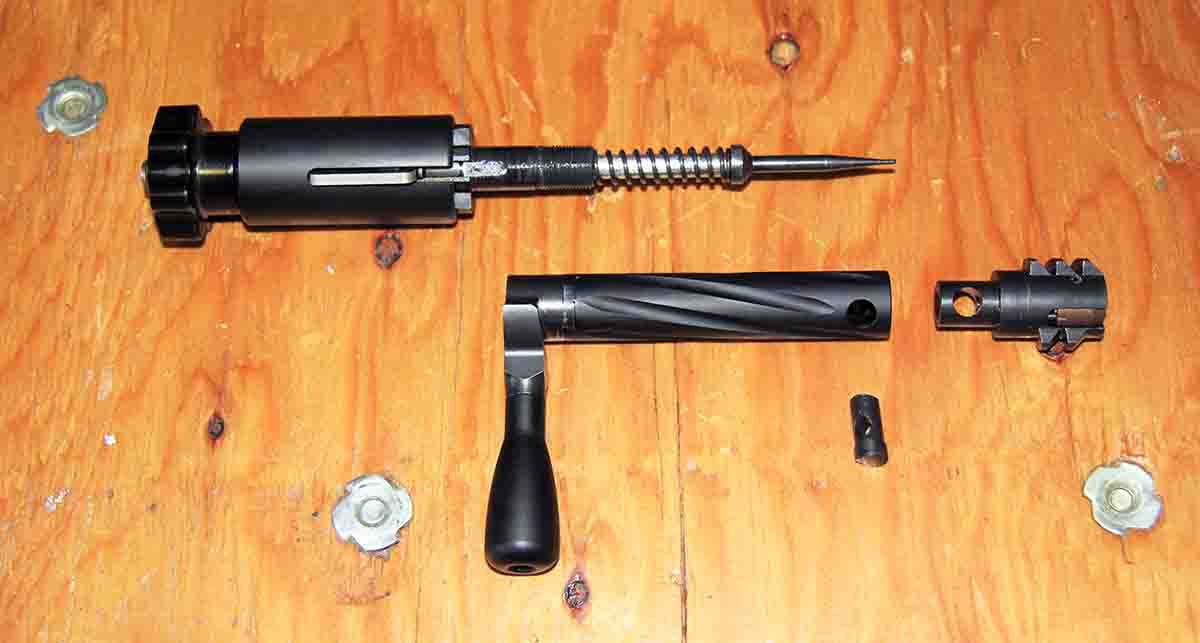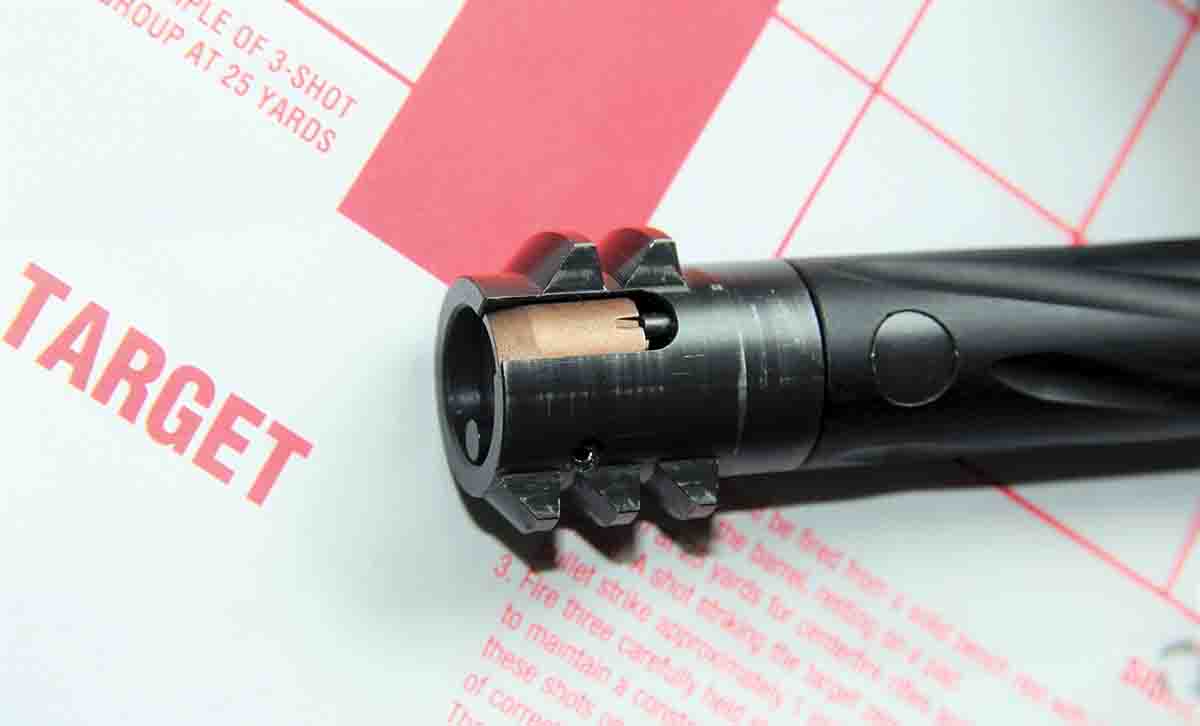 The spiral-fluted bolt holds a bolt head with an opposing/offset five-lug system, two right, three left, all with flat backs and angled fronts to ensure no binding. The bolt head and barrel extension holding the lug slots are milled from extremely tough 4140 steel and receive a black nitrate treatment. The offset, helical lugs rotate into this steel barrel extension, which makes the aluminum receiver possible. The bolt head includes a snap-over claw extractor and push-rod ejector. The bolt runs slickly in the receiver raceways. The cased rifle comes with a special shroud retraction tool with a screw-wheel top that allows quick bolt disassembly. The tool removes striker tension, which allows the unscrewing of the fire-pin assembly for removal. A cross pin through the bolt just behind the bolt head is then pushed out and the head drops out for easy swap-out. The retaining pin can only seat one way, ensuring the bolt head is correctly oriented. The oversized bolt handle can be removed/replaced with a Torq wrench.
Hardy points out that "primary extraction" is an underdeveloped but crucial stage of cycling any firearm and one of the major causes of malfunctions. In a conventional bolt action, for instance, primary extraction occurs in the last 5 to 10 degrees of bolt lift, more or less. This creates a considerable shock load on the extractor and brass until the extractor can disengage and eject the rifle cartridge. The Hybrid's advanced helical extraction system exerts primary extraction throughout the 90- degree bolt lift, spreading the load across a range 18 times greater, reducing stress on fired brass and extractor, which also substantially increases reliability.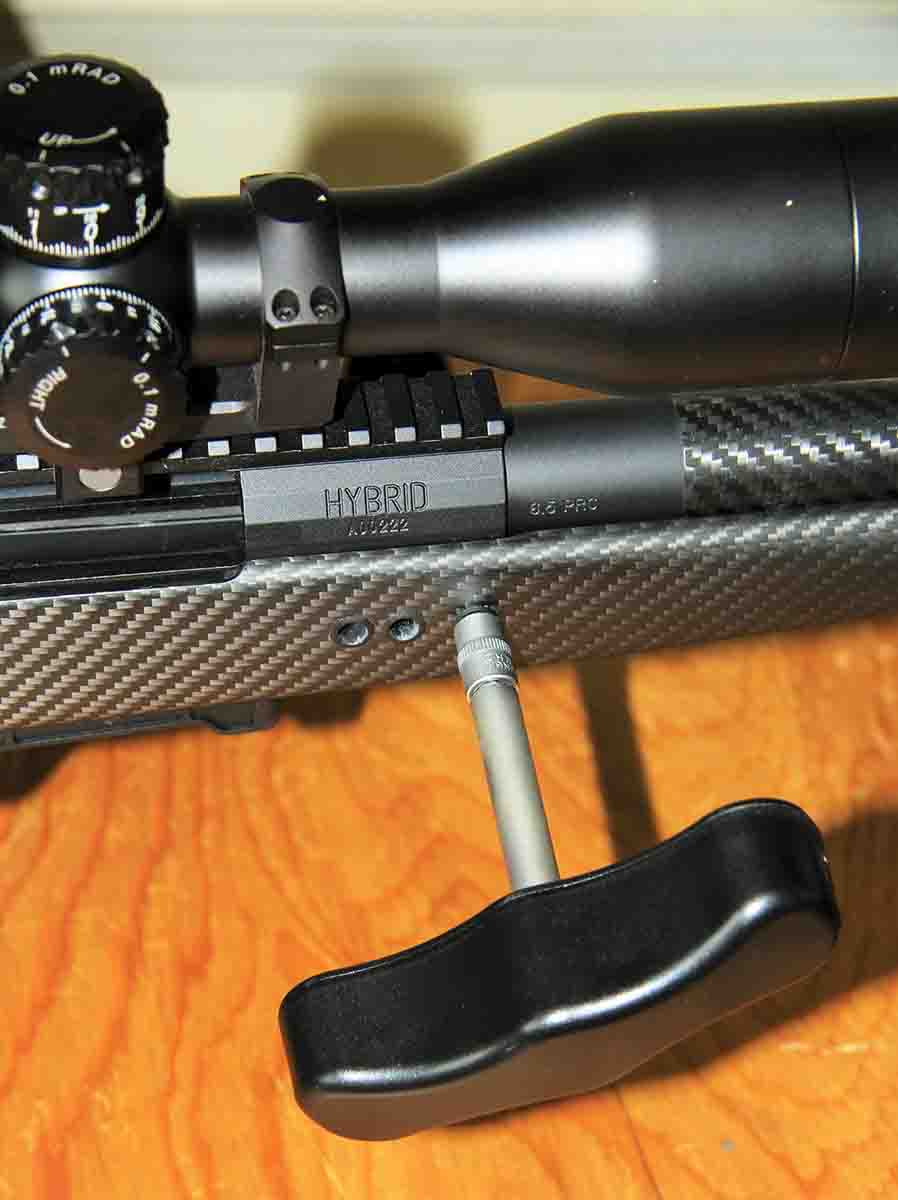 The rifle includes a premium TriggerTech trigger system that is user adjustable from 1 to 3 pounds. Cartridges feed from flush-fit steel magazines. These are Accuracy International-style, center-feed Accurate Mag magazines with a history of absolute reliability. They click into the magazine well positively and produce no rattles while handling the rifle. The magazine release is an ambidextrous system with push-downknurled flats on each side and flush with the wide trigger guard. The magazine well is generously beveled so the magazine pops in smoothly, dropping out on its own when the release mechanism is engaged.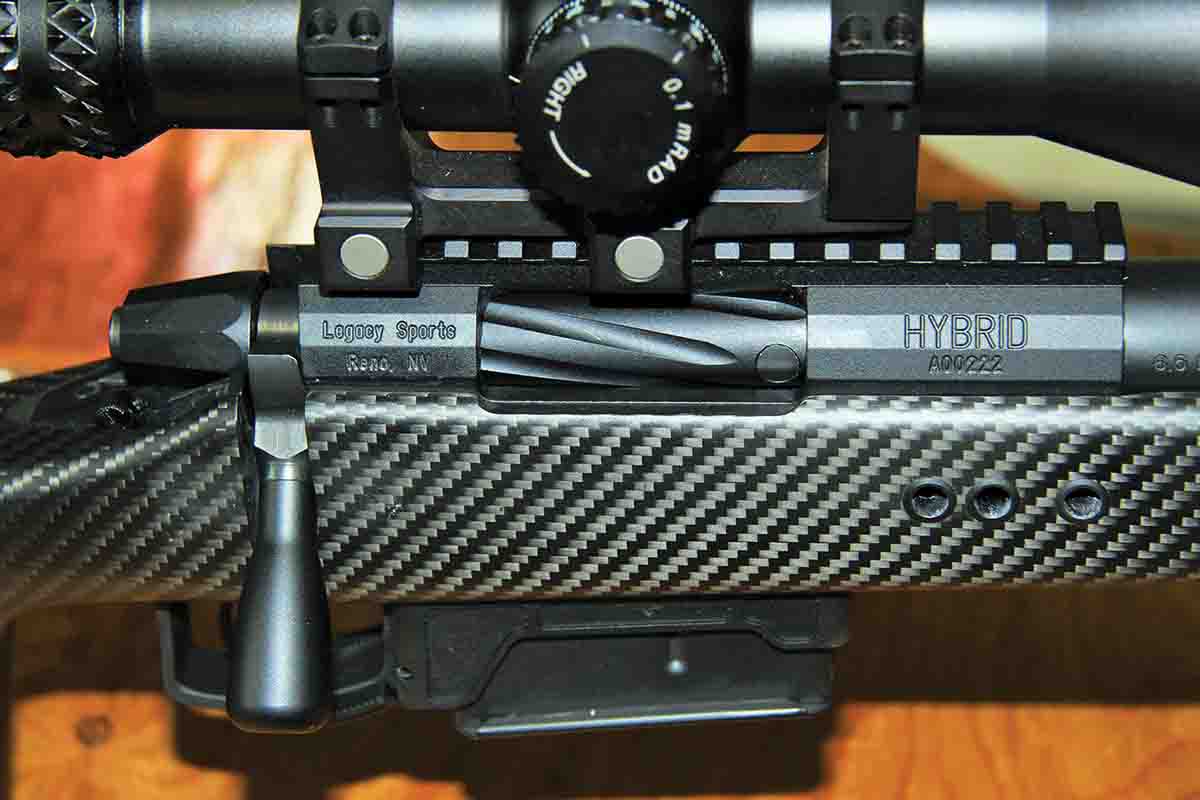 The molded carbon-fiber stock is built to offer uncompromising strength, rigidity and impact resistance – designed to perform with the largest cartridges Hardy chambers. The generously free-floated stock is extremely light, but the carbon shell rings slightly hollow when rapped with a knuckle. The design is highly ergonomic, featuring a near-vertical grip with pronounced palm swells and a high comb without drop. I expected the lightweight rifle to recoil aggressively, particularly while shooting 6.5 PRC rounds, but shooting this rifle proved remarkably pleasant. The test rifle stock was black as delivered by the mold, but ceramic-based paints can be added to create Forest, Tundra or Dusky camouflage patterns. There are flush-cup QD sling-swivel sockets front and rear and a half-inch-thick Italian-made, close-cell foam recoil pad over an 1⁄8-inch synthetic spacer. The two nitride-finished stainless steel action bolts include large Allen heads to prevent stripping or marring.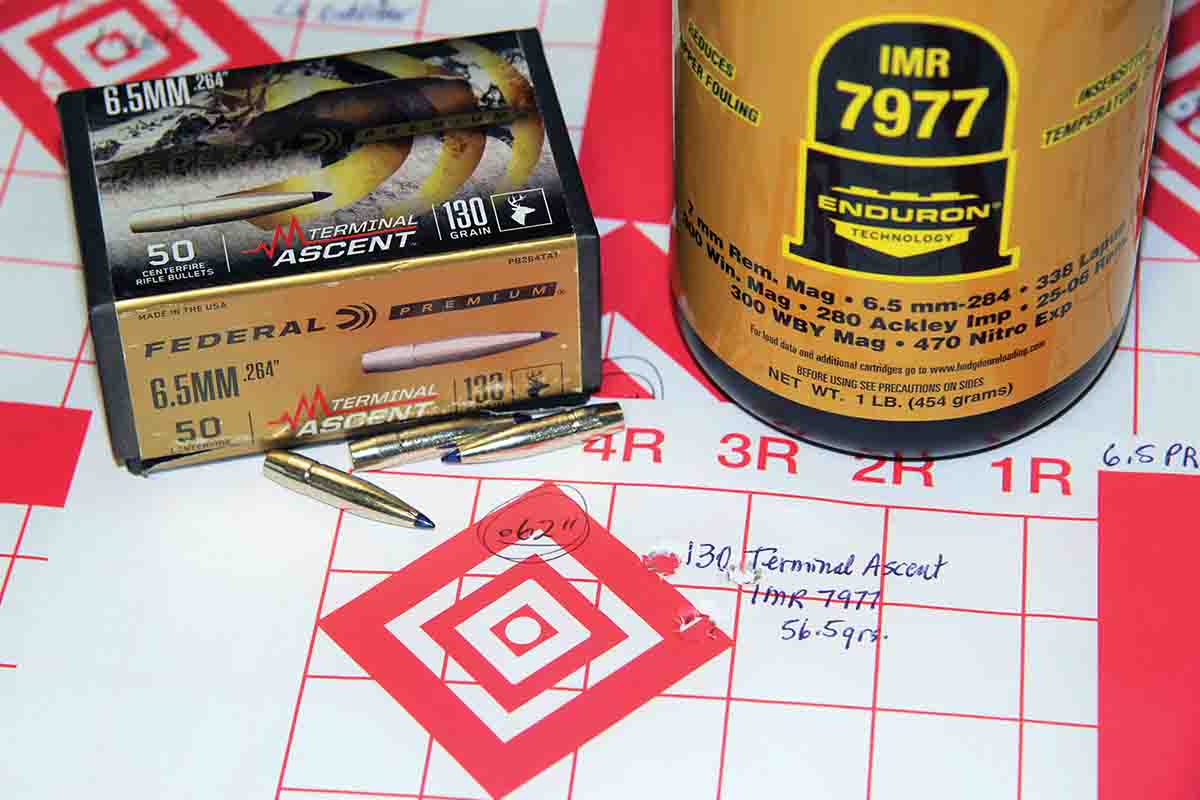 A three-slot length of Picatinny rail is secured to the forearm to hold the supplied bipod and withstand heavier recoil. The Hybrid Bipod includes rigid carbon legs, 5½ inches long with 3½-inch extensions. The legs are manipulated through a heavy-duty, aggressively-knurled twist-lock system, with all other hardware milled from brass and aluminum and leg angle controlled through spring-loaded buttons. A 3½-inch-long, skeletonized lever controls the tension on the large ball head, which allows leveling or folding the bipod forward when not in use. It includes a quick-release lever for fast removal and comes with padded rubber or steel-spike feet. I'm a serious bipod snob and I love this design.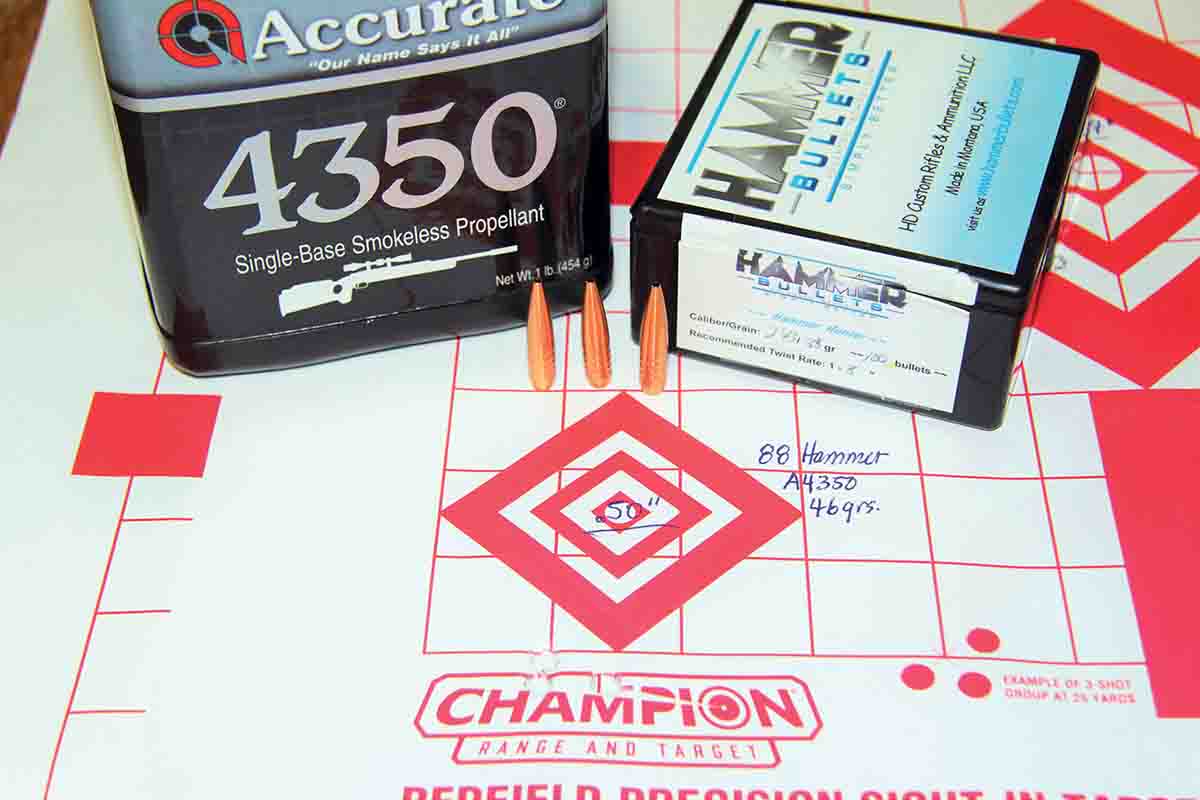 A Leupold VX-5HD 4-20x 52mm CDS-ZL2 scope was well suited to this rifle and the capabilities of the two barrels tested with this rifle. The scope is lightweight (23.2 ounces) and compact (14.7 inches long), yet highly versatile, including Duplex reticules, side parallax focus, complete fog and waterproofness and Leupold's "Professional-Grade Optical System" designed, machined and assembled in the U.S. The 34mm-tubed, second focal plane (SFP) optic allows 75 MOA of windage/elevation travel at 20 MOA per full revolution for elevation and 15 MOA per revolution for windage. Quarter-inch corrections permit 38 MOA of elevation travel from center. The windage turret is screw-cap covered, the exposed elevation turret features Leupold's CDS ZeroLock 2 dial, with Custom Dial System (CDS) available. This optic was mounted in medium-height Leupold PRW2 Precision Fit Rings.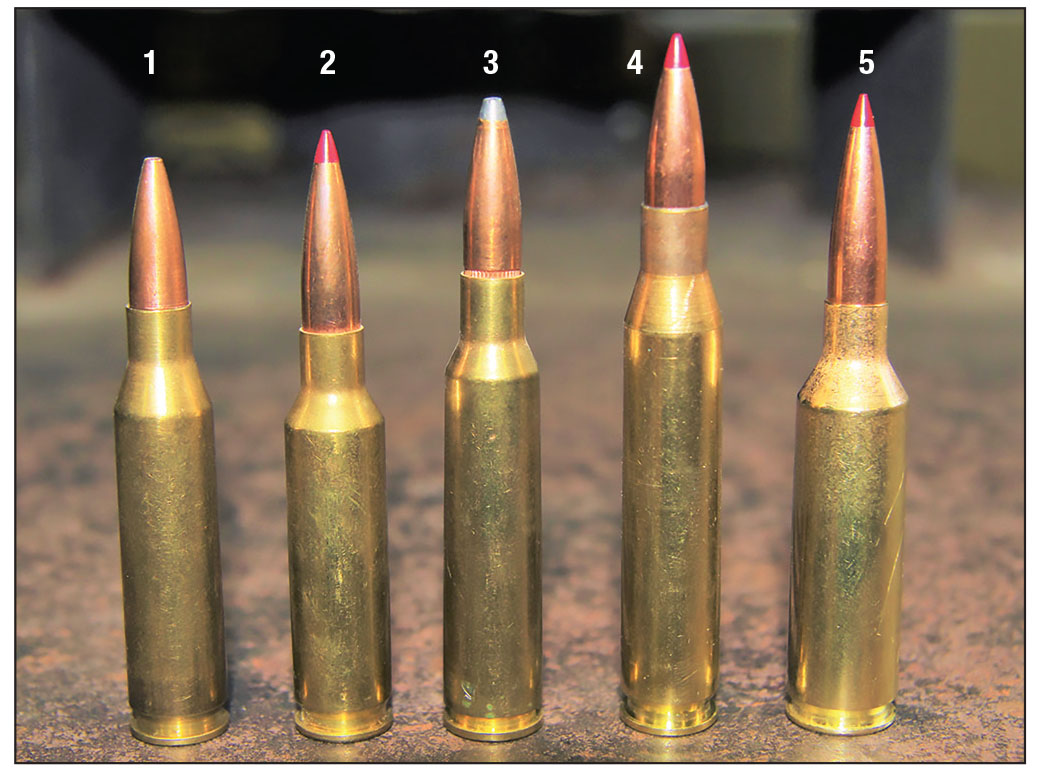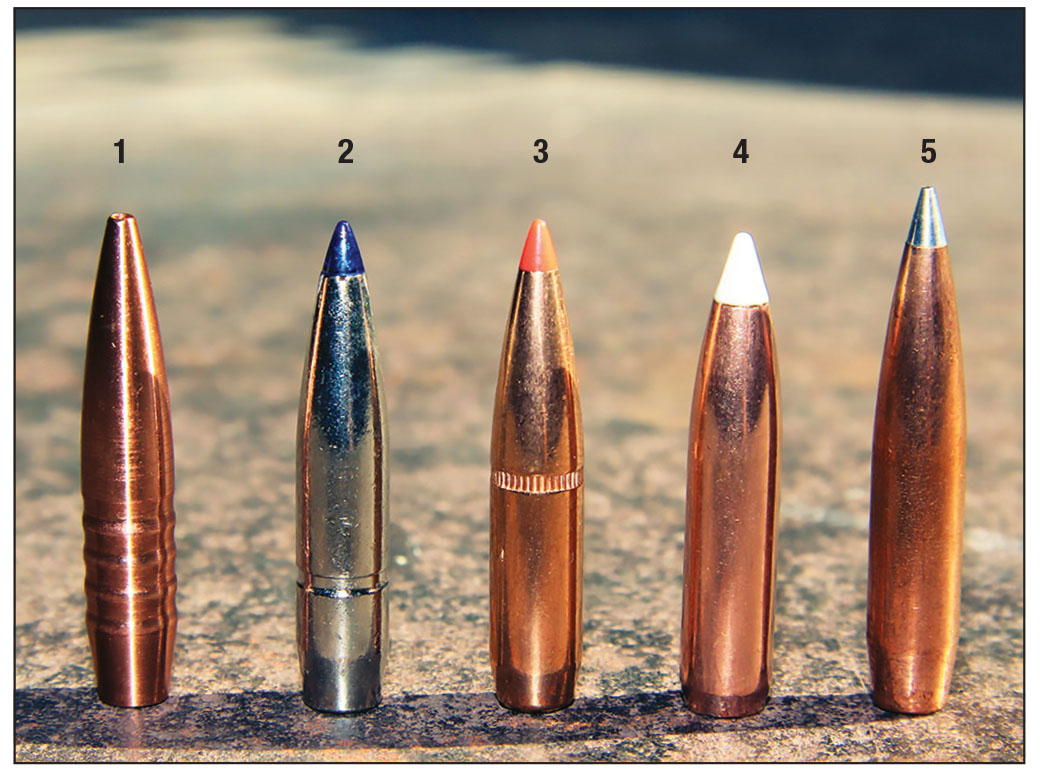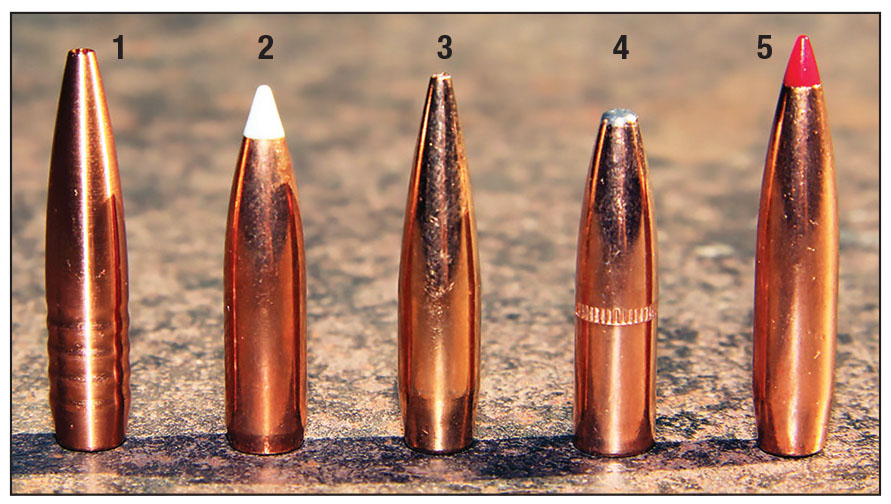 Ordering both 6.5 PRC and 243 Winchester barrels allowed me to test the Hybrid's switch-barrel system. The 6.5 PRC (Precision Rifle Cartridge) is essentially a magnum version of the 6.5 Creedmoor that provides 200 to 300 fps velocity gains. It sits between the defunct 6.5 Remington Magnum and 264 Winchester Magnum in case capacity but is a decidedly modern design. Its pleasant shooting characteristics have made it extremely popular of late. Created from a 375 Ruger parent case, it provides reasonable barrel life combined with extreme-range capabilities through fast twist rates and generous freebore allowing heavy-for-caliber bullets that have high ballistic coefficients without intruding into powder space. It includes a maximum overall loaded length (OAL) of 2.955 inches. The 6.5 PRC thrives on slow-burning powders such as Hodgdon H-1000, IMR-7977 and Alliant Reloder 26.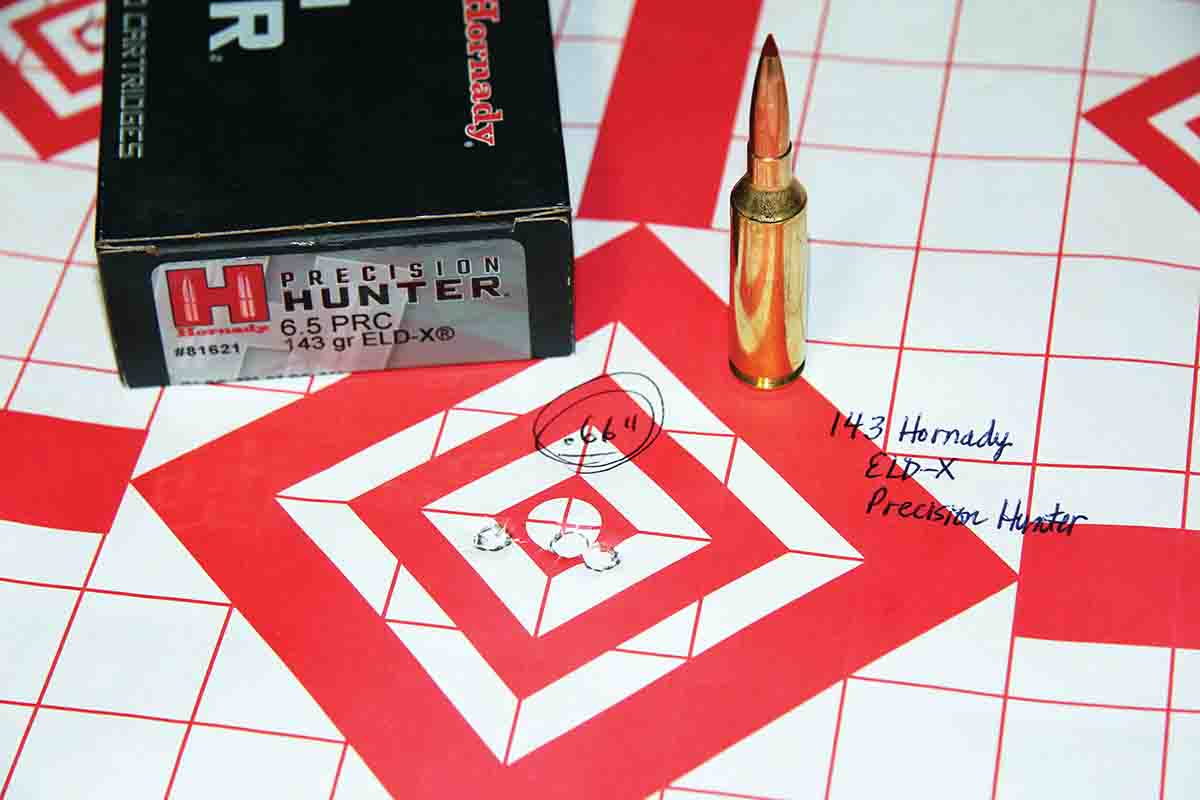 The classic .243 Winchester should require no introductions.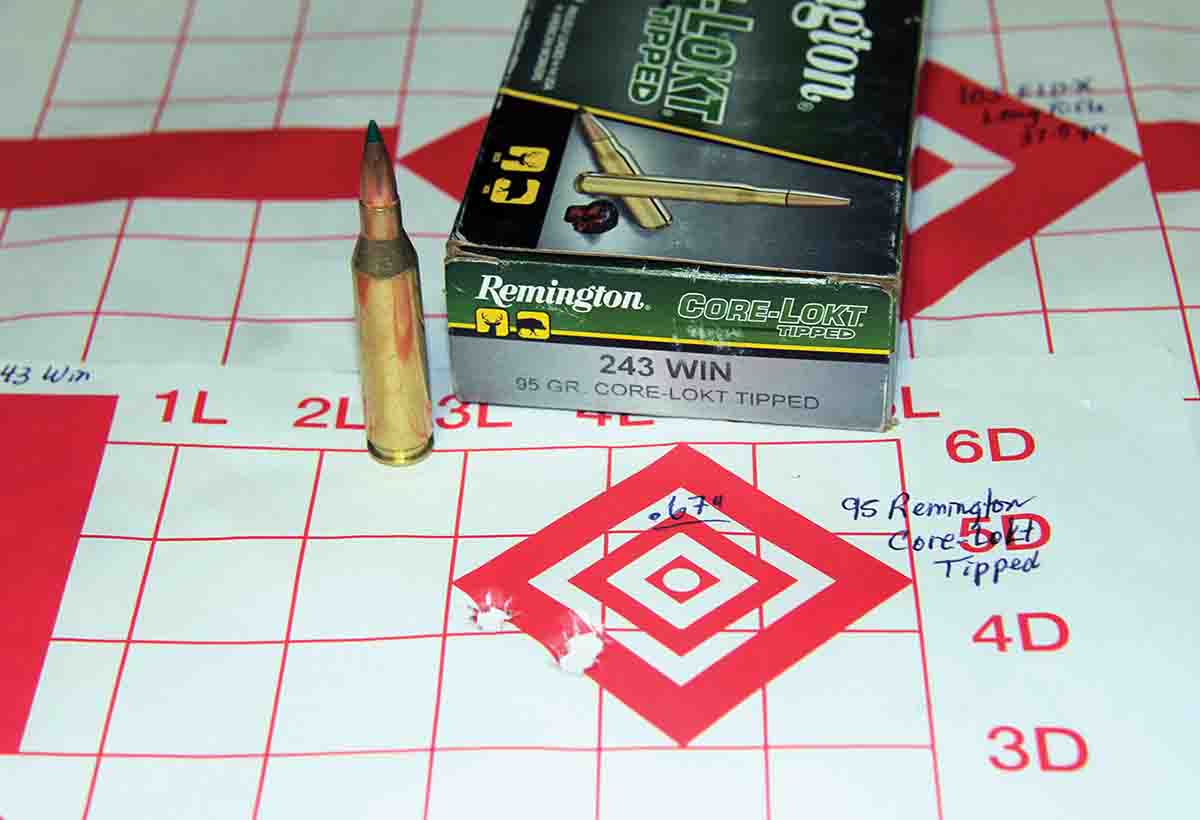 For the 6.5 PRC, I secured a set of Hornady Custom Grade full-length dies and factory ammunition from Hornady (130-grain CX Outfitter, 143-grain ELD-X Precision Hunter and 147-grain ELD Match) and Nosler (140-Grain Trophy Grade/Ballistic Tip). No handloading cases were available before press time, so factory rounds used for sight-in and getting a feel for the rifle created empty cases for handloading.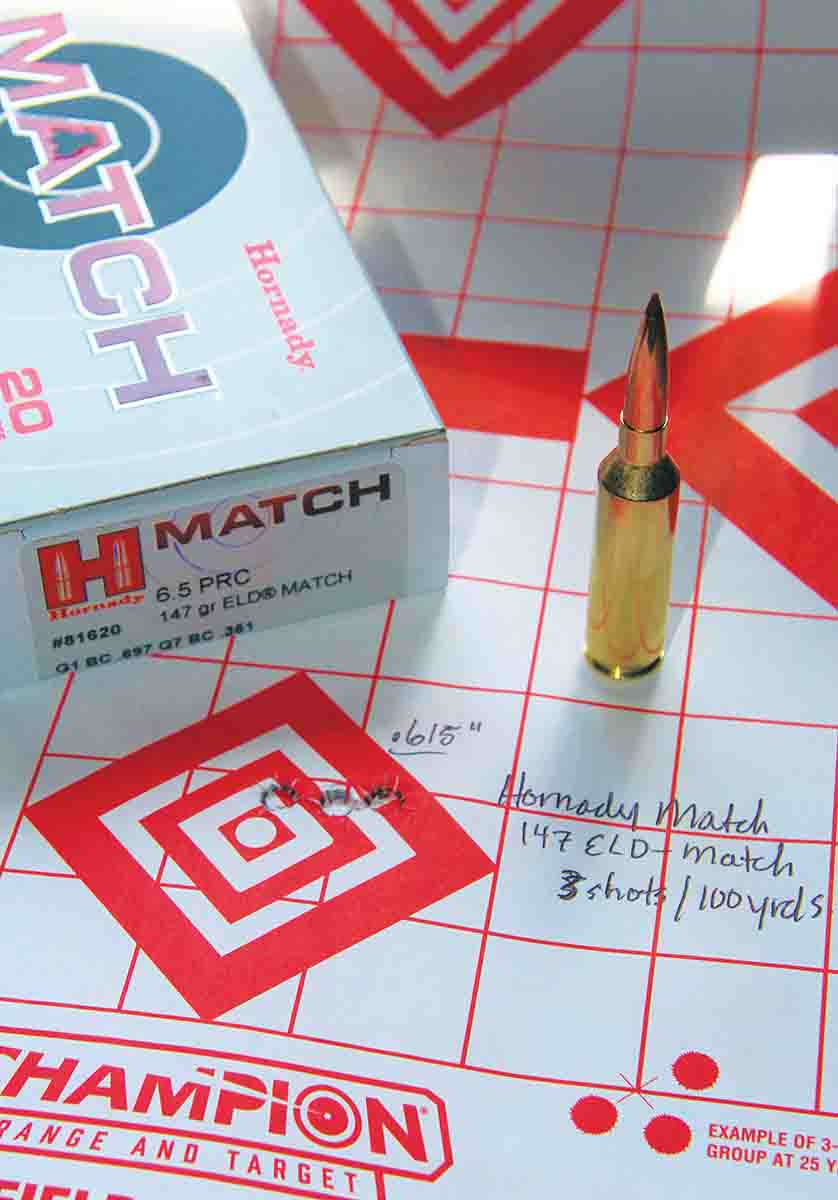 I was well stocked for the 243 Winchester, having Hornady (90-grain ELD-X Precision Hunter and 95-grain SST Superformance) and Remington (95-grain Core-Lokt Tipped) factory ammunition, new Hornady brass and a National Match (NM-C) Die Set from Redding on hand. A decent stock of 6mm and 6.5mm bullets were available. Hammer Bullets' 88-grain Hammer Hunter, Nosler 90-grain Nosler AccuBond, Berger 95-grain Classic Hunter, Speer 100-grain Grand Slam and Hornady 103-grain ELD-X bullets were chosen for the 243. Hammer Bullets' 124-grain Hammer Hunter, Federal Premium 130-grain Terminal Ascent, Hornady 140-grain SST, Nosler 140-grain AccuBond and Hornady 153-grain A-Tip Match served the PRC.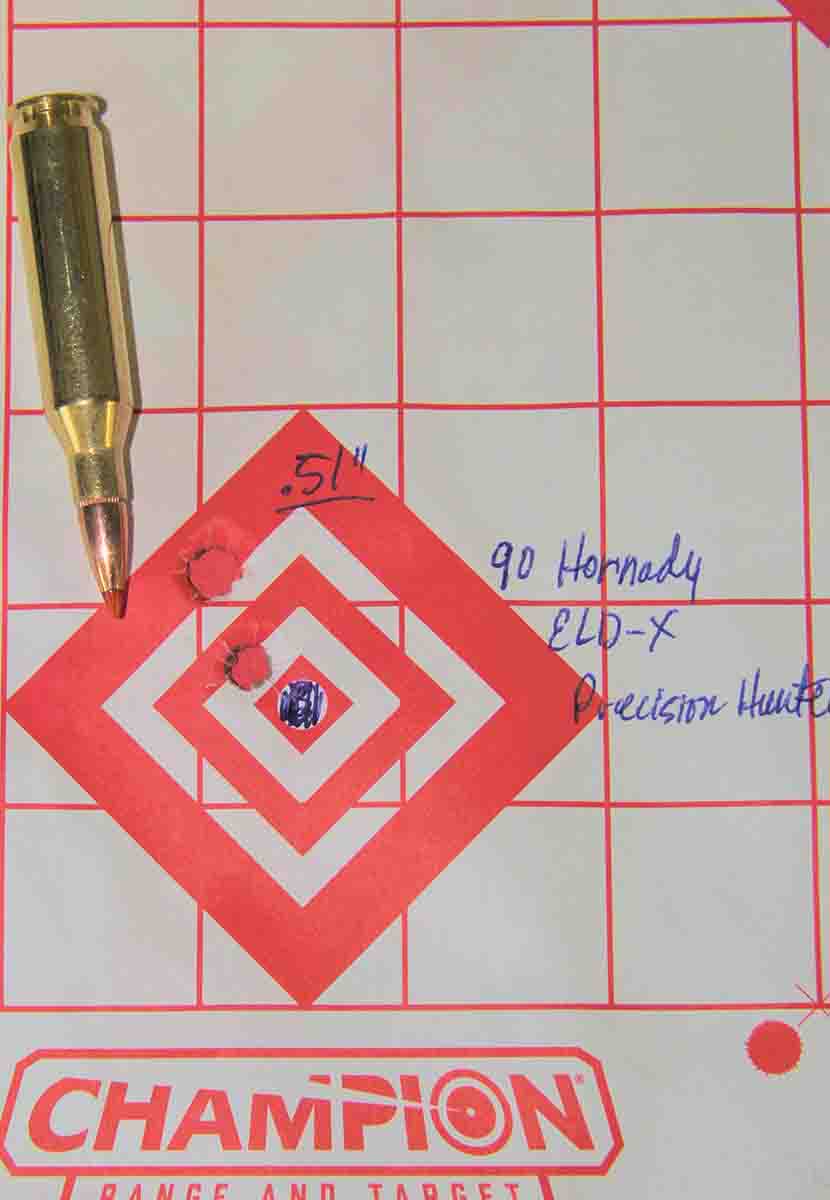 Overall, the lightweight Hardy Hybrid proved quite comfortable to shoot, even the larger 6.5 PRC cartridge producing very manageable recoil. The rifle proved 100 percent reliable through a wide range of rounds and two different cartridges, cycling and feeding slickly from the box magazine. The Hybrid also proved accurate, the PRC barrel produced average .82-inch groups with four factory ammunitions and .87 inch with five handloads; the 243 Winchester barrel printed .68-inch average groups with three factory rounds and 1.21-inch groups with five handloads. This average skewed by one especially lackluster group assembled with the Speer Grand Slam. The best PRC groups measured .62 inch at 2,826 fps with Hornady Match 147-grain ELD Match factory loads, and .62 inch at 2,829 fps shooting Federal Premium 130-grain Terminal Ascent bullets seated over 56.5 grains of IMR-7977. With the 243 Winchester, the best factory load printed .51 inch at 3,056 fps, while the best handload was .50 inch at 3,207 fps using an Hammer Hunter 88-grain bullet and 46 grains of Accurate A-4350.
This is a solid hunting rifle with the added convenience of Hardy's well-engineered takedown/switch-barrel/bolt head system. It is a rifle that carries easily, though that feathery mass does not create a shoulder thumper. All around, shooting the Hardy Rifle was a wholly pleasant experience.