It is almost impossible to correct factual errors about guns that have been repeated for decades. A most persistent error of fact is that the Imperial Japanese Army's (IJA) World War II small arms were crude, poorly made and dangerous to fire – junk. They were not; at least not until the last-ditch rifles were made near war's end, and it's doubtful if any of those saw action.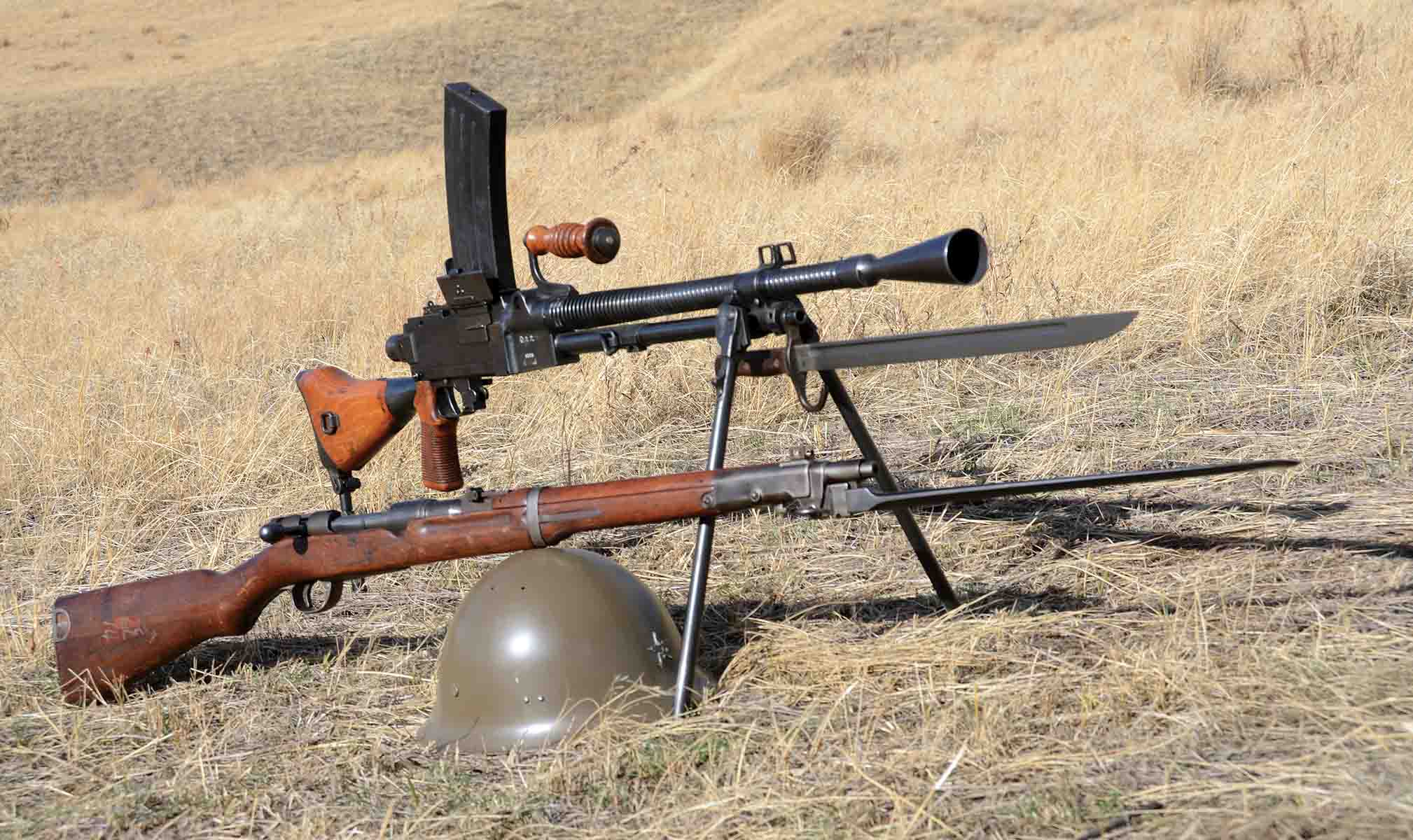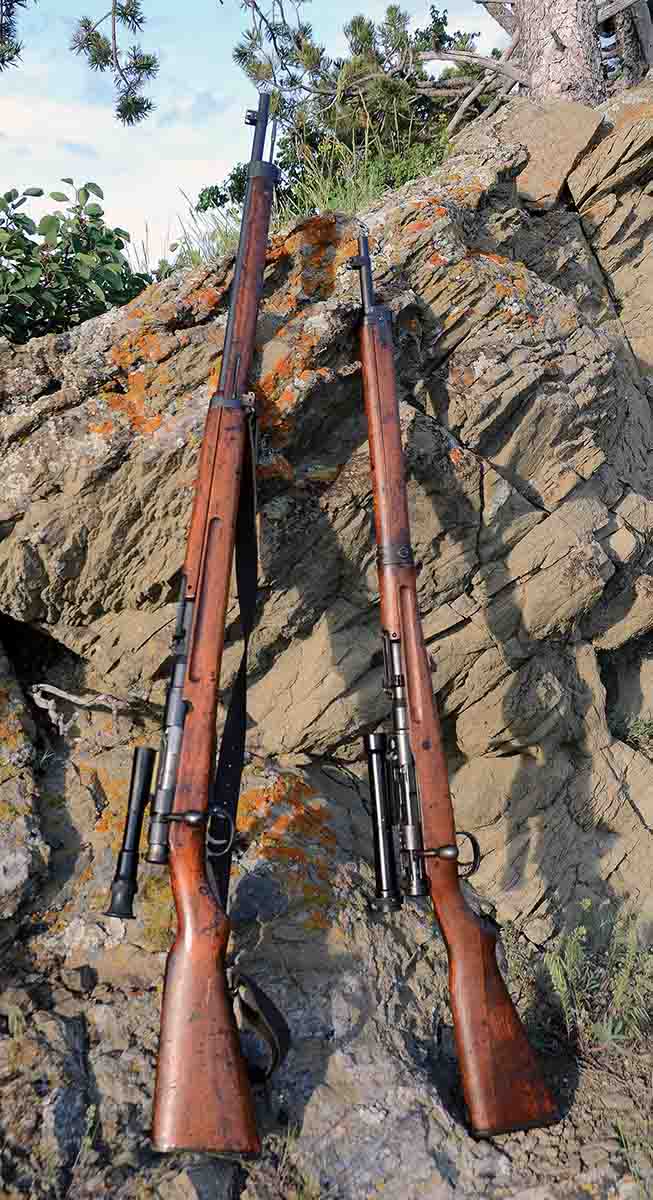 Prewar-manufactured rifles and carbines, collectively nicknamed Arisakas, had metal work and finish on a par with most nations' military bolt actions. Although, their stock wood was never equal to good American walnut on Model 1903 Springfields or the laminated wood Germany started using on midwar K98k Mausers.
The above should not be construed to mean the IJA fought with perfect small arms. However, their faults were not in workmanship; they were in design and doctrine for use. In regard to doctrine, Japanese officers considered rifles as little more than handles for bayonets. This fact dovetails with the stress of officers who were trained for night fighting. Aimed fire with rifles at night is a near impossibility, so hetai (infantrymen) training centered upon closing with the enemy and using bayonets.
At the war's beginning, which for Japan was 1937 on mainland China, the standard-issue infantry rifle was the Type 38 6.5x50mm that had been adopted in 1905. It was a Mauser '98-style bolt action with a five-round integral box magazine loaded by means of stripper clips. In basic form, Type 38s differed from most Mauser military rifles only in detail. Instead of a circular knob on the bolt handle, they had an elongated version. The safety was a large, knurled steel cap at the end of the bolt. Moving it with your fingers is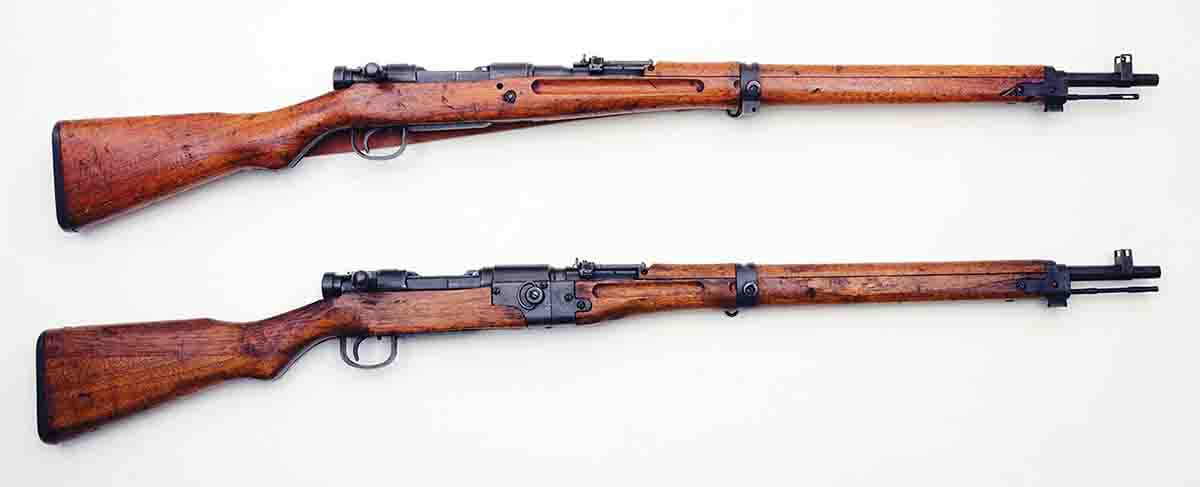 awkward for shooters used to a pivoting lever as found on most military Mausers, because the Japanese safety was meant for rotation by the palm of the hand. There is a small notch in the bolt cap. When the small notch is pointed to the left, the rifle is ready to fire. When it is moved to the 12 o'clock position, the rifle is set to "safe" and the bolt is locked shut. Another Type 38 feature that puts many modern shooters off is that the firing pin is cocked when closing the bolt.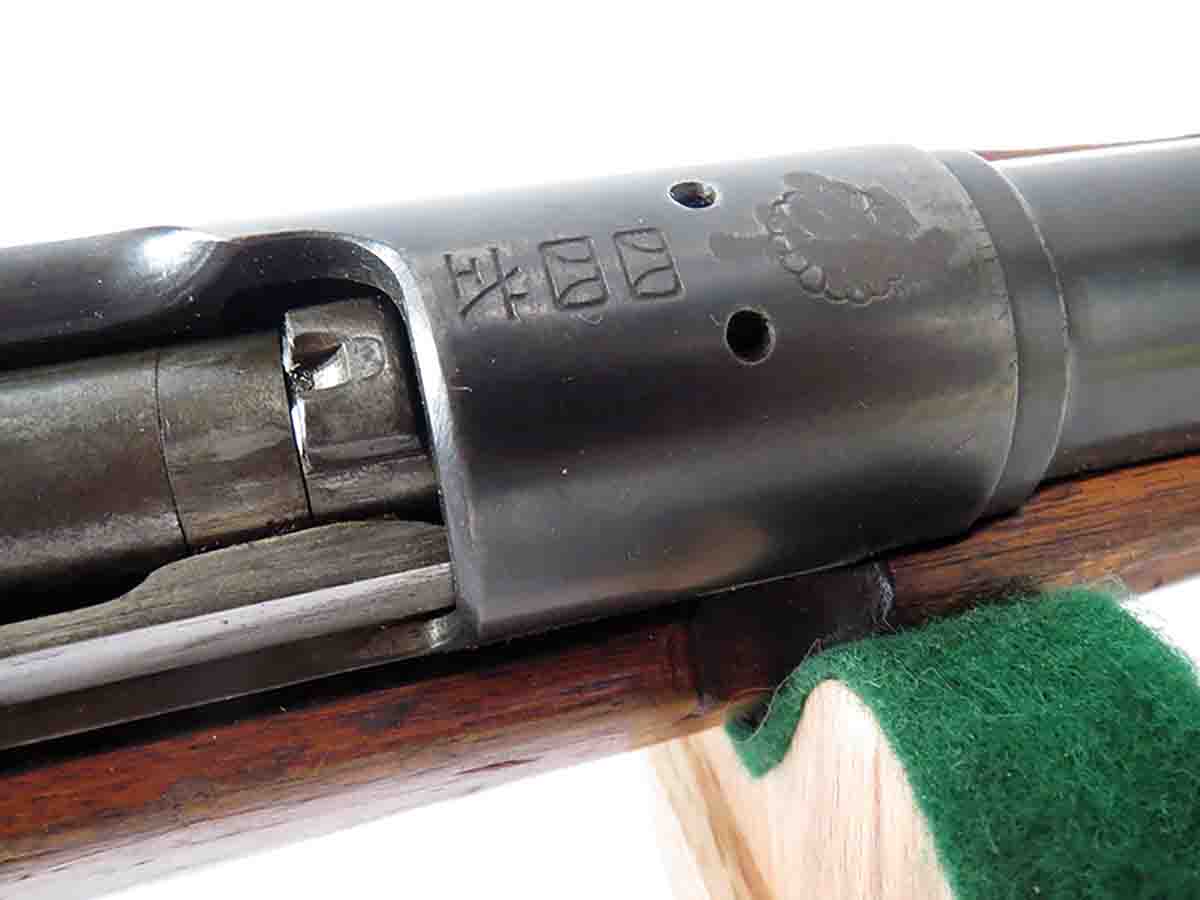 As stated, rifles were considered bayonet handles, so Type 38s were fitted with 31.5-inch barrels for an overall length of 50 inches and a weight of about 9 pounds. Sights on most Type 38s included a simple open rear and a blade front with strong "wings" to protect it from damage in bayonet duels. The Type 38 rifle's rear sight in my collection is a peep style, but instead of being near the shooter's eye, it's out on the barrel where open sights are usually located. I have found that when shooting with the peep sight that far out, it works fine for slow fire, but in rapid-fire shooting it is easy to "acquire" one of the front sight's "wings" in the peep instead of the sight blade.
There were three other variations of the basic Type 38 6.5x50mm. The Type 97 sniper rifle is merely a Type 38 in all dimensions, but with a quick-detachable scope mounted to a rail on the left side of the action. The 2.5x scope is positioned to the left of the bore instead of directly over it. This makes using the iron sights possible at all times, and clears the action for loading with five-round stripper clips. Furthermore, neither scope nor mounts have any sort of adjustment. (Remember that Japanese rifles were deficient in design, not craftsmanship.) IJA doctrine required the scope to be carried in a hard case by the sniper and it was only installed when action was imminent.
To compensate for a lack of adjustability, the scope reticles had many lateral and numbered vertical hash marks on the crosshairs. IJA sniper training taught soldiers to use those markings to compensate for trajectory at various ranges, or for windage changes. Since the scoped rifles were zeroed at arsenals prior to being issued to troops, they probably were not perfectly zeroed at any distance for individual snipers. More likely, sniper trainees were told to memorize the various hash marks that put them "on" at specific distances. After several hundred rounds and uncounted hours attempting to shim my Type 97's scope mount in order to zero it perfectly, I gave up. It never stayed zeroed, and I found it easier to memorize the hash marks.
Going back to doctrine, the use of snipers by the IJA was radically different from most World War II armies. Most armies' sniper doctrine required long shots from chosen "hides" so there was a good chance of survival. For Japanese snipers, being sent into combat was nearly an assured death sentence. The soldiers were meant to stay in position, hopefully taking several enemies, until killed.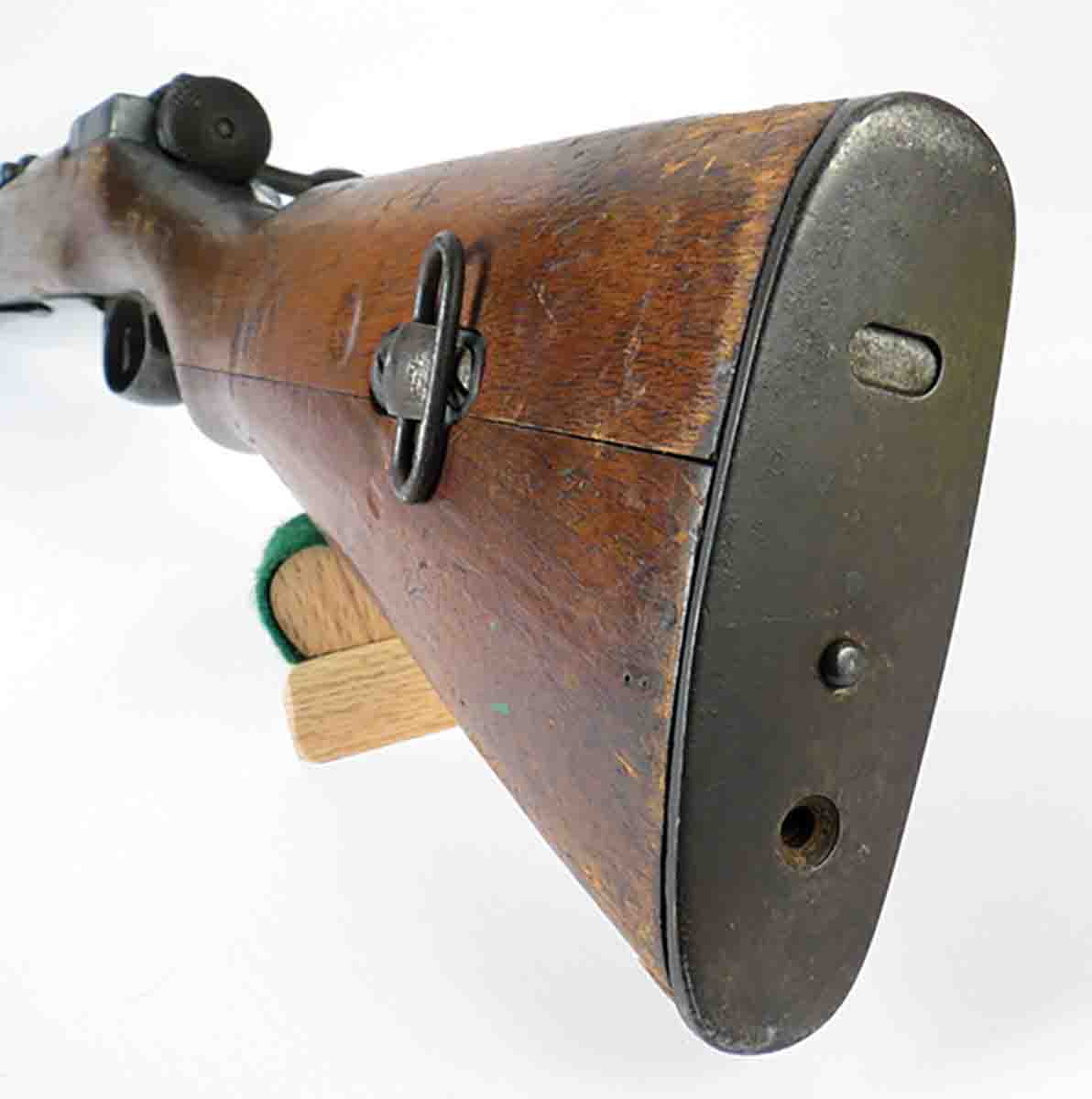 Two 6.5x50mm carbines were fielded by the IJA. The Type 38 carbine was simply a Type 38 rifle with a shortened 19-inch barrel and a weight of 7.5 pounds. The Type 38 carbine in my collection has an open rear sight with graduations from 400 to 2,000 meters. Some Type 38 carbines were issued with the same peep sight arrangement mentioned above. The Japanese did not forget about their fondness for edged weapons, type 38 carbines accept the same bayonets as rifles.
In 1911 another Type 44 carbine was introduced. It was designed specifically for horse cavalry. Also chambered for 6.5x50mm, it was based on the basic Type 38 action. Type 44s featured an integrated folding bayonet, increasing its weight to a full 9 pounds and making it perhaps World War II's heaviest carbine. Besides horse troops, Japan didn't differ greatly from other nations' use of carbines; carbines were issued to crew-served mortar and machine gun teams primarily for self-defense. Their primary job was to keep the mortars and machine guns in action.
By 1939 Japan had been fighting in the vastness of China for two years. Experiences there convinced ordnance officers that a new rifle and cartridge were needed. The rifle needed to be shorter and lighter, and its cartridge needed to pack more punch for fighting at longer ranges. The result was the Type 99 7.7x58mm rifle. Type 99s used the same Mauser-style action but with barrels slightly shorter than 26 inches. Weight was reduced by about 12 ounces. Some shorter-than-standard Type 99 experimental rifles were tested, but there were no carbine-length Type 99s issued.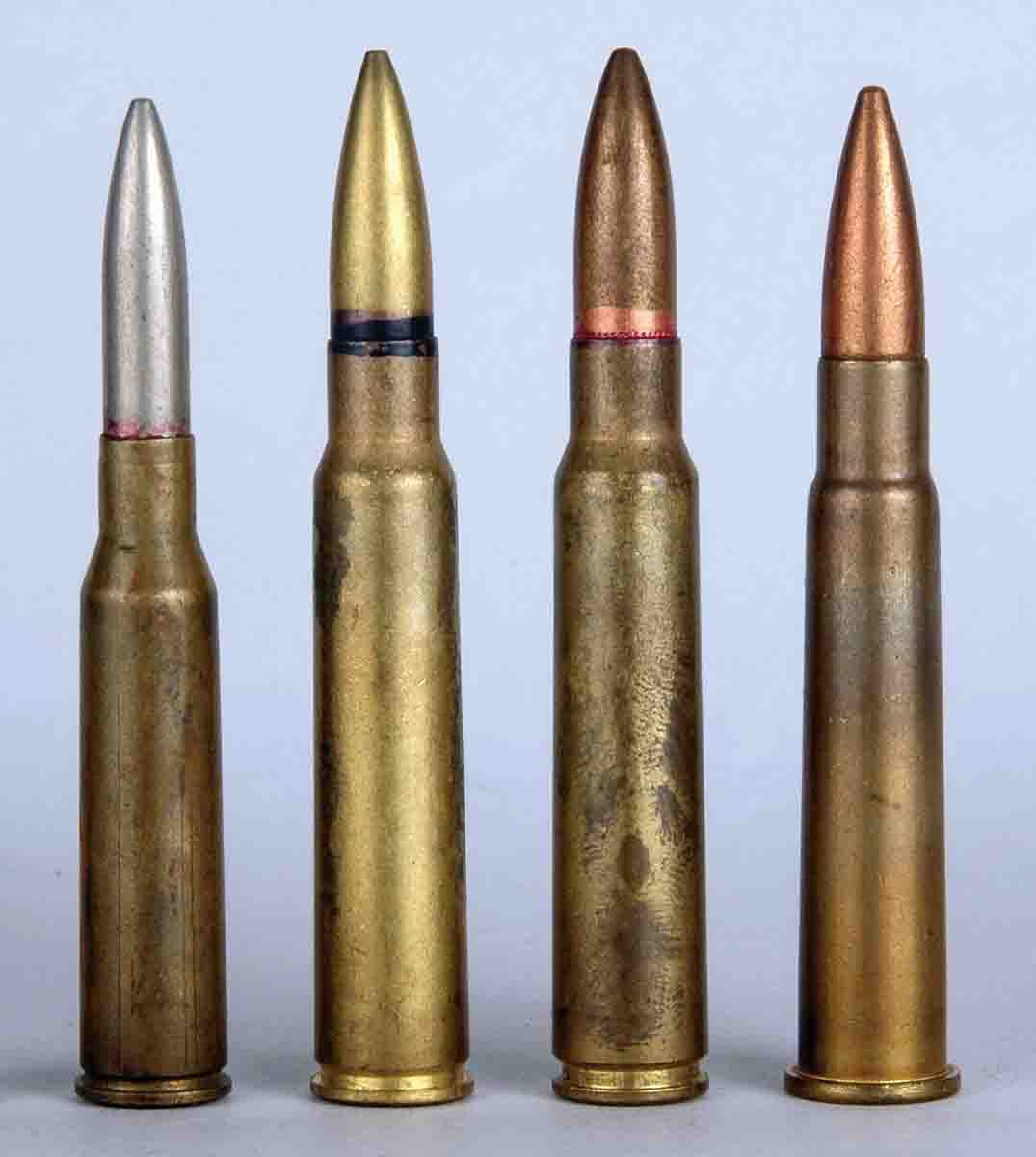 Two other changes were made in this new rifle, neither of which would have been the idea of an experienced rifleman. One was a wire monopod that folded under the forestock. It might have been beneficial on a level rifle range, but on the uneven terrain of battlefields it was nearly worthless. IJA troops also thought so, because those monopods were missing from most Type 99s that were battlefield pickups. Also missing from many battlefield-recovered IJA rifles were their sliding action covers. The purpose of these was to keep the actions free of dust and dirt, but in the terrain in which most of Japan's group fighting occurred, they merely provided something else to hang up on foliage.
The other useless feature was contained in the rear sight. Again it was a peep sight placed far out on the barrel, but in this instance it was designed with graduated "arms" that folded out from each side of the basic sight. Their purpose was to provide lead when aiming at low-flying airplanes. Never mind that by World War II airplanes engaged in strafing troops while passing by at 200 to 300 miles per hour.
Type 99s were also made into sniper rifles, with the most common using nonadjustable mounts and nonadjustable 2.5x scopes. On hand are Type 99 sniper rifles, and their scope reticles are different from the Type 97s, but they still have hash marks. Special Type 99s were also made just for paratroopers. They can be taken down by removing a simple wedge that holds the barrel to the receiver. Otherwise they are exactly the same as a standard Type 99. When shooting the two versions side by side, I could see no difference in potential accuracy.
Perhaps one common feature on all Japanese World War II rifles and carbines that led to the idea they were substandard was a jointed buttstock. The Japanese islands did not provide a great deal of suitable hardwoods for making gunstocks, so splicing a piece on the bottom of the buttstock became a standard wood-saving technique.
Curious readers might be wondering how to determine the difference between a battlefield-pickup IJA rifle or carbine from one taken from postwar arsenals. Those handed out at war's end had the chrysanthemum stamp on the front receiver ring ground away, but rifles recovered from the battlefield did not. All Type 99s had chromed bores, so even battlefield pickups were usually still smooth.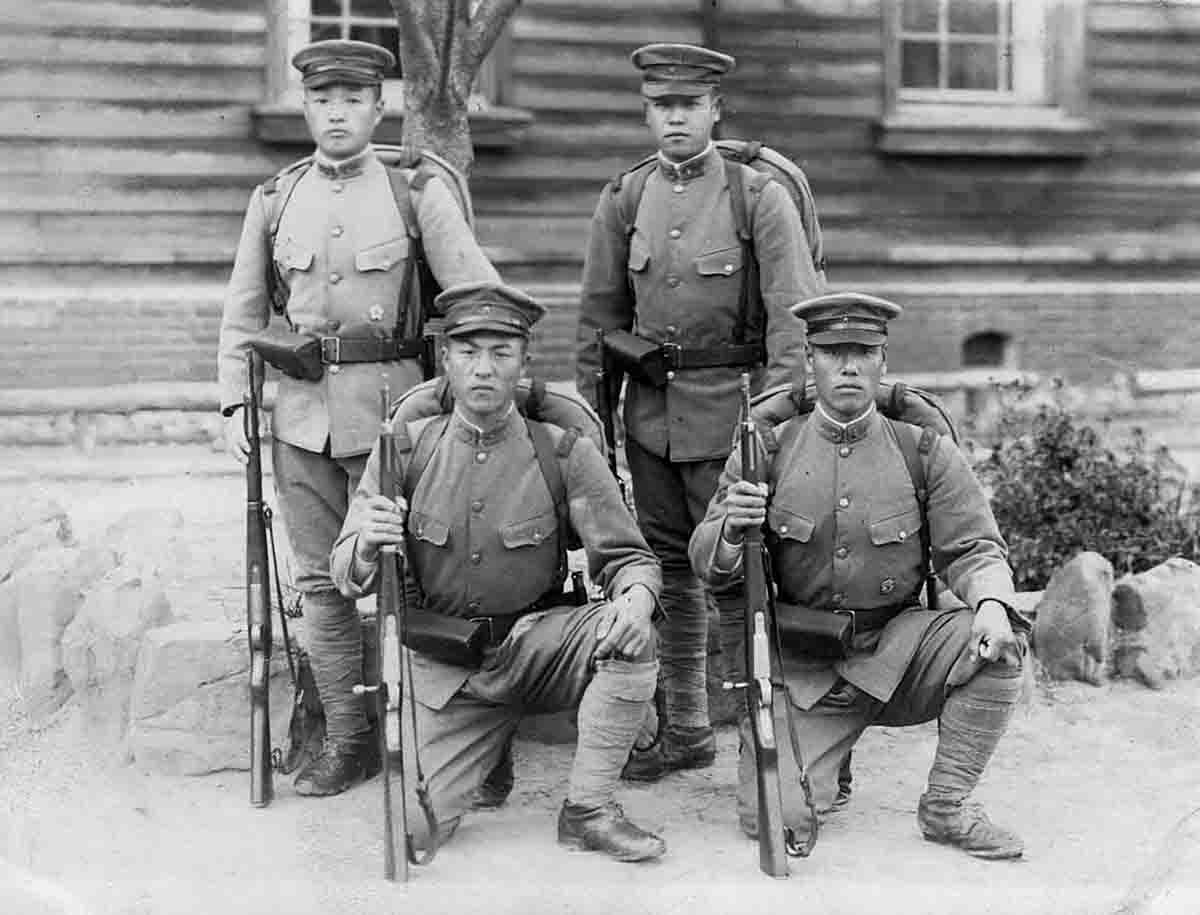 The 6.5x50mm cartridge was introduced as early as 1897 with a 162-grain RN bullet at about 2,300 fps. By World War II, the standard load consisted of a 139-grain spitzer at about 2,500 fps. It was the smallest infantry rifle cartridge issued to major nations' troops in World War II. The 7.7x58mm was a great leap up. Its 179-grain spitzer bullet had a velocity of 2,450 fps. Just for information, that load was the near-ballistic twin of the British .303 (174-grain bullet at 2,450 fps).
As to modern handloading, the two cartridges are as different as day and night. I have loaded for a half-dozen 6.5mms to date, and four 7.7mms; the latter is easy. It's a rimless case just like a .30-06 and takes .311- or .312-inch bullets. Prvi Partisan offers very good quality and reasonably priced brass. (Because I also own a Type 99 Light Machine Gun in this caliber, I bought 1,000 cases from Buffalo Arms of Sandpoint Idaho.) Full-length sized, they chamber fine in all the Type 99 rifles. My favorite powder for the 7.7x58mm is IMR-4350 with a 50-grain charge for all 174- to 180-grain bullets.
Comparatively, the 6.5x50mm can present problems. It is semi-rimmed to headspace on the rim, but chambers in all 6.5x50mms that I have shot are greatly oversize. Prvi Partisan also makes this brass, but when full-length sized, I've only been able to get about three reloadings before signs of case separation appear. Neck sizing only would likely alleviate this, but with four 6.5x50mm rifles and carbines currently on hand, sorting out cases for each can be a hassle. My favorite load for this cartridge includes one or another 139- or 140-grain spitzer over 37.0 grains of IMR-4350.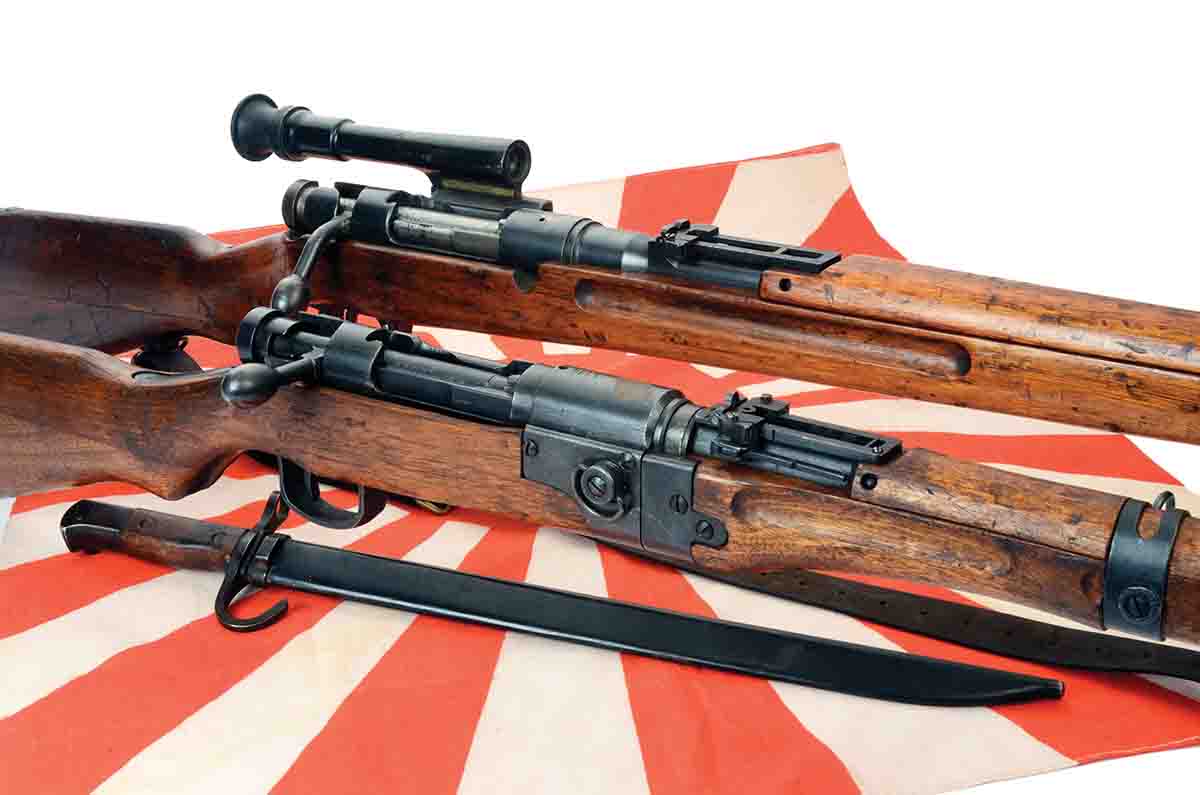 Ironically, the Japanese were not happy with their 6.5mm for long-distance fighting in China, so they adopted the 7.7mm. Then, a great portion, perhaps most, of their fighting against the U.S., Great Britain and Australia occurred in the jungle-covered Pacific islands and/or Southeast Asia, where fighting distances were often measured in feet instead of yards. For Japan's soldiers, the mild recoil, negligent smoke and almost nonexistent muzzle flash of the 6.5x50mm was a better choice.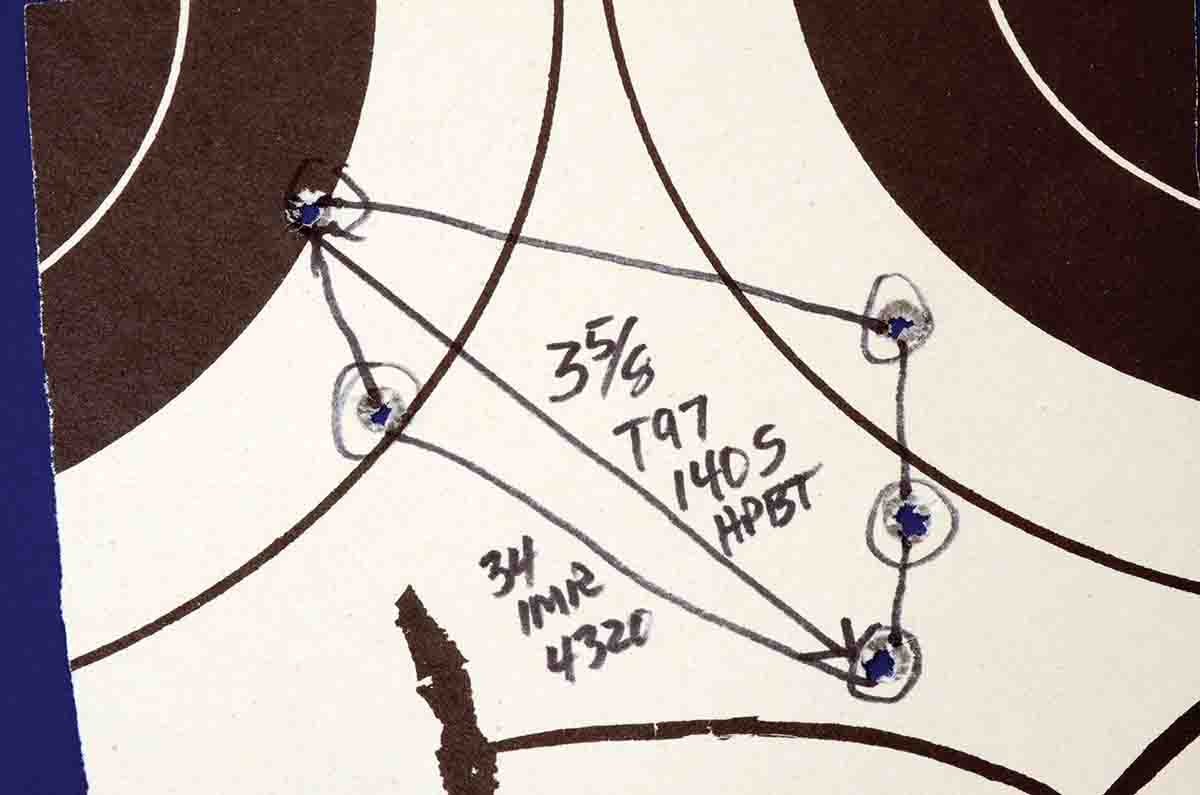 Here's another situation that had to give IJA supply officers headaches. During the war, Japan fielded Type 96 (6.5mm) and Type 99 (7.7mm) Light Machine Guns. Troops that required carbines had 6.5mms, but soldiers using full-length infantry rifles could have been equipped with either 6.5mm or 7.7mm rifles. Then there's the matter of Japan's Type 92 Heavy Machine Guns, which Americans called the "woodpecker" due to its slow rate of fire at 400 rounds per minute. That gun required a 7.7x58mm semi-rimmed cartridge. I have read that Type 99 rifles would accept this semi-rimmed 7.7mm – they will not. I've tried it with original ammunition. According to a U.S. manual titled Japanese Infantry Weapons (December 31, 1943), the woodpecker does function with rimless 7.7mms. So add that to the list of IJA supply officers' problems. (Interestingly, that same U.S. manual states that both Type 38 and Type 99 rifles were battle-zeroed for 300 meters.)
Finally, how do the Japanese rifles and carbines stack up against others from World War II? The average U.S. Model 1903 .30-06 or German K98k 8mm is capable of better precision than either a Type 38 or Type 99. In my experience, '03s and K98ks in good condition will group in the range of 1½ to 3 MOA. Arisakas, on the other hand, have mostly grouped into 3 to 4 MOA. That said, the difference under field conditions is likely of little consequence. Of course, M1 Garands were better than any of the bolt actions for their purposes. The Japanese carbines were as serviceable as Germany's G33/40 8mm and provided considerably less recoil, but the U.S. M1 .30 Carbine was a world apart. The bottom line isn't that the Japanese lost World War II because their rifles and carbines were junk. They lost because they started a war with an industrial giant whose production of ships, airplanes and vehicles could not have been equalled.