When scopes started gaining acceptance among hunters, they were soon labeled as unreliable. They fogged, lost their zero adjustment, crosshairs dislodged, tubes bent and lenses became loose. The value of quick- detachable mounts (QDMs) soon became apparent because hunters could instantly remove the scope and rely on old trustworthy iron (open) sights.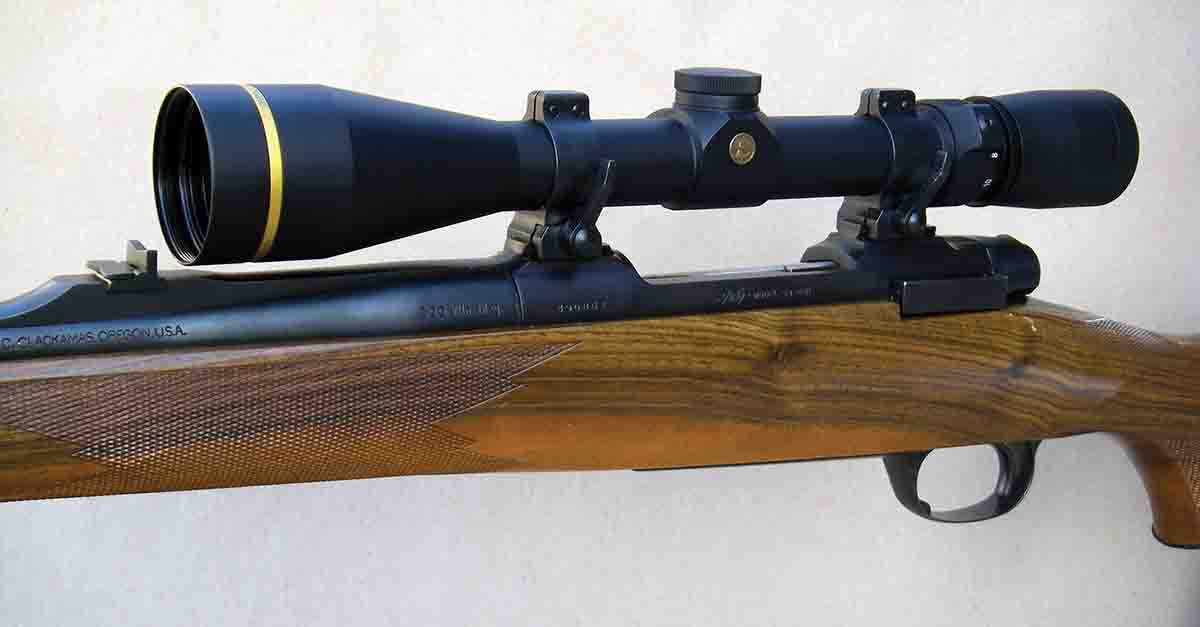 Today's scopes are leaps and bounds ahead of vintage scopes. Marvelous engineering and precise manufacturing allow them to easily handle the forces associated with firing thousands of rounds using high-power loads while holding zero. Scope optics are sophisticated and offer high- resolution images and light transmission designed to correspond with human vision, feature tough scratch-resistant coatings and virtually never fog. Their reliability is so evident many rifle manufacturers have eliminated open sights on many sporting rifles. Nonetheless, I almost always choose a QDM – even when the rifle is not fitted with open sights to serve as backup.
A perfect example of why occurred while hunting Alaskan brown bear. Conditions were tough with freezing rain and wind that made traversing mountains and boulders difficult. A fellow hunter took a bad fall with his custom Winchester Model 70 .338 Winchester Magnum that did not have iron sights. When the top-quality scope hit the large rocks, the tube was deeply dented and the objective was severely bent, making the scope completely inoperable. It was his only rifle and scope, and it would have required a long bush-plane ride followed by another plane flight to reach a town large enough to replace it, which was impractical. If he had brought along an extra scope mounted in detachable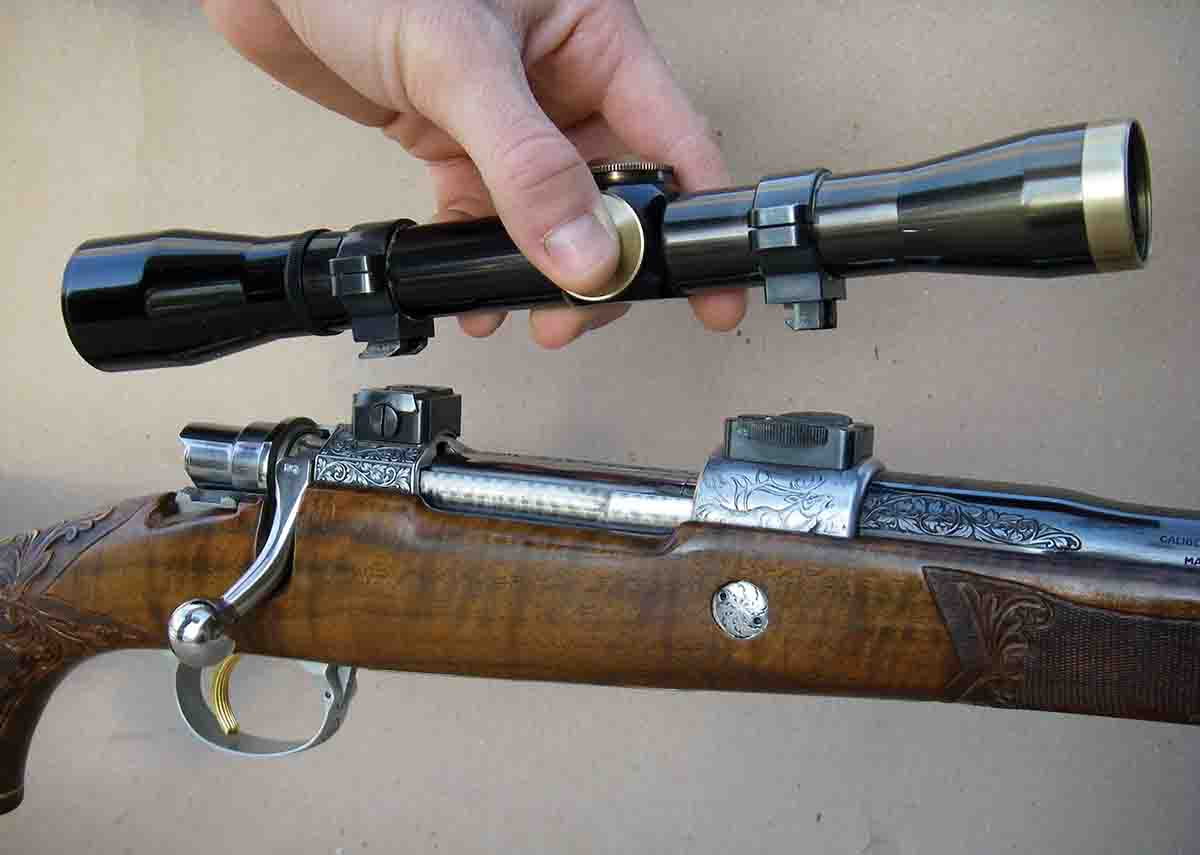 rings and previously sighted in, he could have detached the damaged scope and installed the backup in seconds and continued hunting. A backup scope on a wilderness hunt can consist of a compact fixed-power or low-power variable that is light and compact (excess weight can be a problem when traveling into wilderness country). The hunter arrived back at camp after dark and showed me the damaged scope. I loaned him my spare rifle that he later used to bag a bear.
Another reason for considering detachable mounts includes the option of instantly switching scopes to increase the versatility of a given rifle. For example, when still-hunting in brush or timber, a low-power fixed or variable scope is generally preferred. However, by simply changing to a high-power variable designed specifically for long-range work, the rifle can be suitable for long-range shots. Furthermore, each scope can be zeroed with the same load, or sighted in with different loads, depending on application.
While hunting in Zimbabwe and working with that country's limits associated with guns and ammunition, I selected Leupold Quick Release (QR) mounts for my Winchester Model 70. This was to be a culling hunt that allowed much game to be taken with all meat being gladly consumed by the local residents. At the time there were several new .30-caliber hunting bullets I wanted to try in the field to better determine terminal performance. Several handloads were developed for this one rifle with bullet weights ranging from 150 to 200 grains. The problem was that each bullet showed different points of impact from the old .300 H&H Magnum. Each load was sighted in with a particular scope. When changing loads I simply switched scopes and the rifle was ready to go. At first, the PH was a bit skeptical; however, after seeing the results on paper targets and on game he became a believer and stopped carrying his own rifle as a backup.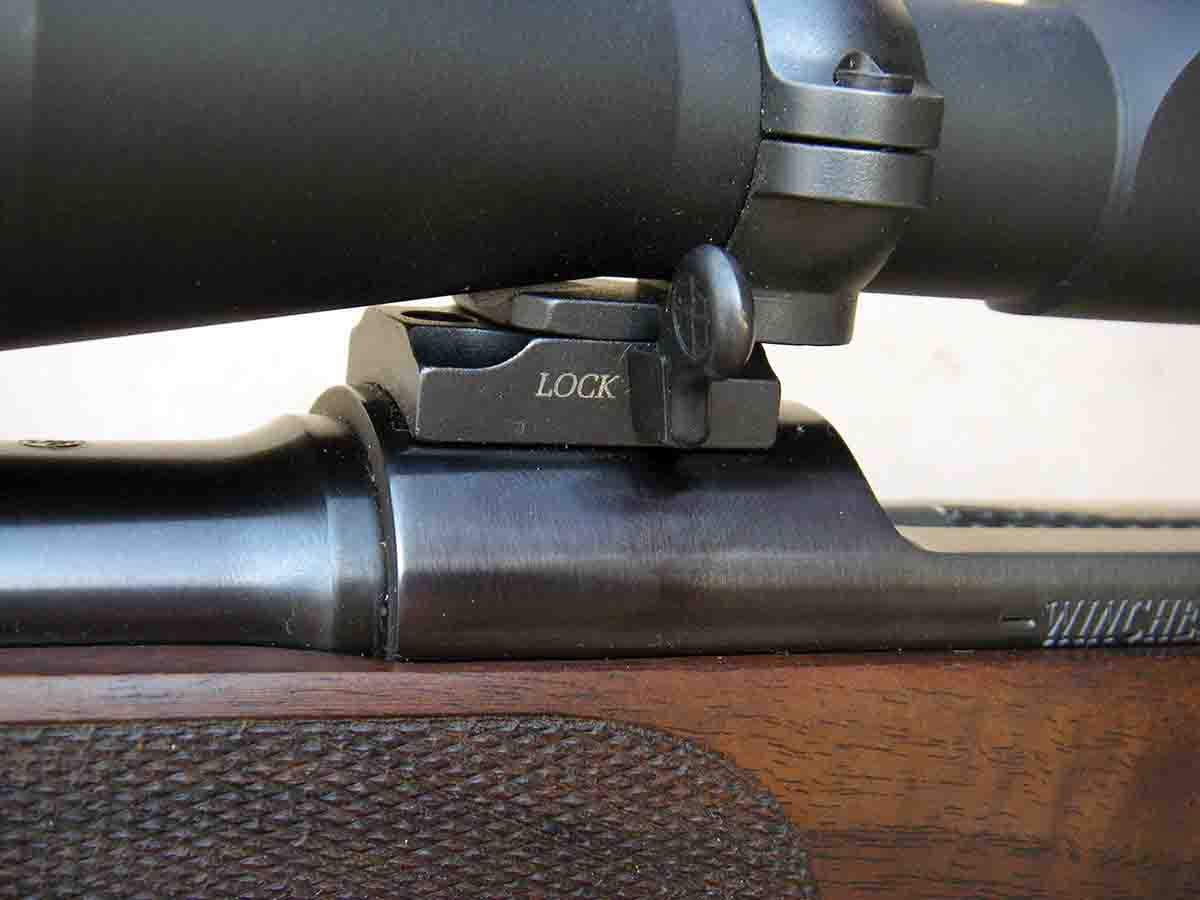 The Leupold QR mounting system features small, unobtrusive levers that are particularly attractive and mostly snag free. QRs have also proven to maintain zero when scopes are removed and reattached. I generally use the Leupold QR mounting system on calibers that only generate recoil up to .300 magnum levels. However, I do have a Marlin Model 1895 .45-70 and a Winchester Model 70 .375 H&H Magnum that are so equipped, and each has been used to shoot many heavy loads and has been used on many rough hunts. Both have maintained their zero for more than two decades.
Many modern QDMs are ultrastrong. While comments in this article are not for discussing the dozens of historical mounting systems (or semi-custom versions) in existence, it is worth mentioning the Weaver cross-slot (cross lock) design developed by William Weaver. Technically, the original is not a QDM, as the clamp screw-head is usually tightened modestly with a screwdriver; however, since it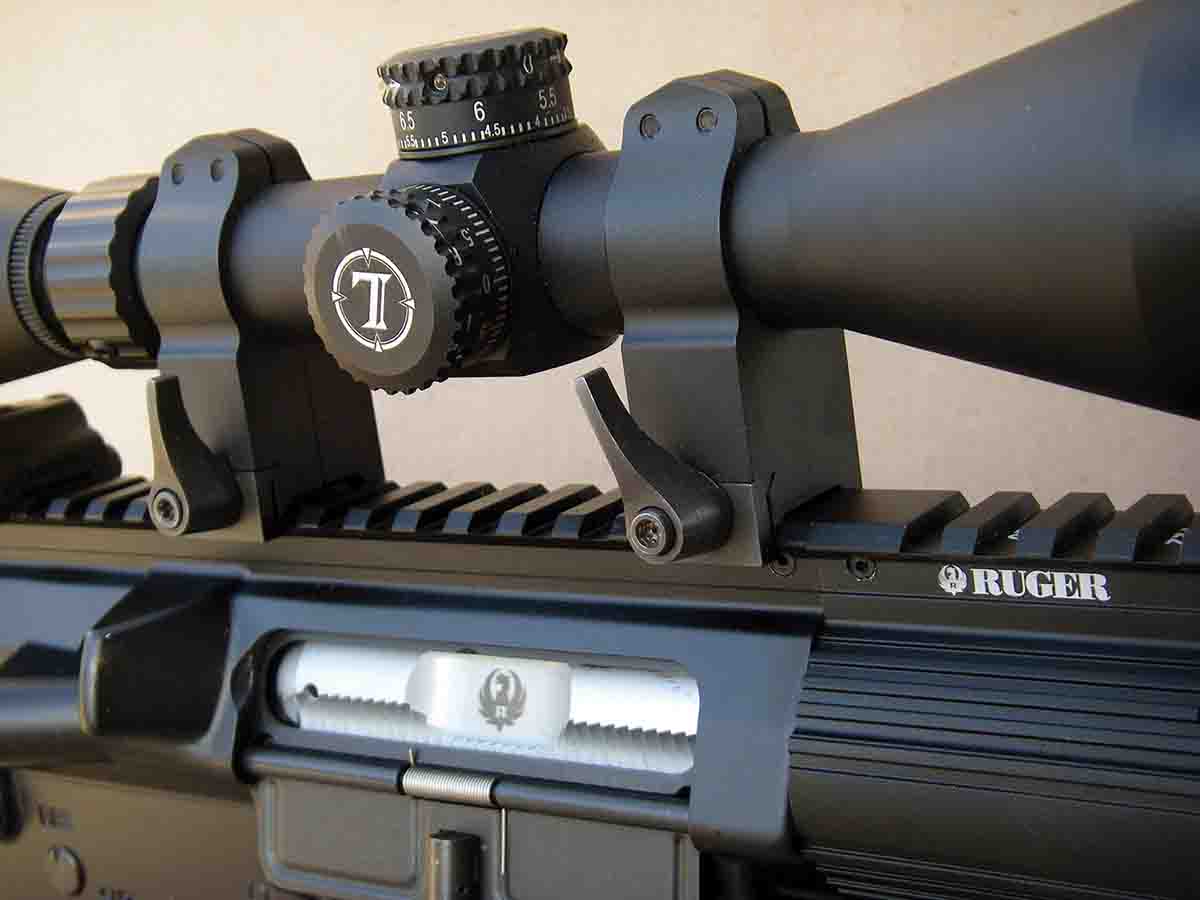 can be loosened in the field with the back of a knife blade or large coin, it seems appropriate to include. This design eventually became a true hand-detachable mount with the development of the Lever Lok rings. The Weaver design is strong, simple, reliable and lightweight, and as long as the receiver is true they are rarely the cause of scope tube binding. However, with screws only tightening the rings on one side, it was occasionally criticized due to the difficulty of mounting scopes in perfect parallel with the barrel, more commonly known as canting. This was eventually solved with a top steel strap designed with four screws (two per side). If scope tube binding is of concern, using a one-piece base will help with correction. Weaver further improved the design by offering windage-adjustable rings.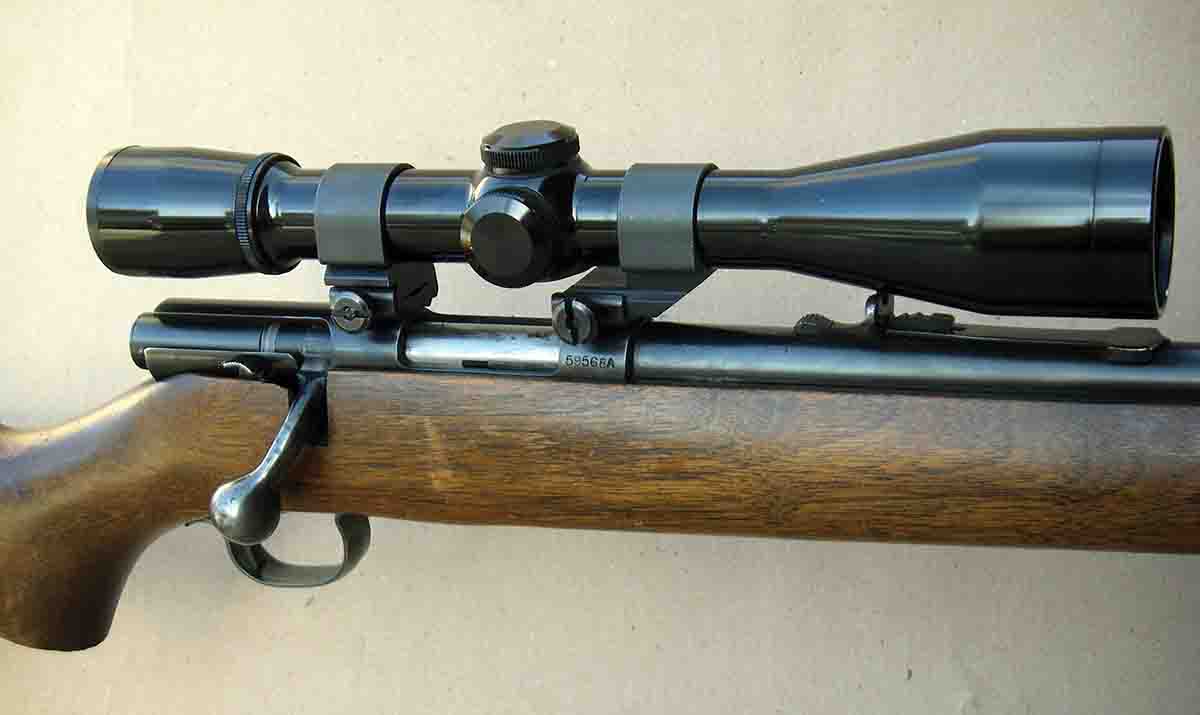 The military recognized the virtues of the Weaver design but wanted specific improvements and standardization for the M16 and other weapons that would better accommodate accessories. This resulted in the development of the Picatinny rail and its official adoption by the military in the mid-1990s. The rail became known as "MIL-STD-1913" and soon appeared on the M16A2 and M4 (essentially replacing their hand guards).
The Picatinny rail required precise standardization for universal interchangeability of scopes, sights, lights, lasers, etc. To further increase strength, the slots were changed from a round bottom design (as found on the Weaver) to a square bottom. The recoil groove width was increased to .206 inch as opposed to the Weaver's .180 inch. The spacing of the recoil groove centers had to be precisely .394 inch to allow more options to position accessories where desired. Mounts (or accessories) designed for the Weaver system will usually work (but not always) in conjunction with Picatinny rails, but not vice versa.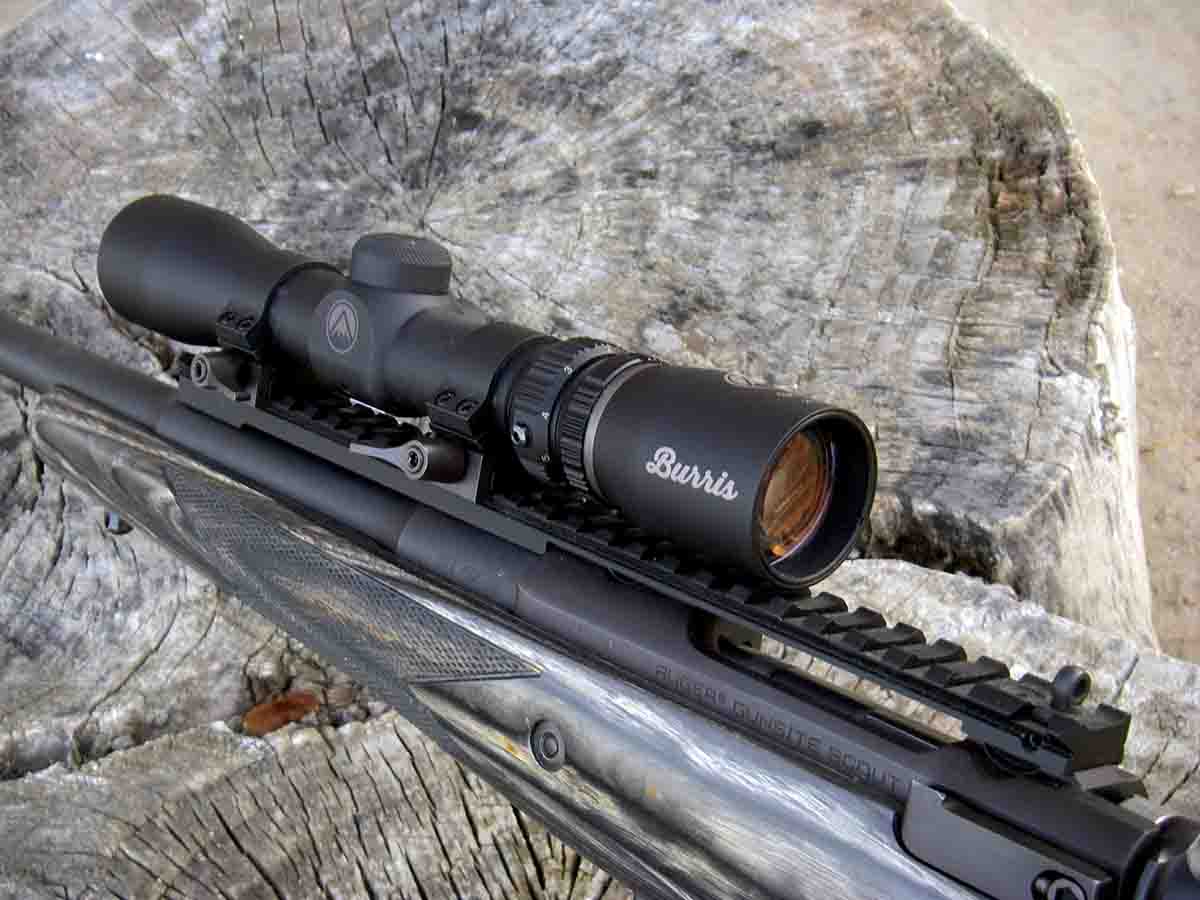 The above is mentioned because many of the finest QDMs for sporting rifles are based on being used in conjunction with Weaver or Weaver-style bases and/or Picatinny rails. This mounting system design is rugged and can be removed and reattached while maintaining zero. I have tested this consistency by firing a single shot, removing the scope, reattaching it then firing another shot and repeating the process four or five times to determine if there were any point-of-impact variances when removing and reattaching a scope. Some manufacturers offer truly trustworthy products that will hold zero. As a suggestion, however, I always install the rings forward in their respective slots for positive engagement when subjected to recoil; be certain the rings selected correspond with the base cross slot.
I have tested the Leupold QRW, Burris Zee, Warne Maxima, Weaver Lever Lok and Talley mounts with levers and obtained excellent results with each. The best of the above QDMs will easily secure scopes used on heavy recoiling rifles such as the .378 and .460 Weatherby Magnums and other cartridges with similar recoil.
Ruger rings used on most variations of M77 and No. 1 rifles are extremely strong and durable. While they are not hand-detachable, the scope base nut can be loosened in the field with a coin or similar makeshift tool. While I have not tested them extensively, the design has the potential to be detached and reattached while maintaining zero. I have worked with them on two rifles and found that as long as the scope base nut is retightened to its original torque specification, they hold zero. For hunters who may want to use hand-detachable Weaver-pattern rings, Weigand and Burris offer bases with cross slots that clamp directly to the Ruger receiver, permitting the use of Weaver-pattern cross-slot rings.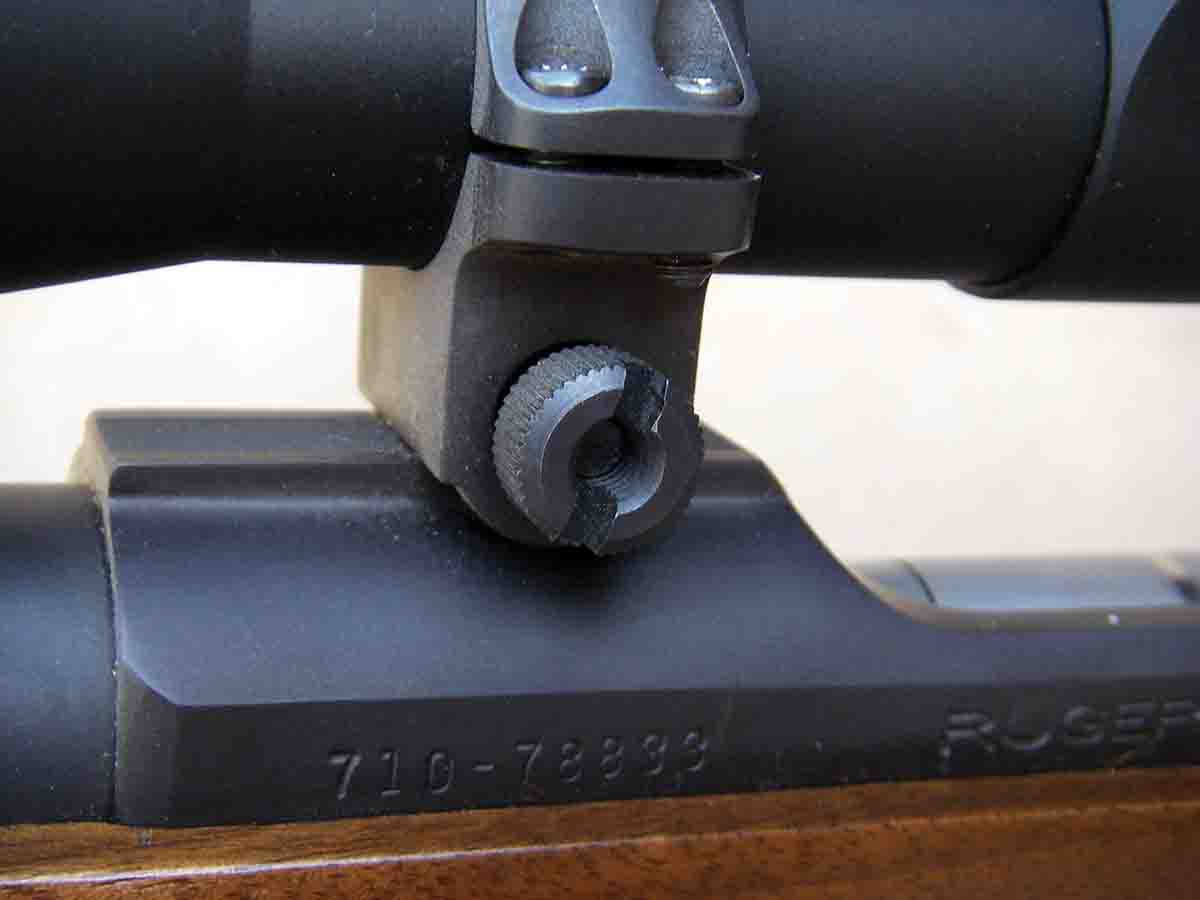 Though space will not allow a detailed discussion of all QDMs, many companies throughout Europe recognize their value and have a long history of producing excellent claw-pattern and other types of detachable mounts. Sako is one of the more noteworthy firms.
There are many mounting options that have not been discussed, such as the Skinner Express scope mount that contains an aperture sight within the base, and Brockman mounts with a pop-up aperture within the base.
QDMs offer many advantages including strength, rugged reliability and increased versatility. And if some unforeseen event in the field damages a rifle's primary scope, a second scope might prove to be worth more than its weight in gold.