Considering the .17 Winchester Super Mag's unheard-of rimfire velocities, one might think it would have left the gate like a well-conditioned thoroughbred. Instead, it came out with a limp. When unveiled at the Shooting, Hunting and Outdoor Trade Show in 2013, I wrote it off – thinking it likely would slowly go nowhere due to several economic factors.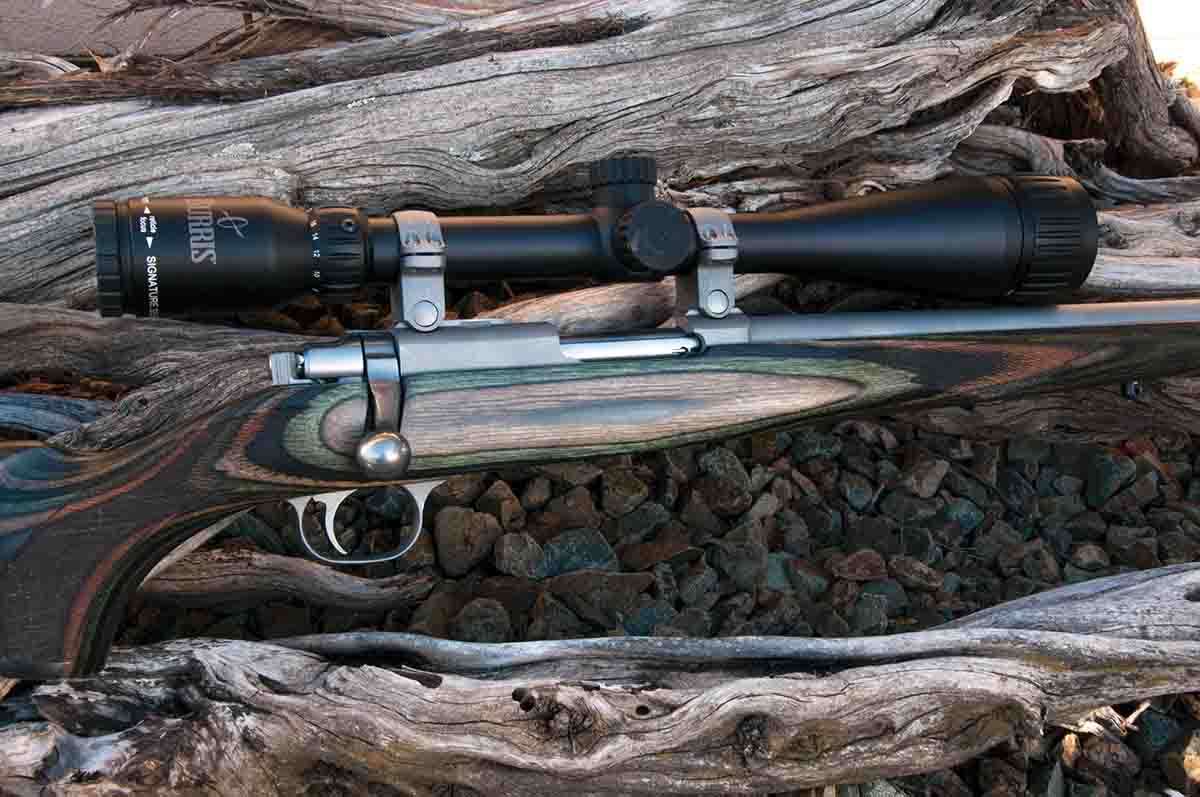 First, there were only two rifles available for it: the relatively inexpensive Savage B.Mag bolt action that sold for about $400 at the time, and the Winchester Model 1885 Low Wall that had a suggested retail price of $1,470! That last rifle may have been priced accordingly, but it was/is somewhat expensive when compared to the gazillions of .22 Long Rifle (LR), .17 Hornady Magnum Rimfire (HMR) and .22 Winchester Magnum Rimfire (WMR) long guns sold each year.
Second, Winchester Ammunition appeared to put little effort into promoting the cartridge, even though its velocities were/are quite commendable. It was said to launch a 20-grain bullet at 3,000 fps as compared to a stated velocity of 2,500 fps for the .17 HMR with a 15.5-grain bullet. Winchester, through no fault of its own, also had other problems in that early Savage rifles and Model 1885 single shots were difficult to come by; and if I recall correctly, some or all of the early Savage .17 WSM rifles were recalled.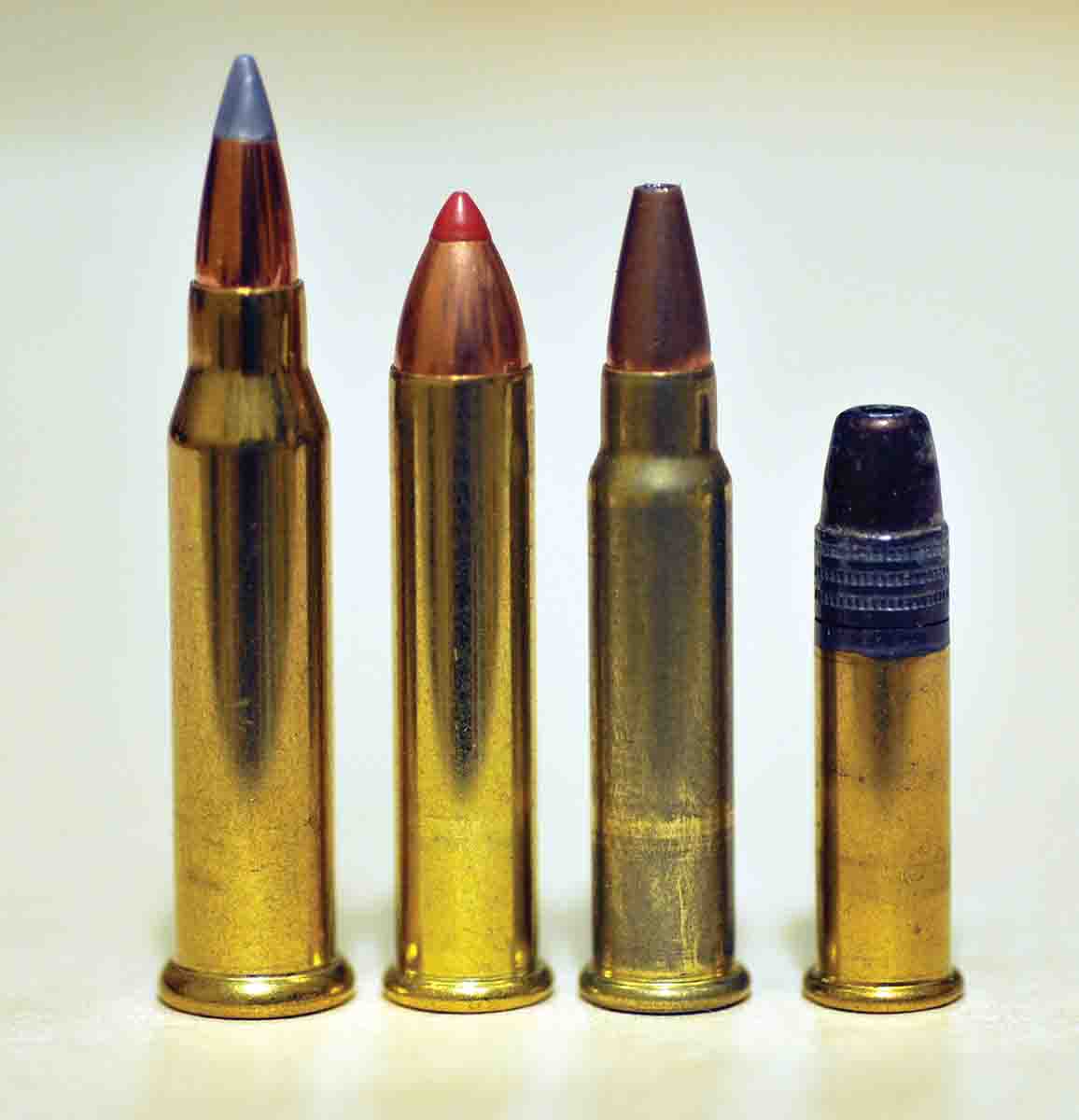 Third, .22 LR hunting or plinking ammunition was difficult to find at the time, and when it could be found retailers were rationing it, a situation that continued until the American public voted-in a Second Amendment-friendly president and quit stashing large amounts of ammunition in their garages. Whether for plinking or small-game hunting, rimfire shooters generally buy ammunition in bulk because .22s (revolvers, pistols or rifles) can be found in most U.S. households. It's a fun and otherwise inexpensive cartridge that can be handled by even the youngest shooters. The .17 HMR also had been around for nearly 10 years, earned a broad fan base and provided higher velocities than riflemen had seen from a commercially made rimfire cartridge. It already developed acceptance among varmint shooters due to good accuracy and its devastating effect on ground squirrels, prairie dogs and other like-size vermin – not to ignore the fact that it's a great plinking cartridge.
Fourth, the .17 (Hornady) Hornet, with its wildcat origins dating back to at least the mid-1940s, was announced in 2011 and introduced in 2012, one year before the .17 WSM. While it may also have been slow to catch on, the .17 Hornet launched 20-grain bullets at about 3,500 fps from a 22-inch barrel, and handloaders could beat 3,000 fps with 25-grain bullets. My own informal testing of Hornady .17 Hornet Superformance 20-grain V-MAX factory loads began in 2013 with a Savage Model 25 with a 22-inch barrel. Velocity ran well over 3,600 fps. Later I purchased a Ruger 77/17 .17 Hornet with a laminated stock and stainless 24-inch barrel from which the same lot of ammunition provided velocities beyond 3,700 fps.
After getting these results from the Hornet, I figured the .17 WSM was done for. Of course, as a mentor has often said, all of this serves as a reminder that gunwriters, who are often prone to obsess on events that have occurred in the past, also tend to miss the mark on newly introduced cartridges. I misjudged this one at first – until I shot the .17 WSM in 2015 from a B.Mag with a 22-inch heavy barrel. The average velocity for the 20-grain load was 2,987 fps, and 2,587 fps with 25-grain bullets. In the same order, 100-yard, five-shot groups averaged 1.2 inches and 1.3 inches; quite good for a small-game-getter.
High velocity and small groups, however, do not – alone or in tandem – lead headlong into lasting commercial success. As noted, a new cartridge requires new guns and varied ammunition options, and it appears the number of loads for the .17 WSM is continuing to expand as additional companies begin to provide ammunition under their brands. (Though last I heard, Winchester was loading everyone else's bullets for them, which is not terribly uncommon.)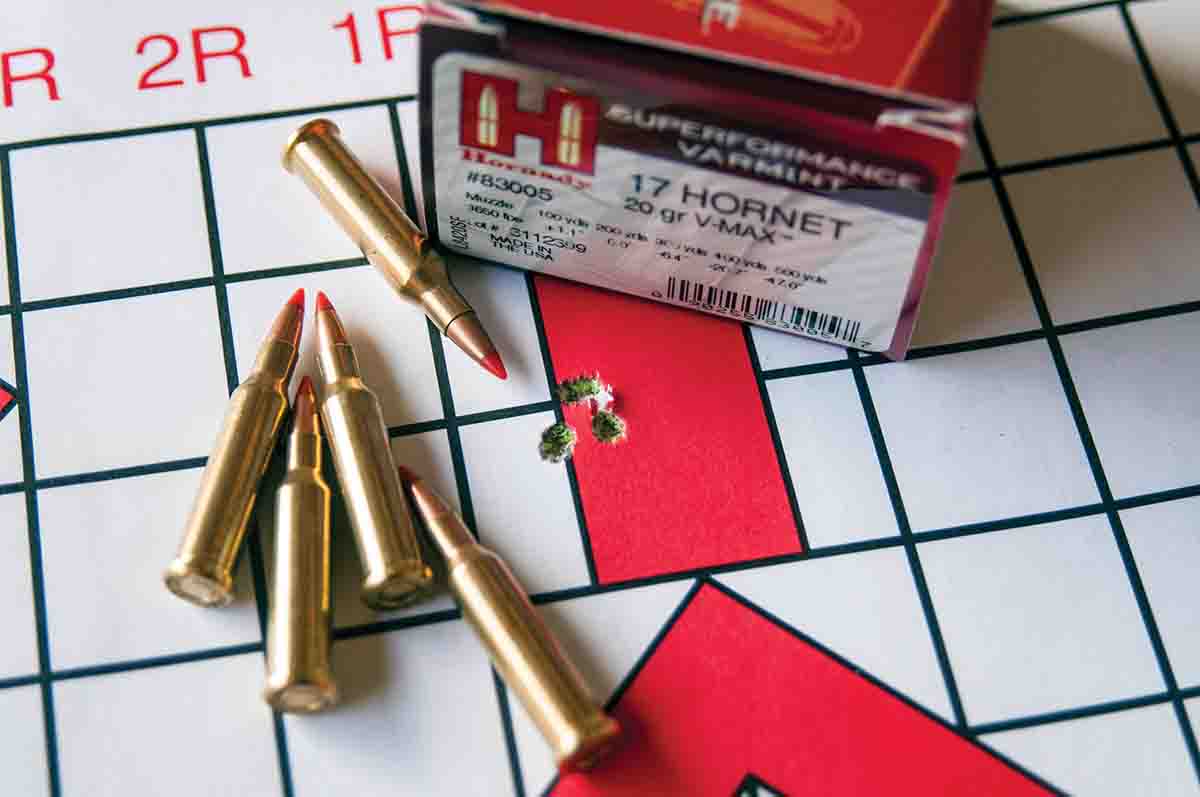 Rifle manufacturers are also increasing options for the hot-rod rimfire cartridge. Savage is now up to five or six rifle options, all with a retail price of less than $600. Volquartsen, a high-end maker of tack-driving semi-autos, has at least four options that all run more than $2,000, and Ruger added in 2016 its Model 77/17 .17 WSM with a 24-inch barrel, an accurate rifle covered in
Rifle's Varmint Rifles & Cartridges Special Edition
published that year, copies of which can be purchased at
wolfeoutdoorsports.com
. After a little fiddling with the trigger, that rifle was made to shoot quite well. Furthermore, Franklin Armory has several options in its F17 AR-type line, and Jard Inc. offers a similar J17 rifle. Match Grade Machine in Utah makes barrels for the Thompson/Center Contender.
So even though the cartridge got off to a slow start, it seems to be making headway. If this scenario sounds familiar, it's because many dozens of cartridges have had a similar, curious uphill battle. Even the 6.5 Creedmoor, currently the third-most popular reloaded cartridge in the country based on the sale of reloading dies, was introduced 11 years ago with no great fanfare. I recently spoke with a knowledgeable fellow who works the gun counter at an all-goods ranch store near my home in Arizona, and he said, "People still come in here asking about that 'new' 6.5 cartridge." I suspect many shooters have marginal interest in buying new rifles for hunting or informal target practice when they already have two, three or more, especially when the "new" one fairly duplicates something on hand.
As an apparent late-bloomer, that might be the case with the .17 WSM, which fairly splits the difference between the .17 HMR and the reloadable .17 Hornet. Nonetheless, as a curious rimfire shooter that grew up with the venerable Ruger 10/22 in my hands, it's difficult to ignore a new rimfire rifle when one shows up.
The latest version from Ruger is a Model 77/17 .17 WSM in a laminated stock, the same basic rifle introduced in 2016 but with a handy 18.5-inch stainless barrel and a total weight (without a scope) of 7 pounds. As a fellow who is more likely to spend time walking up jackrabbits than shooting prairie dogs, this version is more appealing than the original test rifle that featured a 24-inch barrel. There is likewise another somewhat significant twist that needed to be explored: a so-called smoother trigger pull announced with this new model.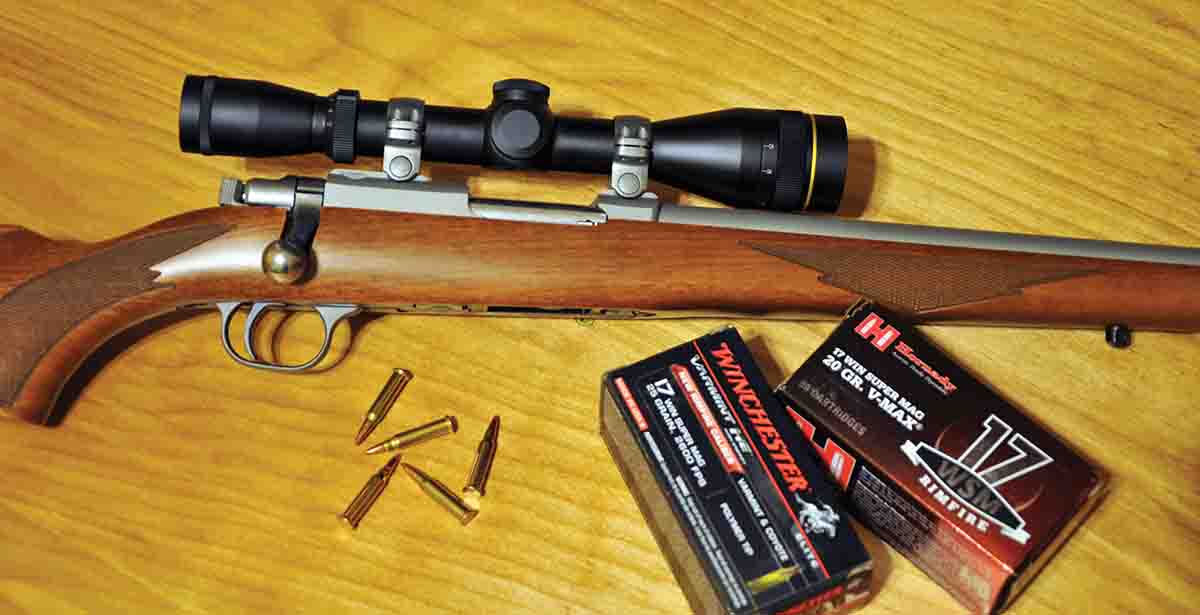 Unlike the .17 HMR designed to use the same basic case as the .22 WMR, the .17 WSM was built around a case made for impact tools typically used for fastening hangers to concrete, usually by way of a heavy blow from a sledgehammer. As a kid who spent some time in construction, the traditional whack-it-with-a-sledge Hilti gun is familiar enough. Dimensionally, the case is therefore much thicker to handle the increased pressure required. For example, the .17 WSM operates at a SAAMI pressure of 33,000 psi compared to the .17 HMR's standard of 26,000 psi.
This required that the former's rifles provide a stout blow to the cartridge rim to ensure ignition of the priming compound; it was not as simple as rechambering a .22 WMR to .17 HMR. One way to handle the situation was to increase tension on the striker spring to guarantee detonation, but a heaver mainspring, depending on the rifle, sometimes requires an equally heaver sear spring to hold back the tension. The M77/17 tested in 2016 had an average trigger pull weight of 6 pounds, 9.5 ounces. That rifle shot well enough, but it shot even better when the factory trigger was swapped out for an after-market option.
Other shooters apparently thought the Ruger's trigger was on the heavy side, and maybe a little gritty. Over time, Ruger heard enough and decided to take another look at the trigger on its .17 WSMs. This resulted in a "smoother trigger pull" announced along with a shorter-barrel version of the rifle, one of which is now on hand. After dry-firing it during the last couple weeks, its trigger indeed appears much smoother than that of the first version I tested in .17 WSM. As measured with a Lyman digital trigger-pull scale, the newer rifle's trigger breaks on average at 4 pounds, 14 ounces. More importantly, the pull is smooth each time with almost no perceptible over-travel.
Mark Gurney, Ruger's director of product management, said consumer feedback led the company to take another look at ways to improve the trigger pull on its .17 WSM rifles. As a result, the striker spring has been replaced to provide better overall feel and consistency, and the "new" spring (which according to Gurney is the same spring used on all other 77/22 rifles) will be used on all .17 WSMs going forward. Replacing the spring puts less tension on the sear and results in the smoother trigger mechanics.
Unfortunately, the test rifle on hand has been shot only enough to zero the Burris Signature Select 6-24x 44mm scope mounted to it, due in large part to waiting on samples of new ammunition, some of which has yet to come off the assembly line. The intention is to later provide a ballistic breakdown of all the loads available.
In the meantime, it's becoming increasingly apparent that the .17 WSM is no longer off the trodden path. And, dang it, I may have to buy one. Though returning to the thought that prairie dogs are in limited supply locally while big jackrabbits are usually plentiful, that rifle will likely end up being a sporter version with a walnut stock and a 22-inch barrel.