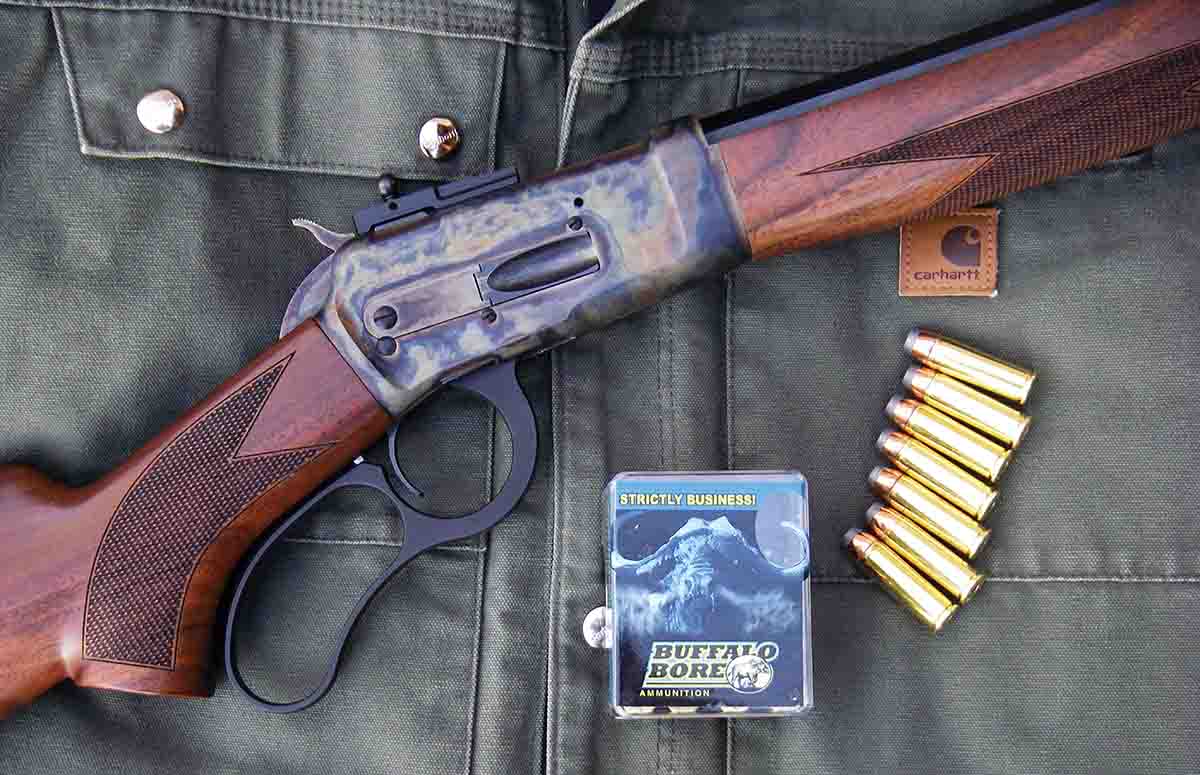 Big Horn Armory began developing a new lever-action rifle in 2008 that became known as the Model 89 SpikeDriver, with production underway in late 2012. It was the first production levergun to be chambered in .500 S&W Magnum. The action is based on a scaled-down Winchester Model 1886, or an enlarged version of the Model 1892, but with additional engineering and the use of high tensile steels to obtain the necessary strength to easily handle modern, high-pressure revolver cartridges.

The next version offered was the Model 90, which was more or less identical except that it was chambered in .460 S&W Magnum. It was followed by the Model 90A .454 Casull. Additional variations have been offered in .45 Colt, .475 and .500 Linebaugh. Each of these cartridges produced substantial performance increases when fired from a rifle-length barrel as opposed to velocities when fired from a revolver.
A Model 90A carbine .454 Casull was chosen for this review because the cartridge offers certain advantages. First, if a revolver in the same caliber is selected, it is generally lighter and more compact than guns chambered for the two Smith & Wesson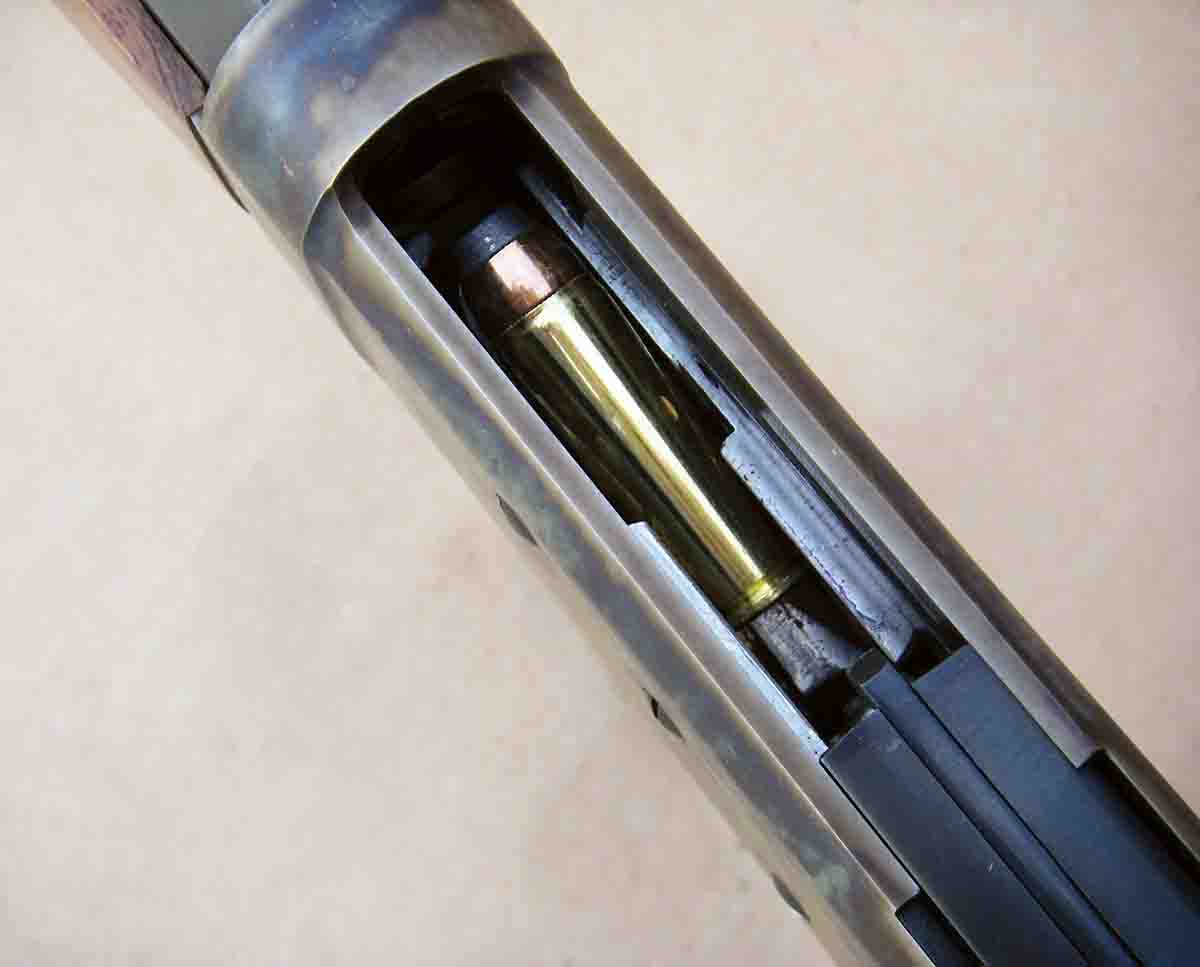 cartridges. Ammunition costs are less, and it has the advantage of firing and cycling .45 Colt ammunition for increased versatility. In spite of its much smaller size, the .454 can exceed the performance of standard-pressure .45-70 Government factory loads by pushing a 300- grain bullet nearly 2,000 fps, which is around a 125 to 200 fps advantage. Furthermore, the .454 is adequate for hunting all game in North America, including moose and the great bears of the north.
The sample rifle displays top-notch machining, is finely finished and produced excellent accuracy. Standard versions of the Model 90A feature a receiver constructed of 17-4PH stainless steel, noted for its extreme strength and durability. It can be ordered with an "in the white" brushed finish or with a Black Hunter finish (more on that in a moment). Also available is a receiver constructed of 4140 chrome-moly steel that can be color case-hardened for additional beauty. A detailed inspection of the CNC-machined receiver reveals precision-machined surfaces both inside and out.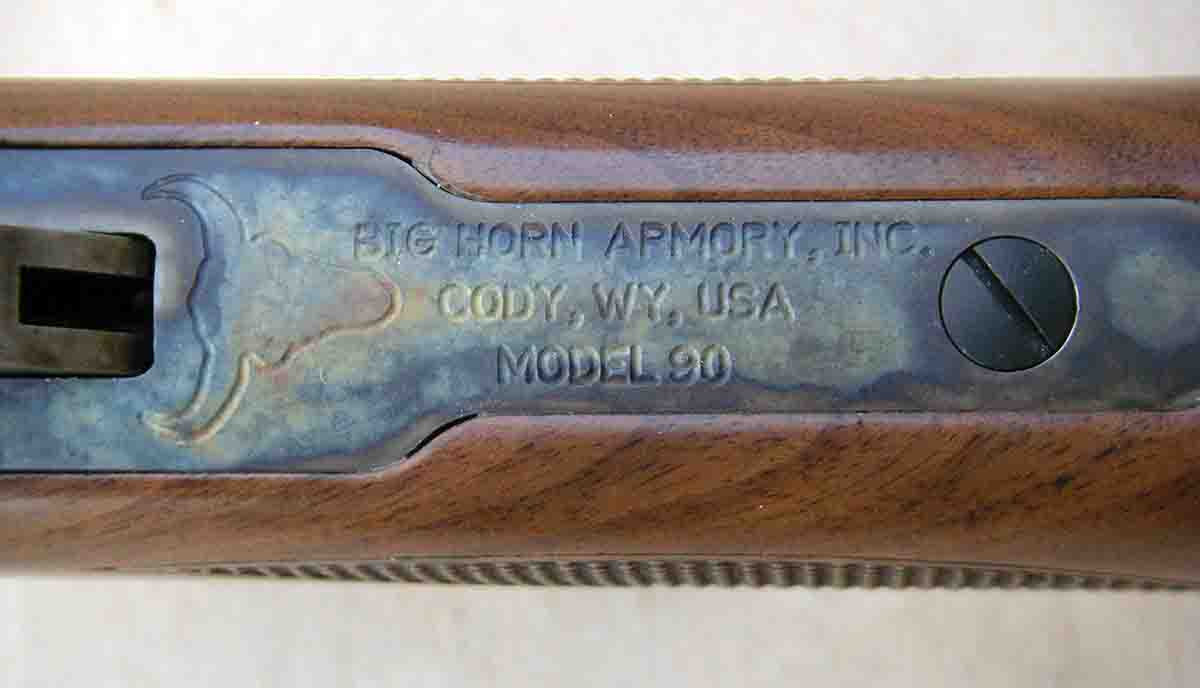 The 90A features twin, vertical locking lugs that are known for providing great strength. These items, along with other detailed engineering features not discussed, are important to properly contain the .454 Casull (as well as the .460 and .500 S&W cartridges) that has an industry maximum average pressure rating of 65,000 psi. In addition to producing significant head thrust and generating pressures that are the same or higher than modern magnum rifle cartridges, the impulse time is only around one-third that of cartridges such as the .270 Winchester and .300 Winchester Magnum. This extremely sharp pressure curve will quickly strain inadequate actions. However, the Big Horn Armory Model 90A is designed specifically to handle full-power .454 Casull loads.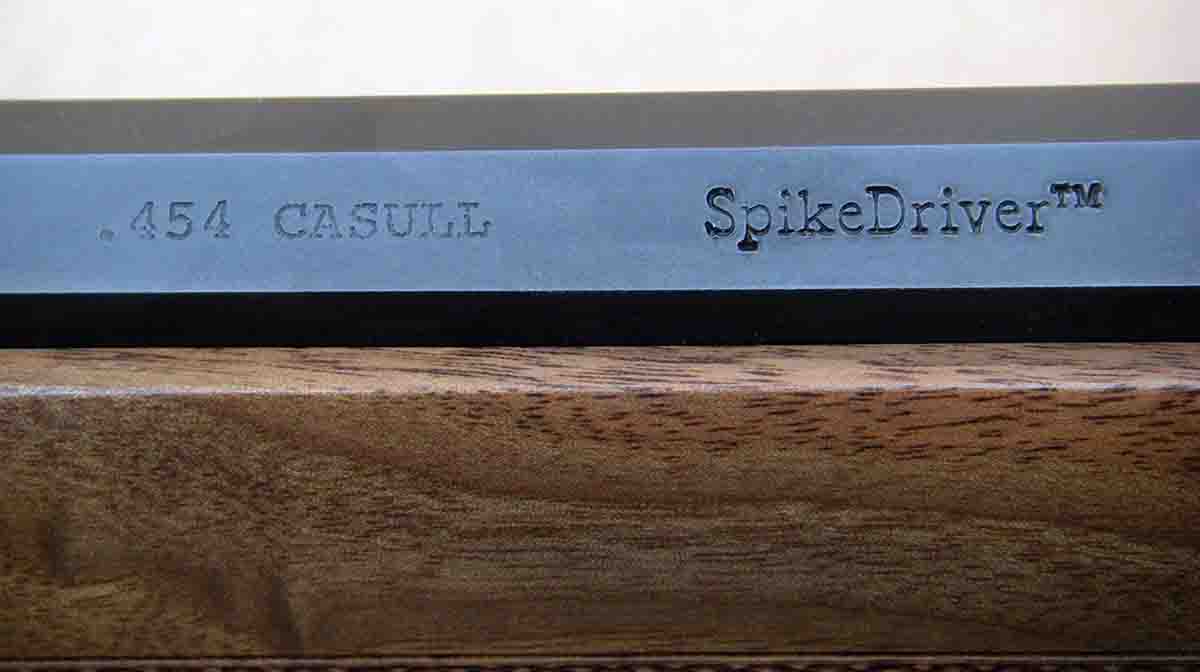 The Model 90A carbine used here features the optional case- colored receiver and forend tip. While it does not exhibit exactly the same colors as vintage Winchester and Marlin leverguns, it is nonetheless attractive.
The barrel, magazine tube, lever and bolt are finished in what Big Horn Armory refers to as Black Hunter, which is attractive while offering low glare and is practical for field use. Technically this finish is a salt bath nitride that is absorbed into the metal and results in a tougher, durable finish with a Rockwell hardness that exceeds 80.
Thankfully, the action functions exactly the same as traditional lever-action rifles. For example, cartridges are inserted into the loading gate located on the right side of the receiver, and the exposed, nonrebounding hammer features the traditional three positions and is void of other unnecessary safeties. I prefer to hunt and carry the rifle with an empty chamber and the hammer in the down position. However, when making the final stalk on game or hunting from a blind, etc., a round is then chambered and the hammer is brought to the half-cock position. In this mode, special care is always exercised to be certain that the gun is not dropped to prevent the possibility of a discharge. As always, the best safety is the operator, and his awareness of carrying a loaded gun. Incidentally, the bottom of the 90A's receiver is round, providing a natural and comfortable point to cradle the rifle in hand while hunting.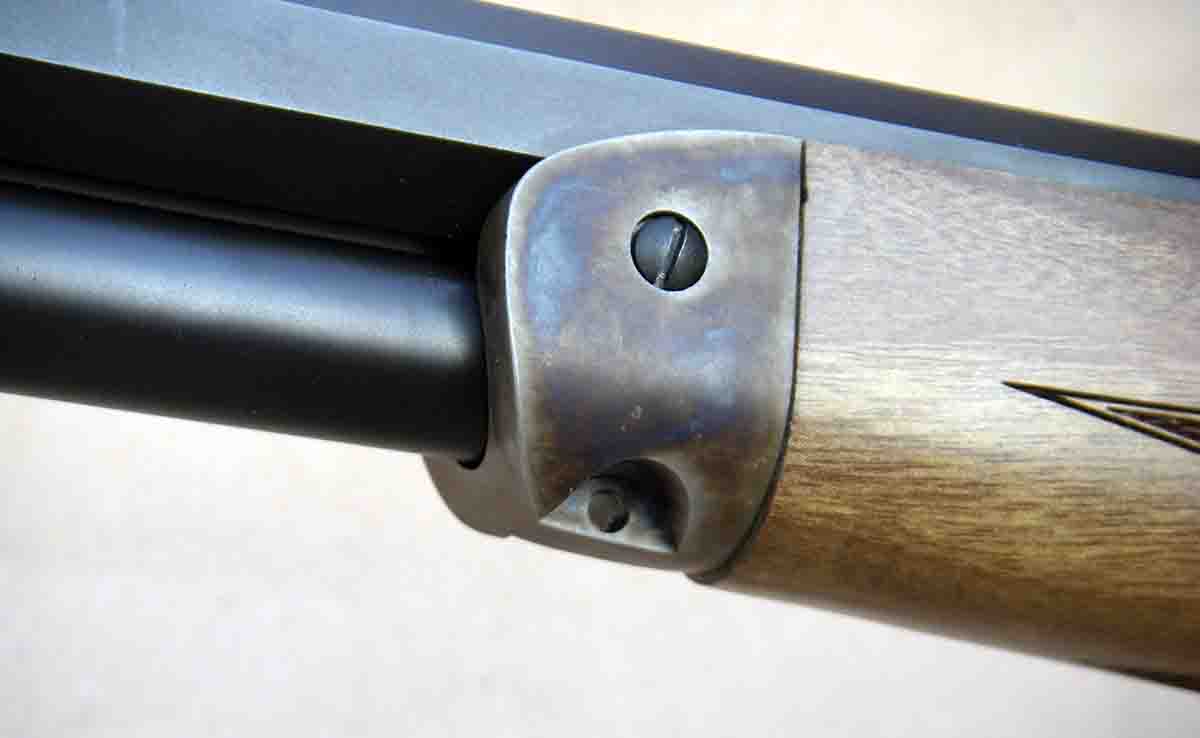 Optional sights are available, but the test rifle was fitted with a Skinner Sights (skinnersights.com) bolt-mounted aperture that is fully adjustable for windage and elevation. In addition to being precision machined, it allows the use of different size threaded apertures to be installed in a few seconds to help obtain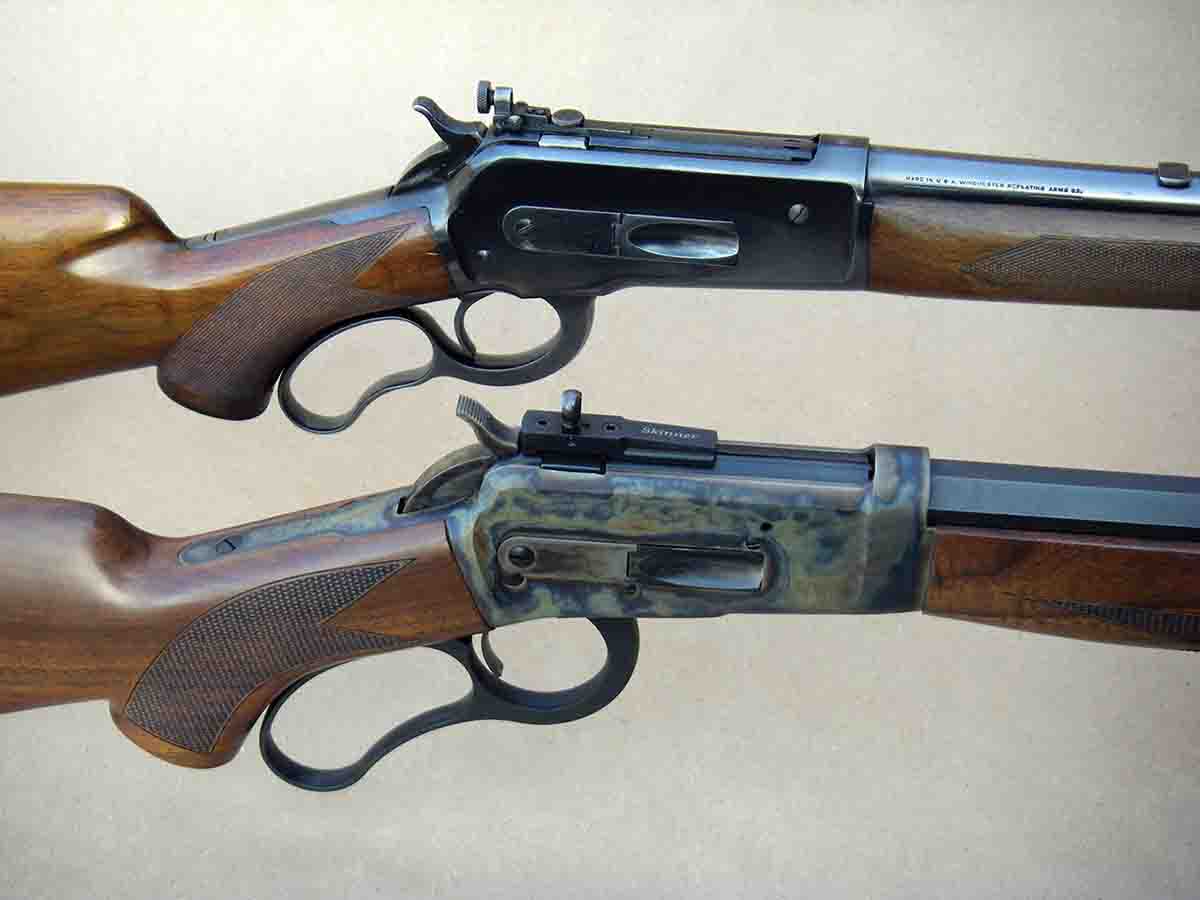 a perfect sight picture for a variety of shooting circumstances or varying light conditions. For anyone who may have concerns about a bolt-mounted sight, the bolt fits snugly into the action and results in minimal wiggle. As a result, it is doubtful that any important degree of accuracy is lost due to the bolt-mounted sight. The Model 90A came with a white bead front sight dovetailed into the barrel. Another popular sighting option includes a factory-installed Scout Scope Mount.
The curved pistol grip is reminiscent of the famed Winchester Model 71. The checkered stock is constructed of highly figured American black walnut and features a rather high, straight comb that naturally aligns the eye with the aperture sight when brought to the shoulder. This is an excellent design for brush-and-timber hunting where the rifle is "snapped" to the shoulder and fired offhand. Furthermore, the butt features a black Pachmayr one-inch Decelerator pad that measures 5.5-inches tall by 1.75-inches wide, or what is commonly referred to as a shotgun-style butt. This serves to dis-perse recoil over a large area of the shoulder, helping to make this fast-handling levergun comparatively comfortable to shoot in spite of snappy recoil.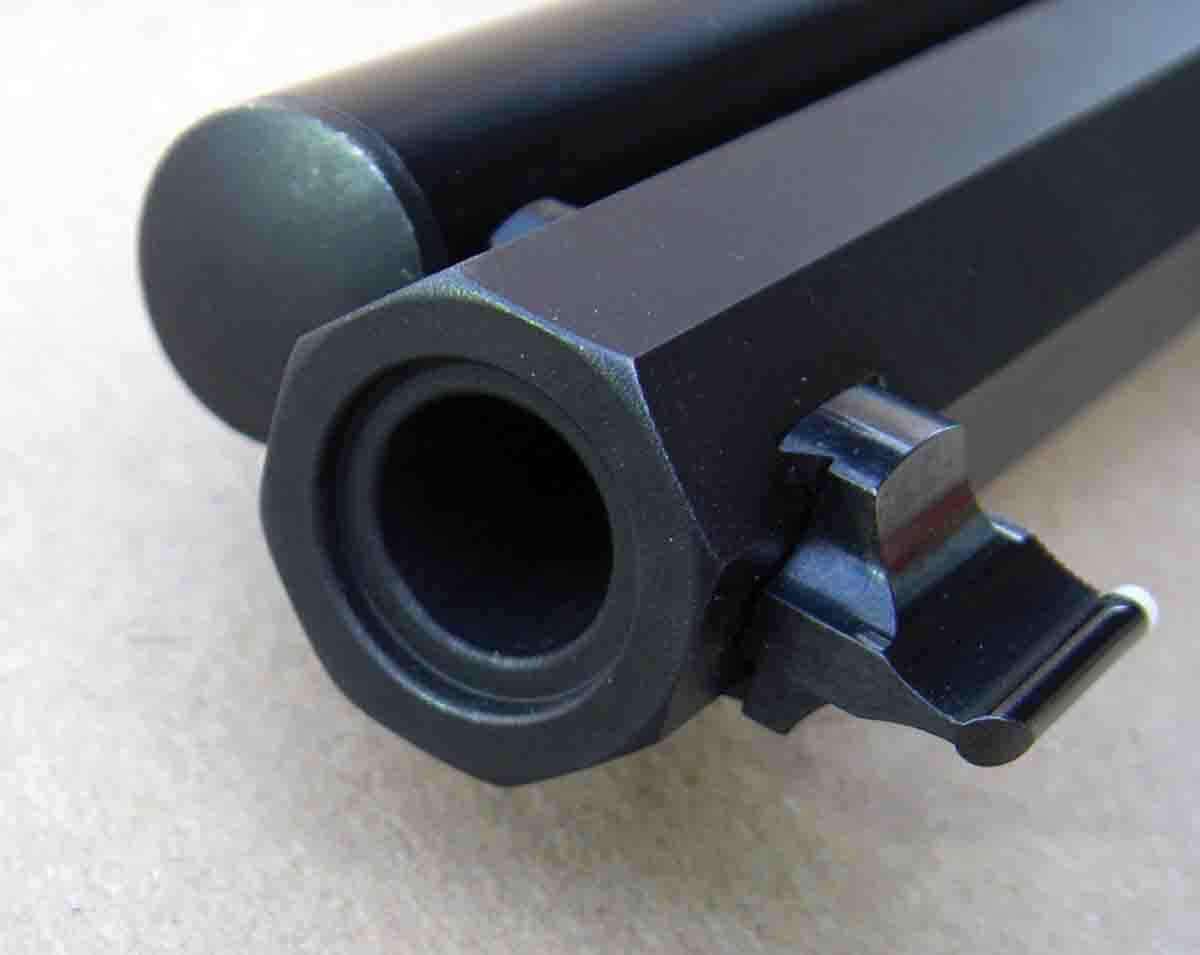 The forearm is mounted using "rifle" style hardware that, being void of barrel bands, usually increases accuracy potential. The forearm cap is drilled to accept a sling swivel. This eliminates the annoying swivel stud that is usually positioned in exactly the wrong place for correct hand positioning, especially for tall shooters with long arms.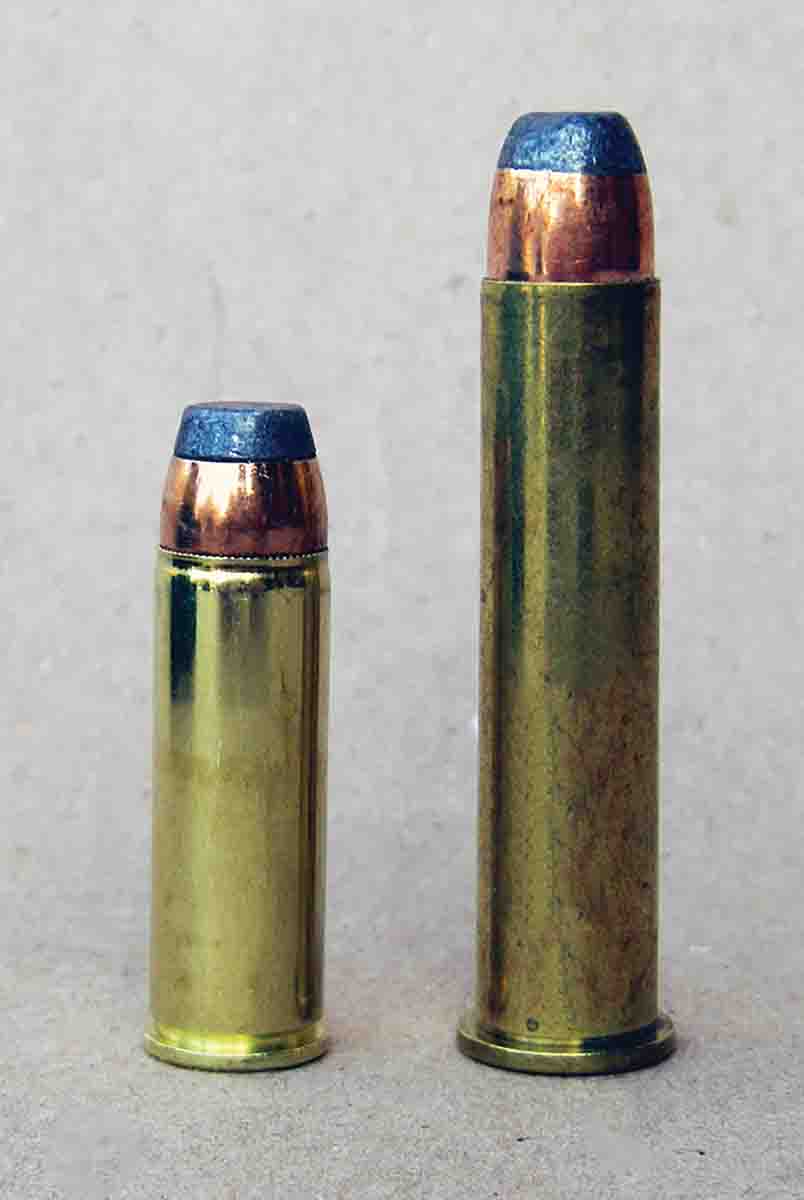 The Model 90A carbine is fitted with an 18-inch barrel matched to a full-length magazine tube with seven-round capacity. "Rifle" versions are equipped with 22-inch barrels with two-thirds-length magazine tubes, while the "Trapper" model features a 16-inch barrel and a full-length magazine. The precision muzzle crown is deep-cut to protect the bore when used in the field. The magazine tube measures .028-inch thick and is constructed of 304L stainless steel, all of which makes it tough, durable and unlikely to be damaged in the field.
The match grade barrel (round is standard, with octagonal as an option) is manufactured by Criterion, is button rifled and beautifully finished to a bright mirror-like surface. The rifling twist rate is 1:32. While I would favor a slightly faster rifling twist, the Big Horn nonetheless performed well using both cast and jacketed bullets pushed to velocities exceeding 2,000 fps. Fouling with both jacketed and cast bullets was minimal.
The trigger was reasonably crisp with a pull weight of just over 4 pounds; however, the after-travel is notably greater compared to original Winchester Models 1886 and 1892. The trigger's after-travel is only "stopped" as it makes contact with the inside of the trigger guard.
After a fairly long initial shooting session, the rather sharp hammer spur became noticeable, even an annoyance. I would offer the suggestion to Big Horn Armory to begin rounding the edges of the hammer spur to the same profile found on vintage Winchester leverguns.
In order to always permit the carrier to fully lift the cartridge for correct chamber alignment, the action required rather robust forward lever operation, which was also necessary when pulling the lever back to close the action. I suspect that with time and normal wear, the action should loosen up. Nonetheless, the sample produced reliable feeding.

Using factory loads from Buffalo Bore, Hornady, Speer and Winchester, the Big Horn Model 90A produced excellent accuracy. After sighting-in and settling in with my left hand positioned carefully between the sandbags and rifle forearm, which prevents the rifle from bouncing off the sandbags, groups typically measured from one to 1.5 inches. However, some loads produced three-shot groups that were under one inch.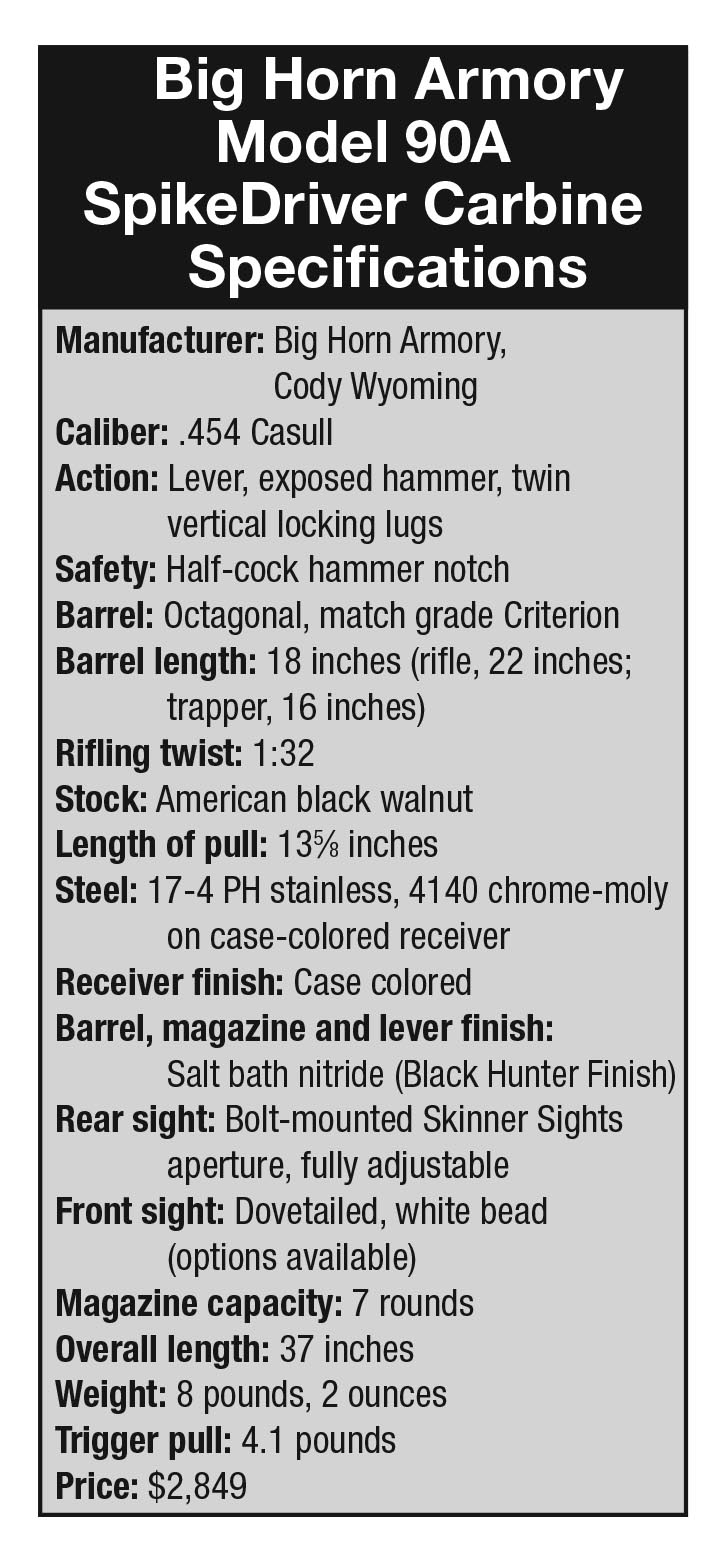 What impressed me most was the consistent accuracy from group to group. For example, when testing leverguns for accuracy, variances in group size with the same loads can be significant as the barrel heats or cools. The Big Horn rifle didn't seem affected by barrel temperature changes, nor was it fussy when changing loads. Rather, groups were almost always very good – at least as long as I did my part.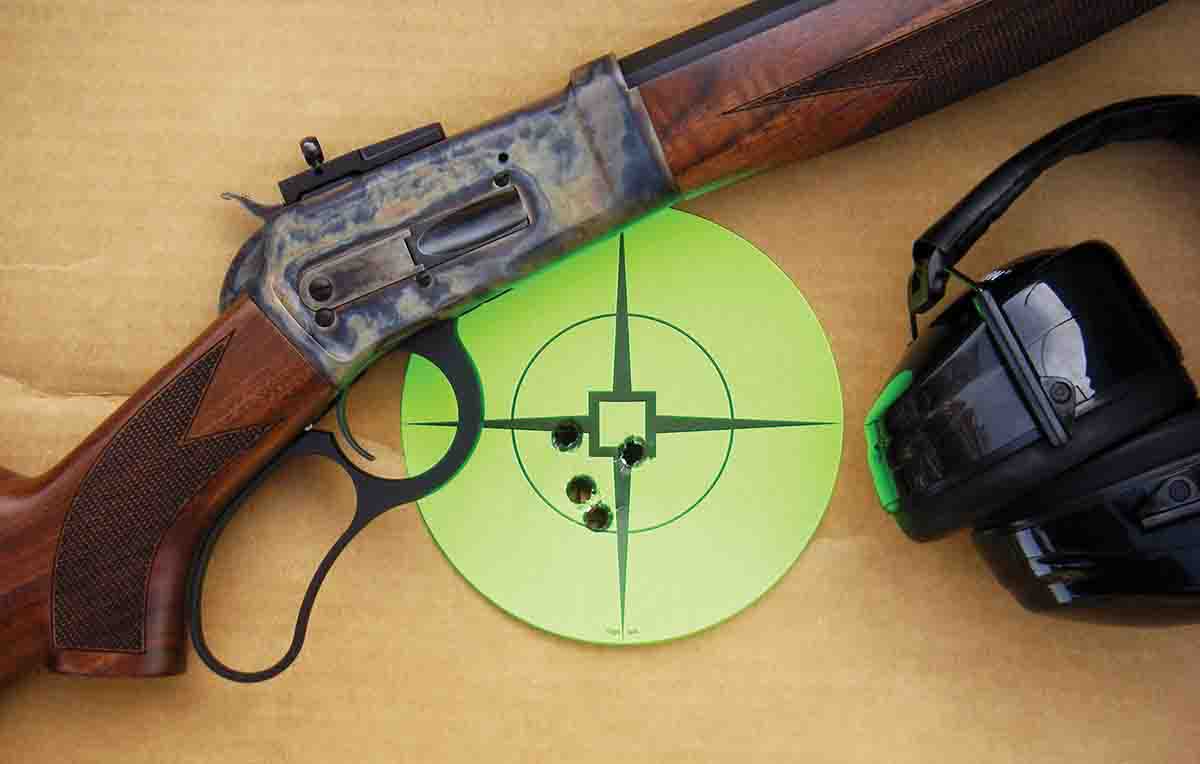 For example, using Hornady's 300-grain XTP-MAG load, three, three-shot groups measured 1.12, 1.05 and 1.26 inches, averaging 1.14 inches, which in practical terms is an insignificant variance. The single most accurate factory load was Buffalo Bore's 300-grain JFN that chronographed 1,933 fps and clustered three shots just under one inch.
Several handloads were developed using Starline cases primed with Federal 205M primers and bullets from Hornady, Sierra, Speer, Swift and Oregon Trail, plus my own cast bullets. Powders included Hodgdon H-110 and Lil'Gun, Accurate No. 9, Ramshot Enforcer and Alliant Power Pistol, with the last powder selected specifically for midrange loads. Once again the Big Horn Armory carbine provided consistent accuracy with all loads.
A midrange load that yielded excellent accuracy, mild recoil and muzzle report consisted of 12.0 grains of Alliant Power Pistol powder with the Hornady 240-grain XTP-MAG HP bullet for 1,347 fps, which slightly exceeds .44 Magnum revolver ballistics. In addition to being useful for taking deer-size game at 100 yards, it grouped inside one inch. Another good load includes the Hornady 300-grain XTP pushed to 1,933 fps using 32.2 grains of Hodgdon H-110 powder, which likewise grouped within MOA. All other handloads stayed within 1.5 inches which, in my experience with leverguns, is impressive.
Regarding .45 Colt loads, the Model 90A would not feed the shorter cartridges reliably; however, several loads were tried in single-shot mode for accuracy. In other words, cartridges were inserted directly into the chamber. Some of the best .45 Colt standard-pressure handloads easily stayed within .75 inch at 50 yards. Most had a muzzle velocity of 1,080 to 1,150 fps and were especially fun to shoot. A couple of suggested accuracy loads include 255-grain cast bullets from Lyman mould No. 452190 pushed with 7.1 grains of Accurate No. 2 powder, or 6.2 grains of Alliant Red Dot for around 1,080 to 1,100 fps.
The Big Horn Armory Spike-Driver Model 90A can be ordered with a long list of options, making it essentially a custom-built, factory-produced rifle. It features high-quality machining and accuracy, and it is especially handsome. When loaded with proper bullets, it is potent and can easily handle large and heavy game.