A few months ago, a friend of mine went to a discount store to buy a first shotgun for his grandson. He came back with two – both Stevens pump guns, priced at an unbelievable $149. "They were so cheap," he told me, "I bought one to keep in the truck. Practically chump change." Undoubtedly, these are sound, durable shotguns that will go
bang
when they are supposed to, but it shows just how far the Stevens name has sunk in the last hundred years. At one time, a rifle made by Joshua Stevens' company was a hallmark of quality. Today, it's a discount brand.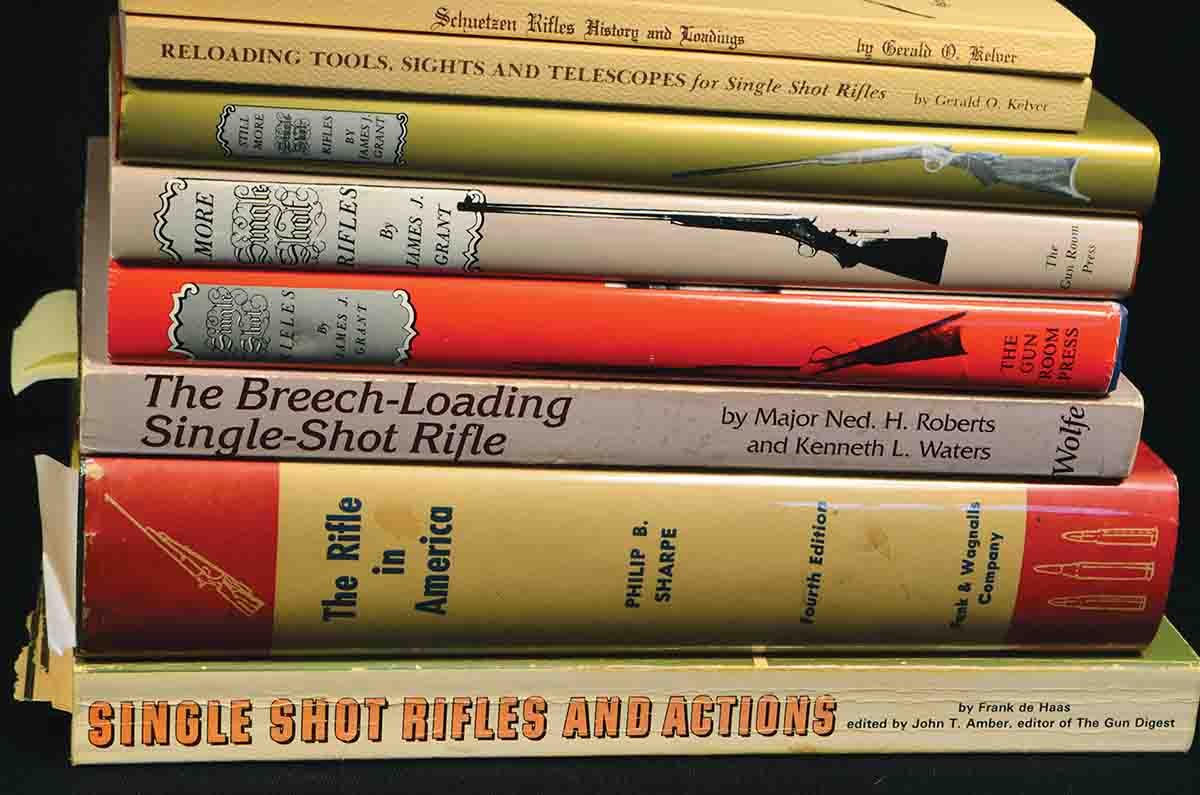 How did a name that once graced one of the finest single-shot target rifles this country ever produced, a name that was linked with the most revered rifleman in America – Harry M. Pope – descend to these ignominious levels? How did the company that originated the all-time most popular and widely used cartridge in the history of the world come to this?
Therein lies a tale of bad luck and changing tastes laced with a little greed and, apparently, a lot of chicanery. In 1904 Stevens billed itself as the "largest producer of sporting arms in the world." Within two decades of making that claim, it was reduced to a subsidiary of Savage, putting its brand on rifles and shotguns aimed at the farm-boy market.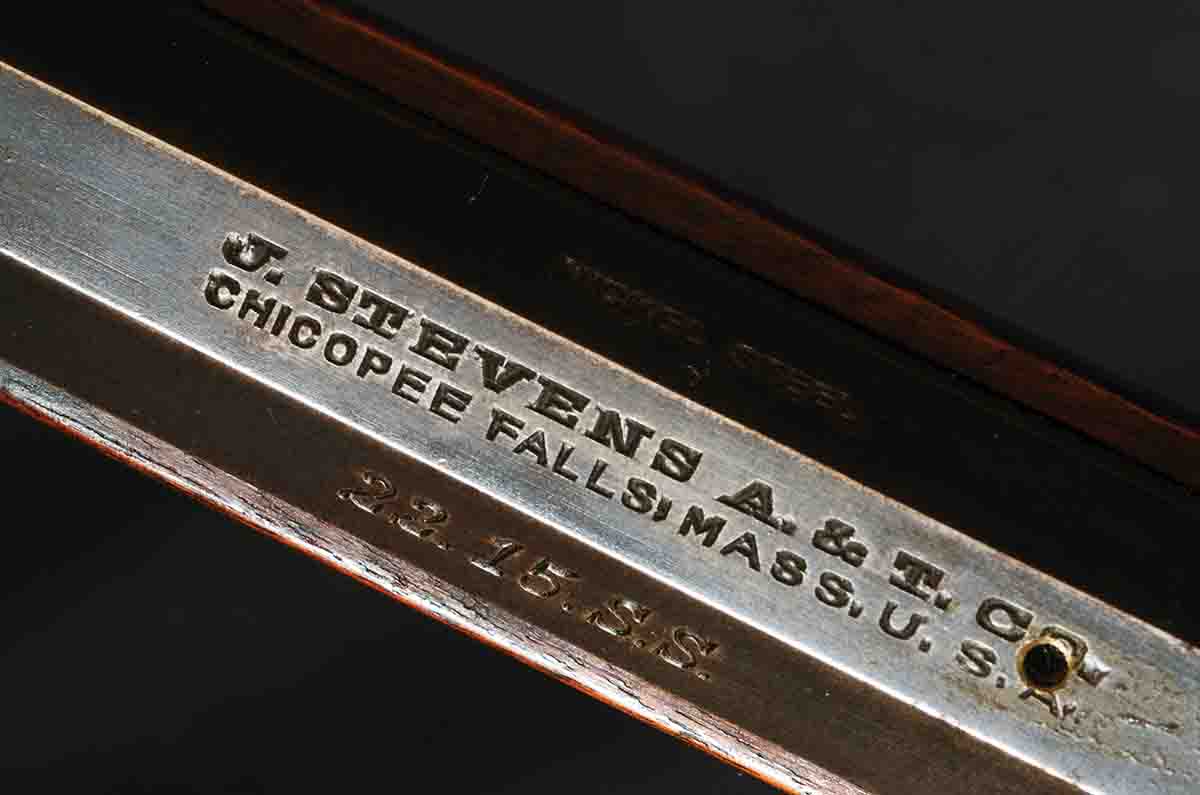 It should be added that there is also a substantial element of mystery in the story – of what Stevens made and when it made it – that adds a fascinating (if infuriating) angle. Searching for the truth about an elegant, old Stevens rifle is a treasure hunt with no guarantee of success. This element of uncertainty does not help the Stevens name in the jealously formal world of big-money gun collecting, but for people in the low- to mid-money category who simply love fine rifles, it provides the possibility of finding an affordable treasure.
First, a brief recap of the history of Stevens – at least the part that is important to this tale. The company was founded by Joshua Stevens in 1864 to produce single-shot rifles of his own design. From the beginning, the company concentrated on small-bore and target rifles, leaving the buffalo guns to others. Some of its actions were break-open, others a variety of falling block.
The cartridge mentioned above – the all-time most popular and widely distributed in the history of the world – is the .22 Long Rifle introduced by the J. Stevens Arms & Tool Co. in 1887.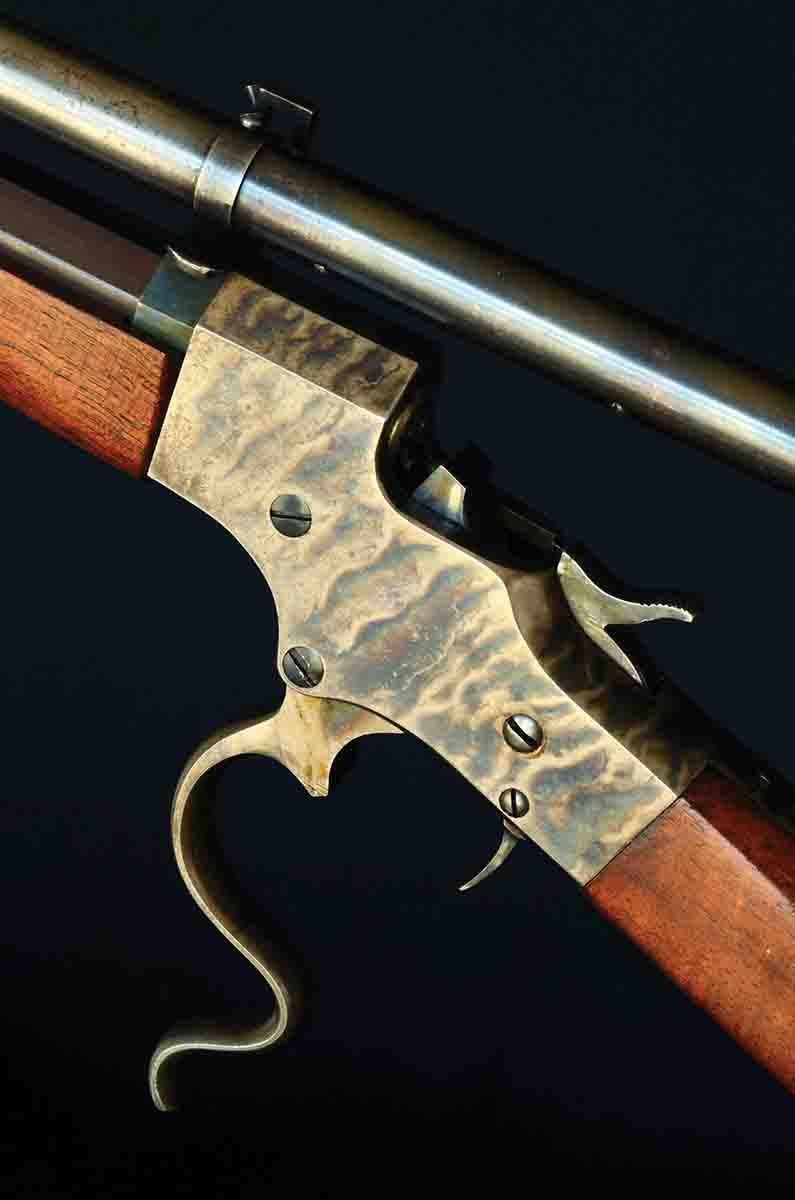 Around 1894 (the exact date is debatable) Stevens introduced its No. 44 action, which can best be described as a "swinging block" operated by an underlever. For the next decade the No. 44 anchored the Stevens "Ideal" line of top-quality target rifles that ranged up to the most elaborate
Schuetzen
models. Offhand target shooting was at its peak, and Stevens was determined to compete with the Ballard (Marlin), Maynard and Winchester.
In 1901 the Stevens company bought-out barrelmaker Harry M. Pope, who signed a five-year contract to work with Stevens producing rifles, barrels, loading implements and related equipment. Pope left the company in 1906 to relocate to San Francisco, just in time to have his shop wiped out by the great earthquake, but Stevens continued to make Stevens-Pope implements long after he had left.
The Stevens No. 44 action was good, but not as strong as some, and certainly not strong enough for smokeless-powder pressures. In 1904 the company added the No. 44½ action. This was a true falling block, vastly stronger than the No. 44, made of the best steels then available and with a couple of extra design features. As it opened, for example, the block rocked back slightly to withdraw the firing pin; then, as it was closed, it rocked forward, allowing a cartridge to be seated even if it was not fully in the chamber.
The company did not abandon the older 44 action; instead, it began a gradual transition to the 44½, retaining the old model numbers. In 1914 with the outbreak of the Great War, Stevens began taking on military contracts, and by 1916 had ceased all civilian production. By this time it was owned by Westinghouse. In 1920 it was acquired by Savage Arms and became a subsidiary. At about the same time, amid rumors of a defense department investigation regarding war-time profiteering, all the Stevens records mysteriously went up in flames.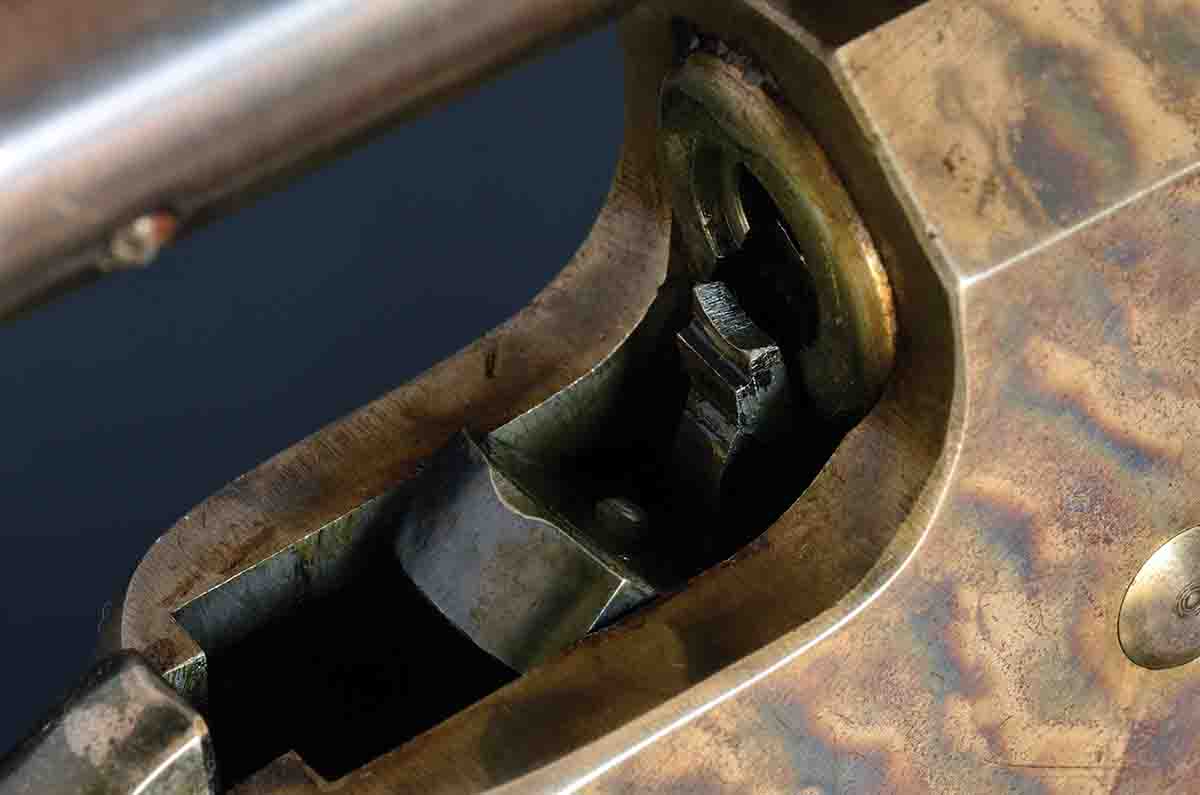 At that point the story essentially ends. Never again did Stevens produce a serious, high-quality rifle. Never again did it make its excellent No. 44½ action. Because it was still tooled up to make the older, weaker 44, however, that became the basis for Stevens "falling block" single-shot rifles for small and light cartridges, right up until the last one left the factory in 1946.
The loss of the Stevens records was a calamity for collectors, made worse by the company's method of numbering and identifying its models. One expert calls it "totally incomprehensible," and that is no understatement. This was further compounded by duplication of model numbers as well as catalogs that are, at best, confusing, and at worst contradictory.
In the absence of factory records, company catalogs are the best source of information on models, introduction dates and individual features, so this is a serious blow. For example, the company might issue catalog No. 50, dated 1902; later, it might re-issue catalog No. 50, but with this model deleted or that one added. Two collectors, each with catalog No. 50, find themselves with conflicting information.
The major bugbear was the fact that Stevens used the same model numbers to identify rifles built on both the 44 and the later 44½ action. You can get a Model 47, for example, or a Model 51, with identical features but different actions. Since the two actions are externally indistinguishable to the untutored eye, this is a short route to madness. Combine this with the fact that on higher-grade rifles a shooter could have his choice of several barrel configurations, each available in different lengths. There were at least six combinations of sights (or the lack thereof), a half-dozen different buttplates, underlevers available in several designs, cheekpiece or no cheekpiece, pistol grip or straight and a choice of trigger combinations. Finally, there are engraving options. The possible variations and permutations are almost infinite.
Not surprisingly, to my knowledge no one has undertaken to write the definitive history of the J. Stevens Arms & Tool Co. of Chicopee Falls, Massachusetts – or if they have, they are in an asylum somewhere. However, good information is available from several sources.

James J. Grant was the guru of single-shot rifles from 1940 to 1990, producing a total of five books on the subject, beginning with Single-Shot Rifles (1947) followed by More Single-Shot Rifles (1959), Boys' Single-Shot Rifles (1967), Still More Single-Shot Rifles (1979) and the Single-Shot Rifles Finale published in 1992 by Wolfe Publishing. Book numbers one, two, and four have been reprinted and are readily available, although they are not cheap. Books three (Boys' Rifles) and five (Finale) are quite expensive. Grant wrote from personal knowledge based on his own collection, and would return to a subject in a later book as he learned more about it.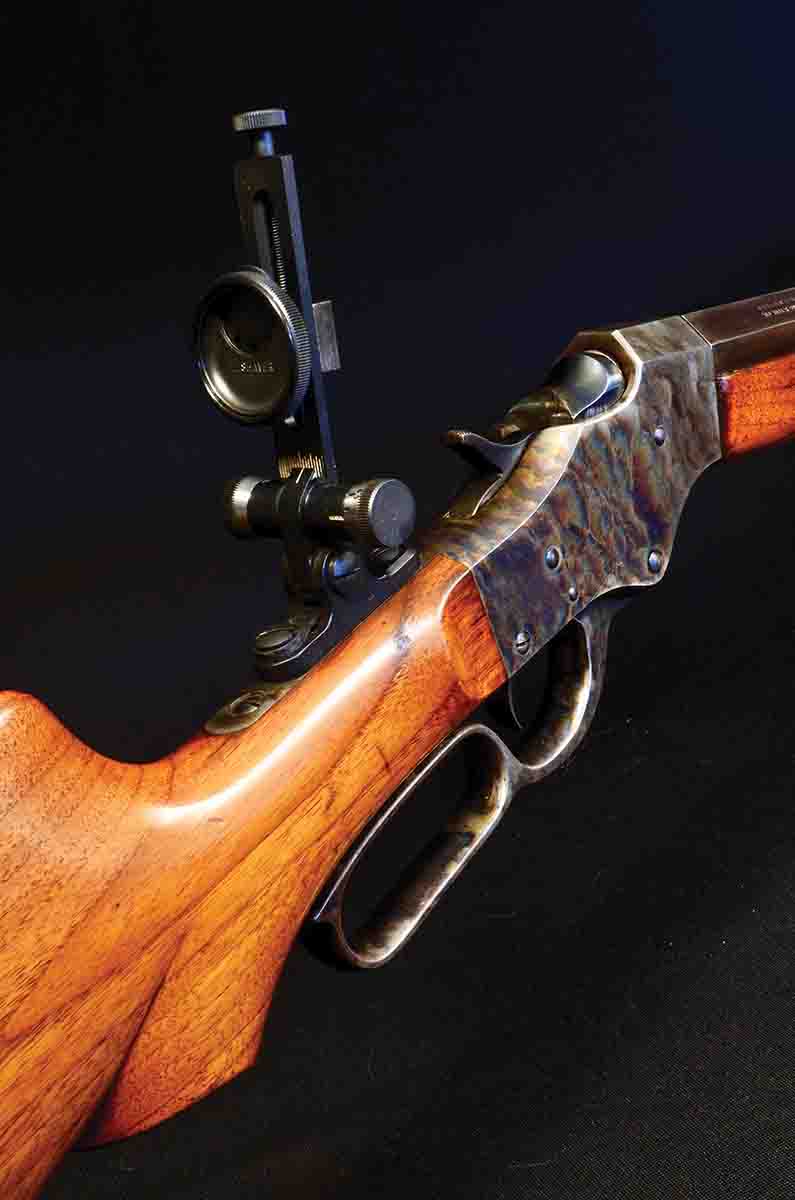 In Denver, Gerald O. Kelver wrote several books, including one on Harry Pope. Ned Roberts began a book on breech-loading single-shots that was later completed by Ken Waters and published by Wolfe Publishing in 1987. Naturally, Philip B. Sharpe included a long chapter on Stevens in The Rifle in America, purporting to give a description of every model ever produced. He did not succeed – at least, not completely accurately – but it is useful nonetheless. Finally, there is Frank de Haas' Single-Shot Rifles and Actions (1969). Grant, Kelver, Roberts and Sharpe all knew Harry Pope personally, which helped.
Anyone with a serious interest needs them all, simply because no one book is complete in spite of the authors' best efforts, and they allow cross-checking information. When it comes to Stevens rifles, believe me, you want to check, double-check and triple-check. In the end, you will simply have to decide who to believe. The obvious question is, then, is it worth the trouble? The answer is yes.
James Grant believed the Stevens 44½ to be the best action ever made for a target rifle; better in some ways than either the Ballard or the Winchester High Wall. Had it not been introduced so late in the Schuetzen game, and discontinued so soon, he felt it would have been generally recognized as such.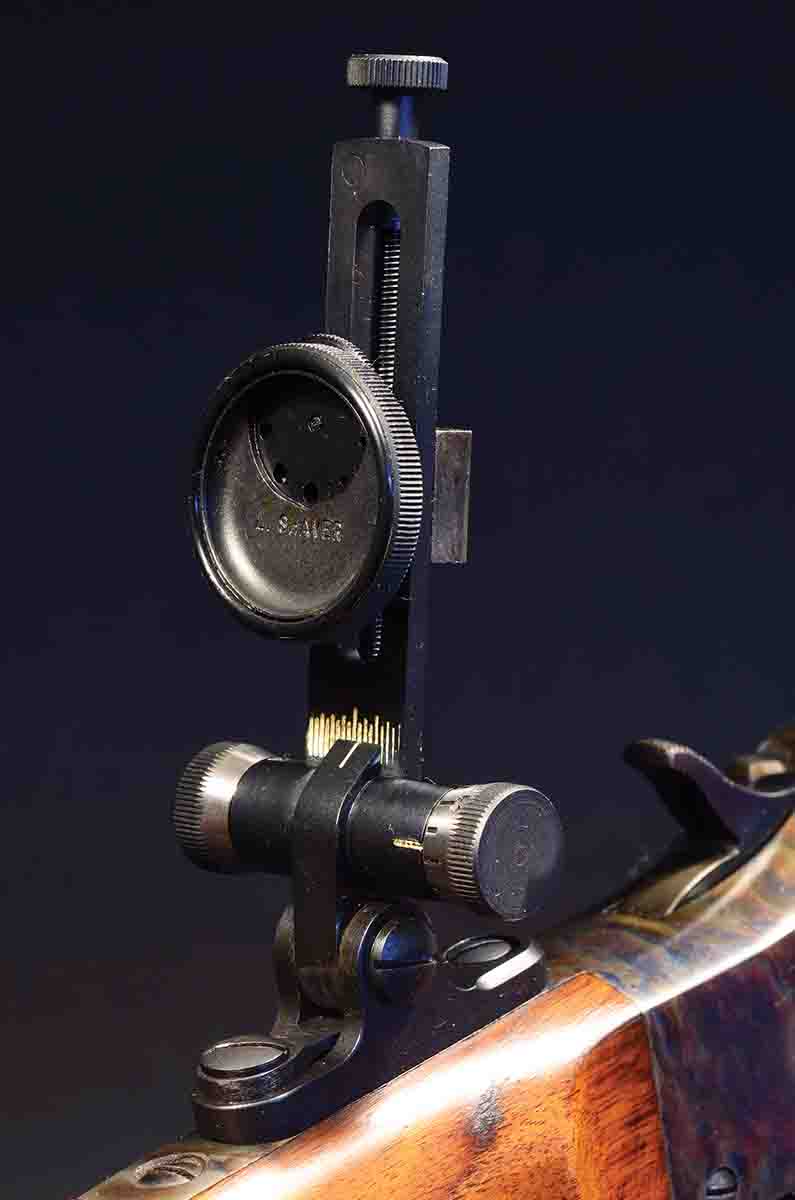 Although the 44 action is not as strong, it is almost as desirable. Harry Pope thought it was good enough for him to attach his name, barrels and reputation on it. In fact, almost all the genuine Stevens-Pope rifles are built on 44s because the No. 44½ appeared only late in his five-year contract.
With the actions open, it is easy to tell them apart. The 44½ breechblock protrudes beneath the action, the 44 does not. With the actions closed and viewed from the side, however, the only way to tell the difference at a glance is by the number and positioning of action screws. The 44 has an additional screw directly above the lever pin. Frank de Haas says it is an infallible guide, but it is not. Some later modifications to the 44½ required a screw in that position, and my Model 47 .25-20 (a 44½) was inaccurately described by the seller as a 44.
Stevens had a propensity for changing specifications in midstream. For example, it is believed that at one time the three finest models were the 52, 53 and 54 – all no-holds-barred Schuetzen rifles; the 53 was distinguished by its palm rest. Later it was discontinued, and that feature was made optional on the Model 52. Since Stevens did not engrave model numbers on rifles, it is nearly impossible to tell whether a rifle is an original Model 53 or a Model 52 with an optional palm rest. As a result, the Model 53 is so rare that it's almost as mythical as a genuine Parker Invincible. James Grant believed none had ever actually been produced, until he saw the only one known to exist.
From the 1920s to the 1950s, many Stevens rifles were torn apart and their actions used as the basis for varmint rifles. Most desirable for this, of course, was the 44½, which could take the high pressures of cartridges like the .22 Hornet or .219 Zipper Improved. Once everyone was satisfied that only a good bolt action could deliver the accuracy desired, the practice died away, but not before the ranks of original factory rifles in chamberings like .25-20 Single Shot, .28-30, .32-40 and .38-55 had been decimated. Even many superb, high-grade collectors' items were destroyed in this way.

Stevens was a pioneer in the development of precision tang sights and globe front sights, which naturally attracted collectors, and some rifles deemed otherwise of limited value were stripped of their sights for sale to collectors. As a result of all this vandalizing, finding an all-original Stevens in fine condition is becoming more and more difficult.
Still, it is worth the effort. Stevens rifles have an economy of design and a graceful fluidity that is not common in the world of single-shot rifles. Originals sport beautiful, rippling case-hardening colors on the receiver that are distinctively "Stevens." In the higher grades, you can find everything that is required on a fine Schuetzen rifle, including palm rests, elaborate underlevers, false muzzles and bespoke loading tools. Some of the walnut used would knock your eye out, sculpted into cheek rests and curving perch bellies worthy of Henry Moore.
Finally, they have the distinct advantage that they don't have the cachet of a Ballard, nor do they bear the magical Winchester name that drives prices of fine specimens out of reach. At the risk of offending Winchester and Ballard admirers, the Stevens, especially in its No. 44½ configuration, is an aficionado's rifle – a rifle lover's rifle that is still affordable.