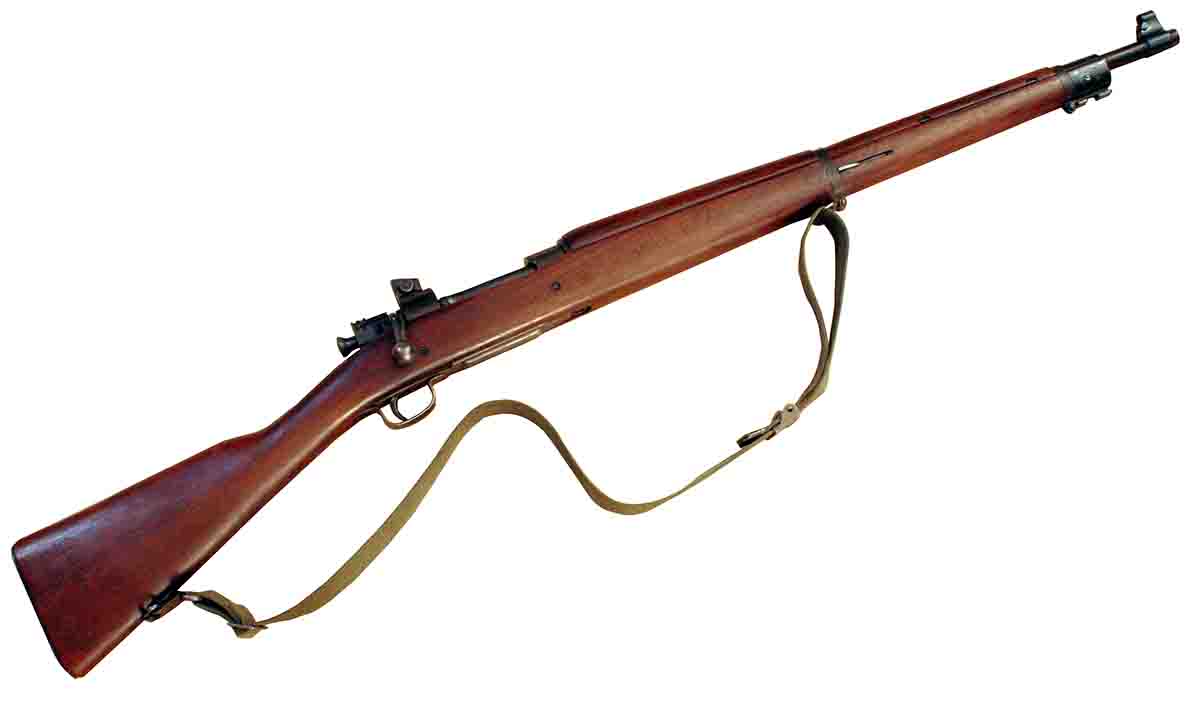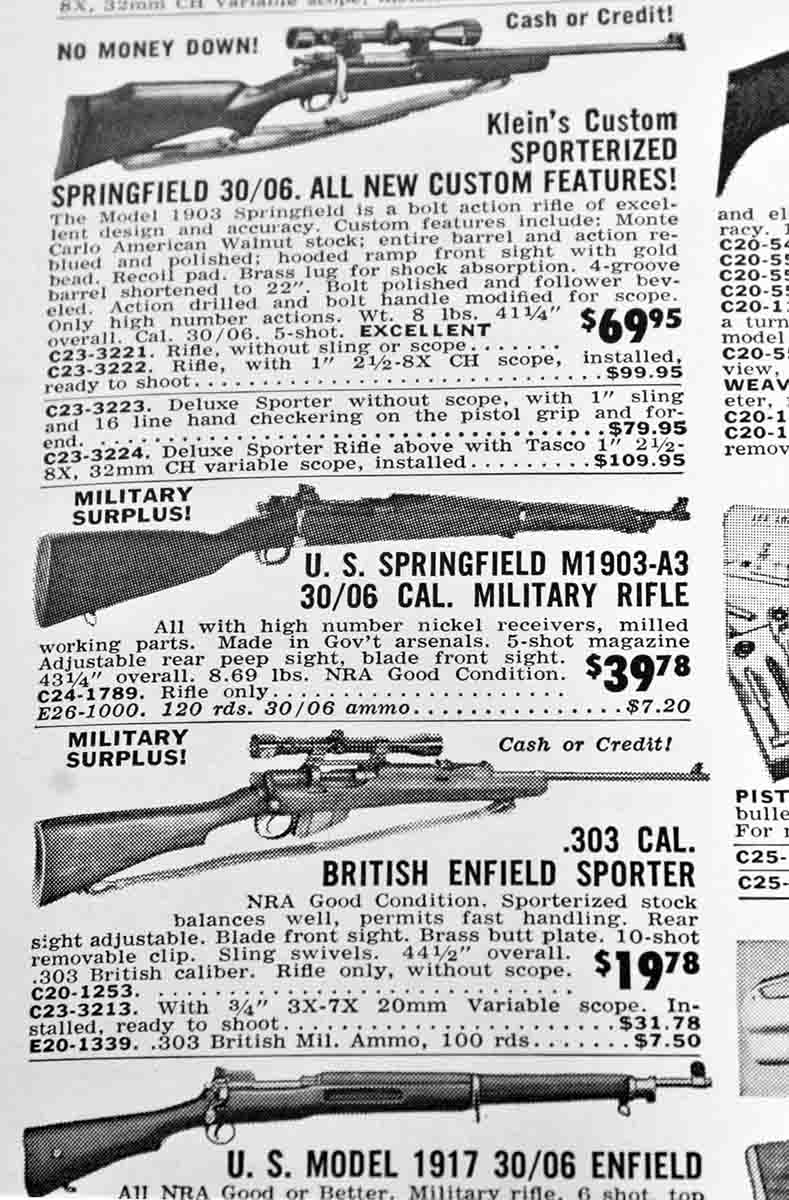 The U.S. military adopted the semi-automatic M1 "Garand" as its standard infantry rifle in 1936, and production started in 1937 at the Springfield Armory in Massachusetts. While the 1903 Springfield bolt-action rifle remained in service, production ceased.
However, history sometimes interferes with obsolescence. The U.S. military soon started expanding, especially after Germany invaded Poland in 1939, starting World War II. The U.S. sent a bunch of rifles to Great Britain, and as a result, not enough M1s or 1903s were available for U.S. soldiers.
The 1903 Springfield machinery used by Rock Island Arsenal in the early 1900s had been in storage since shortly after World War I, and to make room for M1 Garand production at Springfield Armory the 1903 machines at Springfield Armory were also stored at Rock Island. The Ordnance Department eventually decided to ship the stored 1903 equipment to the Remington factory in Ilion, New York.
Philip B. Sharpe, in the second, 1947 edition of his comprehensive book The Rifle in America, stated "An entire trainload of machinery" went to Ilion. He noted "the old Rock Island Arsenal setup was found to be in excellent condition – all necessary cutters, fixtures and special tools had been wired into position on the machine to prevent loss and confusion." The Springfield Armory tooling had been used far longer, so was more worn.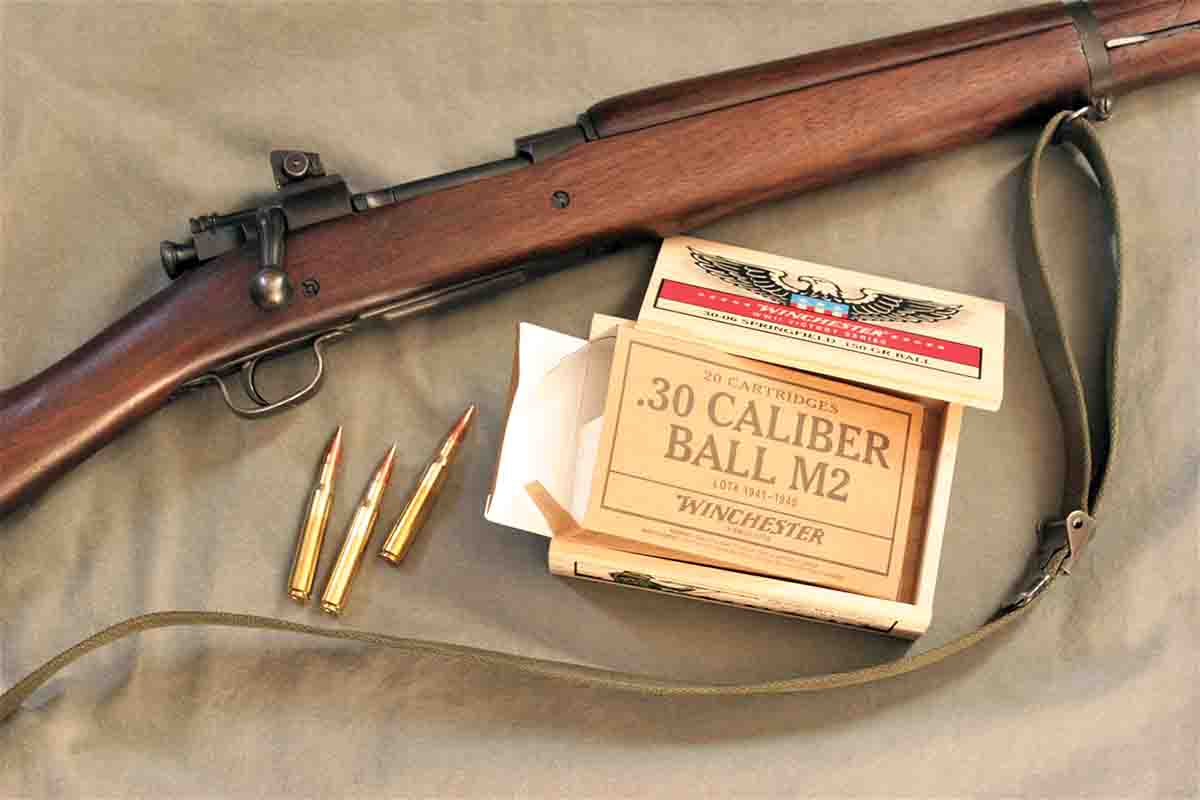 The first Remington-made 1903s came off the production line in September 1941, and naturally resembled the World War I 1903A1s made at Rock Island, with straight-gripped stocks rather than the semi-pistol grips of the 1903A2 version adopted in 1929. However, many of the steel parts required lots of milling and other manufacturing steps, slowing production time.
After the Japanese attack on Pearl Harbor on December 7, 1941, the U.S. entered the war and needed far more rifles, as soon as possible. Remington started introducing newer, faster manufacturing methods, first replacing milled steel parts such as the magazine assembly, magazine follower and stock fittings with sheet-steel stampings. The 1903's open rear sight and barrel base were replaced with an aperture sight, also using some stampings.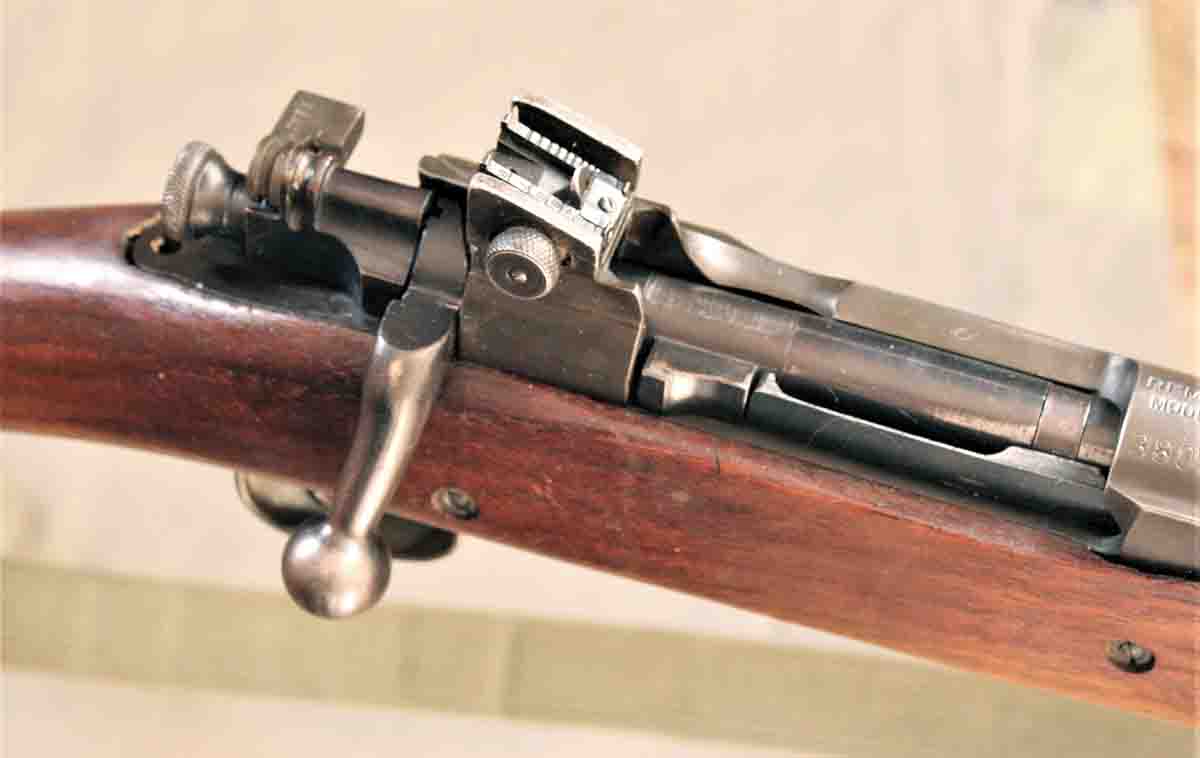 This not only sped up production, but training of soldiers. Many had already started shooting Garands, which also had aperture rear sights, and instructors soon found newer recruits started shooting accurately much faster with the 1903A3's aperture.
According to Sharpe, the Remington rifles were sighted-in at the factory to hit 3 inches above point of aim at 100 yards with M2 Ball ammunition featuring 152-grain bullets, putting them dead-on at about 200 yards. He also noted: "According to the Key Ordnance Inspector at the Remington plant . . . the average group diameter was 1¼ inches, equal to the normally expected performance of precision peace-time manufactured rifles with match ammunition."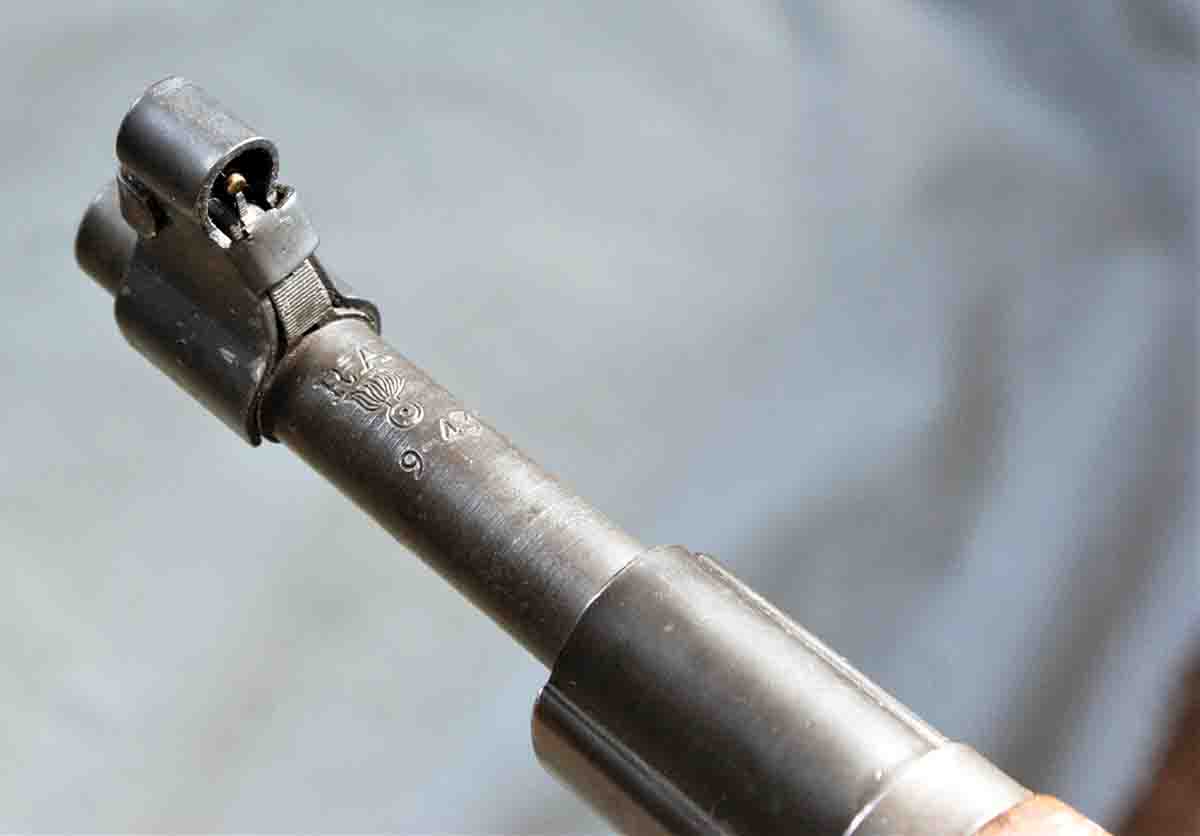 The introduction of The Rifle in America was written by General Julian S. Hatcher, who spent his entire Army career in ordnance, during World War II as commanding general of the Ordnance Training Center in Aberdeen, Maryland; chief of ordnance training service; and chief of field service. In his classic reference Hatcher's Notebook, also published in 1947, he noted that the front sights of 1903A3s were "furnished in five heights from .477 to .517 inch. In targeting the rifles the proper height of blade is used to make the gun shoot as nearly as possible in agreement with the rear sight graduations," which ranged from 200 to 800 yards. The aperture assembly could be easily pushed through the graduation detents, and each 100 yards was felt as a slight click. Windage could also be finger-adjusted with a knob on the side of the sight.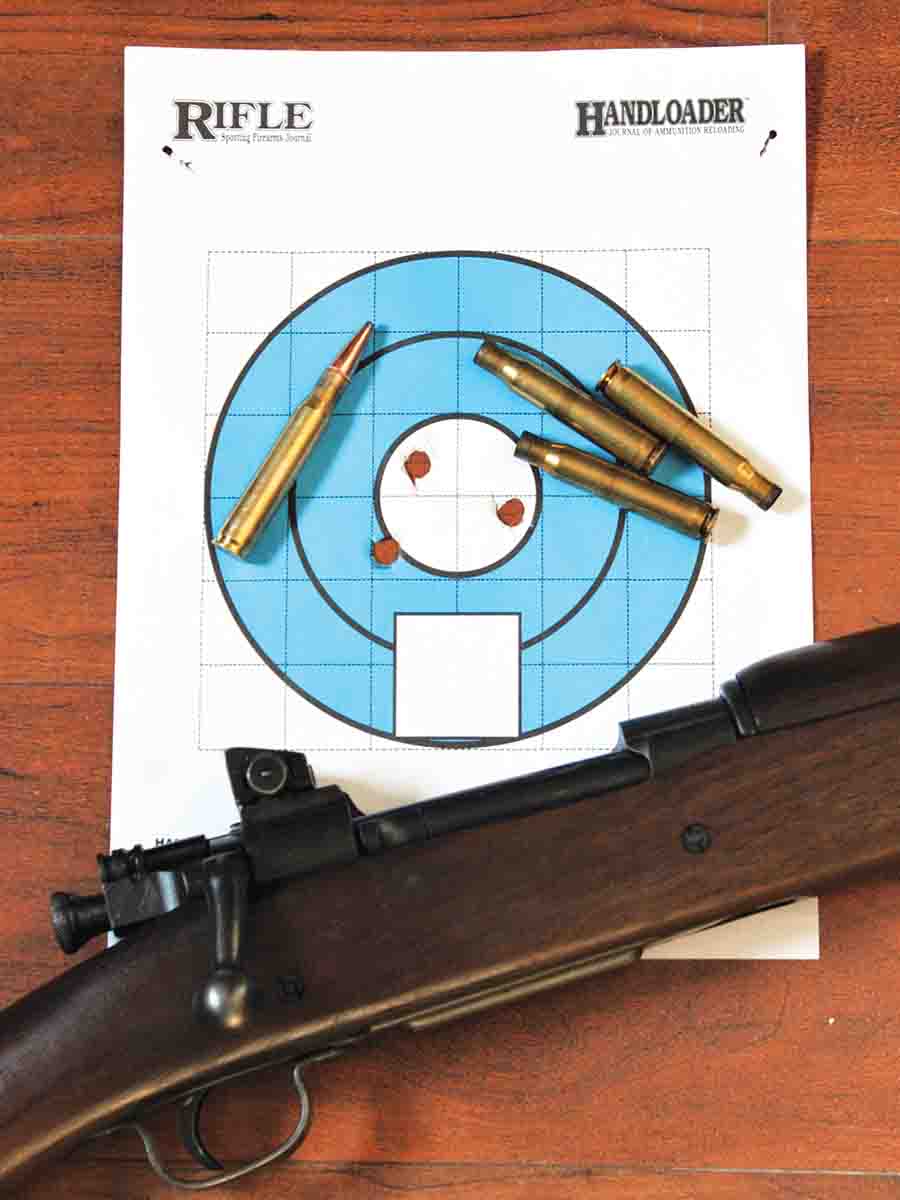 The fine accuracy of the Remington rifles occurred despite another Remington time-saver, reducing the number of rifling grooves from four to two.
Hatcher's Notebook
stated the 2-groove barrels were made by simply eliminating two of the grooves in the original 4-groove 1903 barrels.
Initially, the two grooves were cut-rifled, the method used for centuries, a steel cutter removing thin slices of steel with each pass. Reducing the grooves to two halved the time spent in rifling. Later, the single cutters were replaced with broaches, a succession of similar cutters mounted in-line on one, longer tool. Broaching cut the grooves in one pass, also saving time.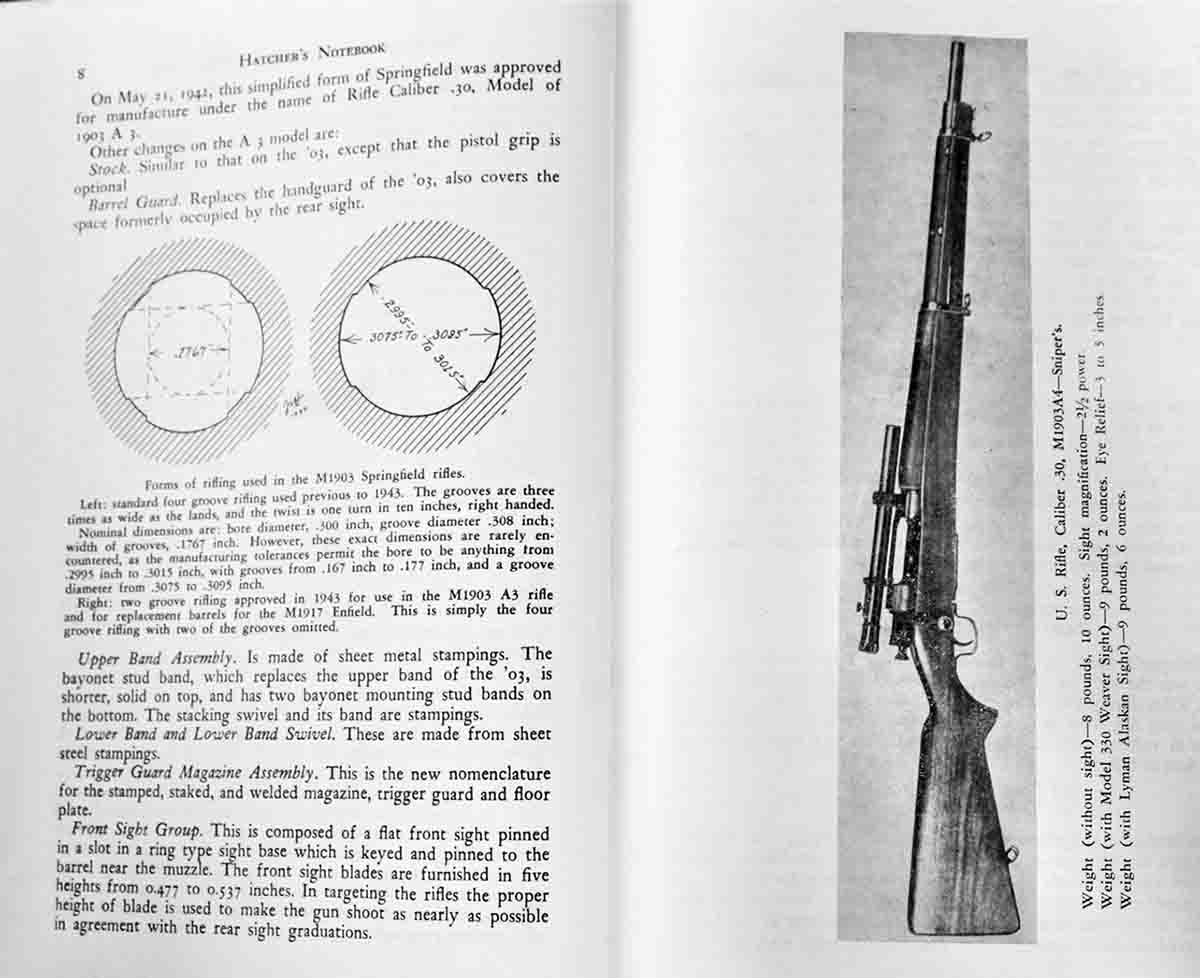 Eventually, Remington made and planned so many changes that in May, 1942, the revised rifle was designated the 1903A3. The first Remington 1903A3s were delivered seven months later – with accompanying notes stating that they shot well, apparently to persuade skeptics who might question the 2-groove rifling.
Meanwhile, the Ordnance Department had decided to increase 1903A3 production by having the L.C. Smith & Corona Typewriter Company produce rifles at its factory in Syracuse, 70 miles from Ilion, making it easy for Remington to provide technical advice. Smith & Corona actually delivered rifles a month or so before Remington, partly due to being provided with brand-new machinery.
However, they also didn't make barrels, primarily using 4-groove barrels made by High Standard and a few 6-groove barrels from Savage. Some shooters believe all 1903A3s had 2-groove barrels, probably because Remington made three times as many rifles as Smith & Corona.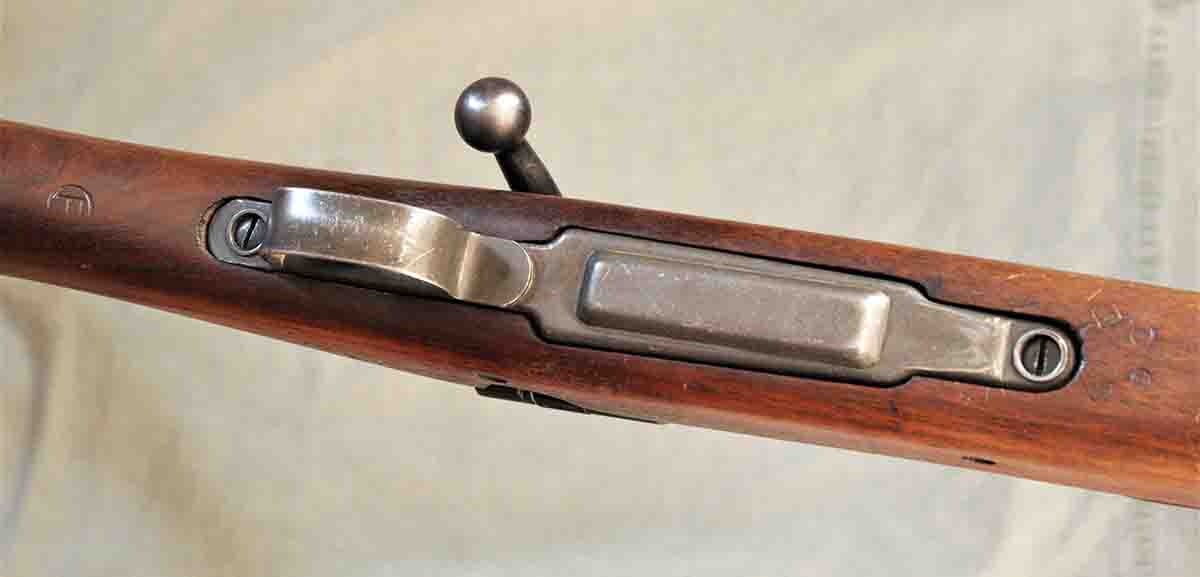 Toward the end of 1903A3 production, some Remington barrels were rifled by a new method, which Sharpe called the "button system of swaging the rifling into a reamed barrel." Both Remington and Springfield experimented with button rifling, but according to Remington, the Springfield experiment failed because they pulled the button through the barrel while Remington pushed it through.
Remington made the buttons by swaging them in a very hard tool-steel cylinder resembling a section of rifle barrel, then applying a very thin "flash plate" of chromium. The reamed barrel bores were copper-plated before pushing the button using a "special DuPont lubricant."
Despite all this prep work, button rifling proved to be quicker and cheaper than cut or broached rifling, partly because the buttons never wore out. Instead of wearing down, the button actually grew in diameter, probably due to being pushed through the bore. After being used in around 350 barrels, Remington lapped the buttons back to original size.
Enough Garands were eventually being made to fill all needs, and production of 1903A3s ceased in February 1944. Most were put into storage and eventually sold through the Civilian Marksmanship Program in the early 1960s, as were other former battle rifles, including many captured from other countries during the war.
I joined the National Rifle Association at age 12, paying my dues with paper route profits, and still have one of my first issues of American Rifleman, published in January 1965. The small-print advertisements in the back of the magazine include many for "war surplus" rifles, including 1903A3s for $39.78. This sounds like a giveaway today, but in 1965 the average American worker's yearly income was a little under $7,000, and a $40 1903A3 amounted to .0057 of $7,000. In 2019, the average U.S. worker's income was around $40,000, and .0057 of $40,000 equals $228 – still a bargain, but not a giveaway.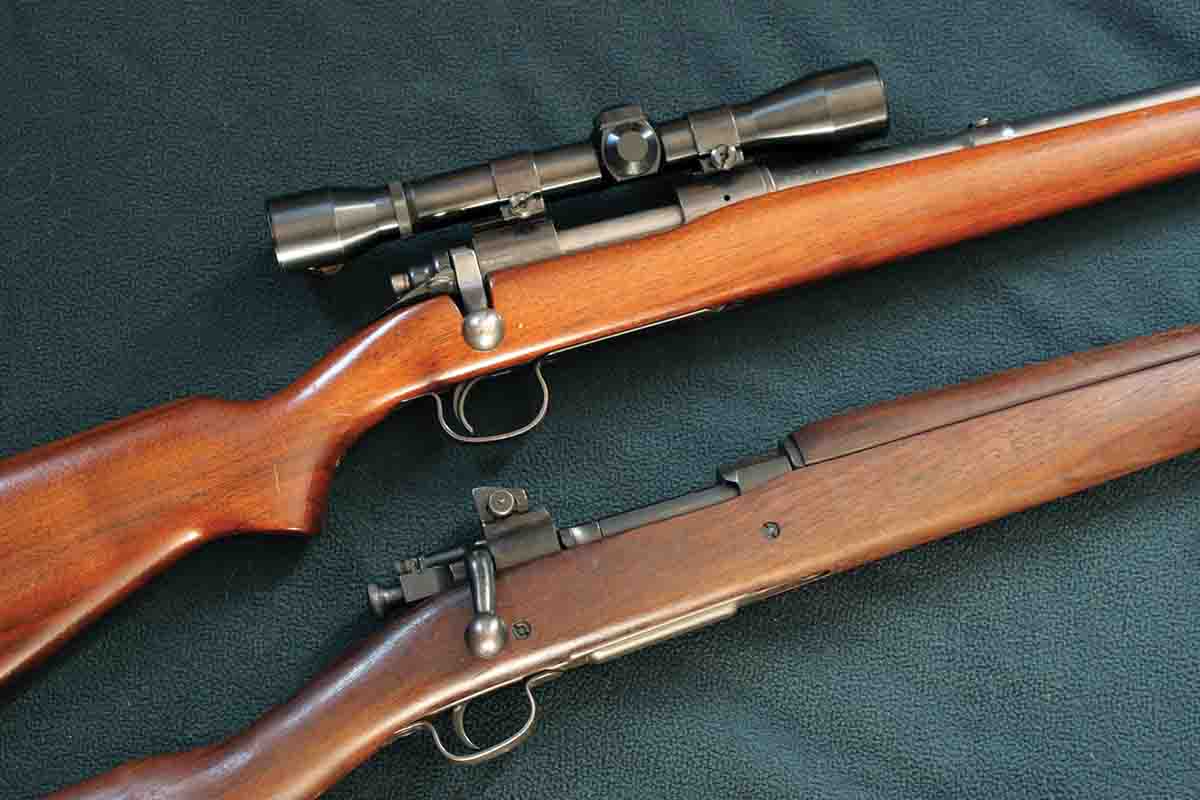 During that period, two of my father's friends bought 1903A3s for hunting rifles. One friend "sporterized" his by epoxy-bedding one of the many semi-inletted stocks available for war surplus rifles. The other used his rifle as-is, including the canvas military sling. Neither ever considered mounting a scope, and the guy with the all-original rifle hunted with it into his forties.
At the time, I only had a rather vague knowledge of 1903A3s, and after deciding to purchase a war surplus rifle, I picked a Mosin-Nagant 7.62x54R "Russian" – partly because the price was only $10, about a week's paper route profits. However, my father had also assured me that a .30-06 kicked so hard it would "spin you right around." Maybe it would have, but maybe not. I was growing rapidly, as many 12-year-old boys do, that year gaining around 20 pounds and five inches in height. One thing I do know is that neither of us had a clue about the recoil of a Mosin-Nagant.
The friend who'd restocked his 1903A3 helped me sporterize the Mosin-Nagant's stock, shorten and recrown the 29-inch barrel and added an old 1917 Enfield front sight he found in his parts box. The rifle shot pretty well, but a year later my father bought me a used Savage 99 .308 Winchester we found in a local store.
Eventually, many other rifles came my way, including a pair of Remington 1903A3 Springfields. The first appeared in 1995 on the used rack at Capital Sports & Western Wear in Helena, Montana, fitted with a crudely finished sporter stock and modified for scope mounts. The price included a Lyman Alaskan scope in Redfield mounts, and the bore looked shiny, so it followed me home – partly because I regretted selling my first 1903 sporter, a very nice Springfield Armory rifle, after running short of funds in college. (This was also a few years before the price of Lyman Alaskans started multiplying exponentially.)
Three-shot groups at 100 yards with a variety of factory and handloads ran from under an inch to around 2 inches, with the most accurate ammunition being some military Lake City Match made in 1963. However, I soon realized the rifle had not replaced the Springfield 1903 in my heart, and the 1903A3 went down the road (though the Alaskan stayed).
My second 1903A3 appeared in early 2020, again at Capital Sports, this time a Remington military rifle. It may even be all original: The Remington collector's website indicates the action was built in late June of 1943, and the barrel date-stamp behind the front sight reads "9-43," the month and year it was fitted. Also, there is only one proof-firing stamp on the stock – a P inside a circle – and when 1903A3s were rebarreled, they normally got reproved, receiving a second stamp.
The rifle also came with what appears to be one of the original canvas military slings, though today, replica slings can be purchased. (Oh, and it did not cost $39.78, or even $228.) However, during arsenal repairs and refurnishing, many 1903A3s ended up with mixed parts, sometimes from both Remington and Smith & Corona, and the stock may not be original.
In April 1944, a Remington engineer in his 30s named Merle H. Walker applied for and received U.S. Patent number 2,383,356 for button-rifling barrels. Walker's nickname was "Mike" – the Mike Walker who designed the new bolt-action sporters Remington started making in 1947, along with the "Walker trigger." Walker was the primary engineer for the button-rifling project and assigned the patent to Remington.
Button-swaging eventually became the primary rifling method in the U.S., both for factory and aftermarket barrels, though quite a few custom barrels are cut-rifled. In recent decades, several large factories started hammer-forging barrels, a method developed in Germany during the World War II era to speed up production.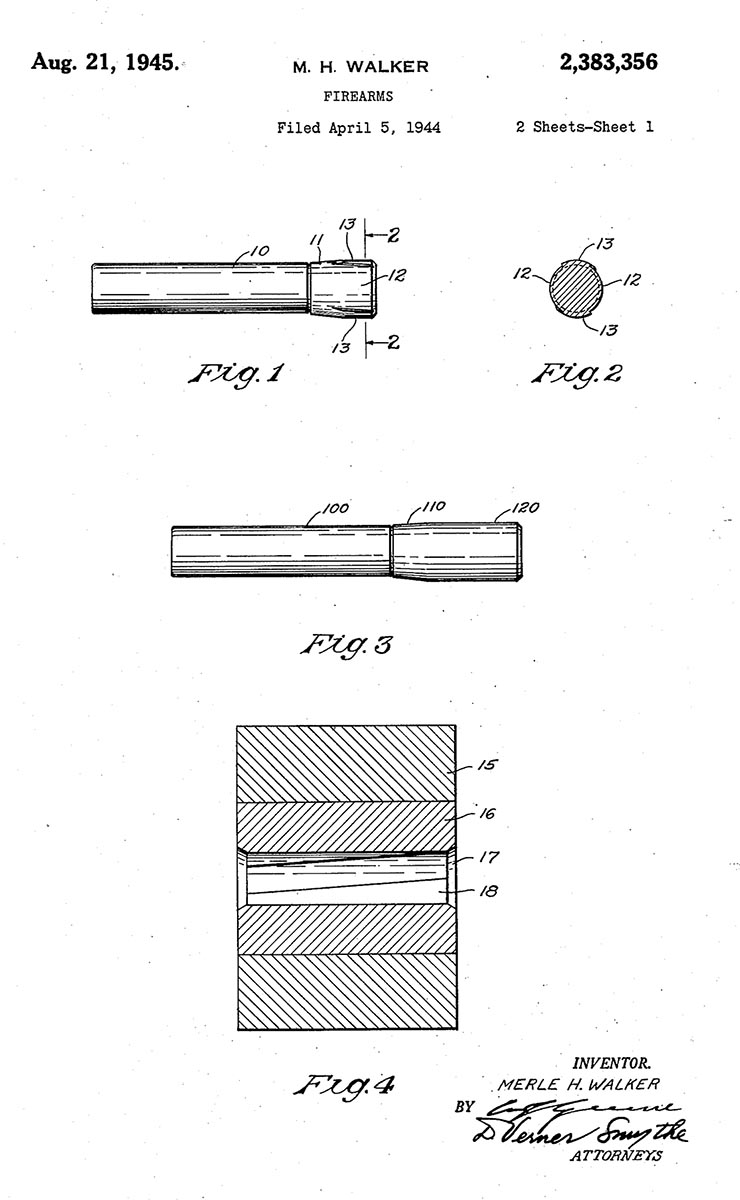 My 1903A3 may have been button-barreled, but my Gradient Lens borescope reveals just enough faint pitting from corrosive priming to hide the details that can differentiate cut- from button-rifling. However, we do know that all Remington 1903A4 rifles had button-rifled barrels.
The A4 was the sniper model, the final variation of the 1903 Springfield. The action and bolt handle were modified for scope mounting, and the iron sights were eliminated. The 1903A4s also apparently shot well, and continued to be used even after 1903A3s were all replaced by Garands, remaining in service into the Korean War.
After purchasing my Remington 1903A3, some acquaintances warned me that they tended to shoot quite high. I suspect this occurs due to shooting commercial hunting ammunition with faster velocities and heavier bullets. The M2 Ball 152-grain load used for sighting-in Remington 1903A3s was rated for at most 2,805 fps, almost 100 fps less than the slowest Sporting Arms and Ammunition Manufacturers' Institute (SAAMI) velocity for 150-grain .30-06 hunting loads.
The military M2 ammunition I've shot in various rifles averaged in the mid-2,700s. I tested my rifle with one factory load and two handloads, all featuring 150-grain bullets at M2 velocities. The factory load was Winchester's recent "WWII Victory Series" reproduction of M2 Ball, which comes in a brown cardboard box inside a wooden box with a sliding cover. The 150-grain bullet is a full metal jacket, not exactly the 152 grains of the original load, but as Hatcher's Notebook points out, the original bullets varied a few grains in weight. Winchester lists muzzle velocity at 2,740 fps.
The two handloads featured 150-grain Hornady InterLock Spire Points, with 49.0 grains of Hodgdon Varget and 49.0 grains of IMR-4895 – the powder used in M2 Ball. Varget had resulted in better accuracy than IMR-4895 during my M1 Garand tests described in "M1 Garand Handloads," published in Handloader No. 316, (October-November 2018), and also did slightly better in the 1903A3. All three loads were about 2 to 3 inches above the front sight at 100 yards, with the rear sight elevation set at 200 yards.
Despite the 1903A3's reputation for accuracy and reliability, Phil Sharpe goes into a mini rant at the end of The Rifle in America's chapter on the history of Springfield bolt-actions: "It was a good rifle – but not as good as that which made [the 1903 Springfield] the standard bolt action among rifle lovers in America. The use of stamped steel parts and crude manufacture has never appealed to the American rifleman . . . The Model 1903 started downhill when it was revived. Once, the ownership of a Springfield was an honor. Ownership of a 'new Springfield' is not. . . . The young rifleman will probably never know what a wonderful rifle the Model 1903 once was – all he will know is the 'tin can' version."
This is interesting, because when the Remington 721 and 722 appeared after the war, with button-rifled barrels and stamped magazine parts (including a non-hinged floorplate) in a plain, uncheckered stock, many older shooters expressed similar criticisms. Typical is gunsmith Bob Wallack's review in the 1958 Gun Digest annual: "The motto at Remington these days is 'all for production' . . . Every part that can possibly be banged out on a punch press is banged out on a punch press. Such methods do not affect the . . . functioning of a rifle, but neither do they add up to a gun that a guy'd want to own with pride."
Yet many shooters purchased the new Remington rifles, partly because in 1958 Winchester Model 70s, made the old-fashioned way, cost over 36 percent more. This eventually resulted in Winchester discontinuing the "old" Model 70 after 1963, due to the popularity of Remington's updated version of the 721/722, called the Model 700. Personally, I am very pleased and somewhat proud to own my 1903A3, one of many examples of how American industry and ingenuity helped win World War II.