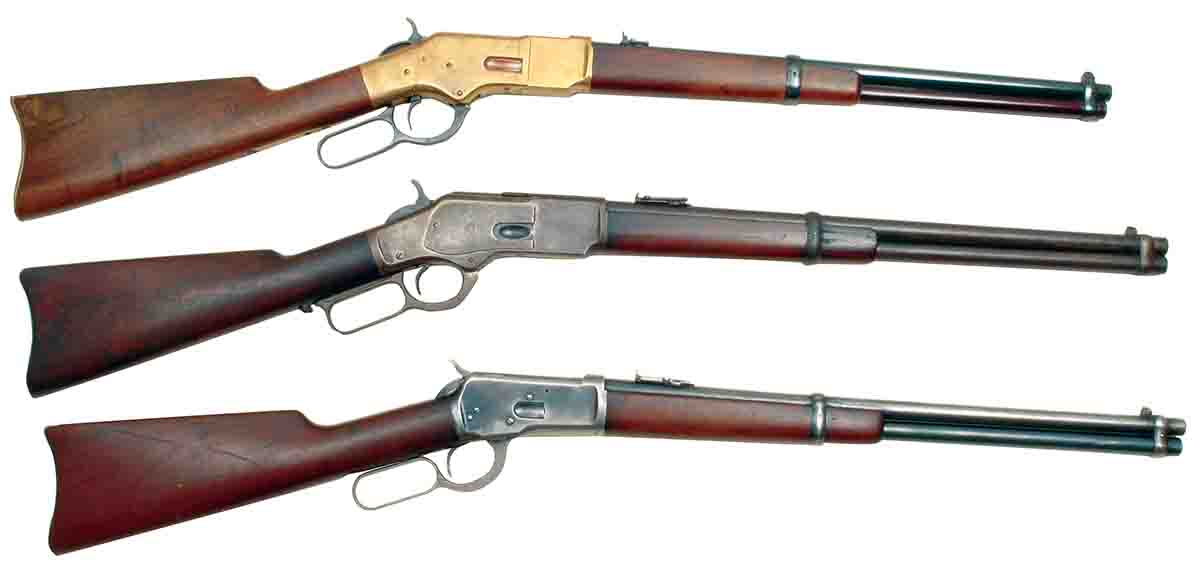 By 1873, Winchester's officials realized they needed a more powerful repeater than their Model 1866, with its puny .44 Henry Rimfire round holding a mere 28 grains of black powder. Their designers came up with a stronger levergun for a more powerful centerfire .44 with 40-grain powder capacity. It also happened to be Winchester's first firearm made with a ferrous metal receiver (first iron but later steel).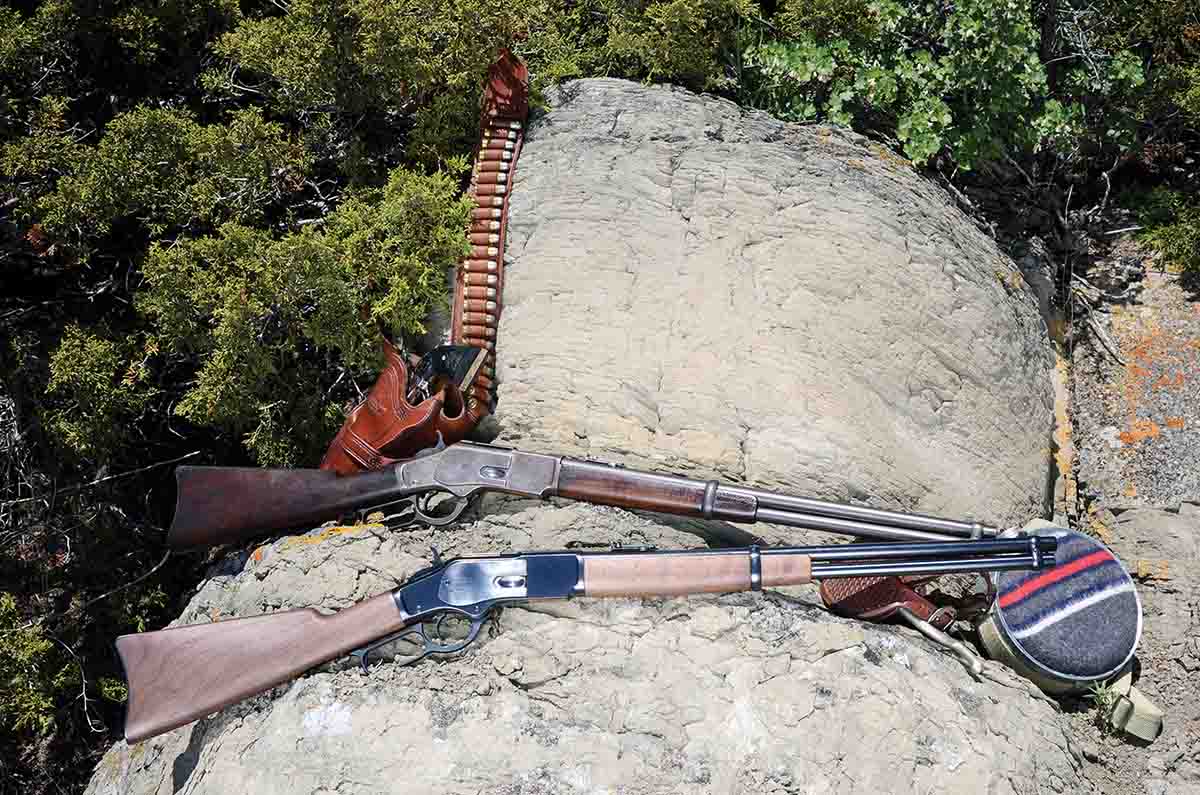 Precious few Model 1873s were shipped that year of introduction, but to say they were well received by gun buyers is an understatement. They quickly flowed far and wide from their Connecticut origins. At least eight made it to Montana by 1876 to be used in Sioux or Cheyenne hands against the U.S. 7th Cavalry Regiment in that famous battle above the Little Bighorn River.
Could any Winchester official in 1873 have dreamed that nearly three quarters of a million of that landmark model would sell over a 50-year time span? Did their cartridge designers envision that the introductory .44 WCF (Winchester Centerfire) cartridge would become one of the most chambered in other brands of repeating rifles and even in revolvers during the late nineteenth-century? Of course, competing rifle manufacturers hesitated to use the word Winchester in their cartridge stamps, which is why the common name segued into .44-40.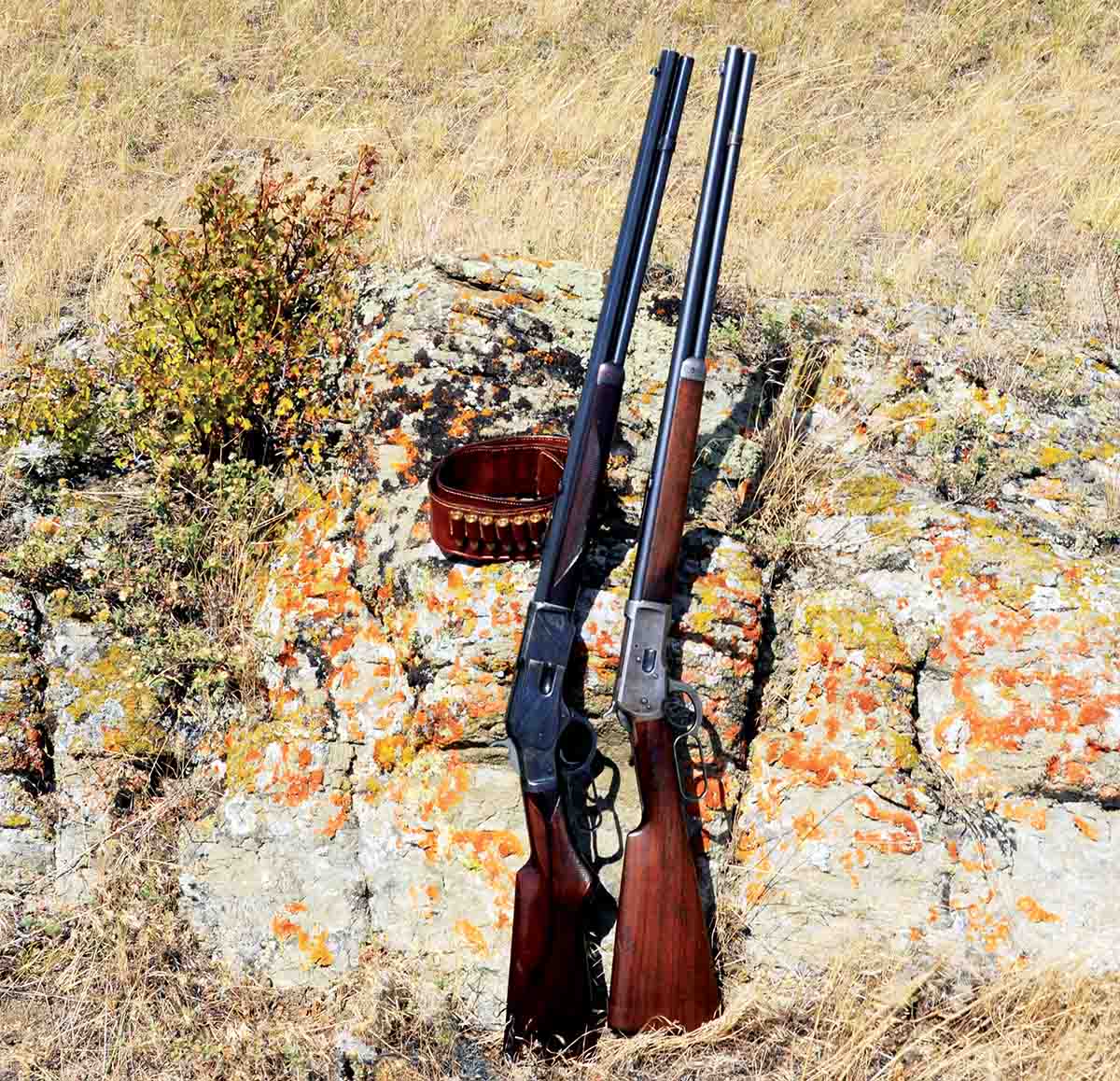 Most certainly, no one could foresee that Model 1873 .44 WCFs would still be sold to Americans almost 150 years later, although they were not a product of Winchester Repeating Arms' Connecticut factory, for no such facility exists anymore. Instead, their trails led to these shores from such faraway places as Italy and Japan.
Not only was the new '73 a milestone in American firearms history, its .44 cartridge was also a first. It was the first of Winchester's many cartridges to use brass for cases instead of copper, and it was the first to use centerfire priming. Those features meant it was reloadable. The .44 WCF also had a solitary title. Among the myriad WCF chamberings developed over three decades by Winchester for a half-dozen levergun models, it was the sole .44 centerfire.
Despite the amazing success of the groundbreaking '73 levergun and its cartridge, the WRA Company would only produce one more .44 repeating levergun. That was the even better selling Model 1892. About one million '92s were produced by the time manufacturing ceased in 1941. It must also be noted that Winchester's far less successful Single Shot, (aka High or Low Wall, or Model 1885) was also chambered for .44 WCF.Furthermore, Model 1892s are so beloved by twenty-first-century Americans that they are also recreated in the same two countries as Model 1873s and additionally in Brazil.
There was a reason Winchester added a Model 1892 to its lineup despite the fact that Model 1873s were selling like hotcakes. In 1892, more than 35,000 '73s were made. That reason was a matter of strength. Model 1873s used a locking system of two toggles that break over center to hold shut the bolt at firing. For black-powder pressures, that system obviously worked fine. However, nitro gunpowders were on the ascendancy and were capable of generating far higher pressures than black powder. Therefore, John M. Browning's team designed Model 1892s by essentially scaling down the huge Model 1886. It had two large locking bars rising through slots in the bolt to hold it fast at firing.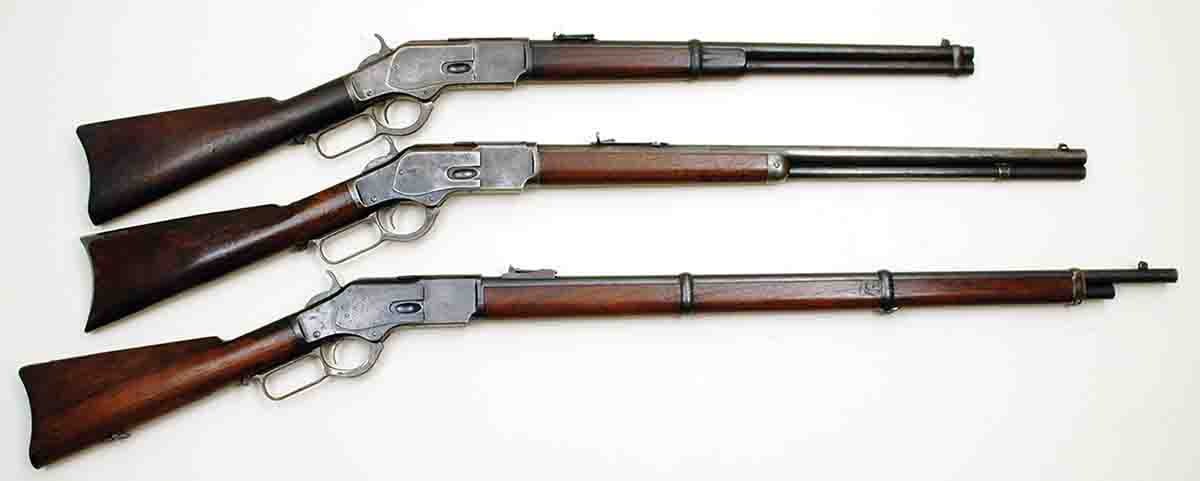 Winchester even subtly admitted that it considered Model 1873s and Model 1892s differently. In its 1899 catalog, reprinted years ago by Wolfe Publishing Company, the company made great claims for the Model 1873's utility for sport hunting, mentioning only black- powder factory ammunition. However, the following section about Model 1892s stresses smokeless powder factory ammunition.

There was one other important consideration between '73s and '92s. Weighing samples from my personal collection, round-barreled rifles weighed 8¾ pounds for the former and only 67⁄8 pounds for the latter. Carbines were 7¾ pounds versus 5 pounds, in the same order. It makes one wonder why '73s and '92s were produced simultaneously for at least 30 years. The answer has to be customer demand.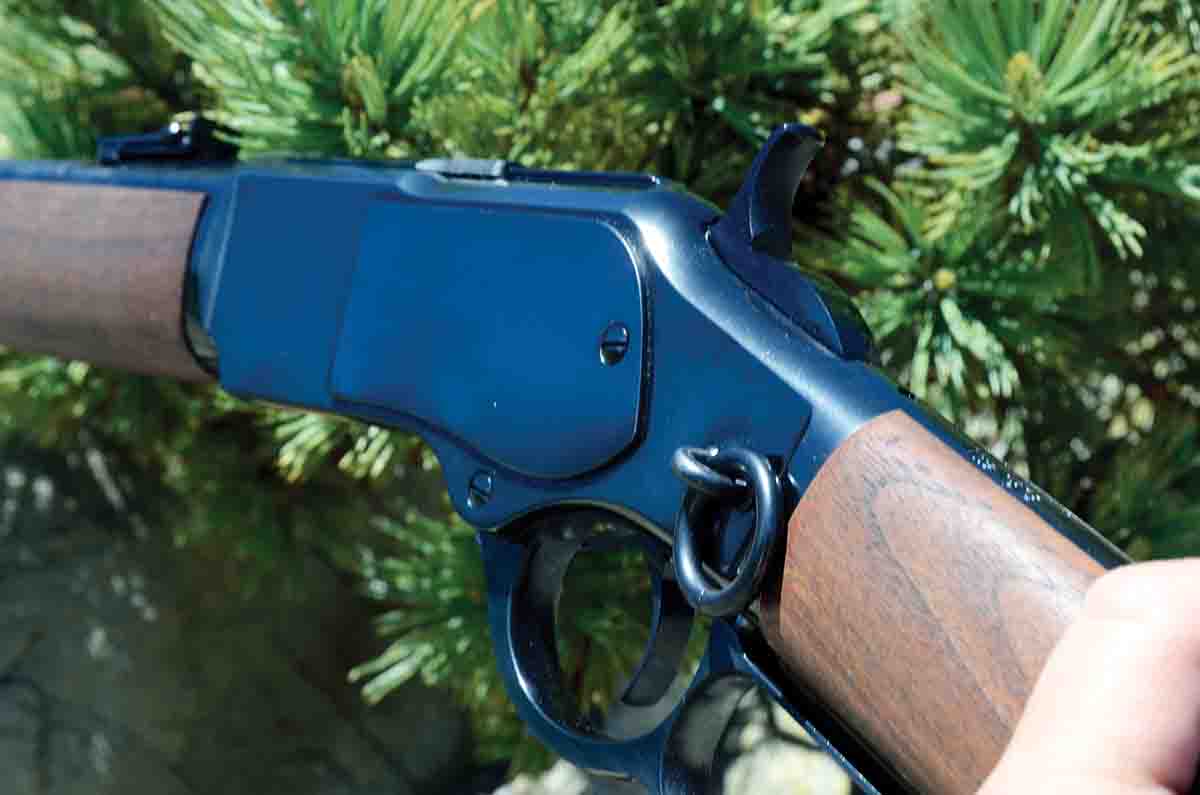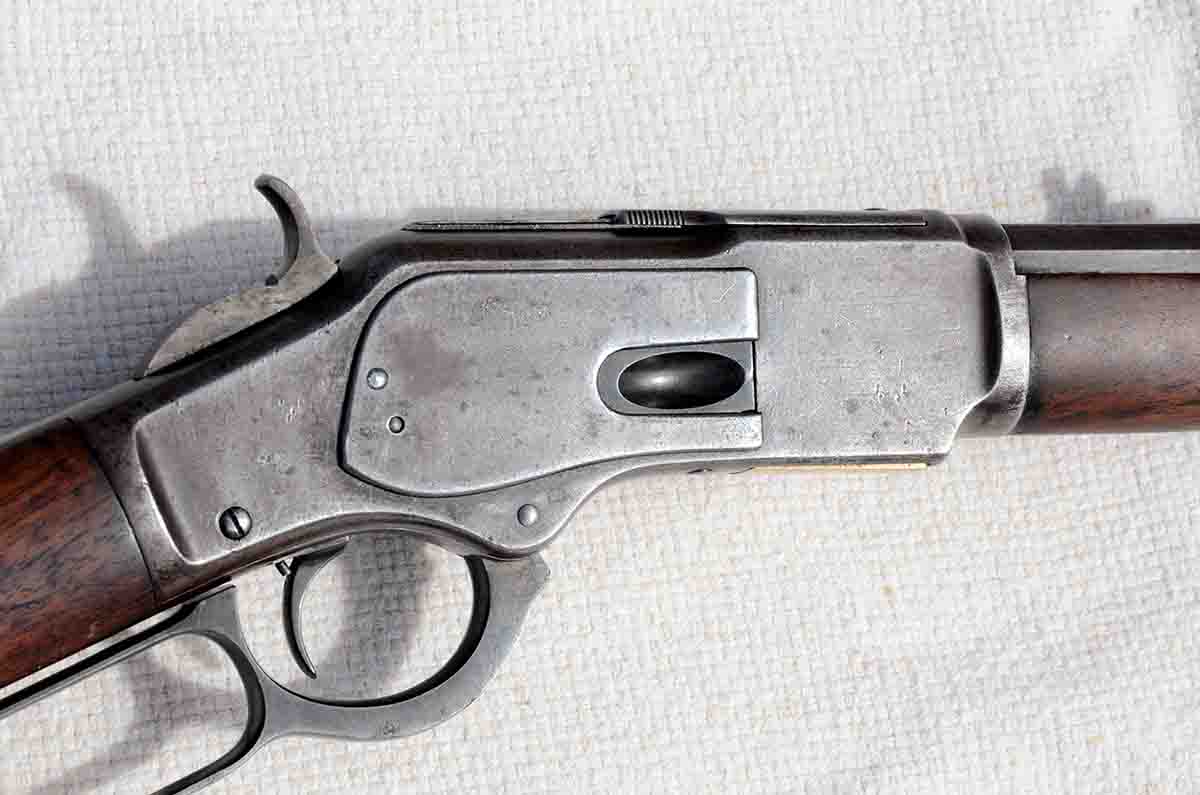 Regardless of the differences in '73 and '92 strength and weights, there were similarities. Both were produced in full rifle and carbine form. Barrel lengths were 24 inches and 20 inches for standard cataloged items. That's not mentioning 30-inch barreled military-style "muskets," which were rare in both models. Carbines had wide, slightly curved buttplates, whereas rifles had thinner, deeply- curved ones. Until about 1927, carbines usually had a ring on the action's left rear for a thong to secure it to saddles, hence the moniker saddle ring carbines.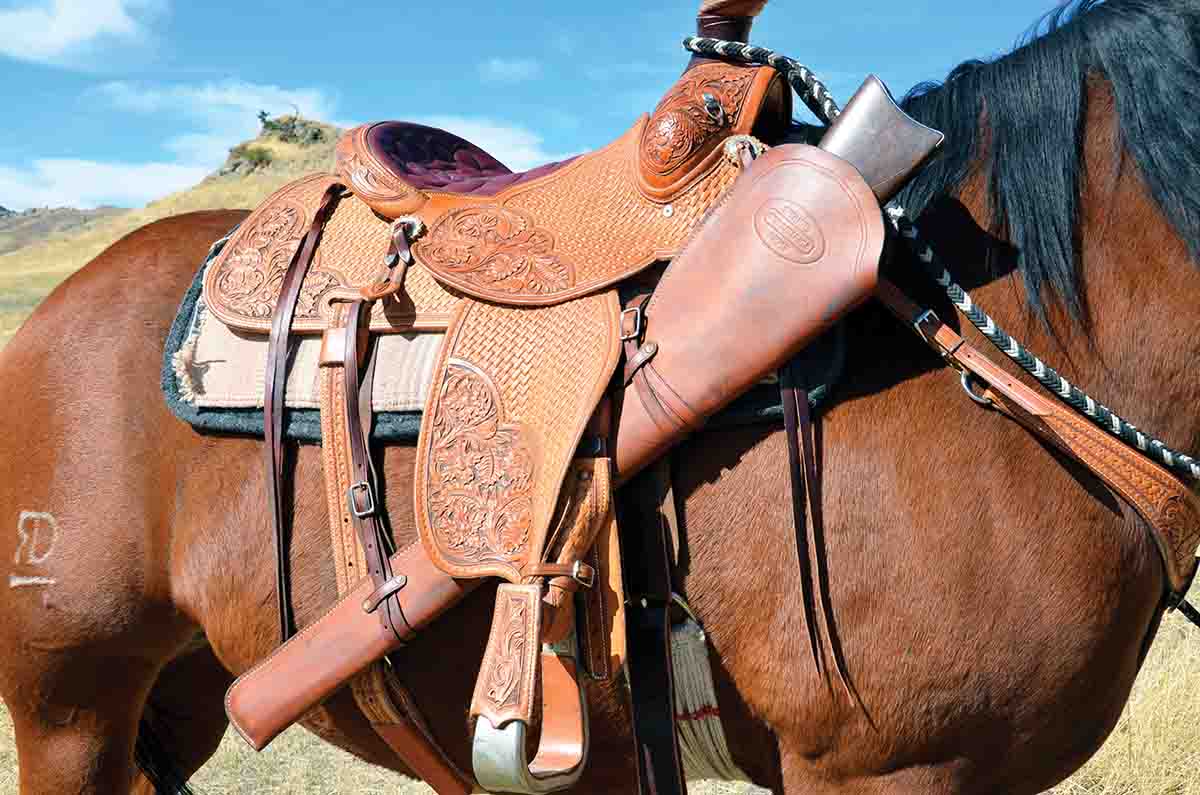 A little known fact among modern shooters was that Winchester's standard rifle barrel style was round, with octagonal as an extra cost option. Winchester was an enticing firearms manufacturer back in the nineteenth-century. Buyers could ask for just about any sort of custom option. For instance, barrels could be extra-heavy, extra-light, extra-long (36 inches) or extra-short (12 inches). Triggers could be standard or set types. Fancy woods and checkering were available, and even things like nickel finish for all metal. It was a grand time to be a rifle buyer!
However, all was not perfect. There were some birthing issues with Winchester .44s. Today barrel groove diameter for .44 WCF is .427 inch. Winchester seemed to have a problem maintaining that size at times. The earliest Model 1873 I have owned dated from 1882. I bought it at the big Las Vegas antique gun show in 1999. It was in nice shape with a special order 26-inch octagonal barrel with a single-set trigger. Its bore was shiny. That specific rifle is shown on the cover of my book SHOOTING LEVER GUNS OF THE OLD WEST (wolfeoutdoorsports.com).
As soon as I returned home, a few rounds were fired with it at 25 yards to begin the zeroing process. To my consternation, bullets sprayed all over the backstop. Handloads that day carried RCBS 44-200FN cast bullets, my all-time .44 WCF/.44-40 favorite. Staying safe, considering the rifle could have been one of those with iron instead of a steel receiver, my 200-grain, .428-inch bullets were powered by 33 grains of GOEX FFg black powder. The same load had shot well from my 1905 vintage '73 Musket. Quickly, that '73's barrel was slugged. As I remember, its measurement across the grooves was over .440 inch! A .428-inch bullet dropped in from the muzzle fell freely down the barrel's length. Never having slugged my '73 Musket's barrel because it shot just fine, that was quickly done. Its dimension was .427 inch. Here's a fact from the IDEAL NO. 28 manual (1927). In it, .44-40 rifles by Winchester had barrel groove diameters of .4285 inch to .429 inch. Also in that book, Colt .44-40 revolvers are listed with groove diameters of "424 inch (early) and .427 inch (current)."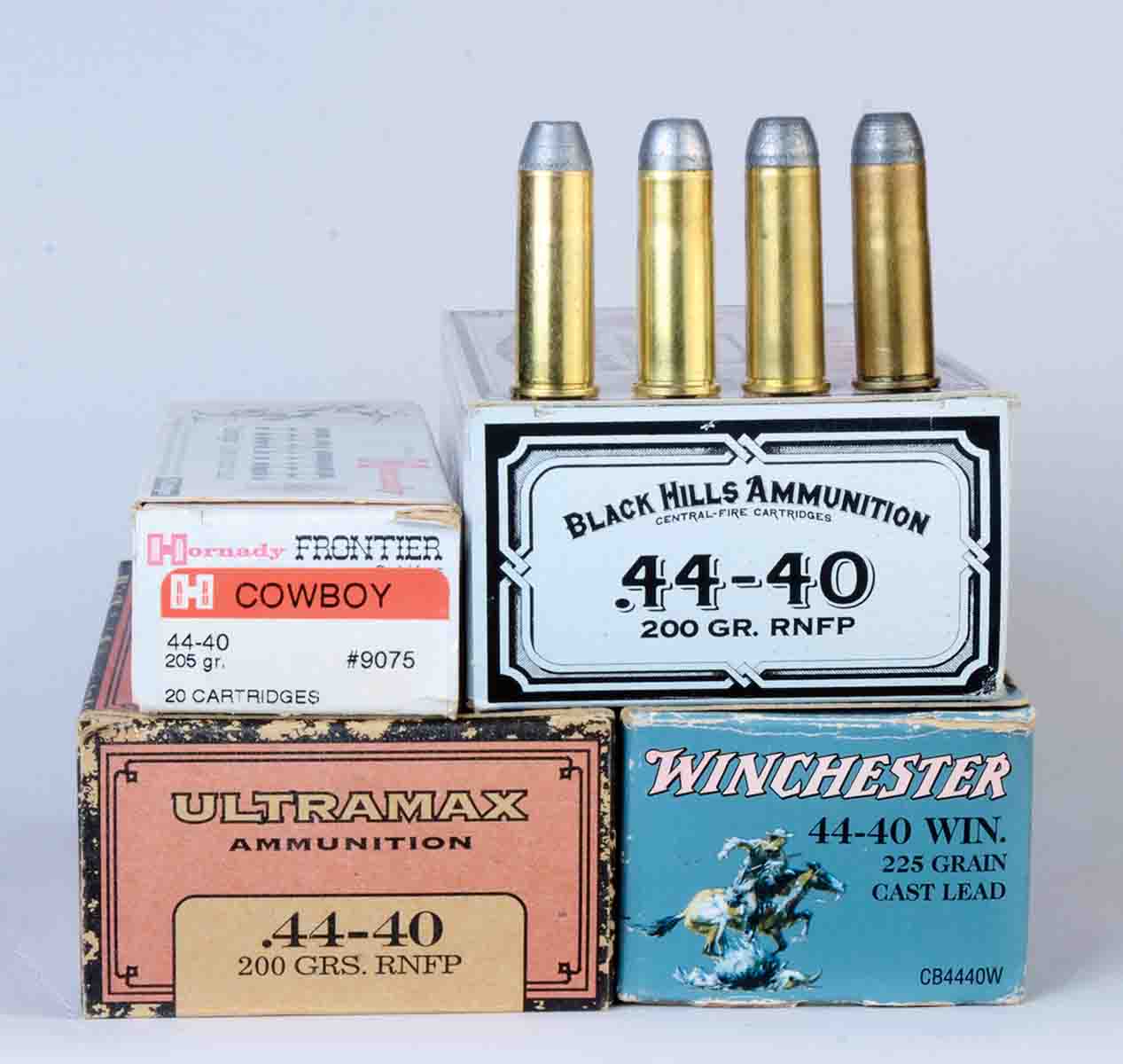 To add to my knowledge for this article, I slugged the oldest and newest .44 WCF Winchester barrels currently on hand. One was a '73 round-barreled rifle dating from 1891. As close as I could measure, its slug was .429 inch. My most modern Winchester .44 is a '92, also with 24-inch, round barrel. It was made in 1914. Its slug measured close between .427 and .428 inch, but mostly nearer the latter figure. I want to give a caveat to readers here. Bore condition on both those 100-plus-year-old Winchesters is good, but not perfect. Driving a slug through them was more difficult than I anticipated due to some roughness. The slugs likewise exited a bit rough, varying slightly as they were rotated during measurement. For that reason, factor in perhaps a plus/minus error in my slugs of say .0005 inch.
Another Model 1873 .44 was on hand. It's a Uberti/Cimarron with a 24-inch full octagonal barrel. I've owned this rifle since 1995 and fired hundreds of black- powder handloads through it when involved with cowboy action competition. Its barrel condition remains smooth and its slug slid down it with very little effort. Also, it measured exactly .428 inch all the way around.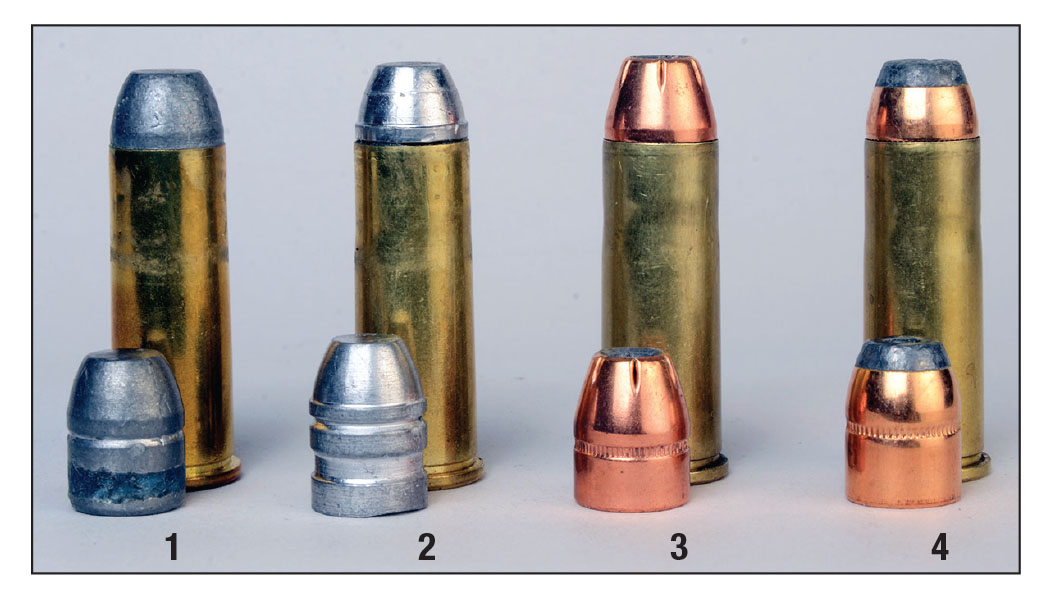 Back in 2018, I wrote an article in
Rifle
about the new Miroku/Browning Winchester Model 1873s coming from Japan. I expected its barrel to slug .429 inch because I could not see Miroku tooling up to make .427-inch barrels when it had previously made .429-inch ones when producing Model 1892 .44 Magnums. I was correct.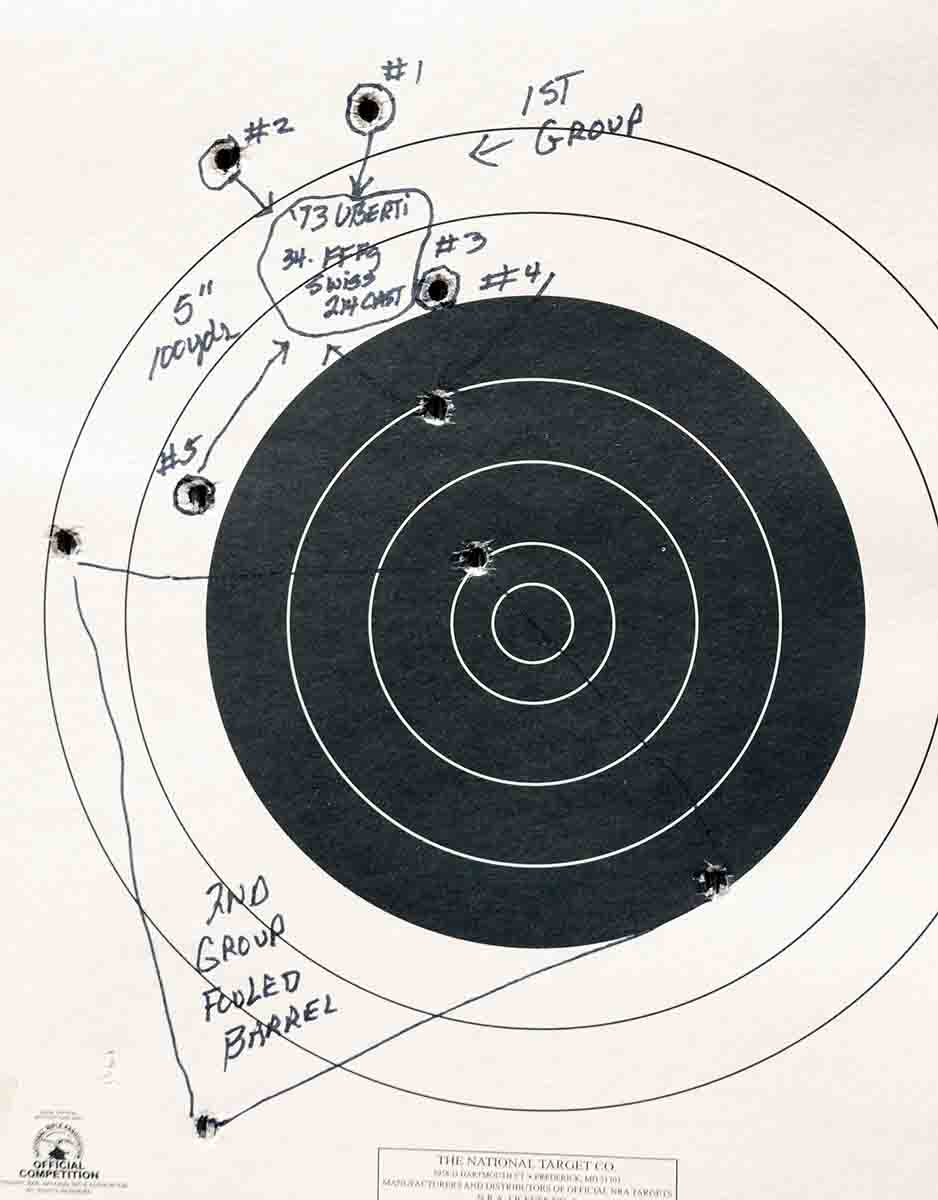 That brings us to handloading for Winchester's .44s – old and new. First, let's get this matter out of the way: Souping up the .44-40 to try getting .44 Magnum ballistics. Don't do it regardless of the vintage or strength of the rifle/carbine in question. Over 30 years ago I learned the easy way. Like most young yahoos who get their hands on a Model 1892, I quickly developed a "hot" load with 200- grain JHP bullets. One hunting season up on the ridge above my Montana home and with a doe tag in my pocket, I spied my quarry at a steep angle about 100 yards down slope from me. Using the Winchester Model 1892 from 1914 mentioned above, I put its ivory bead on the deer and let it drive. I missed. Quickly, I racked the lever to chamber another round. It wouldn't go in. Befuddled, I glanced down and there by my feet was the bottom third of that fired case. Its upper two thirds remained in the chamber. All is well that ends well. The broken case came out easily, the rifle was not damaged from "hot" handloads and the deer bounded away unwounded. The bottom line is .44-40 brass is just not meant for high pressures, especially in actions with rear locking lugs, which are noted for case stretching.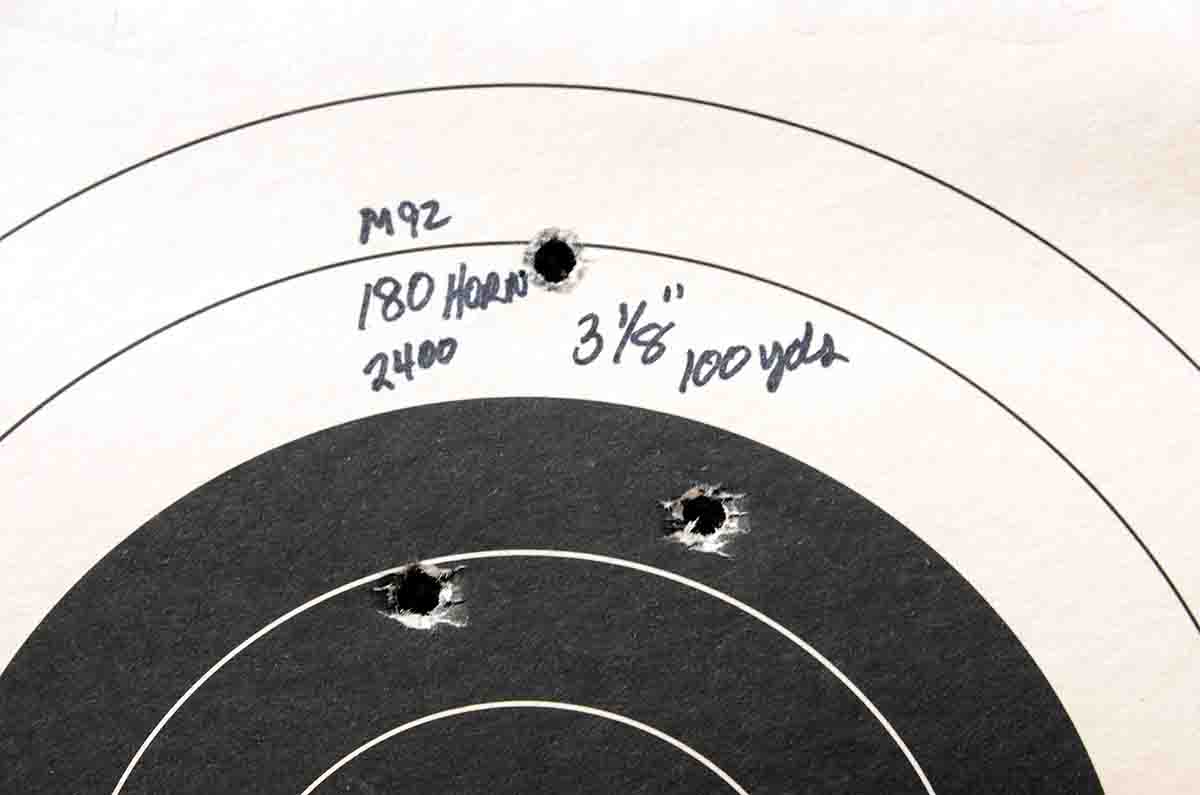 Another dose of reality came later when shooting a doe with a black-powder loaded .44-40 from my Uberti/Cimarron Arms replica Model 1873. The 214-grain lead alloy bullet from RCBS mould 44-200FN gave through and through penetration. So that bright light finally blinked on in my brain. My self-imposed limit for iron sighted leverguns was about 100 yards, so why did I need more than the 1,200 fps or so black powder would deliver?
The Lyman 50th Edition Reloading Handbook has an excellent section on .44-40 rifles. It divides .44-40 long guns in two groups by strength, with No. 1 being weaker ones and No. 2 stronger. Personally speaking, in my vault at any given time are about a dozen .44-40 rifles, carbines and revolvers. They are a mix of Lyman's two strength designations. Therefore, for safety's sake, my own .44-40 handloads are kept in the parameters of the weaker data. Also, the handloads I keep stashed for my own shooting all have .428-inch cast bullets. I eschew larger diameter bullets because they make loaded rounds too tight in some of my revolvers. For the accompanying load table and only for comparison, some information was borrowed from Lyman's data for use only in the Model 1892.
When chronographing the various loads, the day was very windy so paper targets were placed only at 25 yards. Most loads grouped into 1 to 2 inches. Later on a windless day, I shot a few loads at 100 yards. Black-powder loads from the '73 replica performed as expected. The first three shots were tight, but as fouling built up, shots four and five more than doubled the group size. After the rifle cooled (but not cleaned) another five-shot group was fired. It was enormous. The '92 with JHPs and smokeless powder was not surprising either. It grouped three shots into about 3 inches.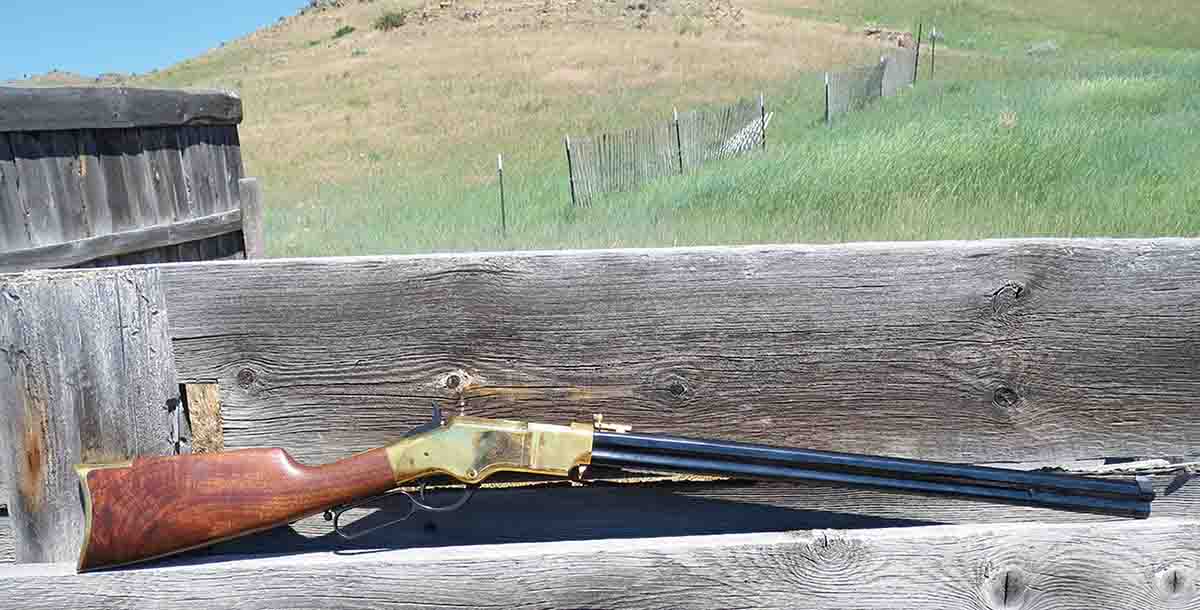 Here's my bottom line on .44-40 handloads. Trail Boss loads are great for plinking or cowboy competition. Black powder is adequate for deer-size game out to about 100 yards, and 8.0 grains of Unique gives approximately the same velocity as black powder.
I'm often asked if .44-40 is my all-time favorite Old West cartridge. I reply, "Some days it is. Other days its .38-40." Perhaps that other WCF round will get repeating rifle attention from me in the future.