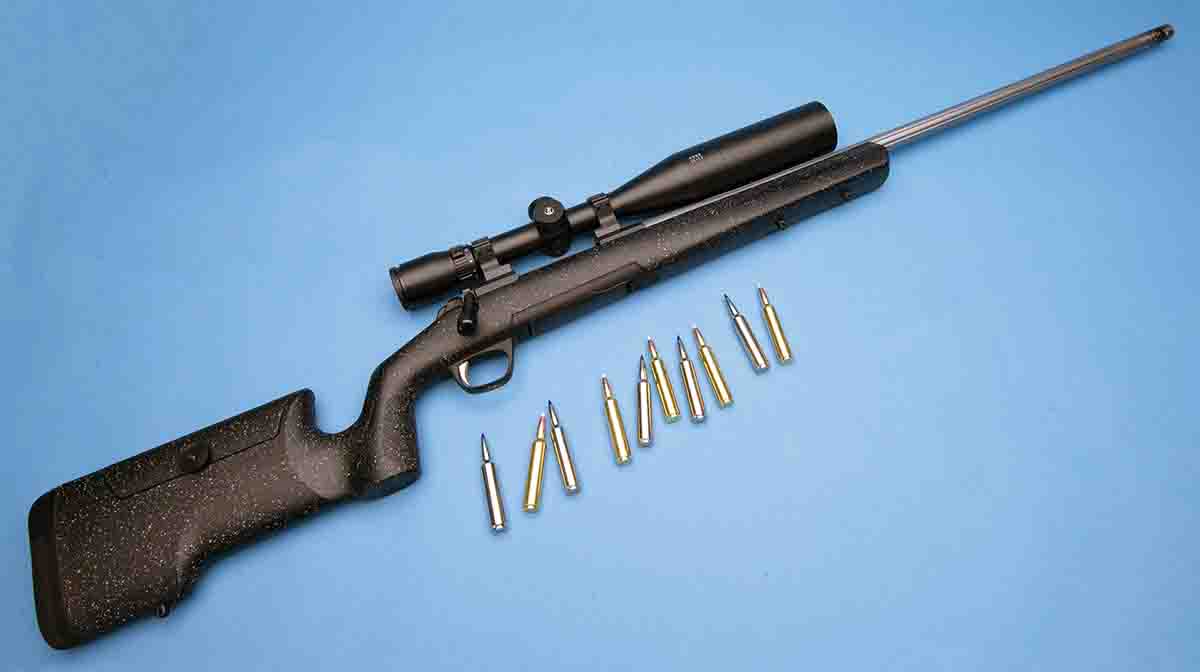 Browning, to my mind, is synonymous with quality. While many early Browning rifle models were a bit flashy for my tastes – like California-style Weatherbys, all gloss and shine – they were typically straight shooters that functioned flawlessly. In times past, many Browning rifles were manufactured in Belgium, while today's models are generally manufactured in Kochi, Japan, by Miroku. The Japanese Brownings are as good as they have ever been.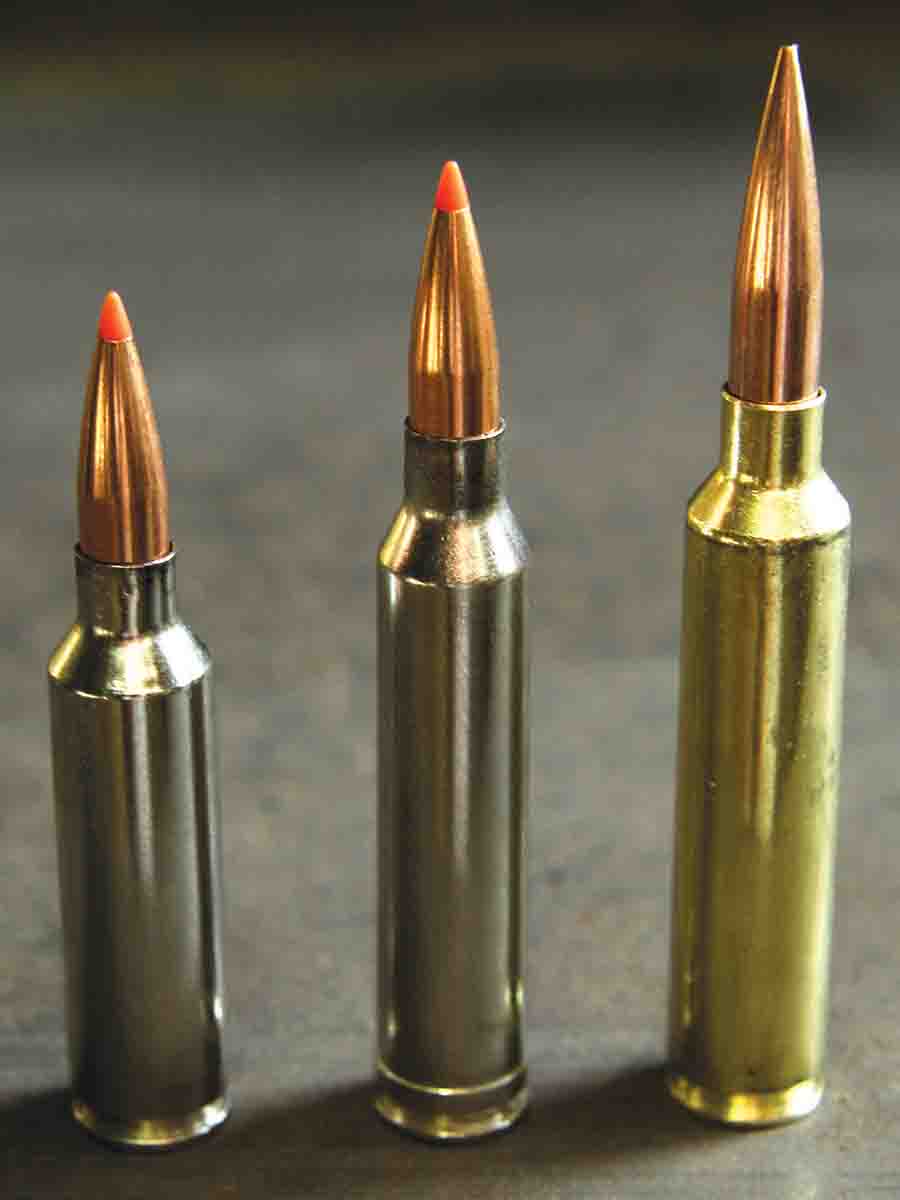 The rifle under discussion here, the X-Bolt Max LR (Long Range), is one of the latter, a precision-made, synthetic-stocked rifle with custom touches and chambered in a cartridge with enough legs to topple the largest North American game. A huge part of that equation is the powerful .28 Nosler cartridge this rifle is chambered in. The .28, of course, translates to 7mm (.284), a bullet diameter that is ballistically efficient. Shooting hunting weight bullets with high ballistic coefficients (BC) is accommodated in this rifle by a fast 1:8 twist, compared to the standard 1:9 twist normally found in 7mm Remington Magnums, for instance.

The .28 Nosler, introduced in 2015, is in the same league with the 7mm STW (the belted 8mm Remington Magnum necked to 7mm). It was the second cartridge introduced by Nosler, based on the .26 Nosler case, which was based on the .300 Remington Ultra Magnum, which in turn was based on the .404 Jeffery. The Nosler case was created by shortening the Remington Ultra Magnum (RUM) case – measuring 2.387 inches, head to shoulder junction – to 2.166 inches and reducing body taper. The RUM's 30-degree shoulder angle was steepened to 35 degrees. The .28 Nosler holds 93.8 grains of water, in contrast to 82 grains held by the popular 7mm Remington Magnum. These dimensions create a cartridge compatible with standard .30-06 actions. The Browning allows slightly longer overall loaded lengths. This level of performance comes at the cost of accelerated throat erosion and notable recoil.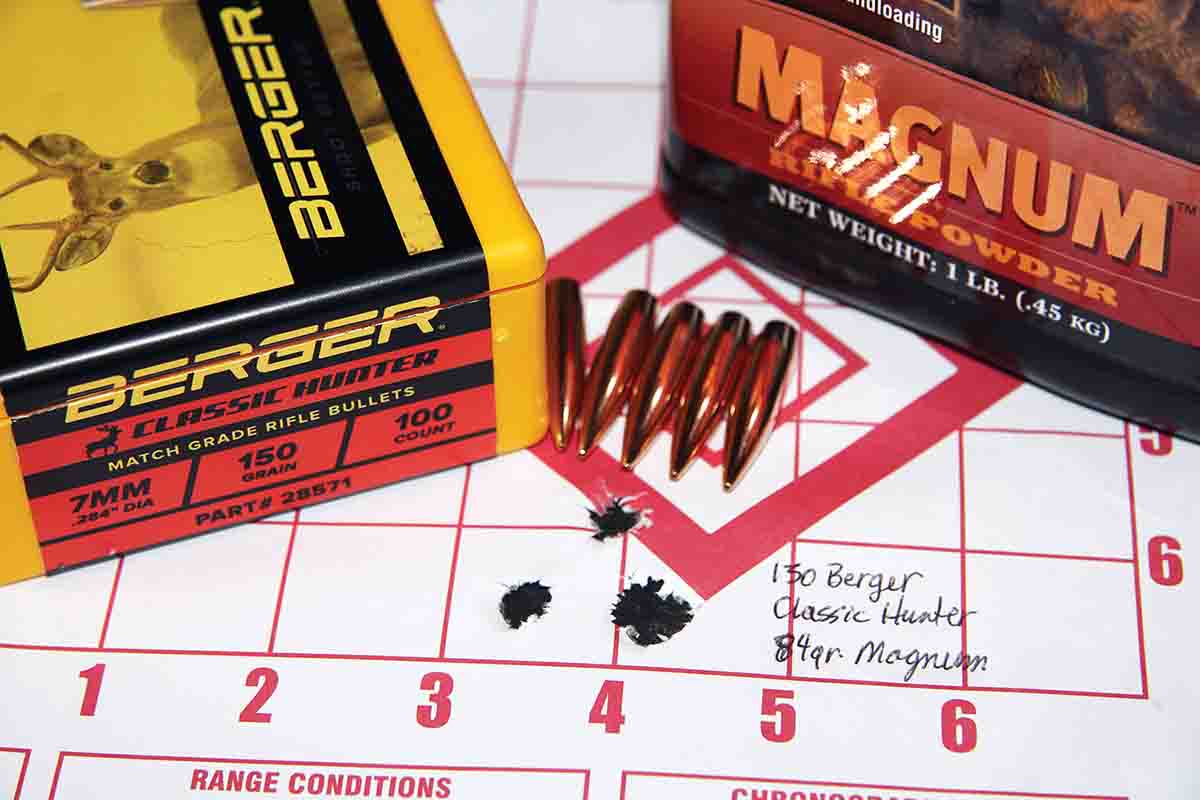 Though this was my first experience with the .28 Nosler, I've shot an X-Bolt Max LR previously. While conducting 6mm Creedmoor load trials for LoadData.com recently, I wanted a rifle that would wring maximum accuracy from that cartridge. Of 60 bullet/powder load combinations – shooting five bullets ranging from the 105-grain Lapua Scenar-L to the 115-grain Nosler RDF – that rifle produced five groups measuring less than .50 inch (the best .23 inch), 15 less than .75 inch and 40 smaller than 1 MOA. The largest 5-shot, 100-yard group measured 1.28 inches. That established this Browning design as accurate to my mind. New caliber choices were added in 2020; the list now includes the 6mm and 6.5mm Creedmoors, .308 Winchester, .300 WSM, 7mm Remington Magnum, .28 Nosler, .300 Winchester Magnum, .300 RUM, 6.5 and .300 PRCs and .30 Nosler.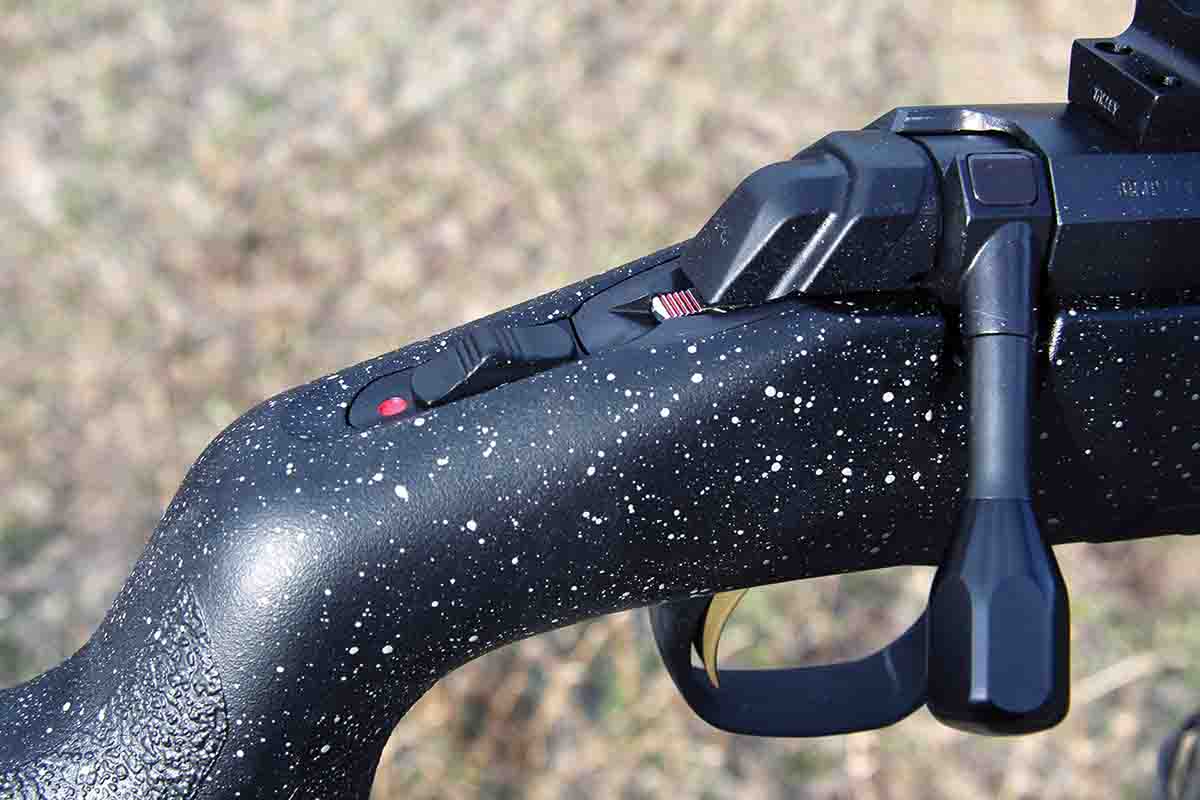 The Max LR is based on a composite Matte black and grey textured stock with a fully adjustable comb and length of pull spacers. The adjustable comb allows making necessary tweaks to place your eye directly behind a chosen optic while maintaining a rock-solid cheek weld. Comb adjustments are easily conducted through a single thumb bolt. The cheekpiece rides on twin rods and slides up and down slickly. The thumb wheel is retightened when the correct setting is achieved and the comb locks securely. I found it easy to change comb height even on the fly when switching between bench and prone/bipod shooting. The comb adjustment knob can also be switched from left to right as needed. Length of pull is established through two spacers (¼ and ½ inch), sandwiched between the Inflex Technology recoil pad and stock. The Inflex recoil pad is engineered to use directional deflection to actually pull the comb down and away from the face during compression, for added shooting comfort and faster follow-up.
The forearm and grip bottoms are flat to help keep the rifle level while shooting, and a pair of swivel studs on that wide forearm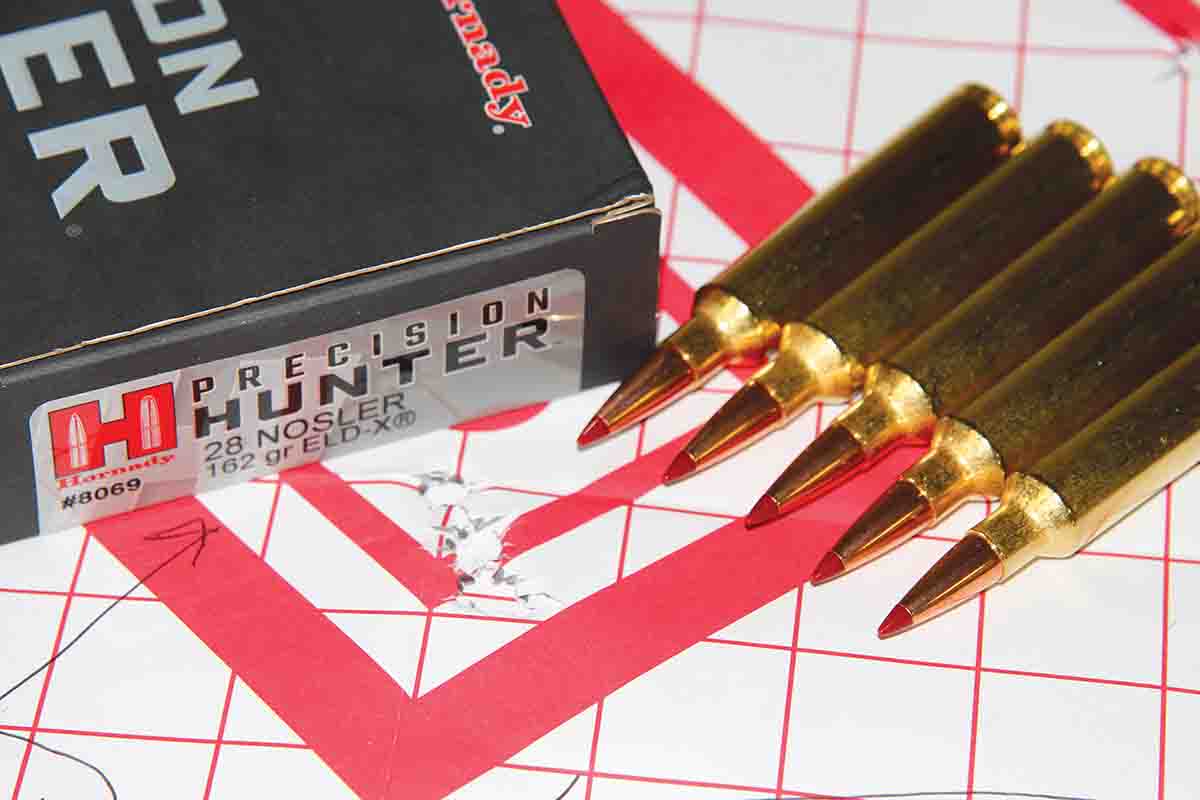 allow mounting a bipod without losing the ability to add a shoulder sling. The vertical "gooseneck" grip is comfortable, with ideal sculpturing between the comb and grip allowing the heel of the thumb to settle in solidly and comfortably. Trigger reach and control, and operation of the tang safety, are ergonomically comfortable from any shooting position, even with my XL mitts. The forward portion of the grip and thumb rest area are heavily stippled to ensure a good grip with sweaty or wet hands, or while wearing gloves. The overall geometry of the stock is a great combination of hunting and bench designs, providing a reasonable carrying package, but it's also a design that's steady atop a rest.
The X-Bolt includes a compact detachable magazine with rotary function. The magazine is made from a tough but lightweight polymer and has been engineered to feed cartridges in direct line with the bolt face for greater dependability. The magazine holds four rounds, seats flush to the stock/bottom metal and is unlocked with a spring-loaded front tab. Removal and loading are slick and positive. The magazine fed smoothly throughout all shooting and with every load.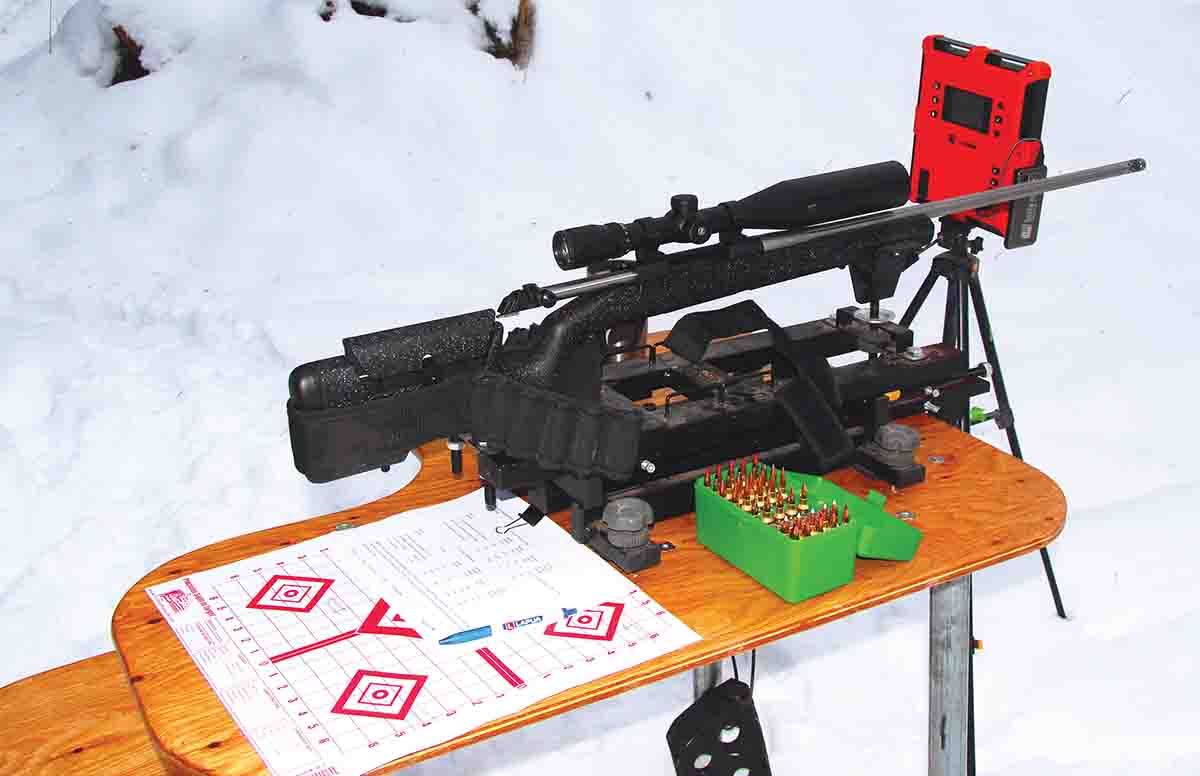 Browning's X-Bolt action includes an extended bolt handle for more positive handling, combined with a short 60-degree bolt throw that speeds cycling. More importantly, it also clears today's larger target turrets and ocular housings. The bolt is machined from solid steel bar stock for exceptional strength and precision and includes three locking lugs. The tang safety locks the bolt when engaged, though the unique bolt release button (located at the top of the bolt stem) can be depressed to unload the rifle while still on "safe." The rear of the bolt holds a protruding, red-highlighted cocking indicator, and the bolt is easily removed via a Mauser-style rocker button.
Browning's proprietary X-Lock scope mounting system utilizes four screws at each scope base, providing solid, four-corner mating to the receiver for superior stability when using larger/heavier optics. More hardware brands are getting onboard with this system every year, including companies such as Warne, which offers Mountain Tech Picatinny rails, and Tally, its one-piece base/rings used during testing.
The X-Bolt action includes Browning's three-lever Feather Trigger system. The trigger proved creep-free and broke crisply with lack of overtravel. The test rifle's trigger included a 3.44-pound pull out of the box. It is screw adjustable from 3 to 5 pounds. Removing the action from the stock is required to conduct these adjustments. An alloy trigger housing holds hard-chromed steel components, with all key contact points highly polished for silky-smooth action.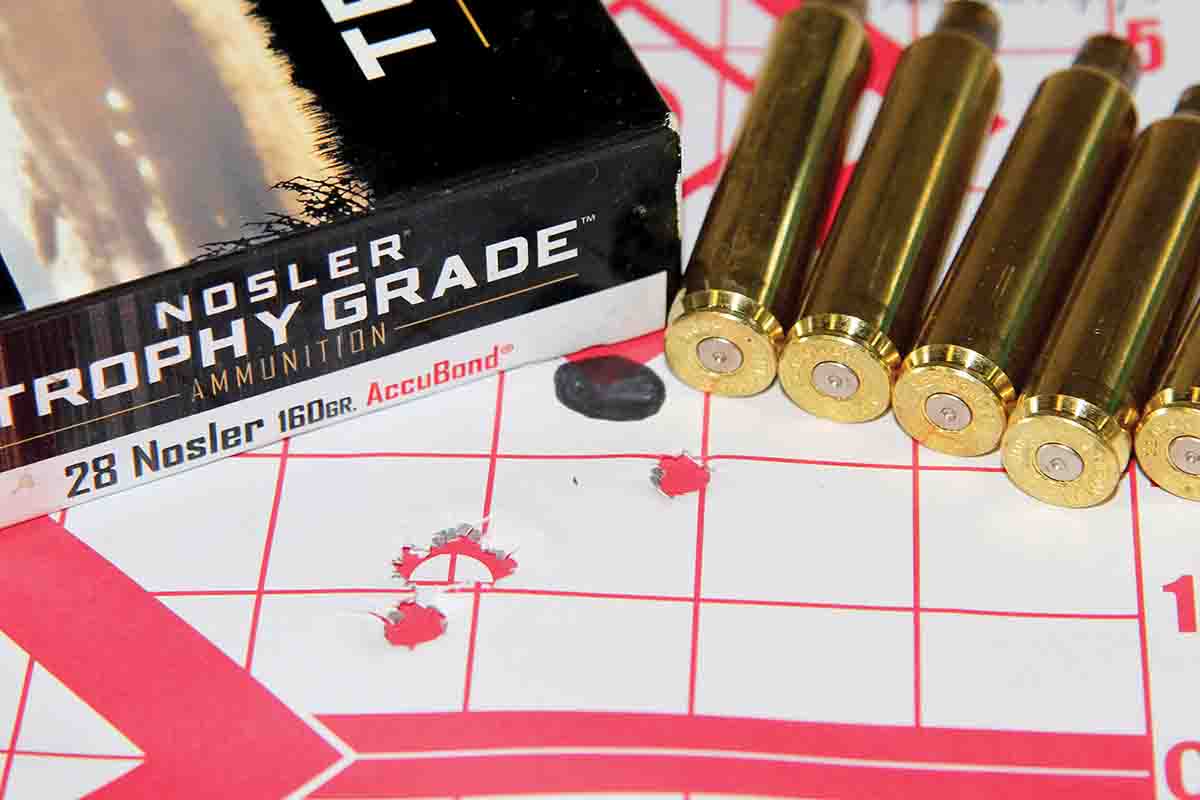 Browning says its proprietary barrel manufacturing systems produce "custom-class" accuracy, and that showed. X-Bolt Max LR barrels are free-floated by bedding the front and rear of the action for stability and to create a slop-free action-to-stock interface. The action is secured by hex head bolts (not slot head screws). The fluted stainless steel barrel is what Browning calls a "heavy sporter" (.735 inch just behind the muzzle brake) with the flutes running through about 20.75 inches of the 26-inch barrel, and the muzzle includes a recessed crown to protect the rifling from damage. The rifle comes with a 360-degree muzzle brake screwed onto 5⁄8x24 tpi threads that will also accept a suppressor. A thread protector is included for those who don't want to endure the added bluster of a brake. The brake did reduce felt recoil perceivably, but muzzle blast was fearsome from this cartridge.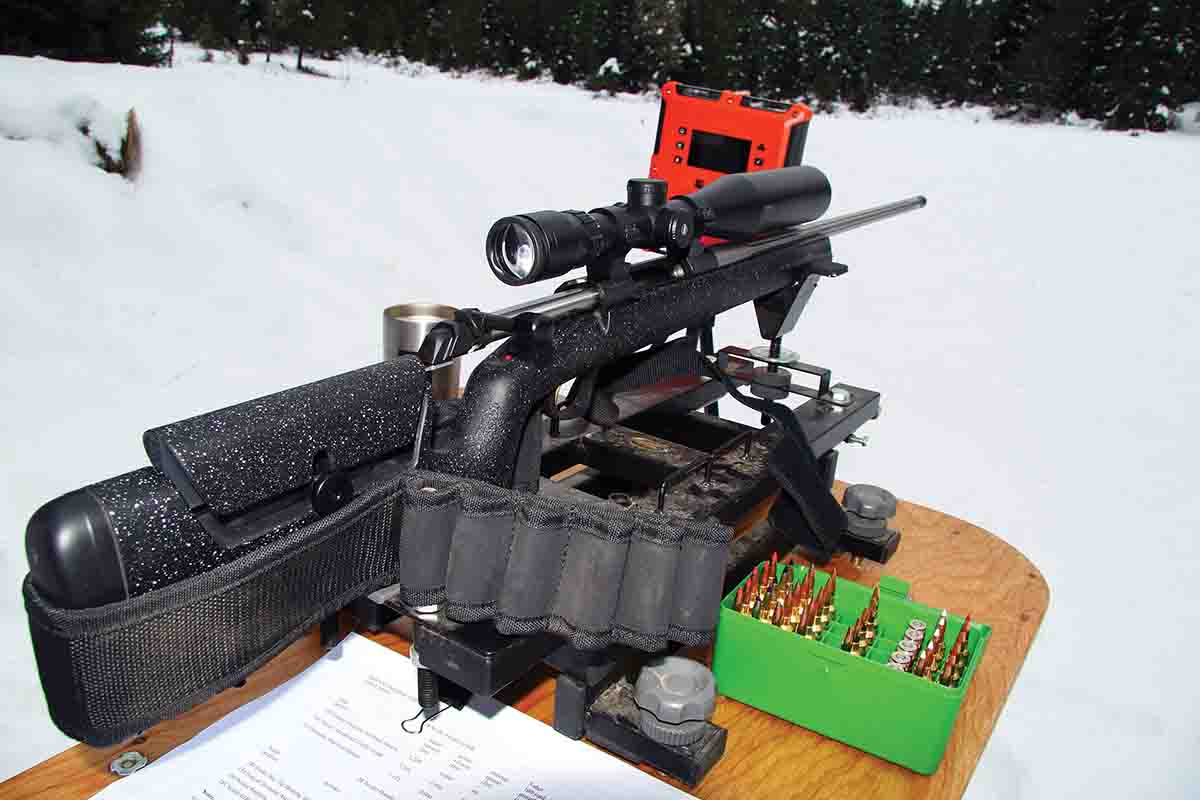 According to Browning, the added fluting reduces weight, improves cooling and improves rigidity. The last bit I don't buy into, though the conspicuous heat created after firing 5-shot, .28 Nosler strings did dissipate remarkably fast in the cold conditions under which the rifle was tested. Browning rifle barrels are button rifled and factory inspected three times for interior finish and straightness, and air gauged for uniformity. One of my scopes was available only because the varmint rifle that usually holds it was out for work – Bushnell's 6500 Elite 4.5-30x 50mm with a Mil-Dot reticle.
Anxieties caused by the pandemic and the current political climate means ammunition is hard to find. This made collecting needed ammunition and components quite a challenge. Nosler was able to supply a box of Trophy Grade ammunition loaded with 160-grain AccuBond bullets, 160-grain Partitions and 185-grain RDF bullets and fully prepped brass. I had just enough 140-grain Nosler Ballistic Tip Hunting bullets on hand to assemble test loads. I discovered some Hornady Precision Hunter ammunition loaded with 162-grain ELD-X bullets on the stripped shelves of a local sporting goods outlet, and Federal Premium supplied all the 155-grain Terminal Ascent ammunition I could possibly need, as well as some component 155-grain Terminal Ascent bullets. Berger 150-grain Classic Hunter bullets arrived just in time to make press deadline. I would have been out of luck finding large rifle magnum primers, but I discovered 200 CCI 250 Primers stashed at the bottom of a large military ammunition can used to store bulk primers. Redding had no problem coming up with a Series B .28 Nosler die set and No. 6 shellholder.
I'm not ashamed to admit the prospects of shooting this rifle caused some trepidation. Primarily a varmint shooter, I haven't fired a round burning this much powder since killing a Zimbabwe elephant some years ago, with a rifle belonging to my professional hunter. Too, after shoulder surgery three years ago, I noticed the 3-inch magnum duck loads I've shot by the thousands now cause some pain. As such, I borrowed an older Hyskore rifle rest equipped with butt strap, bench hook and built-in shock absorbers. The rest and the rifle's muzzle brake helped, but after firing about 100 rounds I could definitely feel it.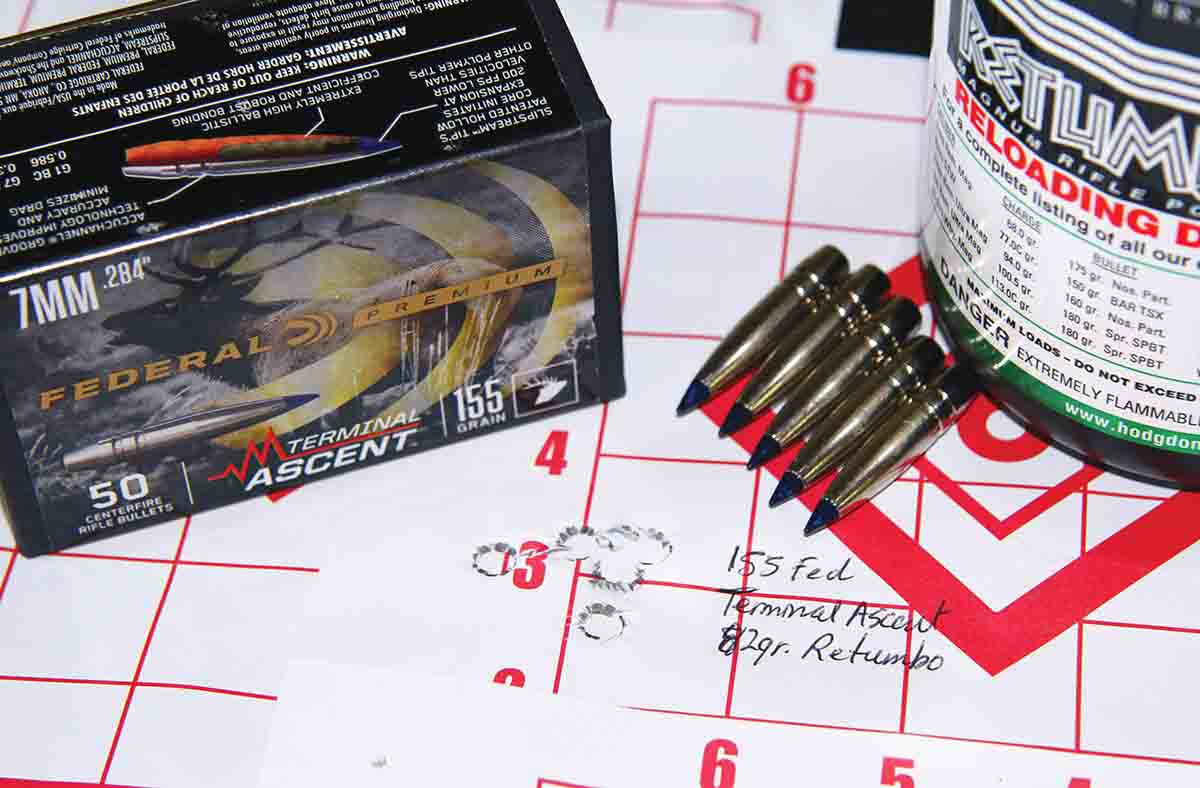 The X-Bolt LR Max did about as well as can be expected with factory ammunition. Federal Premium's 155-grain Terminal Ascent loads printed 1.37 inches with five shots fired from 100 yards. Nosler's Trophy Grade 160-grain AccuBond loads grouped into 1.24 inches and Hornady's Precision Hunter ammunition loaded with 162-grain ELD-X bullets printed .84 inch. With the 26-inch barrel Federal and Nosler loads came up around 50 fps short of advertised velocities while Hornady loads bettered the stated velocity by about 17 fps.
Handloads consisted of Nosler's 140-grain Ballistic Tip Hunting bullets over 82 grains of Alliant Reloder 26, Berger's 150 Classic Hunter over 84 grains of Ramshot Magnum, Federal Premium's 155 Terminal Ascent over 82 grains of Hodgdon Retumbo, Nosler's 160 Partition over 80.4 grains of IMR-7977 and Nosler's 185 RDF over 77 grains of Hodgdon H-1000. Magnum produced an extreme velocity spread of 47 grains; all others were in the teens to twenties. The tightest group – .78 inch – was provided by the Berger/Magnum load, with the Federal/Retumbo load also breaking an inch at .85. I believe these are the correct powders for this round, but groups could no doubt be improved by testing various seating depths.
Even with the arguably excessive scope, the Browning X-Bolt Max LR hit the scales at around 10.25 pounds, making it a viable option for some backcountry big-game hunters. For anyone willing to put in the effort to hone shooting skills and invest in enough shooting time to become accustomed to the .28 Nosler's recoil, this rifle/cartridge will bring home the game.