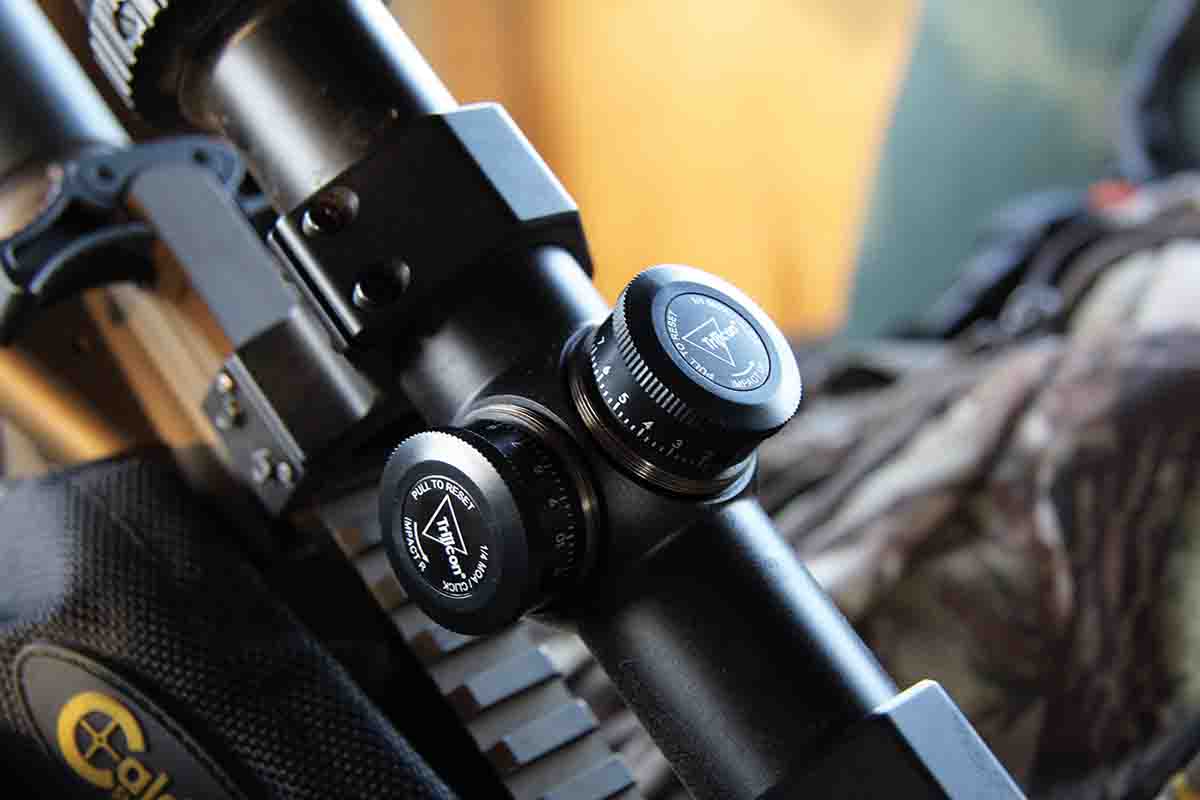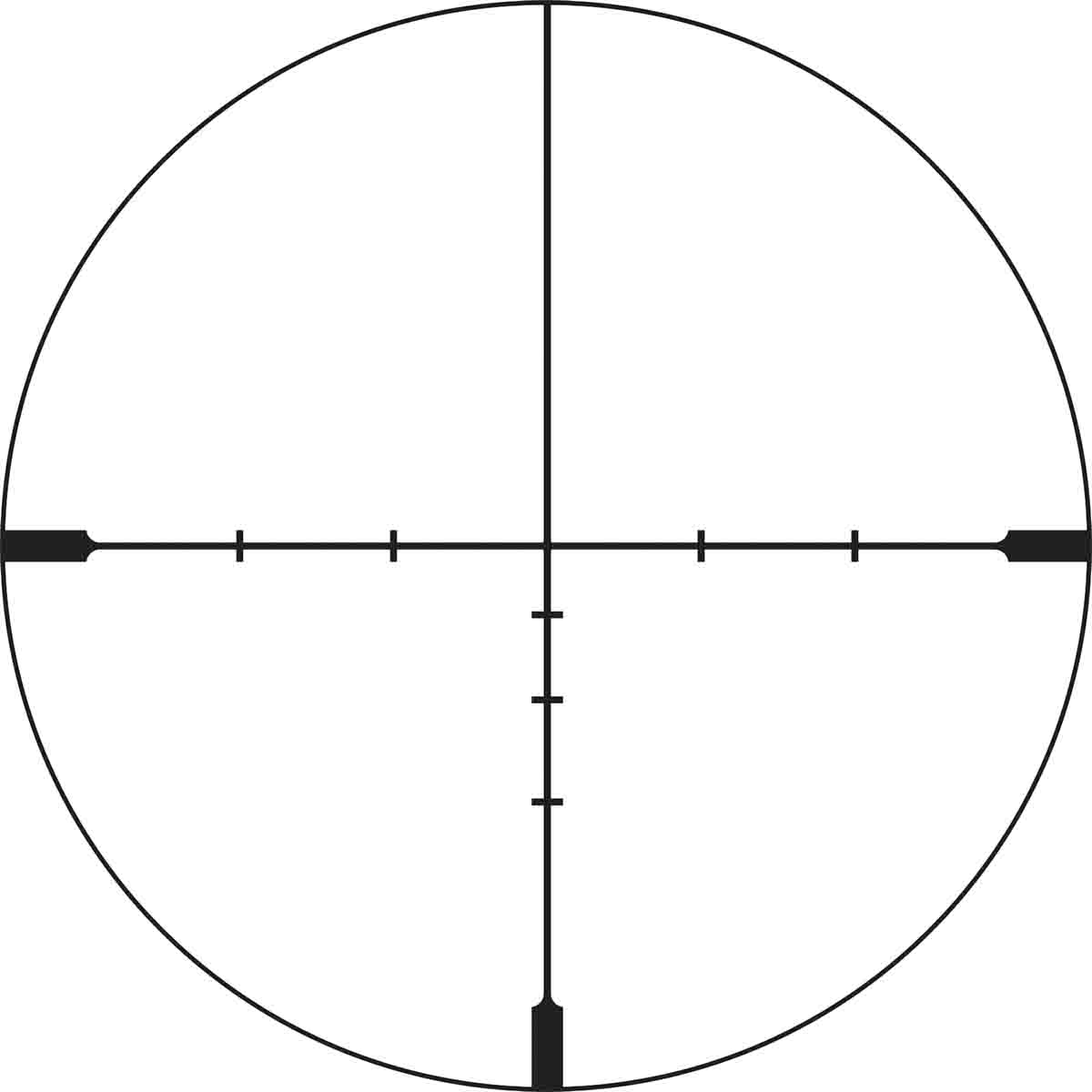 Trijicon optics top some of my favorite precision long-range varmint rifles. Trijicon scopes have proven highly functional in the field, where it counts most, and are always built Mil-Spec tough. Yet, there is also no way around the fact the company's top-end wares can prove a bit spendy for average blue-collar shooters. They're worth every penny, but only if you can afford the initial investment. The new Huron series provides quality and dependability at a price average shooters can actually afford.
Put quite simply, Huron series scopes provide Trijicon's rugged dependability and high-performance glass, but without illumination and other advanced bells and whistles that make models like the popular AccuPoint sing. You won't find these scopes at your local "X-Mart," but with MSRPs from $650 to $699, they offer an uncompromising optic at a very reasonable price.
The variable-power Huron series includes 1-4x 24mm, 2.5-10x and two 3-12x 40mm models; the 40 with 40 MOA adjustment range and the 240 with 70 MOA adjustment range.
Recently, during a Texas hunt hosted by Trijicon, I had the opportunity to put a Huron 2.5-10x 40mm through its paces under real-world conditions, setting it atop a CMMG Endeavor AR-15 chambered in Hornady's new 6mm ARC.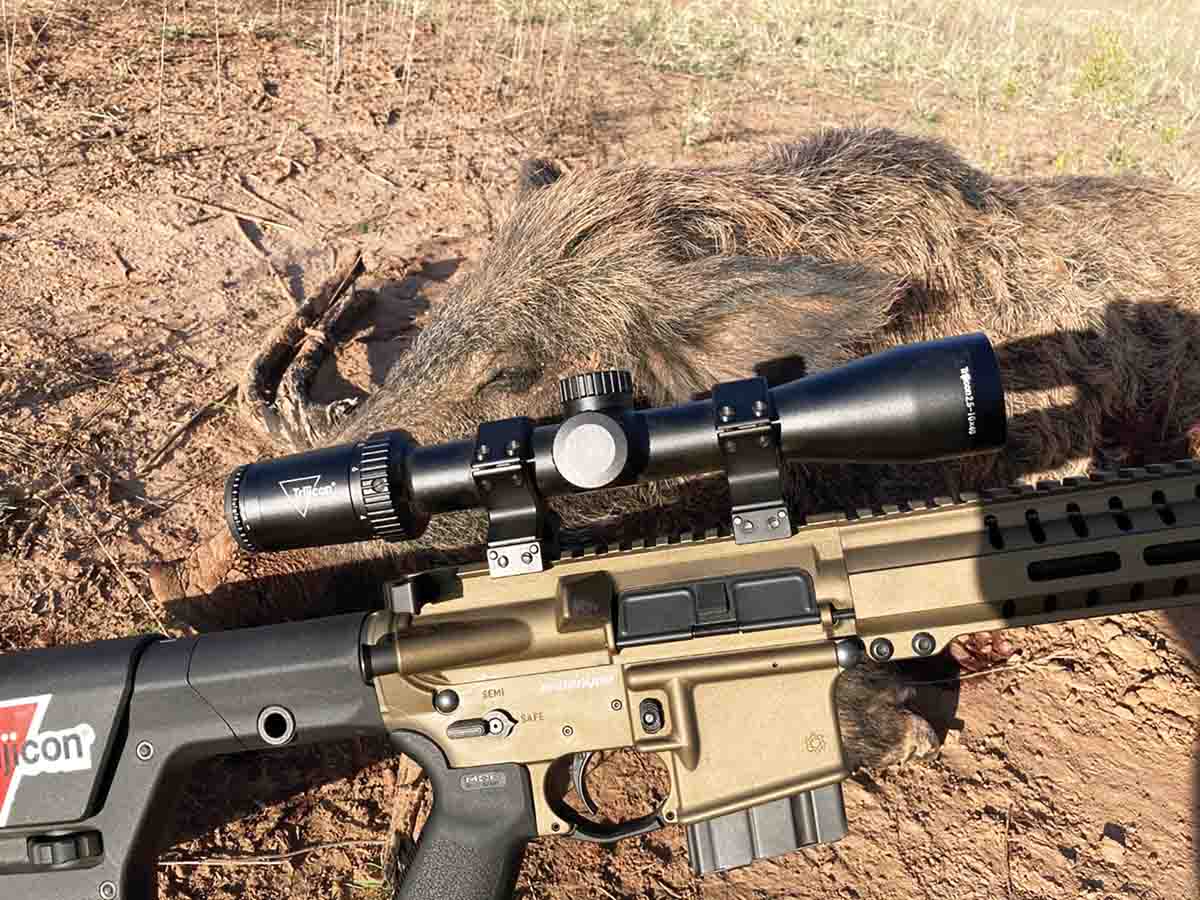 The Huron 2.5-10x 40mm, like others in the series, is a second focal plane (SFP) design with a one-piece, 30mm chassis milled from 6061 aircraft-grade aluminum. SFP means the reticles remain the same size throughout the magnification range, or more accurately, they maintain their thin nature in relation to the target when cranked to 10x. Trijicon obviously had the whitetail hunter in mind when designing this series.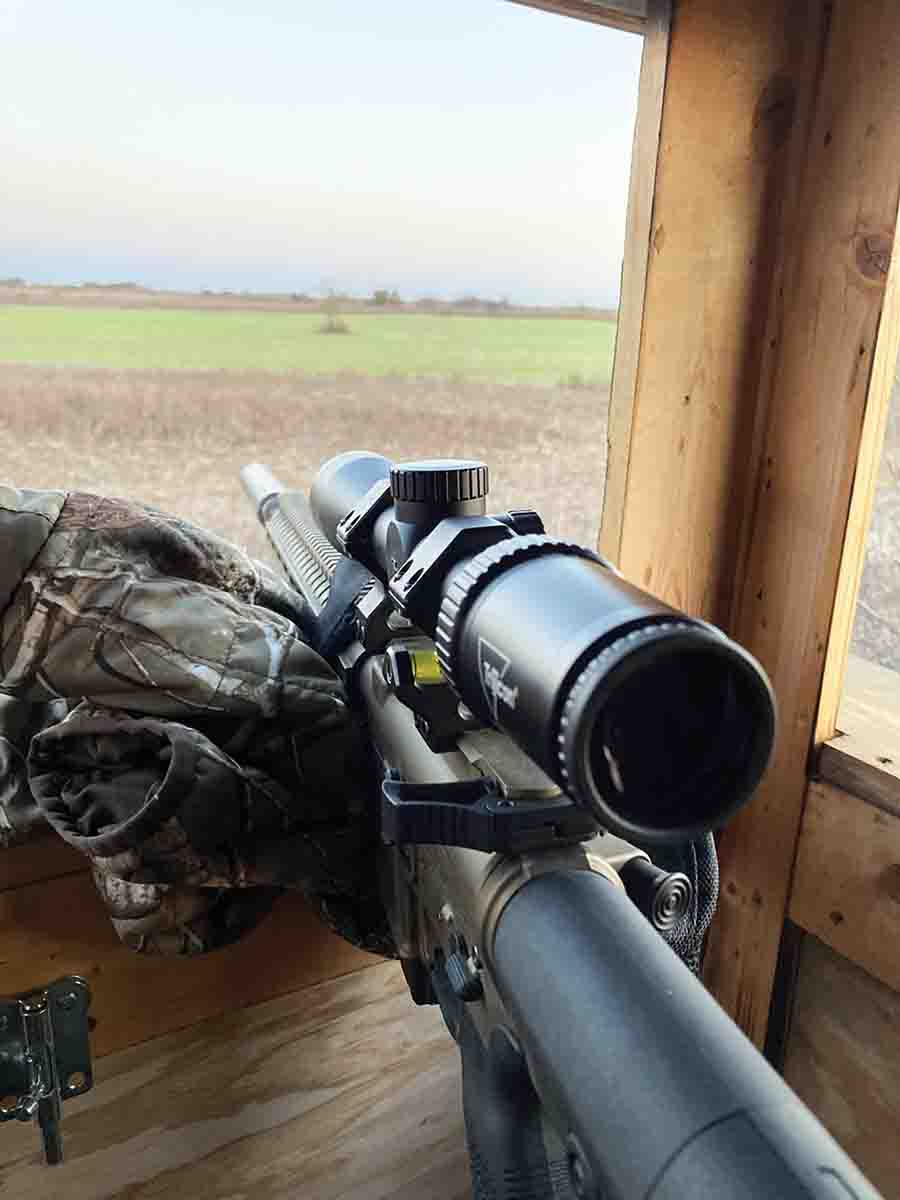 The 2.5-10x 40mm Huron tested included a bullet drop compensating (BDC) Hunter Holds reticles with three 1 MOA holdover hash marks below the crosshair (2.24, 5 and 8.32 MOA spacing, top to bottom) and two to each side (5 MOA spacing) for wind corrections or hold margins on moving targets. Holdover marks were designed with popular cartridges like the .270 Winchester, .30-06, 7mm Remington Magnum, .300 Winchester Magnum and short-action cartridges in mind, with 300-, 400- and 500-yard holdovers accommodated with a 200-yard zero.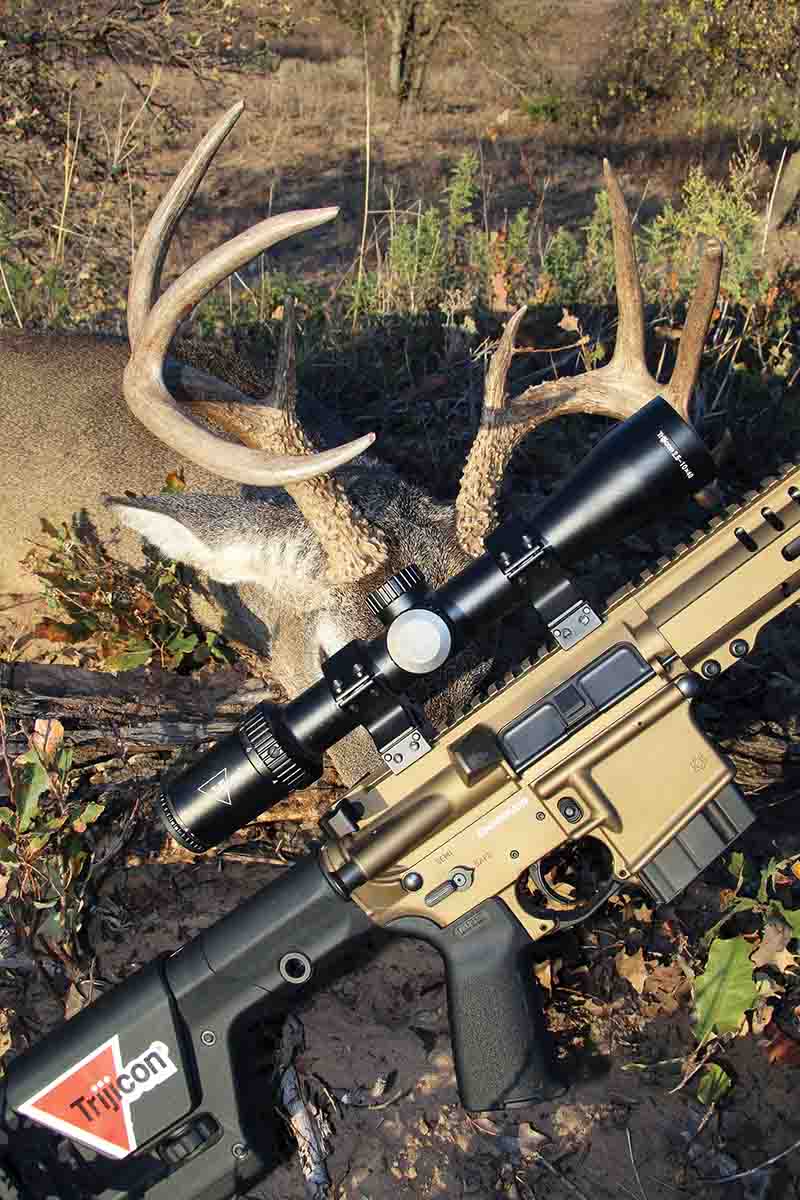 The covered adjustment knobs included standard .25 MOA movements with positive tactile and audible clicks. The low-profile adjustment knobs are easily rezeroed after sight-in by pulling the calibrated/numerated caps up until they "click" – allowing it to free-wheel – then aligning the "0" with the engraved reference mark and clicking the turret back into place. This feature easily allows the adjustment knobs to be used as true turrets, though the screw-on cover caps assure the optic remains dust free and weatherproof. The 2.5-10x 40mm model includes 70 MOA of total adjustment.
The system tracked reliably while developing hunting handloads, with four clicks accurately corresponding to target MOA squares. Besides the BDC Hunter Holds reticle tested, a standard duplex (thicker crosshairs surrounded by heavy centering "pointers") and German No. 4 thinner crosshairs with blocky side and bottom accents are offered on Huron 3-9x 40mm models.
Eliminating external illumination and other advanced features leaves behind a super lightweight and streamlined package perfect for hunting. The 2.5-10x 40mm weighed only 18.2 ounces, so with the beefy AR-style rings used to mount the scope, it added 1.5 pounds to finished rifle weight. The feathery mass is deceiving, because as hinted, the Huron sacrifices nothing in ruggedness. The overall design is sleek and highly functional, including a nonglare satin finish and what Trijicon calls "hunter knurling" on the magnification ring, diopter and cover caps, which allows a positive purchase without snagging clothing. The diopter includes smooth but firm adjustments that allow bringing the reticle into clear focus for any shooter's vision.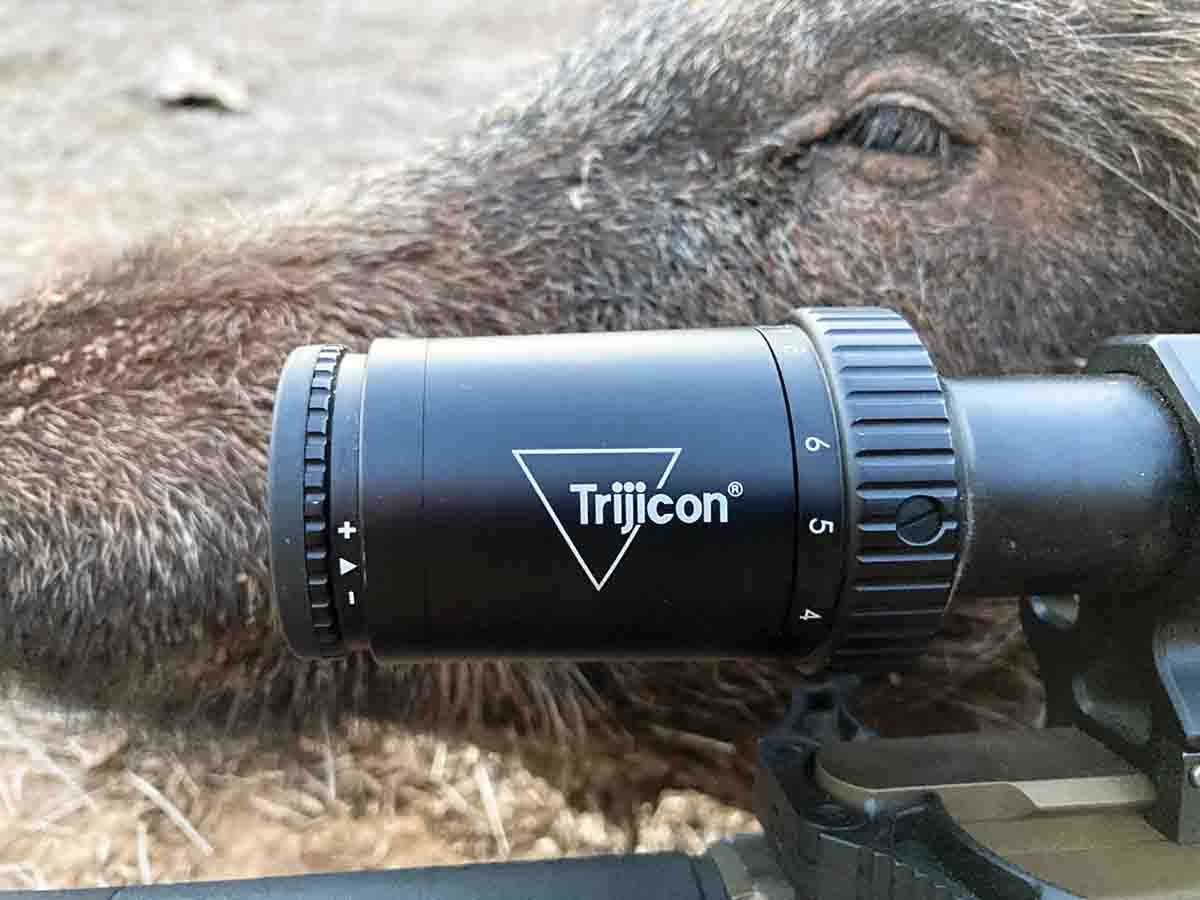 The optics are also pure Trijicon, including anti-scratch coatings to resist damage while afield – especially in windy West Texas. All glass is fully multicoated, with a top-grade broadband, antireflective material to offer exceptional light transmission, true detail and color with zero distortion edge to edge. Each scope is dry nitrogen filled to resist fogging when, say, taken from a heated vehicle to a freezing stand.
The Huron's light-gathering abilities were tested in actual field conditions in a West Texas box blind overlooking a winter wheat food plot and hoping to tag a white-tailed buck or wild hog. One clear afternoon, I carefully marked the time as the last sliver of sun slipped behind the flat western horizon. Since Texas legal shooting hours for deer are one half hour after sunset, I kept an eye on my watch, peering through the scope at five-minute intervals as does and a pair of young bucks fed 200 yards away. I never took the scope off 10x. Yet I was able to not only aim precisely at any of the deer before me, but also discern minute detail right up to legal shooting hours. In fact, I could still aim confidently 10 minutes after legal shooting hours without dialing the scope to a lower magnification. Had a hog or coyote arrived in the last twinkling of daylight, it would have been possible to confidently shoot up to 15 minutes after legal shooting hours by turning the scope down to 6x. That settled the light-transmission question for me. The unassuming Huron, with its seemingly insignificant 40mm objective lens, easily crowds legal shooting hours, aided no doubt by the 30mm tube and ultrawide field of view (7.66 to 1.92 degrees) that create exit pupils from .58 to .16 inch, depending on magnification. The scope provides 2.4 to 3.3 inches of eye relief for hunters shooting something more substantial than the 6mm ARC.
Hargrove Hunts' West Texas property was game rich, the whitetail rut was just kicking off and ample opportunities to target live game with the Huron optic were offered. My first live-fire opportunity included a mature whitetail buck. I'd passed numerous bucks, looking for a set of exceptional antlers not uncommon in this part of West Texas, so I was still at it on the final morning of a short three-day hunt. My buck arrived when it was just light enough to see. It was obviously mature, and obviously worthwhile, but it also wasn't going anywhere. So I waited as the buck edged to the far edge of the field. The laser rangefinder blinked 268 yards and the first holdover mark was indicated. The buck walked 5 yards and toppled – the two shots placed through the lungs less than 2 inches apart.
The BDC Hunter Holds reticle proved ideal again that evening when we got into a sounder of massive hogs feeding into a field of scattered mesquite and broom grass. The first shot at about 125 yards was easy. That hog went down to the shot.
Trijicon's "Science of Brilliant" and commitment to industry-leading research, design and testing is also part of the affordable Huron series. All Trijicon designs undergo standard Alaska-to-Africa temperature (-20 to +140 degrees Fahrenheit), "Solid Zero" testing (5,000 consecutive rounds to hold zero), drop, shock, vibration and immersion testing.
Trijicon's 2.5-10x 40mm Huron comes with front and rear lens caps, a neoprene Scopecoat, quick reference guide, warranty card and a vinyl Trijicon logo sticker. Learn more by visiting trijicon.com.