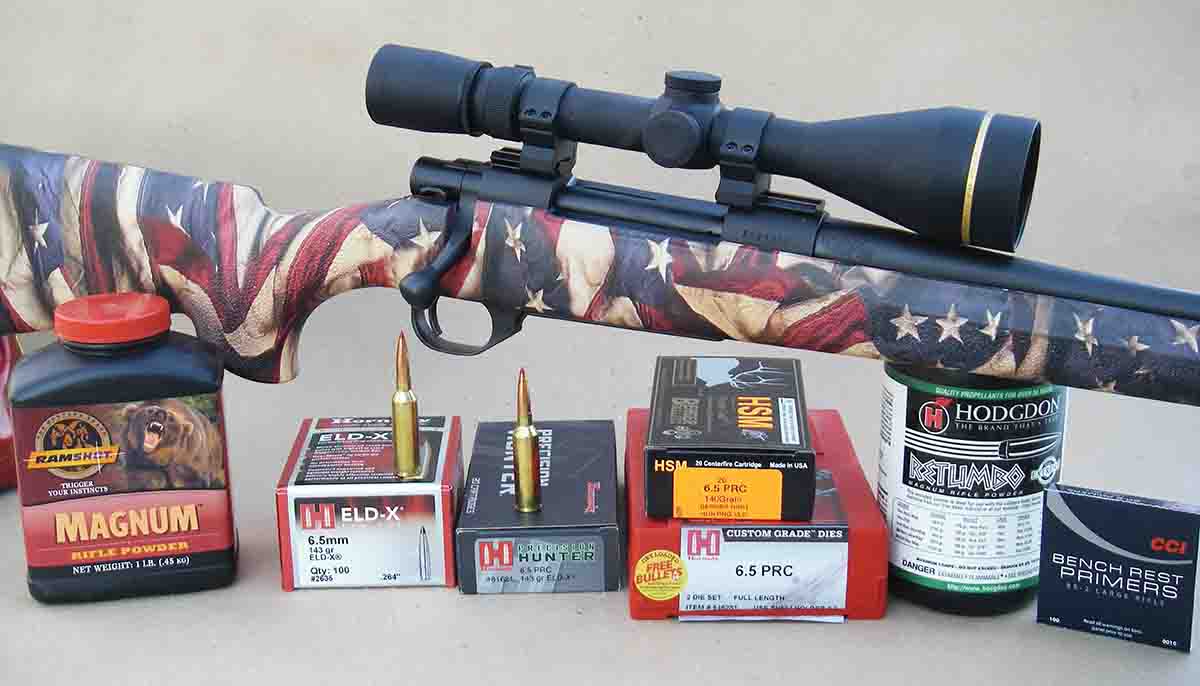 Historically, 6.5 millimeter (.264 inch) cartridges have been popular throughout Europe and other parts of the world, but not so much in the U.S. – at least until around 2008, when their popularity began to spread. Previously, there have been a few cartridges that have gained some acceptance, but overall their popularity was limited. For example, in 1958 the .264 Winchester Magnum (based on the belted H&H case) was introduced and quickly became popular, but that would only last a few years. It developed a reputation of having short barrel life, its two-diameter bullet was confusing to some and there were other technical aspects that added to its waning popularity. Nonetheless, it offered a flat trajectory with high ballistic coefficient (BC) bullets and long-range performance, and it still has a small but loyal following.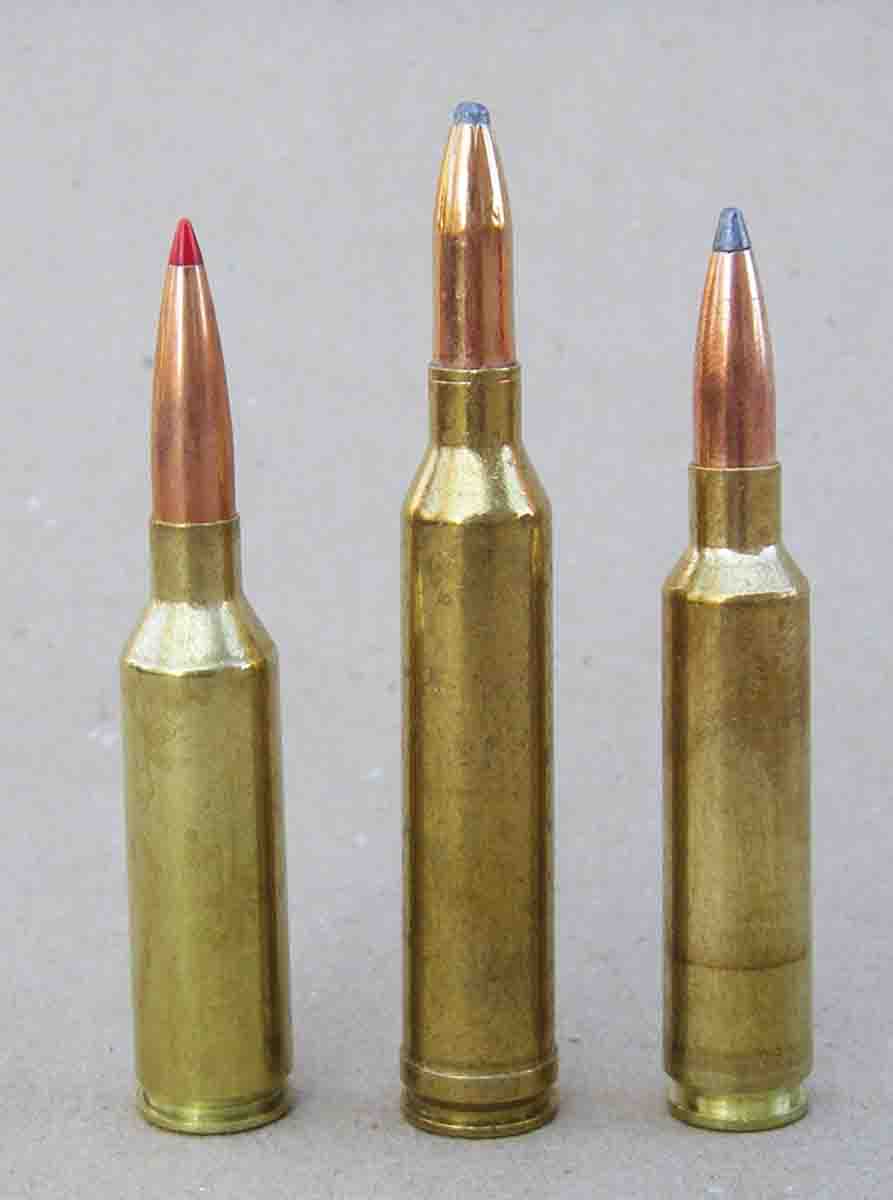 A total failure (mostly for good reason) appeared as the 6.5 Remington Magnum in 1966, which was oddly chambered in a short-barreled carbine that limited performance, and sales were very soft. The .260 Remington (6.5-08 A-Square) was introduced in 1997. It is a good cartridge, but it was not properly marketed; the barrel twist should have been faster and there were other technical issues that limited its popularity. The 6.5-284 became a wildcat in 1963 and target shooters quickly discovered its many virtues in long-range target competition. Norma introduced it as a CIP cartridge in 1999, and just recently The Sporting Arms and Ammunition Manufacturers' Institute (SAAMI) standardized it. But in spite of offering excellent ballistics for hunters, along with modest recoil and top accuracy, its popularity has not been mainstream.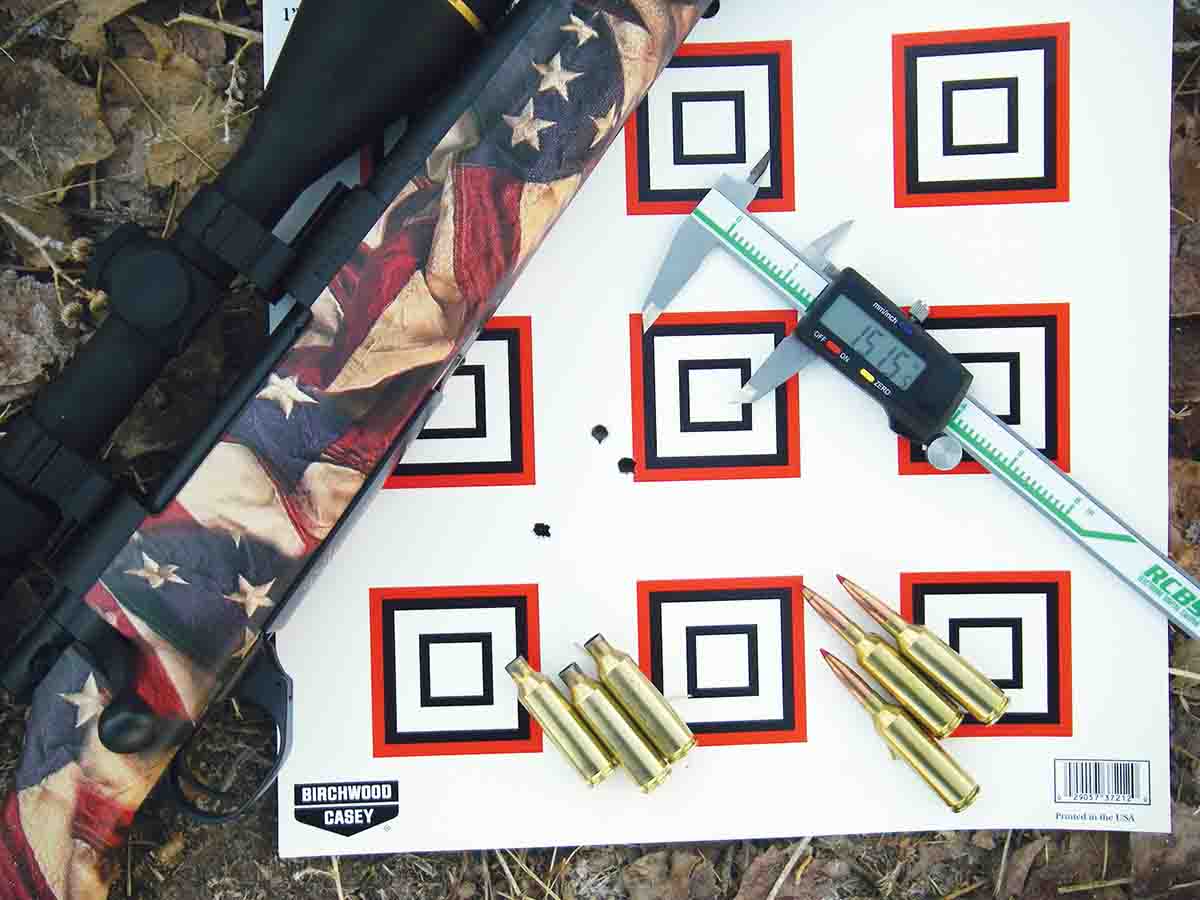 In 2008, the future of 6.5s in the U.S. was about to change, as the 6.5 Creedmoor was offered by Hornady Manufacturing, designed primarily as an across-the-course, high-power target cartridge. Designers Dave Emary (Hornady Senior Ballistics Scientist at that time) and Dennis DeMille (Creedmoor Sports) designed the "Creedmoor," as it is affectionately known, which is based on the .308 Winchester case but with the shoulder moved back, the case shortened to 1.920 inches and the shoulder angle changed to 30 degrees. Overall cartridge length is 2.800 inches, making it suitable for any .308 Winchester length action. Its design positioned bullets farther out of the case and into the chamber's specified long throat, all of which resulted in an inherently accurate cartridge. Handloaders could easily duplicate or even improve upon its accuracy. The barrel twist rate was 1:8, which was a much better choice than previous U.S. designed 6.5s that had 1:9 or 1:10 twist rates. The Creedmoor provides top accuracy, low extreme velocity spreads, long barrel life and modest recoil. Modern bullets with a high BC and components are readily available.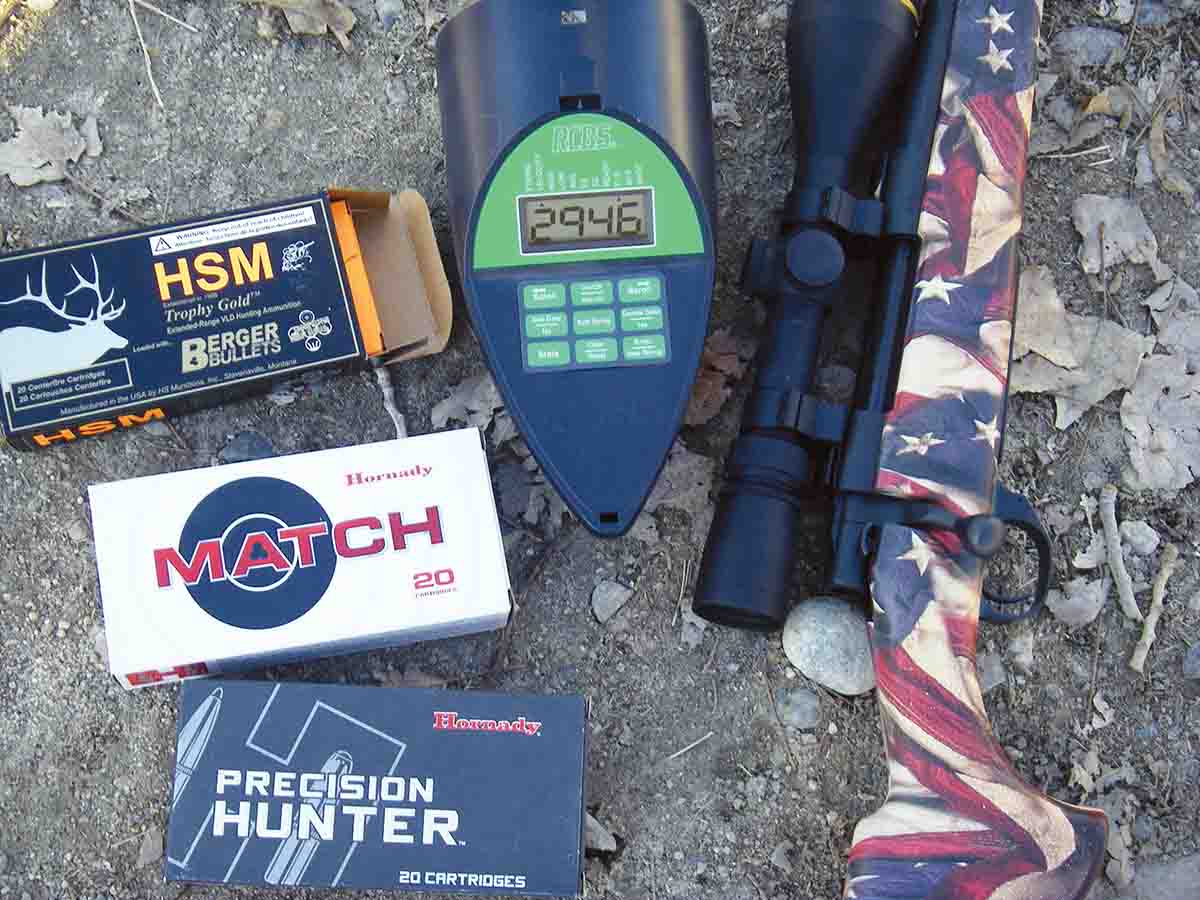 It is interesting that for the first several years the average shooter or hunter could be asked his opinion of the 6.5 Creedmoor and most had not even heard of it. At first, it only received modest press; however, when it started to dominate in various target competitions, its popularity quickly soared to nearly unheard of levels. Many hunters took it afield with good results. However, due to its reputation as a long-range target cartridge, it has also been pressed into service as a long-range hunting cartridge.
The 6.5 Creedmoor is generally listed to push cup-and-core, 120-grain bullets at 2,910 fps, a 129-grain SST at 2,950 fps or various 140- to 143-grain bullets at around 2,700 fps. In spite of generally being loaded with bullets featuring a high BC that translates into impressive downrange velocities, a 6.5 cartridge with a bit more velocity, energy and a flatter trajectory for use in the field is certainly welcomed by this shooter/hunter. It too should be beltless and with the same modern features as the Creedmoor, but neither should it have such overbore capacity and velocity to be a barrel burner.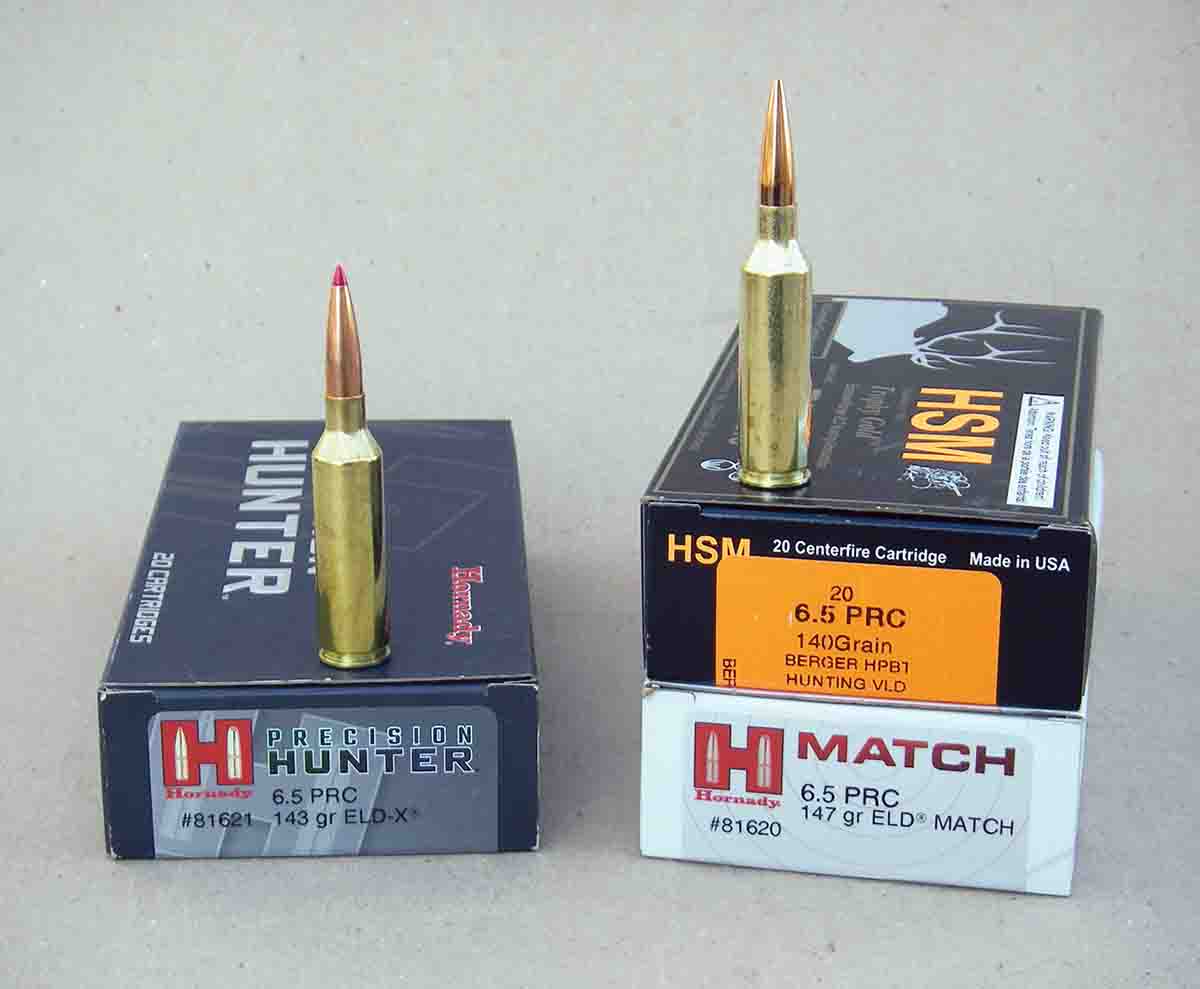 Several years ago, I made suggestions to multiple firearm and ammunition companies for a modern 6.5mm cartridge with the same virtues as the 6.5 Creedmoor, but with a muzzle velocity more similar to the 6.5-284 Norma and .264 Winchester Magnum. Companies usually keep developments very guarded, and I had no insight as to if this idea would be considered. However, while hunting antelope with leverguns, Hornady's Dave Emary and I discussed the idea at length, but it would still be another couple of years (2018) before the 6.5 Precision Rifle Cartridge (PRC) would be introduced by Hornady. While I take no credit for its technical design, perhaps my prodding helped to spark its development. Regardless, the 6.5 PRC offers outstanding accuracy, efficiency, a desirable velocity level with modern high BC bullets, respectable barrel life and moderate recoil. Since its introduction, sales have soared.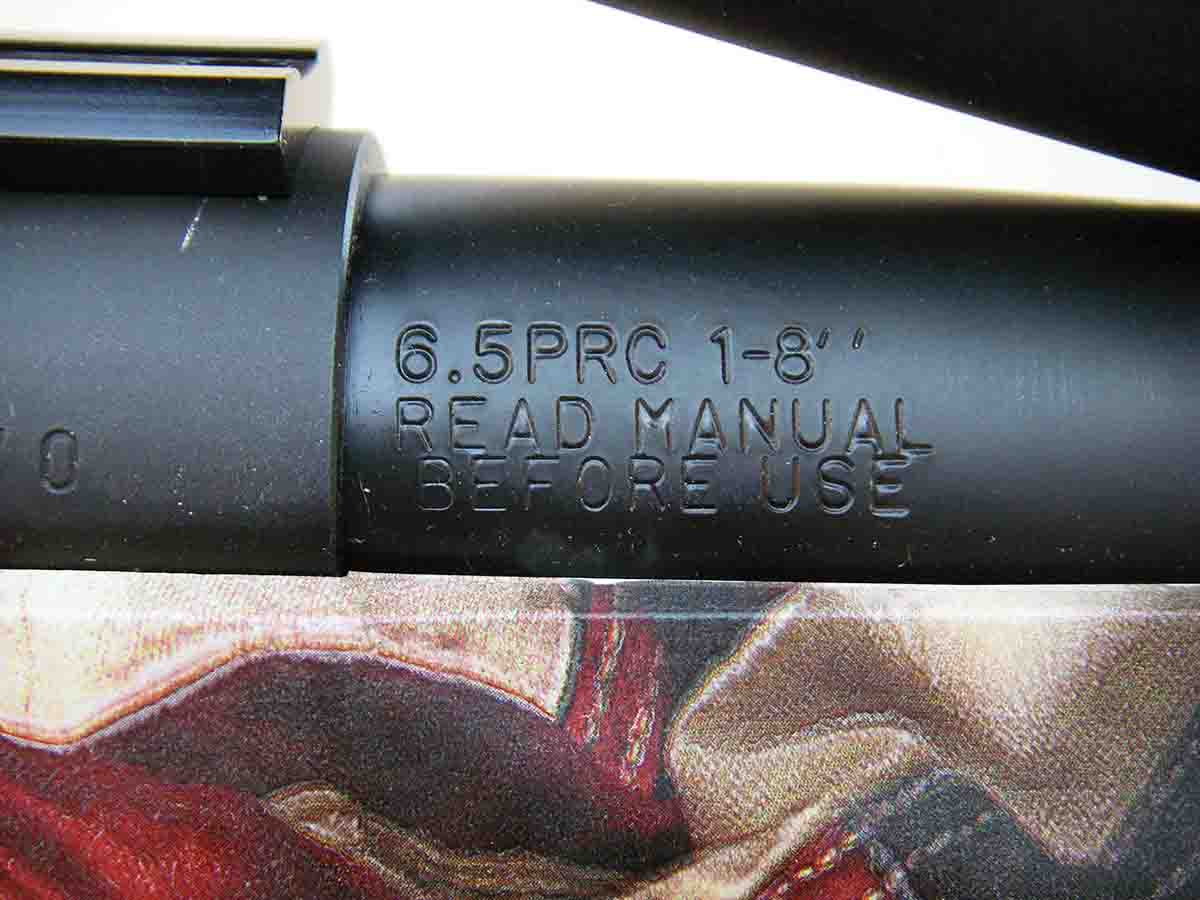 The 6.5 PRC is modern in every respect and has corrected many of the shortcomings of previous 6.5s that offered similar velocities. For example, the parent case is the .375 Ruger (developed and offered by Hornady in 2007), which is beltless and rimless. The head diameter measures .532 inch, which is the same diameter as the belt on the .375 H&H Magnum case. This permits it to be chambered in rifles with a "magnum" countersunk bolt face without modification. Similar to the Creedmoor, the shoulder angle is 30 degrees, which offers positive headspace control and aids with efficient powder burn. The rifling twist rate is 1:8, which allows it to stabilize modern, heavy-for-caliber bullets that feature a high BC, low drag and that typically weigh 140 to 147 grains. However, this fast twist will still stabilize bullets as light as 95 grains for varmint and predator hunters who often favor loads with especially flat trajectories. The PRC's maximum average pressure is 65,000 psi.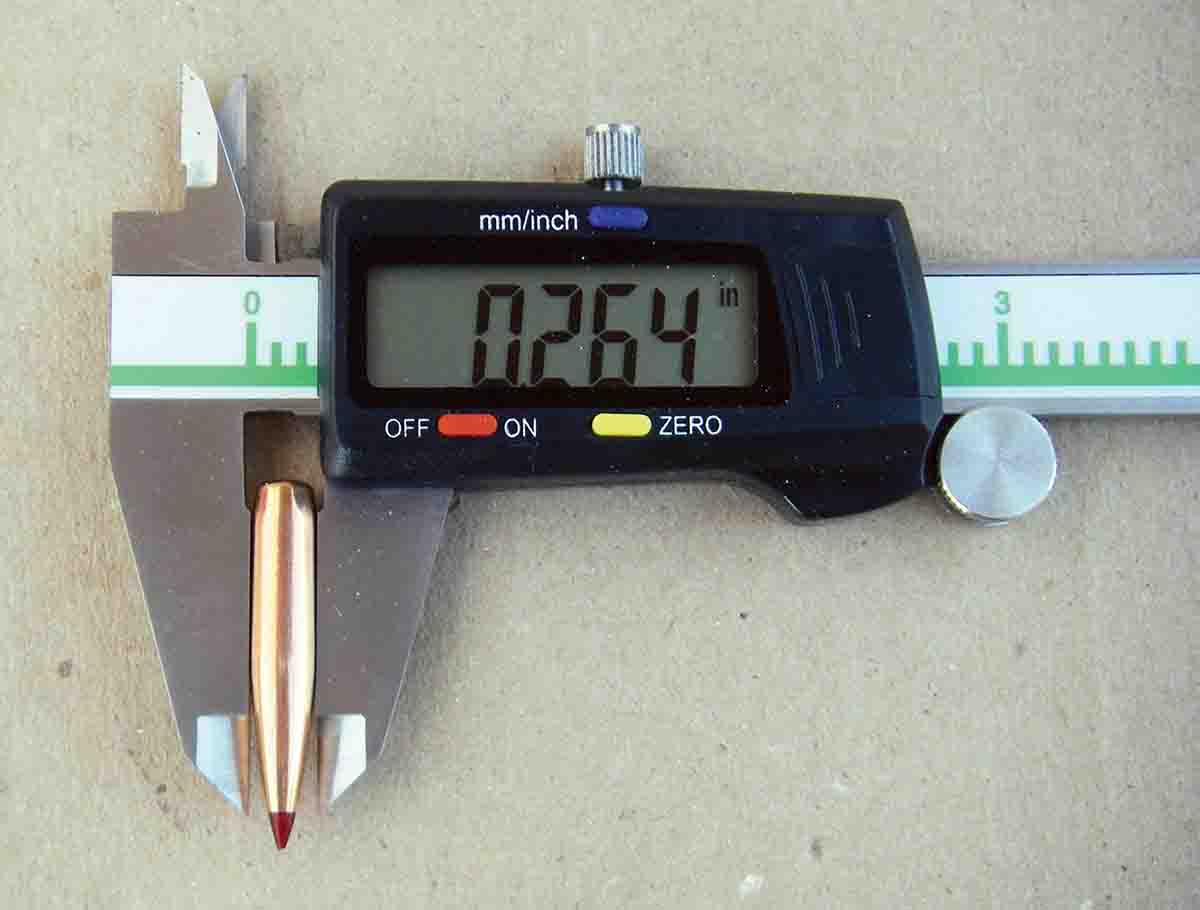 Maximum overall cartridge length is listed by SAAMI at 2.955 inches; some .145 inch longer than the .308 Winchester that has a maximum length of 2.810 inches. This was done in part to permit bullets to be seated out of the case, similarly to the 6.5 Creedmoor, for top accuracy, but it also helped increase powder capacity. Many short action (.308 length) rifles will readily accept a cartridge of this length, but not all.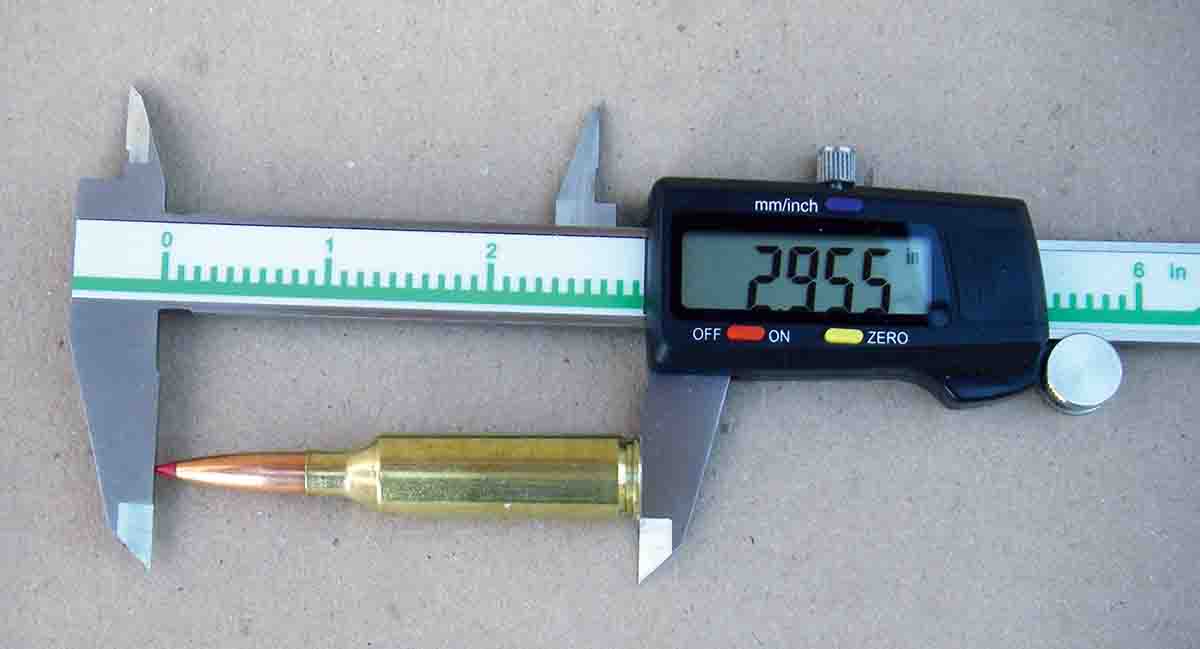 Hornady is currently listing 6.5 PRC factory loads with a 143-grain ELD-X bullet at 2,960 fps and the 147-grain ELD Match at 2,910 fps. While I generally avoid making comparisons, however, it seems appropriate here. The 6.5 Creedmoor lists the same bullets at 2,700 and 2,695 fps, respectively, with the PRC offering a 260- and 215-fps advantage. With each load and cartridge being zeroed at 100 yards, at 500 yards the PRC drops 43.4 inches and 44.1 inches, respectively, while the Creedmoor drops 54 and 52.7 inches. While the difference is not huge, when hunting in open country the PRC offers a distinct advantage that seems very useful to this experienced hunter. This advantage grows significantly as the distance increases. For example at 1,000 yards (not that I would shoot game at that distance) the 143-grain ELD-X drops 325.2 inches and is traveling 1,478 fps from the Creedmoor, while the PRC drops 262.8 inches and is traveling 1,654 fps.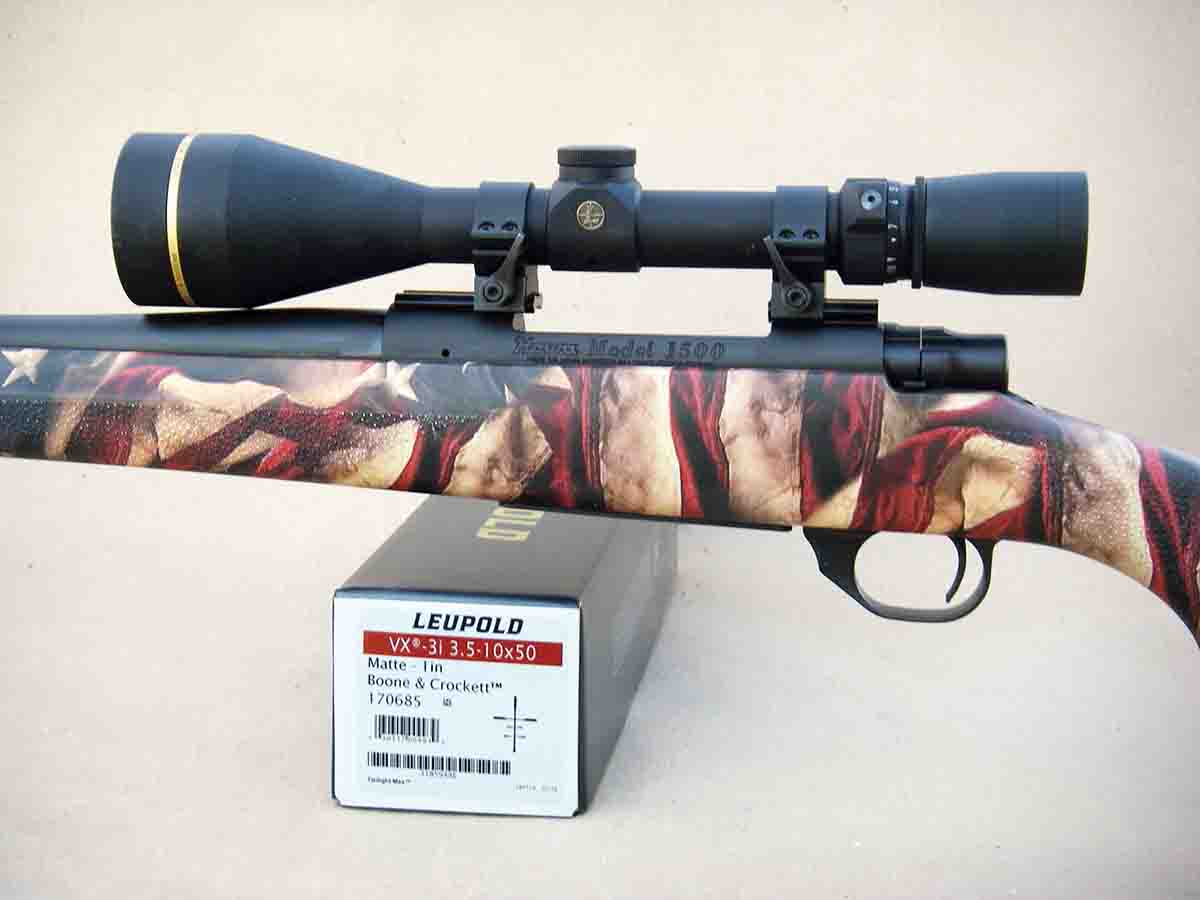 I have worked with the 6.5 PRC in multiple rifles from Montana Rifle (now defunct), Gunwerks and a custom Tikka with a Bartlein barrel, all of which shot very well. However, based on the quality of these rifles, their performance was more or less expected.

For this feature, a Howa Model 1500 Lightning USA was selected, which is modestly priced and is a good rifle. This particular model comes with a comparatively lightweight, free-floating 24-inch barrel measuring .596 inch at the threaded muzzle. The stock is a classic pattern with a rather pronounced pistol grip that is comfortable when used in a variety of shooting positions that range from offhand to prone. The action is secured to the stock via two guard screws, with both being aluminum pillar bedded. The receiver also features a generous recoil lug. The bolt features twin locking lugs that result in a 90-degree bolt lift, while the bolt face is countersunk and houses a plunger ejector. The extractor is a rotating Sako-style which has proven reliable. Naturally, the design results in a push-feed system. The sliding safety, located to the right of the bolt shroud, features three positions and works positively. The two-stage trigger is housed and broke at just over 2.5 pounds right out of the box. The floorplate is hinged and is constructed of alloy. Other than the alloy bottom metal, the Howa 1500 features a simple design with robust construction. It is a no-nonsense design. It fed cartridges, fired and ejected cases reliably and gave flawless function.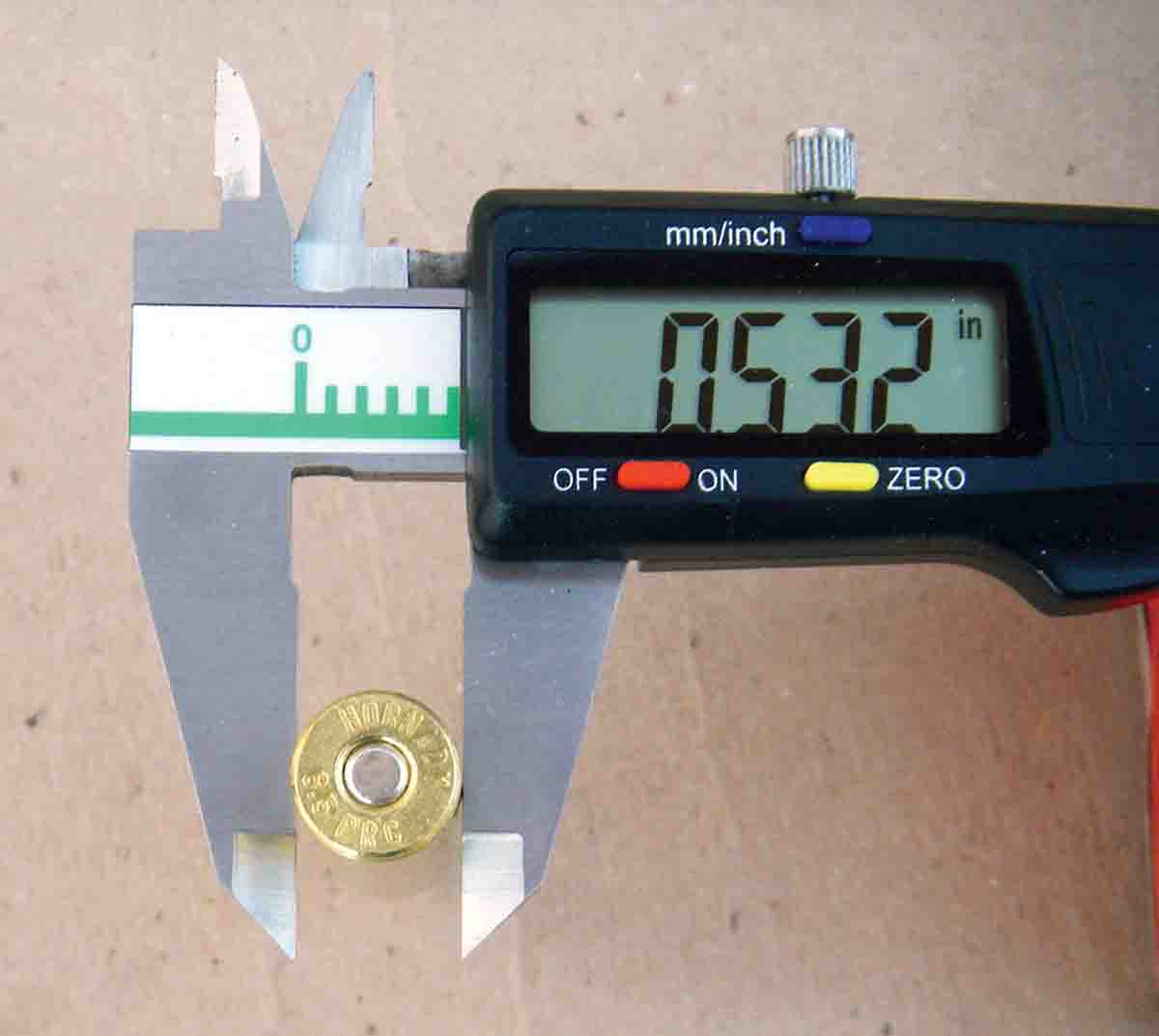 A Leupold VX-3i 3.5-10x 50mm scope was installed using Weaver-style cross-slot bases with Leupold QRW rings. This is a practical mounting system that is especially strong, but it also permits a second scope that has been previously sighted-in to serve as a backup on a hunt, or to be sighted with a different load or changed for a different application as needed. As I have come to expect from Leupold, the scope offered positive adjustment, great optics and worked flawlessly throughout shooting sessions.
Howa barrels are constructed of high-quality chrome-moly steel and are cold hammer forged to help prevent warping during manufacture. They are also closely scrutinized to assure they are straight and that surface condition is smooth. Time was taken to perform a barrel break-in procedure by cleaning all copper fouling after each round fired for the first 10 shots. For the next 10 shots, two rounds were fired between cleanings, with a light coat of synthetic oil being placed in the bore after each cleaning. At no time was the barrel heated up during this break-in period. This all serves to season the bore and develop a "home registration point" for the barrel.
In spite of the above barrel break-in, it took an additional 60 to 70 shots for the rifle to begin to settle, and groups began to really tighten. Using Hornady's Precision Hunter factory load containing the 143-grain ELD-X bullet, several three-shot groups measured just under an inch; however, moving to the 200-yard targets, groups consistently measured between 1.25 to 1.5 inches. Changing to Hornady Match loads containing the 147-grain ELD Match bullet, group size was more or less identical at both 100 and 200 yards, with no practical difference in accuracy between the two loads. Switching to HSM Trophy Gold ammunition containing the 140-grain Berger HPBT VLD bullet, three, three-shot groups averaged 1.67 inches.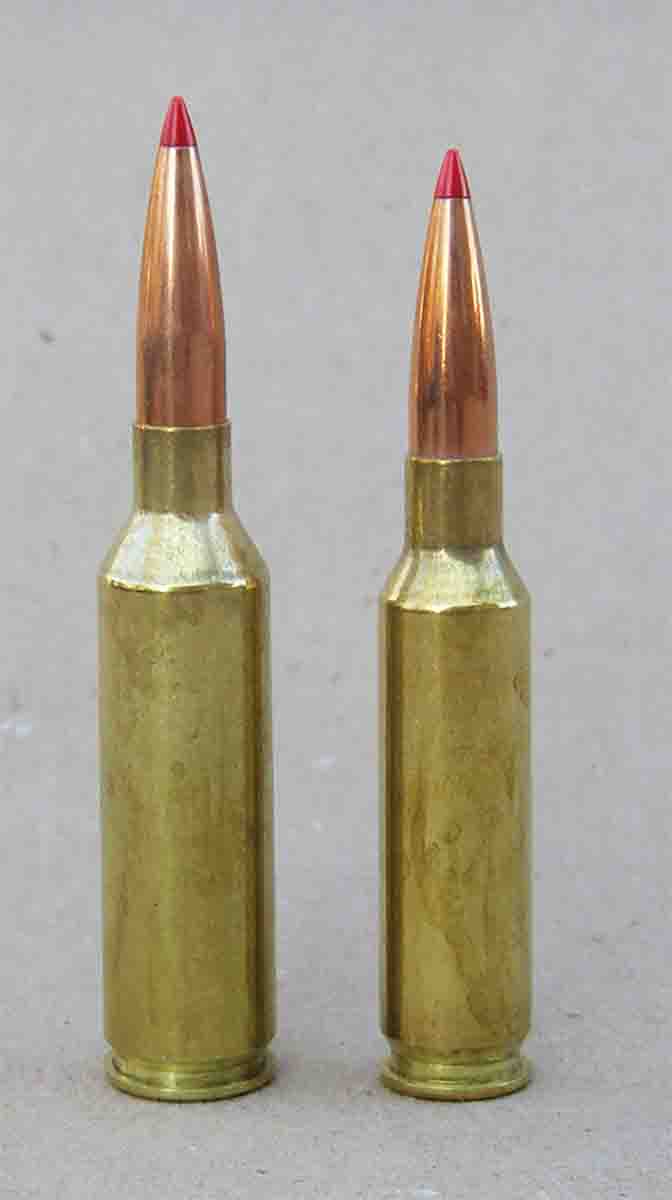 Actual velocities of the above loads were interesting, as they were close to their advertised velocities when fired from a 24-inch barrel. For example, the Hornady 143-grain Precision Hunter provided an average of 2,955 fps and only had an extreme spread of 21 fps for a five-shot string. With the Hornady Match 147-grain load, average velocity was 2,917 fps, while extreme spreads ran 19 fps. The HSM 140-grain Trophy Gold load reached 2,934 fps, and the extreme spread was 31 fps. As experienced long-range shooters know, low extreme spreads are crucial to achieve consistent accuracy and make reliable hits. In addition to the small evaluation of factory load performance, in developing considerable handload data the 6.5 PRC seems to inherently offer low extreme spreads when combined with correct component combinations.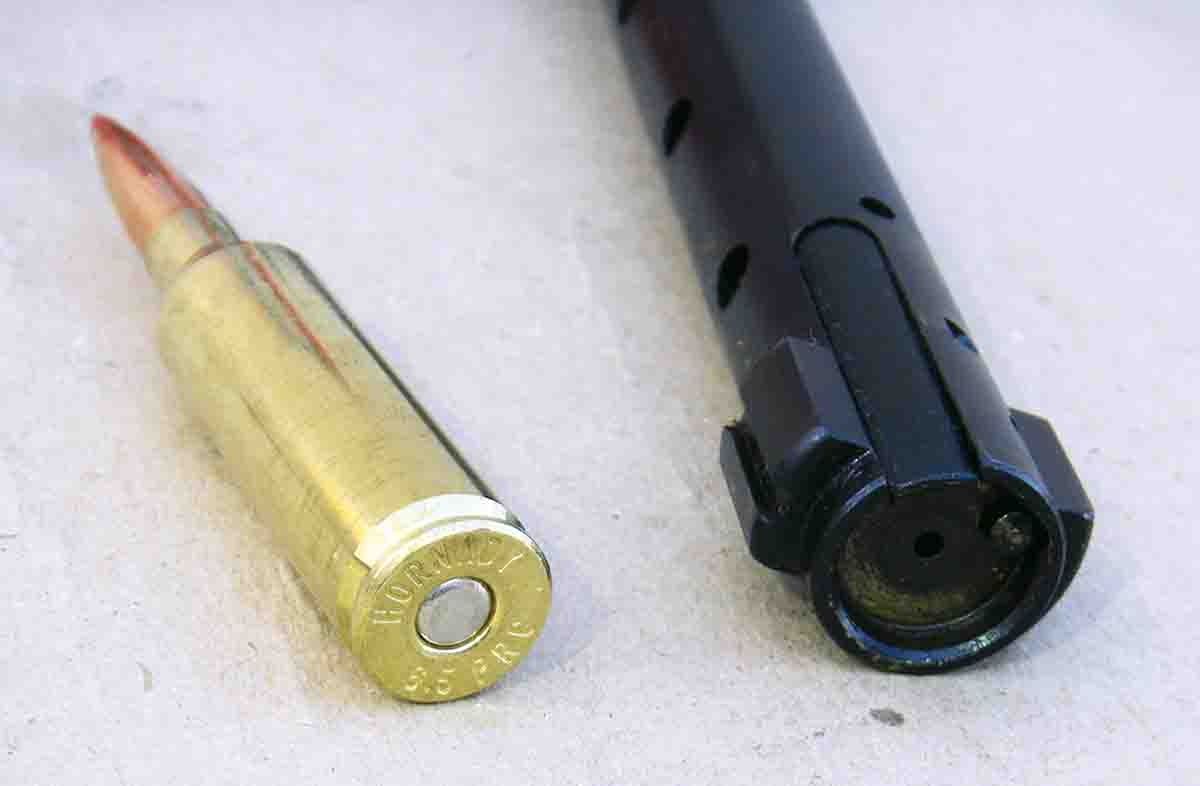 While the 6.5 PRC thrives on long, heavy-for-caliber bullets, it can also push varmint bullets to high velocities. For example, in developing handloads using the Hornady 95-grain V-MAX bullet, 62.0 grains of Hodgdon H-4350 powder reached over 3,600 fps, which offers a flat trajectory at normal varmint shooting distances. Another load that should interest deer hunters includes the Hornady 129-grain SST bullet pushed to over 3,200 fps using 58.5 grains of H-4350 powder. With a 100-yard zero, at 400 yards it drops 20.6 inches.
As is usually the case, factory load performance can also be improved. For example, using the Hornady 143-grain ELD-X bullet, 57.5 grains of Alliant Reloder 26 powder reached 3,030 fps – some 90-fps faster than "listed" velocities of factory loads with the same bullet.
The 6.5 PRC is a great cartridge that is quickly becoming popular, but it is finding particular favor among hunters that want just a bit more performance than its smaller sibling. A few of its advantages include reduced time of flight, flatter trajectory, extended distance at which it will reliably expand bullets, etc., all without sacrificing accuracy. It offers unusually high efficiency (when compared to the powder charges required in most other cartridges that offer similar velocities) and it was designed specifically for a host of modern low-drag 6.5mm bullets. Time will tell, but it appears that the PRC's popularity is going to go the distance.