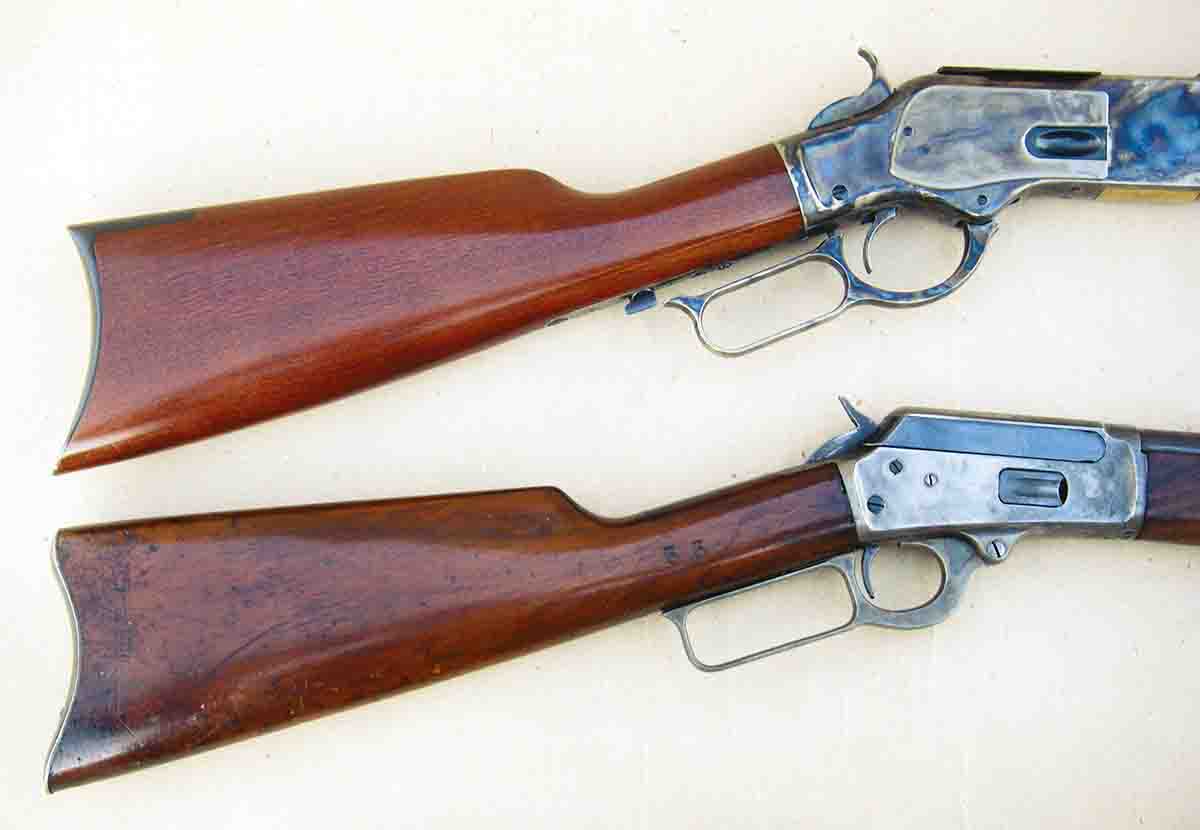 Stock designs found on early modern cartridge rifles, such as the Winchester Model 1873, were patterned similarly to the beautifully-crafted flintlock and percussion-era rifles that had considerable drop at the comb, although actual drop was less. These arms were designed specifically to be fired offhand, with the right arm (or shooting arm) relaxed and the elbow pointed slightly downward, though some shooters will raise the elbow up to at least 90 degrees. The head was held erect, which naturally aligned the eye with the iron sights that were usually mounted low on the receiver and/or barrel.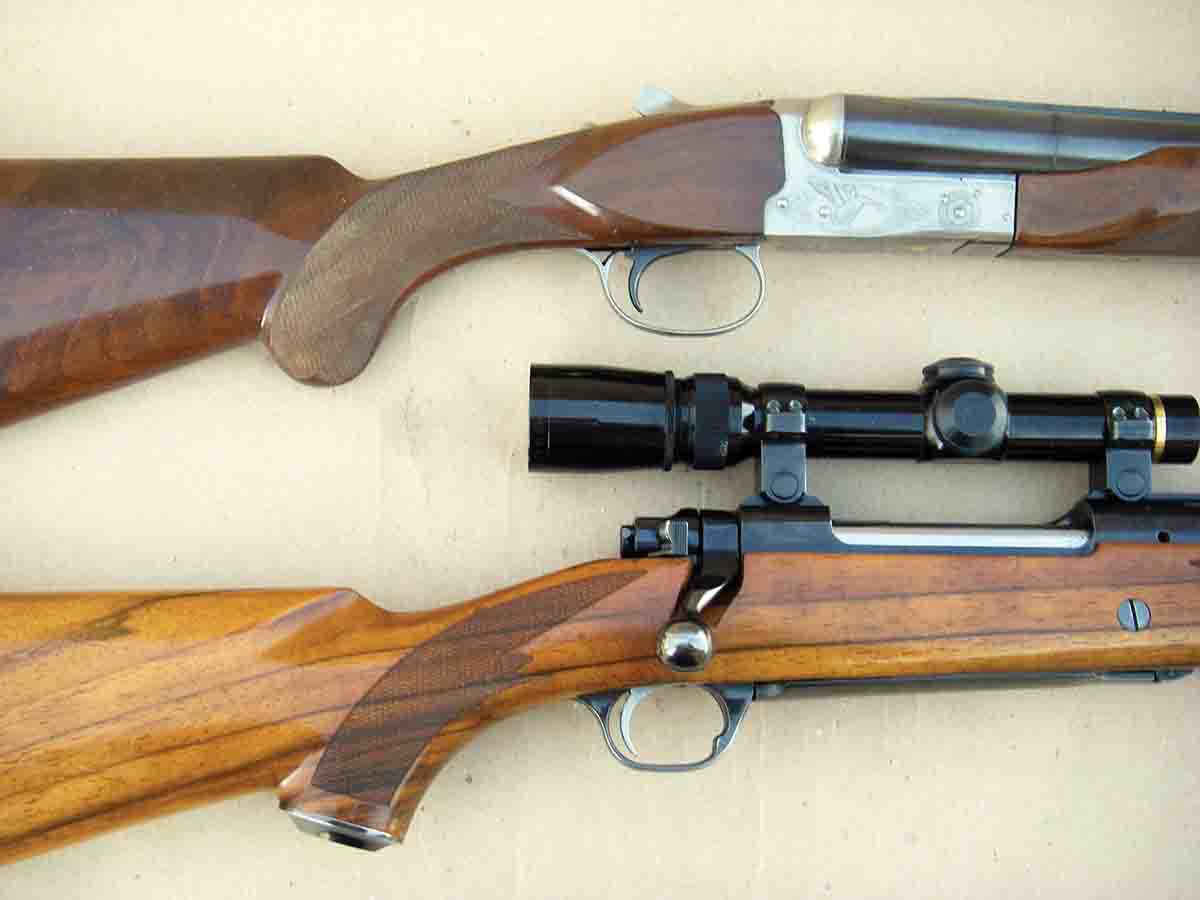 Beginning with the Marlin Model 1881 and subsequent Browning designed Winchester lever-action rifles (Models 1886, 1892, 1894, 1895, etc.), stock dimensions featured comparatively less drop at the comb than the Model 1873, but they were still designed specifically for iron sights. In many respects, they handle like a shotgun. For example, most shooters can stand in a ready position looking at the target, then without moving their head bring the levergun to shoulder and the sights are naturally aligned with the eye while the cheek rests perfectly on the stock, but I digress.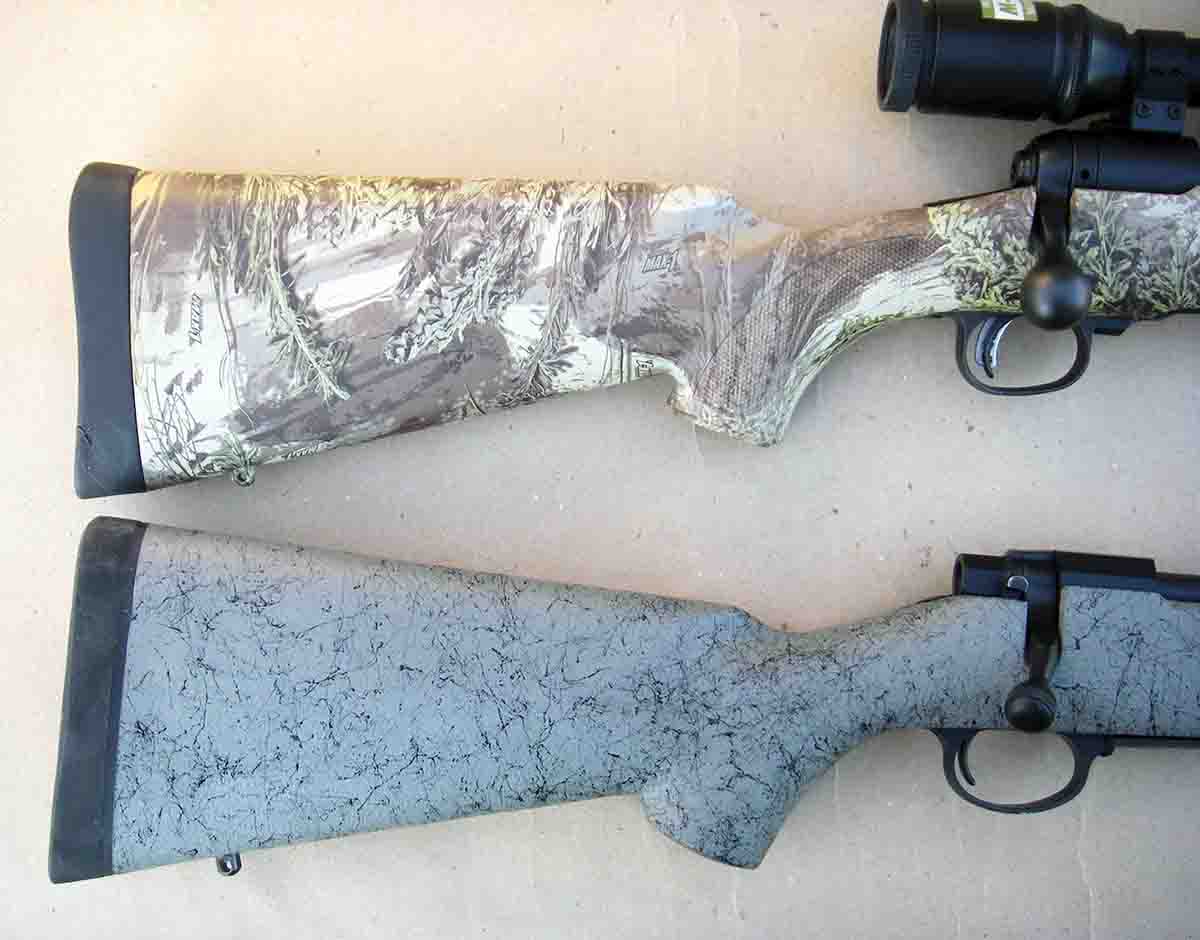 When U.S. manufacturers began building modern sporting, high-power bolt actions such as the Winchester Model 54 (1925) and Model 70 (1936) and others, their stock designs were likewise primarily designed for iron sights (aperture and open), as scope sights were still in their infancy and were generally considered unreliable by most sportsmen.
In the post-World War II era, scope quality, technology and availability to hunters was hugely improved, which resulted in rifle manufacturers offering stocks with higher combs to better accommodate scopes, or rather to better align the shooter's eye with the scope. However, most companies still designed them to also work with open sights. (It should be noted that during that era the 1-inch scope tube was thought of as large, but nonetheless due to period small diameter eye-pieces and objectives, they could be mounted very low.)
A few companies, such as Weatherby, began offering high comb stocks with a rollover cheekpiece (often referred to as a Monte Carlo design) and generally did not even offer iron sights. Regardless, stocks on most production rifles were suitable for hunters that preferred to still-hunt in timber or brush country, and usually shot game from the offhand position. Incidentally, the pistol-grip profile was similar to shotguns (at least those fitted with a pistol-grip-style stock), which was a one-size-fits-all approach that worked well in many shooting positions that included standing, sitting and prone. While there were technical differences between the pistol-grip shapes from one company to another, their basic configurations were similar.
Modern classic-style stocks with higher combs began to become popular during the 1960s, with examples including the Ruger M77, Winchester Model 70 Featherweight (post-1981), Remington Model 700 Classic, etc. Many shooters report less felt recoil with modern classic pattern stocks, but they are also comfortable, fit most shooters and are very functional in the field, but they can also be beautifully-styled and handsome when constructed of wood. These remain widely popular today (for good reasons) and are generally copied by all major rifle manufacturers in both wood and synthetic materials.
Period varmint rifles generally share the same stock profile as sporting rifles; however, some companies began adding beavertail forearms and steepened the pistol-grip area, etc.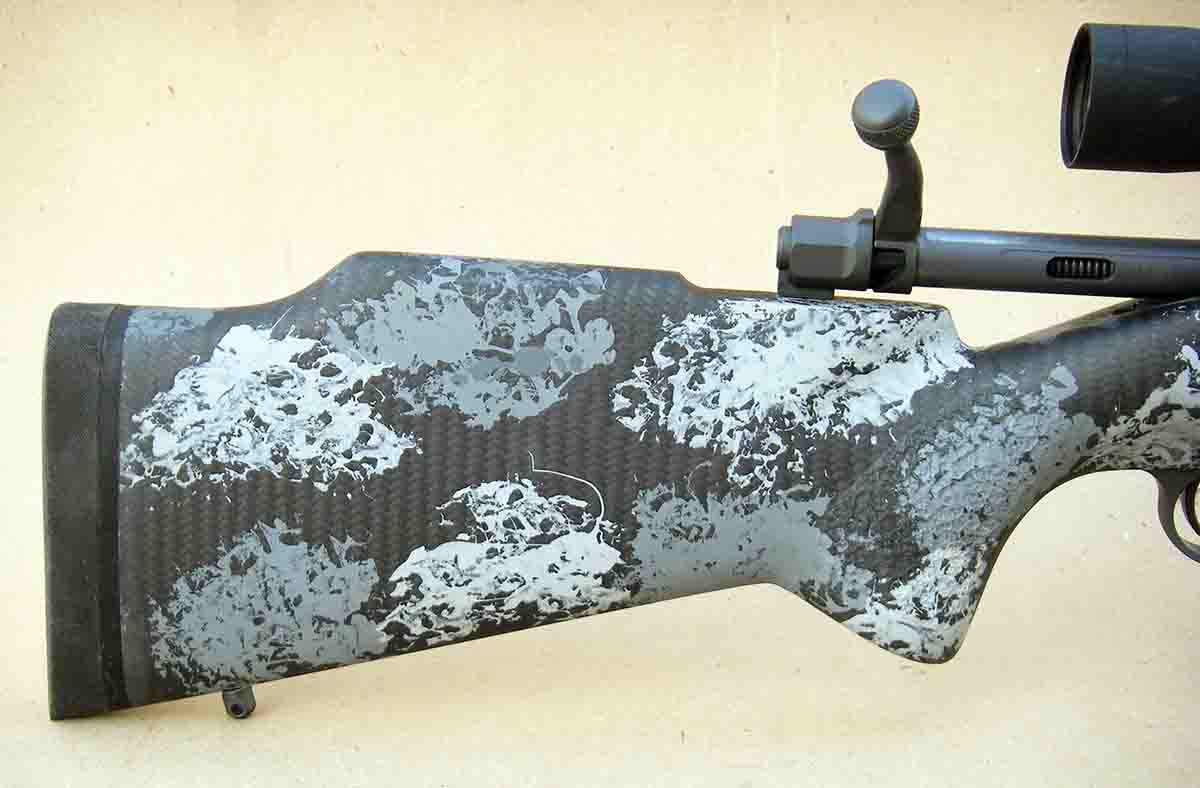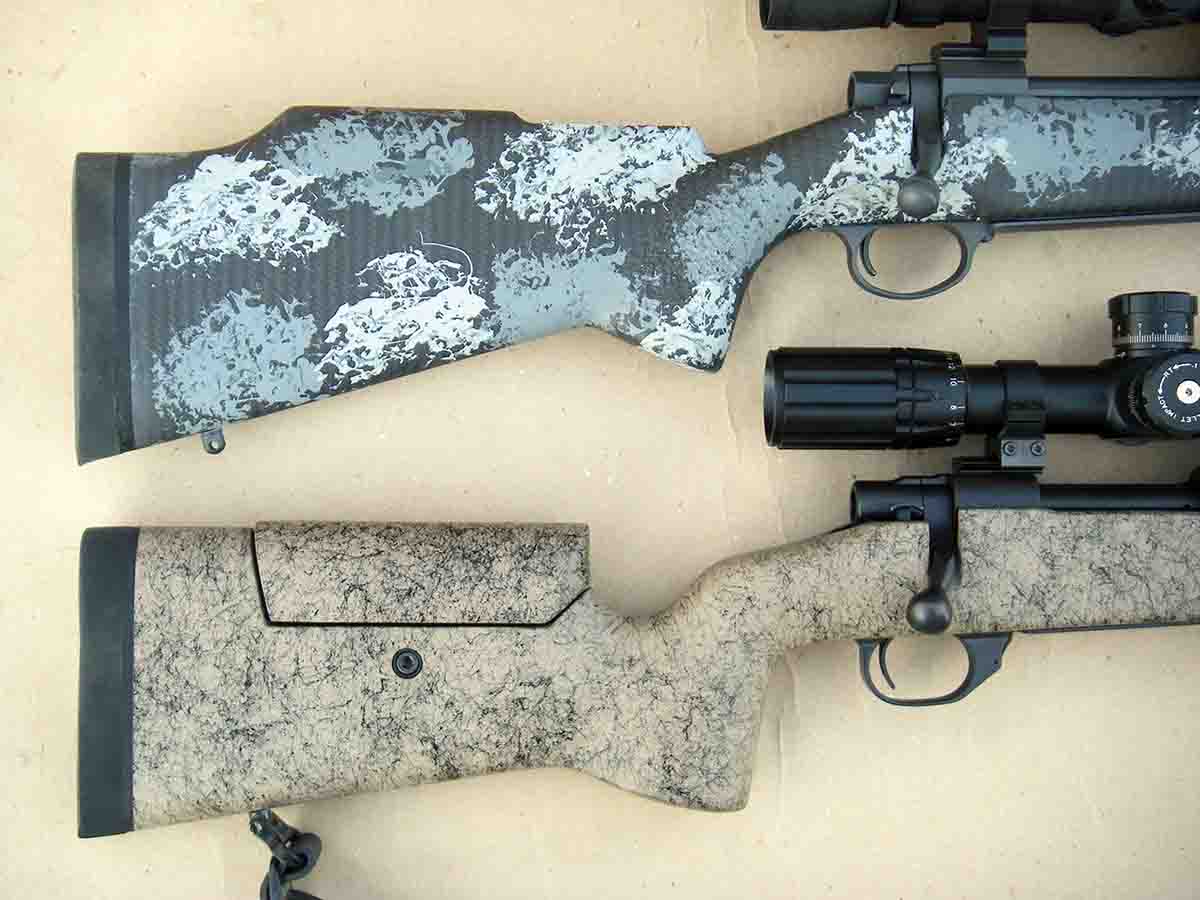 Over the past couple of decades, there has been a huge trend toward long-range shooting, which has resulted in major departures in stock designs, at least on rifles built specifically for that purpose. In essence, target-style stocks have been adapted and modified for field use. First, virtually all of these stocks are designed for use with scopes, or more specifically, large scopes with a 30mm or larger main tube that feature enough adjustment to accommodate extreme long-range shooting and to be "dialed-in" for a specific distance. As a result, the comb height is generally very high in order to give a proper cheek weld and to align the shooter's eye with the center of the scope. Keep in mind that large scopes must necessarily be mounted high for the eyepiece and large objectives to clear the bolt hand and barrel, which explains why combs must be very high. These high comb stocks also reduce muzzle rise because they are prone to recoiling more to the rear when compared to traditionally-styled stocks. Iron sights are out of the question.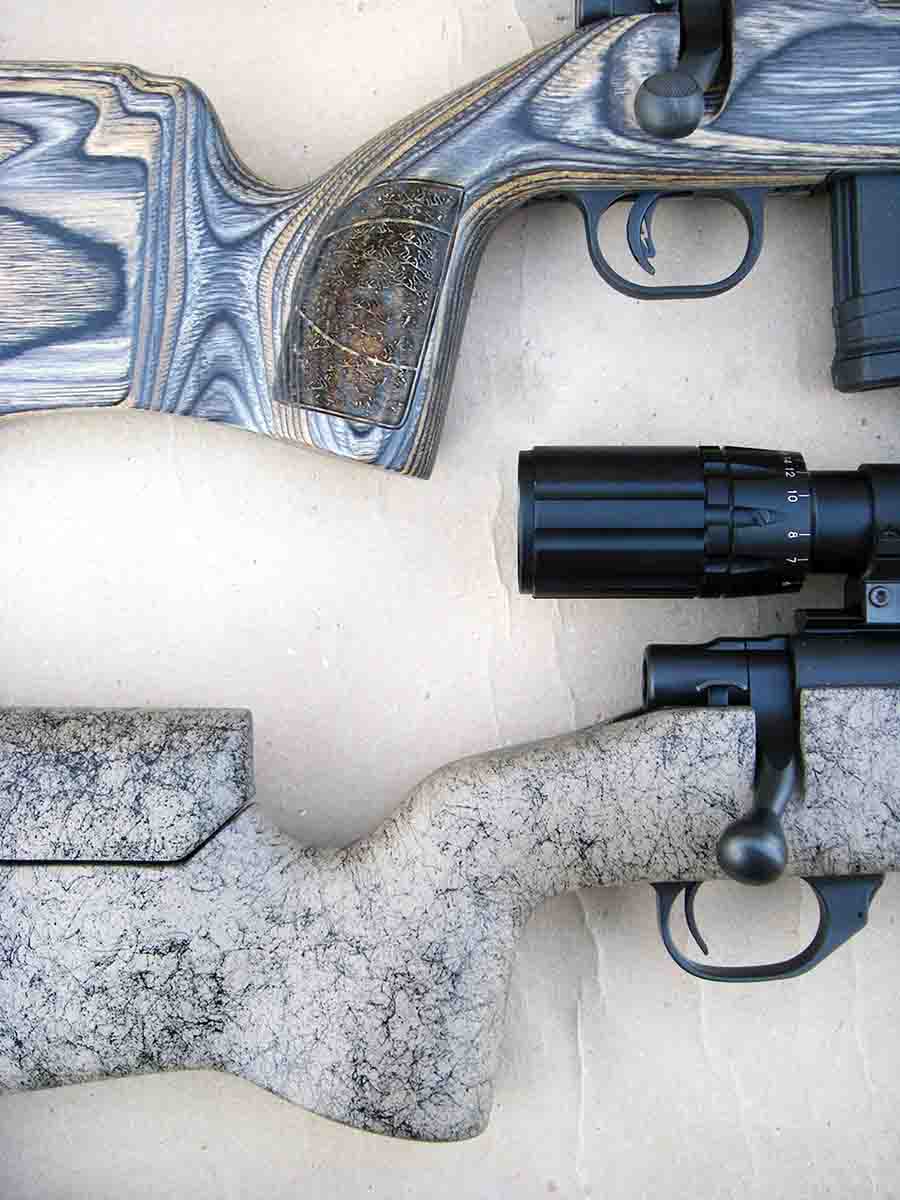 A modern stock design that has become widely popular is a modified "classic"; however, the comb profile is generally referred to as a "negative comb." While several rifle companies and stock makers offer variations, it is probably most familiar to readers on the Nosler Model 48 and various Gunwerks hunting rifles. While they are fitted with a generously large diameter recoil pad (or surface area), from the recoil pad forward the top of the comb slopes downward toward the rifle, which is opposite of traditional stocks that slope from the action downward to the recoil pad. This explains the negative comb nomenclature.
Interestingly, as the rifle recoils and moves to the rear, the cheek weld is decreased slightly, so heavy recoiling rifles are unlikely to bruise the cheekbone. Incidentally, the comb is so high on many rifles that the forward top of the comb must be either flattened or slotted to permit the bolt to function properly. This stock design is suitable for a variety of shooting positions including offhand, prone, sitting, etc.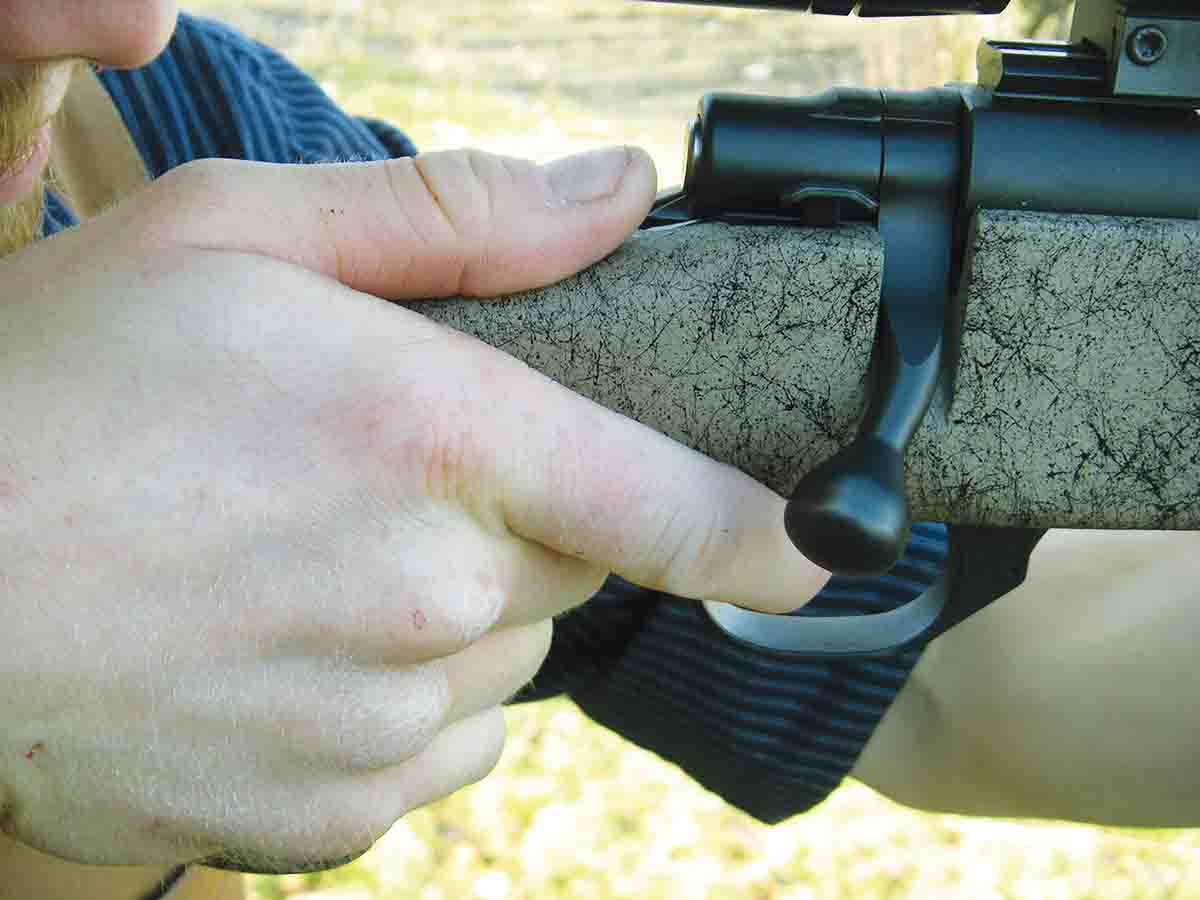 Another trending hunting stock is a target or competition pattern. While these designs are not new, they are making inroads into long-range field/hunting rifles. Like the modified classic mentioned above, they feature very high combs that are either level or negative comb style. Many of them feature an adjustable cheekpiece to more precisely fit the shooter, which results in perfect eye alignment with the scope and a proper cheek weld for all shooting positions and are especially well suited for shooting prone. Most feature a rather steep (vertically speaking) pistol grip, especially when compared to traditional shotgun styles. This helps the shooter position the hand and wrist in a relaxed, yet natural position when shooting prone. Some of these designs, such as the Manners MCS-T Elite Tac Carbon Fiber stock found on the Nosler M48 Carbon Fiber, allow the shooter to place the thumb over the grip, or to the right of the bolt shroud (assuming a right-handed shooter).
Some designs, such as the Bell & Carlson Target/Competition Adjustable Cheekpiece stock, feature a grip that is nearly vertical. While shooters can place their thumb over the pistol grip in traditional fashion, these stocks accommodate those that keep the thumb just above the palm of the hand (very popular among long-range shooters). Incidentally, thumbhole stocks have a comparatively small following but are primarily used by varmint shooters using small caliber rifles.
Space will not allow a detailed discussion of forearm shapes and sizes. Suffice to say that forearms should be matched to a given task. Traditional trim profile shapes remain favorites by hunters that use a rifle on horseback, still-hunters or those that prefer a trim, handsome rifle. Wide beavertail patterns (often with a flat bottom) are often favored by long-range shooters.
Just like rifles and cartridges, modern rifle stocks have become very specialized and advanced in design. While not everyone agrees on design details, the selection is huge as offered by rifle manufacturers or aftermarket stock companies. The perfect stock for a given application is probably readily available.