The first smokeless rifle powder appeared in the 8mm Lebel cartridge in 1886, and shooters continue to feel the effects more than a century later – partly through a fixation on sheer muzzle velocity as the primary source of hunting rifle "magic." This is particularly common among varmint hunters who shoot the abundant burrowing rodents of the West.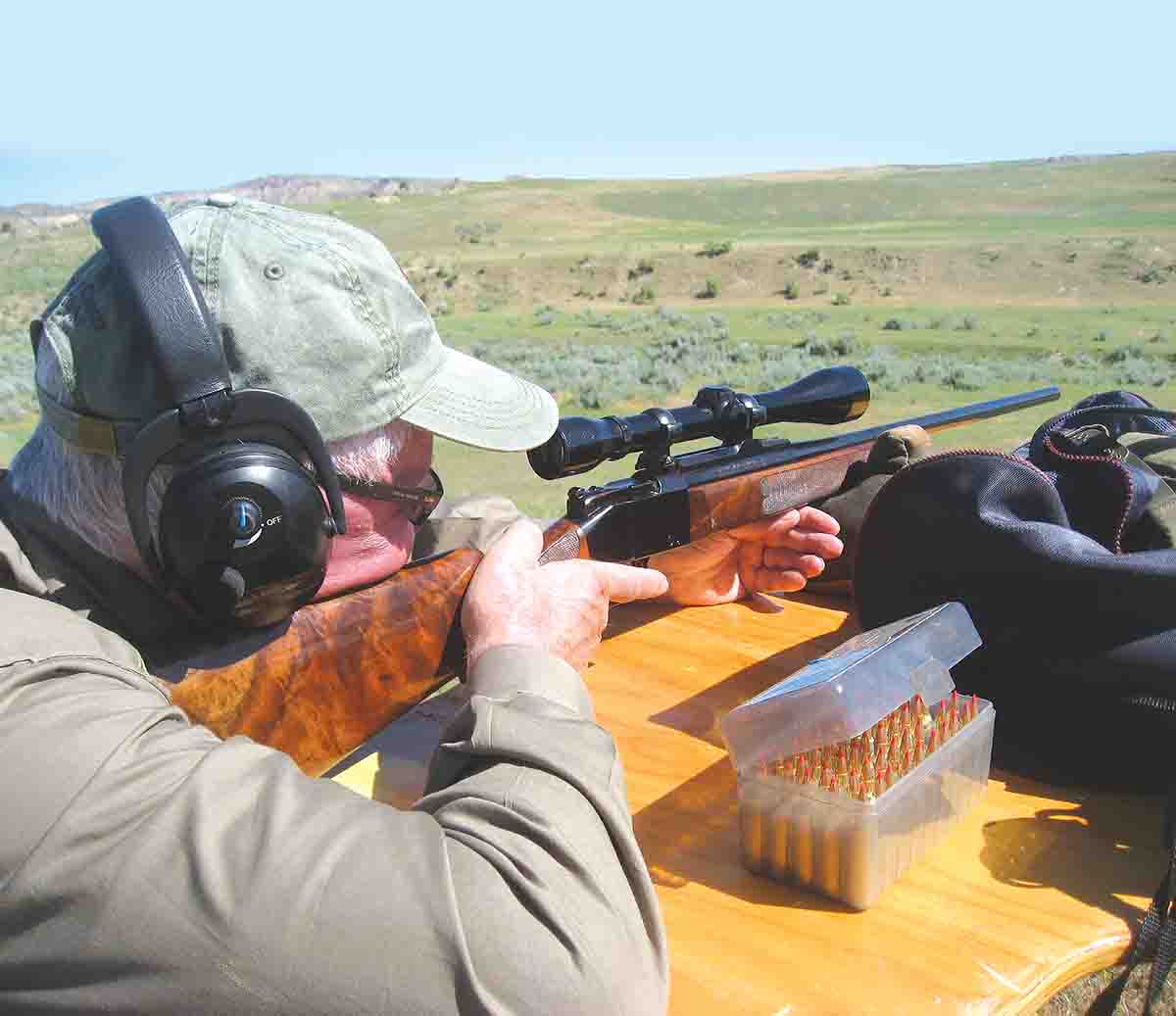 Black-powder cartridges had muzzle velocities averaging less than 1,500 fps, but the Lebel's 232-grain bullet had a muzzle velocity of roughly 2,060 fps. Smokeless powders improved rapidly, and cartridge designers soon realized they could further increase velocity by using lighter bullets. Target shooters and hunters found relatively blunt bullets and slow rifling twists to be more accurate, due to the imperfect balance of many early jacketed bullets. This is partly why the first "high-velocity" .22-caliber varmint round, 1930's .22 Hornet, featured roundnose, 45-grain bullets at around 2,650 fps in a 1:16 twist.
In 1935, the .220 Swift broke the 4,000-fps barrier, but its lightweight, 48-grain bullets didn't maintain velocity much better than the Hornet's. As a result, even scoped Swifts weren't effective at what we now consider long range, but the high muzzle velocity flattened trajectory considerably out to 300 yards – and the varmint shooter's obsession with high velocity began.
After World War II, the new target sport of benchrest shooting became very popular. Its major development wasn't a longer-range varmint round but 1950's .222 Remington, which was hotter than the Hornet but much milder than the .220 Swift and still using relatively light bullets in a 1:14 twist.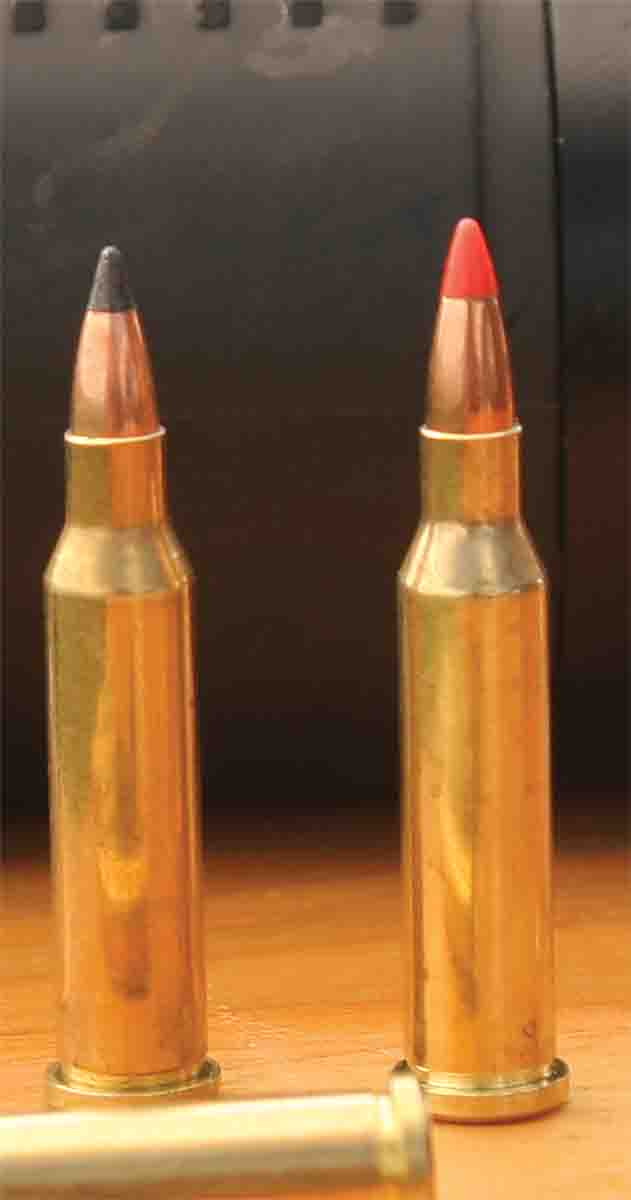 By the 1950s, varmint hunters who wanted to shoot farther often bypassed the Swift for larger-caliber rounds shooting heavier bullets. The .243 Winchester's 1:10 twist was designed to stabilize 100-grain "deer" spitzers, but Winchester's other factory load featured an 80-grain varmint bullet at 3,500 fps, which shot just about as flat as the 48-grain Swift load while drifting far less in the wind. This reduced the muzzle velocity obsession but convinced many varmint hunters heavier bullets worked better at longer ranges.
After the .222 Remington appeared in 1950, rodent rifles were sorted into three levels that remained static for the next half-century. The first level was .22 rimfire rounds, used primarily on small western ground squirrels, since they're less skittish than prairie dogs so are usually shot under 150 yards.
The second level was the .222 Remington and eventually the .223 Remington, the civilian version of the 5.56x45mm NATO. Cheap military brass and slightly faster muzzle velocities inevitably made the .223 the commercial winner. The .222 and .223 were generally considered 250- to 300-yard cartridges, about 100 yards better than the .22 Hornet, which almost disappeared because its ballistics hadn't changed since the 1930s.
The third level was the larger rounds' effectiveness beyond 300 yards. After Remington commercialized the popular .22-250 wildcat in 1969, it gave the .220 Swift plenty of competition, and some shooters used a .22-250 Remington, Swift or .243 Winchester for all their centerfire varminting, combined with a rimfire for close ranges.
Like many Montanans, I started out using only rimfires on burrowing rodents. The primary agricultural pests in most of Montana were Richardson's and Columbian ground squirrels, colloquially called "gophers," half the size of prairie dogs and so abundant that ranchers often offered free .22 ammunition to shooters. This meant using the cheapest .22 Long Rifle hollowpoints available, because few gopher shooters were rich or crazy enough to use centerfires when burning several hundred rounds a day.
In the 1980s my wife, Eileen, and I moved to a tiny town in central Montana, surrounded by large ranches, and the free ammunition offer was almost universal. By then, however, I'd become one of those semisnobs who only used .22 hollowpoints that grouped best in our rifles, so I said we'd be happy to bring our own. The word got out, and eventually we were welcomed on thousands of acres of gopher ground. These also included a few rockchuck colonies and prairie-dog towns, which we started shooting with .224 centerfires, mostly the .223 Remington and .220 Swift.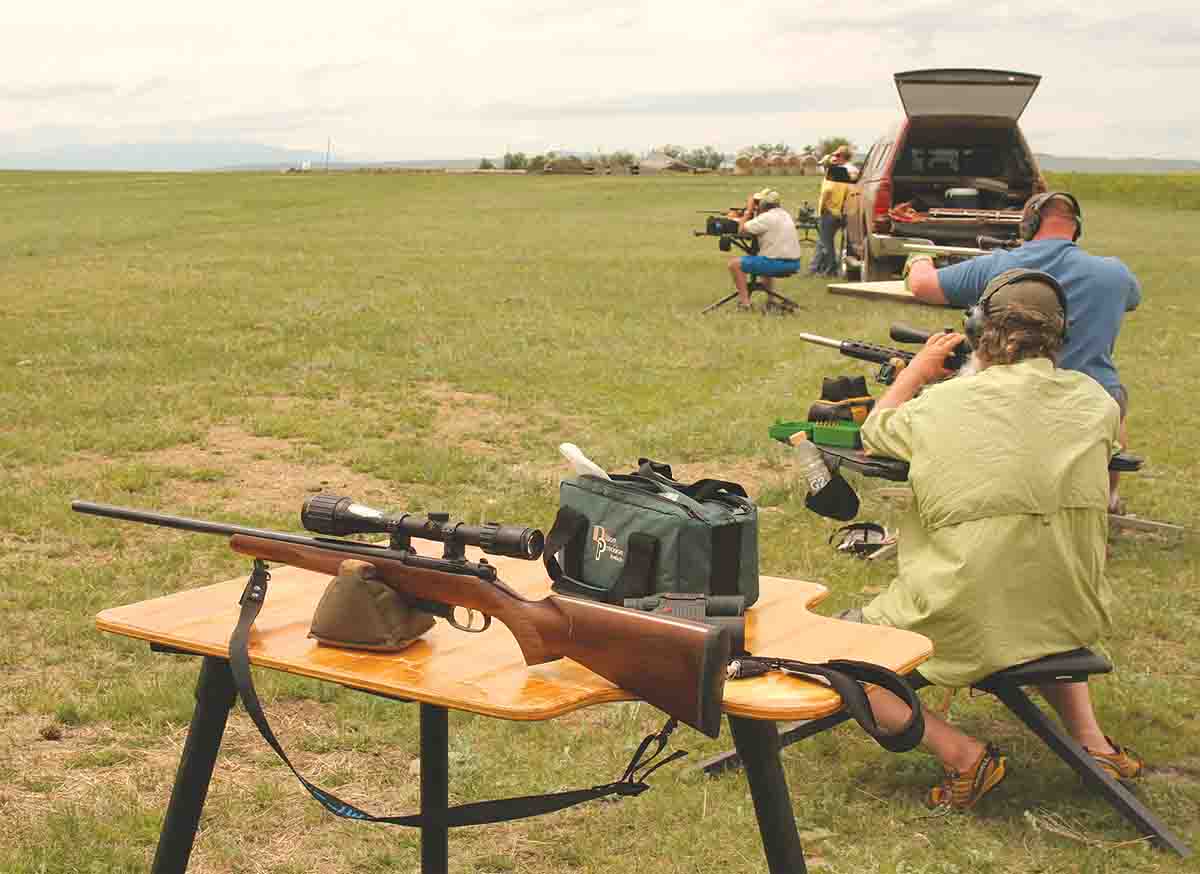 In the 1990s, however, several changes started to modify the common triad of a .22 rimfire, .222/.223 and the "big" .243 centerfire for western rodent shooting, and the first major change was plastic bullet tips. Nosler introduced the "hunting" version of its Ballistic Tip bullet in the mid-1980s, but early in 1991, samples of new .224 Ballistic Tips arrived, which shot very well from both a Remington Model 700 .223 Remington and a Ruger 77 .220 Swift.
I got to field test them in May, when Nosler hosted a prairie-dog shoot in Montana, taking both the .223 and Swift, because that's what prairie-dog shooters did back then. The first morning, I slowly realized the sharp point of the Ballistic Tips flattened the .223's trajectory and reduced wind drift considerably, and the bul-lets also expanded at much longer ranges than I'd ever seen. Since the lighter recoil of the .223 Remington allowed spotting my own shots at any range from 200 yards out, on the second day the Swift stayed in its case. The Ballistic Tip varmint bullets became such an immediate success that soon other companies started making .224-inch bullets with sharp, plastic points.
The other major change occurred when affordable laser range-finders appeared. The ability to know rather than guess distance resulted in multipoint reticles and scopes with field-adjustable elevation turrets. In the early 2000s, plastic tips and rangefinders resulted in a spate of new varmint cartridge introductions, especially so-called "subcalibers" under .22.
One practical piece of ballistic trivia is that the smaller a bullet's caliber, the more a sharp point increases ballistic coefficient (BC), because a soft or hollow point large enough to expand reliably takes up a larger percentage of the small tip. A boat-tail doesn't help subcalibers much. A boat-tail increases BC by reducing the diameter of the flat base of a bullet, resulting in less "drag," but subcaliber bullets already have tiny bases, the major reason Berger, Hornady and Nosler only offer flatbase, .17-caliber bullets – a boat-tail simply doesn't increase BC enough to be useful.
From 2002 to 2012, six commercial subcaliber varmint cartridges appeared, with half becoming big successes – the .17 Hornady Magnum Rimfire (HMR), .17 Hornet and .204 Ruger. The .17 Hornady Mach 2, .17 Winchester Super Magnum (WSM) and .17 Remington Fireball haven't been quite as popular, but they are still highly effective rodent rounds.
Western gopher shooters found the .17 HMR performed far better than the .22 Long Rifle or .22 Winchester Magnum – or those who actually tried one did. Some still believe .22 Magnum bullets drift less in the wind, because they're heavier. In reality, BC and velocity, not bullet weight, determine wind drift, and the most popular .17 HMR ammunition features the Hornady 17-grain V-MAX bullet, with a higher BC than any .22 Magnum bullet.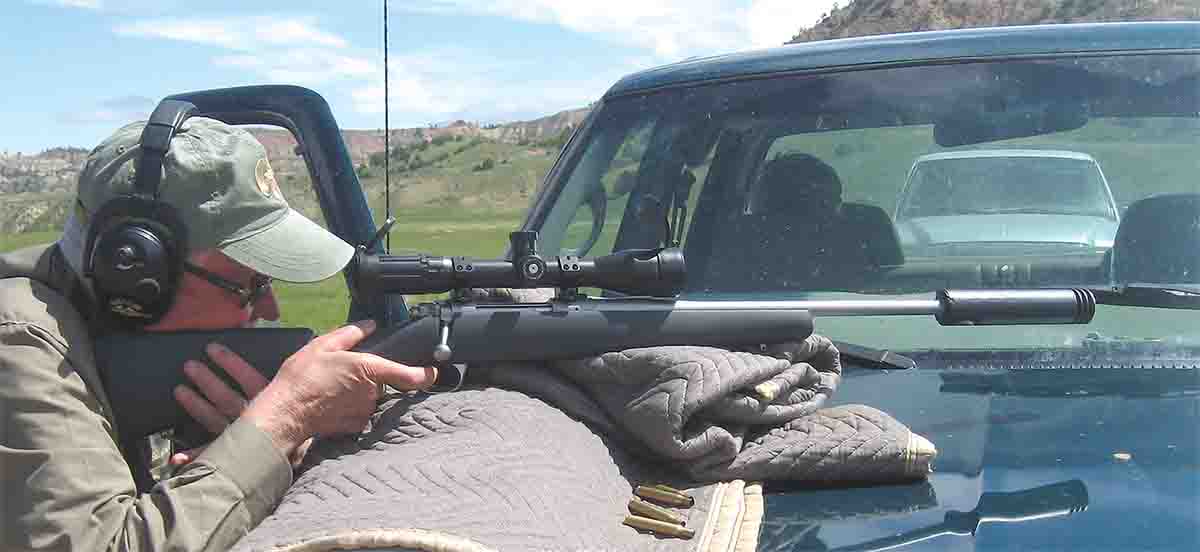 Add several hundred feet per second of velocity, and the .17 "Hummer's" wind drift is so much less than any .22 Magnum load that anybody who has used them side by side can immediately tell the difference. The .17 HMR's advantage increased with 2015's introduction of faster ammunition and Savage's A17 semiautomatic rifle. Advertised at 2,650 fps, 100 fps faster than the standard .17 HMR load, in bolt-action rifles, A17 ammunition often chronographs 2,800 to 2,900 fps, close to .17 WSM velocity.
Similarly, the .204 Ruger uses plastic-tipped bullets up to 40 grains, with higher BCs than .224s of the same weight. When the .204 appeared in 2004, I'd been loading 40-grain plastic-tip bullets in the .223 Remington for several years, because they shot flatter and didn't drift any more out to 300 yards than 50- or 55-grain bullets. Despite laser rangefinders, 300 yards is a critical distance in prairie-dog shooting. Those closer than 300 yards are more skittish, and being able to shoot quickly by simply aiming, rather than first ranging, helps considerably. Secondly, 300 yards is about the limit for more hits than misses.
While consistent hits are possible at longer ranges in calm conditions, real calm is rare on the high plains. I crunched the numbers from the National Weather Service for several cities in prairie-dog areas, and the average daily maximum wind velocity was around 12 mph during May and June, the peak shooting months. It takes an extremely accurate varmint rifle to keep its shots inside 2 inches at 300 yards, the width of the average prairie dog, so any wind makes hits less likely beyond 300. Odds can be increased by shooting into or with the wind, but even relatively small prairie-dog towns can cover half a mile or more, so not all dogs will be in line with wind direction.
The unspoken bargain made when asking permission to shoot prairie dogs is shooting as many as possible, reserving more grass for a rancher's livestock. Beyond 300 yards, more will be missed than hit, and repeated missing naturally spooks prairie dogs underground. Consequently, a primary prairie-dog rifle should be effective out to 250 to 300 yards – and shouldn't be too loud.
One problem with using anything from a .204 Ruger up for all prairie-dog shooting is that muzzle report tends to send them underground. A suppressor can help, but a "big" rifle also sends up a major dust spray, alarming prairie dogs as much as the noise, and a larger bullet also results in a louder supersonic crack. This is also why some shooters use a .17 HMR for the initial shooting on a prairie- dog town: It's effective to at least 150 yards with a report much milder than any centerfire.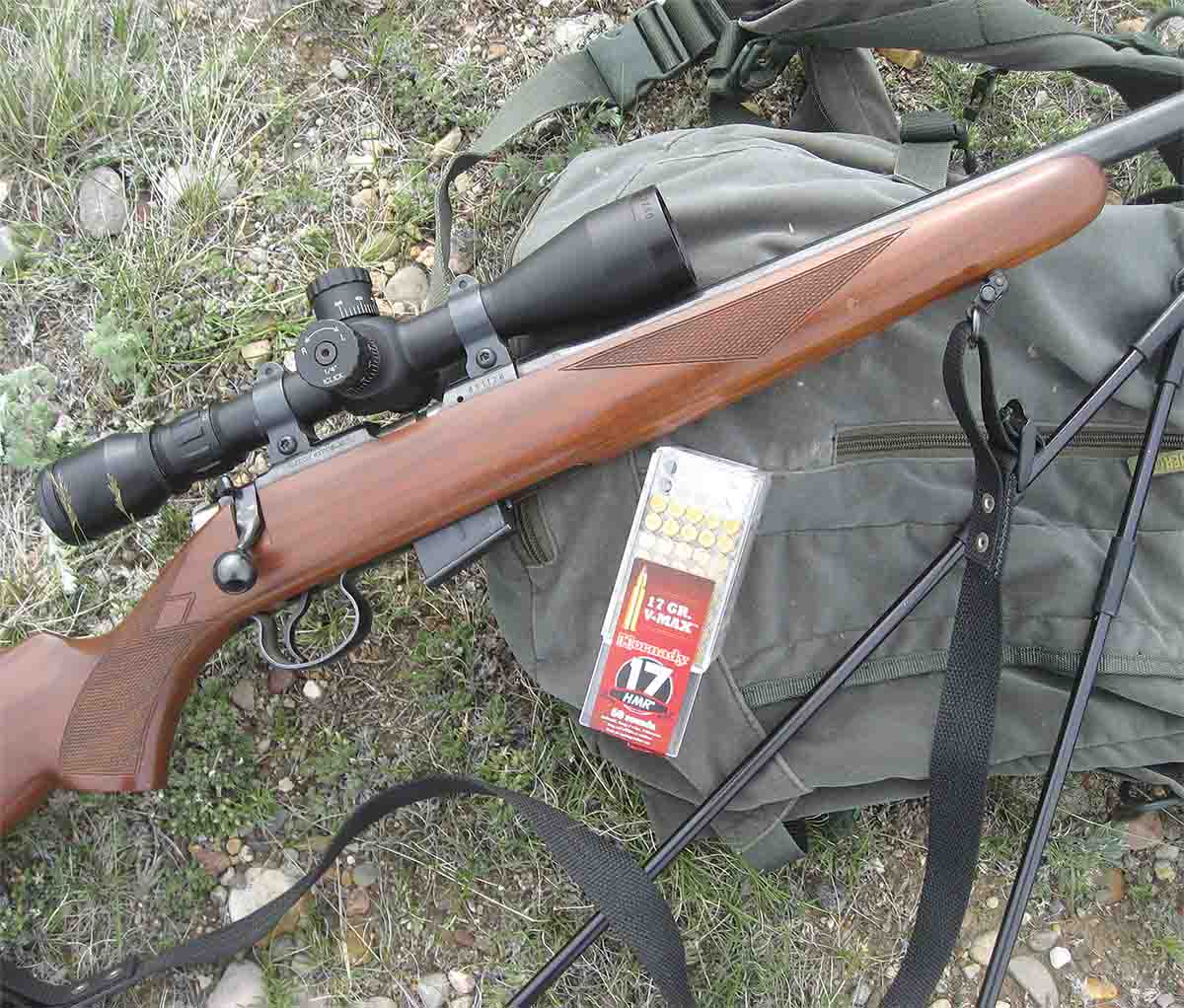 By 2000, my primary prairie-dog rifle was a .22 Hornet, because new powders and plastic-tipped, 40-grain bullets made it as effective as the original 50-grain softpoint .222 Remington load. Yet it recoiled so lightly, I could spot misses through the scope, a bigger help than most shooters realize. Misses can be spotted with larger rifles, even with a .204 or .223 and 40-grain bullets, but only at ranges from about 150 to 200 yards out, and after the rifle settles again after recoil. I much prefer being able to spot all my shots with sub-300-yard rifles, partly because, like many shooters, I sometimes take "walkabouts," shooting from offhand or shooting sticks rather than over a portable bench or pickup hood.
Lighter, plastic-tipped bullets made today's cartridges with "spot-table" recoil effective to at least 300 yards, making them far more effective than a .223 Remington with 50-grain softpoints, not only in adjusting for wind drift but also flattening trajectory. The .22 Hornet isn't bad with plastic-tipped bullets, but the aim-right-on distance is only about 200 yards. The .221 Fireball is an improvement, but even better are the .17 Fireball and .17 Hornet, along with the wildcat .20 VarTarg using lighter .204-inch bullets. With the higher BC and improved expansion of plastic-tipped bullets, all are just as effective as a .223 with traditional softpoint or hollowpoint bullets. (Incidentally, the reason plastic-tipped bullets expand more violently is not because the tip "wedges" itself into the bullet. While the tip helps start expansion, it drifts off to the side soon afterward. Violent expansion occurs because of the huge hollowpoint under the plastic tip.)
These days I mostly use a .204 Ruger for shots beyond 300 yards and out to around 500, because trajectory and wind drift with a 40-grain plastic-tipped bullet are very similar to Winchester's original 80-grain .243 Winchester factory load. My present .223 Remington is a Ruger American with a 1:8 twist, and with Hornady 75-grain A-MAX bullets is now my primary "big" prairie-dog rifle for ranges beyond 500 yards, along with whatever 6mm or 6.5mm needs a workout.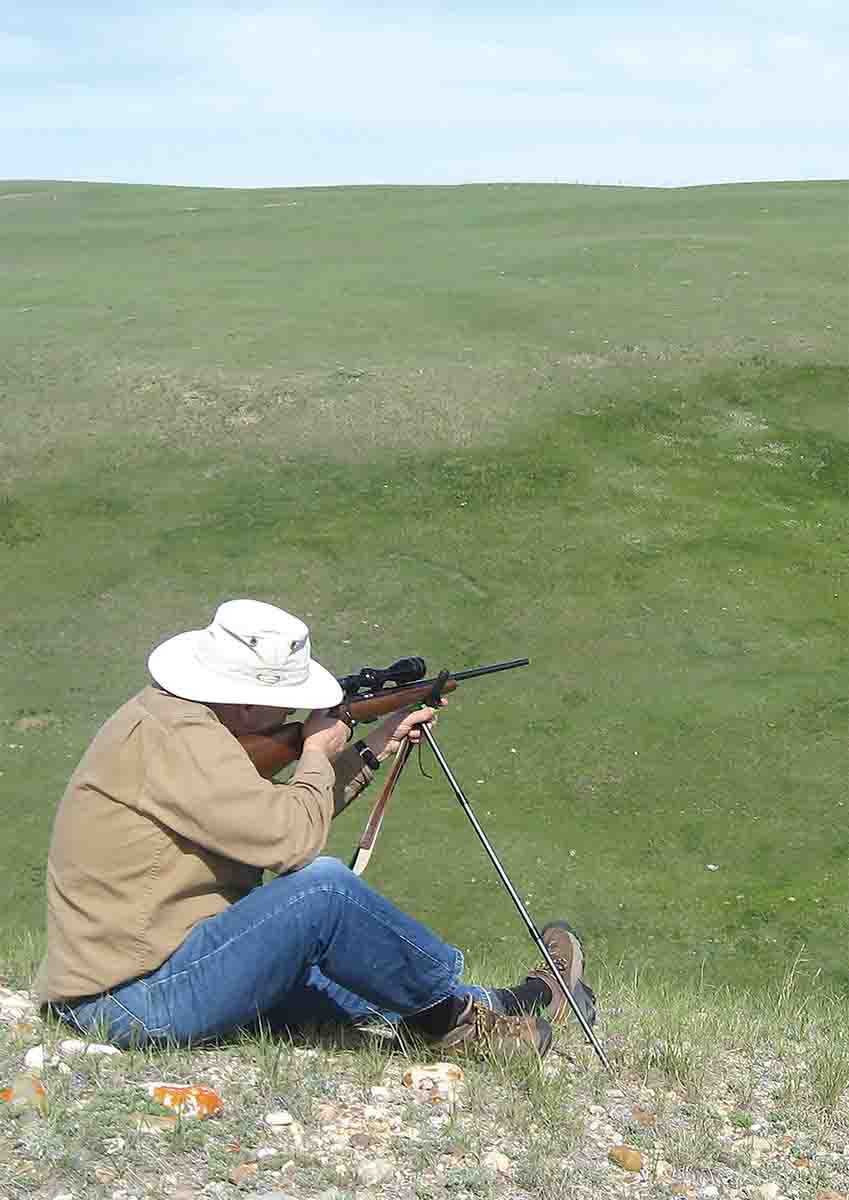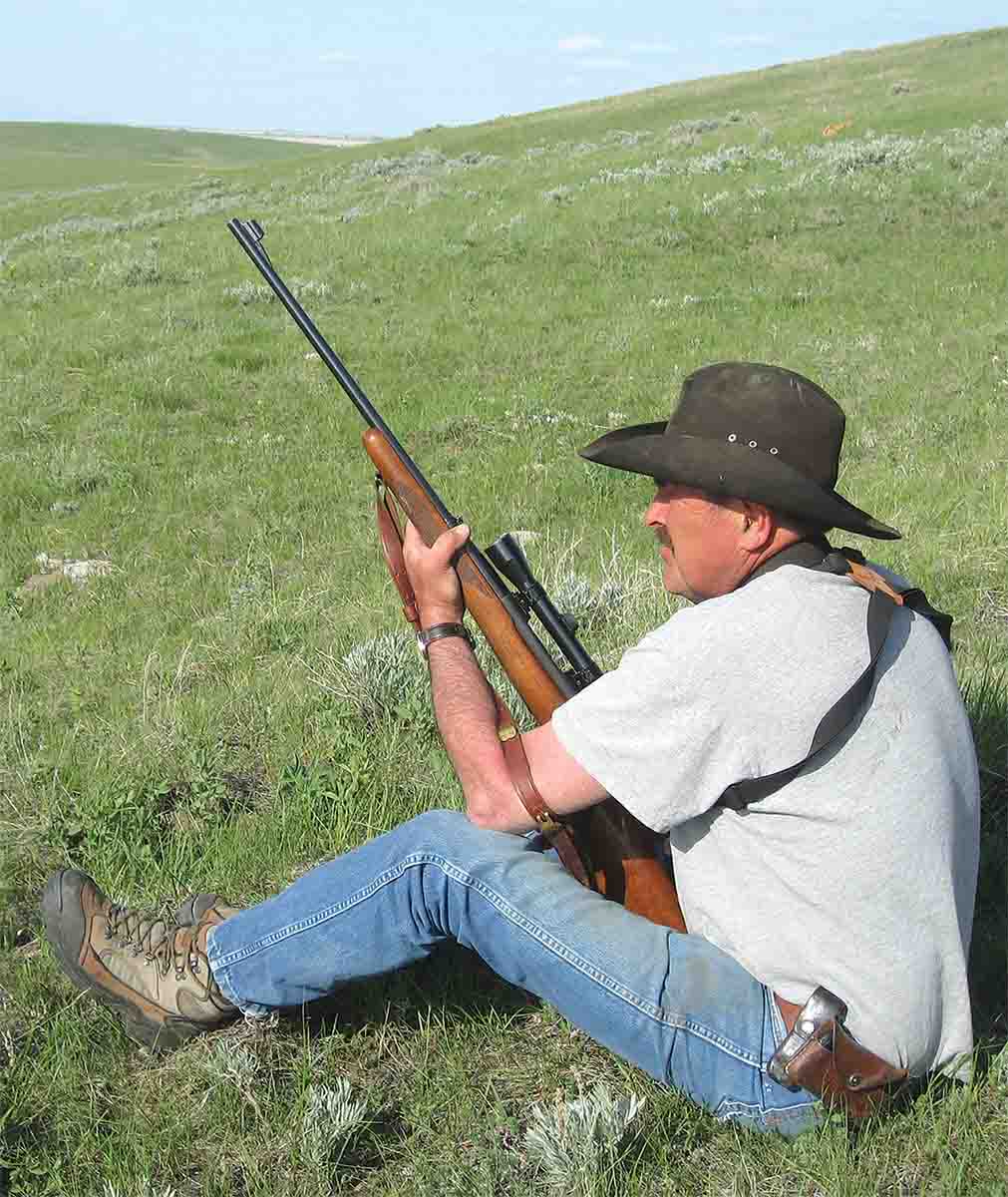 Many shooters, however, still won't believe how effective plastic-tipped bullets make smaller rounds, so they keep using softpoints with .223s, .22-250s or .243s. A couple of years ago, I went on a prairie dog shoot with several such guys, who looked extremely skeptical when I uncased a .17 Hornet and .204 Ruger. Within a minute, a dog was ranged at around 220 yards, and at my shot, it lifted more than a foot into the air. "Hey!" one of the other guys shouted. "That little two-oh-four works pretty well!" I smiled. "That was the .17 Hornet." At that point he looked really baffled and turned back to his .22-250 Remington.
Gopher shooting is simpler. In hayfields ranges tend to be shorter, due to the difficulty of simply seeing gophers amid alfalfa on relatively level ground, and a .17 HMR is plenty potent. Cattle pastures, however, tend to be more up-and-down, so gophers can be seen at longer ranges, though they're so small, hits beyond 250 yards are tough. A .17 HMR combined with a smaller centerfire works very well. Just make sure to bring lots of ammunition!