Forty years is a good, long time. It's about the length of a normal man's career, and in terms of technology, it's an epoch. In the life of a rifle – especially a military rifle – 40 years is practically unheard of, especially these days when new designs seem to tumble off the assembly line almost daily.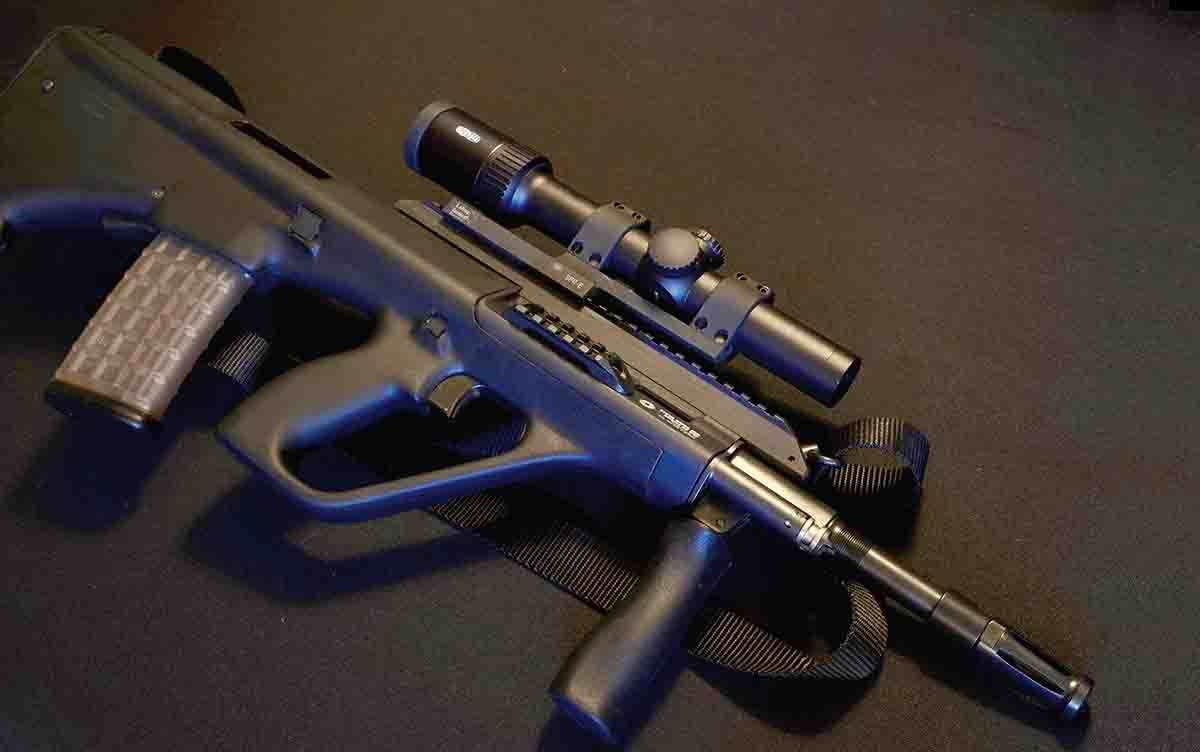 That's what makes it so hard to believe that Austria's AUG is now 40 years old, yet it's still as racy and futuristic-looking as it was when it first landed on these shores in 1983; its picture wowed us all in the 1984 Gun Digest. The AUG also survives as the standard firearm of some 40 different armies, security agencies and shadowy paramilitary units around the globe – with no sign of bowing out. There are more variations and accessories available today than ever before.
The initials A.U.G. stand for Armee-Universal- Gewehr, or "universal military rifle," and it's a development of legendary Austrian armsmaker Steyr. The company refers to the rifle as the "Ay You Gee," pronouncing each initial separately, but Americans have always called it the "Awg," as in "hawg," and that affectionate name seems destined to stick. This is ironic, because if any rifle in recent history is less hawg-like than the AUG, I can't think what it is.

In broad terms, the AUG is a bullpup, meaning its receiver is set well back into the buttstock, reducing basic length considerably. With comparable barrels, it is a foot shorter than a comparable conventional rifle. The magazine is inserted behind the pistol grip. The stock is a composite – nothing unusual these days but almost revolutionary in 1977. In its original configuration, the AUG combined a carrying handle with an integral optical sight.
The key word in the AUG's name is "universal." Since long before the invention of smokeless powder, ordnance officers have searched for a rifle adaptable to every military application, but since 1945 that ideal has moved farther away, not closer. Armies came out of the war in 1945 outfitted with an array of infantry rifles, tank carbines, submachine guns, pistols, sniper rifles, automatic rifles and light machine guns, any of which could be considered a "personal weapon." Even cutting this array in half would represent a serious logistical advantage.
In the AUG, Steyr set out to realize this goal, insofar as possible, and created a rifle that could be used by the infantry as a standard rifle, carbine, submachine gun, sniper rifle or light machine gun, largely by changing the barrel. Barrels were instantly interchangeable from short and light to long and heavy and everything in between. The AUG was chambered for the 5.56 NATO cartridge (.223 Remington), and 30-round magazines were standard. Steyr even made a modified AUG that fired 9mm Parabellum ammunition like a standard machine pistol, but it never became widely used.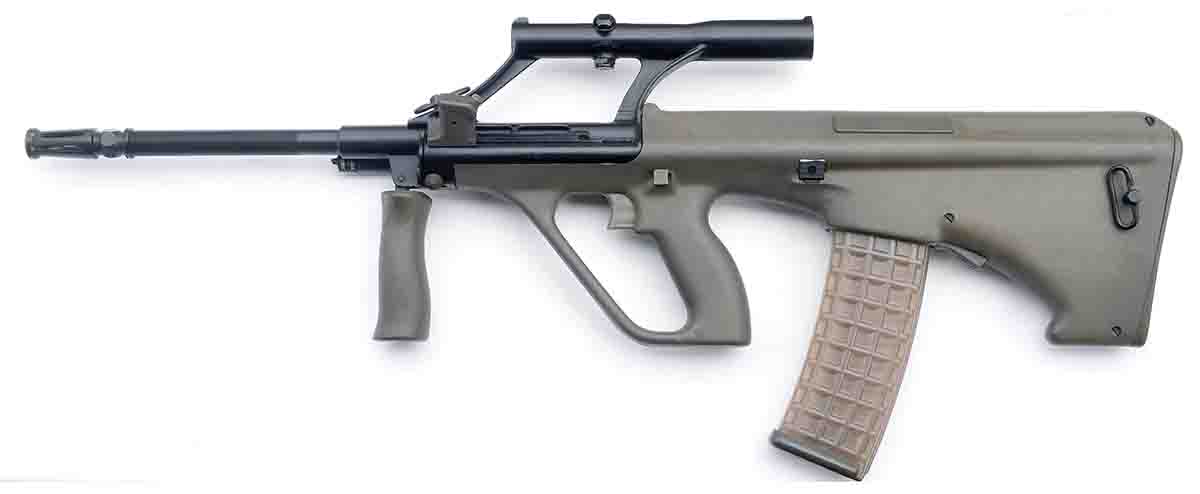 Among its other notable features, the AUG employs an oversized trigger guard ahead of the pistol grip that accommodates the shooter's entire hand, making it usable even when wearing mittens. Instead of a forend, there was a collapsing handgrip attached to the barrel. Folded down, it gave a vertical grip like the classic Thompson; folded up, it could be used in the conventional manner. It also served as a handle for removing the barrel – very handy when the barrel is hot. Because empty cases eject from a port in the buttstock opposite the shooter's cheek, it's convertible for left-handed use.
Steyr engineers also invented a unique trigger system in which a shallow pull on the trigger fired a single round, while pulling it all the way to the rear allowed full-automatic fire. This removed the need for a combination safety catch/selective-fire switch, like that found on the FN-FAL and other true assault rifles. Through switching components, an AUG could be a short-barreled submachine gun one minute, suitable for firing from the hip, and a long-barreled, bipod-equipped sniper rifle the next.
Since the AUG's debut in 1977, a great deal has changed with some of the roles it was meant to fill. Specialized sniper rifles today bear little resemblance in size, weight or ammunition to those of the 1970s, whereas those guns that do the work of the old Thompson submachine gun were replaced by subcompact submachine guns, like the Uzi.
As technology changes, so does the face of war and combat requirements. This is where the AUG absolutely shines: With its versatility, it can be modified to fit almost any role required, and if that role suddenly changes, the AUG can accommodate it, almost instantly, by little more than switching some parts. In fact, as some infantry functions become more and more refined, with highly specialized equipment, there is more of a need – not less – for rifles that can do a wide range of jobs.
Sniping is a perfect example. With today's sniper teams, and rifles that are too heavy and cumbersome for any role except ultra-long-range sniping, there emerges a need for a standard infantry weapon that can shoot accurately out to, say, 600 yards. Or at least it could be quickly modified to do so.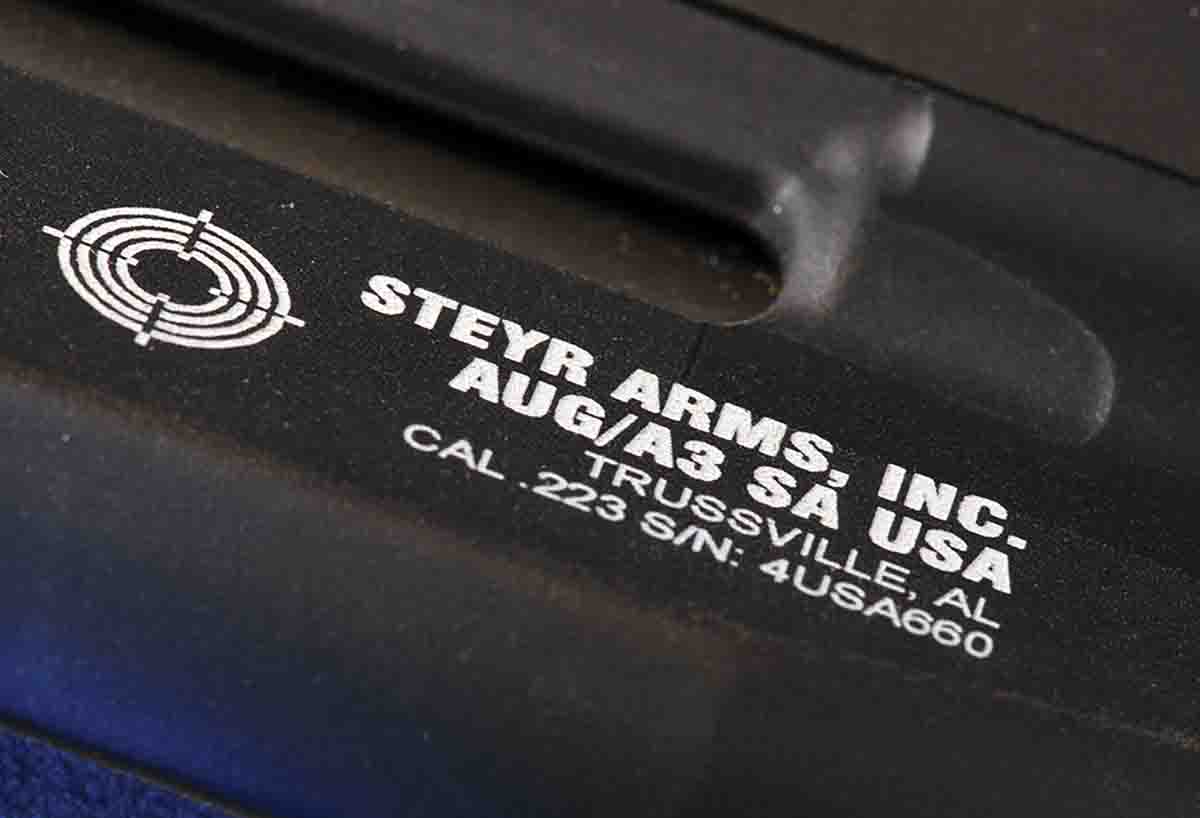 As it came out of the box, the AUG was not perfect, and over the past 40 years it has been updated and modified in several ways. For example, when it first appeared, its stock was an elegant green – highly unusual in those days before camouflage became a fashion statement – and that horrified a few traditionalists. Eventually, it came to be offered in other colors, including gray and black.
Another drawback was its fixed optical sight. This was originally made by Swarovski, so quality was first-rate and provided high-resolution magnification of 1.5x with a then unique "heavy donut" reticle. Unfortunately, because it was fixed, it was not possible to install a higher-magnification scope instead, or one for low light. Steyr eventually began offering the AUG with no sights at all but with a Picatinny rail that would accommodate either iron sights or a conventional riflescope.
Another problem area was its unique trigger. I say "unique" because I don't know of another one exactly like it, and certainly not in 1984, when I first became aware of the AUG. Just seeing it in Gun Digest set my heart a-flutter, but I did not get the opportunity to shoot one until 1990. A friend bought one, and we repaired to our favorite rifle range. Being for civilian sale, the full-auto feature was eliminated, but because the trigger had been designed as a multi-stage mechanism – as much a selective-fire switch as a trigger – this left it with a lamentable trigger pull. I have used only one rifle in my life that had a worse pull, and that was a Ruger .44 Carbine. The latter had four or five distinct stages, with a final pull weight of about 14 pounds. That old AUG was just about as bad, and for a while, it killed any desire I had to own one.
Assuming everything else is of acceptable quality, nothing is more detrimental to precision shooting than a bad trigger pull, and this did not go unnoticed in the shooting press. Before Steyr could do much about it, however, its major civilian market in North America temporarily disappeared. In 1989, the importation of various military firearms was prohibited, including the AUG, and this was further complicated five years later with the Clinton Administration's assault weapon ban. In Montreal, Canada, a 1989 mass shooting resulted in a major overhaul and further tightening of gun laws. Rifles like the AUG became restricted or were grandfathered, and sales of new ones ground to a halt.
The AUG's distinctive (and frankly menacing) appearance worked against it, as every antigun politician from Baja, California to Ungava Bay singled it out for prohibition. Not only that, being of foreign make, it could be legislated against without offending any domestic constituency; the AUG was on everyone's hit list.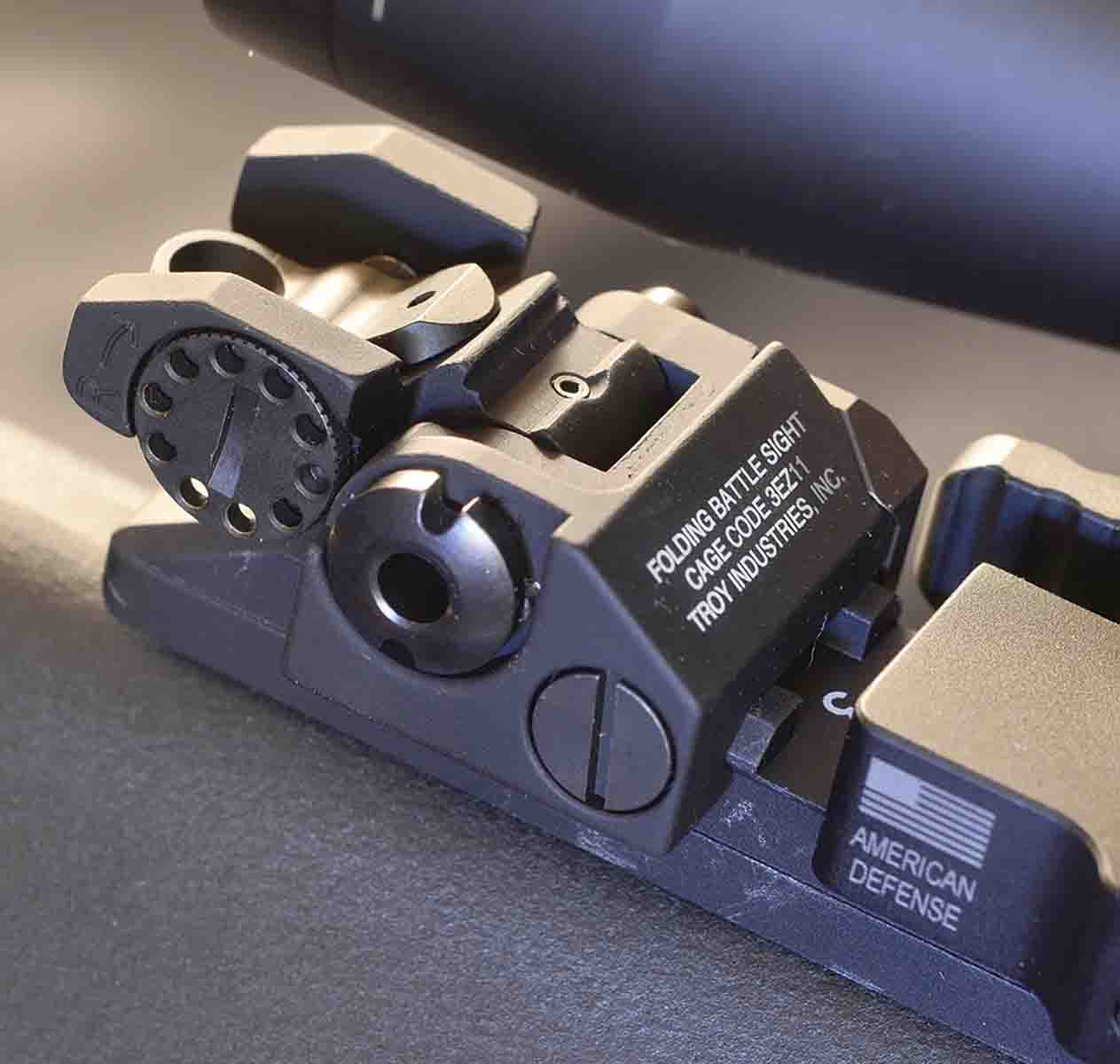 There were, of course, loopholes. Steyr designed a "civilian" AUG, called the USR (Universal Sporting Rifle) that omitted many of the features politicians found threatening. Barrels no longer had bayonet lugs, and it was given a thumb-hole stock. The price was lower than the standard AUG, but only 3,000 were imported.
When President Bush allowed the ban to expire, and so-called "assault weapons" and black guns were once again tolerated, if not welcome, Steyr was faced with a serious game of catch-up to start exporting rifles to the U.S. for commercial sale once again.
Fortunately, several U.S. agencies, including U.S. Customs and others that are more hush-hush, had adopted the AUG. The expansion of the Department of Homeland Security provided Steyr with a large American market for its military-configuration AUGs. During this period, Steyr set up an American subsidiary to handle not only the AUG but also its sporting rifles, shotguns and handguns. This replaced its old system of importers, and today Steyr has a significant factory operation in Bessemer, Alabama. As with car manufacturers, it pays gunmakers to have a presence in the U.S., producing parts or assembling imported ones, and thereby providing more jobs to Americans. It gives them at least one congressman on their side, and possibly several.
The AUG returned to the American civilian market in 2009 – 20 years after its departure. Both receivers and barrels are now manufactured in the U.S., the barrels by FN at its hammer-forging plant in South Carolina and receivers by Abrams Defense. All other parts, with matching serial numbers, are imported from Austria. Steyr USA has its own assembly and repair operation, with Steyr-trained gunsmiths, in Bessemer.
When it arrived in the U.S. in 1984, the AUG was priced at $1,175, twice the price of a Colt-made AR-15. This made it a prestige item, and it was greatly sought after. Because of this, there is a network of AUG enthusiasts and collectors. This was magnified during its 20-year absence from the market, when after-market prices hit $5,000, and the AUG became a cult rifle.
Being of modular design, with many interchangeable components, the mix-and-match possibilities are almost endless, and this is reflected by the accessories and parts available for the AUG today. Just as it would take several chapters of a large book to tell the complete story of the AUG's labyrinthine history in the U.S. between 1989 and 2009, it would take a few more chapters to cover the barrel variations, sighting arrangements and stock designs. Any 40-year-old military rifle in active use goes through a process of evolution, and the AUG is no exception.
The AUG that's generally available to civilian shooters today is essentially the same as the 1984 model. With the Picatinny rail variation, you can fit either a scope or iron sights, or a combination of both. A side rail allows fixing a flashlight or laser. Barrels have been available in lengths from 16 to 24 inches, including Steyr's longest current offering of a heavy, 20-inch barrel with a bipod. To accommodate the current rage in long-range ammunition with long, heavy bullets, barrels have been made with twists as tight as 1:7; the standard twist is 1:9. Magazine capacities range from 10 rounds to 42.
Considering that the AUG is now 40 years old, it is still hard to imagine a more modern-looking rifle. More than any other, it is the rifle that changed the way we think about rifles. When it came out, the thought of instantly interchangeable barrels was foreign; today, it is commonplace. The idea of modular construction was revolutionary, if not downright seditious; today, anything else is decidedly yesterday.
Having broken so much new ground, where does the AUG go from here? Hard to say, but it's a safe bet that Steyr's iconoclastic rifle designers have something up their sleeves. Anything else is unthinkable.