Beginning in 2011, Mossberg introduced the MVP (Mossberg Varmint Predator) bolt- action rifle series available in .204 Ruger and 5.56 NATO/.223 Remington, with varying barrel lengths and weights. It was designed specifically for this family of cartridges. In firing multiple rifles extensively, in the field and at home, I was pleased with the function and accuracy.
While it offered several notable features, of significance was that it accepts standard AR-15-pattern detachable magazines, which can be handy in a varmint rifle. It was also priced attractively, with a current MSRP of around $710. In subsequent years, Mossberg has introduced several additional models and has added the .300 AAC Blackout cartridge.

In 2013, the MVP became available with a larger action that would house cartridges such as the 7.62 NATO/.308 Winchester family of cartridges. This version accepts standard AR-10 magazines and is shipped with a 10-round version. For the purposes of this article, an MVP Varmint 7.62 NATO was obtained.
The large action features a standard 90-degree bolt lift with twin locking lugs that are staked to the bolt body. It features a countersunk bolt face, plunger ejector and rotating extractor for a push-feed system. The right lug (or bottom lug when the action is closed) is slotted to correspond with an antibind rail. The bolt body is spiral fluted, the bolt handle is swept back and the knob is knurled. The safety, to the right side of the bolt cap, is a two-position design and allows the bolt to be opened (to remove a cartridge) while in the "safe" position.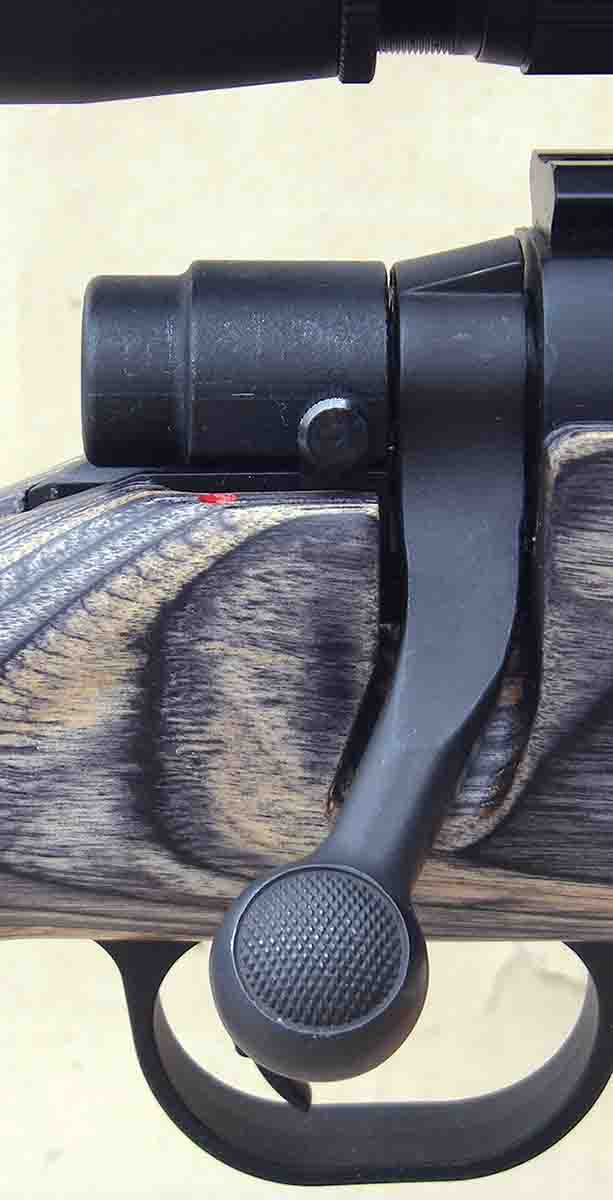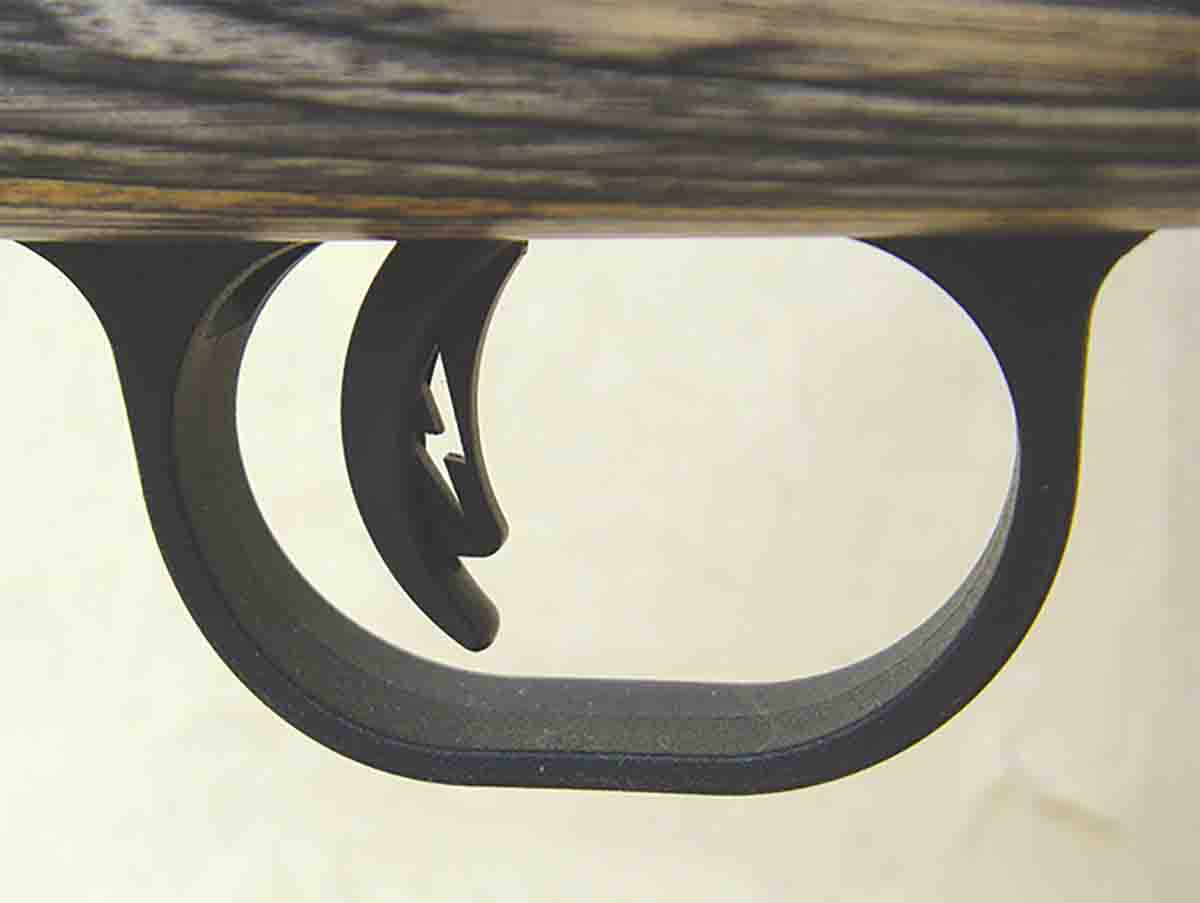 The trigger features a familiar center pivot lever that has become common from other manufacturers; Mossberg refers to it as the Lightning Bolt Action (LBA) trigger and was factory set on the test rifle to break cleanly at 2 pounds, 3 ounces. As a unique cosmetic feature, the image of a lightning bolt is cut in the trigger's pivot lever.
The round receiver is machined from high-tensile bar stock and is secured to the stock via two guard screws, with a third wood screw to secure the rear of the trigger guard to the stock. The guard screws are housed in steel pillars, while a barrel lock nut secures the recoil lug and barrel to the action. The receiver is drilled to direct gases away from the shooter in the unlikely event of a ruptured case, while flanges on the bolt assembly act as a final protection from gases.
The 24-inch barrel is slightly tapered and measures .750-inch diameter at the muzzle, a "medium bull" configuration. There are six flutes that begin just forward of the forearm and extend 111⁄2 inches, while the muzzle features a recessed crown. The barrel is button rifled and has a 1:10 twist. My sample rifle was shipped in late 2016 so does not feature a threaded barrel; however, the 2017 model comes standard with a threaded barrel and cap.
The MVP 7.62 NATO (aka 7.62x 51mm NATO) can also be fired with .308 Winchester ammunition. There are several technical specification differences between the two cartridges, including case weight and capacity, but it should be noted that the .308 is generally loaded to higher pressures. Nonetheless, SAAMI considers it safe and interchangeable to fire .308 Winchester ammunition in a 7.62 NATO-chambered bolt action. Mossberg also recommends using .308 Winchester ammunition in its rifles.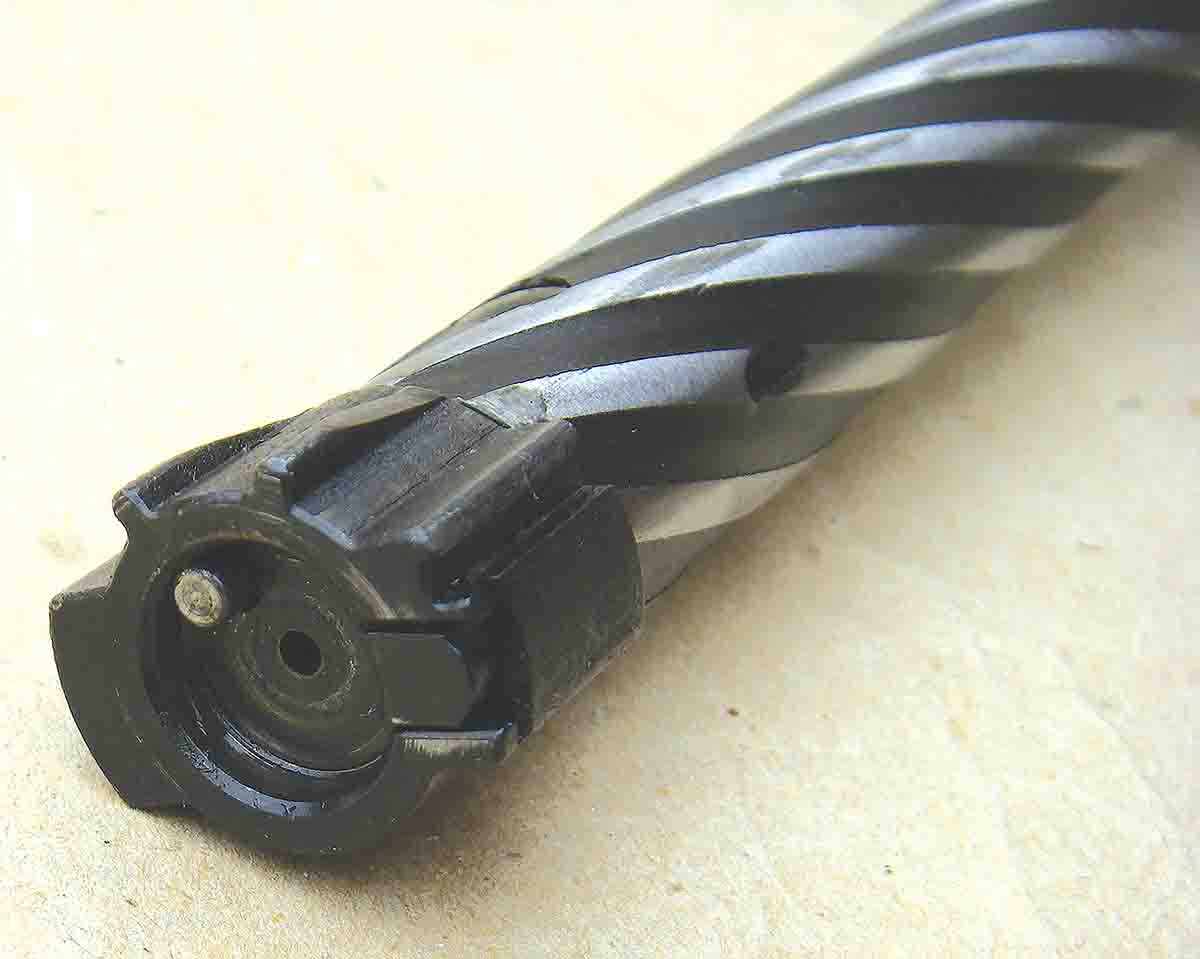 The stock is a gray laminate with a shade of green, a mix of tan and is fitted with a soft, ventilated one-inch-thick recoil pad. The barrel channel is free-floated, and the forearm measures 2.2 inches wide with a flat bottom, an asset when shooting from a sandbag rest. The pistol grip features a palm swell. The forearm and pistol grip are machine laser-checkered in a unique pattern that appears to simulate branches and leaves.
A Leupold VX-3i 6.5-20x 40mm Custom Shop scope with Tactical Milling Reticle (TMR) was installed on the test rifle using Leupold QRW rings. It features a 30mm main tube and offers 77.0 MOA elevation and windage adjustment, allowing plenty of room for the target shooter to "dial" and zero with any reasonable long-range .308 Winchester load shot out to 1,000 yards and beyond. This scope also features a generous eye relief of 5 inches at 6.5x, and 3.70 inches at 20x. Other notable features include side parallax adjustment, side focus and a Twilight Max Light Management system said to enhance color transmission. Also special ordered were long-range elevation and windage adjustment dials that feature a cap to prevent their being inadvertently turned in the field. The scope was leveled by placing levels on the factory installed cross-slot base and on top of the scope cap.
To help with barrel break-in, for the first five shots the bore was completely cleaned after every round using Bore-Tech Copper Remover with a light coat of oil being wiped in the bore between shots. For the next 20 rounds, the bore was cleaned and lightly oiled after every five shots. Perhaps this method was not as complete as the standard accepted methods of barrel break-in commonly used today; however, the amount of time spent was reasonable, and it did not take days of firing and cleaning before test shooting could begin. Incidentally, by viewing the bore before and after, using a Lyman digital borescope, this minimal amount of break-in procedure definitely helped smooth the bore's surfaces and reduced copper fouling.
After sighting in the rifle at 100 yards, a variety of factory loads were tried for accuracy, with those results appearing in the accompanying table. Some of the top performers included the Hornady 155-grain A-MAX Match load, with the average of three, five-shot groups going into just under .65 inch. A Black Hills Gold Match load containing the same A-MAX bullet averaged just slightly larger groups of .70 inch. The NoslerCustom 165- grain Ballistic Tip load recorded very low extreme spreads and produced one group that measured over .50 inch; the average of three groups measured just over .70 inch. Federal Match Gold Medal ammunition containing Sierra 168-grain BTHP bullets averaged .75 inch. (Note: Groups were measured center-to-center, averaged, then rounded to the nearest .05 inch.)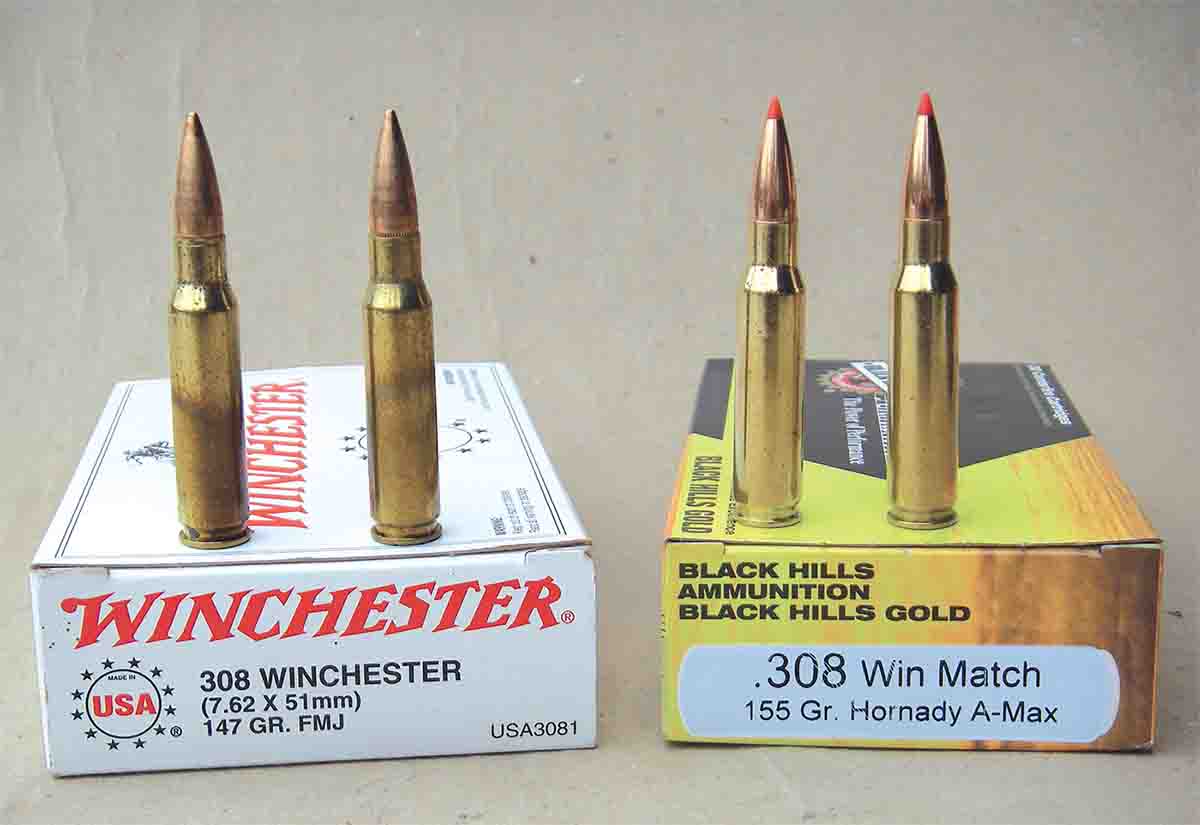 A few handloads were also tried that produced some interesting results. One of the advantages of tailoring handloads to a particular rifle includes seating bullets out so they are closer to the leade, which often, but not always, maximizes accuracy. When handloading for the MVP 7.62 NATO, overall cartridge length is limited to industry standards of 2.810 inches due to magazine length. In other words, if bullets are seated out so the overall cartridge length exceeds that limit, they will not load into the magazine and must be fired in single-shot mode.
Two handloads were assembled that included the Sierra 155-grain HPBT Palma Match bullet pushed 2,820 fps using 45.0 grains of Hodgdon Varget powder. This bullet was seated with overall cartridge lengths of 2.805 and 2.880 inches with the latter load being fired in the single-shot mode. Next the Hornady 178-grain ELD-X bullet was loaded in conjunction with 43.5 grains of Varget for 2,625 fps. Again two overall cartridge lengths were tried, 2.805 and 2.870 inches with the latter being loaded individually.
In each instance, loads with bullets that were seated out produced better accuracy. For example, the Sierra 155-grain bullet averaged groups of .77 inch when seated to 2.805 inches, while groups with the bullet seated to 2.880 inches shrunk to .61 inch. Similar results were observed with the Hornady 178-grain ELD-X bullet, with three groups averaging .72 inch with bullets seated to 2.805 inches, but groups averaged .59 inch when seated to 2.870 inches. While these experiments are certainly not conclusive, I suspect that if Mossberg would cut chambers with a slightly shorter leade, there would be an overall improvement in accuracy, particularly with factory and handloads that are within industry maximum overall cartridge lengths.
The MVP 7.62 NATO should appeal to hunters, target shooters, and anyone looking for a simple yet effective general-purpose tactical rifle. It is also finding favor with small law enforcement departments.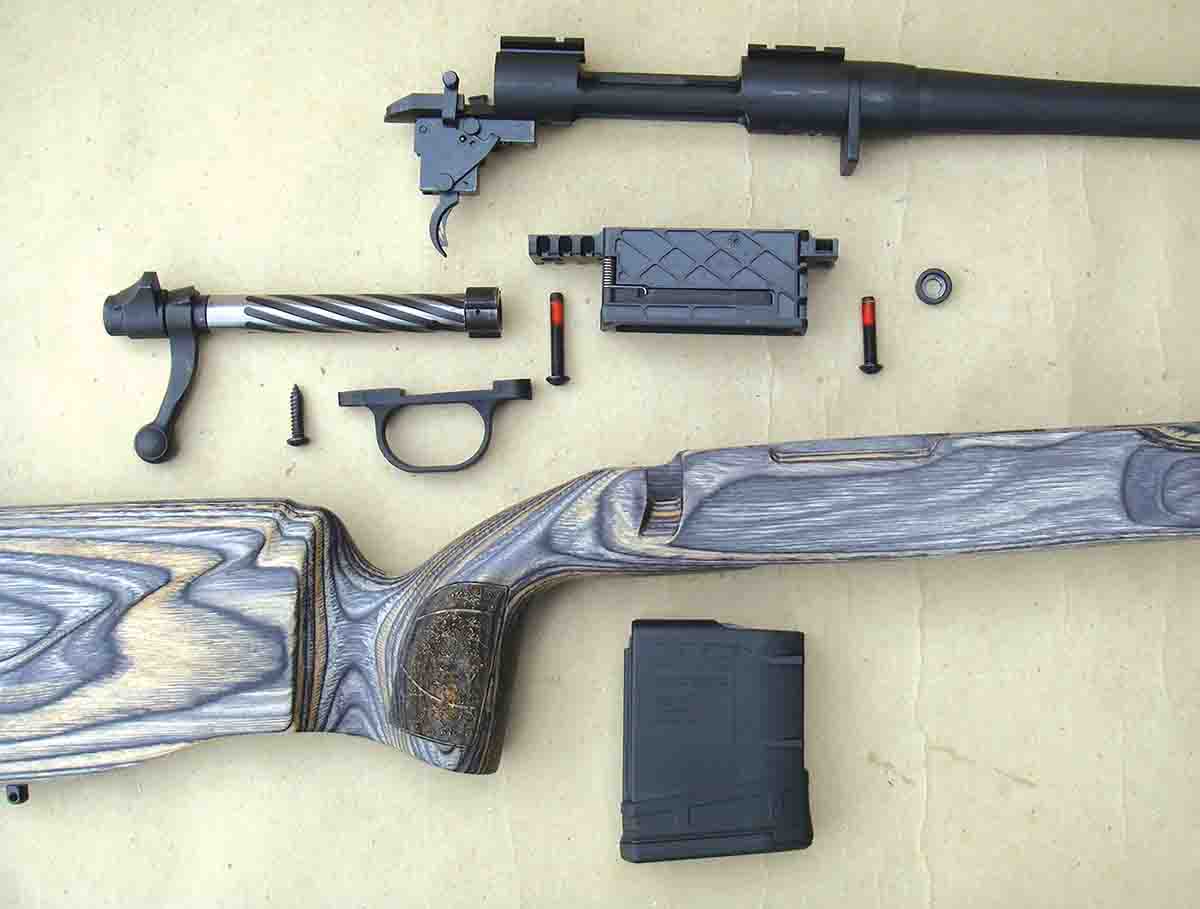 Approximately eight months before starting this article, my son Porter purchased an MVP Varmint in the same configuration as the rifle used herein. He developed multiple handloads tailored to achieve top-notch accuracy. Initially, he used the Hornady 178-grain A-MAX bullet (now replaced by the ELD-X) at 2,808 fps using 47.5 grains of Hodgdon CFE 223 powder, CCI BR-2 primers and Federal Cartridge AE 7.62 NATO brass, which proved accurate at long range.
He enjoys hunting coyotes, but this past winter was severely cold with subzero temperatures and deep snow. The coyotes seemed sparse, but as winter dragged on, we began seeing them in packs of five or six, which is very unusual. They began hunting and killing valuable livestock, especially targeting young beef calves. Soon we began getting phone calls from neighboring ranchers asking us to help them thin out these pesky predators.
On a Sunday morning, while feeding our own cattle, a group of six coyotes was spotted among our neighbor's cattle at around 600 to 700 yards away. Porter grabbed his MVP 7.62 NATO Varmint rifle, extended its bipod and went prone. A Sig Sauer Kilo 2000 laser rangefinder recorded a distance of 661 yards. Porter referenced a chart taped to the rifle's stock, and then using the scope's mil-dot reticle, he took the shot. The Hornady 178-grain bullet struck home. The other coyotes were instantly in motion and scattered in different directions. I told Porter to stay in position and follow just one coyote and wait for it to stop and look back. A coyote stopped just before entering a brush patch, which the rangefinder indicated to be at 854 yards. Again, Porter referenced the ballistic chart, held accordingly and touched off the shot. It was easy to watch the bullet's trail as it made its way toward the coyote in the near-zero temperatures. His aim and the bullet's flight were true, the .30-caliber bullet striking vitals.
Throughout testing and evaluation of the MVP Varmint, I experienced no malfunctions; it fed, fired and ejected cases like clockwork. It is 100 percent manufactured in the U.S.A. with an MSRP of just $754.