A pack mule once stepped off the trail in an effort to pass other animals of the pack string, only to have the rocks give way, causing it to fall and slide down the steep, rugged Salmon River Wilderness mountainside. The problem was that my rifle was on its pack. I watched the event in what seemed like slow motion, as the mule rolled over the panniers and rifle scabbard. Visions of a bent barrel, splintered stock and shattered scope raced through my mind. If lucky, perhaps it would only break the scope, and the rifle's iron sights could be used for the remainder of the hunt.
After the commotion stopped, and we made our way down to the mule to unload the panniers and get him back up to the trail, the rifle was examined. The heavy leather scabbard was torn and cut from the rocks, and a large chunk of wood was broken from the rifle's buttstock. The barrel appeared to be in good shape, while the scope showed a heavy impact with deep gouges and dents. The power ring still turned, and the main tube appeared straight.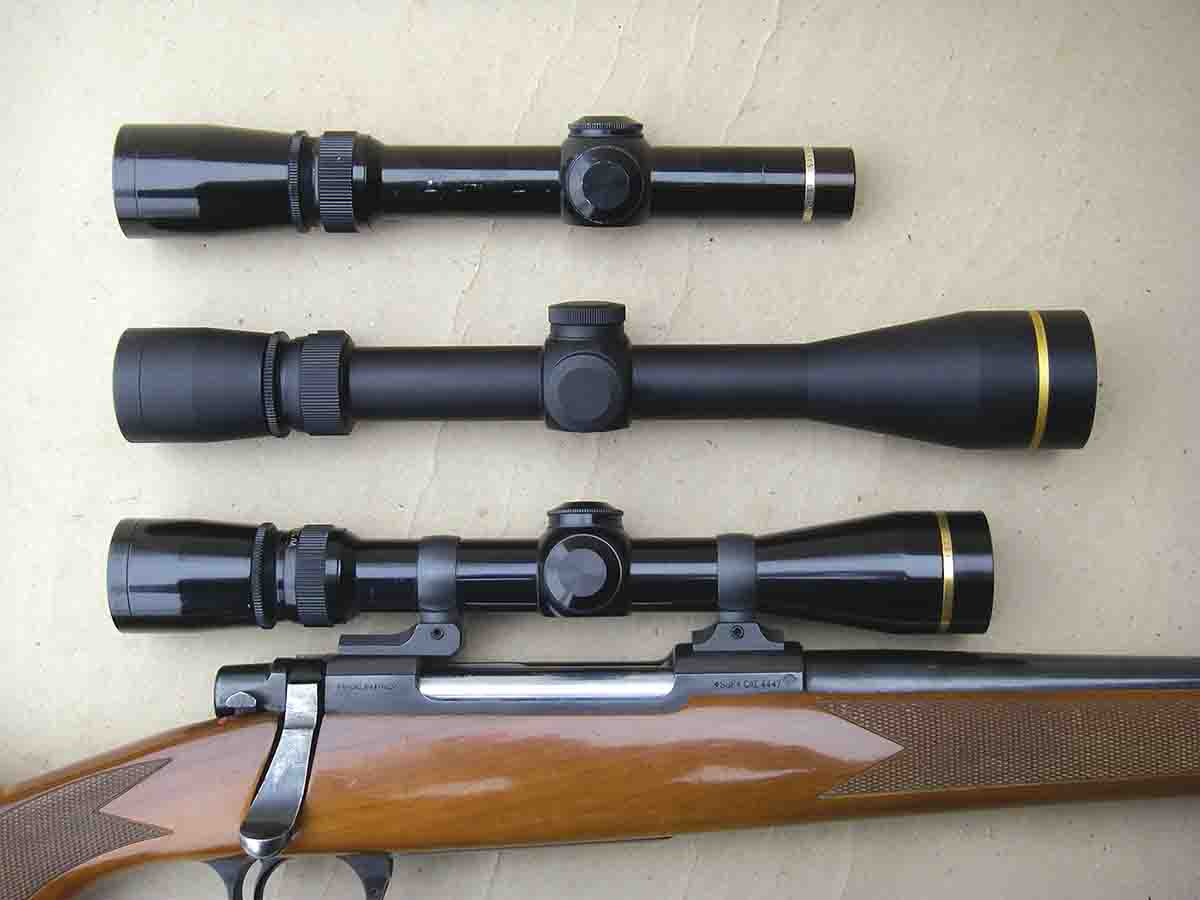 After arriving at our campsite, the Ruger M77 RS .338 Winchester Magnum with a Shilen barrel was again carefully examined, then fired at an impromptu 100-yard target. Fortunately, three shots grouped tightly and to the correct point of aim. This was 35 years ago, and the scope that survived such abuse was a Leupold Vari-X III 2.5-8x 36mm with the then relatively new click adjustments. In spite of starting that trip off with a bit of bad luck, a 375-inch bull elk was taken a few days later.
The history of Leupold & Stevens dates back to 1907, wherein brothers-in-law Markus Fredrick Leupold and Adam Voelpel began building water level recorders and transits. The company took a new direction shortly after World War II, when Markus Leupold, son of Fredrick, went hunting in eastern Oregon. His scope fogged to the point that it was unusable. Upon returning to Portland, he immediately began working on a new hunting scope known as "Hydromike," which appeared in the company newsletter by 1946.
The new scope was innovative, though it was neither air-tight nor waterproof, so the work commenced immediately on the improved version that appeared as the 2.5x Plainsman in 1947. Its adjustments were internal and the scope was filled with nitrogen – which was a first – making it a cutting edge riflescope.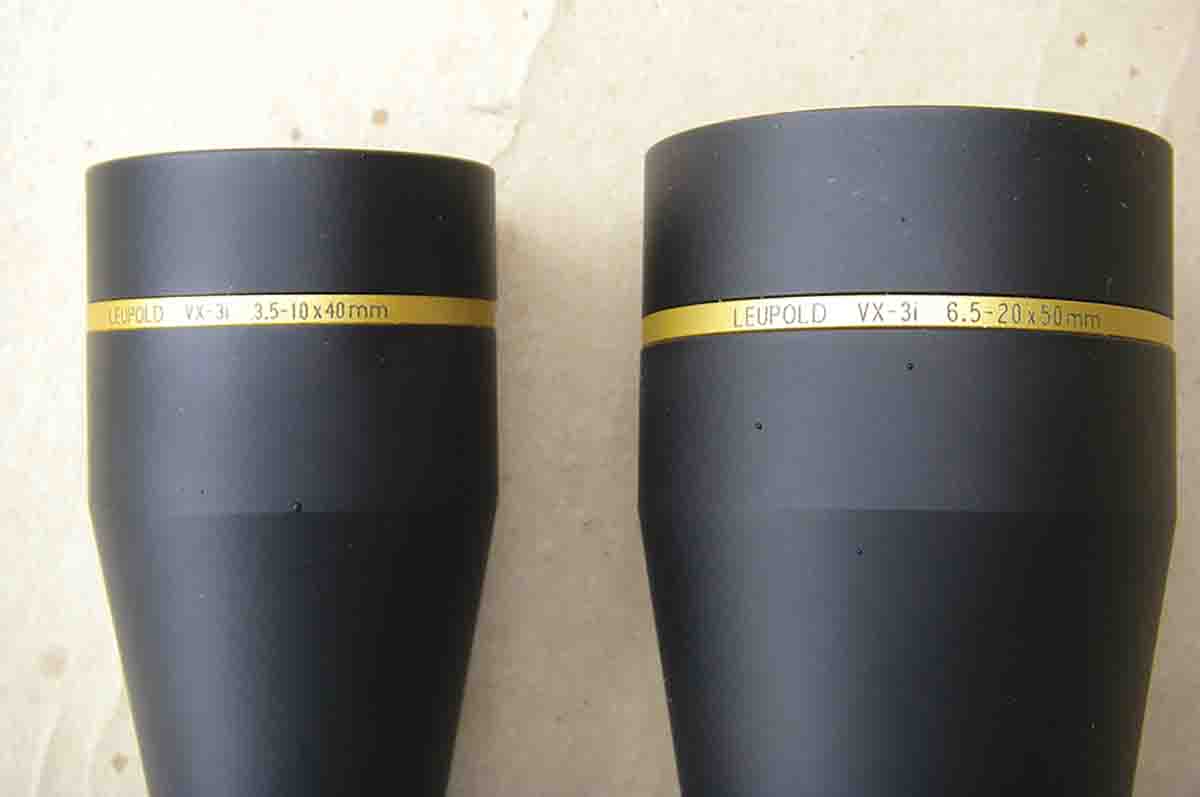 The Plainsman was followed with many improved and innovative models that included the Mountaineer – the first scope with a one-inch tube – Pioneer, Westerner and M-7 series scopes, all of which featured advanced technology and quality. In 1961, Leupold introduced its first variable-power scope, the 3-9x Vari-X that evolved into the improved Vari-X II in 1964 and eventually the VX-2 we know today.
The Leupold Vari-X III first appeared in 1975 and was ahead of its time in design, features and quality, and it quickly became a favorite among big-game hunters. It was initially offered in 1.5-5x 20mm, 2.5-8x 36mm and 3.5-10x 40mm configurations, with higher magnification offered later. In addition to being waterproof and fogproof, the Vari-X III featured an upgraded "Anastigmat" lens that provided a new level of clarity and resolution. By around 1980, its adjustments became .25-inch click adjustable. The Vari-X III evolved into the VX-3, with the most recent version being the VX-3i, the most advanced version to date. Due to advancements in manufacturing processes, the VX-3i was also introduced at a significantly lower price than previous versions, which is the icing on the cake.
The VX-3i is available in many variations and power ranges from 1.5-5x 20mm to 8.5-25x 50mm. The list of options (including custom shop offerings) is long, but includes one-inch and 30mm main tubes, side focus, objective lenses ranging from 20 to 50mm, a large list of finishes and a huge selection of reticles that include illuminated and BDC. Dual springs serve to positively hold finger-click adjustments, which are more precise than any previous model. The glass features Leupold's Twilight Max Light Management System engineered specifically for the human eye and transmits high levels of light, with focus being on blue and red wavelengths for stunning low-light transmission. The lenses are edge-blackened to reduce diffusion and glare and improve resolution. Lenses are coated with the company's DiamondCoat 2 finish that exceeds mil-spec requirements for hardness and durability but also further improves light transmission and brightness. The VX-3i is filled with Argon/Krypton gas and is waterproof and fogproof.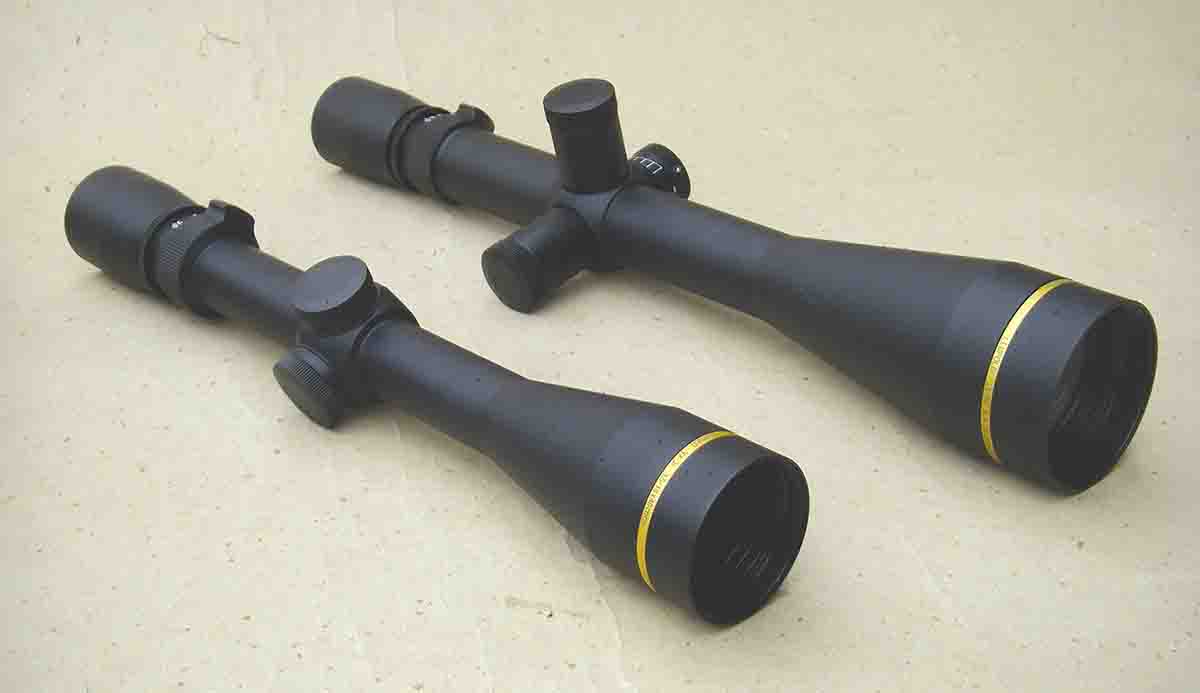 Recently I have been testing a VX-3i 3.5-10x 40mm with a one-inch main tube and a VX-3i 6.5-20x 50mm with 30mm main tube. Both scopes have performed flawlessly through many shooting sessions. Focus and adjustments have been precise, and resolution and clarity have been impressive.
A notably new model is the VX-3i LRP (Long Range Precision). This scope is available with first- or second-focal plane reticles in MIL or MOA configurations. The adjustments are designed to offer exact tracking. Also included is a zero-stop that allows the scope to be quickly and precisely returned to its original position. The LRP is available with a one-inch main tube in 4.5-14x 50mm, 6.5-20x 50mm and 8.5-20x 50mm configurations, while the 30mm version is offered in 8.5-25x 50mm. MSRP starts at $1,104. This scope is sure to catch the attention of long-range shooters and hunters.
Leupold scopes are especially known for durability and reliability. For example, the factory tests products from virtually all other scope manufacturers, as well as every Leupold model, in a machine known as "The Punisher," a large impact cell that duplicates large magnum rifle recoil. The number of "hits" and amount of wear to all scope parts is carefully recorded and measured through several computers. Scopes are oftentimes subjected to 5,000 hits at 750 Gs, and are also punished with up to 30,000 hits to verify their durability and to better determine how they can be improved. Although my use of scopes has not been as scientific, I have always been impressed with the reliability of Leupold scopes.