The term "trapdoor" is a generic name for several models of U.S. Army rifles, starting with the little-known Model 1865 .58 Rimfire, then the Model 1866, and eventually the Models 1868 and 1870. Those last three were all chambered for .50 Government (1.75-inch case), commonly called .50-70 today. By 1873 the essential trapdoor idea was remodeled for use on the Models 1873 and 1884. These were chambered for .45 Government (2.10-inch case), known today as .45-70.
A fact about trapdoors that has led to considerable confusion over the past 150 years is their model stampings combined with their many subvariations. For instance, there are several subvariations of trapdoor .45 carbines. There are references to Models 1873, 1877, 1879 and 1884. They all differ, but the only markings put on them were "Model 1873" and "Model 1884," as found on the top front of the breechblock. The same is true with rifles, despite oddities such as an 1888 version with ramrod bayonets being made to the tune of 65,000.
Here is the basic story line of trapdoors: By the end of the Civil War (1861-1865), it was obvious the era of muzzleloading muskets was over. Cartridge guns were then the norm. What was also obvious was that the U.S. treasury was in dire straits after such an exhausting war. New, cost-effective shoulder arms were needed. The government-owned Springfield Armory got to work and quickly figured out how to convert muzzleloading muskets to accept cartridges by means of removing the top rear of the barrel and fitting a hinged breechblock – thus the name "trapdoor." Those first were the .58 Rimfires, of which about 5,000 were made before a new idea arrived. That was to bore out the .58-caliber barrel and line it with a three-groove .50-caliber bore. These were the Model 1866s. Most all parts, including locks, stocks and stock furniture were from left-over Civil War production.
By 1868, a new model was introduced, wherein the receiver and barrel were new, but everything else was still left-over musket parts. This confuses some enthusiasts, because Model 1868 breechblocks have "1868" stamped at the top front, but locks are marked "1863" or "1864." The same was true of another remodel two years later. Something else that came with the Model 1870 was a carbine. Heretofore, .50-caliber trapdoors were infantry rifles. The '65s and '66s had 40-inch barrels and '68s and '70s had 32.63-inch barrels. Model 1870 carbines had 22-inch barrels. Fewer than 400 carbines were made.
Starting in the early 1870s, Springfield Armory was tasked with developing a new rifle for the U.S. Army. Despite considerable controversy, the Ordnance Board decided to keep the basic trapdoor concept but to manufacture it all brand new. By 1873, it and its new .45 Government cartridge were ready.
From the beginning, Model 1873s were made in two standard versions. For infantry use there were rifles with the 32.63-inch barrel and for cavalry there were carbines with 22-inch barrels. Weights were about 9.5 and 7.5 pounds, respectively, and like all those .50s before, barrels were cut with three grooves. Their rifling twist rate was one turn in 22 inches. (Rifling twist rate for .50-caliber trapdoors was 1:42.) Both rifle and carbine were altered a bit here and there between 1873 and 1884. Then enough changes occurred to necessitate their being labeled Model 1884. Perhaps the most important innovation was the Buffington rear sight that allowed precise changes in both windage and elevation.
Trapdoor ammunition deserves some space here. According to Cartridges of the World, 9th Edition, .58 Rimfire military cartridges carried 60 grains of black powder and 500-grain bullets. Next came the .50 Government that was centerfire and loaded with 450-grain bullets and 70 grains of black powder for a velocity of 1,250 fps from those 32-plus-inch barrels.
When the .45 Government appeared, it was first loaded with 70 grains of black powder and 405-grain bullets, and the same loads went to both infantry and cavalry for their respective rifles and carbines. Cavalrymen set up a ruckus that the 70-grain charge gave too much recoil from their light carbines, so a special carbine load was developed holding only 55 grains of powder with the same 405-grain bullet. The extra space left in the case was handled in two ways. One was to use wads between bullet and powder, and another was the use of a cardboard cylinder inserted into the case. The reduced powder charge went inside it.
Obviously, wads between powder and bullet are going to exit the barrel upon firing, but the cardboard cylinders stayed in cartridge cases. Modern archaeological work at the Little Bighorn Battlefield in Montana has recovered cases with the remnants of cardboard tubes inside.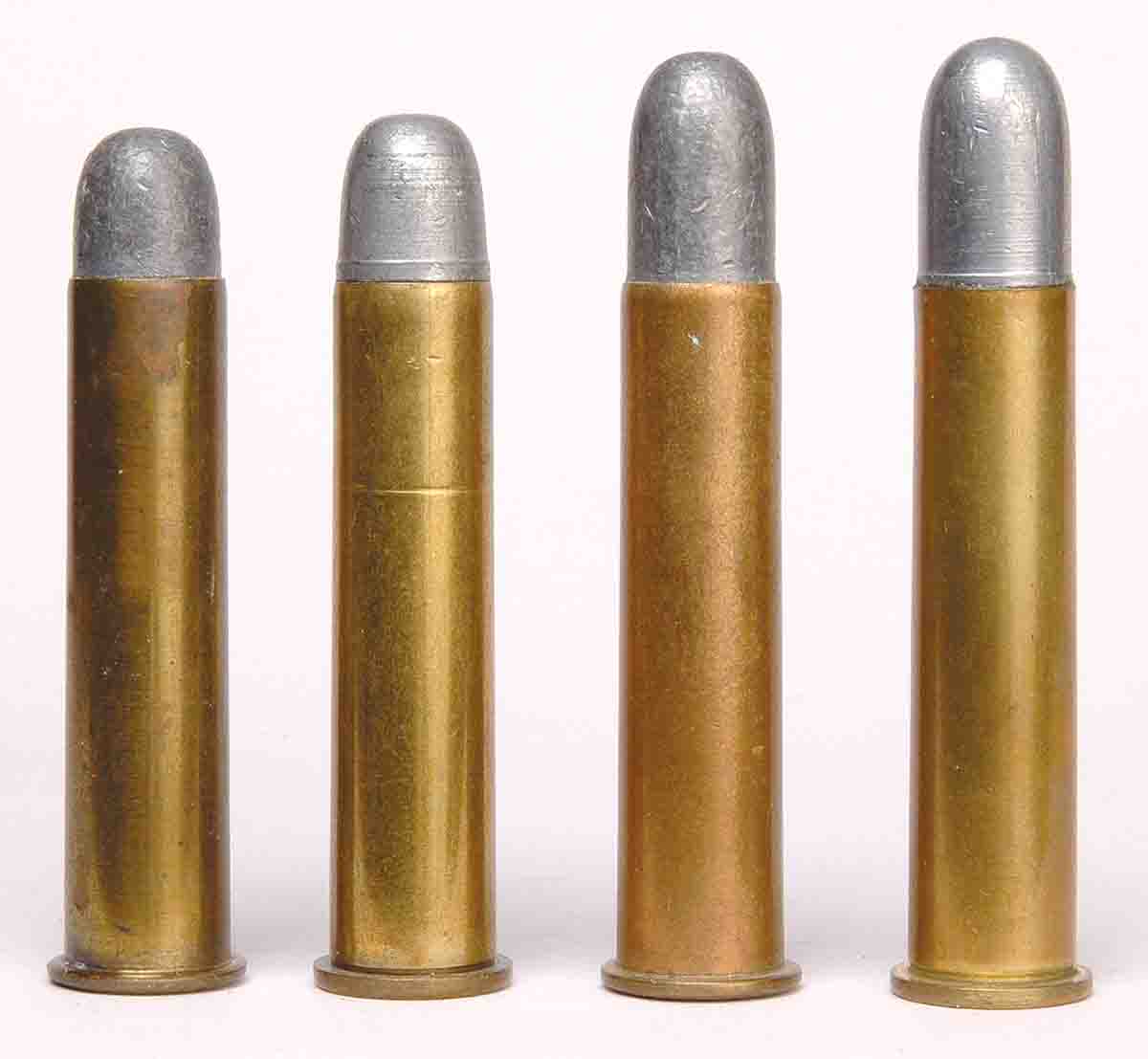 From 1873 until 1881, .45 Government cases were made of copper, and although centerfire primed, the primers where held inside the case. Both factors made .45 Government cases incapable of being reloaded. In 1881, a 500-grain bullet was adopted for infantry rifles, and at about that time brass cases were adopted, along with primers in pockets. That made fired cases reloadable, so kits to reload them, including bullet moulds, were issued to troops, and marksmanship practice became more common.
Trapdoors of one type or another were the U.S. Army's standard arm for more than 30 years, seeing action in the Spanish-American War of 1898. Today they are often denigrated as "trash-doors," but in truth, they were well made and served well.