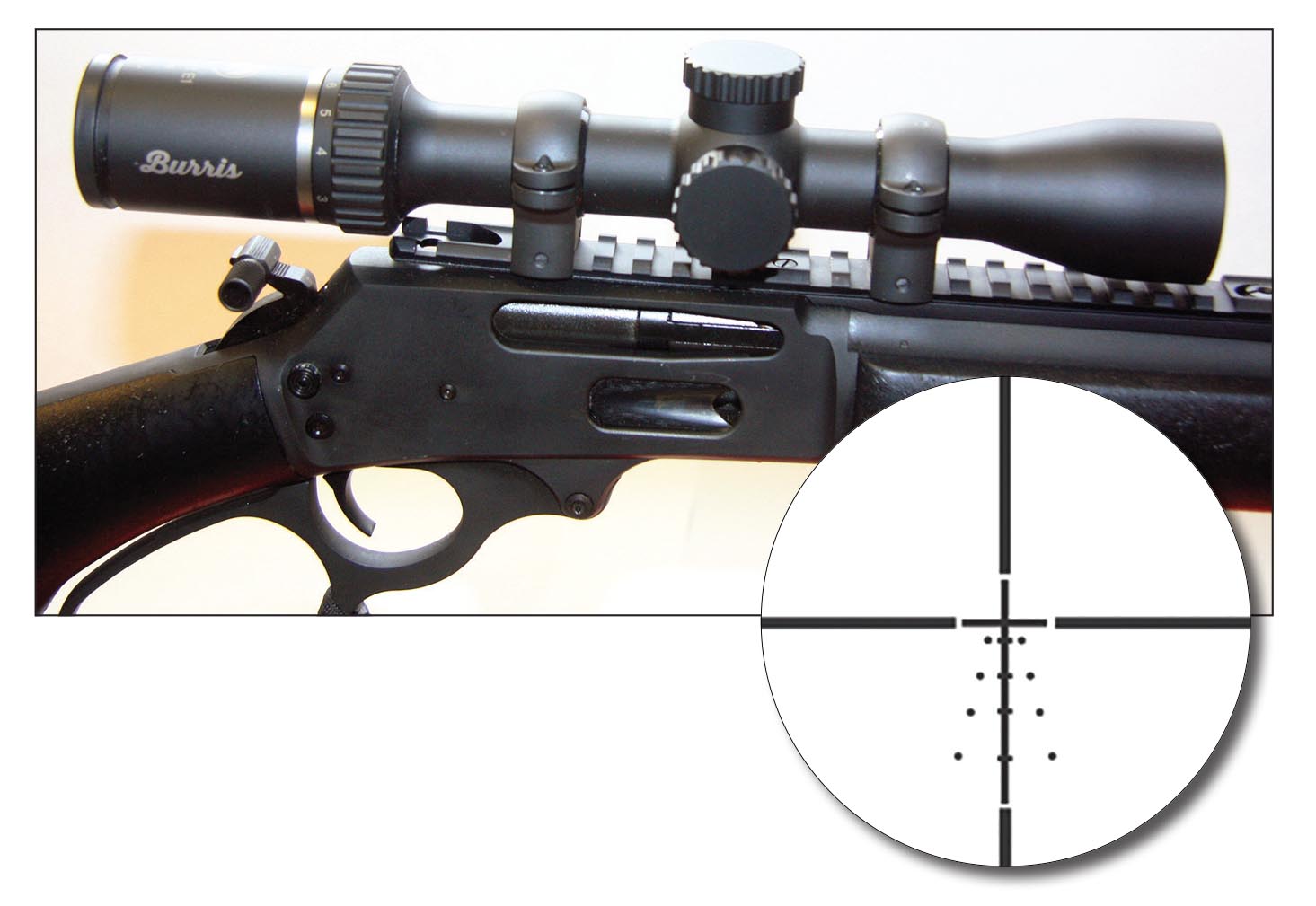 It's a question posed frequently among deer hunters, particularly whitetail fanatics from back East: "What's a good scope to put on my levergun?" Despite Remington's laser-like Ultra Magnums, Hornady's whizbang PRC rounds and Noslers double-digit proprietary cartridges – and the 6.5 Creedmoor, of course – many serious deer hunters still place complete trust in a .30-30 Winchester, .35 Remington or .45-70 lever-action rifle.
This is easily explained. While long-range shooting has become the latest firearms fad, most deer hunters – North America's whitetail warriors – still collect their annual venison at less than 80 yards. An argument could be made that most whitetails are taken at less than 50 yards, considering the prevalence of treestands. Such shots naturally result from the very nature of the whitetail's habitat. The levergun's continued popularity also hinges on its handy nature and ability to deliver quick follow-up shots on running deer addressed during classic drives or chaotic opening weekends. Leverguns also hold an unmistakable mystic borne in the Wild West.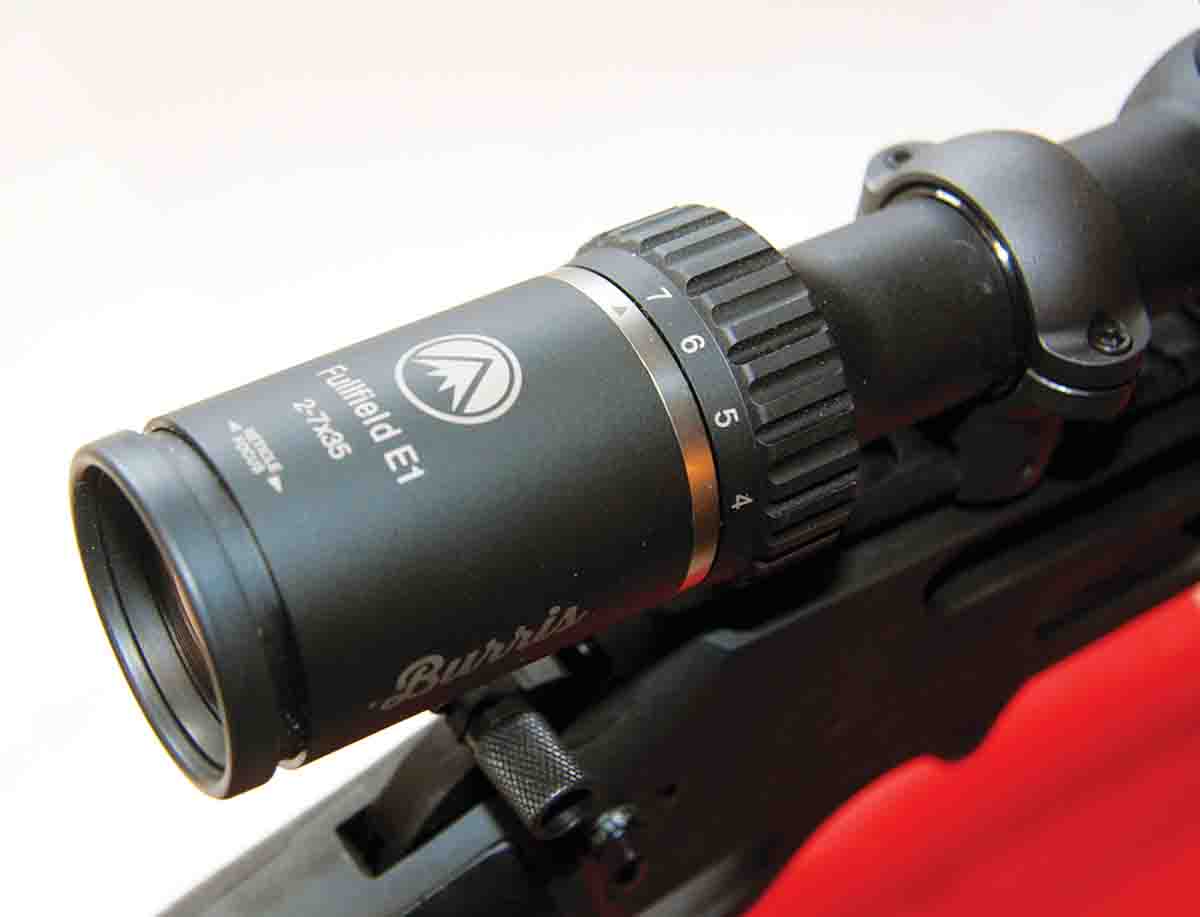 However, while many traditionally-inclined deer hunters get along swimmingly with iron sights and Woolrich wool, far more hunters today choose scopes and Gore-Tex togs. When I was young, for instance, putting a scope on a .22 rifle was considered an abomination. Today, it's unusual to find a .22 without one. Modern hunters, as a demographic, are getting older. Their eyes simply are not what they used to be – and youngsters, the ones who actually hunt nowadays, know nothing else.
Lever-action rifles have also come of age in the New Millennium, like the Marlin Model 336 Dark Series chambered in .30-30 Winchester and used for testing here. The Dark Series holds a Picatinny rail allowing quick attachment of modern optics (I ordered it to hold a thermal optic for Texas nighttime hog hunting). The rifle includes an 18-inch threaded barrel, allowing the addition of a suppressor (which also factored in my Texas plans). Hornady also offers Subsonic ammunition in .30-30 with 175-grain SUB-X bullets. The Dark Series rifle comes with a tactical black stock, a black woven Paracord sling and an oversized lever covered with black woven Paracord.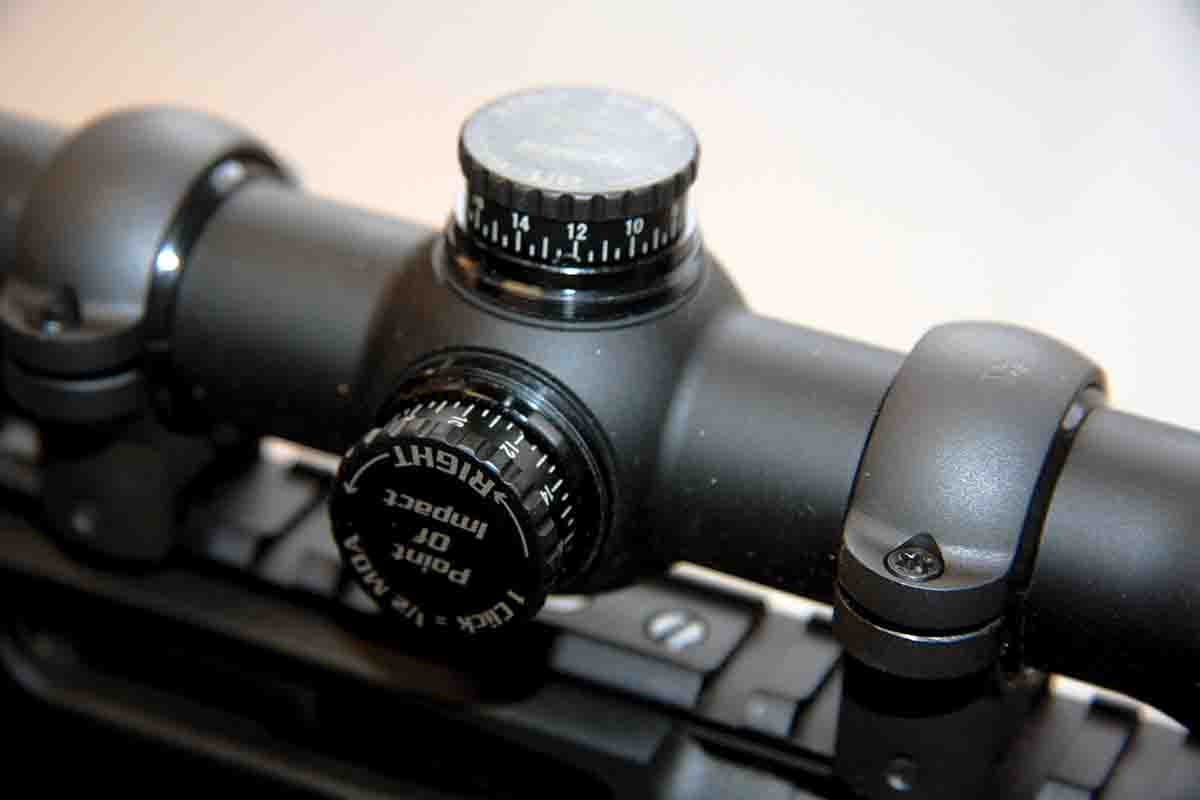 Back to the subject of an ideal levergun optic. In the opinion of Burris' Marketing Manager Dennis Phillips and I, the Fullfield E1 2-7x 35mm with Ballistic Plex E1 reticle fills that bill nicely. This affordable scope was set atop the aforementioned Marlin in Burris' excellent one inch, medium Signature Zee Rings. The scope is lightweight (12 ounces) and compact (11.4 inches long with a 41mm objective bell) to compliment this .30-30 Winchester levergun's handy demeanor, but it provides enough versatility to handle everything from 25-yard treestand shots at the very edges of legal shooting hours to 150-yard pokes at deer feeding in an open bean field.
This scope is solidly built, including no plastic parts (save the rubberized eyepiece), including the milled-aluminum turret caps and a durable matte-black finish. The magnification and reticle focus rings offer stiff resistance. The one-inch tube and erector housing are milled from one piece of high quality aluminum, and the tube is purged to prevent interior fogging. The covered, low-profile adjustment knobs lend the scope a sleek profile ideal.
The Fullfield E1 is equipped with high-performance glass to provide superb brightness and clarity in varied conditions. Index-matched, Hi-Lume multi-coated lenses enhance low-light performance and increase shooting confidence on overcast days or beneath a heavy forest canopy at the extreme edges of day. The 2-7x 35mm version doesn't include parallax focus adjustment, but set on 7x, images come into tack-sharp focus at approximately 50 yards, the 2x setting remaining sharp at 10 yards or less.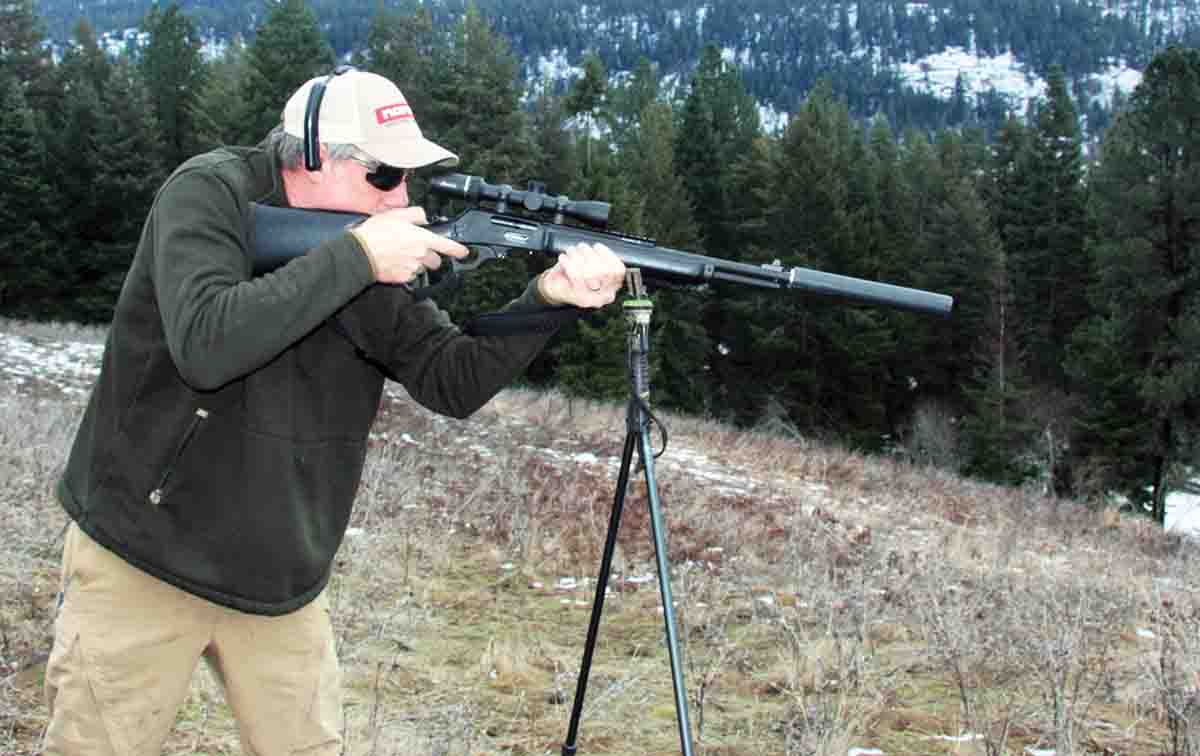 Burris' Ballistic Plex E1 reticle is a field-proven design with trajectory compensating technology coupled with cascading dots to offer more precise wind drift compensation or lead margins on running animals. Overall, the reticle design is quick to use and accurate (which I will address momentarily) without cluttering the sight picture.
The holdover hash marks on the lower vertical crosshair are calibrated to provide dead-on aiming from 100 to 500 yards for common hunting cartridges (.223 Remington through .338 Winchester Magnum shooting popular bullet weights). So 500 yards would obviously prove overly optimistic for the .30-30 cartridge used here, though certainly not worthless. For instance, after sighting in at 75 yards with Hornady 140-grain Monoflex LEVERevolution ammunition (groups proved less conclusive at 100 yards), Federal's 170-grain Non-Typical Whitetail ammunition hit right on when the bullseye was centered between the second and third hash marks down, and Hornady's 175-grain Sub-X Subsonic hit the mark while using the bottom vertical post. With slower cartridges like the .30-30, .35 Remington and .45-70 and a little trial and error, (Burris provides ballistic reference labels on its website; burrisoptics.com) this allows shooters to switch between various ammunition brands, types and bullet weights while avoiding the tedium of recalibrating.
When sticking to a single load (Hornady's LEVERevolution 140-grain Monoflex) and sighted at 75 yards with the main crosshair, the Ballistic Plex worked out quite conveniently, the second and third hash marks roughly correlating to 100 and 125 yards (though groups were less than decisive, but certainly within paper plate/big-game vitals dimensions).
The cascading windage dots (.25 MOA wide) to each side of the lower/vertical reticle are said to roughly represent the effect of a 10-mph crosswind for, as Burris says, "most big-game hunting cartridges." Half the distance equals 5 mph, twice as much, 20 mph. I did not have the opportunity to test the windage dots under real-world conditions, and I no longer have access to copious jackrabbits to test the reticle as a lead-margin system on running shots.
My only minor complaint regarding this scope involved the windage/elevation adjustment knobs. Tactile clicks were a little "soft" for my taste, lacking that solid and often audible "click" that allows me to easily count corrections applied during initial sight-in. This is easily offset visually with laser-engraved hash marks marking each .5-MOA adjustment. The adjustments worked sufficiently for the levergun cartridge used here, as groups never approached more detail than this outside 50 yards. Elevation and windage include 60 MOA of overall travel and accurately re-zeroed after moving to extremes and returning.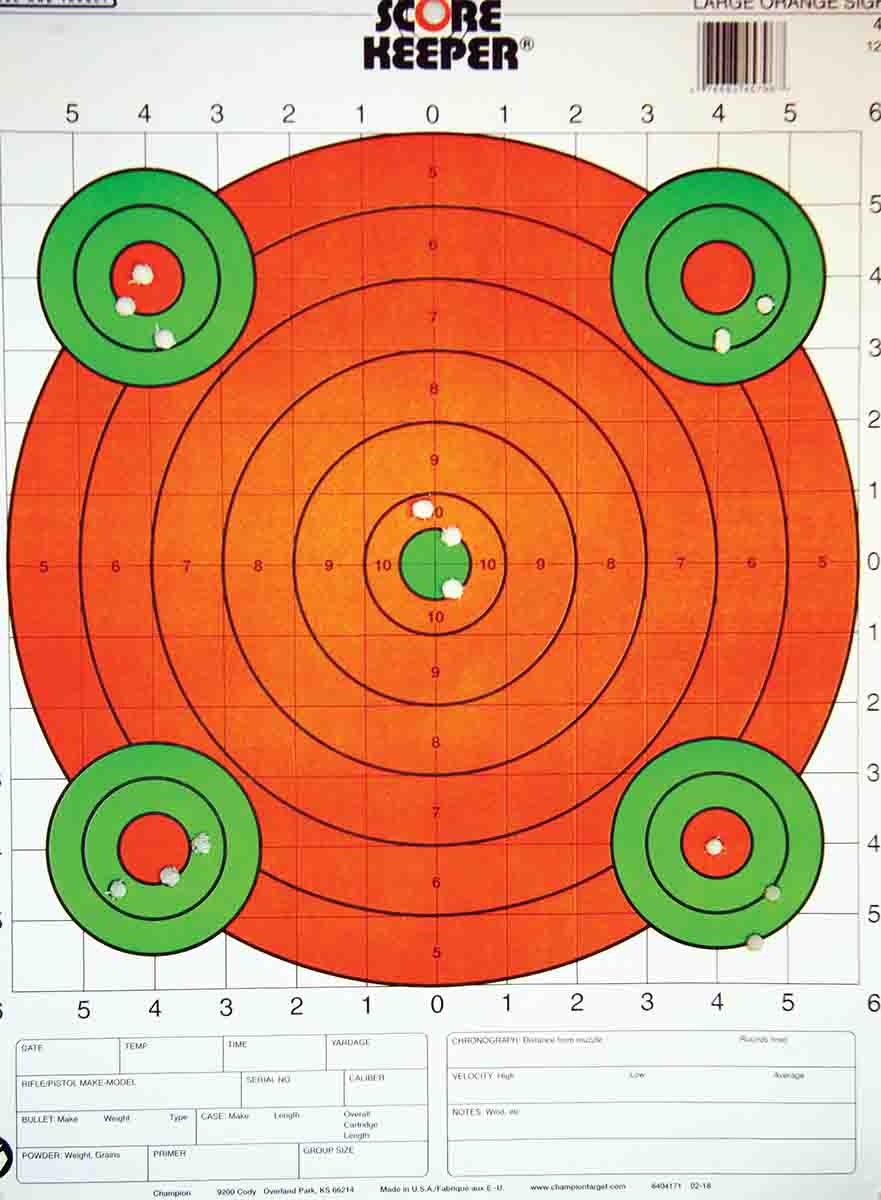 After establishing a centered three-shot group at 50 yards on a five-spot, 100-yard rifle target with an overlaid one-inch grid, shooting Hornady 140-grain Monoflex LEVERevolution ammunition, I moved the crosshairs up 4 inches and right 4 inches (eight clicks up, eight right). The resulting three-shot group was close enough to the bull for lever work. Sixteen clicks left resulted in a bullseye cluster. Returning to zero I repeated the process, moving crosshairs down and right/left by equal margins. This completed a neat box test; testament that the scope was again tracking on the money.
I repeated this complete regimen with Federal's 170-grain Non-Typical Whitetail ammunition, and again with Hornady's 175-grain SUB-X Subsonic ammunition, largely to put the scope through further paces. Those results essentially mirrored the first test.
To test resolution and color fidelity I created a chart – quite unofficial – including .75-inch black-on-white letters, corresponding red, blue and green letters, .50-inch red, blue and green spots and stars, my thought being that star points would accentuate sharpness. Taped on a flat surface under overcast light, the letters remained sharp and colors highly distinguishable at 75 yards with the scope set on 7x. At 100 yards I was still able to read the letters, though the colors became slightly less distinct. I then waited until a half-hour after official sunset under an overcast sky. The letters and colors remained readable at 25 yards with the scope set to 4x.
The rear, or second focal plane (crosshairs remain unchanged through magnification range) scope includes a generous 3.1 to 4.1 inches of eye relief – enough to keep a big .45-70 out of your brow. In bright light, the exit pupil was 17mm at 2x and 5mm at 7x. A fully-dilated human pupil opens to 7mm, meaning in this configuration the best low-light viewing would occur between 2x and 5x.
The Fullfield E1 is a scope ideal for no-nonsense, blue-collar hunters – including guys who pursue deer with lever rifles. Its $239 MSRP and transferrable Burris Forever Warranty against damage and defects make it a serious bargain.