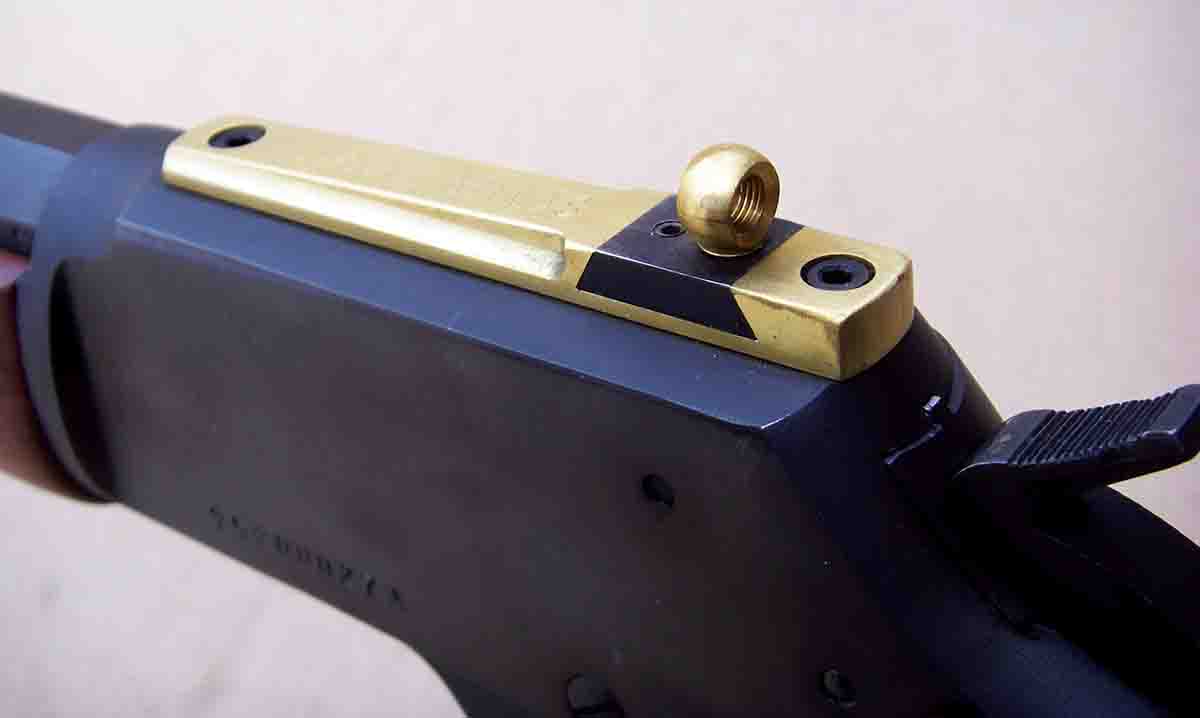 In 2010, Andy Larsson purchased Skinner Sights and in the past decade has worked continuously to improve the design, quality and has developed many new products. Andy becoming the owner of Skinner Sights was a perfect match. For example, he has been a serious shooter and hunter all of his life and has won many Bullseye matches, including the Indoor Open Sectionals National Championship in 1998. Being a shooter, Andy knows what good sights are and what features are necessary to shoot small groups or take game in the field. Skinner is currently supplying aperture sights and a new ladder sight for Marlin Firearms, Henry and others.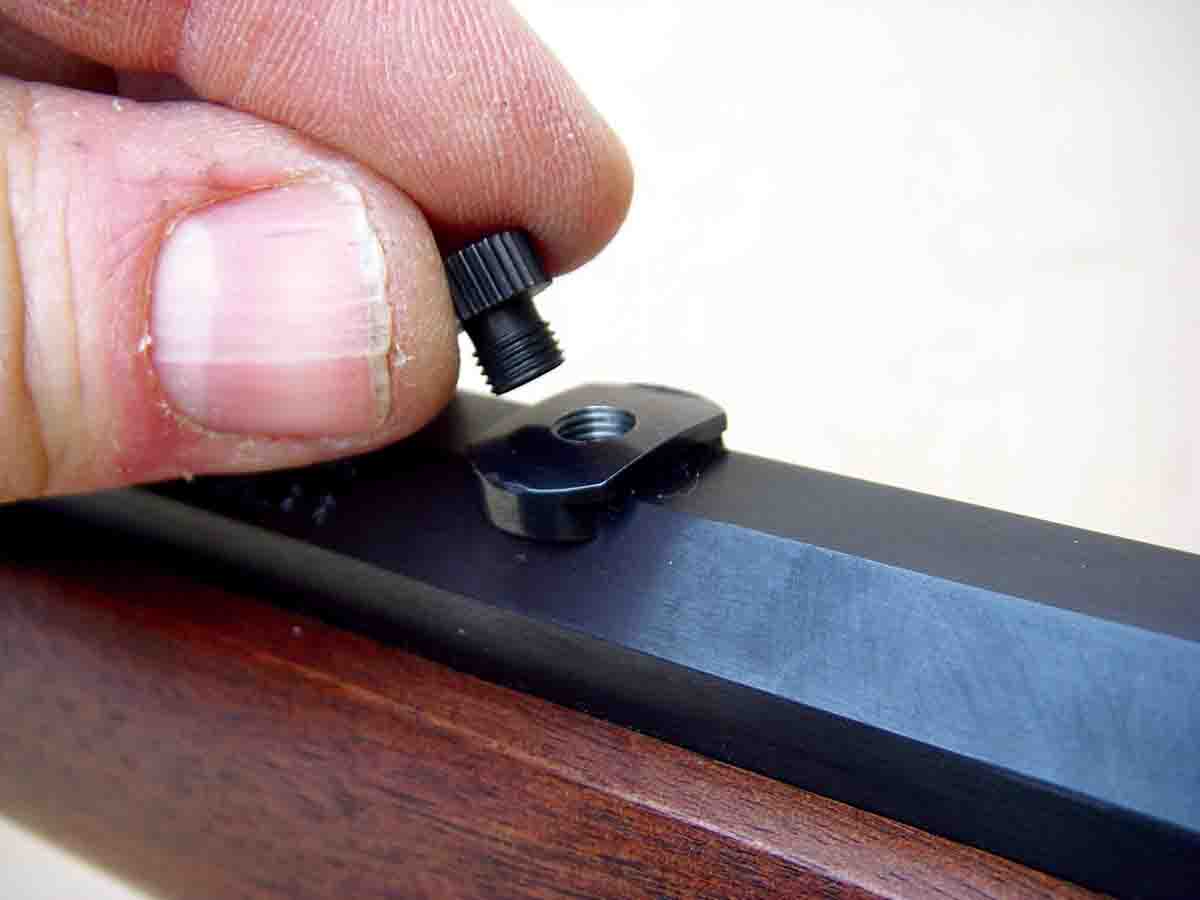 Skinner offers too many sight variations to discuss them all, so here are a couple of the peep versions that I use most, along with the company's latest offering, a modern ladder sight that is handsome, fun and practical.
Skinner's most popular sight is what it refers to as the "Peep," which is offered in Reliable and Express configurations for Marlin Models 336, 1895, 1894, 39, etc. They are available for many other rifles that include muzzleloaders, Remington's 740 and 760 series, Henry rifles, Winchester's 94AE, Ruger's No. 1, 10/22 and American. Others include select Rossi models, along with Brownings, CZs and Thompson/Center.
The Express is a lengthened version of the Reliable. The former is lighter in weight and costs less, but the latter features greater distance between the mounting screws and spans the full length of the receiver top. It is visually appealing and has become especially popular. Both mount directly to the top of the Marlin receiver and correspond with the drilled and tapped holes that are normally used for scope mounting. The sight base is machined from solid bar stock, which along with the support of the Marlin flattop receiver, results in unusual strength and durability.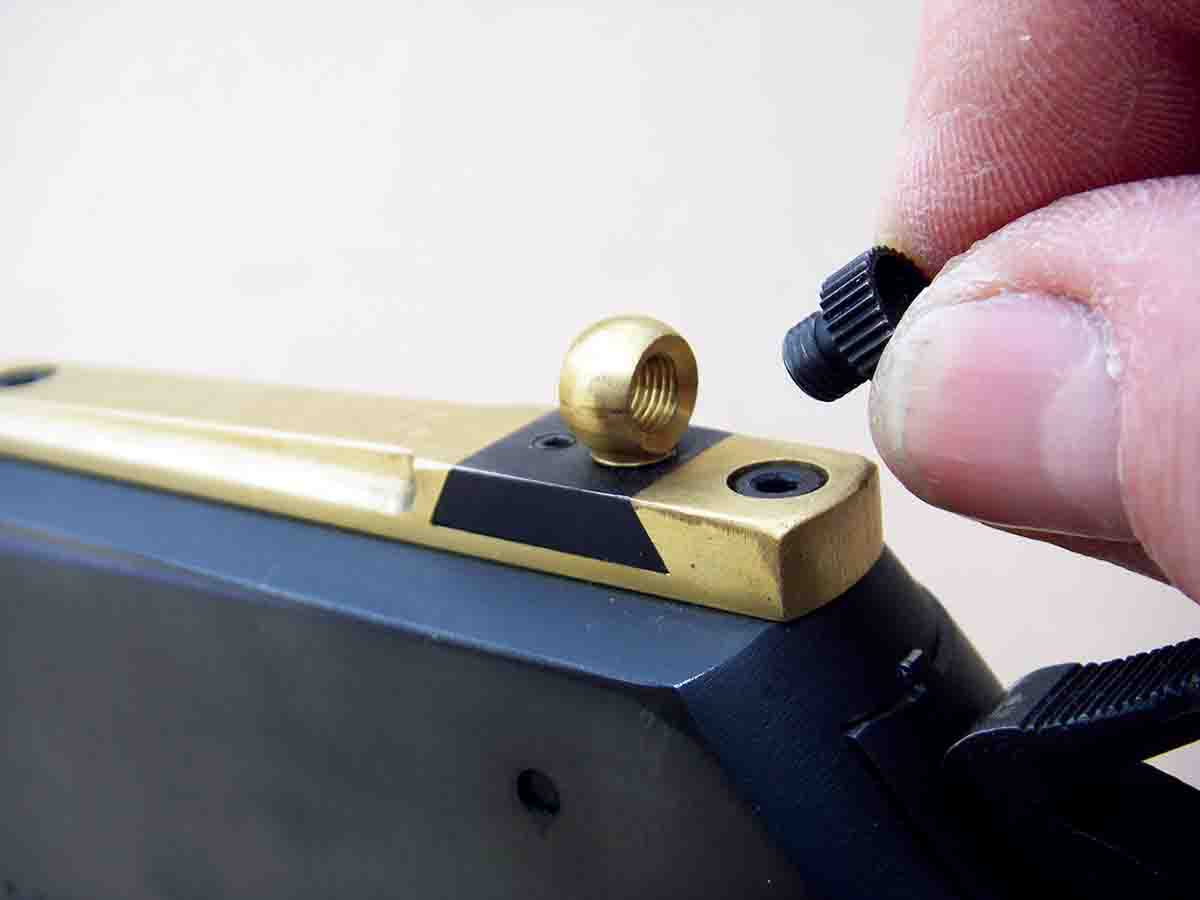 The Skinner Peep is fully adjustable for windage and elevation. The peep (or actual sight) is threaded into a dovetail and secured via a set screw. By loosening the set screw, the peep can be turned up or down to adjust elevation. The dovetail base is likewise secured by a set screw, which when loosened can be drifted from side to side to make windage corrections.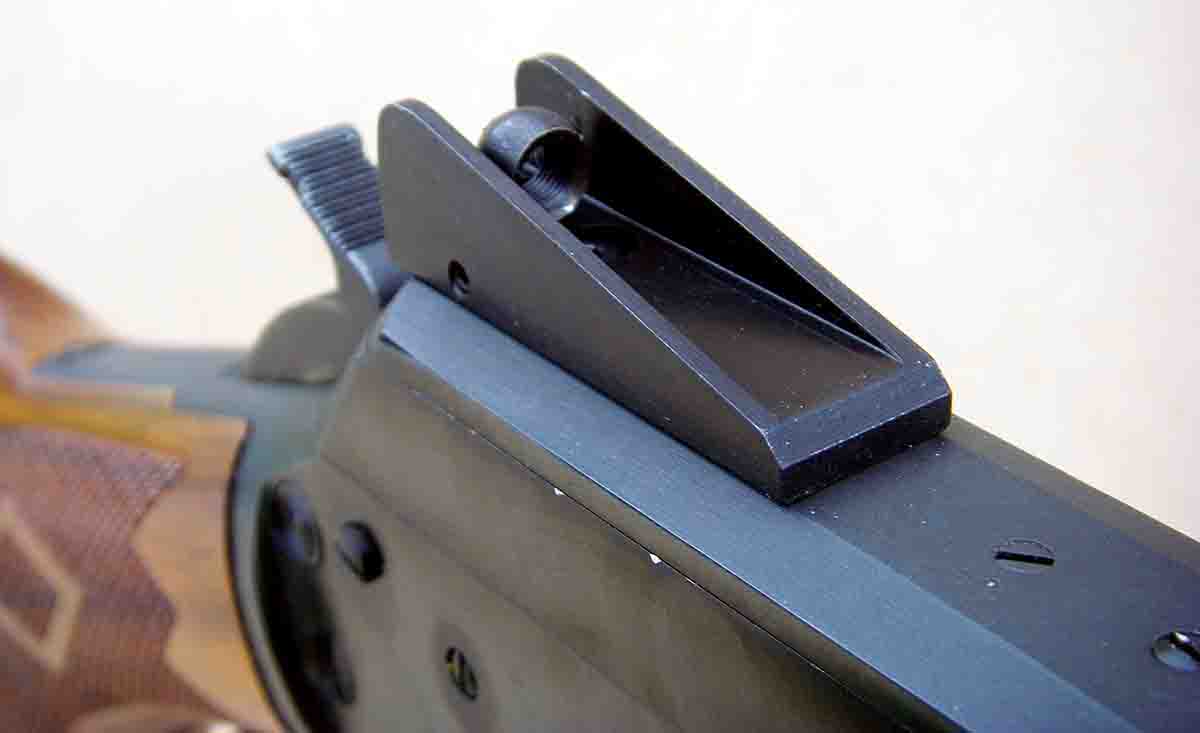 The Skinner Peep is threaded internally (inside the aperture if you will), allowing it to readily accept apertures of different sizes that can be changed by hand without tools. Each sight comes standard with a .096-inch aperture; optional diameters include .040, .070, .125 and .155 inch. When used without any aperture, the peep serves as a ghost ring with a .200-inch aperture. The smaller apertures are excellent for precision shooting in good light, while the larger apertures are better under all light conditions, especially during the prime hunting hours of dawn and dusk. Many times I have changed apertures in the field to best match the hunting circumstances, which literally only takes a few seconds. Skinner also offers an optional Dovetail Slot Blank that handily stores an extra aperture, so that at least one additional size is always available in the field, rather than at home.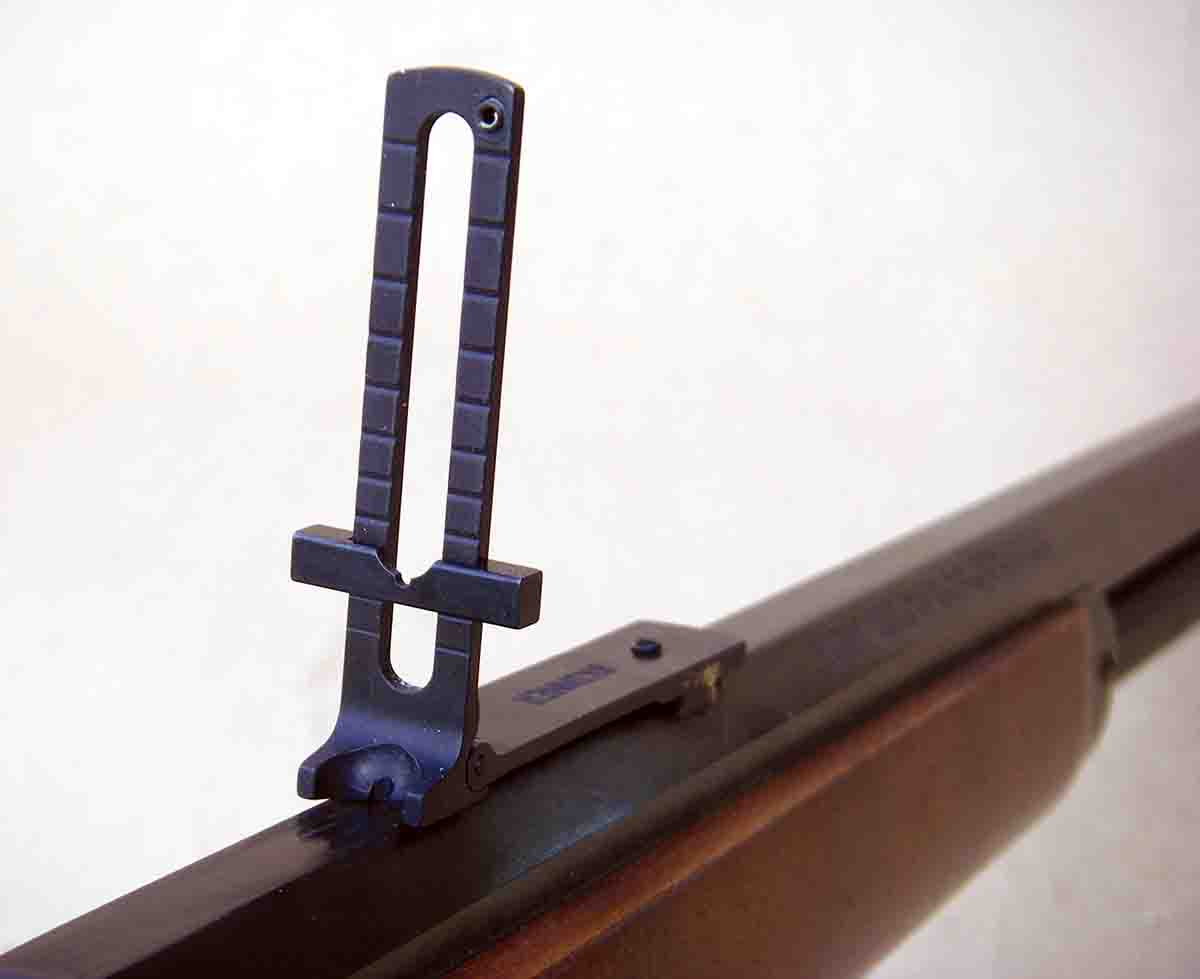 Each sight is available in blue finish, stainless steel or brass, which can dress up a rifle according to individual tastes. To add yet another dimension, the dovetail and aperture can be ordered in different combinations of the above materials. For example, a shooter may want the attractive appearance of a brass or stainless steel base, but with a black aperture. No problem.
For those that use a rifle under especially harsh conditions, or treat a rifle with some degree of abuse, the Skinner Winged sight should be considered. In addition to being fully adjustable for windage and elevation, the base and wings are machined as a single piece from solid bar stock steel, which results in a very rugged outfit. The wings are gracefully shaped and rounded for a no-snag profile. The total length of the sight is two inches. The Skinner Winged is available in blued finish or stainless steel only. Skinner also offers a Winged front sight that readily mounts to most Marlin rifles that feature two mounting screws to secure the front sight, and the front sight blade is adjustable for elevation.
Another Skinner aperture sight that is especially practical is the Express with integral scope mount, which readily accepts Talley one-inch quick detachable rings. Another very interesting option includes the Skinner Picatinny Rail with integral peep. The possibilities with the above sights and mounts are many, but include a variety of scope options, reflex sights, etc.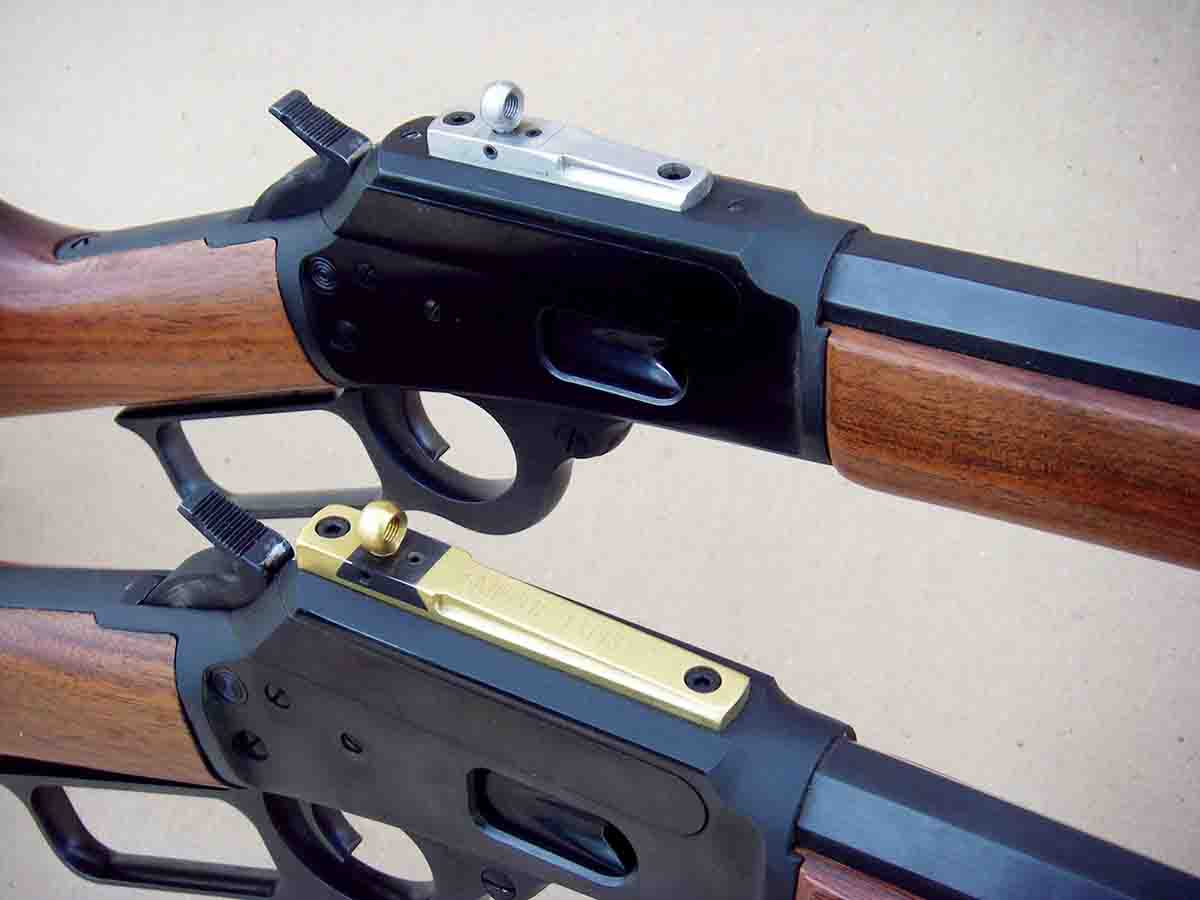 As has been proven by many previous generations of shooters, hunters, Olympic and match competitors, aperture sights allow precision shooting under a variety of conditions. The human eye naturally picks up the front sight and can center it in the rear sight with great precision. And there is no parallax. Furthermore, by the nature of the design, they largely prevent the reflection and resultant "pulled" shots that are common with traditional open sights. Skinner sights are precision machined and handsome, and with a variety of aperture sizes, it is easy to wring top accuracy from a favorite levergun.
A new offering from Skinner is its Ladder sight, which looks good and is reminiscent of many sporting and military rifles from the nineteenth-century. Naturally, it is machined from bar stock steel and is available in blue finish only. It has 11 generic graduations, which are for reference purposes only. Total length is 2.51 inches.
Once the sight is installed and the windage properly set, a set screw serves to secure it in the dovetail and prevent future side to side movement. When placed in the folded down position, the sight offers a wide U-shaped sight picture. The second sight, with the ladder standing, features a set screw on the side that serves to either lock the sight in place, or it can be tightened modestly to allow the sight to slide up and down, but still hold the position in which it is placed while shooting.
After my above comments on the many virtues of aperture sights, readers might wonder why I would discuss a ladder sight. There are two basic reasons. First, they just look right on period rifles, many of which have had their original sights damaged or removed. Second, they are pure fun and offer one notable advantage over aperture sights. For example, my family and I often shoot long range with a variety of guns that include modern, high-intensity, long-range cartridges and rifles. However, we also thoroughly enjoy and use leverguns chambered for straight wall cartridges. Just for fun, we often shoot them at extended distances. In spite of their comparatively low ballistic coefficient bullets and velocities, it is remarkable how accurate they can be at long range. A ladder sight can be stood up and bullets lobbed on target at extreme distances with a dead-on hold, which cannot be accomplished with receiver mounted aperture sights, as they simply do not offer enough elevation adjustment. Again, the ladder sight is pure fun.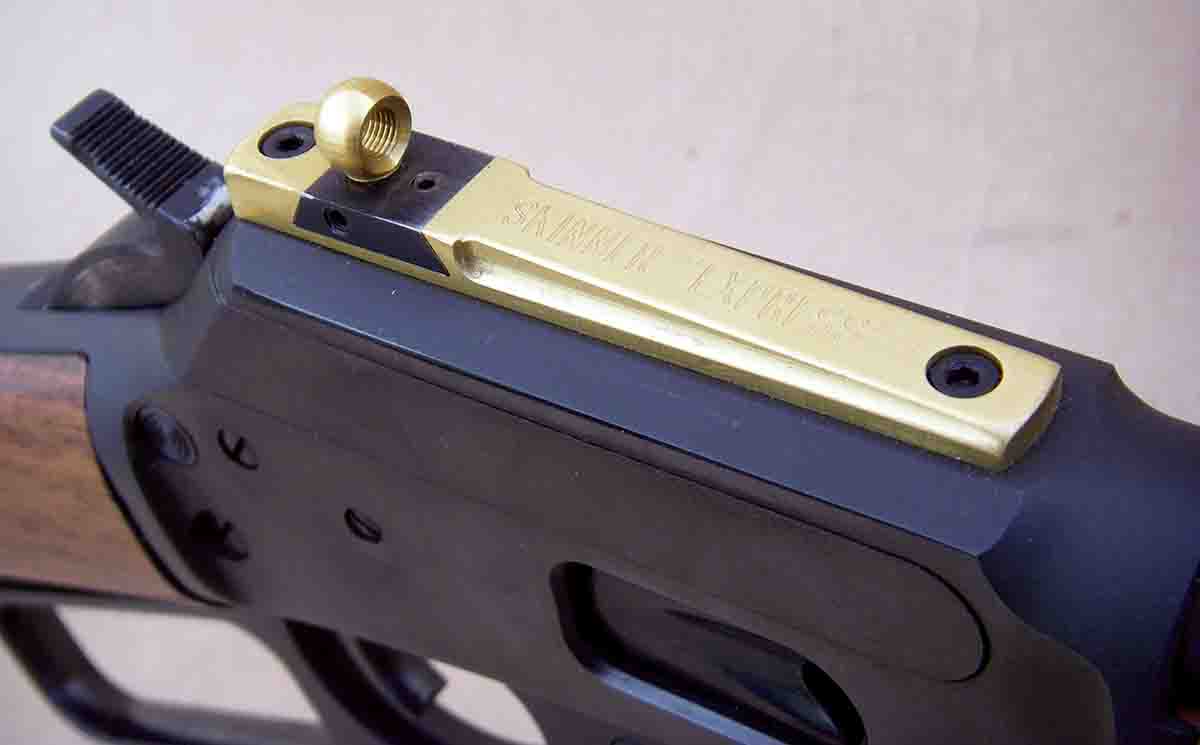 The Skinner Reliable sight starts at $61, the Express starts at $90, the Winged version is $75, the Express Scope Mount $149 and the Ladder $159. While Skinner sights are neither expensive nor inexpensive, they boast of quality and they do work! For more information, visit skinnersights.com.