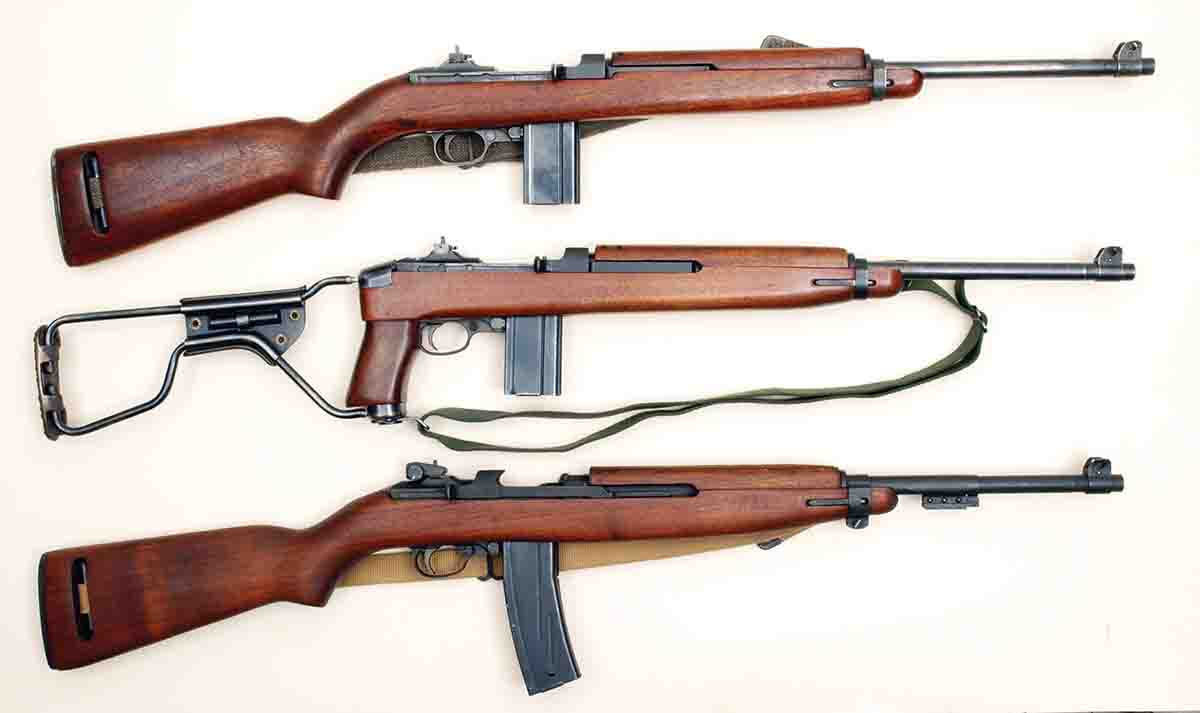 In the early 1940s, there happened to be a firearms miracle the likes of which will probably never occur again: A military firearm was manufactured to the tune of 6.25 million in less than four years, and that included time spent at drawing boards before the first steel and wood were cut. Ancillary points to the miracle were that the M1 Carbine's basic design was accomplished in 13 days by Winchester Repeating Arms, and nine of the 10 companies that produced them from 1941 to 1945 had never manufactured a firearm previously. Of course, Winchester was the exception.
In 1940, higher-ups in the U.S. Army decided that a combat weapon was needed to replace U.S. Model 1911A1 .45 pistols – they never did. In essence, their reasoning was that a hit from a light caliber rifle was better than a miss with a heavy caliber pistol. The first move in the "Light Rifle" project, as it was originally termed by the U.S. Army's Ordnance Department, was developing a suitable cartridge. Winchester was already producing a round called the .32 Winchester Self Loading (WSL). Therefore, the government
requested Winchester develop a .30-caliber round based loosely on it. After considerable testing, Winchester's result was a cartridge with a 1.29-inch long case of rimless design with a 110-grain (some say 108-grain) roundnose FMJ bullet. The government hoped for 2,000 fps muzzle velocity, but with the powders then available Winchester came up with 1,980 fps, and that was deemed acceptable.
Once suitable quantities of the new .30 U.S. experimental ammunition were available, it was shipped to various gun designers and firearms manufacturers so they could develop "light rifles." Among the criteria initially specified was that the new rifle had to weigh five pounds, fed by detachable box magazines and be capable of semiauto and full-auto fire. Initial testing of nine submissions in May of 1941 resulted in none being satisfactory. Interestingly, Winchester did not want to be involved in the "Light Rifle" project because it was already heavily involved in making military weapons.
Unofficially, however, Winchester officials were urged by the U. S. Ordnance Department to offer their idea for a light rifle, the testing of which would be in September of 1941. Those tests happened to only be 13 days hence from when the unofficial request was made. For sure, Winchester was up to the chore. Its prototype was announced as winner on September 30 and named Carbine, Caliber .30, M1. The U.S. military envisioned needing more M1 Carbines than Winchester could possibly produce, so the company's patents for it were purchased by the government for $868,000.
Things were a bit different during the war emergency of World War II. The government could tell manufacturing entities what they could or could not produce. Two examples declared nonessential to the war effort were typewriters and jukeboxes. This is how nine factories that never produced firearms tooled up to do so. Eight of the nine companies engaged in M1 Carbine production had already been producing complicated items. One company, Irwin-Pedersen, was formed especially for M1 Carbine production and failed at it. In 1943 after producing about 1,000 carbines, the problem-plagued company had its government contract cancelled and given to the Saginaw Steering Gear Division of General Motors. I have included a list with this column showing the 10 M1 .30 Carbine manufacturers and their percentage of total manufacture as found in Bruce Canfield's excellent book U.S. Infantry Weapons of World War II (1996).
During the war, minor changes were instituted in M1 Carbines from the design as accepted in late 1941. One was the magazine release was changed from a push-button to a rotating lever. In combat, soldiers intending to push the carbine's safety button accidentally pushed their magazine release button instead. In fact, so many minor changes were incorporated in M1 Carbines that excellent books are available describing them in minute detail. The major change, however, was specifically for paratroopers. That was the M1A1 with a metal skeleton folding stock. Nothing was changed from the M1 Carbines' barreled receivers. All M1A1s were made by Inland Manufacturing.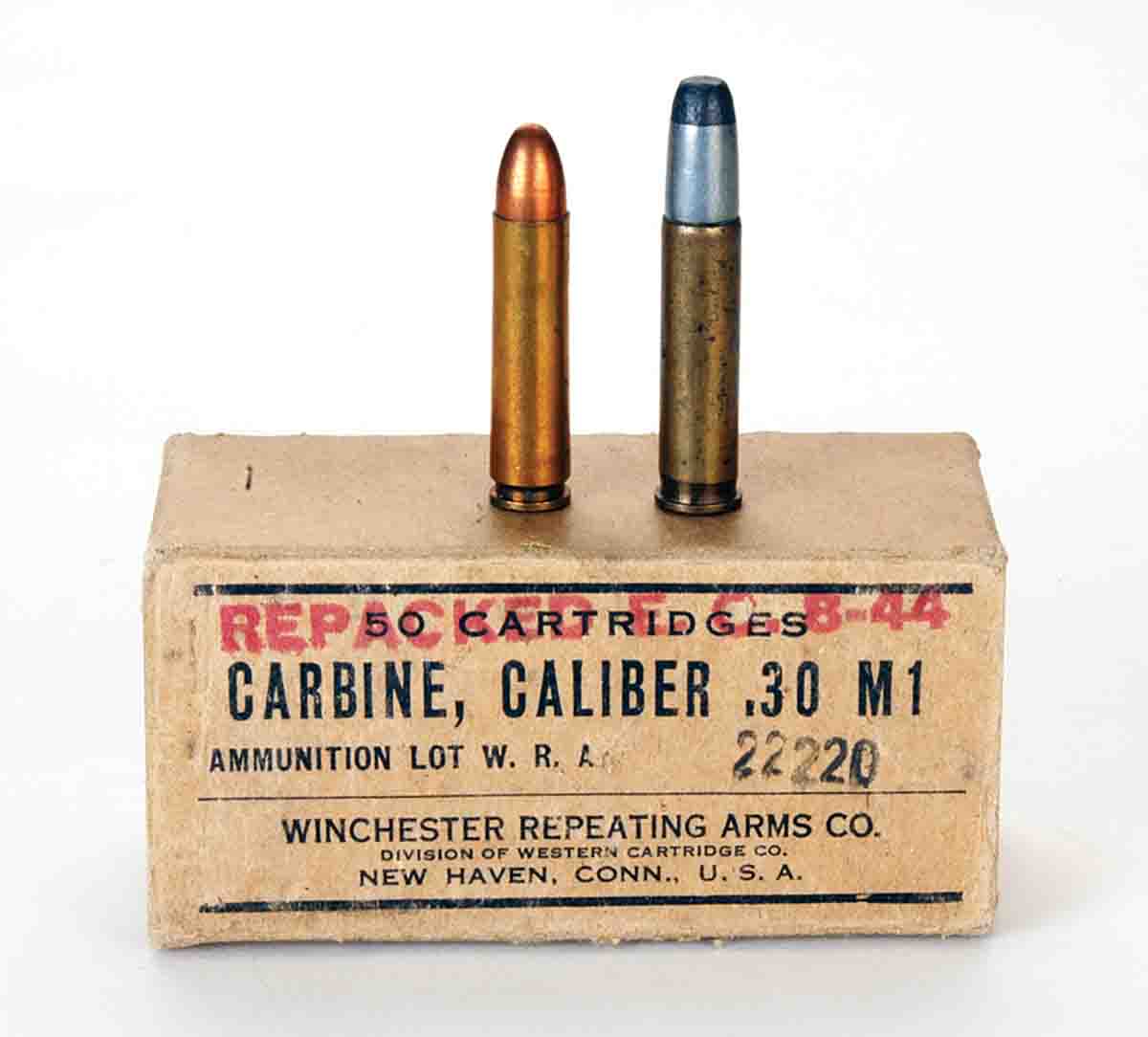 The first M1 Carbines left the Inland factory in the summer of 1942, with Winchester getting its first ones shipped in the fall of 1942. By that time, besides the U.S. Army, the U.S. Marine Corps had adopted them. When they finally reached the hands of combat troops two complaints arose.
One was that they were not accurate enough. In truth, M1 .30 Carbines were never tack-drivers. Groups at 100 yards of three to four inches were about normal – judged personally by the many I've owned. After all, their barreled receivers just drop into factory inletted stocks with no fitting. They were held by a hooked plate at the rear, similar to how muzzleloading barrels are fitted to stocks. At the forend they are secured by a screw-tightened barrel band.
The second charge was that they were not "man-stoppers." One former Marine personally told me that at close range he put several rounds into a Japanese infantryman on the island of Saipan in 1944. He said the Japanese soldier was still able to shoot him in return. Be that as it may, there are photos of Marines on Iwo Jima carrying both an M1 Carbine along with their M1 Garand rifle. The carbines were easier to use in foxholes at night when Japanese troops infiltrated American lines.
Basically, M1 Carbines remained the same until very late World War II production. Barrel lengths were always 18 inches, magazines held 15 rounds, the stocks were made of wood and all metal was steel. Sights were an L-shaped, two aperture rear set for 100 and 300 yards with a blade front protected by "ears." Until a select-fire M2 version was adopted in March of 1945, all M1s were semiauto only. There, in the last months of that conflict, also incorporated were fully adjustable rear sights and barrel bands with bayonet lugs. A bayonet specific for M1 Carbines was labeled M4.
Along with M2 Carbines came curved 30-round magazines. The rather flat shaped bolts were also replaced with round ones, which were considered sturdier for the rigors of full-auto fire. For the same reason, stocks were beefed up. Those stocks and bolts also fit M1 Carbines. Post-World War II, most M1 Carbines were recalled and upgraded with the latter refinements, and many thousands were converted to M2 function.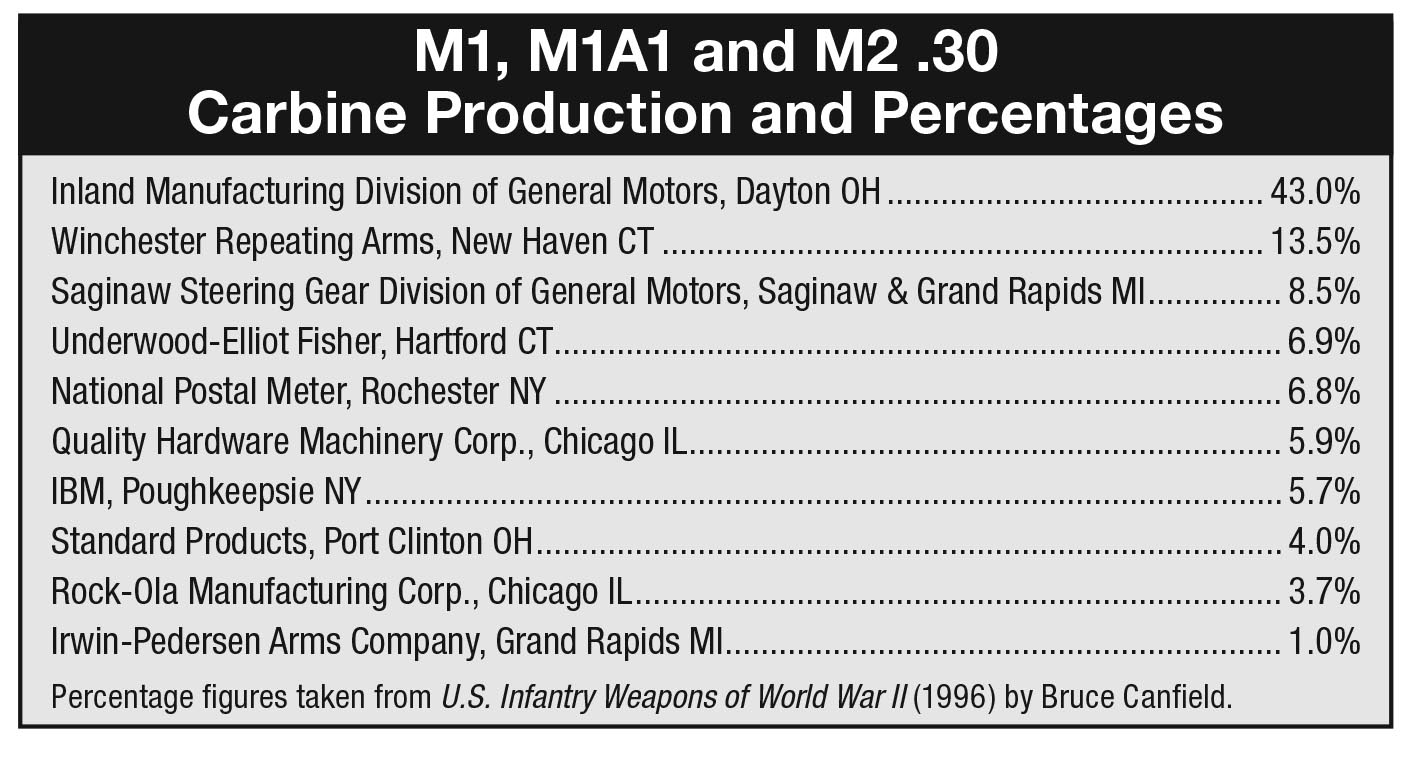 My initiation to M1 .30 Carbines came in 1965 as my 16th birthday present. Over the decades I've owned many more. Presently, I have both Winchester and Standard Products versions still in their as-issued World War II state. Also in my inventory is a Saginaw Steering Gear that was originally an M1 but was converted along the way to M2. All are good shooting and functioning .30 Carbines.