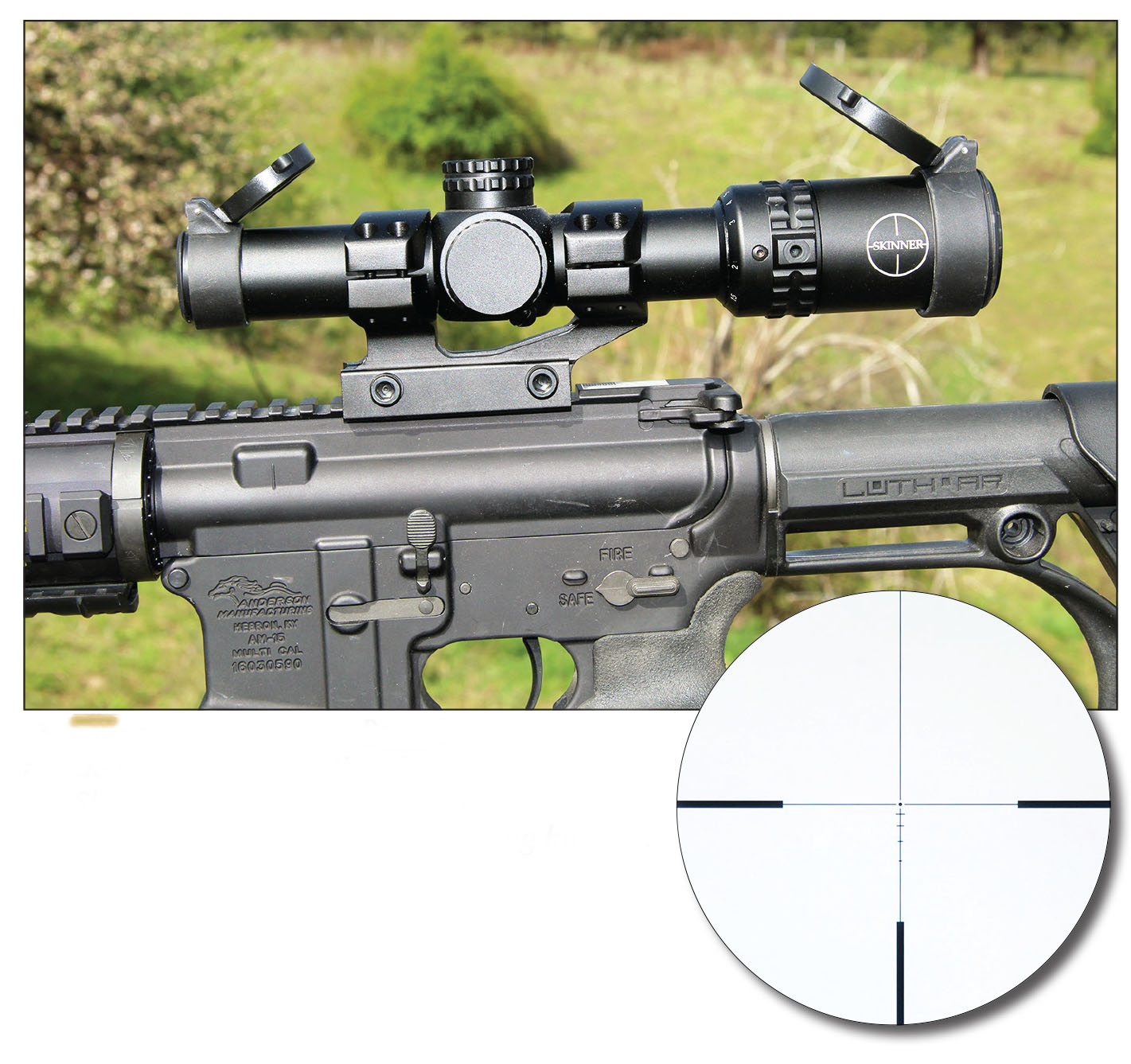 Skinner Sights put itself on the shooting map by producing top-quality iron sights, particularly designs compatible with lever actions and single-shot rifles. Skinner's huge assortment of aperture sights, ladders and quality bases can be found on many classic rifles, but also many modern designs. Shooters looking for bulletproof and functional irons to put on just about any type of classic rifle, it's a good bet Skinner has a solution. More recently, the company launched Skinner Optics, which includes a highly-versatile 1-6x 24mm model that proves just about ideal for the average levergun or AR-style rifle, though it would be just as welcomed on about any hunting rifle, no matter the action type.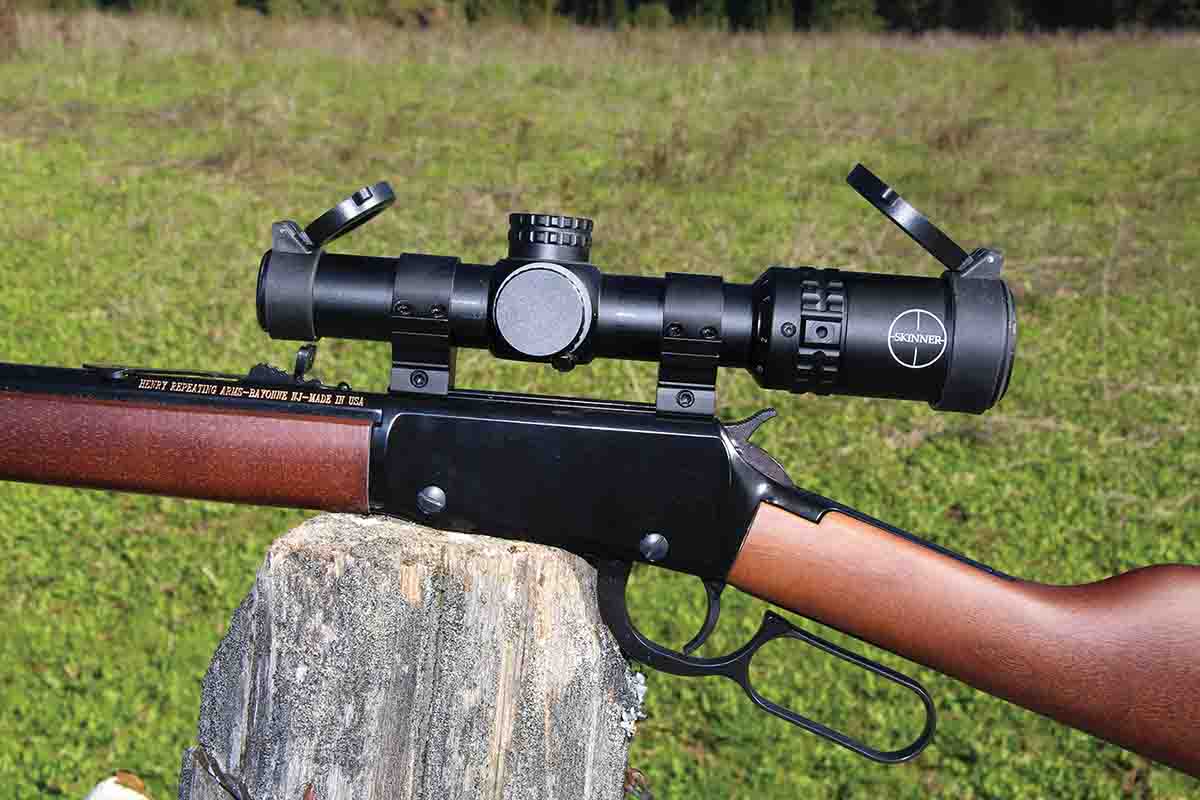 Skinner Optics' 1-6x 24mm is solid and ruggedly made, including a one-piece 30mm tube, a knurled magnification adjustment knob, illumination adjustment wheel, diopter adjustment ring and turret caps, all milled from top-grade aluminum. The scope weighs a reasonable 1.1 pounds and is 10.4 inches long. The straight 30mm objective tube and ocular bell measures about 1.75 inches in diameter. Magnification levels of 1x, 1.5x, 2x, 3x, 4x, 5x and 6x are etched on the control ring and correlate to a fixed dot. The magnification numbers and reference dots are fairly small and were not visible while I was on the rifle stock.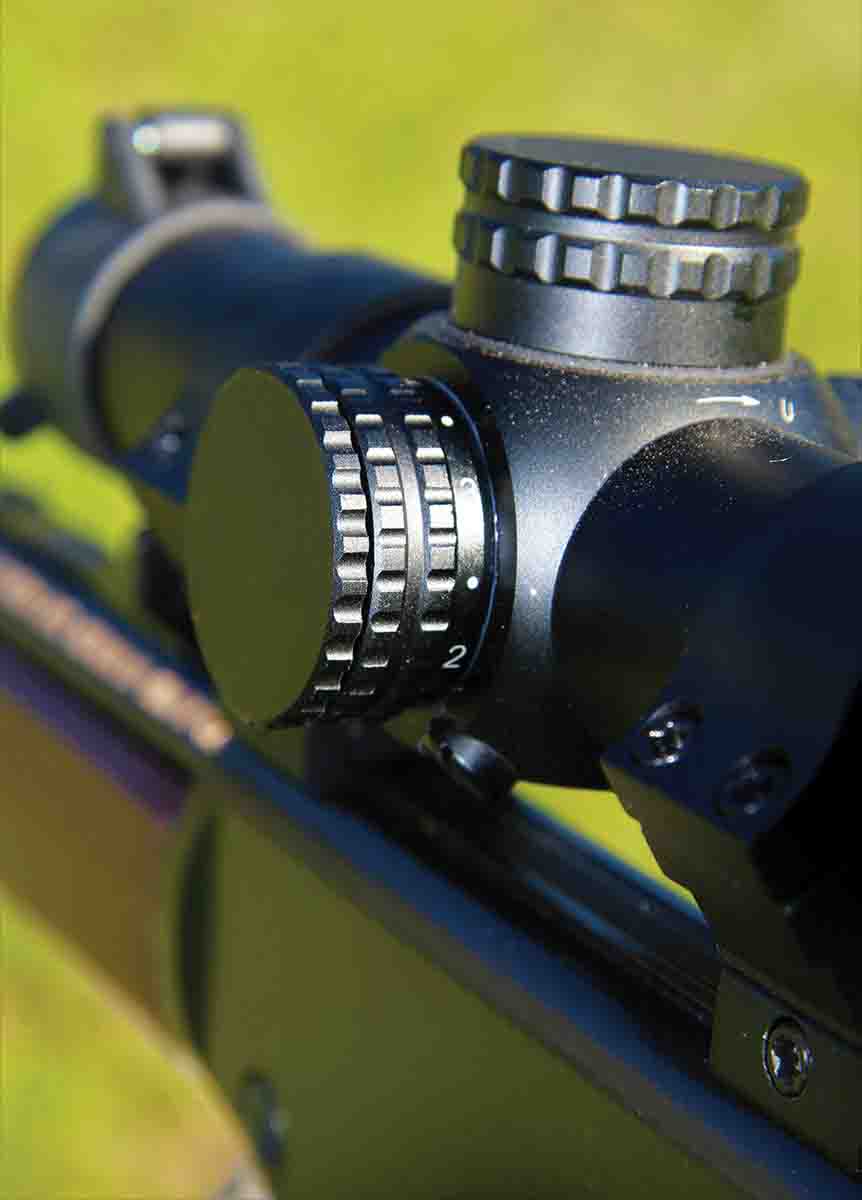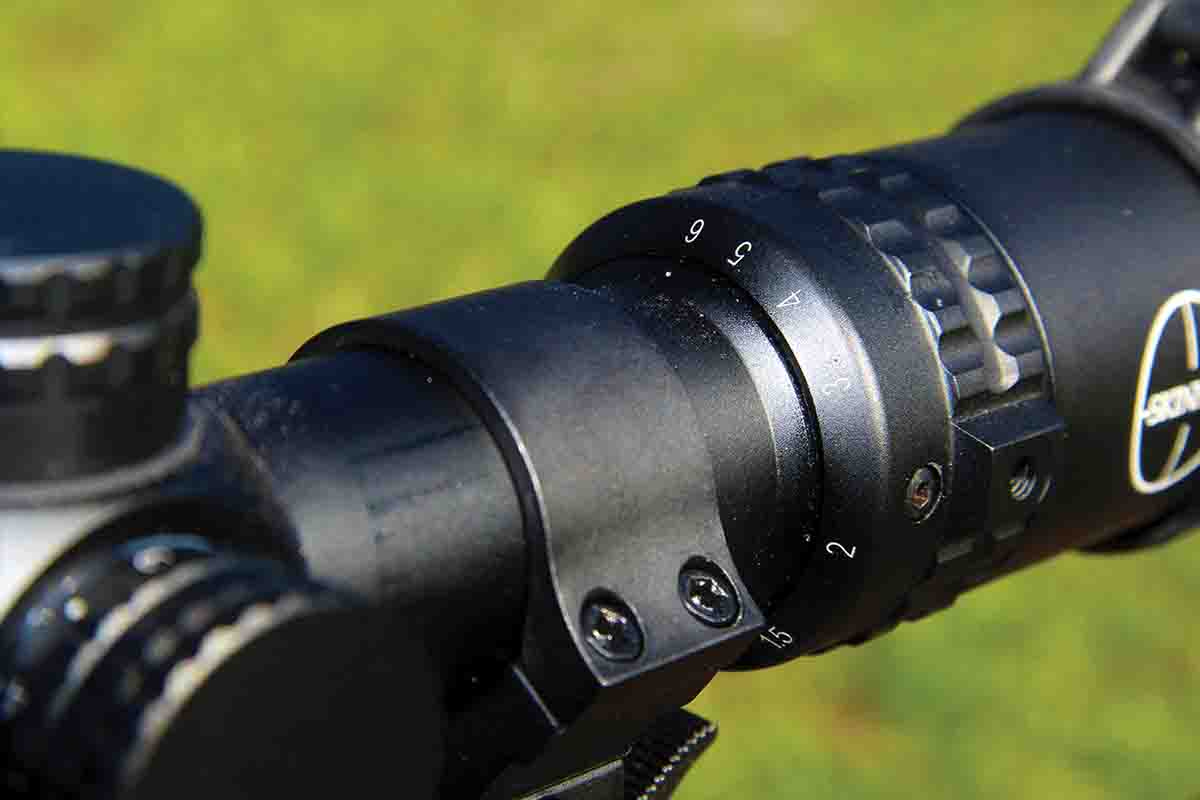 The view through the Skinner Optics scope is gin-clear and sharp (parallax setting at 100 yards) and provides an exit pupil of 10.5mms at 1x for excellent low-light, light gathering to 3.9mm at 6x, which is still substantial enough to clearly view game during legal shooting light under any reasonable conditions. The 24mm objective lens provides a field of view from 116.6 to 19.2 feet, lowest to highest magnification. The optic also provides a generous 3.8 to 3.7 inches of eye relief. All lenses are fully multicoated and the tube is nitrogen purged against fogging.
The scope holds a BDC-style reticle with a 1-MOA center dot and four cascading elevation hash marks. The center crosshairs are super fine and uncluttered. Skinner Sights owner Andy Larson said that with his Henry Long Ranger lever rifle chambered in .308 Winchester, using 150-grain Hornady ammunition, he was able to sight in 2 inches high at 100 yards. The crosshairs were then spot-on at 200 yards. The first hash mark was good for 300, the second for 400 and the third for 500 yards. He said hits on a 12-inch pie plate at 500 yards were consistent.
The red, 1-MOA center dot can be illuminated. A knurled side wheel allows adjusting brightness for prevailing conditions through six indexed settings that click into place. Every other click of the illumination wheel cuts power to the lighted center dot, allowing battery conservation while requiring only a single click to illuminate the aiming point to a desired brightness. The illumination system is powered by a single CR2032 battery. Lenses are protected by spring-loaded, flip-up caps with quick-deploy tabs that actually function as intended; namely, they stay closed when clicked into place.
The turrets include positive movements with audible and tactile clicks (for us old deaf guys). Windage movements are marked with an "R" and an "arrow" on both the turret flat and the scope body, the elevation turret including an "UP" with an arrow on the turret flat and another on the scope body. Movements are half-inch per click at 100 yards, which is likely suitable for most leverguns, ARs, rimfires or big-bore rifles. The optic allows 60 MOA of total travel for windage and elevation.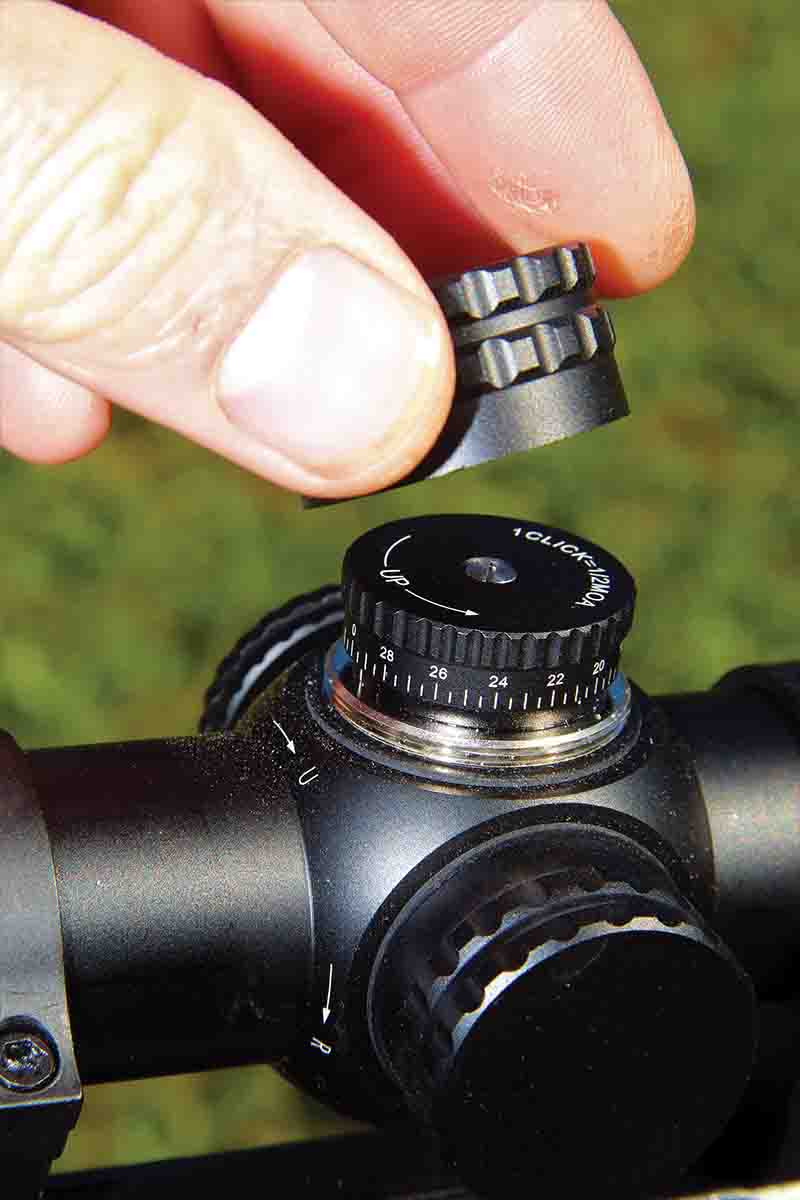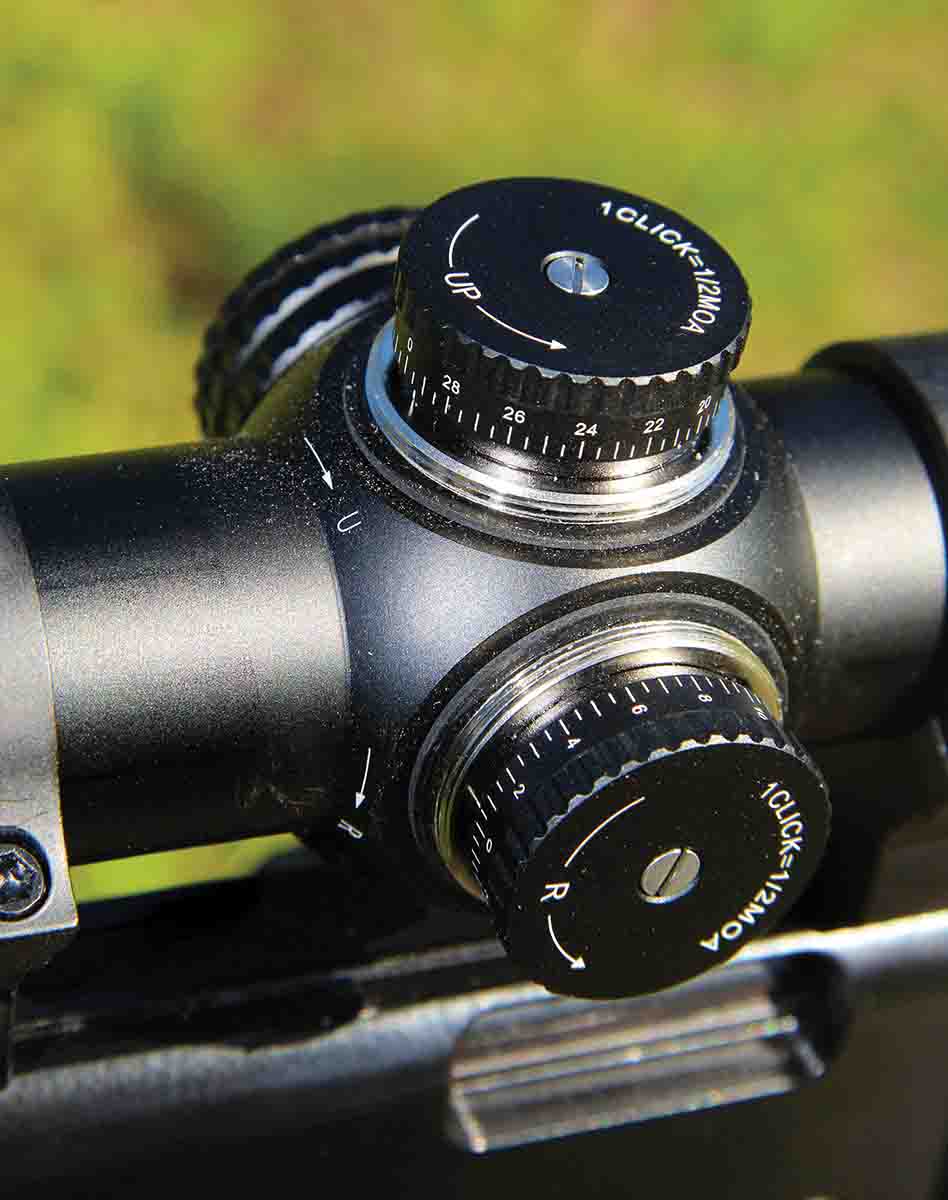 The scope was first paired with my 6.8 Remington SPC AR-15 using a single-piece cantilever mount while shooting maybe 100 rounds through that rifle. I can see this optic offering an ideal choice in the hog hunting fields of Texas, particularly given its lighted aiming dot and the nighttime shooting I do so much of. It was then moved to a Henry Repeating Arms Company Frontier Express Octagon .17 HMR lever rifle after compatible B-Square rings were received. The 3⁄8-inch rings were needed to place the scope on the integral rail of the Henry. Consequently, the scope was sighted in a couple different times, and without difficulty. The Henry was used to conduct a "box test" of turret movement and passed with ease: corrections corresponded to the target grid.
The Henry/Skinner combination also proved a hoot on local ground squirrels. Columbia ground squirrel shooting near home with the lever rifle .17 HMR is where the Skinner 1-6x 24mm scope truly revealed its versatility. These large ground squirrels are shot scrambling for burrows at short ranges, or from atop stumps and logs across open logging clear-cuts. The 1-6x 24mm configuration proved ideal for the handy, lever-action rifle while conducting walkabout shooting – the lower powers making hits on offhand running targets feasible. Upper magnification and the lower reticle hash marks made the long-range shots while using a solid rest.
When planning the Skinner Optics Riflescope, Larson envisioned an optic ideally suited to lever-action rifles, and with a power range geared to intimate or longer ranges. Larson field-tested the scope for several months before introduction and found it to his liking. He also created a winning combination ideal for ARs or any other rifle for which a low-power scope is warranted. I can picture this reliable optic sitting atop a dangerous-game bolt rifle, for instance, or tacked onto a whitetail tree stand rifle firing straight-walled cartridges. Or a favorite .22 LR. Or a serious big-game rifle. Or even a shotgun. (A Remington V3 Mount is available from Skinner Sights.) Larson also created a scope that offers excellent quality at a midrange price point, one including a manufacturer suggested retail price of $299. Skinner Sights also offers a wide variety of mounting options, including an Enhanced Scope Base (Picatinny) for several lever- action models.