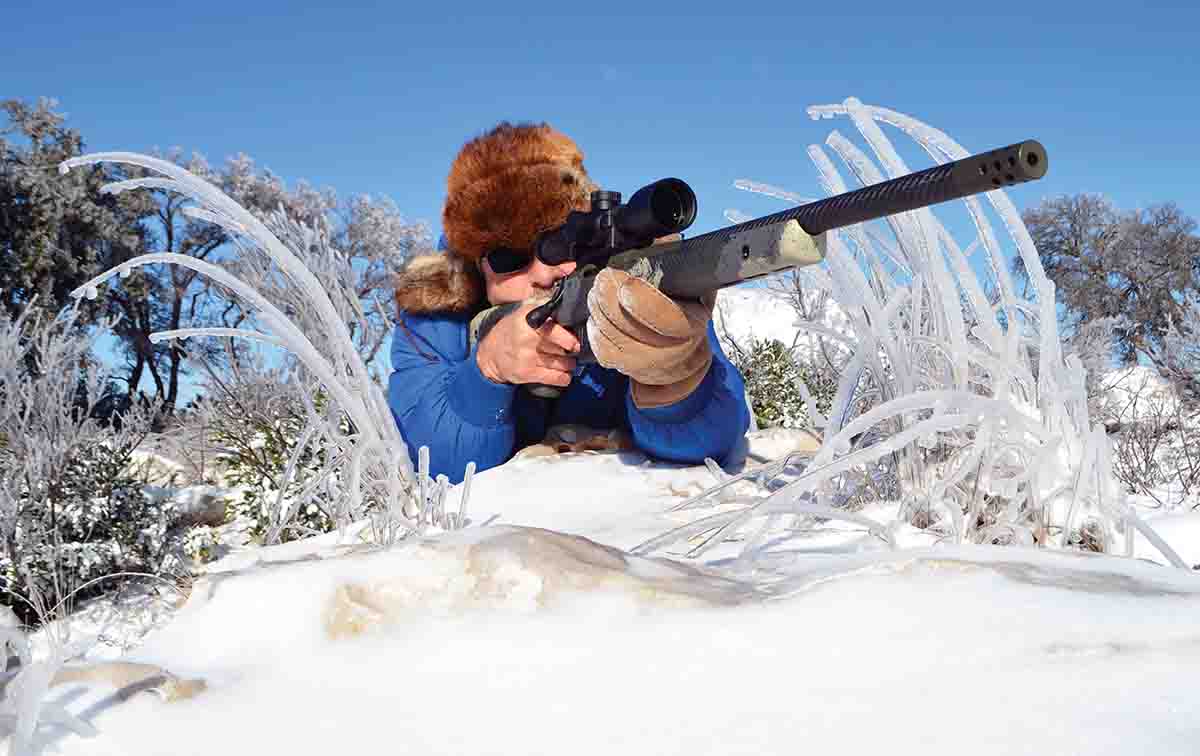 The Model 2020 Waypoint is Springfield Armory's entry in the long-range, precision, hunting-and-target rifle stakes. It comes with Springfield's "rock solid" accuracy guarantee of .75 minutes of angle (MOA) – three shots at 100 yards, using "quality, match-grade factory" ammunition. And, oh yes, with the rifle "in the hands of a skillful shooter."
Having spent 35 years in the business, testing rifles and listening to manufacturers' guarantees, I am skeptical at best and cynical at worst, but I also have healthy doubts about my own shooting ability. By that, I mean I question whether my day-to-day performance on the range is up to Springfield's definition of skillful. I suspect it's not.

If memory serves, the first riflemaker to guarantee accuracy was Weatherby, but in the 1980s, Kenny Jarrett raised the stakes. Following Jarrett's lead, guarantees became all the rage, with some truly outlandish claims made for some pretty questionable products. Of course, Jarrett rifles were individually custom-made, and his guarantee (.5 MOA) applied only to loads worked up for the rifle and loaded by Jarrett, not to any old factory stuff you might be able to feed through it.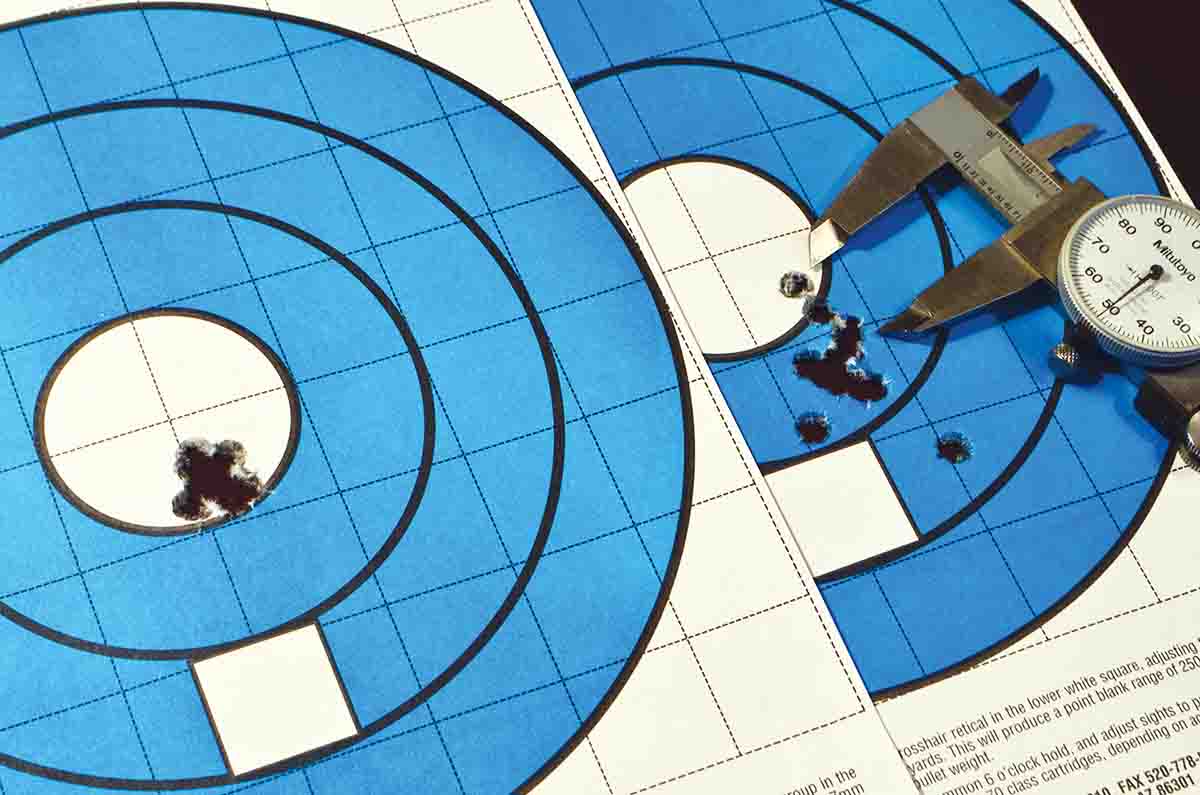 Springfield Armory, like any production-rifle manufacturer, is in a difficult position, as witness the qualifiers in its "rock solid" guarantee:
Quality. Match-grade. Skillful shooter.
As we all know, rifles have their own preferences, and the best match rifle ever made will shoot some ammunition better than others.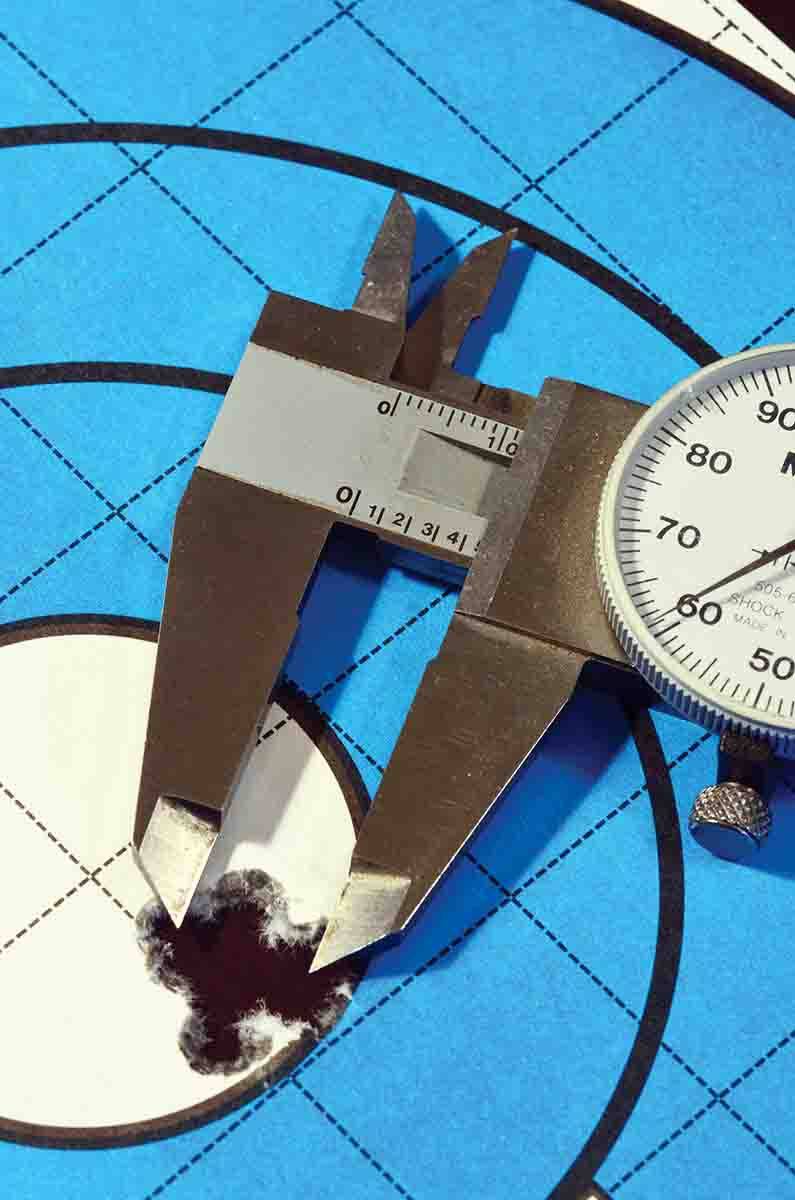 Any reader, seeing the Waypoint description, and turning to an article about it, will ask first, "Well, did it do it?" The short answer is, "Yes. Sort of." But I have a few qualifiers of my own. I am not, and don't pretend to be, a "match-grade" shooter. There were only three brands of match ammunition on hand – Federal Gold Medal, SIG-SAUER and Lapua – so that's what I tried. Of the three, the rifle liked Federal the best.
Another aspect of the Springfield accuracy guarantee I question is limiting it to a three-shot group. Target competitions generally call for more shots than that – sometimes considerably more – while in hunting, every so often you'll run into a bad situation where it becomes imperative that your seventh or eighth shot be just as accurate as the first. For this reason, I'm a great believer in 10-shot groups to measure a rifle's real capabilities.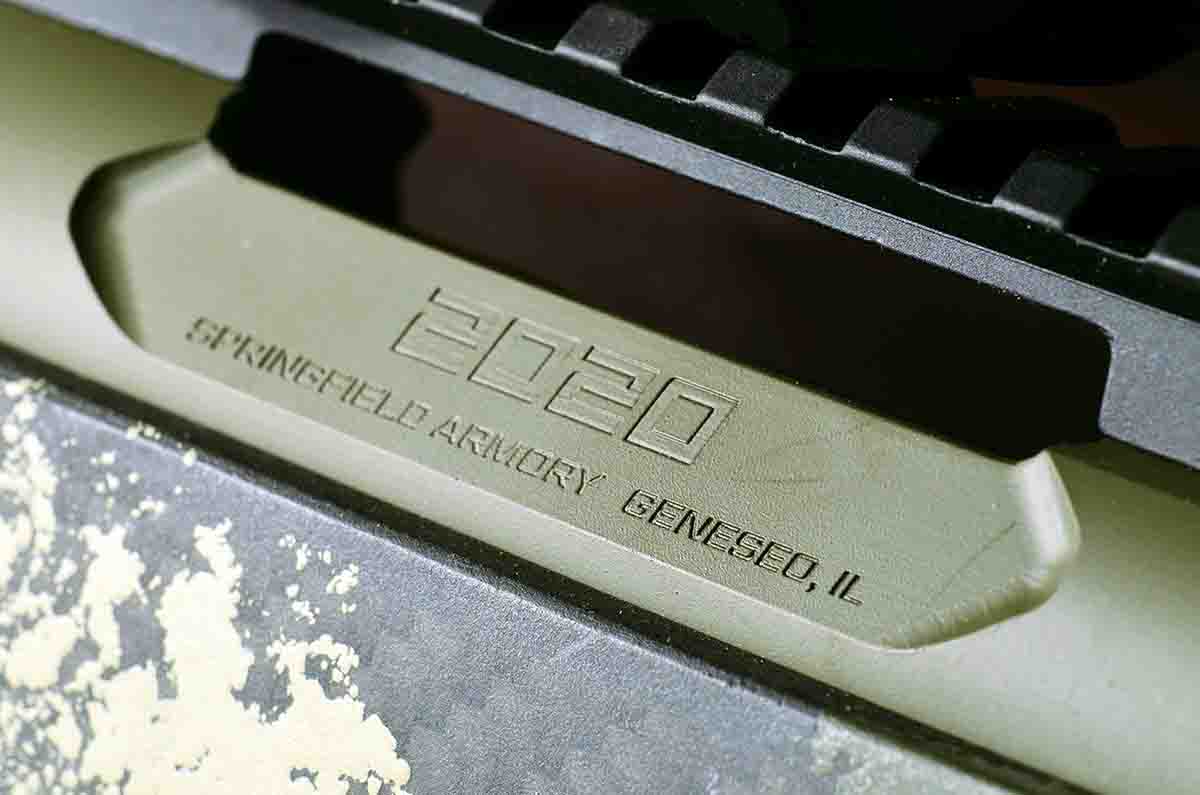 The test rifle I was sent was chambered in .308 Winchester. It had a 20-inch carbon fiber barrel with a muzzle brake, and a carbon fiber stock with an adjustable comb. Unloaded, but with the magazine in place and a Picatinny rail scope base, it weighed 7 pounds, 5 ounces.
Fitted with a GPO Spectra 2-16x 44i scope, the whole outfit weighed 9 pounds, 8 ounces. Add ammunition, sling and bipod, and it's pushing 11 pounds.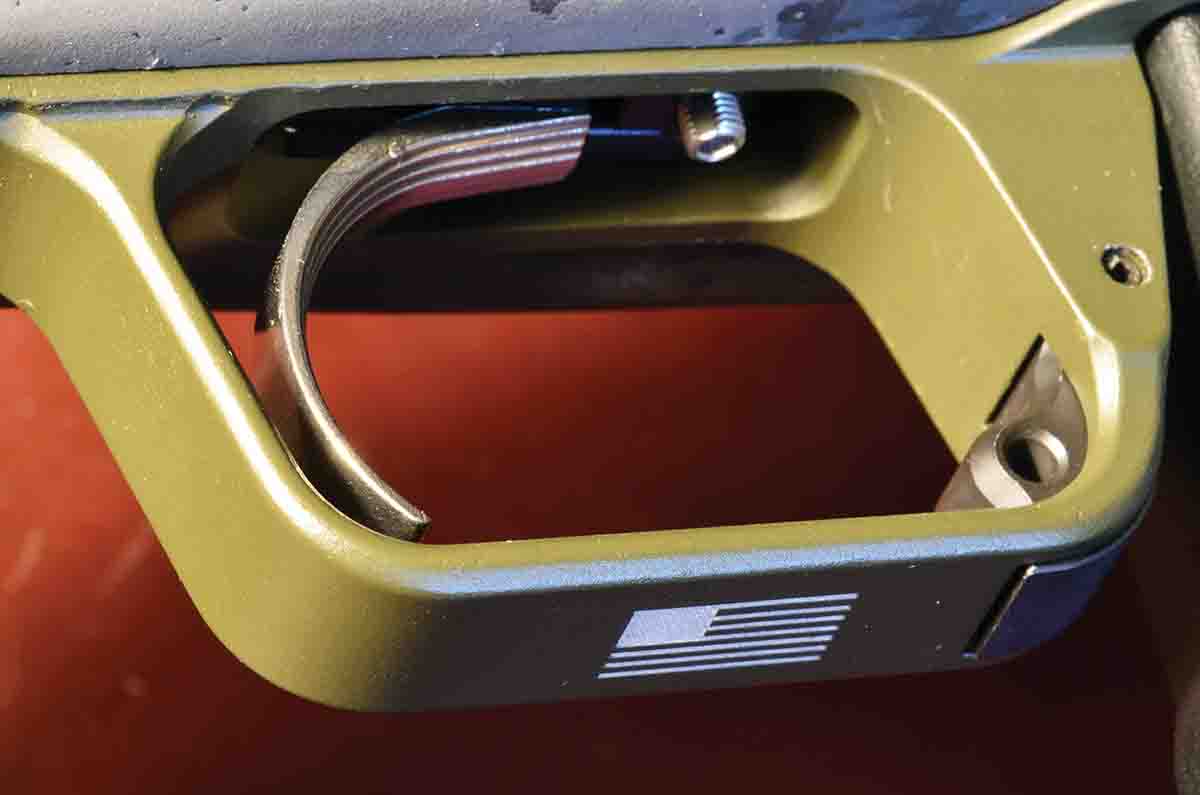 Springfield Armory offers the rifle in four different calibers (The others are 6mm Creedmoor, 6.5 Creedmoor, and 6.5 PRC.) with two barrel options (carbon fiber and fluted steel), and two different stocks painted in two possible camouflage patterns. There are so many variations available, I won't attempt to list them. The full technical details can be found on the Springfield Armory website. They range in price from $1,699 to $2,399.
The optional fluted barrel is stainless steel, as is the receiver, and both are Cerakoted. The action is pillar bedded and the barrel free-floated. The muzzle brake is detachable, and a thread protector is provided. The stock has a Pachmayr Decelerator recoil pad. The .308 barrel has a 1:10 twist rate.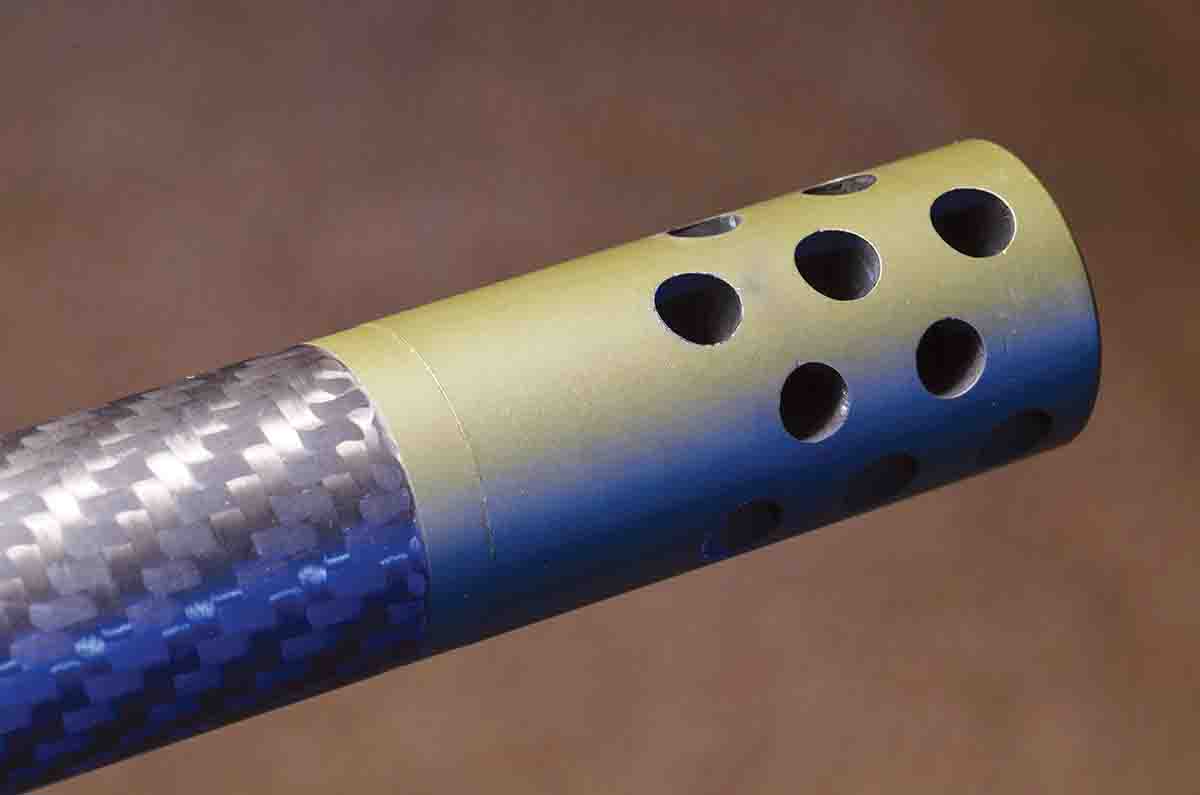 Two essential features in any rifle built for accuracy are a fast lock time and a good trigger. The Waypoint has a TriggerTech adjustable trigger, which can be as heavy as 5 pounds or as light as 2.5. As mine arrived from the factory, the pull averaged 2 pounds, 14 ounces, which was fine. It was crisp and sharp. The lock time is advertised at 1.9 milliseconds, "up to 45 percent faster than the competition." I have to take the company's word on that, but there were no complaints about lock time at my end.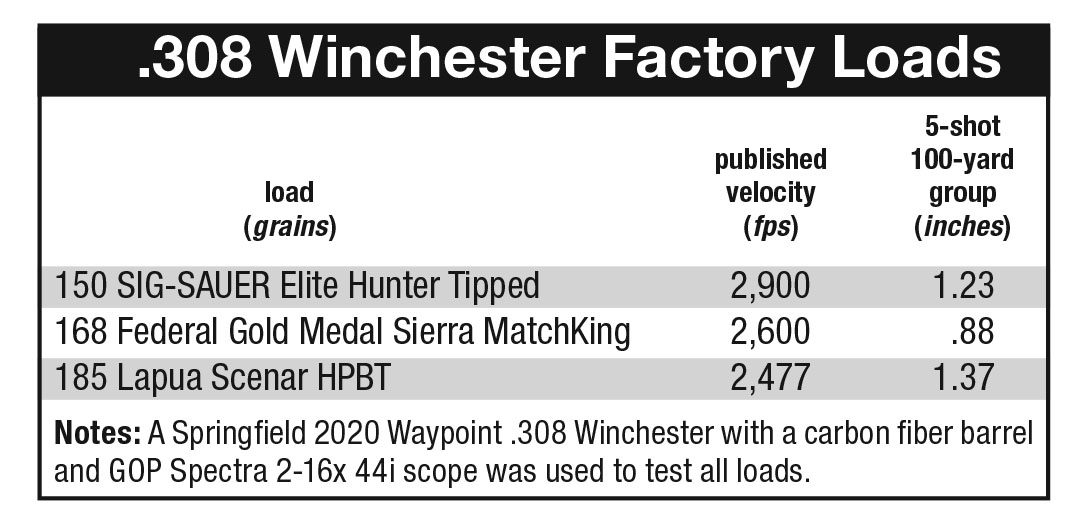 When I asked for a rifle to test, my plan was to take it to the FTW Ranch in Texas and put it through its paces on some of its long steel plate ranges, and also get the opinions of some of their professional instructors. I fitted the scope, packed up a dozen boxes of Federal Gold Medal ammunition loaded with Sierra 168-grain MatchKings and headed south. I arrived in San Antonio two days ahead of the severe freeze that struck Texas in February, arriving at the FTW (west of Kerrville, in the Hill Country) just as the snow was starting to fall.
My accomplice in this endeavor, Efren Hernandez, and I are old acquaintances, he has guided me on a couple of outings. Efren is a shooting instructor as well, and as the snow began to pile up, we went to the range to sight in at 100 yards and set the turrets to zero. We then alternated back and forth, shooting at 5- and 12-inch plates at ranges out to 300 yards, using the somewhat archaic method – but, as a hunter, the method I prefer – of holding over, allowing for wind, calling shots and making corrections. So far, so good.
That night, Tim Fallon prepared a range card for us based on the ballistics of the Federal Gold Medal ammunition, and we were all set to head out the next day. Unfortunately, events intervened in the form of an ice storm that coated everything, along with 6 inches of snow, temperatures hovering around 12 degrees Fahrenheit, and a power outage that took out the electricity, heating, telephone landlines and the internet. At that point, interest in rifle testing was replaced by interest in survival.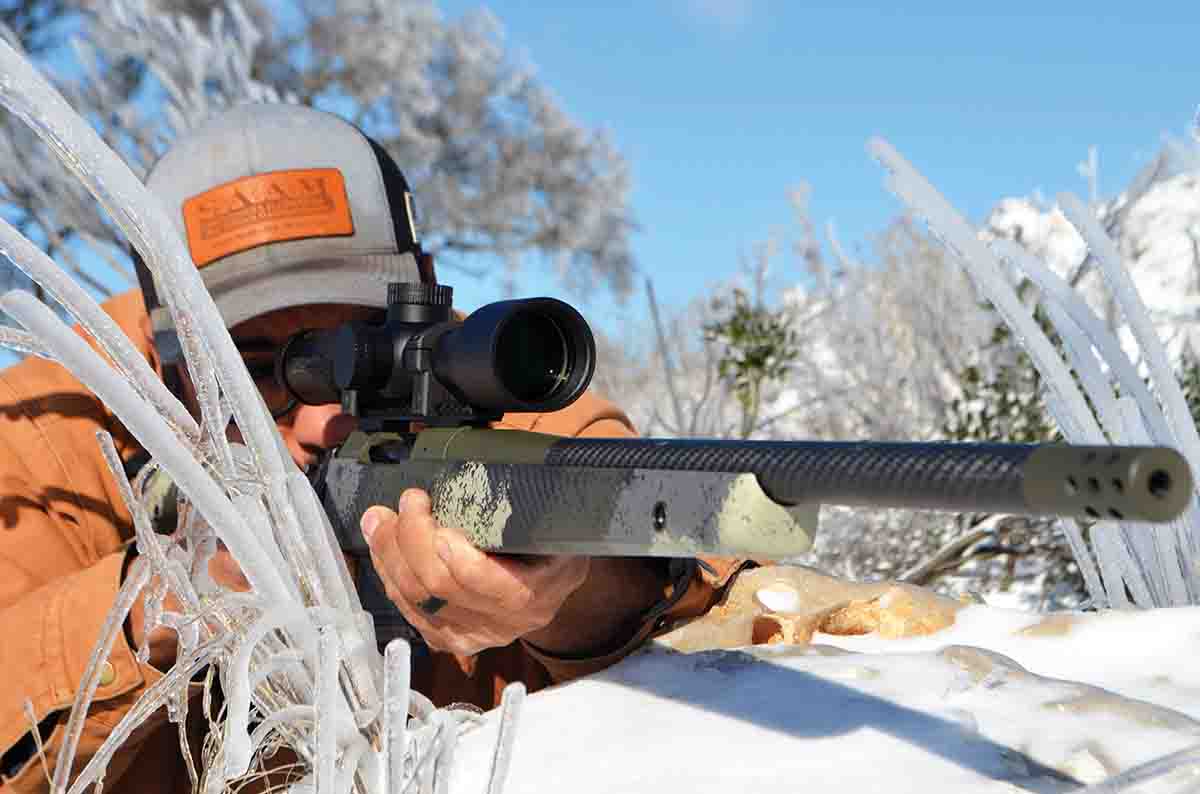 We did get in one good range session, however, on the second day, when we struggled up to the Silver Range to do some shooting with Efren's colleague, former Navy SEAL Dave Knesek. Most of the FTW's shooting positions are on hilltops, to allow shooting at plates on other distant hilltops. With the roads coated in snow and ice, not everything was accessible, but the Silver Range gave us plates out to 700 yards, which was more than enough.
Admittedly, a biting, gusting wind, blowing snow and temperatures below freezing are not ideal conditions for testing a rifle's exact accuracy capability. On the other hand, for a rifle intended for hunting as well as target shooting, which might be carried into the mountains and asked to perform under some pretty extreme conditions, it's ideal for seeing how the rifle actually works when times get tough.
Functionally, it was perfect. It fed cartridges and ejected cases smoothly; the bolt handle was easy and sure to grasp, which is no small thing in the bitter cold, and the AICS-pattern magazine loaded easily even with half-numb fingers and icy cartridges. The magazine slid in and out of the rifle with no difficulty and locked in place solidly – again, no small thing.
Efren and Dave took turns shooting, with one calling the range, giving the required scope adjustment and spotting the shot, while the other made the adjustments and pulled the trigger. We shot at ranges from 200 to 700 yards; the 700-yard plates are 9 and 15 inches in diameter. In terms of elevation, the GPO scope performed perfectly, with firm, accurate turret adjustments. Calling windage was trickier, but my recollection is that Dave and Efren missed very few shots, even on the small plates at 700 yards. With a couple of caveats, which I'll get to shortly, both spoke very highly of the rifle for its intended (hybrid) purpose.
Both were operating under a handicap, since they're accustomed to shooting with a bipod, and the rifle was not equipped with one. Springfield Armory advises that the stock accepts M-Lok accessories, so a bipod can be fitted easily. It also has five quick-detachable fittings on the stock to allow different sling configurations.
There was, however, a more serious problem with the stock: With the adjustable-comb model, the bolt cannot be removed from the rifle unless the comb is either removed or raised to almost its highest point to allow clearance underneath, and that requires an Allen key. This key is provided with the rifle, of course, but it means having to readjust the comb every time you remove the bolt.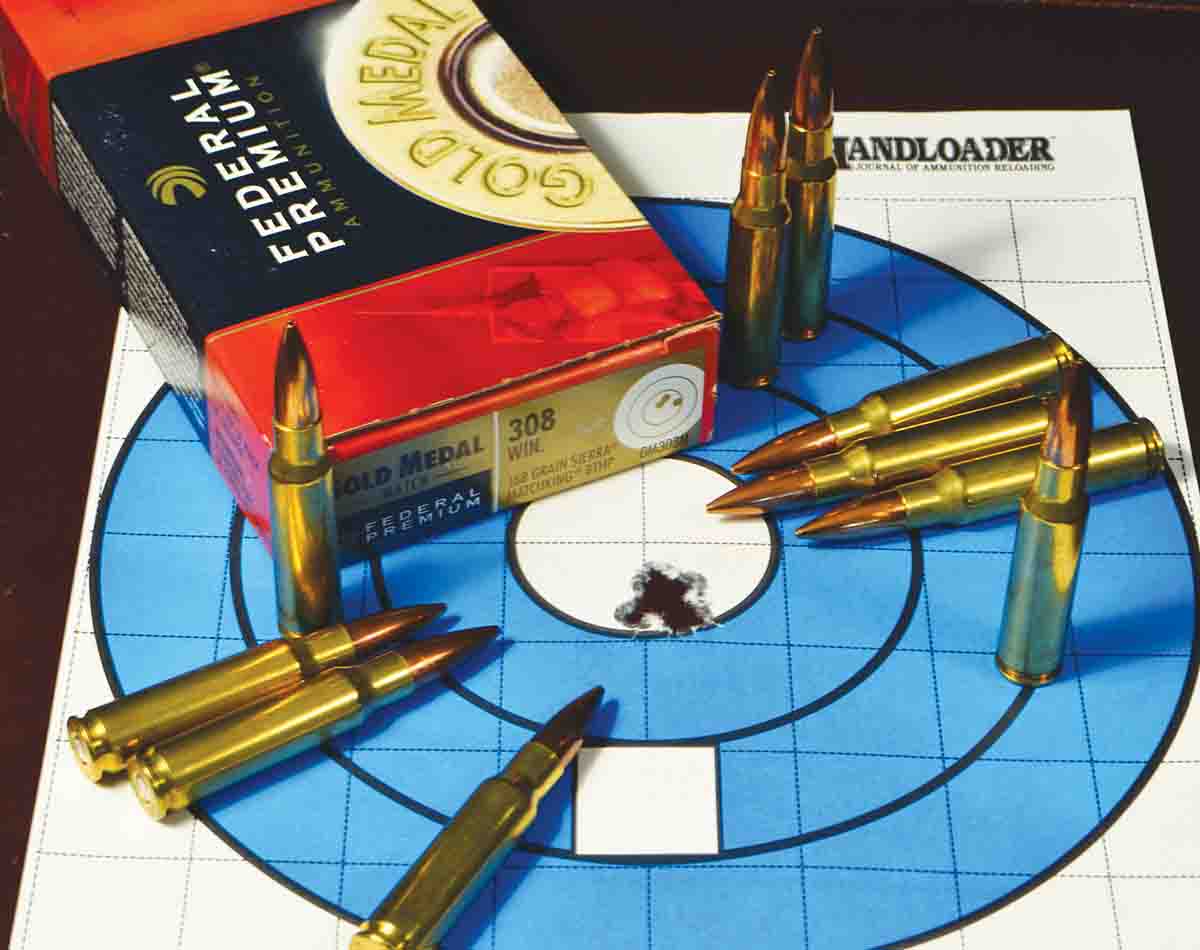 On the non-adjustable model, the nose of the comb is relieved to allow clearance. I have no idea why this is not done on the adjustable comb, since the company obviously recognized the problem. If I owned the rifle, I would take a Dremel tool to it until I could get the bolt in and out conveniently. Springfield Armory advised me they are going to draw this to the attention of the engineering department. I won't belabor the possibilities of finding yourself on a mountainside with a snow-clogged bore, no way to remove the bolt, and your trusty Allen key slipping out of your numb fingers into a snowdrift – assuming you brought it at all.
As regards the Waypoint's pure accuracy capability, I shot it with the three brands of match ammunition listed above. Having determined that it preferred Federal Gold Medal, I then conducted an experiment.
First, I shot a 10-shot group at 50 yards, which measured .462 inch. I noticed that the first shot was the highest of the 10, with the others clustered up against it to create one ragged hole. This was followed the next day by a 10-shot group at 100 yards. The first shot was again the highest, with the next four creating a five-shot group measuring .73 inch, and the next five printing progressively lower. The noticeable flyer that turned a 1.30-inch, nine-shot group into a 1.84-inch group was the tenth shot, which would never have been fired if I was doing a conventional average of three, three-shot groups.
This is, admittedly, unorthodox. Had I fired the first nine shots as three, three-shot groups, however, the average would have been well under Springfield Armory's accuracy guarantee of .75 MOA. So there is your, "Yes. Sort of."
This trait of always placing the first shot from a cold barrel slightly high occurred regardless of the brand of ammunition. The good thing about it is that it was consistent and predictable. Whether this is an idiosyncrasy of this one particular rifle is impossible to say. When we were shooting the rifle at the FTW, however, we were unaware of this and it had no effect on either our aim point or the targets we hit all the way out to 700 yards. I offer that bit of wisdom for what it's worth.
As a general rule, rifles in the Waypoint's class are intended to shoot factory ammunition rather than handloads. I expect that a skilled handloader could tailor a load for it that would be even better than the factory guarantee, and if I were using it as a hunting rifle, that's what I would do.
Speaking of which, the Waypoint is not a rifle I would choose to carry up a mountain, but it certainly has applications for stand hunters, especially where a shot might present itself at 300 or 350 yards.
Finally, in the 35 years I've been doing this stuff, I've used the term "boringly accurate" very seldom. The first time was on a SAKO 6mm PPC sporter and, most lately, on a pair of Montana Rifle Co. long-range rifles. I considered using it for the Waypoint, but there was just one difficulty: It's certainly accurate, but it's not at all boring.