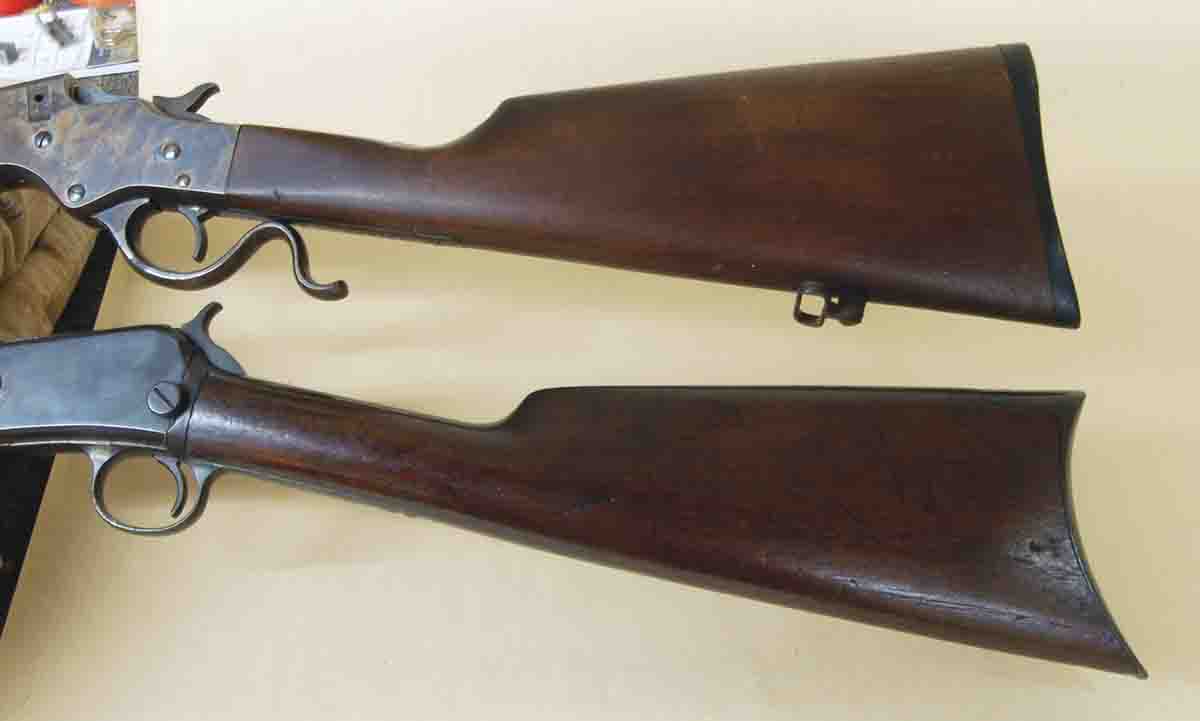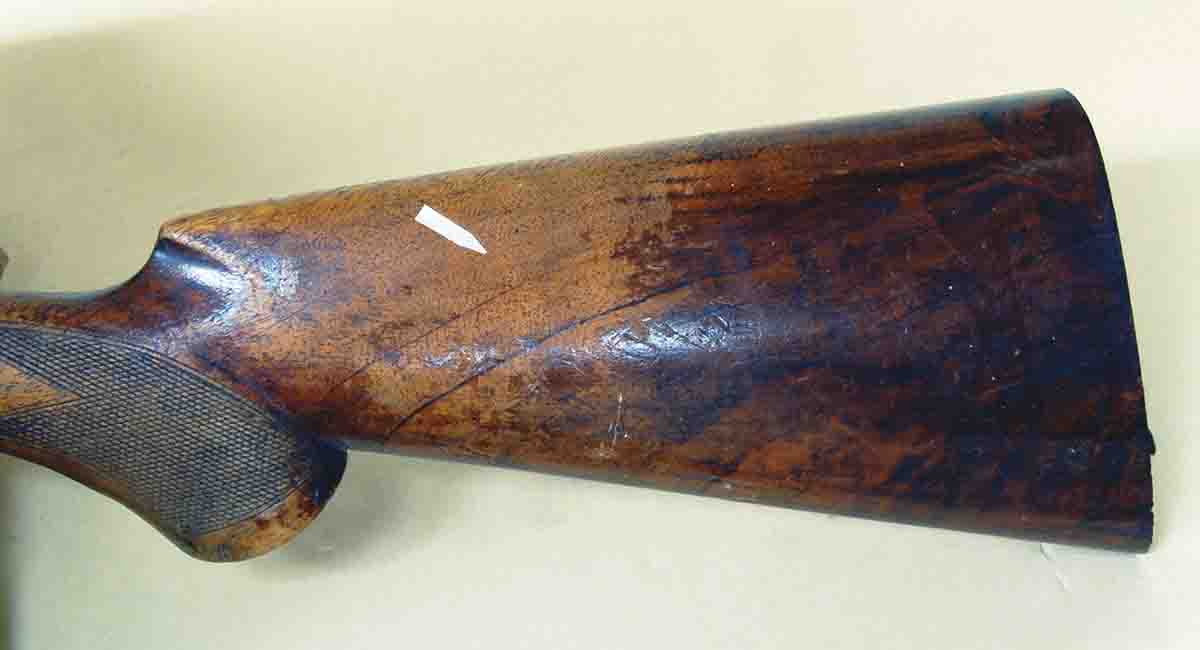 When considering gunsmithing projects that can be done in the home shop, the installation of scopes is probably the first to come to mind, followed by parts replacement and then stock repairs and refinishing. Near the end of the list will be cleaning, because it is generally not considered gunsmithing, even though a large number of failures to feed, fire and eject can be traced to dirt or brass shavings somewhere in the mechanism.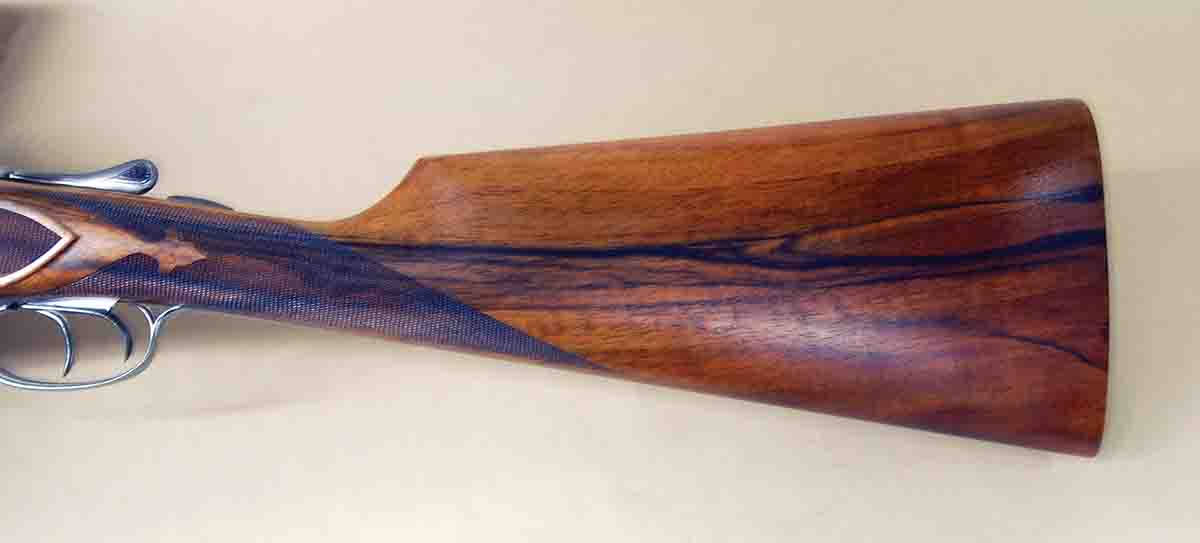 The topic here is related to cleaning, but not of metal parts. Some people will panic when they see mention of oil finished stocks, thinking we mean refinishing of pre-'64 M70s or some such. These folks can relax, as refinishing is not meant; no dents will be raised, no scratches sanded out. In fact, no abrasive paper of any kind will touch the wood.
Perhaps "restoring" as used in the title is not correct, since it indicates "making new" again. That is not going to be done. Maybe "reviving" is a better word as the dictionary gives us, "to bring back from a depressed, inactive or unused state." That's it exactly! What stocks would benefit from reviving? Literally any from the beginning of the cartridge era up to today that have had some type of oil-based finish applied, or the finish is gone and the wood has darkened with age.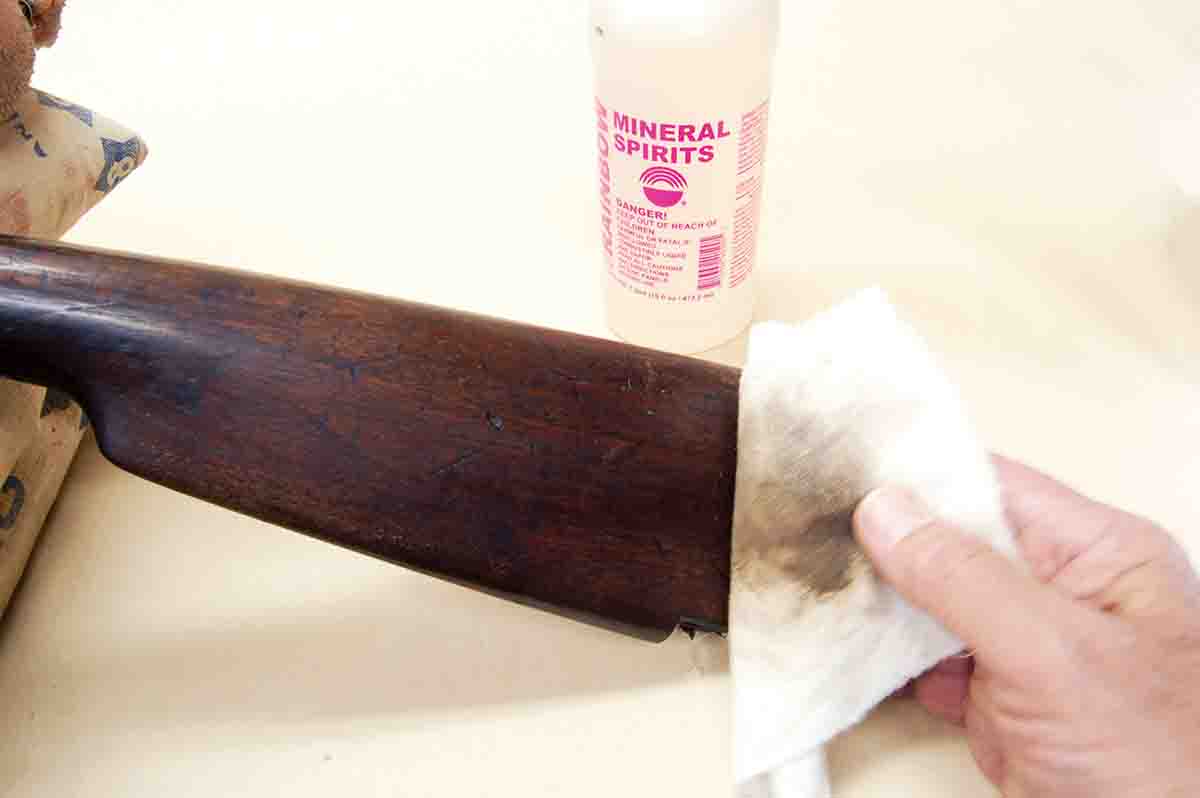 Determining if a stock will respond to the reviving process is not difficult. All finishes applied to stocks were also used for wood paneling, furniture, flooring and decorative objects. From the dawn of the cartridge age to the end of World War I, this was shellac, a natural resin secreted by insects and dissolved in denatured alcohol, or varnish, a resin consisting of fossilized or dried sap from various types of pine trees, originally cooked with linseed oil to make a liquid.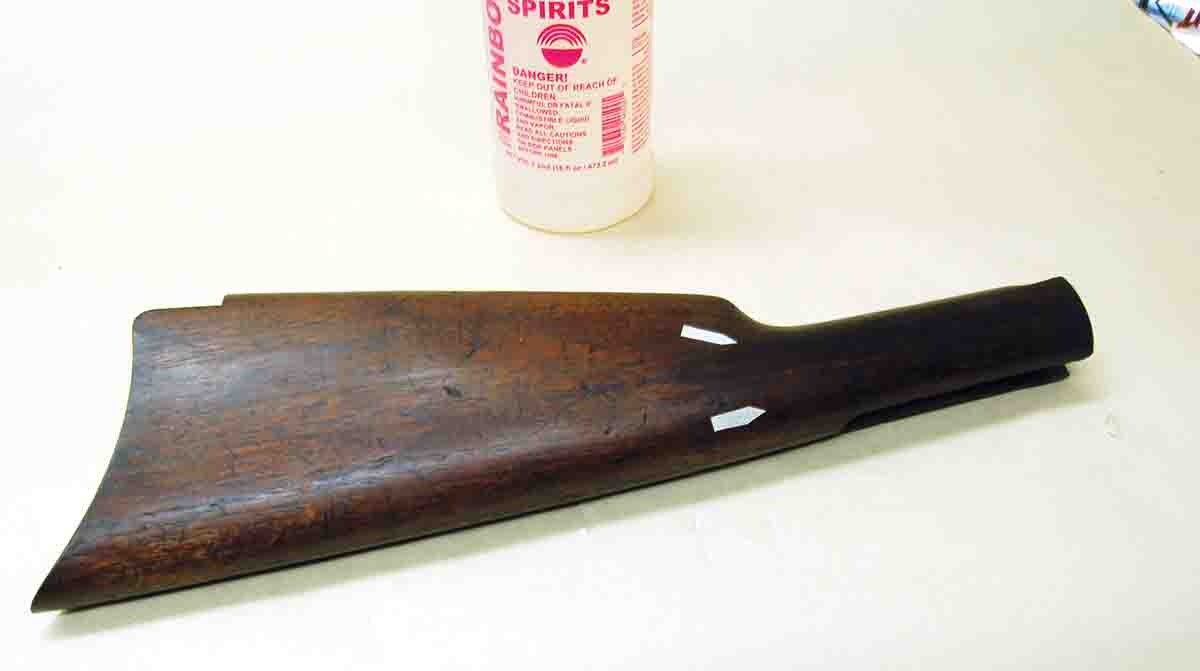 Shellac was a good furniture finish, but poor for gunstocks because many things soften or remove it and it doesn't resist the elements well. Varnish is much better. It can be built-up and rubbed out a bit, but hard use and exposure causes early varnishes to darken and just "go away." The wood also then darkens from handling. Linseed oil was seldom used on furniture, but often on stocks because it was cheap and available most everywhere. Basically, any gun made before World War I having a dark, dull, wood surface will respond to being revived.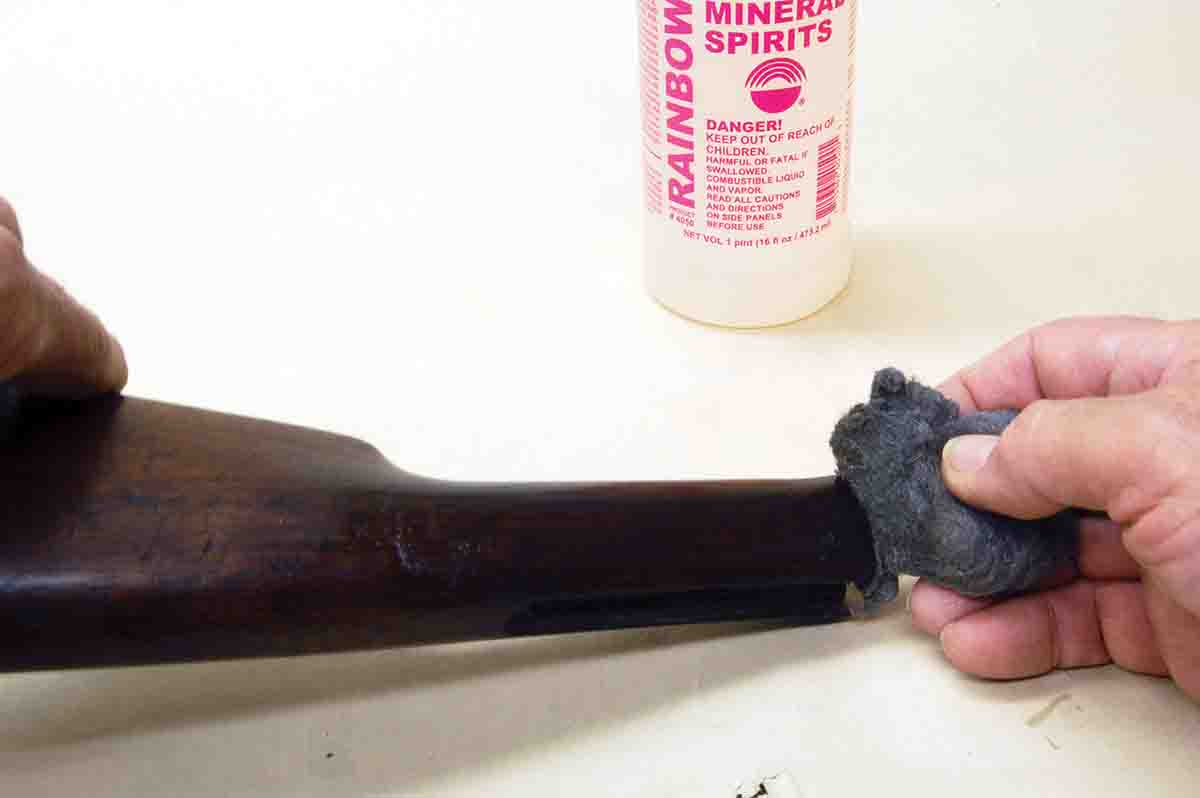 Lacquer became available as a wood finish in the 1920s. It quickly replaced all other finishes for furniture because it was simple to apply (sprayed-on) and it dried much faster than shellac or varnish. Colors could be added, thus eliminating the need for stain, and lacquer can be rubbed out to a high shine. Gunmakers latched onto lacquer with a death grip since stocks could be finished in a few hours.
Unfortunately, lacquer will flake off the wood surface if dented or exposed to serious moisture, but only some will fall off. The rest will remain tightly attached. The only way to remove it is with chemicals or sanding. However, the lacquer on many guns such as .22 rimfires was apparently so thin that it has all just flaked or worn off, leaving darkened wood behind that appears to be oil finished. Reviving will work perfectly.
The examples shown are a Stevens M414 target rifle from about 1922 and a Winchester M1890 pump with a serial number that dates at 1899. I don't know how the photos will reproduce, but the pump's stock is nearly solid black and the Stevens is very dark, with its grain almost invisible. References insist the Winchester was finished with shellac, yet the wood is dry with no finish present and no hint of refinishing. The Stevens also shows no sign of a built-up finish or refinishing.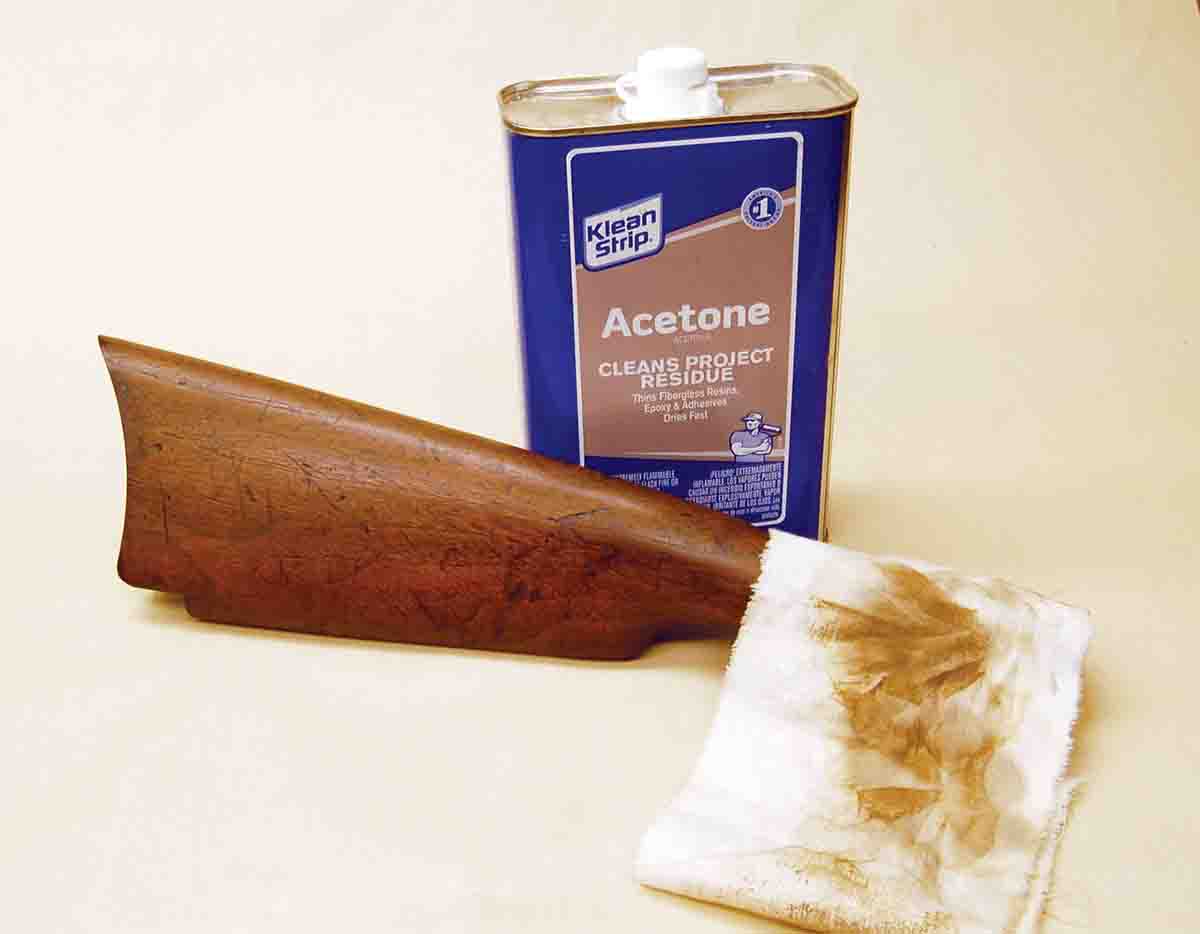 To begin work on the Winchester, the stock was removed and rubbed hard with a coarse rag soaked in mineral spirits. The cloth instantly turned black. After 10 minutes of soaking and rubbing, the grain of the wood could be seen, but the stock was still far too dark.
About one-fourth of a pad of No. 0000 steel wool was next and wetted with mineral spirits. Rubbing the wood now turned the steel wool black. Steel wool this fine won't remove any wood, though it probably roughs up the surface a bit on the microscopic level. It's usually needed because it breaks up surface gunk well – just work slowly. After a few minutes, the wood began to look like American walnut should look.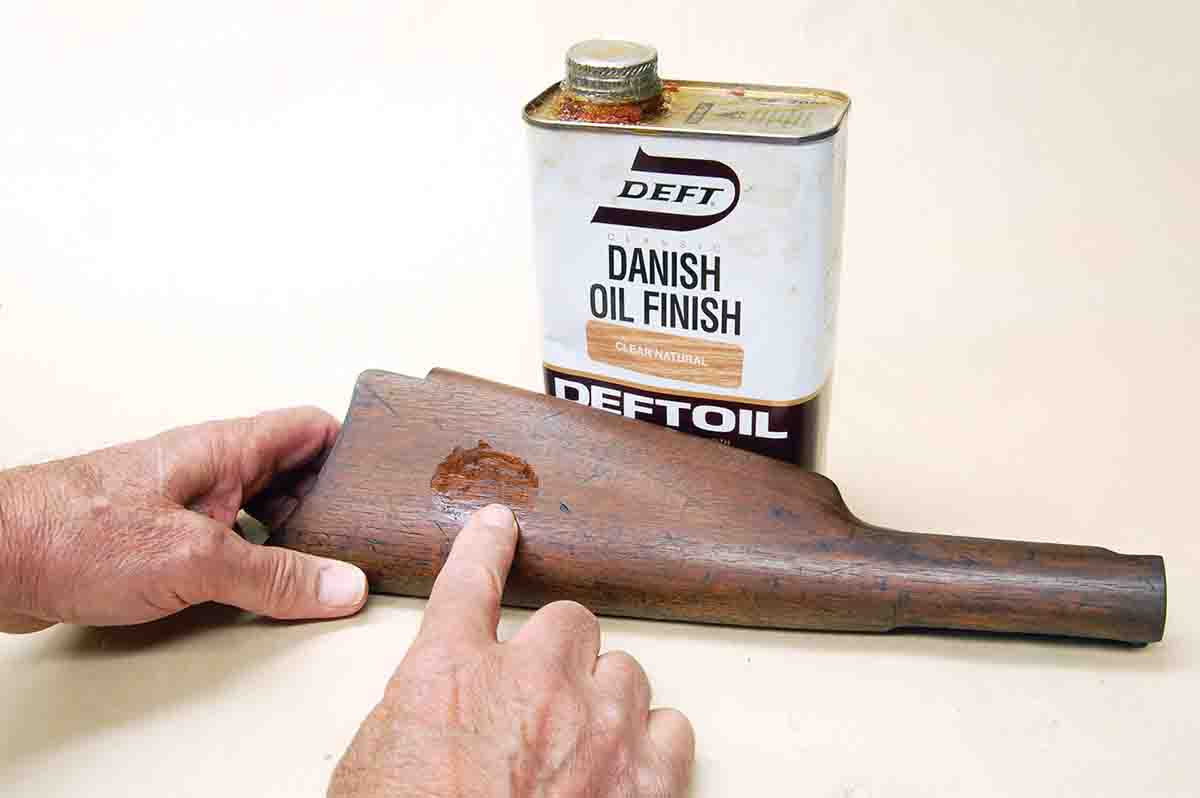 Eventually, the steel wool would remove no more discoloration. At that point, a rubbing with an acetone soaked rag removed a bit more. The wood was now as clean as possible.
Allowing the stock to stand overnight left a dry, dull surface. Because no sanding was done, some of the original finish was probably left in the wood so modern, water-based finishes will not adhere. I prefer one of the oil/varnish combinations because they give excellent resistance to moisture and dry to a satin finish if rubbed in. These come under brand names such as Watco Danish Oil, Minwax Antique Oil and Deft Danish Oil.
Applying the finish is easy. Put a couple of drops on the wood, spreading it around until it covers about two square inches. Let the surface stand wet for a minute or so to let the oil penetrate. Now rub the spot with your fingers in a circular motion until it becomes quite warm and dry. Go slowly. Rubbing is not done to make the finish penetrate, but to make it cure quickly and uniformly. When one area is complete, go to another. Don't worry about touching areas already covered, as that will harm nothing. When the entire stock is complete, take an old T-shirt and rub the stock hard. Try to wipe off all the finish! This is not possible, of course, but the surface should be dry and not sticky.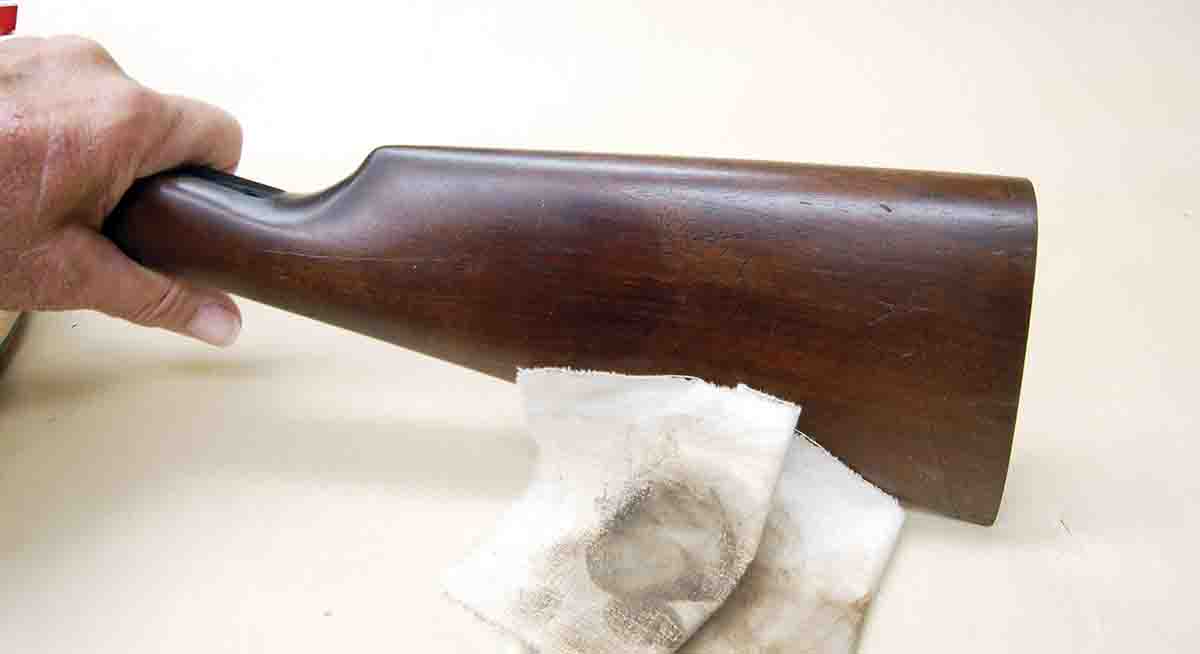 Set the stock aside for a couple of days. The wood will display a low luster, with perhaps a dull spot or two where the oil wasn't given enough time to soak in. Apply a second and third coat of finish exactly like the first. If more coats are applied, some of the oil/varnish finishes will become shiny. They can be easily dulled by rubbing with rottenstone applied dry to a hard felt pad available at any wood hobby shop. The other stock "revived" is from a Stevens M414 target rifle. It was picked because I have owned several Stevens .22 rimfires built on No. 44 actions. All had dark wood that seemed to have been finished with one coat of linseed oil. Many Savage M99 leverguns appear exactly the same.
Photos show a fair amount of grime removed by rubbing with a rag and mineral spirits. Steel wool was used on the grip and comb areas because they were darker than the rest of the stock. Applying two coats of finish as described previously, gave a dull sheen to the wood.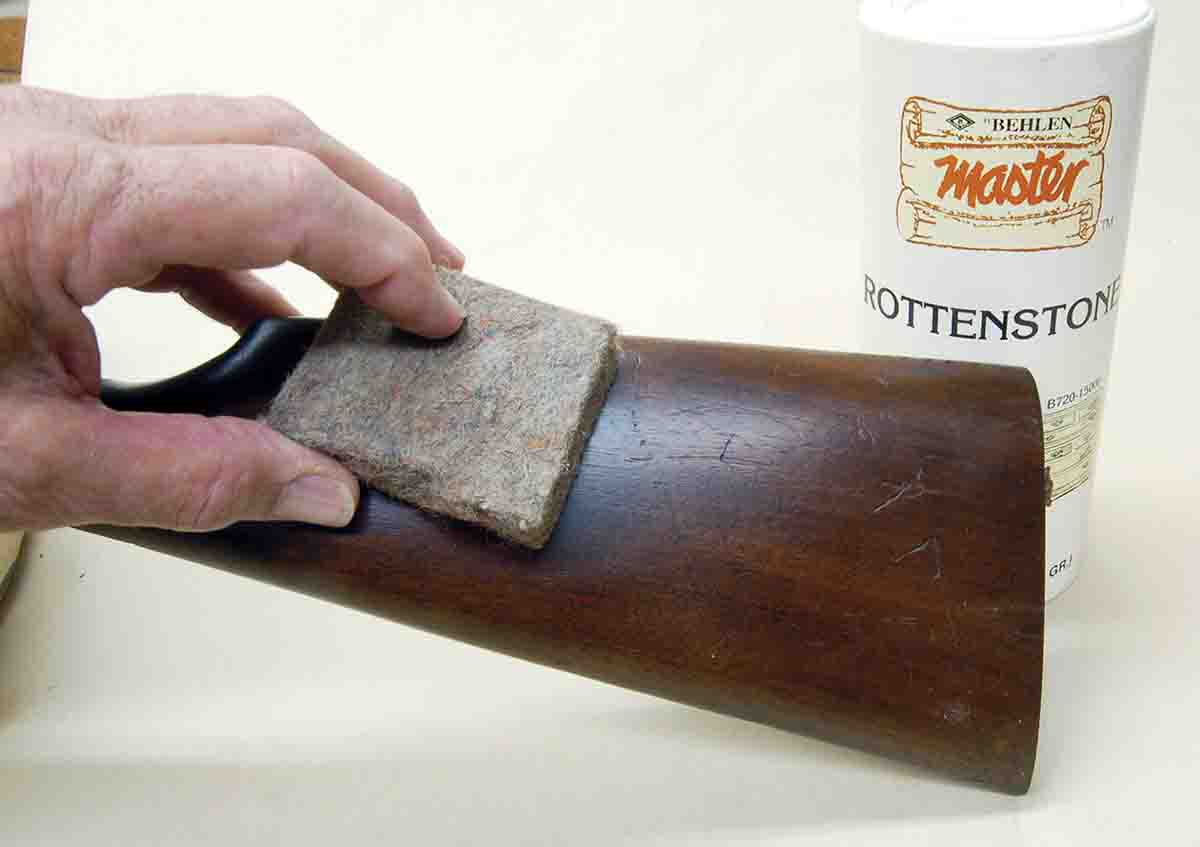 The advantage of reviving the finish on a stock in this manner is that it can be maintained forever in the same condition. A photo shows my A.H. Fox quail gun that was restocked 46 years ago. It is hunted hard every year, exposed to rain, mud, blood and dog slobber, as well as dings and brush scratches. At the end of every season, it is wiped with mineral spirits. Then a few drops of oil are rubbed in and wiped off. The stock looks about as good today as when new.
Reviving and maintaining an oil-based finish does involve a bit of work. Yet, the improved appearance and prevention of destructive sanding that almost always accompanies a refinishing job is worth the effort.