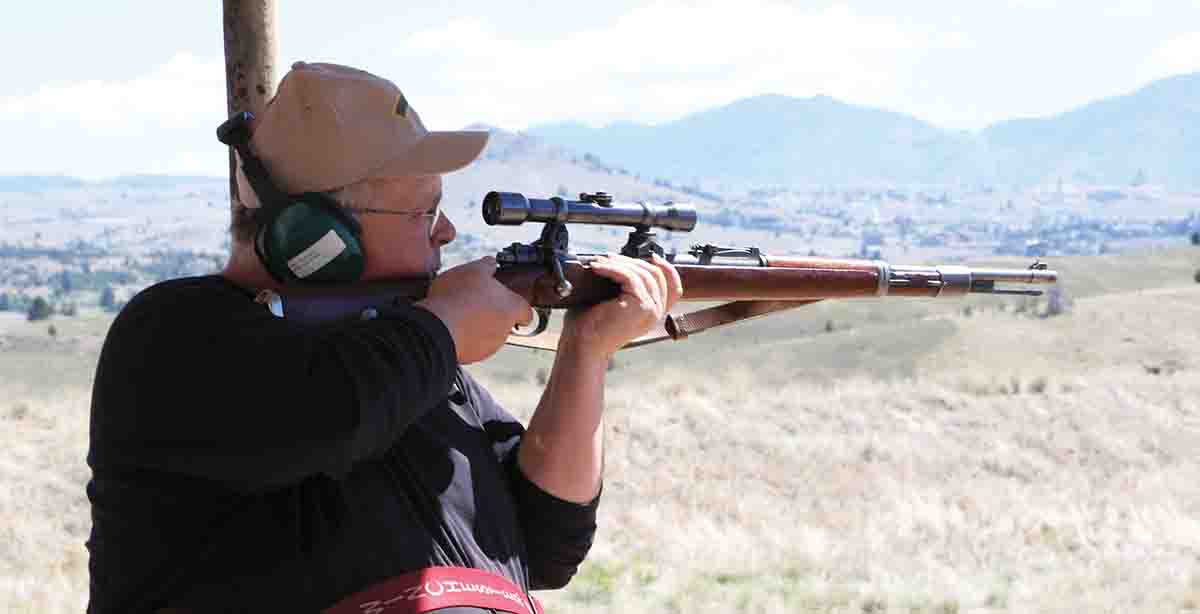 In the run-up to World War II, military planners in Germany expected a fast-moving mechanized war. They considered that a sniper firing one well-aimed round at a time was a holdover from trench warfare. On December 6, 1934, the German Army's High Command ordered all "Telescope Sight Rifles" to be turned in by the 15th of that month. There was no plan for their replacement (from
Sniper Variations of the German K98k Rifle
by Richard D. Law).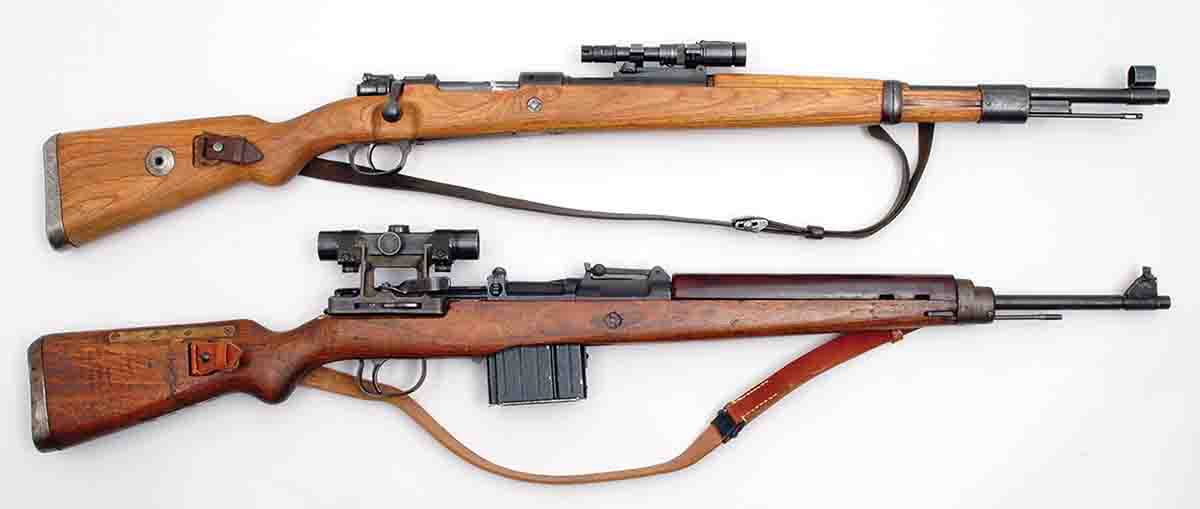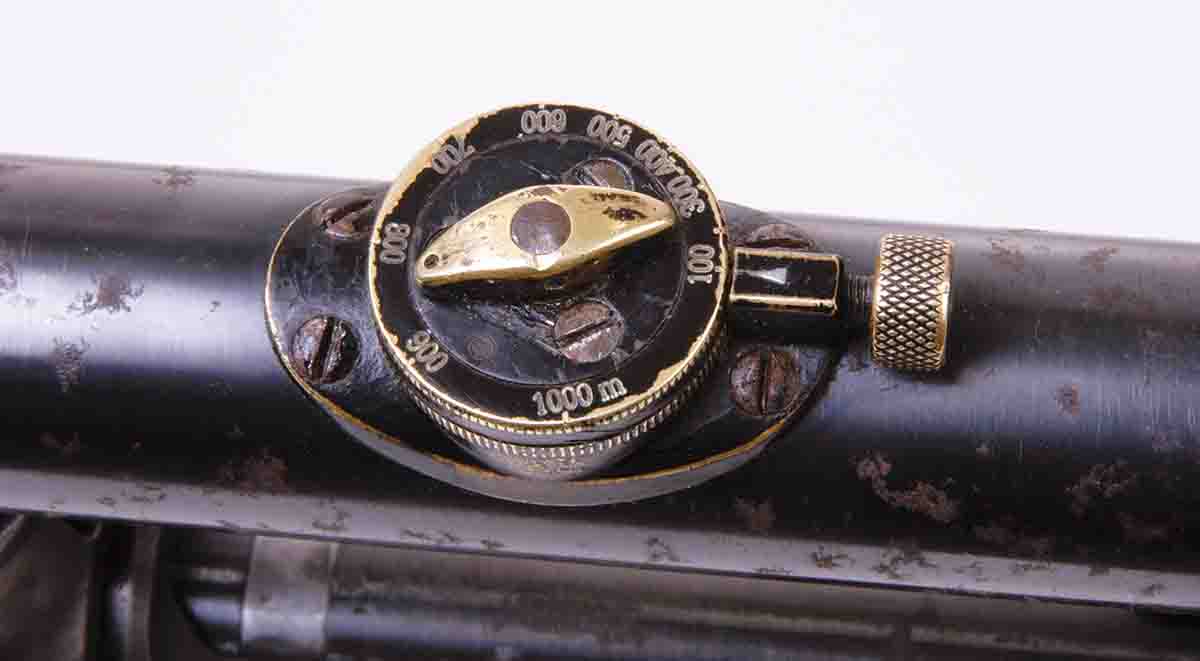 After World War II began with Germany's invasion of Poland on September 1, 1939, the German Wehrmacht began an about-face on the subject of sniper rifle usefulness. Then, after attacking the Soviet Union in June 1941, their about-face was completed because very quickly their troops encountered a host of trained Red Army snipers who wreaked havoc on German officers and NCOs. In essence, this opened the dam for a wide array of scopes and mounting system combinations lasting until war's end in May 1945. German ordnance put technical names on their sniper rifle scope/mount creations, but modern collectors have simplified the matter. Their terms for K98k sniper variants range from low turret, high turret, short side rail, long side rail, single claw, double claw and swept back, along with a few others.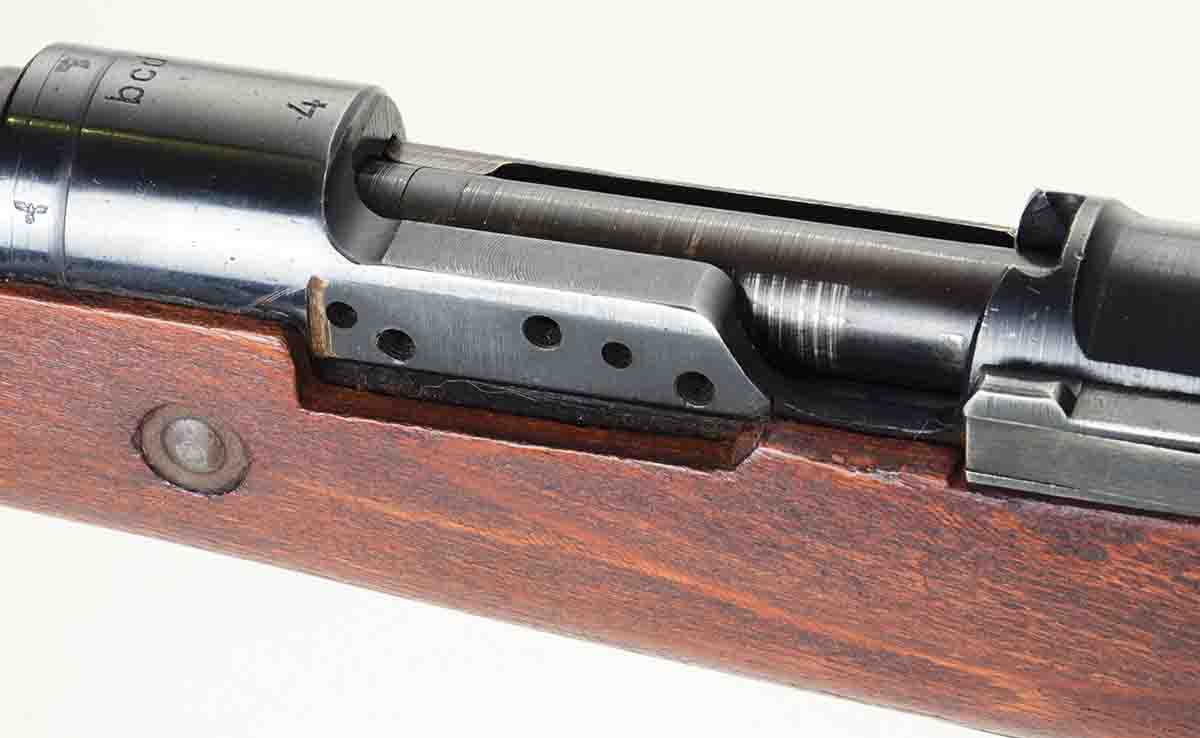 In the beginning of Germany's sniper rifle reboot, scopes were those available on the civilian market. Some of the better known scope manufacturers were Zeiss, Hensoldt, Kahles and Swarovski. Later, the German ordnance designed its own scope called the ZF4, which was produced by several companies. Collectively, these scopes ranged from 1.5x to 6x, with 4x being the most common.
Some German sniper rifles were built in military armories and others were put together by rifle manufacturers at their own facilities. The German military used codes for almost all equipment. Rifles were marked as to maker and year. For example, a rifle stamped "ce" and "42" on the front receiver ring was made by JP Sauer & Sohn in 1942. Additionally, if that rifle was converted for scope use at its factory, an additional stamping was added on the left side near serial numbers. For example, sniper rifles built by Sauer & Sohn received tiny "37" stamps. Early scopes originally intended for the commercial market will have makers' commercial legends, such as Zeiss Zielvier. Scopes later built on military orders will have codes instead of names. Zeiss became "blc."
This mishmash of codes, names and scope mount variations has resulted in a treasure trove of details for modern collectors to research. About the only thing constant with German sniper rifles is their cartridge, 7.92x57mm. Even then, German ordnance officers gave different criteria when zeroing sniper rifles with ammunition in brass cartridge cases versus loads using steel cases.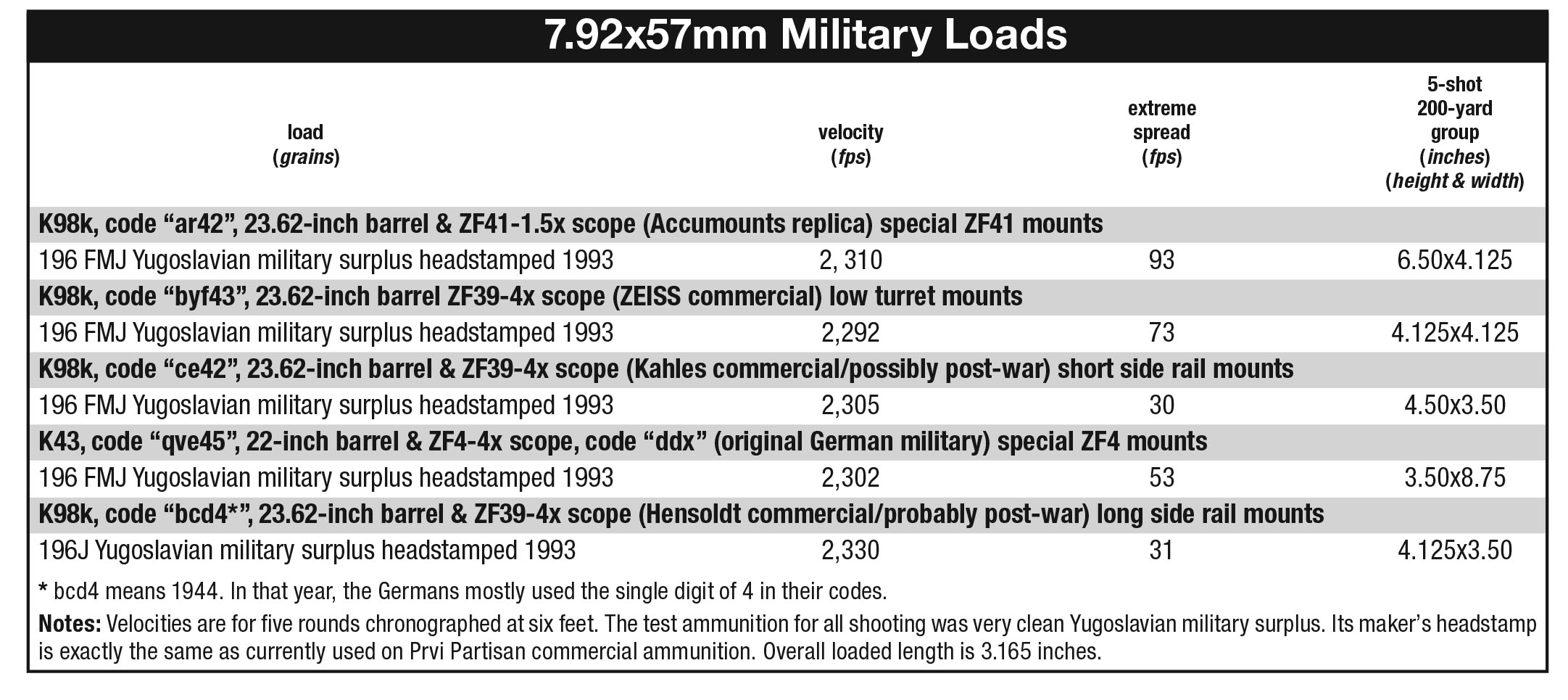 The vast bulk of German sniper rifles were built on the K98k bolt action. Between adoption in 1935 and war's end in 1945, about 10 million were made. Of those, only a small percentage ended up with scopes. Each one chosen for scope mounting was accuracy tested, first by human shooters at 100 meters from a benchrest. Late in the war, a Schiessmaschinen (machine rest) was developed in collaboration between the Zeiss and Mauser companies, which shortened sighting-in time and lessened ammunition quantities needed for the chore.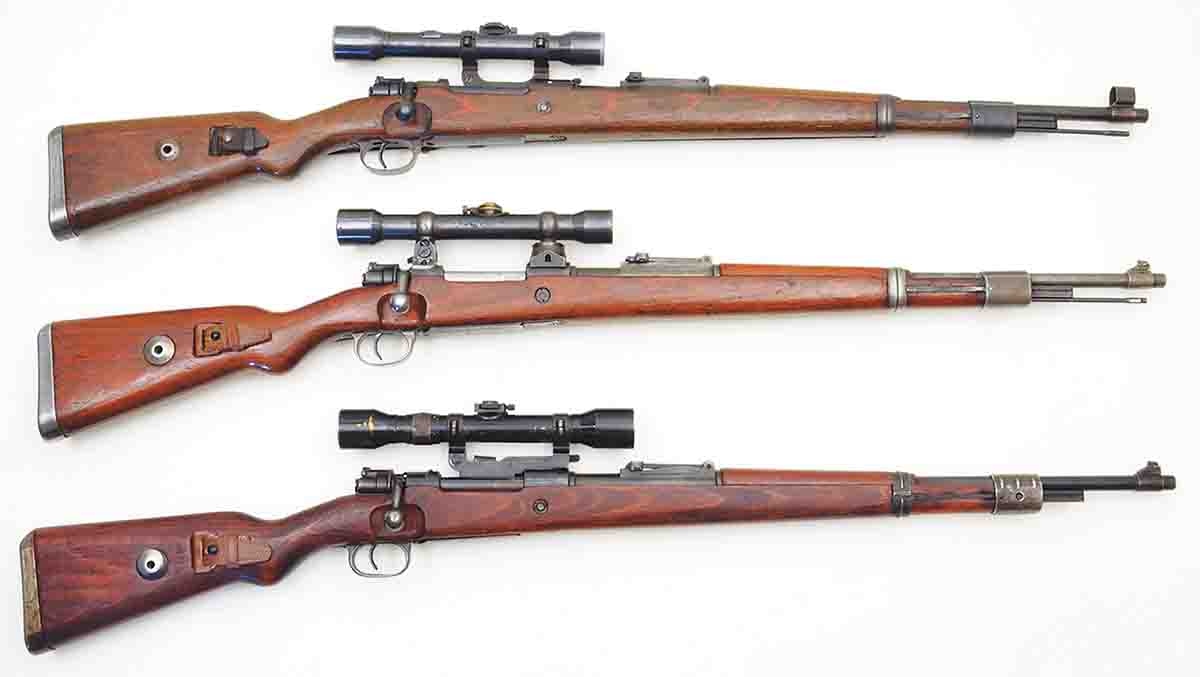 Precision standards that rifles had to pass before being accepted as sniper rifles are interesting and confusing. After visual inspection they were test-fired. Five rounds had to stay within a rectangle of 40mm by 80mm. Illustrations in Law's book shows the rectangle standing upright. Additionally, all five of those rounds had to land in a circle of 120mm in diameter. To modern sporting riflemen, those standards seem lax because 120mm is almost 5 inches.
By mid-war, Germany had developed its semiauto infantry rifle, first called the G43 (Gewehr 1943), but later renamed K43 (Karabiner 1943). These were intended to replace bolt actions as the standard infantry rifle, and also become the universal sniper rifle. Neither happened, as far from enough were produced to arm every infantryman, and field tests showed their inherent precision was not suitable for long-range sniping. However, almost all G/K43s were built with a rail to accept a quick detachable mount holding a short ZF4 scope.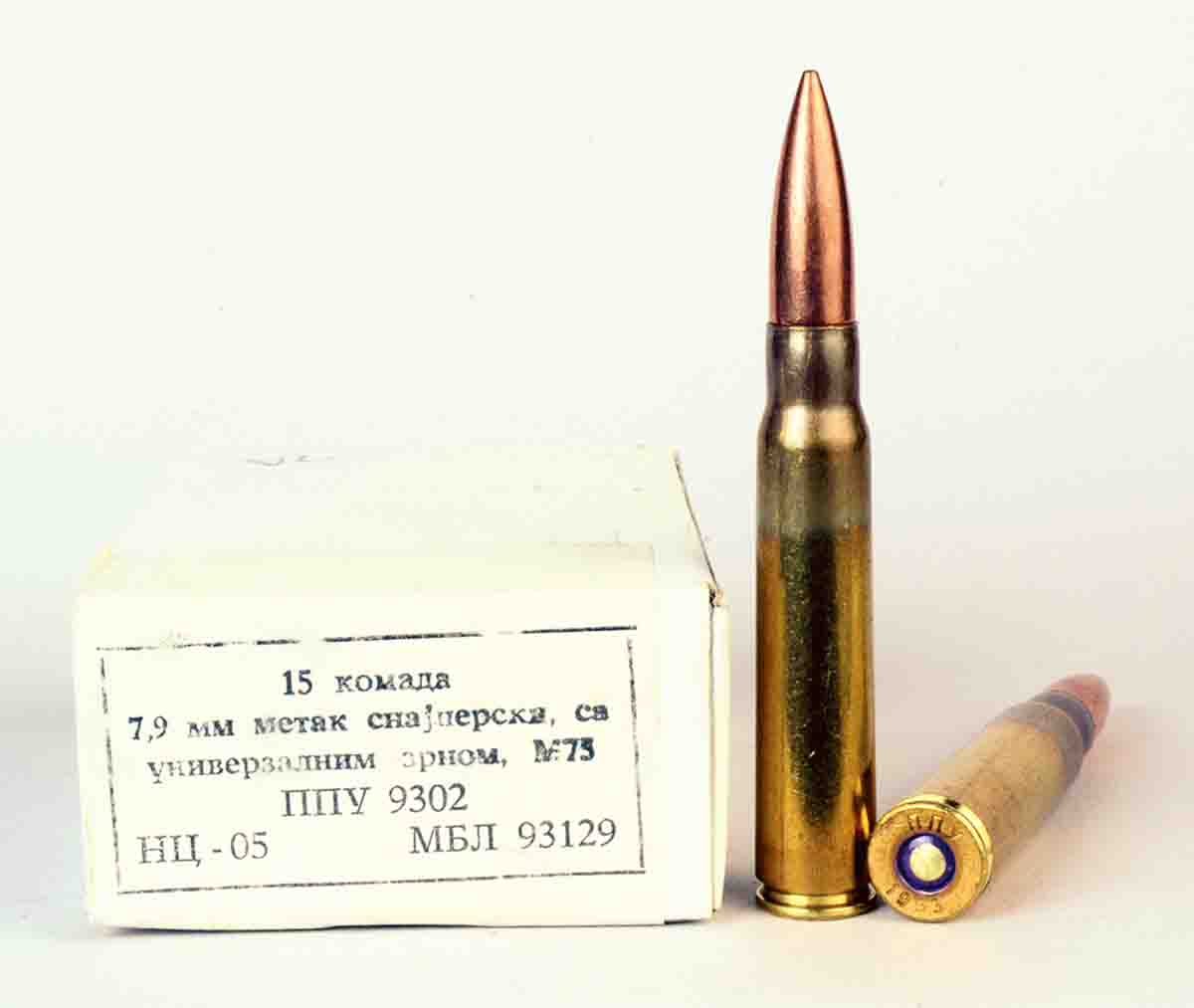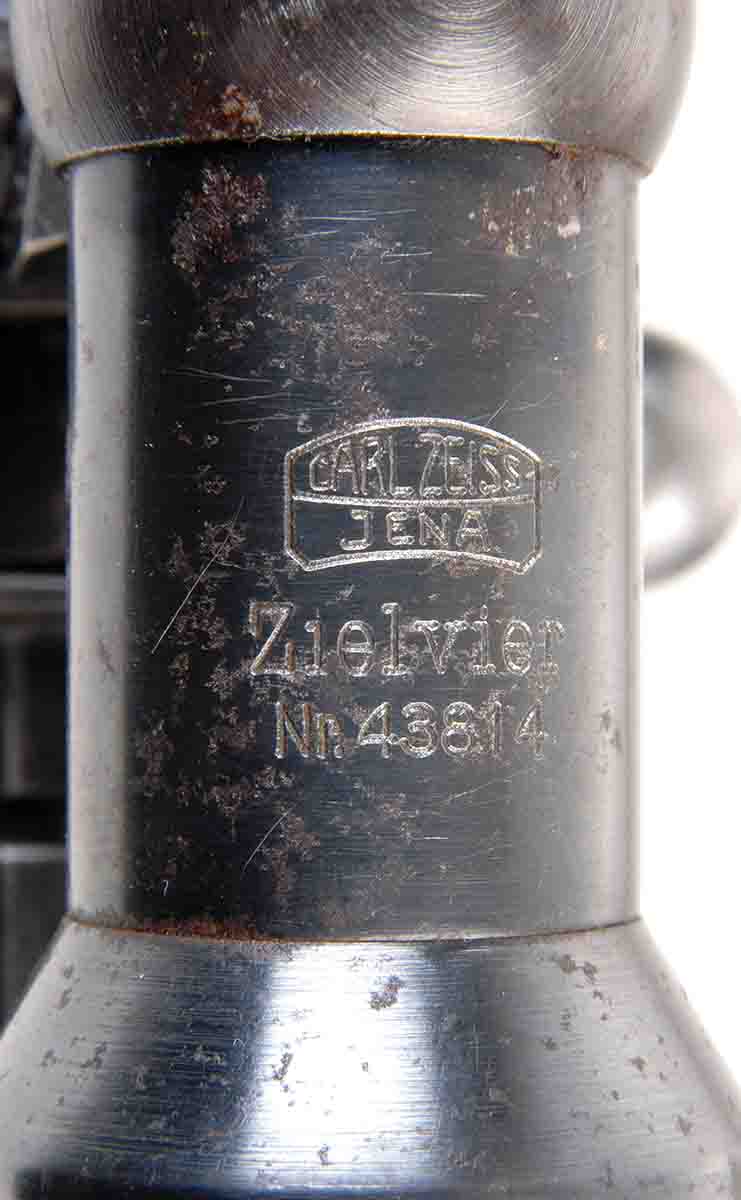 Before continuing, I need to provide a caveat. German sniper rifles are perhaps one of the most counterfeited firearms in history. A reasonably competent gunsmith can perform the work of turning a run of the mill K98k into a scoped sniper rifle. It is virtually impossible to identify well-done counterfeits, unless the rifle came with a soldier's
paybuch
(paybook), wherein his rifle's serial number is recorded. Additionally, these sniper rifles have been floating about for at least 75 years and have been used and abused on top of the wear and tear of their combat years. Damaged stocks have been replaced, and sometimes bolt numbers do not match rifle numbers because at final surrender, German troops were instructed to throw rifle bolts in one pile and rifles in another. Extremely few are still intact as issued.
As regular practice, scopes and mounts were serial numbered to the rifle. Built one at a time versus assembly lines, some mounts, even of the same model, cannot be interchanged. Also, some scopes made in post-war years by the same companies are so similar to those used during the war, that it takes a true expert to differentiate them. I am not that expert. Neither am I an expert on German sniper rifles. I consider myself a student of them, avid perhaps, but certainly not an accomplished one.
Over the past 15 years, with considerable searching and a bit of luck, I managed to add five German sniper rifles to my World War II collection. I want to stress here that they are "more or less" original. On mine, all rifle numbers match but scopes do not. Scopes on two, and maybe three, are not World War II original, which I'll explain shortly.
Rifle No. 1 is authentic because it is a ZF41/K98k as shown by serial number in Law's book. ZF41s are small, 1.5x scopes mounted alongside the rifle's rear sight. It was German ordnance's answer to demand for a squad marksman's rifle and initially was not meant for sniper use. However, it was forced into the job as a field expedient. The rifle's code is AR42 (Mauser at Borsigwalde 1942). The scope's code is "clb" which stands for Wohler Optische Fabrik of Kassel. Unfortunately for me, its optics are too dim for shooting. It was replaced by a replica scope complete with mounts from Accumounts (accumounts.com). That turned it into a fine shooter capable of about 1.5 MOA at 100 yards. However, due to low scope magnification, my groups run in the 5- to 6-inch range at 200 yards. ZF41 reticles are mounted on eccentrics. Instead of adjusting the reticle right/left or up/down, it moves in circles by inserting pins in two holes atop the scope. I burned up at least 100 rounds getting it sighted-in. Troops were ordered not to try scope adjustments themselves.
One day, a friend called from a pawn shop and told me there was a German sniper rifle on the rack. I asked, "What scope?" He said, "None, just mounts on the action." I hot-footed it to the store, saw it was a turret mounted K98k and nabbed it. Made into a sniper rifle by Mauser at Oberndorf, as proven by a tiny "135" on the mounts, the front mount covers the code and year, but the barrel is stamped "43." That was my sniper rifle No. 2.
My idea was to also turn to Accumounts for a replica scope and rings until discovering that to prevent fakery, the company's are made to different specs from originals. I was stymied until Yvonne said, "Try eBay." I laughed, thinking that was a long shot. In a matter of minutes I found exactly what was needed. It was a Zeiss Zielvier located in the Czech Republic. In the two weeks required for it to arrive, I worried constantly about whether it would fit. Turret mount rings are soldered to the scope, and as I said, most German sniper rifles were assembled individually. Then there was the question of low or high, with the latter being .650 inch taller. That was to allow rifle bolts to clear some larger scope bells. An interesting detail is that both low and high turret mounts have a "tunnel" so that K98k iron sights can be used.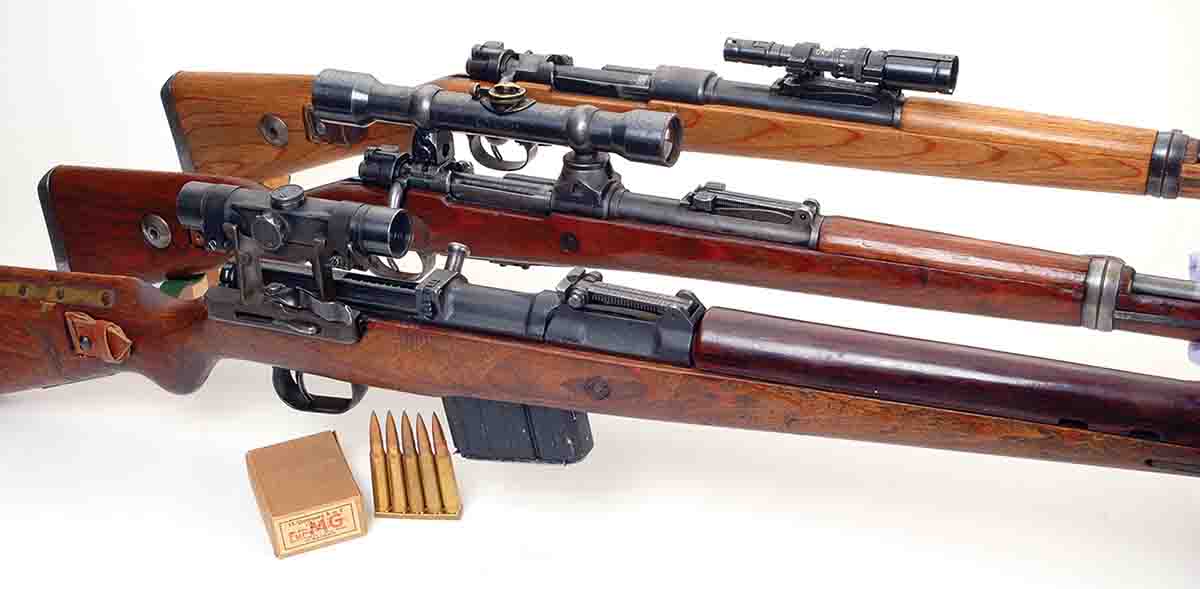 Luckily, the scope rings and my mounts fit together perfectly. I was in business and fired hundreds of rounds through that K98k for load development and fun. It is accurate with its pointed post reticle, and easy to zero. The scope elevation dial has incremental changes from 100 to 1,100 meters. Mine was never zeroed and so far, I've never bothered more than writing down settings for known distances at which I'm shooting. Windage is set by moving the rear rings in their mount. At a vintage sniper rifle match, I was doing well until something inside the scope broke. It was sent to Iron Sight Inc. of Tulsa (
ironsightinc.com
) and satisfactorily repaired.
My sniper rifle No. 3 almost makes me feel bad. Almost! I had begged a friend to sell me his short side rail K98k with a Kahles 4x scope for years. Then one morning, he called and asked if I still wanted it. His water well had developed problems. I was there in minutes with cash in hand. The rifle is coded "ce" (Sauer & Sohn) "42." I'm almost certain the scope is post-war because it seems too new to have been around for over 75 years. Oddly, it has only three elevation settings, with the lowest giving point of impact at 300 yards. Both long and short side rail scope mounts are adjustable for windage by screw adjustment in the rear ring. In the field, short side rail mounts on K98ks were prone to loosen with much firing, which is the reason why long side rail mounts were developed.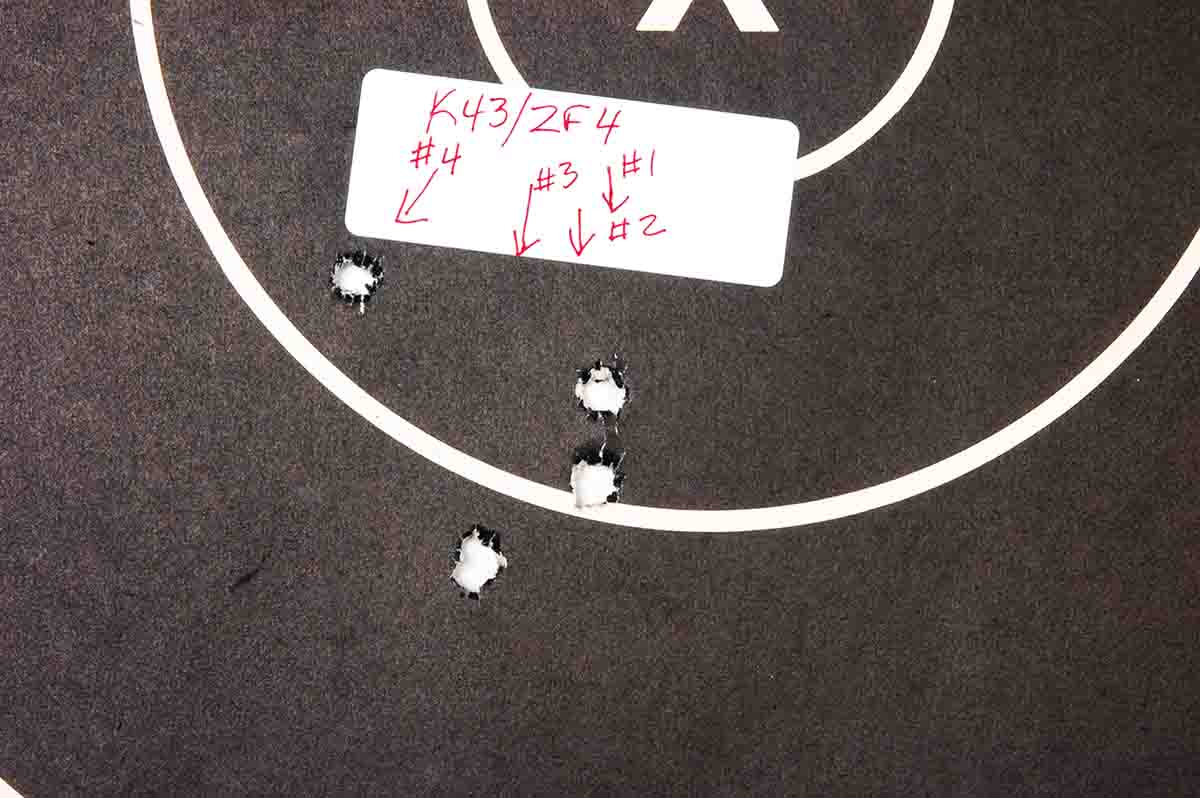 My sniper rifle No. 4 barely belongs in this group of rifles. It's one of the K43s on which I've mated a ZF4 scope not numbered to it. The good news is that if the rifle is fired twice, the scope detached and then reattached and fired two more rounds, the cluster is no larger than five consecutively-fired shots. The bad news is that 200-yard groups are in the 5- to 8-inch range. Therefore, trained German snipers considered the ZF4/G-K-43 a failure. My K43 is code stamped "qve" (Berliner-Lubecker Maschinenfabriken) "45," and the scope code is "ddx" (Voigtlander & Sohn AG).
A couple of years after my friend discovered my No. 2 sniper rifle, in the same pawn shop I found No. 5. Its stock had been shortened to just ahead of the barrel band, but I jumped on it because it was the "special" K98k, which was manufactured from the beginning to be a sniper rifle. That was done by thickening the left action side rails an eighth of an inch. Then those side rails were machined flat so a long side rail mount would have more metal bearing surface. Long side rail mounts are about an inch longer than the shorter versions. These special rifles were mostly built at Gustloff Werkes, but the idea was pioneered by JP Sauer & Sohn. Supposedly, they were made only in 1944. Mine has Gustloff Werkes' receiver code of "bcd" with only the number "4." Interestingly, these BCD4 K98ks were equipped with a checkered buttplate, unlike smooth ones on other K98ks. I saw only one such original buttplate sell on eBay for more than $900.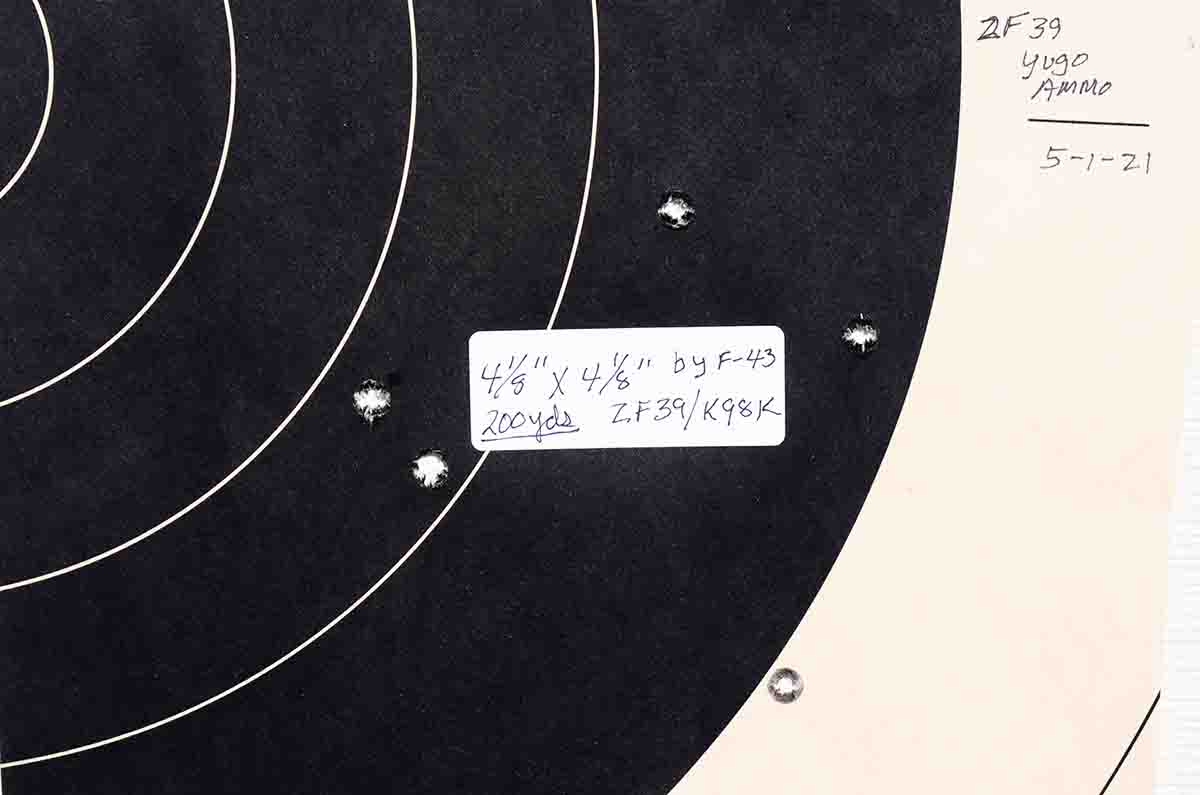 This K98k was found sans scope and mount. Along the way, a postwar 4X Hensoldt had fallen into my hands, so again I turned to Accumounts for a long side rail mount in order to turn this rifle into a shooter. The entire package was turned over to Rocky's Gun Works of Logan, Montana. Beyond fitting the long side rail mounts, Rocky even spliced a properly stained replacement piece into the stock's forend.
A few years ago, a friend gave me 180 very clean rounds of Yugoslavian-made 7.92x57mm military loads with 196-grain FMJ bullets. The headstamp dates them as 1993 production and also, that headstamp matches the one currently used on Prvi Partisan commercial brass. Those were about the closest I could come in enough quantity to original German World War II issue ammunition. To be honest, these rifles have shot better in the past with carefully assembled handloads, but German sniper rifles would not have had handloads, so I did chronograph and group shooting with all five rifles using this gifted ammunition. Also, 100 yards seemed short for accuracy testing sniper rifles, so groups were fired at 200 yards. The results are in the accompanying table.
Readers may find this interesting. When these five rifles were put into my vault about five years ago, they were all more or less zeroed and they had not been touched since. Yet, in doing this shooting, each one hit left on paper at 100 yards. I only adjusted scopes and/or mounts enough to get them on paper at 200 yards and then fired for groups.
Nowadays, military snipers are trained in extremely long-range shooting. These rifles and others in my collection show that wasn't the case in the 1940s. Rifles such as my five German samples are good for first shot hits to 300, perhaps 400 yards. Past that, I suspect luck was a huge factor.