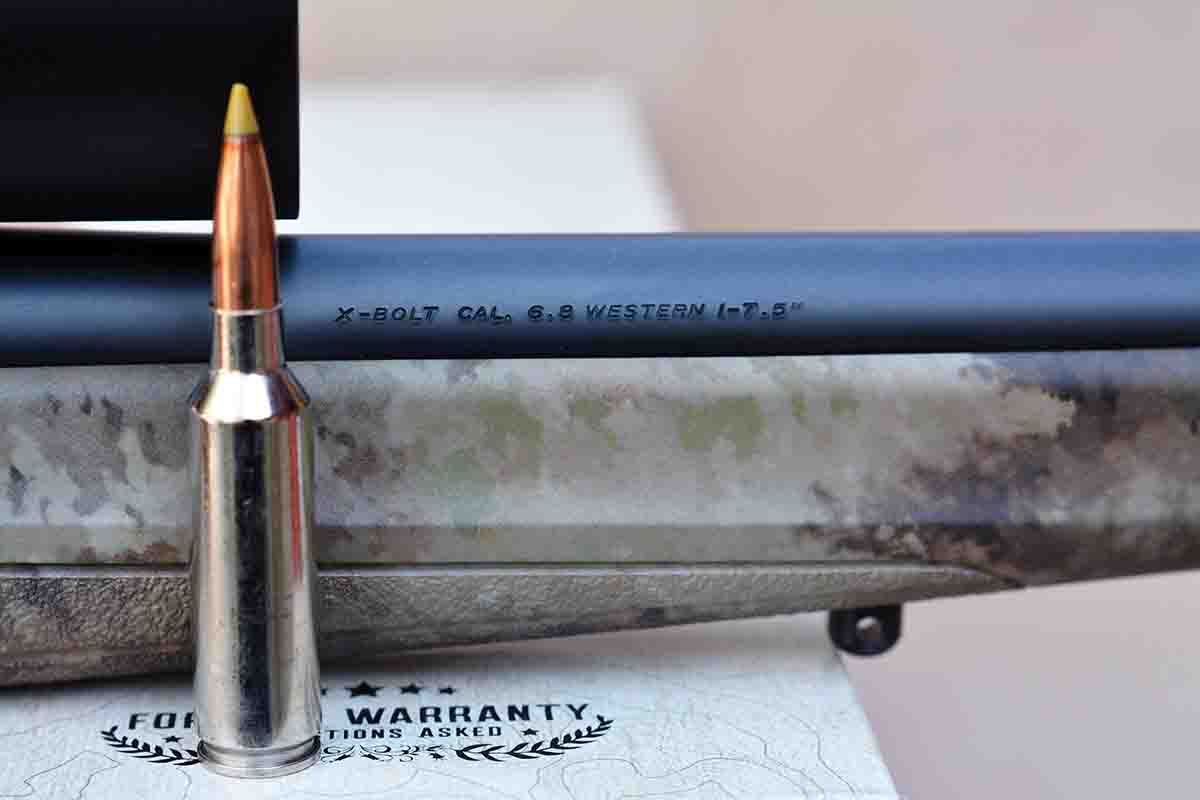 For many decades, the .270 Winchester was a top-selling sporting rifle cartridge that boasted of high velocity, flat trajectory, modest recoil, accuracy, respectable barrel life and good performance on deer-sized game. However, due to new cartridge and bullet developments that have been engineered to extend the definition of long range, it's popularity has begun to wane. Winchester has responded with a new cartridge known as the 6.8 Western that shares the same .277-inch diameter bullets as the .270; however, it is designed specifically to accommodate modern long-range shooting. It is truly impressive, as it can launch heavy-for-caliber bullets with especially high ballistic coefficients (BC) and low drag at the targeted velocities of just under 3,000 feet per second (fps). It is just as modern as the original .270 Winchester was 96 years ago, and demand is already high.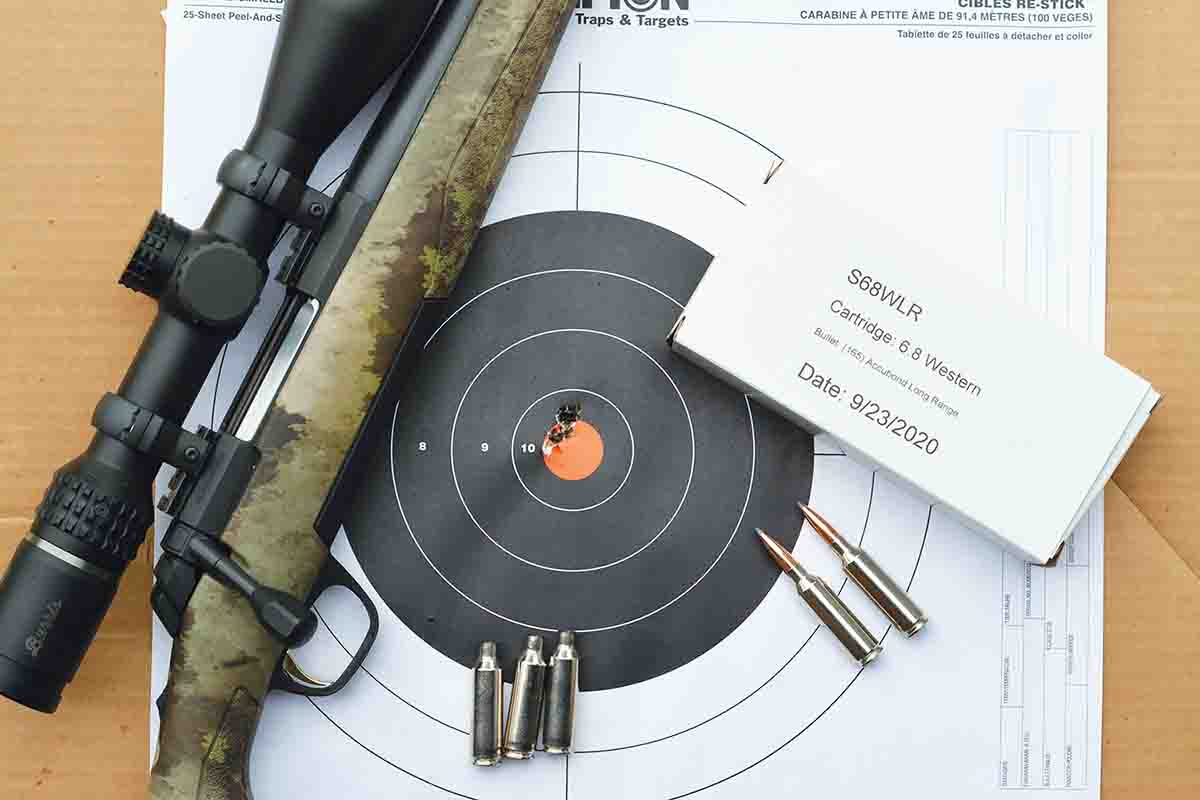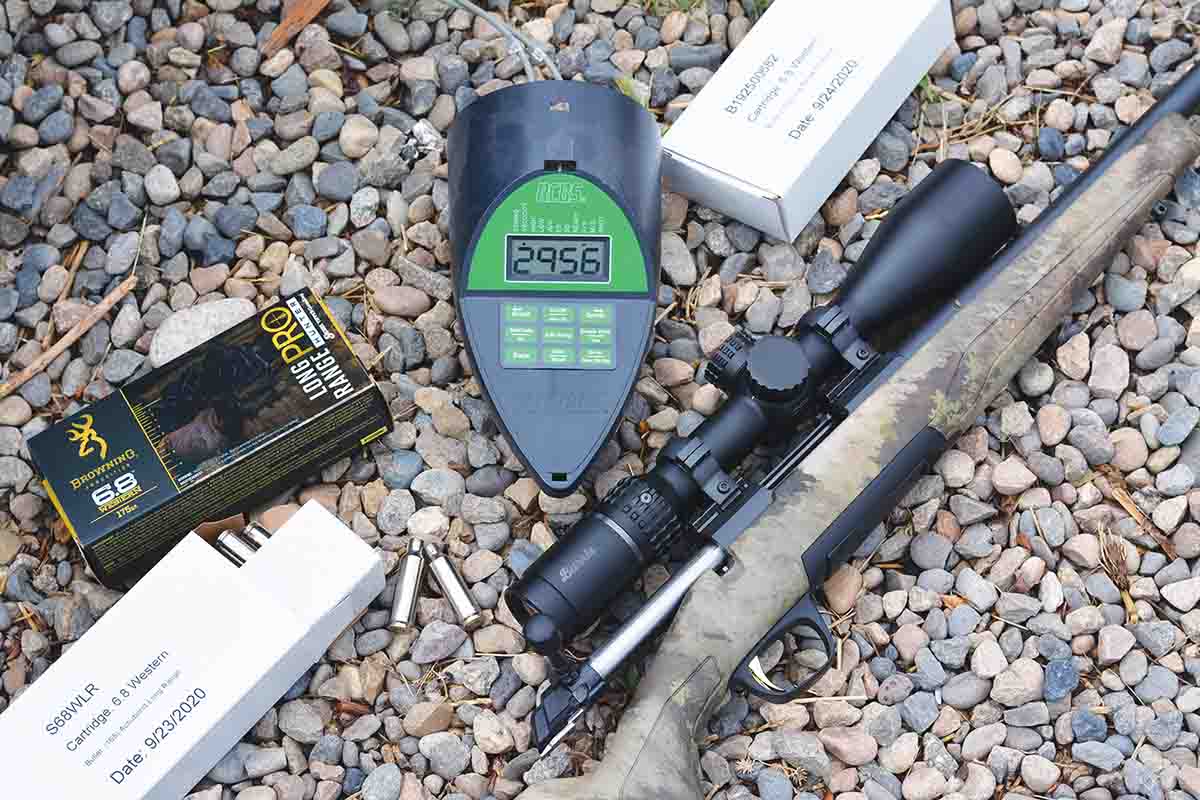 Before discussing performance details of the 6.8 Western, it seems prudent to discuss the history of cartridges that utilized .277-inch bullets, and why this caliber is now being renewed. Winchester Repeating Arms Company developed the .270 Winchester (.270 W.C.F.) in 1923, but waited until 1925 to formally introduce it in its Model 54 rifle. It was based on the .30-03 case (.046 inch longer than the .30-06) necked down to accept .277-inch bullets. Technically speaking, it is a 7mm, as .277-inch bullets are 7.04mm; however, the bore diameter is 6.86mm. Period loads were listed with a 130-grain bullet at 3,160 feet per second (fps), which was indeed optimistic, while additional loads soon appeared with a 150-grain bullet at 2,770 fps, which has now been increased in velocity. As an interesting sidenote, most of the early .270 rifles, including the Winchester Model 54 and Model 70, were outfitted with open, iron sights and were not drilled and tapped for scope mounting. At least until the 1960s, it was unusual to see rifles outfitted with a scope sight, but I digress.

Period outdoor writers, including the notable Townsend Whelen and Elmer Keith, praised the .270 for its flat trajectory, modest recoil and reliable performance on deer-sized game. For example, in his 1936 book Big Game Rifles, Keith stated "The .270 Winchester…is a very good cartridge for all our lighter big game." He continued: "When it is restricted to game that really comes under its power, it is a fine cartridge indeed. Many hunters swear by it for elk and moose shooting, but I have noticed that they are nearly all very experienced old hunters, who possess the skill and patience to properly place their shot or else not shoot." The .270 was most praised and popularized by Outdoor Life writer Jack O'Connor, who hunted the world with his customized Winchester Model 70 Featherweight rifle (and other rifles) and accounted for considerable game.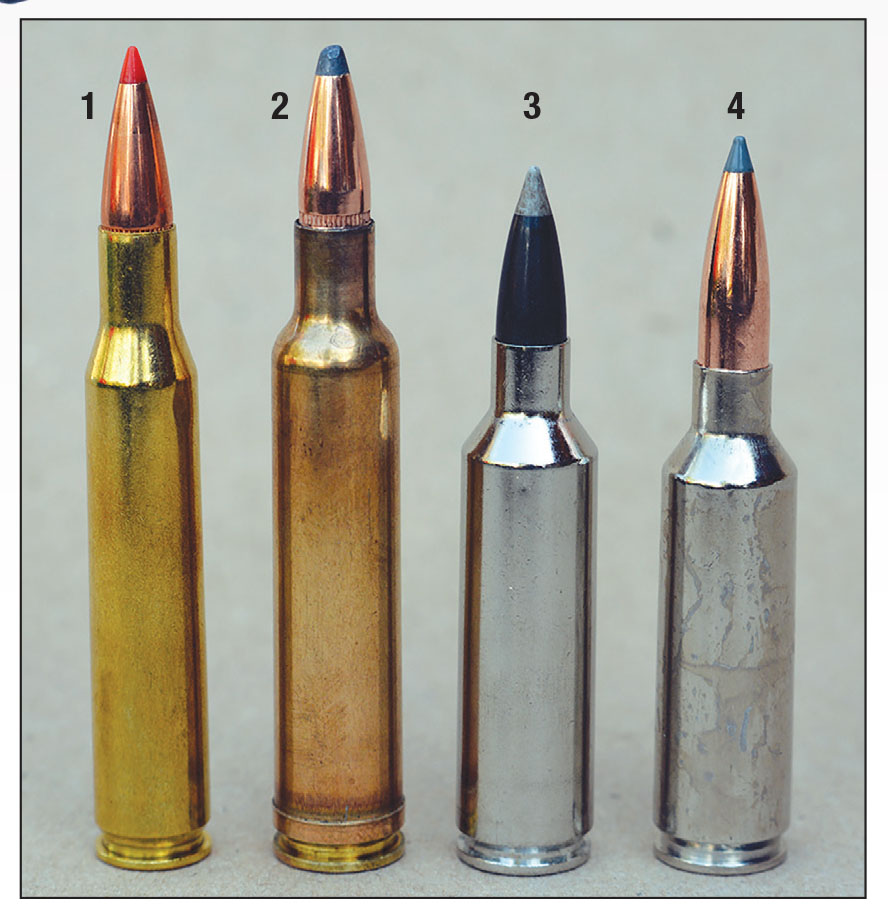 During World War II, Roy Weatherby developed the .270 Weatherby Magnum, which utilized .277-inch bullets and was based on a shortened and blown out .300 H&H Magnum case for a notable powder capacity increase over the .270 Winchester. It was capable of pushing a 130-grain bullet between 3,300 fps to 3,400 fps (depending on bullet design) or a 150 grain around 3,250 fps. Due to its high velocities, it offered an especially flat trajectory at any normal hunting distance and became one of Weatherby's best-selling cartridges.
With the introduction of the .300 Winchester Short Magnum (WSM) in 2001 and its quick acceptance among hunters wanting a short action (.308 Winchester length) rifle with magnum performance, Winchester introduced the .270 WSM in 2002. I was present when the discussion and decision was made to offer the .270 WSM. I encouraged Winchester to increase the barrel twist rate (along with other technical case and chamber design features), but my ideas fell on deaf ears. Nonetheless, the .270 WSM is a great hunting cartridge that typically pushes 130-grain bullets at 3,275 fps, or 150-grain bullets at 3,120 fps, which is more than a 200-fps velocity advantage over the .270 Winchester when loaded with identical bullets. While it has become popular, it has not dethroned the original .270 Winchester's popularity.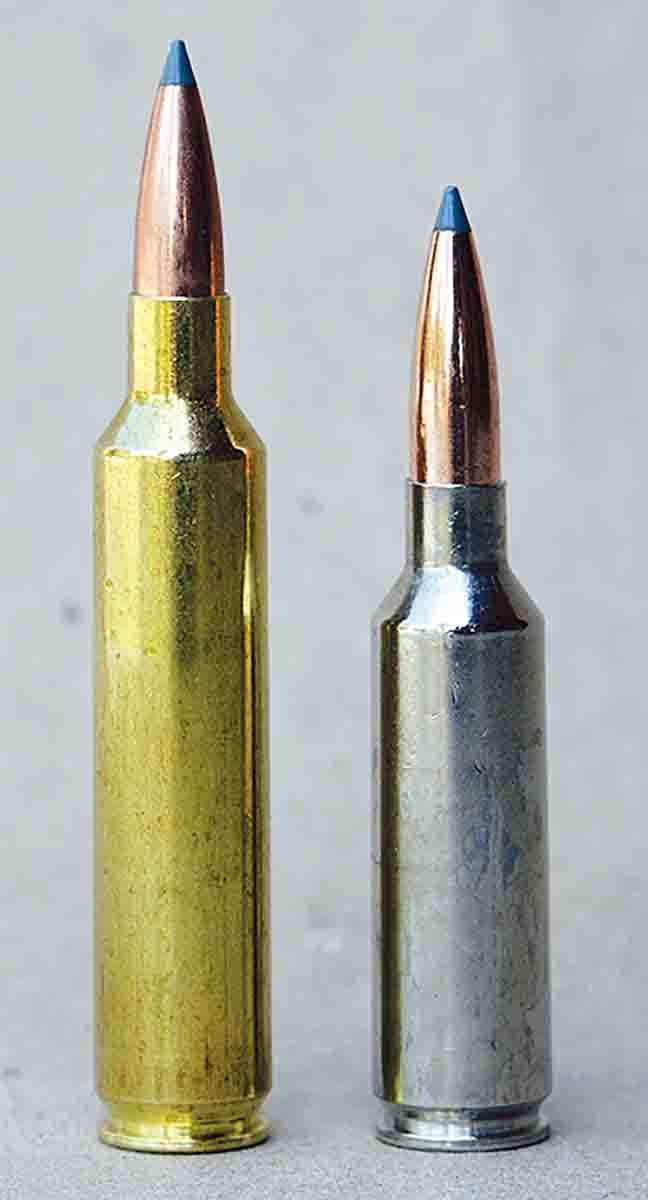 The above three .270 cartridges all feature a 1:10 barrel twist as standard, with almost all rifle manufacturers, with exceptions being Mannlicher-Schöenauer with a 1:9 twist and Husqvarna with a 1:9.5 twist. The 1:10 twist generally works well with bullets that typically range from 90 to 150 grains (and select 160-grain bullets) at previously "traditional" long-range distances that are typically well inside 500 yards. However, even the sleekest 150- grain bullets with the highest BCs are low when compared with trending cartridges and calibers, and explains why .277s have largely been ignored with modern long-range shooters.
Technology has changed shooting. For instance, most modern long-range shooters desire long, heavy-for-caliber bullets with high BCs that will stabilize with a fast twist barrel. Such bullets serve to better buck the wind and retain higher downrange velocities. Many bullets, but not all, that push the envelope in terms of length and high BC, may not stabilize at higher velocities. As a result, maximum velocities are often held to around 2,900 to 3,100 fps.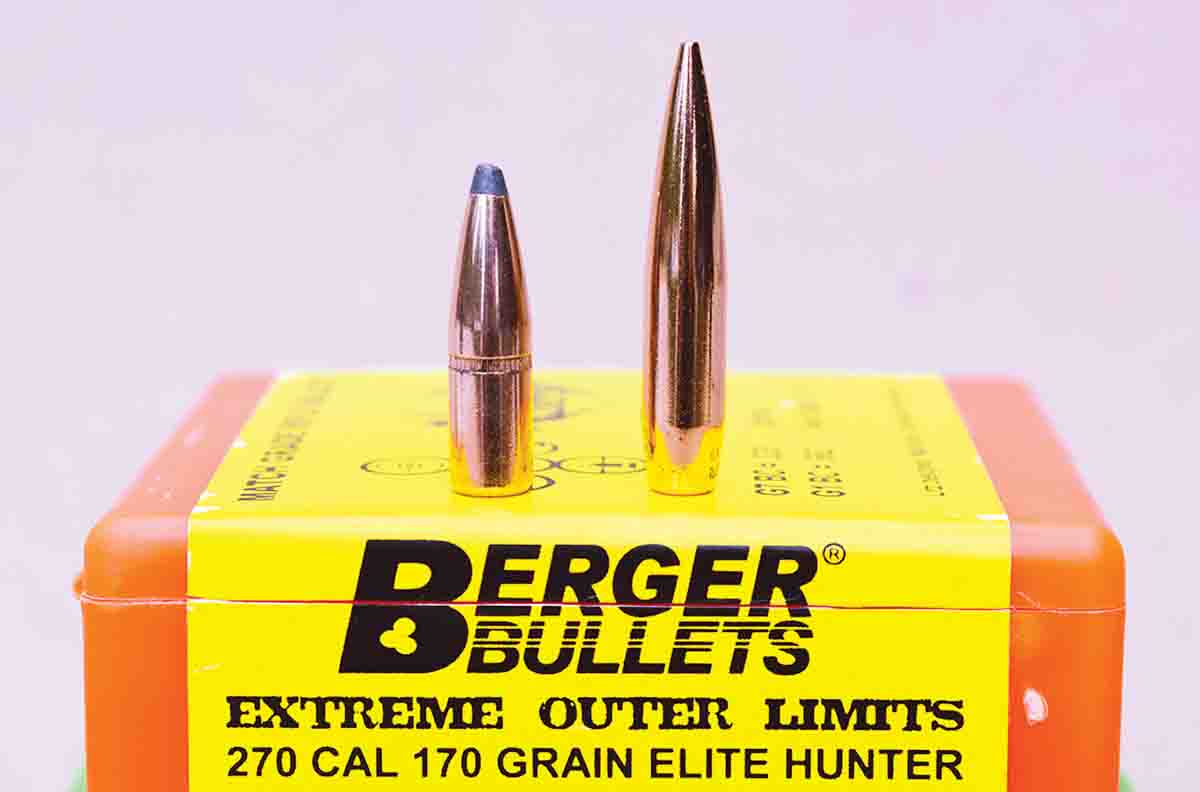 Before moving forward, three additional .277-inch cartridges need mention. First is the 6.8 Remington SPC, which is based on the .30 Remington case and developed for AR-pattern rifles at the request of branches of the U.S. military. It had limited acceptance with military and in sporting applications and is mostly discontinued as of this writing.
In 2019, SIG SAUER introduced the .277 SIG FURY, which features a three-piece cartridge case with a steel head, brass body and a locking ring, or washer, to connect those two pieces (which is technology developed by the late Dick Casull). The FURY is designed with an overall cartridge length that is similar to the .308 Winchester. However, its chamber pressure is an incredible 80,000 psi, which allows it to reach higher velocities than is normally expected with a cartridge of this capacity. It was designed for the U.S. Army's Next Generation Squad Weapon-Rifle, but is also offered in the Sig CROSS rifle for sporting purposes. According to The Sporting Arms and Ammunition Manufacturers' Institute (SAAMI), it features a 1:7 twist rate. It is capable of pushing a 135-grain Hybrid bullet at 3,000 fps or a 140 grain at 2,950 fps. While the FURY is generating considerable interest for sporting applications, it generates far more pressure than most traditional sporting rifles can handle (other than in proof load applications). Until additional rifle models are introduced, its sporting use acceptance will probably be limited. Nonetheless, its presence proves that there is a definite trend towards the .27 caliber.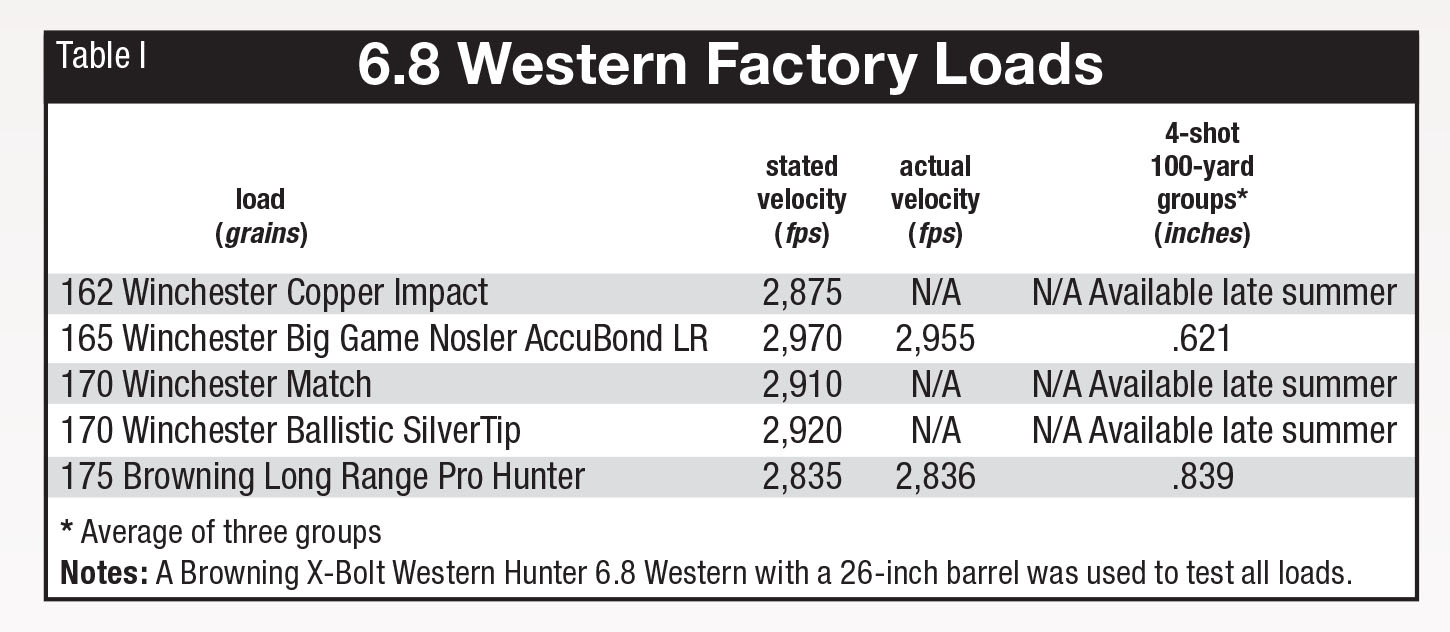 In 2020, Nosler introduced the .27 Nosler (see Rifle No. 312 September-October 2020), which is based loosely on the beltless .404 Jeffery case and has an overall cartridge length of 3.340 inches, which allows it to function in rifles with a .30-06 length action. Nosler utilizes a 1:8.5 barrel twist to permit proper stabilization of heavy-for-caliber bullets with high BCs. Additionally, it features a 35-degree shoulder and is modern in every respect. It is listed with a 150-grain AccuBond bullet at 3,300 fps and a 165-grain AccuBond Long Range bullet at 3,158 fps, which is a significant advantage over the .270 Winchester, .270 WSM and .270 Weatherby Magnum for precision long-range work. Nosler reports very high interest from hunters and long-range shooters.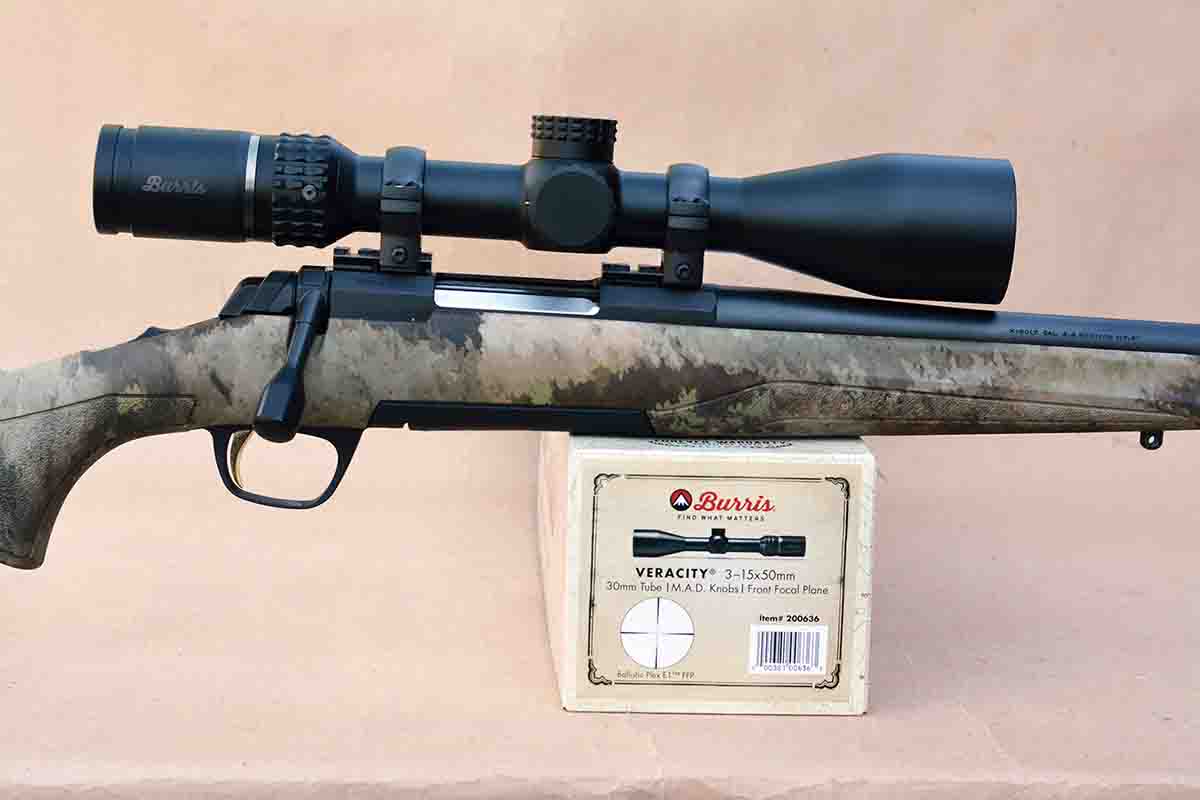 As indicated, Winchester Ammunition responded with yet another .27-caliber cartridge known as the 6.8 Western developed in conjunction with Browning Arms Company. There was a time that Americans were slow to warm up to cartridges with a metric designation, but that has now changed, with "six eight" being distinguished and catchy. At a glance, it resembles the .270 WSM, as it is based on the same beltless case with a rebated .535-inch rim and .555-inch diameter head, and it is short enough to function in most .308 Winchester-length actions. However, there are notable differences that serve to further modernize it and are certain to make it appealing to modern shooters.
First, the 35-degree shoulder has been moved back (when compared to the .270 WSM) and the case is shortened to 2.020 inches. The maximum overall cartridge length is 2.955 inches, or some .095 inch longer than the .270 WSM at 2.860 inches. This permits the bullet to be seated out of the case, closer to the leade (or rifling) for better accuracy, similarly to benchrest-type cartridges and other designs that have become so popular in the past decade or so. This also serves to gain back some of the lost powder capacity due to the repositioned shoulder. With the above design features, the 6.8 Western is perfectly adapted for long, heavy-for-caliber bullets that offer low drag and high BCs that are an essential part of precision long-range shooting.
Water capacity of the 6.8 Western is 73.4 grains as measured level with the case mouth. For comparison, .270 WSM capacity is 80.3 grains while the .270 Winchester measured 68.7 grains (all with Winchester cases).

Another important design feature of the 6.8 Western is the barrel twist, which is listed at 1:7.5 to 1:8. This is required to achieve proper bullet stabilization at all ranges with heavy-for-caliber bullets that feature high BCs.
Over the past couple of decades, there has been much written regarding "short" (hunting and target) cartridges in general. While I am not going to offer any new information, rather my comments are to serve as a reminder of just some of short cartridge's characteristics. Generally speaking, a comparatively short powder column features a length-to-diameter ratio that results in more complete ignition and burn characteristics. This results in higher velocities during that millisecond from when the primer ignites the powder to when the bullet exits the case. In effect, this improves powder burn efficiency and translates into less unburned powder that actually burns in the rifle's throat area, which can create a sandblasting effect, but can also result in faster barrel heating, shortened barrel life, etc. Due to the more efficient burn, a shorter powder column takes less powder to reach the same velocity when compared to a similar cartridge that features a longer powder column. Assuming the cartridge features a 30- to 35-degree shoulder, shorter powder columns are notorious for producing very low extreme spreads. The 6.8 Western benefits from its modern, short cartridge design.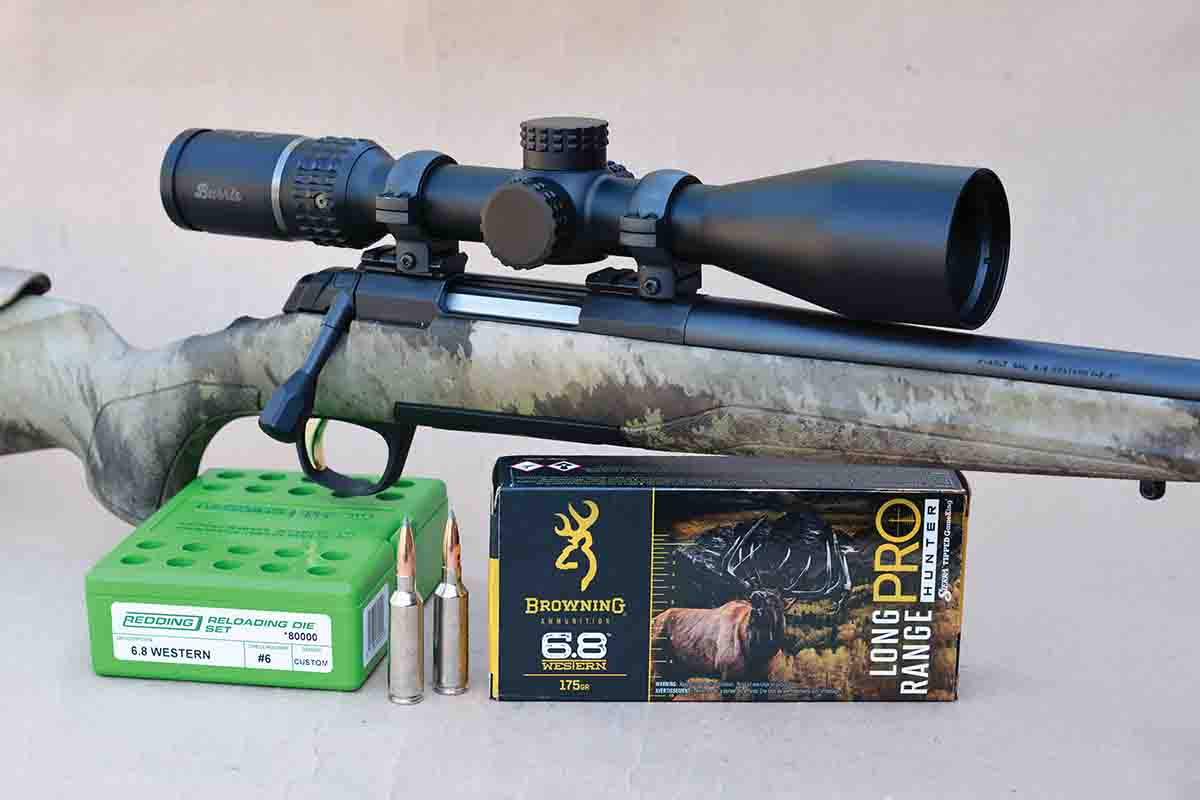 SAAMI lists the 6.8 Western with a maximum average pressure of 65,000 psi. In the sample rifle, a Browning X-Bolt Western Hunter with a 26-inch barrel, pre-production Browning 175-grain Long Range Pro Hunter ammunition clocked 2,836 fps (listed at 2,835 fps). These were among the first rounds fired from this rifle, and after proper barrel break-in, velocities are expected to increase slightly. The second factory option is a Winchester Big Game Long Range load that contains 165-grain Nosler AccuBond Long Range bullets with a listed muzzle velocity of 2,970 fps. From the Browning rifle, actual velocity was 2,955 fps. Extreme spreads for the above factory loads were 27 and 22 fps, respectively. Incidentally, the 175-grain load contained 59.8 grains of spherical powder while the 165-grain load contained 63.9 grains of a different spherical powder. (At least three additional Winchester loads will be shipping by early fall that will include a 170-grain Ballistic Silvertip bullet at 2,920 fps, a 170-grain Match bullet at 2,910 fps and a 162-grain Copper Impact bullet at 2,875 fps.)
The Browning X-Bolt Western Hunter rifle is produced in Japan by Miroku and features three forward locking lugs, a countersunk bolt face, rotating extractor and plunger ejector for a push-feed system. Additionally, it has a tang safety, detachable magazine with three-round capacity and a camouflage synthetic stock with an adjustable cheekpiece that is fitted with a soft rubber (Inflex Technology) recoil pad. The rifle also features a free-floating, 26-inch barrel with a muzzle brake and measures a modest .727 inch in diameter at the muzzle, which helps keep weight reasonable and makes it a practical field rifle. The barrel twist is 1:7.5. Miroku barrels are cold hammer forged and known for their quality and out-of-box accuracy, with the sample rifle being nearly perfectly straight. The X-Bolt trigger broke crisply at 3.5 pounds and had practically no after-travel.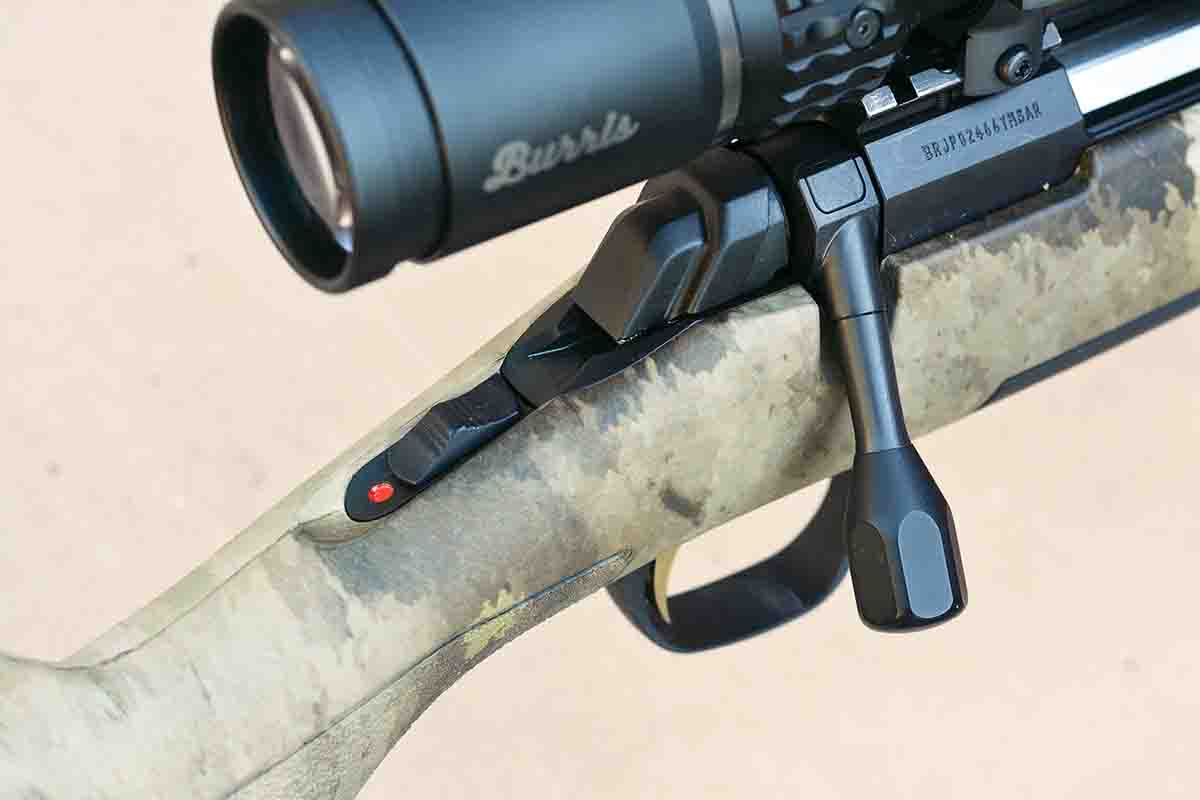 A Burris Veracity 3-15x 50mm riflescope with a 30mm maintube and featuring a front focal plane reticle, was mounted on the rifle. It has desirable features, including a fast focus eyepiece, side parallax adjustment, generous eye relief, click adjustments, great optical clarity and resolution and functioned flawlessly throughout testing.
Using Browning's 175-grain Long Range Pro Hunter load, the X-Bolt placed four shots into groups measuring between .71 to .96 inch (100 yards) that averaged .839 inch. To prevent confusion, Sierra lists this bullet with a maximum G1 BC of .560; however, Browning lists the G1 BC at .617, which is closer to what I expected based on my testing at extended distances. I have contacted Sierra about the discrepancy and there has been no confirmation as of press time. Moving on to the Winchester Big Game Long Range load with a 165-grain Nosler AccuBond Long Range bullet and a G1 BC of .620, three, four-shot groups averaged .621 inch. Incidentally, the 165-grain Nosler AccuBond LR load offers the flattest trajectory at 1,000 yards. For example, with a 200-yard zero, it drops 247.8 inches at 1,000 yards, while the 175-grain Sierra Tipped Game King bullet drops 276.2 inches.
The 6.8 Western is well designed and delivers the type of performance modern hunters and shooters are commonly seeking. It is accurate, offers low extreme spreads, barrel life is expected to be reasonable and recoil is modest. It features modern, heavy-for-caliber bullets with high BCs and low drag that are designed for hunting and target work. Additional bullets are being developed to further advance and modernize this caliber. The 6.8 offers greater terminal performance on game than many smaller caliber cartridges that are commonly used at long range. I believe that Winchester's "six eight" justifiably has a very bright future and can take its place among other great hunting cartridges.