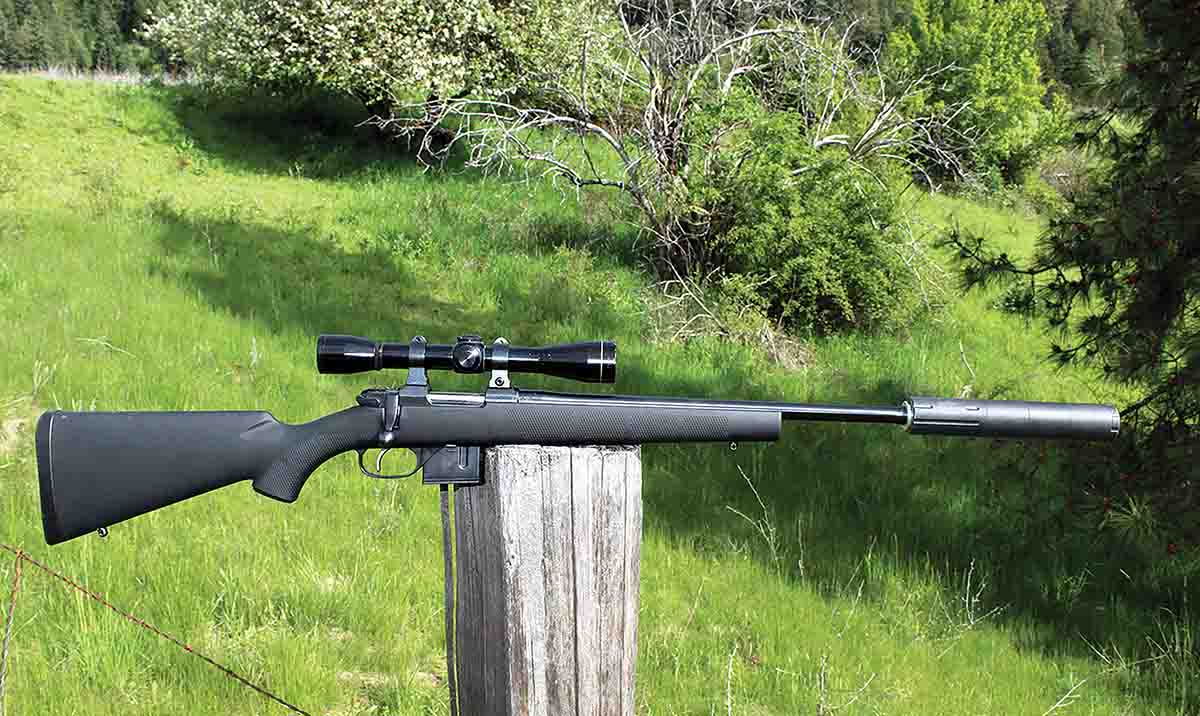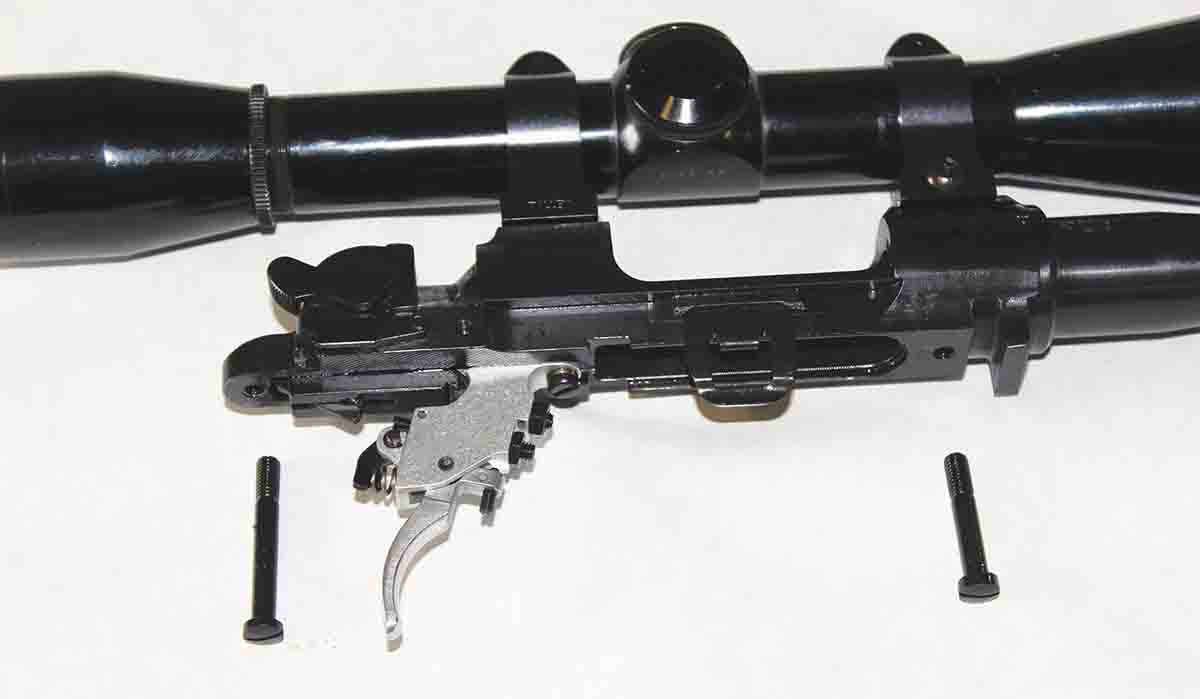 Added to the CZ-USA 527 rifle series in 2019, the Model 527 American Synthetic Suppressor-Ready, chambered in the 7.62x39mm Soviet, is a feathery and highly-maneuverable bolt-action carbine ideal for most hog- or deer-hunting scenarios involving moderate ranges. The 527 Suppressor-Ready (SR) would also provide an easy-handling rifle suited to small-framed hunters. Today's popular 527 design began to evolve after World War II, influenced by waning military orders and a booming sporting market.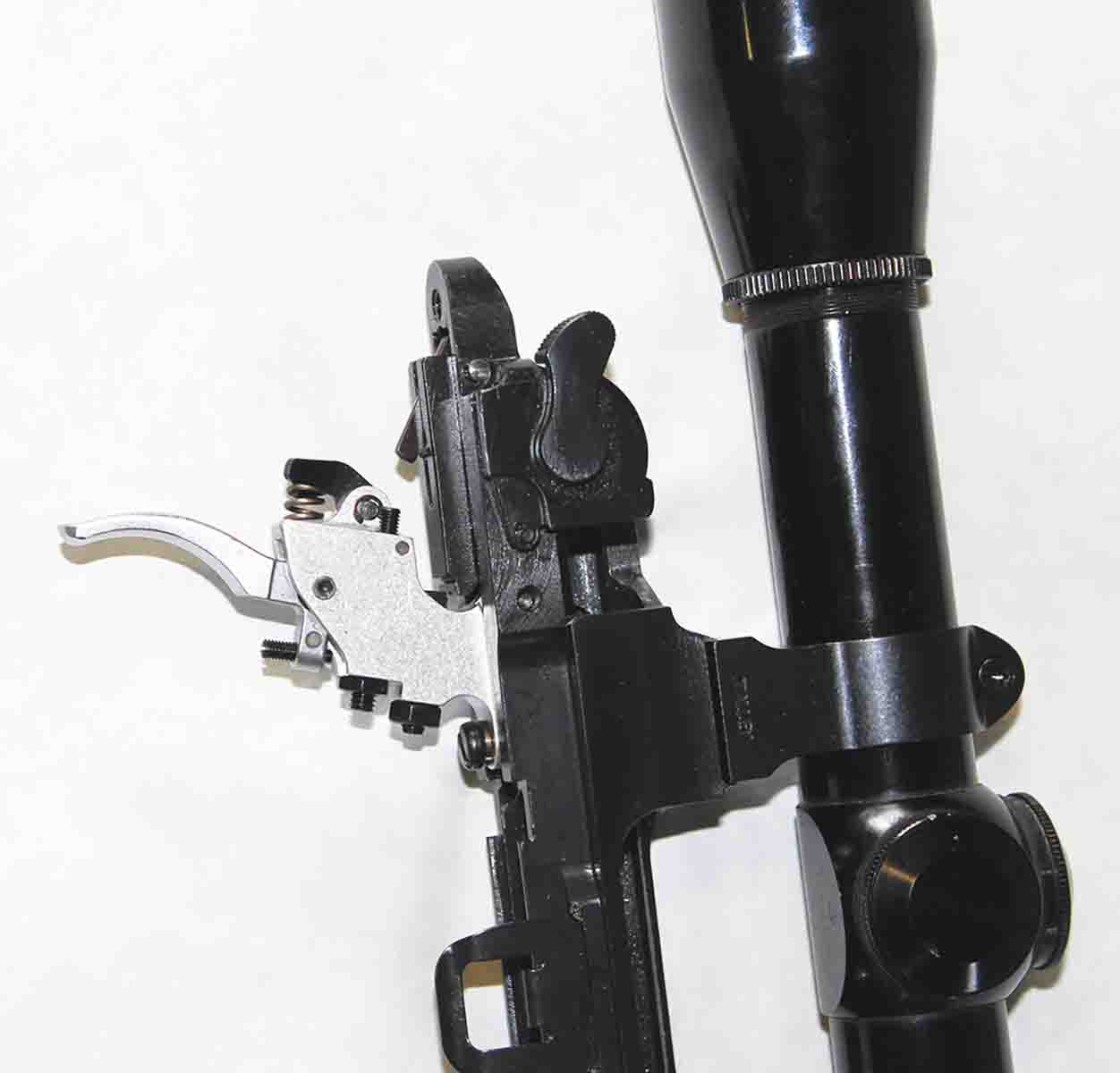 Famous firearms designers and twin brothers, Josef and František Koucký (originators of the renowned CZ 75 pistol) were tasked with designing a lightweight hunting rifle. Their ZKW 465 gained quick acceptance before undergoing several revisions until, in the 1980s, the first 527s were created. This Model 527 version includes an all-weather, "American-style" stock finished with sure-grip rubber and a 16.5-inch, 5⁄8×24 threaded barrel to accept a hearing-saving suppressor. Like other CZ bolt rifles chambered in 7.62x39mm, the 527 SR includes a chamber specifically designed to handle affordable, steel-cased ammunition. This includes a .310-caliber bore standard for that cartridge (.308-diameter bullets generally provide acceptable results, but 7.62x39mm .310-diameter projectiles have become available from most major makers.) and a 1:9.5-inch rifling twist.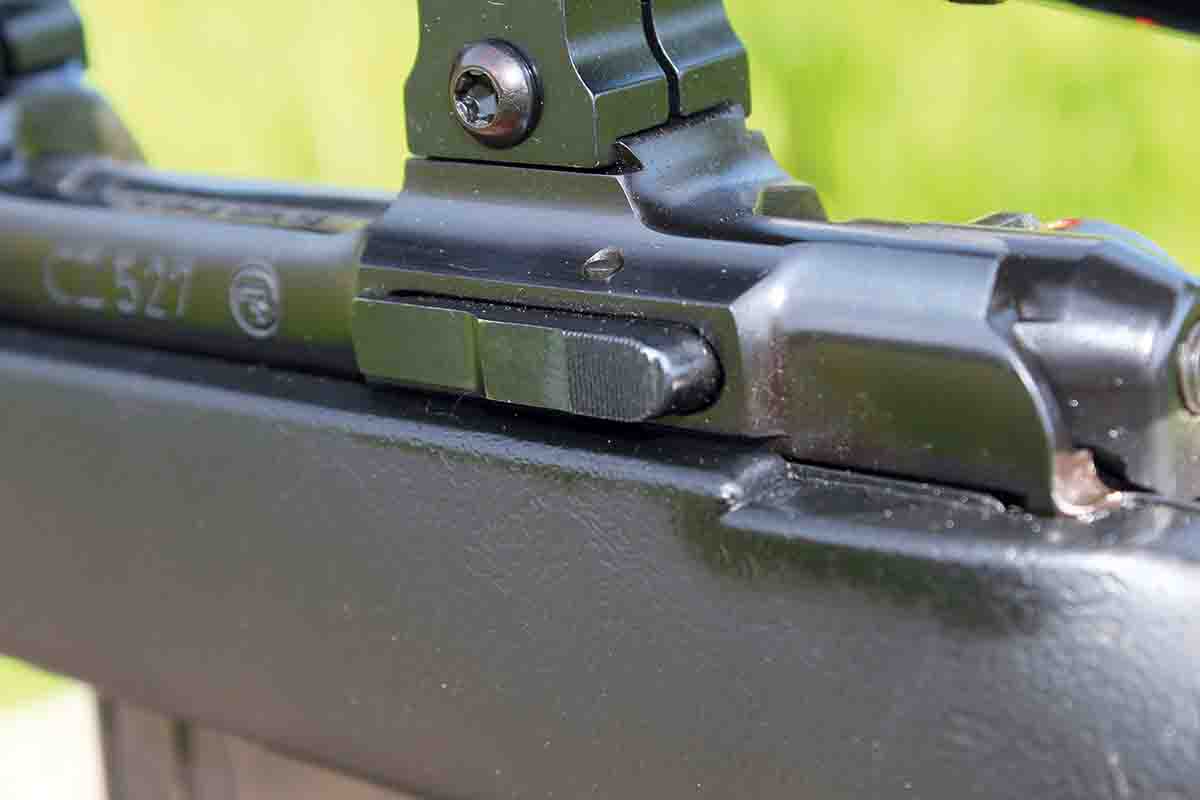 Zachary Hein, CZ's Marketing Communications and Suppressor product manager, worked behind the scenes, coaxing CZ-USA to bring this rifle to fruition. It is built on CZ's smallest centerfire rifle, the award-winning 527 "mini Mauser" action designed specifically for small base, centerfire calibers and includes a strong claw extractor, detachable single-stack/five-round steel magazine, 16.5-inch cold-hammer-forged barrel and integral 16mm dovetail scope ring mounts. The 16.5-inch barrel makes the addition of a suppressor less burdensome in tight quarters, such as when used as a truck gun. Scope rings for 527-series rifles are a proprietary design with an integrated "recoil lug" on the rear ring base that corresponds to a milled indent in the dovetail "rail."
Besides the 7.62x39mm under discussion here, the rifle is also available in popular .223 Remington, the 6.5 Grendel and the .300 AAC Blackout. Hein said he envisioned this model as a "do-it-all survival and/or truck rifle to tackle any game up to medium size when chambered in 7.62x39mm or 6.5 Grendel." The rifle is compact enough to comfortably strap to a backpack for hands-free hiking. Hein also pointed out that the rifle pairs well with the company's lightweight 7.62 Ti Reflex suppressor and that CZ offers a Weaver-style rail adaptor for this rifle, allowing the addition of a thermal optic for nighttime hog or predator shooting.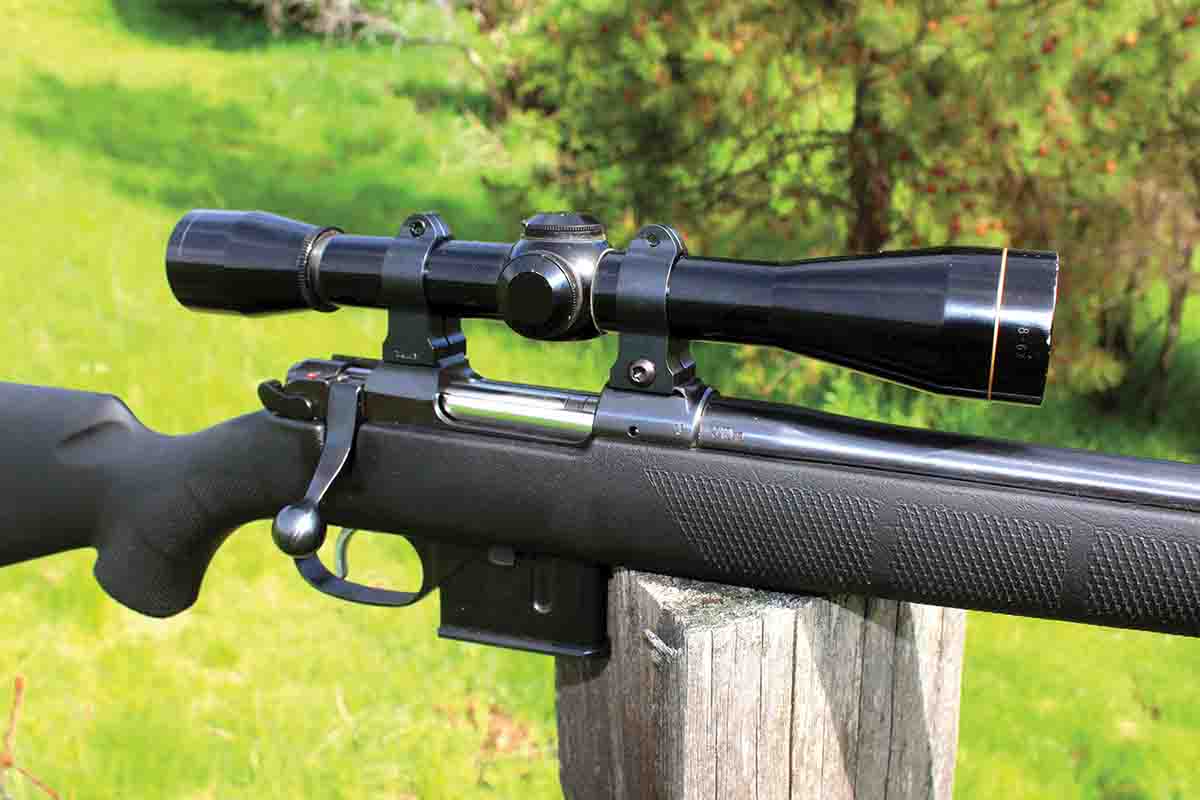 Hein has used his own SR rifles to take a variety of big game, including an elk. This is what we termed a "ranch rifle" in my youth, a handy firearm that stays in a ranch truck while making the rounds, and was used to deal with coyotes molesting calves, a hog caught burrowing beneath a section fence or a badger undermining a stock tank. I could also see this rifle replacing a cowboy's scabbarded levergun or serving the backcountry hunter.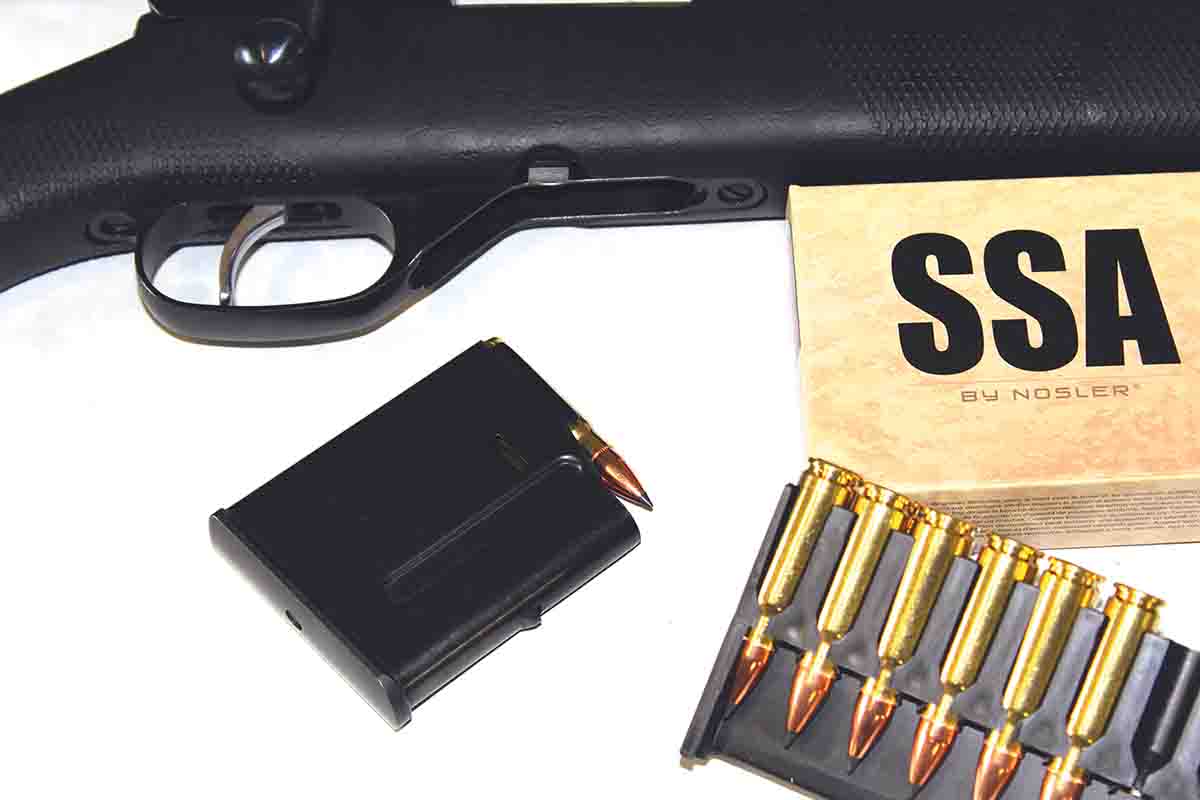 The 527 Suppressor-Ready, as hinted, utilizes a short mini Mauser, push-feed action. Right out of the box, the test rifle fed a tad roughly with steel-cased rounds, though it smoothed out quickly with use. Hein assures me that the action grows buttery-smooth following a thorough break-in. Overall, the rifle fed, cycled and ejected fired cases 100 percent reliably throughout the hundreds of rounds I put through it, even in the dusty conditions encountered while shooting spring ground squirrels, and while fed cheap steel-cased rounds. The synthetic stock is impervious to weather and includes sling studs to accept a shoulder sling or a bipod for steadier truck hood or prone shooting. A nonslip rubber recoil pad is also part of the package.
The ability to add a suppressor, to my mind, makes it even more appealing as a youth or woman's big-game rifle. I'm of the opinion that just as much flinching is caused by raucous muzzle blast as felt recoil. A suppressor obviously helps in that department. A quality suppressor also acts like a muzzle break, providing about 65 to 75 percent of the recoil reduction provided by a well-made compensator, but without the ear-splitting noise. Reduced loads combining lighter 108- to 110-grain bullets at velocities around 2,100/ 2,200 feet per second (fps), fired with a suppressor, provide an excellent training tool. The 527 Suppressor-Ready's 13.5-length of pull is also compatible with smaller-framed shooters.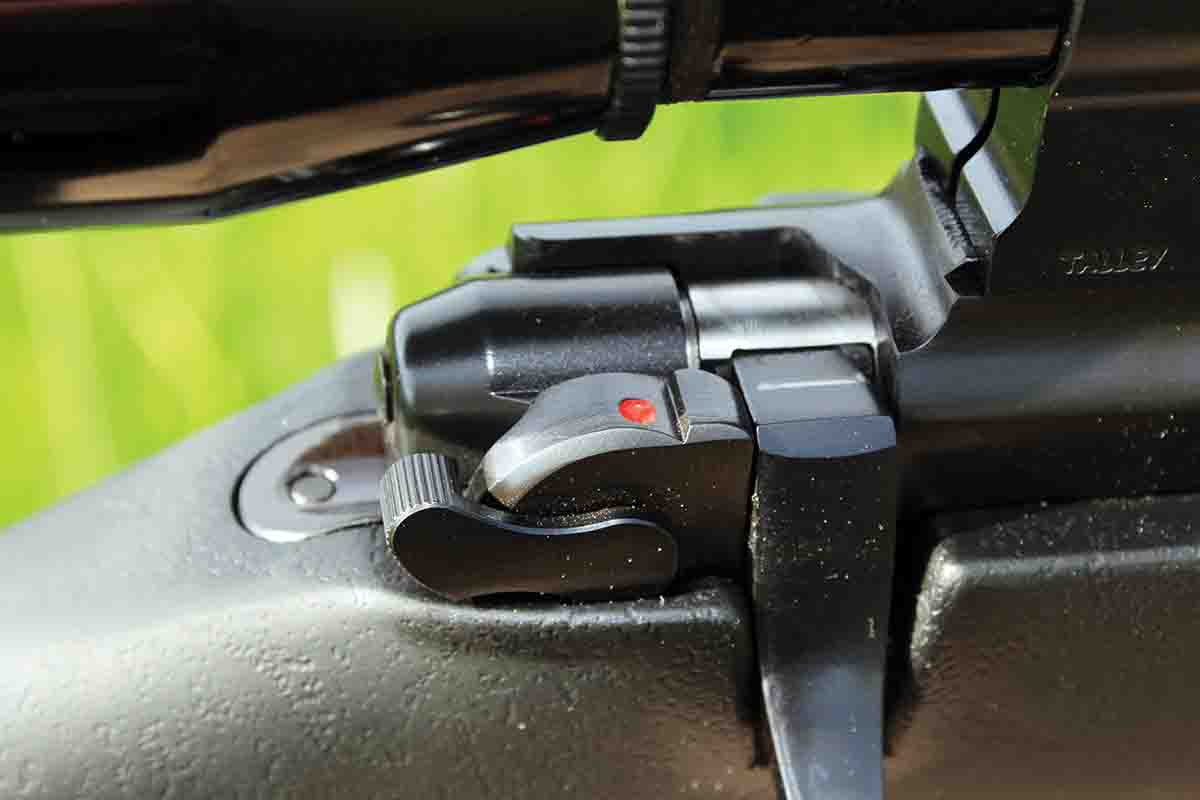 A signature CZ quirk requiring some familiarization is this rifle's two-position safety. Unlike the standard CZ American's safety configuration of pushing forward to fire and pulling back to engage the safety, CZ safeties will likely prove backwards to U.S. shooters who have not used one. To engage the safety and prevent it from firing, the safety is clicked forward and the knurled lever is pulled back to fire. A conspicuous red dot indicates when the rifle is ready to fire. This design bothers me not at all and required no serious mental adjustments.
The Suppressor-Ready includes CZ's unique, 527 standard single- set trigger (SST). The SST system provides a standard, highly-adjustable hunting trigger and a light (also with limited adjustment) target/varmint trigger in a single rifle. Cycle the rifle normally, disengage the safety and the shooter enjoys a creep-free, remarkably crisp trigger, with the test rifle breaking at a reasonable 4.08 pounds out of the box. The standard trigger proved so agreeable, in fact, I shot several ground squirrels at 80 to 125 yards with it before I recalled the lighter set-trigger option. Push the trigger forward until it clicks and a lighter trigger pull is created, the test rifle's set trigger breaking at a crisp 1.34 pounds out of the box after being engaged. The standard trigger can be easily adjusted via three mechanism screws/nuts to create custom pull weight, take-up and overtravel. The action must be removed from the stock to access these adjustments. My only caution is to watch the side-mounted magazine release lever while doing so to avoid losing it, as it will fall out of the stock after the action is removed. The set target trigger can be adjusted for pull from 1 to 3 pounds with an external set screw, without removing the action from the stock.
The rifle includes no iron sights on its 16.5-inch barrel. Integral 16mm bases accept CZ proprietary rings, or CZ-specific models from Warne or Tally Manufacturing. I initially mounted Trijicon's AccuPoint 2.5-12.5x 42mm scope with second focal plane (SFP), an MOA-Dot Crosshair with a Green Dot and 30mm tube, as I yearned to shoot some burrowing rodents with this rifle with 123-grain poly- tipped varmint bullets.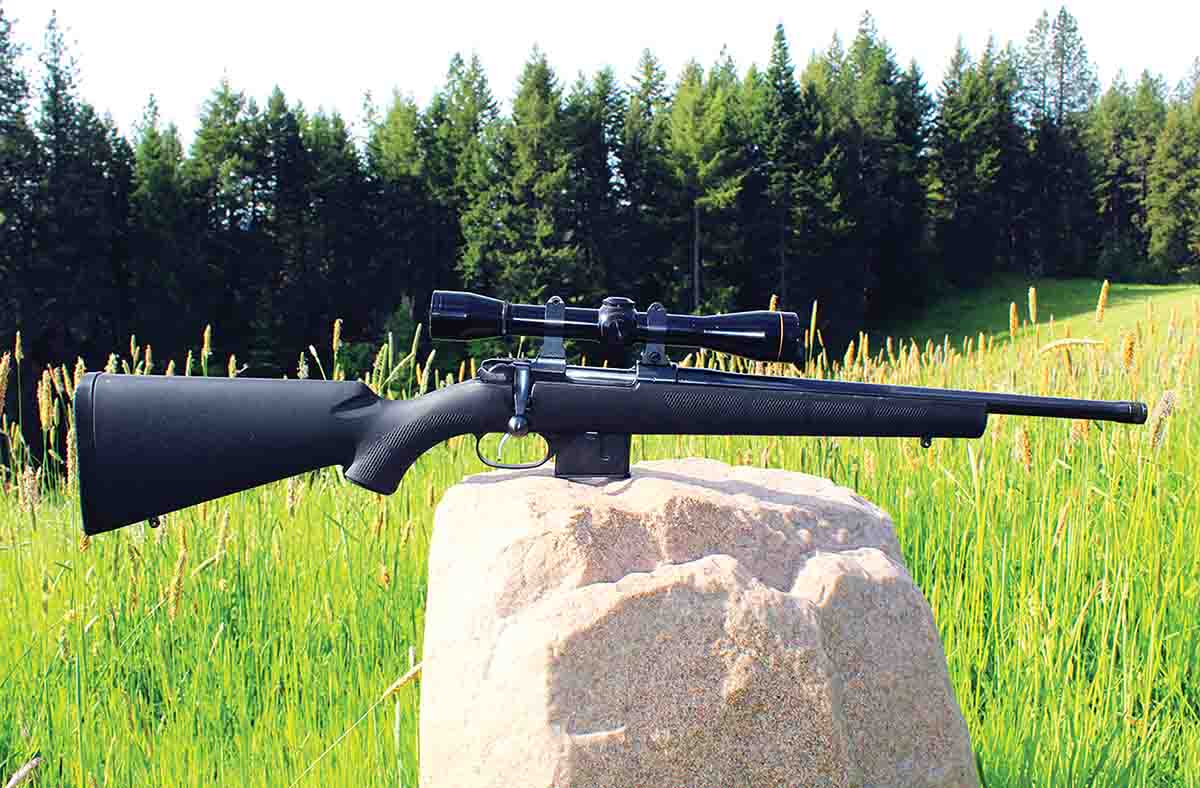 This proved a bit troublesome, though only partly due to the scope's design. The AccuPoint includes an oversized rear ocular bell to house the extended, spooled fiber-optic that feeds the glowing center crosshair dot and its intensity adjustment system. This AccuPoint also sports an extended, aluminum throw lever milled to include relatively abrupt edges. But more germane was the 527's flared bolt design. Most rifle bolts lay flat against the stock while in battery, and the 527's bolt includes a midpoint dogleg that flares away from the stock. Medium Warne Maxima rings (the only 30mm model 527 option I'm aware of) did not allow the bolt to cycle around the Trijicon scope's ocular bell. High rings of the same make and model set the scope a touch too high for my tastes, and the extended throw lever still interfered with bolt functioning while cranked to its highest 12.5x, which is where I wanted it for ground squirrels. I tolerated this situation through several local outings because I love this scope design, but the second time I removed a chunk of flesh from my thumb knuckle with the scope throw lever while working the bolt, I'd had enough.
I replaced the Trijicon with a scarred, fixed power Leupold M8-6x set in medium, 1-inch Tally CZ rings to complete range testing. This proved a more fitting optic for this fast-handling hunting rifle. The scope still sat a touch high for my liking, though I was able to maintain a solid cheek weld, and tossing the rifle to my shoulder provided an automatic edge-to-edge field of view. Given my druthers, I'd straighten that bolt handle so it set flush against the stock while in battery, providing added scope clearance while reloading in a hurry using today's bulkier scope models.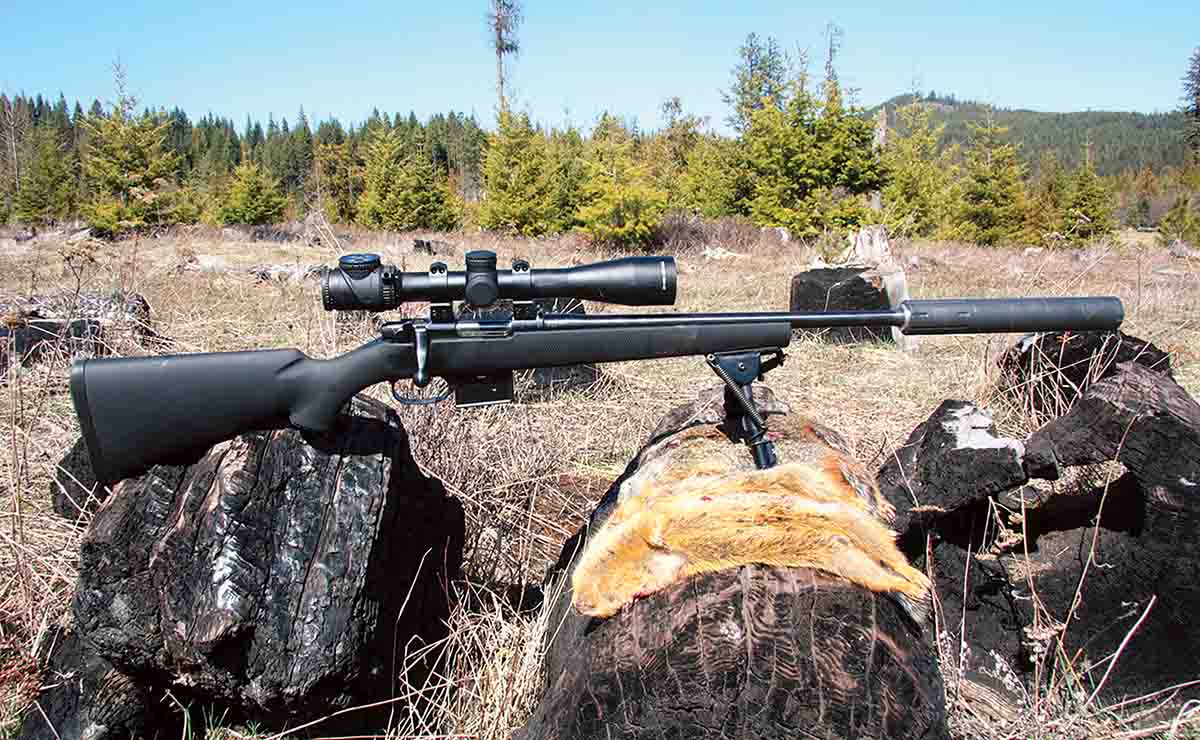 The 527 Suppressor-Ready weighs only 5.87 pounds out of the box (6.5 pounds with Leupold scope attached, 7.39 pounds with the addition of a Rebel Silencers S.O.S. Hunter suppressor). If a small-frame shooter is to fully enjoy this rifle, a suppressor really becomes necessary, as even the mild-mannered 7.62x39mm begins to bite with heavier bullets pushed to top velocities while shooting with only the thread protector in place.
Part of the SR's handy nature comes through its synthetic stock. The entire forend is hollowed, which also makes it a bit pliable. The rear of the recoil lug rides against one of the stock's molded cross struts, without a defined lug slot to bed into. This system seems to work adequately, though factors in when shooting longer shot strings, as the light sporter barrel began to contact the test rifle's stock channel, stringing groups left and right. The first three shots from a cold barrel typically flew true (test groups were all three-shot strings for this reason), but the fourth and fifth shots wandered as the barrel quickly heated.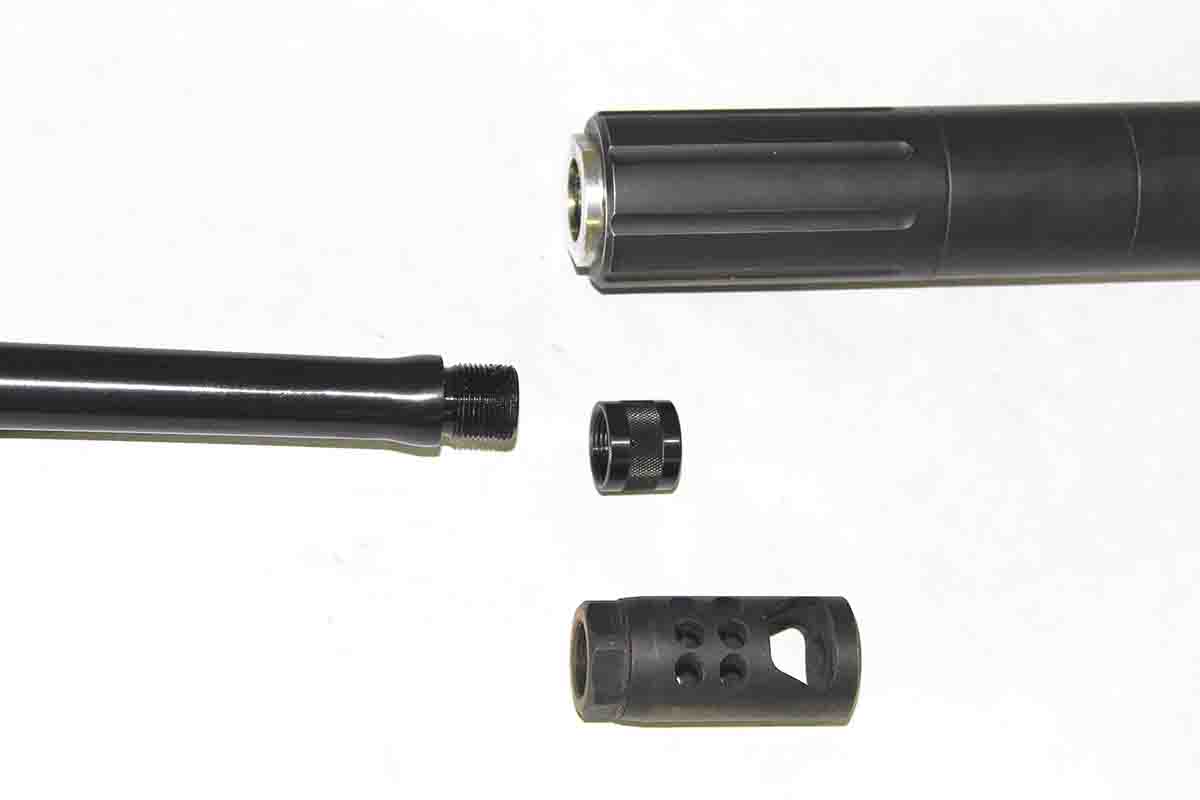 Attempting to shoot another group without allowing the barrel to fully cool resulted in poor groups. Of course, this is only a problem while benchrest or varmint shooting, which obviously wasn't the intention of this rifle design, though I found it a hoot to shoot on local ground squirrels. One-shot groups count most in deer hunting, and even if belaboring a sounder of hogs and shooting a magazine dry, more than enough accuracy is retained for 12-inch vital areas to 200 yards. Hein agrees with this assessment, saying the stock was built for general hunting use and not benchrest shooting. He also said he has bedded the recoil lug area on a couple of his Suppressor-Ready rifles, which helped with group consistency, especially when the rifle is being used hard.
As it stands, the rifle, like other CZs I have tested, provided all the accuracy needed for "back-40" deer, hog-culling duties, or even varmint shooting at moderate ranges. With tailored handloads, sub-MOA groups at 100 yards proved fairly easy to assemble. The Barnes 108-grain TAC-RRLP over 25 grains of Hodgdon CFE BLK produced a .62-inch group at 2,223 fps. Nosler's 123-grain E-Tip over 25 grains of Hodgdon H-4198 printed .63 inch at 2,161 fps. Nosler's 123-grain Tipped Varmageddon over 28 grains of Shooters World Blackout produced a .97-inch group at a hard- hitting 2,493 fps and included a single-digit extreme velocity spread. The TAC-RRLP is a .310-inch diameter, lead-free bullet designed to eliminate ricochets and dump maximum energy into the target (perfect for deer and hogs). The lead-free E-Tip is made for maximum penetration, particularly if bone is encountered, making it ideal for heavier-bodied deer and hogs.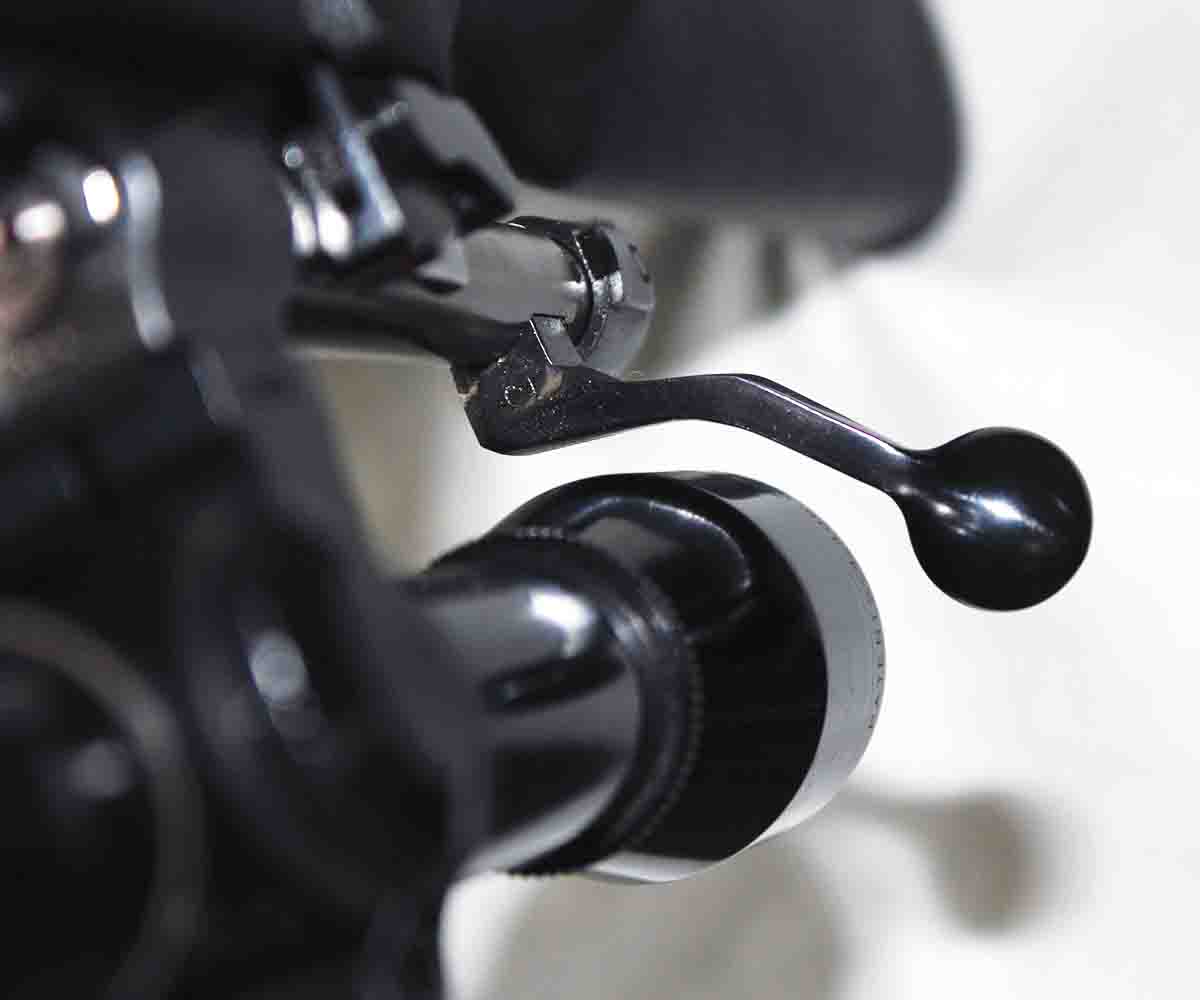 A cross-section of factory ammunition, including Winchester 123-grain FMJ plinking ammunition, Wolf Polyformance 123-grain HP big-game loads and SSA (Nosler) 123-grain Tipped Varmageddon varmint loads produced 1.39-, 1.27- and .99-inch groups at 2,322, 2,410 and 2,301 fps, respectively. Hein said he has enjoyed the best accuracy from his Suppressor-Ready 7.62 rifle shooting Hornady 123-grain SST ammunition. The cheap mystery brand, steel-cased, Hornady V-MAX loaded ammunition I picked up at a local gun show in Ziploc bags proved accurate enough to shoot squirrels out to 150 yards, while also providing explosive terminal performance.
This compact Czech Republic turn-bolt is eminently functional in the real world and just flat-out fun to shoot, particularly with the addition of a quieting suppressor. It is handy, fast-handling and more than adequately accurate for any varmint shooting, deer hunting or hog culling need.