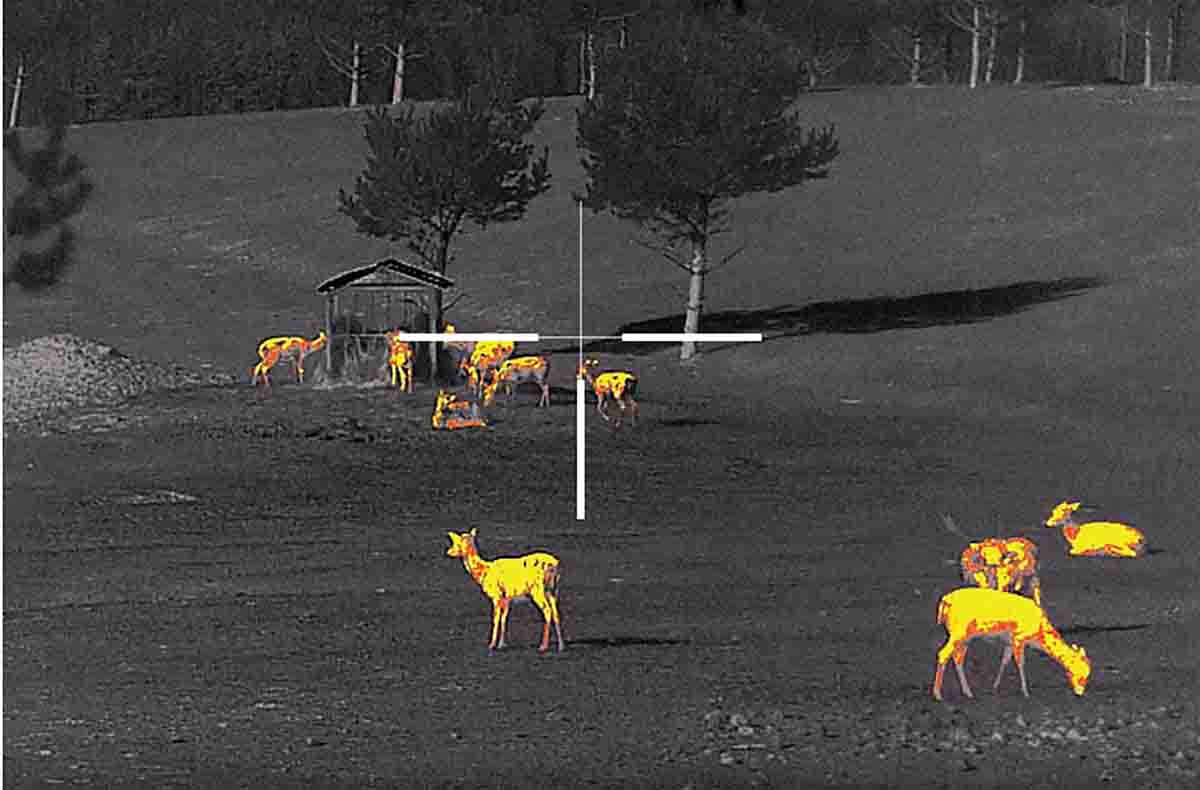 Thermal imaging optics have exploded onto the firearms scene in pace with the meteoric popularity of nighttime wild hog and varmint hunting. Thermal-imaging optics mounted atop AR-type rifles have proven to be the most reliable weapon in the ongoing effort to curb the exploding feral hog population. As popularity increases, the scale of economics has slowly lowered prices while also providing increasingly user-friendly operation and improved reliability.
Pulsar has emerged as a thermal powerhouse and the Trail 2 LRF Thermal Imaging Scope is an excellent example of the great job they have done supplying affordable goods. In this context, affordable translates to around $3,800, a far cry from top-tier units approaching $10,000.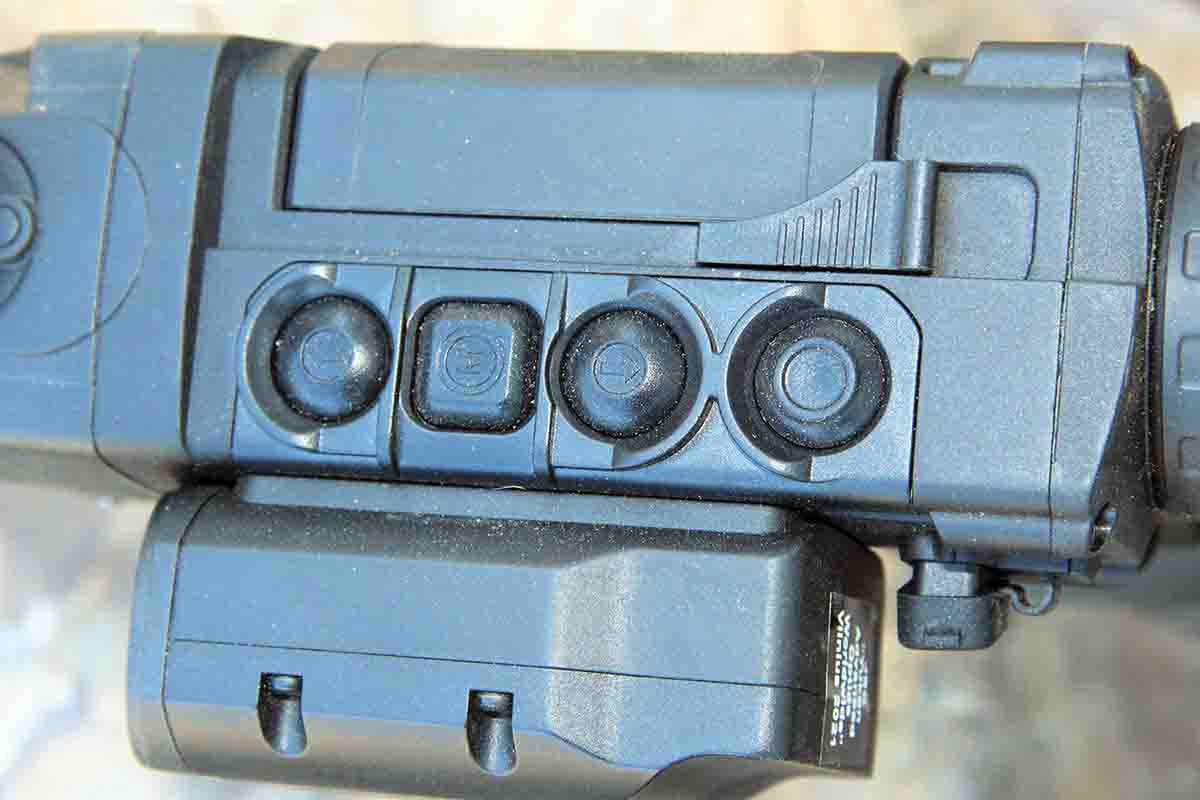 This new unit is based on a new platform and features a refined thermal imaging detector with NETD 40 mK and HD AMOLED microdisplay providing sharp, detailed images in all conditions. Proprietary Pulsar software includes Image Detail Boost technology and Observation modes, an integrated laser rangefinder, 16GB memory video capabilities, Wi-Fi module and a host of hunter-friendly features geared for demanding shooters.
The NETD 40mK thermal imaging sensor provides detailed images and precise shot placement even in challenging weather or low thermal-contrast conditions; i.e., when viewing through thick fog or falling rain, or when temperature differences between target and ground or ambient temperatures are similar. More powerful electronics allow for a 3-second start-up, ensuring longer battery life, and missing fewer shot opportunities. The unit also includes a quick 50 Hz refresh rate, meaning no viewing interruptions when pursuing moving targets, which is important when addressing a large sounder and bent on amassing maximum body counts.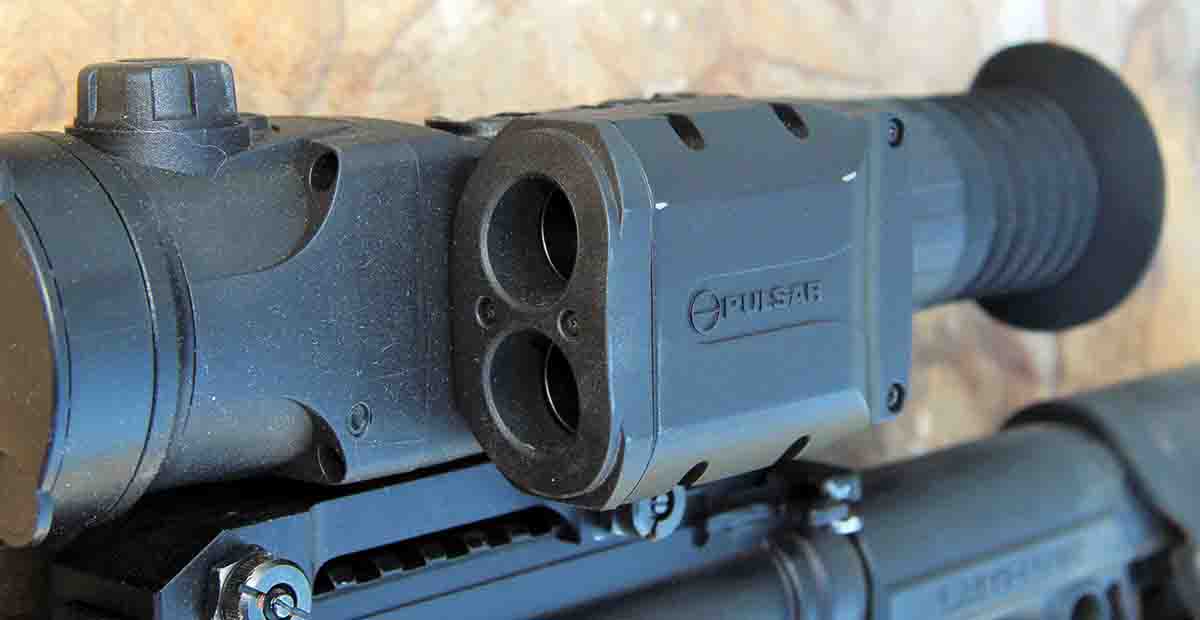 Sharp, richly contrasted HD images are vital for sure target identification. A hunter does not want to shoot a calf or deer instead of a hog or coyote for instance. This also allows avoiding deflections like branches, bushes, or thick grass. Proprietary Image Boost Technology uses special software algorithms to improve image clarity and detail, for sharper, more detailed images. All of this information is translated onto a full-color, HD AMOLED display designed to help maximize battery life. Paired with this is a wide-angle eyepiece providing a 20 percent increase in viewing area compared to previous models.
An integrated laser rangefinder is also part of the equation, popping precise ranges in Single Time Measurement or Scan modes with +/- 1-meter accuracy at up to 1 kilometer. This is important in fluid situations, as the disconnect experienced through digital viewing at various magnification settings and the disorientation of complete darkness make range judging difficult at best. The thermal component allows detection of potential targets at up to 1,970 yards (6-foot-tall man in complete darkness, likely shorter for average hogs or predators).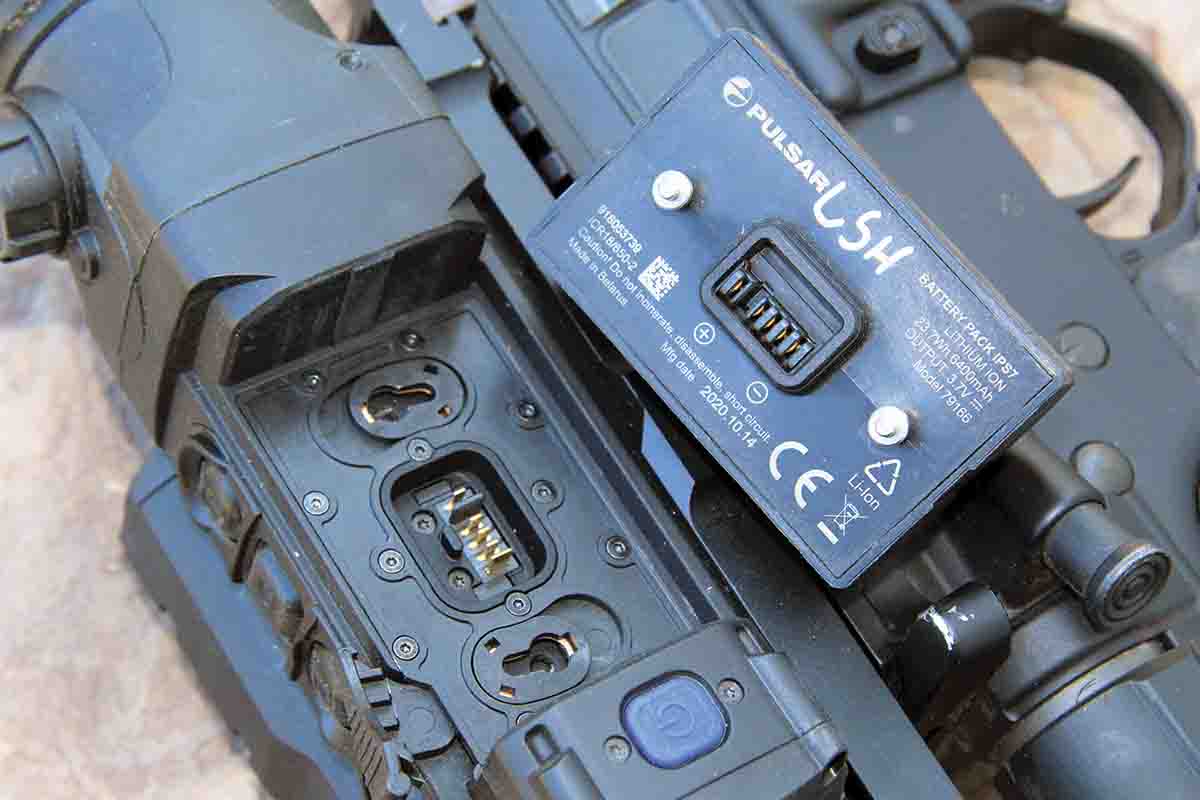 The Trail 2 LRF is housed in a rugged and lightweight magnesium alloy chassis designed to withstand recoil forces from a .375 H&H Magnum or 12-gauge shotgun. This structural rigidity also reduces vibrations while shooting, leading to enhanced ballistics, and more efficient heat dissipation. The unit is IPX7 waterproof rated (3 feet for 30 minutes) for ensured protection in heavy rain or snow. The B-Pack power supply is a quick-detach, rechargeable IPS7, 6.4 A-h battery pack designed to deliver up to 8 hours of continuous operation. Higher-powered IPS14 battery packs, as well as AA battery cases, also are available to provide longer life or replaceable abilities when away from electrical outlets.
The unit includes an integral recorder button allowing shooters to capture images or video for later viewing or shot placement review after a hit. This requires only a single push of the "REC" button (another to stop recording), videos stored on 16GB of internal memory capable of holding hours of recorded video or thousands of photos. Data is easily downloaded to a computer or smartphone.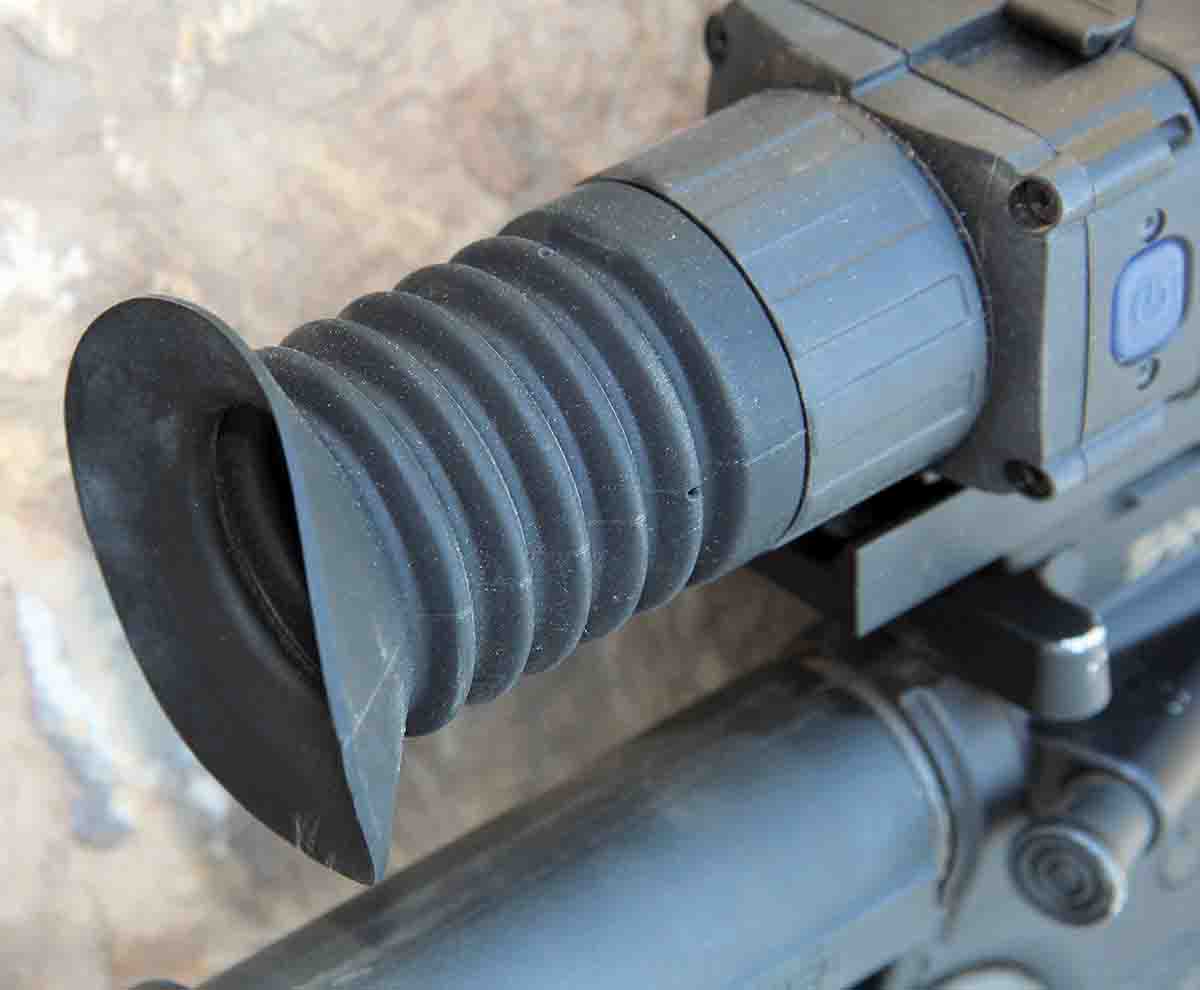 Shooters can choose from basic reticle options with black, white, red or green color customization, including scalable ballistic styles. Sophisticated software allows storing up to five zeroing profiles, each with 10 distance coordinates, making it easy to swap the unit between various weapons. On longer shots, a separate
top-center pop-up display offers a magnified image 10 percent of the overall field of view to allow more precise shot placement. The variable digital zoom also runs up to 8x for more detail on distant targets.
The Trail 2 LRF offers Wi-Fi integration with IOS and Android devices using the Stream Vision 2 mobile app. This allows wireless device software updates, real-time image transmission to a mobile device, remote digital functions and more. App users also get cloud storage.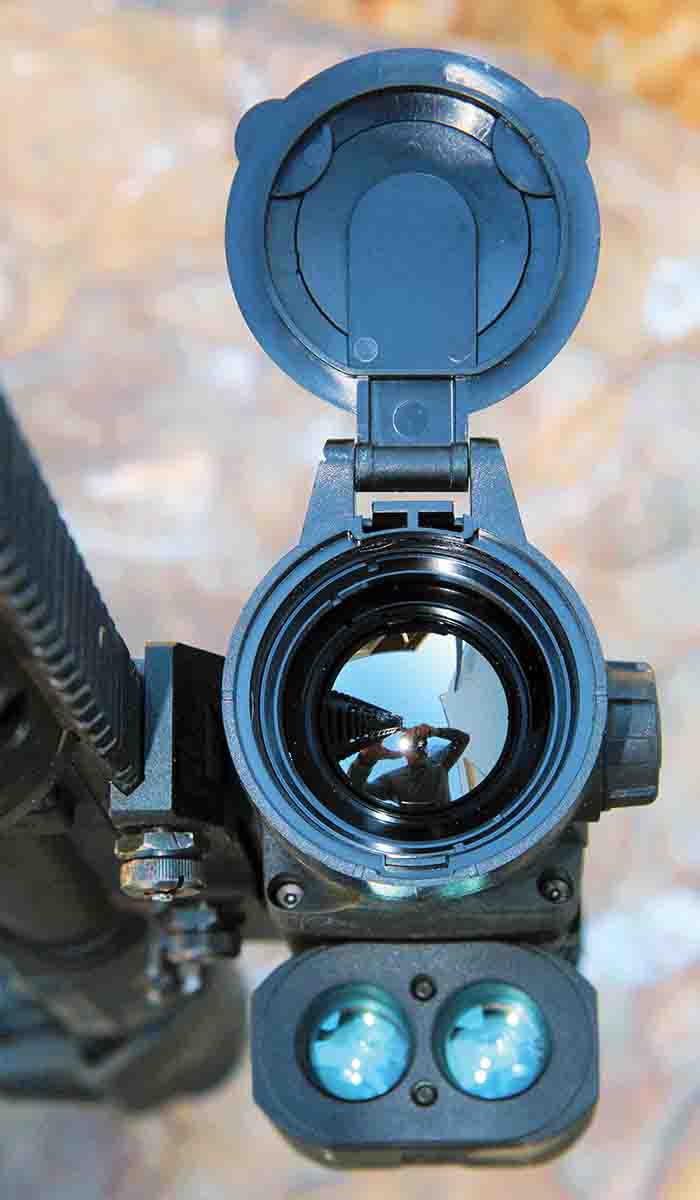 Most importantly, the Trail 2 LRF includes an intuitive, user-friendly interface. Settings include easy-to-read icons, with an alphanumeric status bar at the bottom of the display. Internal menu items and options are displayed on a contrasting gradient substrate to keep you updated during use. During short periods of inactivity, Display OFF powers down the display without interrupting other operating functions for faster restart time should a sudden shot opportunity arise.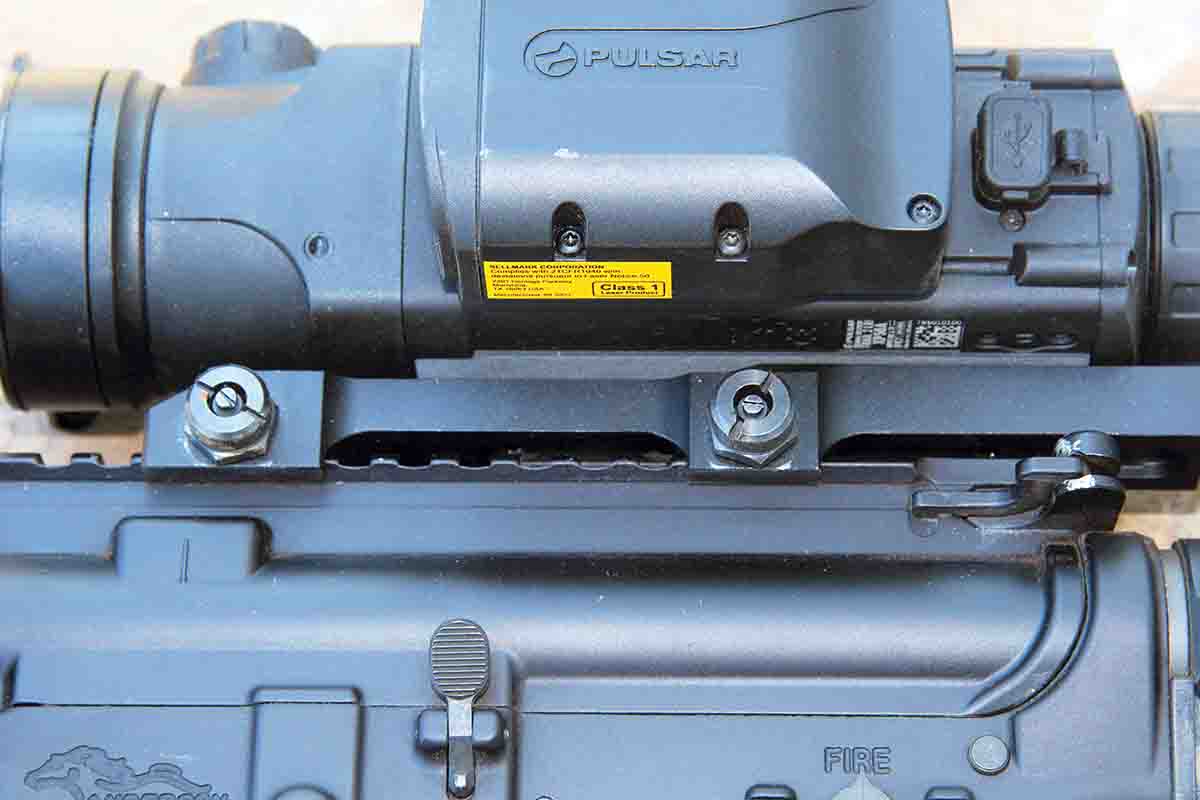 I received the Trail 2 LRF at the tail end of my last Texas hog hunt, so I only got in a single night of shooting before heading home to Idaho, where we are decidedly short on wild hogs. As a confirmed technophobe who can barely run a smartphone, I can assure you setup and sight-in are a snap. I didn't find the opportunity to employ the pop-up display, high-end magnification or laser rangefinder while shooting hogs, but was able to audition those technologies on distant white-tailed deer, revealing those features obvious virtues.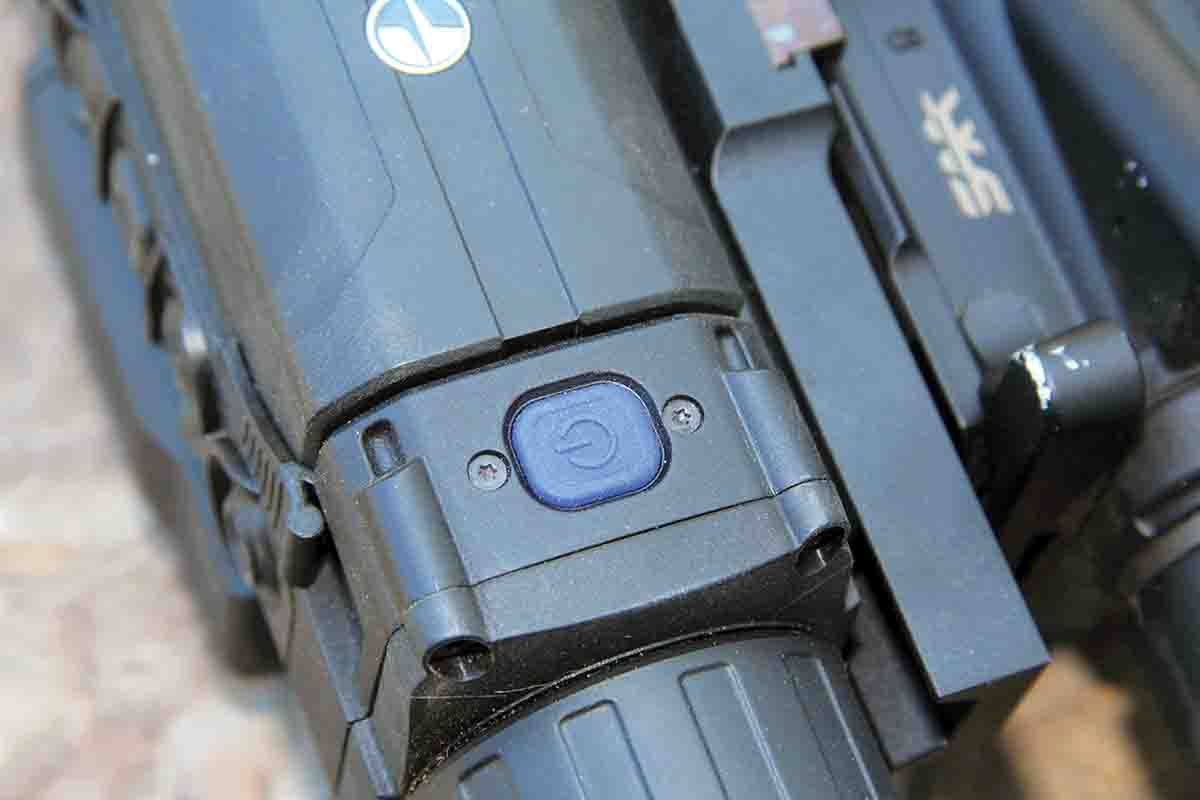 I did find the opportunity to down several nighttime hogs with the optic set on 2x, including a boar scurrying through tight brush. The Trail 2 LRF proved up to the task, revealing enough detail to avoid deflecting mesquite and roll-up some "eating-fat hogs" with my 6.8 Remington SPC AR-15 before packing up and heading back to the frozen north. The Trail 2 LRF is a sound investment if nighttime hogs or varmints are something you will be doing a lot of, while offering a justifiable price point if looking for an affordable unit for occasional hog-hunting adventures.