Winchester put its brand on a great many cartridges using several acronyms. There have been Winchester Center Fires (WCFs), Winchester Rim Fires (WRFs), and Winchester Self Loading (WSL) and Winchester Short Magnums (WSMs). Early on, the term "center fire" was important because there was also a myriad of "rim fire" cartridges. Decades later, when rimfires were mostly .22s, the company's names for its own developments became simple ones like .270 Winchester or .308 Winchester. Please note that above I have separated the words "centerfire" and "rimfire" because Winchester did so in its early catalogs. Also, their barrels are not stamped such as .44 WCF. They clearly have periods after each letter - .44 W.C.F. For the sake of simplicity, I won't separate the letters here.
This column will only consider the WCFs. The first was .44 WCF in 1873. Thereafter, the genre grew impressively. A little recognized fact is that in its early levergun models Winchester never repeated a chambering with three important exceptions. Those were the above mentioned .44 WCF, then .38 WCF introduced in 1879 and the .32 WCF brought out three years later. Those were offered in both Models 1873 and 1892.
(Author's Note: As far as I can discern, all Winchester's levergun cartridges were also among the 80 or so caliber options of its single shot aka Model 1885.)
With the unveiling of its brand new "Centennial Model" (Model 1876), Winchester began to also add powder charges to its cartridge names. Instead of the introductory round of Model 1876s being simply .45 WCF, it was named .45-75 WCF. Three other cartridges made their debut in the Model 1876. Those were .45-60 (1879), .40-60 (1884) and .50-95 (1879). All were WCFs, but my Model 1876 has no caliber stamp on its barrel, but at the bottom of its brass cartridge lifter is .45-60. However, factory cartridge headstamps contained both powder charge weights and WCF.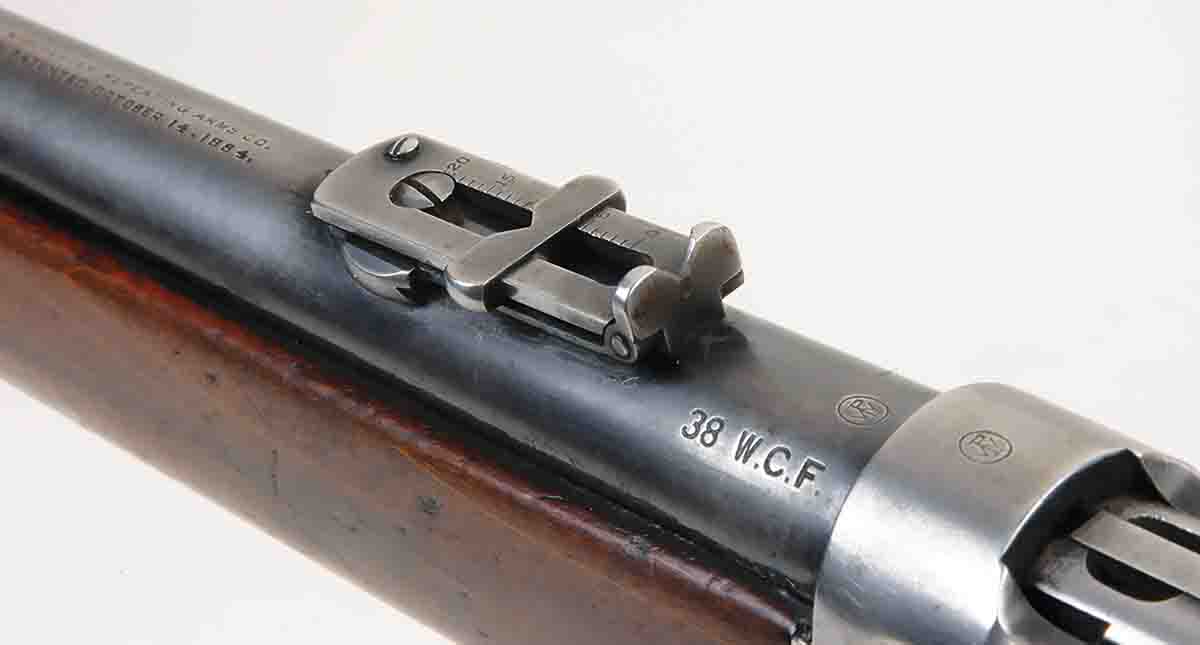 Moving on, the Model 1886 Winchester began to borrow some cartridges that they did not develop in-house. The .45 Government is one. For instance, in the 1899 Winchester catalog, the above two factory loads using 405- and 500-grain bullets are headstamped .45-70 U.S.G. (U.S. Government). However, when loaded with 350-grain roundnose/flatpoint or 330-grain hollowpoint bullets over the same 70-grain powder charge, they stamped them simply as .45-70. Also, they did borrow at least one other Model 1886 chambering. That is the .40-65 which they headstamped .40-65 WCF. That round actually began as one for the Ballard single shot and was used by Marlin in its Model 1881 levergun. Another deviation came with the .50-110-300. A formerly owned Model 1886 was caliber stamped .50 EX (Express). As far as I can tell from research, except for .45-70 and .40-65, all other Model 1886 calibers were Winchester developments. (.33, .38-56, .38-70, .40-70, .40-82, .45-90 and .50-100-450).
When we get to the Model 1894, things get more confusing. First off, Winchester borrowed two cartridges used previously by other companies. These were the .32-40 and .38-55. My Model 1894s simply have those markings. When Winchester brought out what was to become the world-famous .30-30, it was named .30 WCF. However, at about the same time they offered the .25-35 WCF. Why not just .25 WCF? Perhaps it was because they also had a .25-20 WCF in the making, which was added to the .44, .38 and .32 WCFs in its Model 1892? By this time Winchester seemed to slow down on introducing brand-new cartridges. With the Model 1895, its own rounds were .35 WCF, .38-72 WCF, .40-72 WCF and .405 WCF. Then they copied military rounds from the U.S., Great Britain and even Russia.
Now we get to the anomalies. Here we are speaking of black-powder loads because that same 1899 Winchester catalog has smokeless loads in a different section. Listed is .25-20 WCF as only having 17 grains. There were three pistol size .32s for Winchesters, Colt Lightning pump actions and Marlins. All used 20 grains of powder but Winchester's had 115-grain bullets and the other two used only 100-grain bullets. Another good example is .38 WCF, which we all know now as .38-40. It came in three versions: .38 Colt again for Lightning rifles, .38 WCF and .38-40 Marlin. All three variations used 180-grain roundnose/flatpoint bullets but the first two were loaded only with 38 grains. Marlin versions used the full 40 grains. Sticking with the pistol-sized rounds, we get to .44s. Again, there were three versions for Winchesters, Colts and Marlins. All had 40 grains but Winchester's bullet was 200 grains and the other two had 217-grain bullets. Although labeled specifically for Colt, Marlin and Winchester, all these pistol caliber cartridges were interchangeable.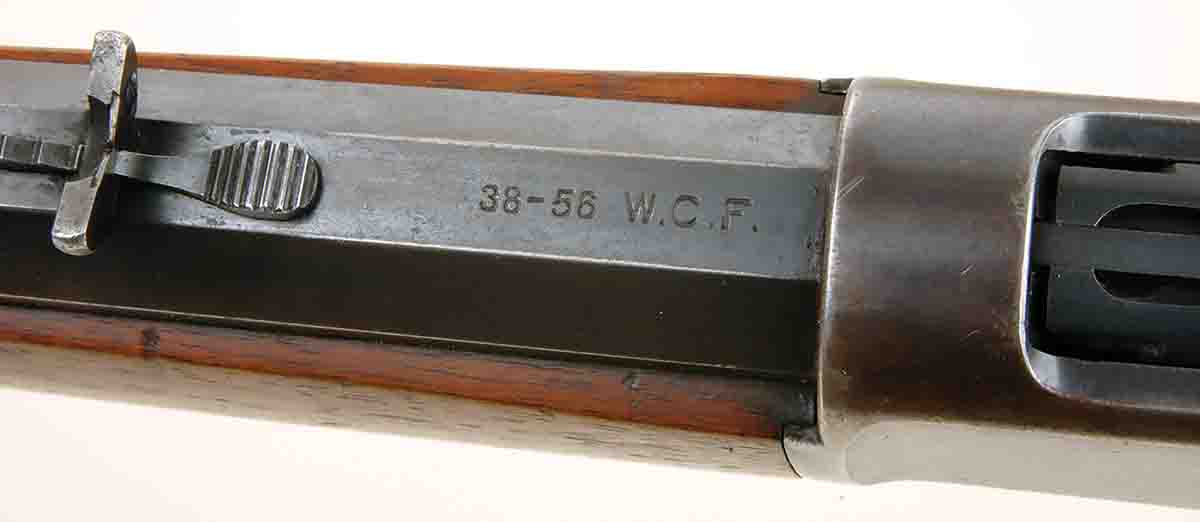 Winchester's version of .38-55 carried only 48 grains but some cartridges carried more powder than their designations implied. For instance, .45-60 WCF used 62 grains as did the .40-60 WCF. The .40-82 WCF was actually loaded with 82 grains with a 260-grain roundnose/flatpoint bullet, but an alternate load carried only 75 grains with 260-grain HP bullet. With the .45-90 WCF things really get fun. The standard was .45-90-300, but options were .45-85-350, .45-82-405 and .45-85-300 HP. All were meant for Model 1886 Winchesters caliber stamped .45-90.
Here's an anomaly within the anomalies. There were two Winchester .50-caliber cartridges; .50-110-300 and .50-100-450. Both used the same 2.40-inch case so they must be interchangeable? Not so. Both could be safely fired in Model 1886 .50-caliber rifles, but each of those cartridges were intended for rifles with different twist rates. Sources vary but as best as my research determined, rifles for the 300-grain loading had rifling twists of one turn in 60 inches but for the 450-grain loading, the twist rate was one turn in 54 inches. More details on rifling twist rates and bullet alloy tempers will have to wait for another column.
Life behind a gun store counter in the late 1800s must have been amusing. Imagine some hardheaded rifleman asking for a box of cartridges for his .38-40 Marlin levergun. The counterman might say we don't have those exactly, but the ones labeled .38 Colt and .38 WCF will work in your rifle and the potential customer walks out the door in frustration thinking the counterman is ignorant.