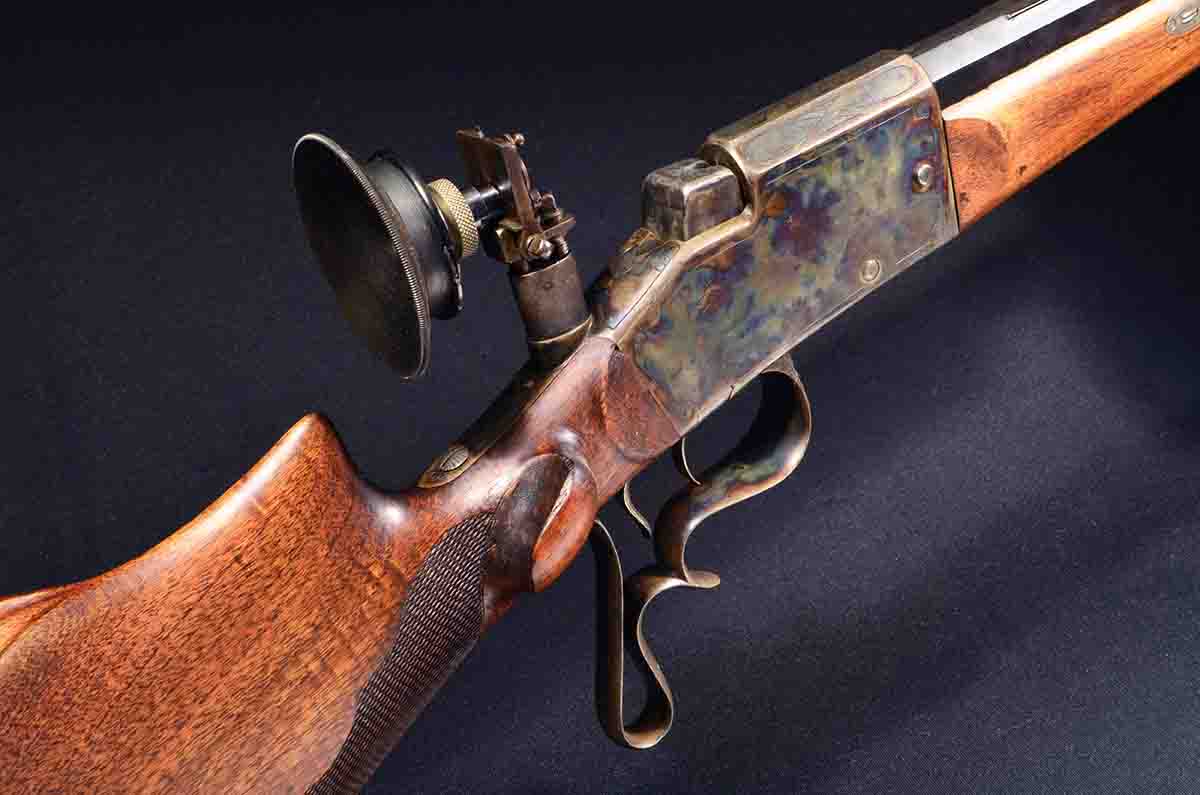 Of all the arcane corners of gun collecting, German
Schützen
rifles take the prize for being complicated and confusing. There are so many different types, designs, and styles, it seems, no two are exactly alike, even seasoned collectors throw up their hands.
However, if you were to ask them to describe the prototypical Schützen from the golden age, most would name the Aydt action, chambered for the 8.15x46R cartridge – comparable to the Mauser 98 among bolt actions, or the Winchester 94 in leverguns.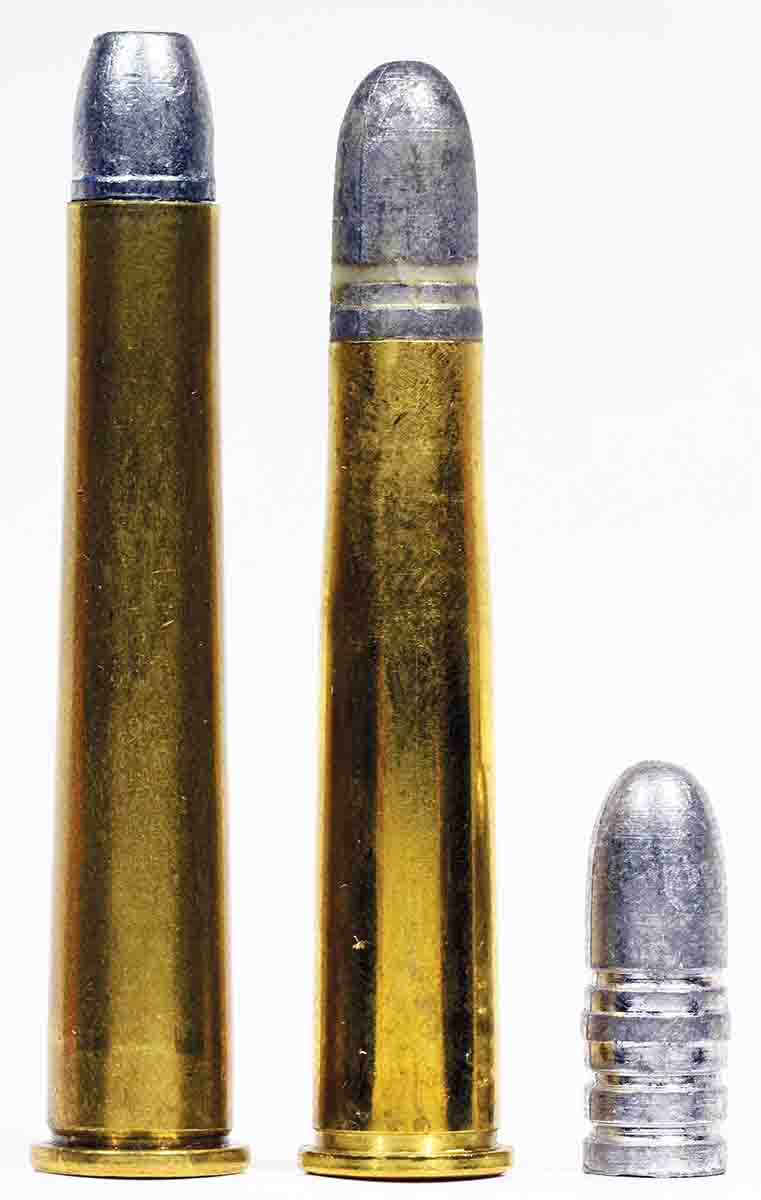 Jesse Thompson, the moving force behind
Alte Scheibenwaffen
, the multi-authored, three-volume history of Schützen rifles published in the 1990s, awards what he calls "pride of place" to the Aydt among all the different designs, but he does not do so for the usual reasons.
The Aydt, he wrote is "not the most accurate nor the strongest" and was neither the cheapest nor the most expensive. Nor was it likely to be chosen when a maker wanted to create a spectacular masterpiece combining engraving, wood carving and elaborate inlay. His reasoning seems to be that it came along just as the golden age was beginning (1890-1914), came to dominate during that period, and stayed in production until 1940, long after Schützen shooting had faded and all the other designs had been discontinued.
In terms of longevity and wide use, the only action that rivals the Aydt is the Martini and its many variations, and here German nationalism may play a part. The Martini was the hammerless Swiss improvement on the Peabody, an original American design – a foreign creation regardless of how many alterations and further improvements might be made to it by ingenious German gunmakers. The Aydt, on the other hand, and all of its progeny of modified or so-called "improved" mechanisms, were German from start to finish.
As well, unlike its main rival, the Martini-Peabody, the Aydt was never intended to be anything but a target rifle, and was never produced in any military or hunting guise, which adds to its claim to preeminence in target circles.
What was the Aydt, and what made it so good?
It is essentially a falling-block action, with a breechblock shaped like an 'L' lying on its side. The long arm pivots on a pin 2 to 3 inches forward of the breech mouth. There is no comparable American design to which it can be compared. The action is deep, long, and rectangular, and instantly recognizable by two boomerang-shaped pieces of steel on the left side – the half-moon extractor and its retaining rod.


The Aydt is strong and reliable, as well as being simple enough that it can be dismantled without tools. According to Thompson, the only part likely to break is the mainspring and it can be replaced easily by the shooter.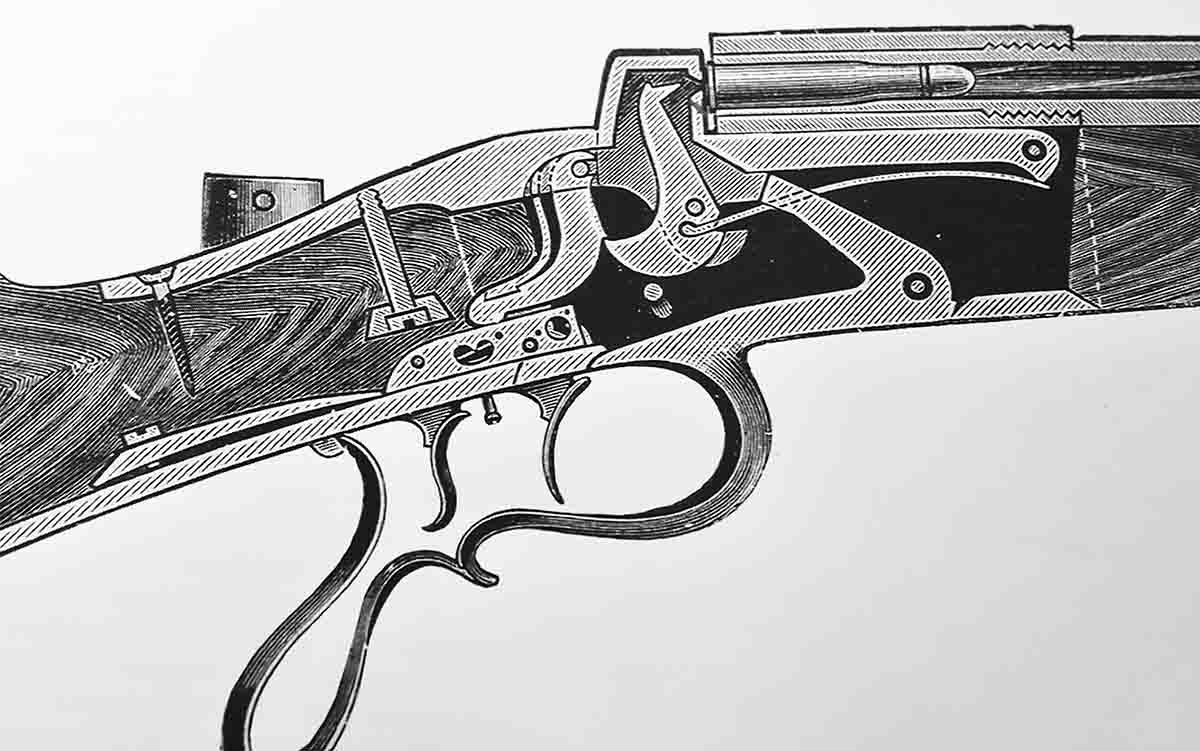 The action was invented by Carl Wilhelm Aydt, a gunmaker who was born in 1847 and became a prominent marksman. His action was patented (#31291) in February 1884, when he was 37 years old, and he spent the rest of his life not only perfecting the design, but ensuring that any rifles built on his action lived up to his standards. Being a Schützen competitor himself, Aydt was well aware of the qualities that made a good offhand target rifle, both mechanically and ergonomically.
Around 1888, Aydt sold the rights to his invention to the great German riflemaking company, C.G. Haenel of Suhl, but with conditions – the main one being that Aydt would personally inspect, test fire, and approve every single rifle produced, before it left the factory. This resembles Harry Pope's agreement with Stevens, 20 years later, but it appears that the Aydt-Haenel deal lasted longer and ended better.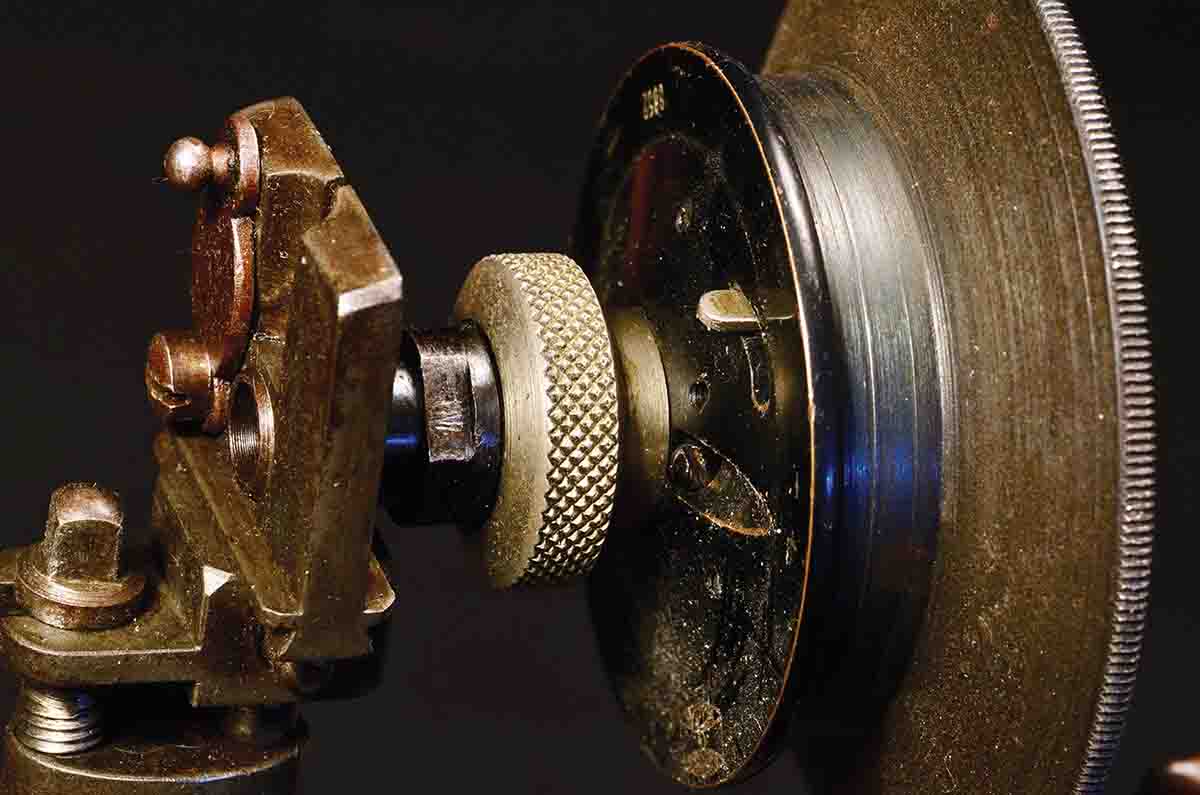 During the 20 years of the patent's life, Haenel not only built complete rifles on the Aydt action, the company sold actions to independent gunmakers. The Haenel-built, Aydt-approved rifles were inscribed
Haenel Original Aydt
, usually on the top of the action and on the side of the breechblock. Rifles built by other firms on Haenel-made actions were inscribed
Original Aydt
or
Original System Aydt
.
As with most aspects of Schützen rifles, however, no rules are hard and fast. Some copies were made by other companies while the action was under patent, and these are usually marked Aydt's D.R. Patent or some variation.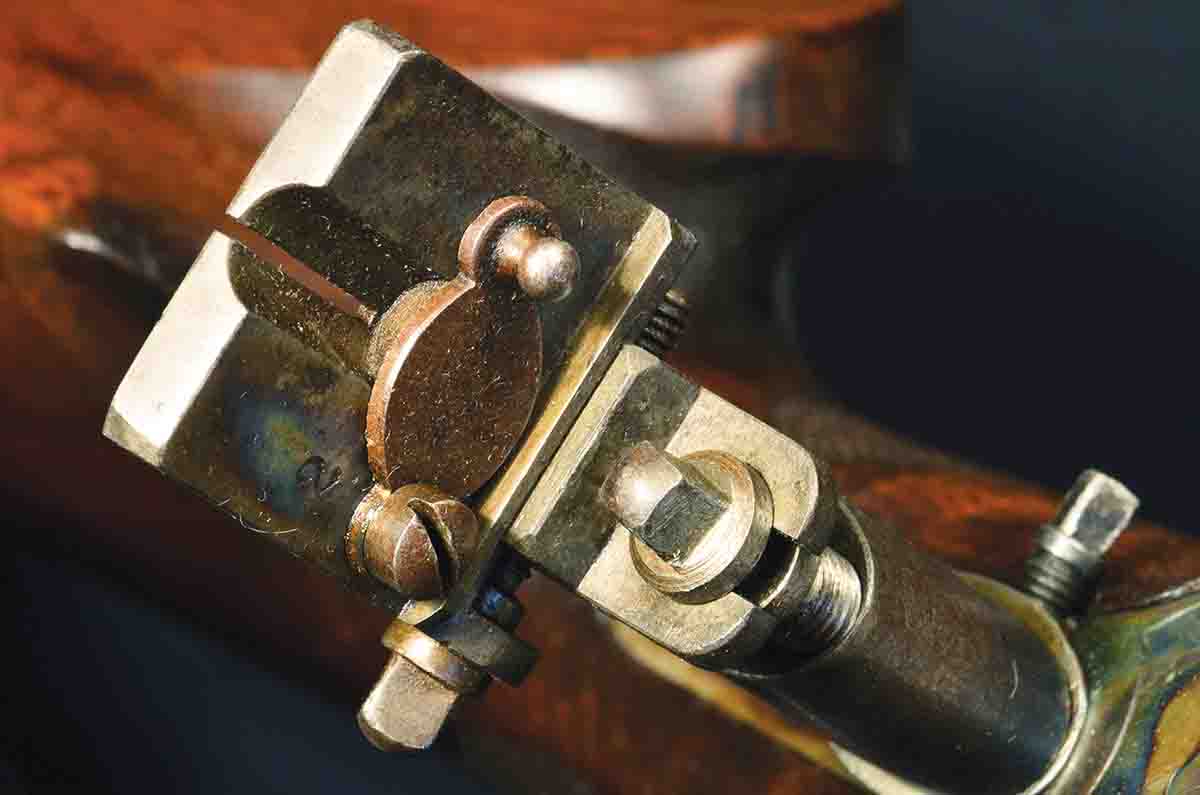 When the patent expired in 1904, it was not renewed. Presumably, Haenel felt it was not worth the considerable expense, given the fact that it was a specialized target rifle and future sales were likely to be small at best. The lapsed patent unleashed the pent-up energies and imaginations of all the independent makers of Schützen rifles, who set about modifying the Aydt in various ways to suit their own ideas of what a rifle should be.
At this point, the Aydt story becomes really complicated because now everyone and his brother could make any modifications he wanted, and call it anything he liked. Jesse Thompson et al. identify two major variations – the Aydt Reform Type II and Type III. These both did away with the external extractor, and made such internal changes as using a 'V' spring instead of the leaf mainspring, or employing a stock bolt.
In the British and American trades, rifles can be dated by their serial numbers, but in Germany, it was not so simple. Part of the problem lay in the scattered nature of the trade, with many small shops. Haenel did stamp its actions with serial numbers, but these might not be turned into rifles or sold to the trade right away, and so they have little relation to actual manufacturing date. A completed Haenel rifle could also have a serial number stamped on the barrel under the forend, but again, this is not an immutable rule.
Jesse Thompson managed to compile a partial list of serial numbers with approximate dates of manufacture. The earliest is 217 (dated to 1891 by a presentation plaque on the stock) and the latest was 27,167, manufactured in June 1930. It's believed, however, that actions were available right up until 1939.
There are several other ways of dating these rifles. One is by proof marks. German proof was standardized and became mandatory in April, 1893. Obviously, some early Haenel Aydts would have no proof marks at all.
Then there is caliber. By far, the most common Aydt chambering is 8.15x46R, comparable to the American .32-40. The cartridge was introduced in 1893 by gunmaker Adolf Frohn, and was known originally as the 8.15x46½R, along with several variations thereof. In 1909, it was "normalized," along with three other common cartridges, and after that had the letter 'N' or 'Norm.' appended to the designation on case heads as well as caliber stamps on rifles, if there is a caliber stamp at all. Many rifles, if not most, do not.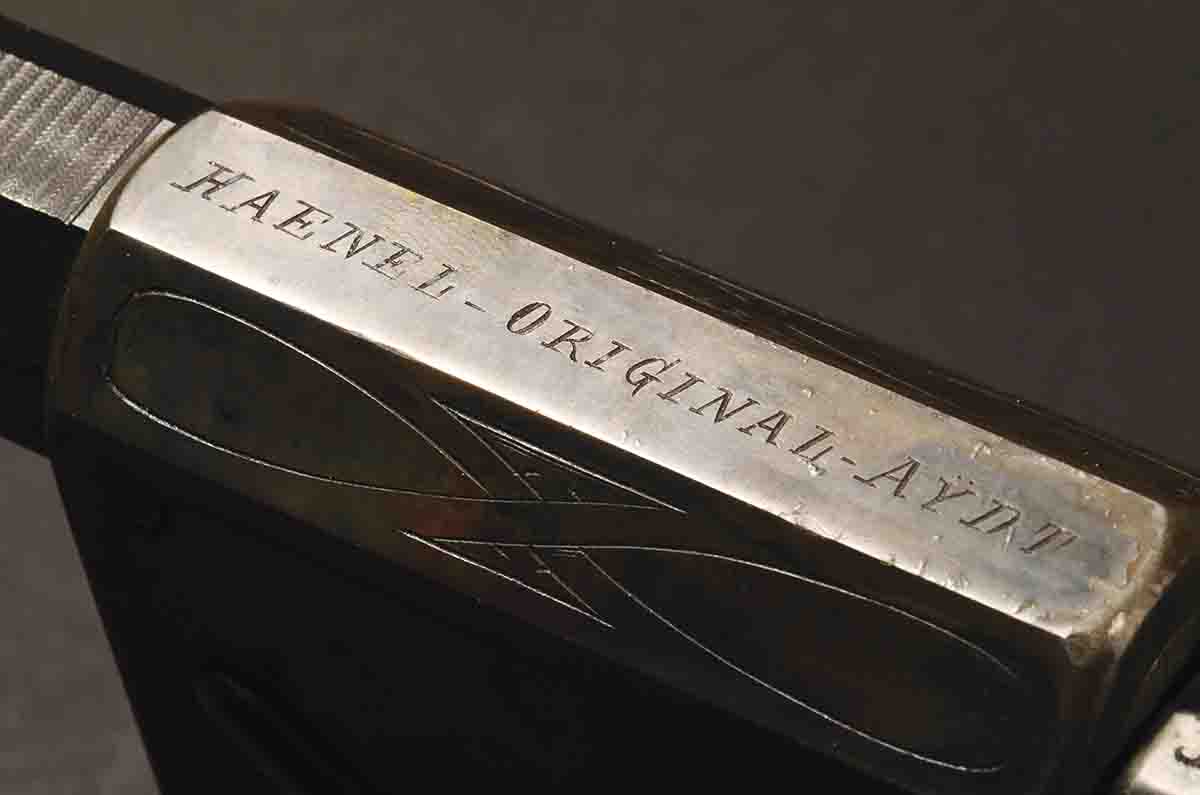 After 1900, the 8.15x46R took over so completely that it's rare to find anything else.
The great age of German Schützen ended in 1914, for both the rifles and the grand shooting matches. After 1918, the German economy was a wreck; this was followed by hyperinflation in the early 1920s, then the Great Depression of the early 1930s. After the Nazis took power in 1933, there was one last national Schützenfest, at Leipzig in 1934. But since Schützen was not considered good military training, the Nazis discouraged it and it fell out of favor.
The rifle shown here is a puzzle in many ways.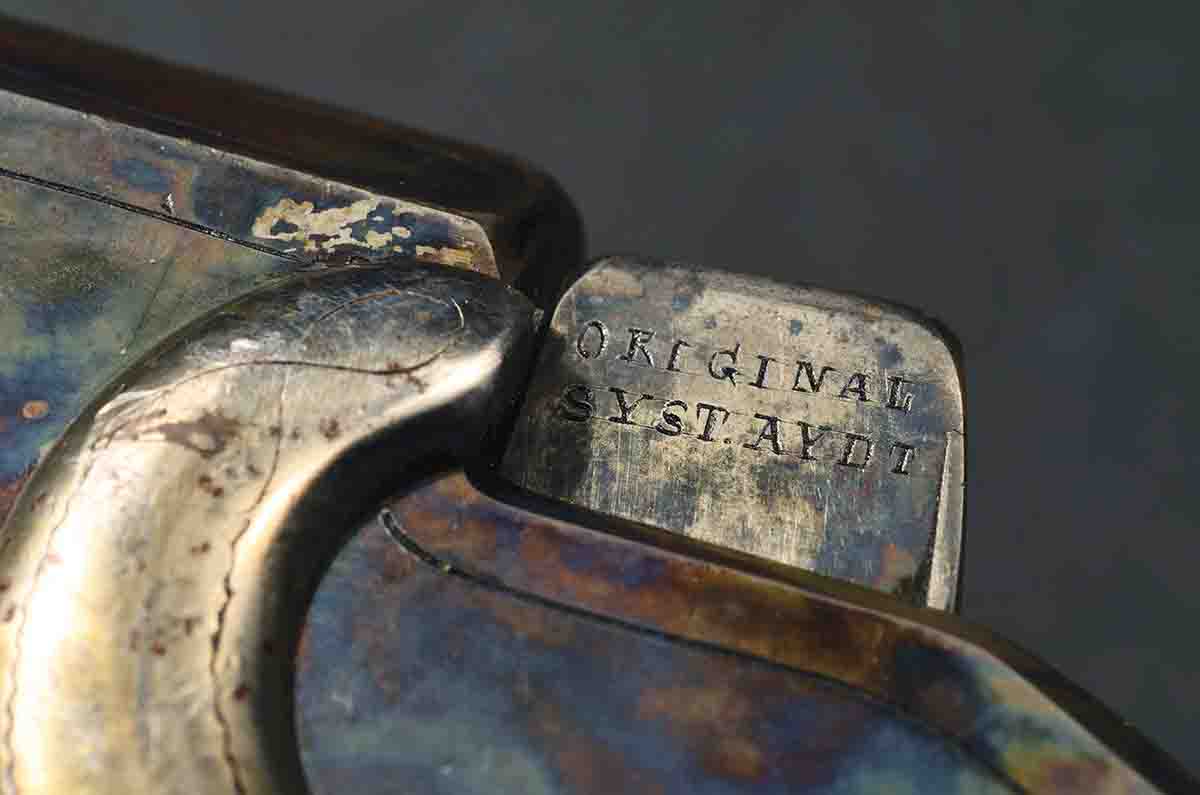 From all appearances, it is a classic Haenel-made rifle bearing the critical "Haenel Original Aydt" markings. The stock is a beautifully shaped "Tyrol"-style Schützen. The barrel is of Krupp
Flussstahl
. The breechblock is marked "Original Syst. Aydt," but that is not unusual – breechblock markings varied even more than the actions – but it does indicate it was made after the patent expired in 1904.
Now for the anomalies. First, there are no proof marks whatsoever, anywhere that I can find. Normally, this would indicate it was made before 1893, but every other feature argues in favor of a much later rifle, not an early one. There is no caliber mark, either. The Krupp name and company symbol are the only markings on the barrel.
There is only a tiny bit of engraving on the action, a simple curved-line pattern with a vaguely Art Deco appearance and a line around the border. This is echoed (and not very well) on the trigger plate. Otherwise, the entire frame is decorated only by the natural case hardening. The stock, although a decent piece
of walnut, has a nice checkering pattern on the grip, but no wood carving at all.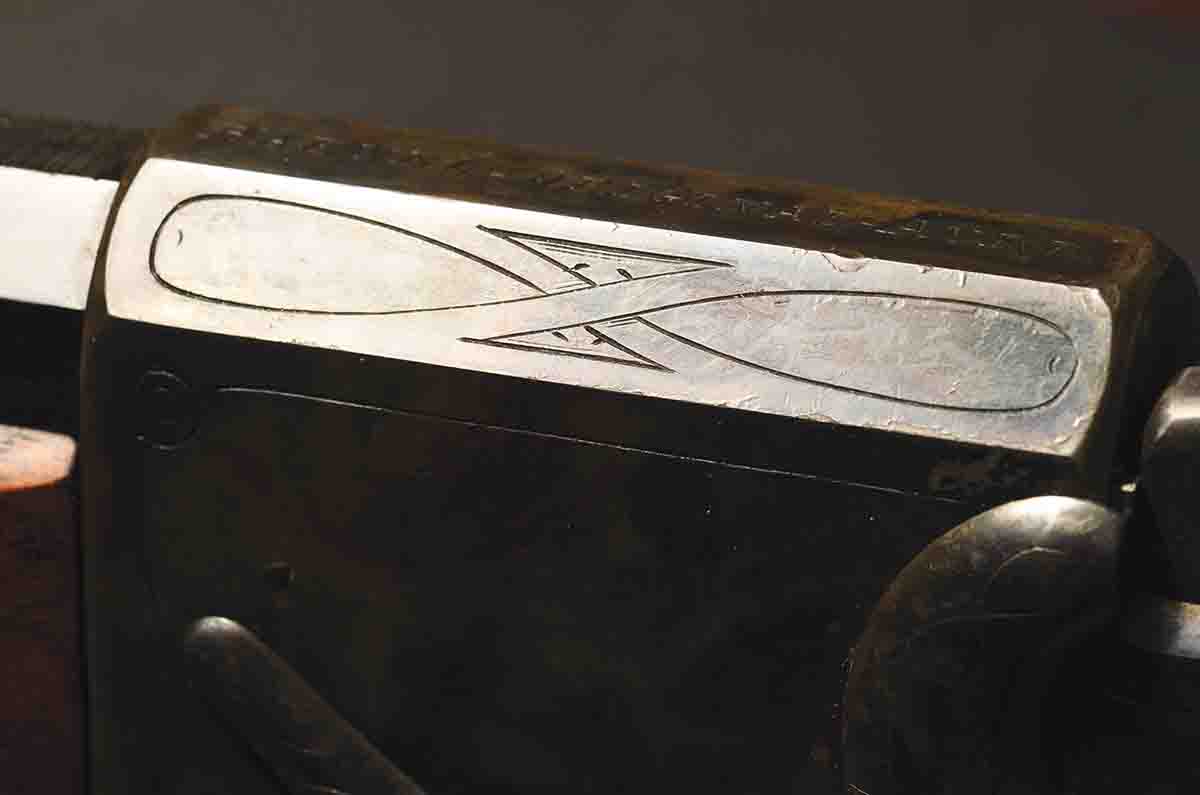 After 1920, the elaborate carving and engraving of the pre-war rifles had gone out of fashion, whether due to cost or a shortage of craftsmen. Either way, it was the era of the Roaring Twenties, of Art Deco, and of stark simplicity of design, and rifles produced through that era typically displayed little of the Victorian ornateness of pre-1914.
The detachable trigger group is a three-leaf double-set. To my untutored eye, it's much simpler and more compact than pre-war triggers, but this may be a feature of Aydts in general since the others I've seen have been on Martini variations.
Finally, the sights. The rifle has the standard Schützen configuration of front, mid-barrel, and diopter (tang) sight. Whether these are original to the rifle is anyone's guess, but the diopter sight is particularly interesting. It has an oval shaft and sits on a matching oval post on the tang, typical of Aydts. The sight itself, however, is an optical diopter made by W&H Seibert of Wetzlar. It has every bell and whistle of the classic diopter, including a Gabel (slot) sight, used in field matches, and a small gate that swings down to block the aperture when the Gabel is in use. An internal wheel allows a choice of five different aperture sizes. The optical lens is focused by a knurled wheel. There is also an amber glass filter for use on overcast days.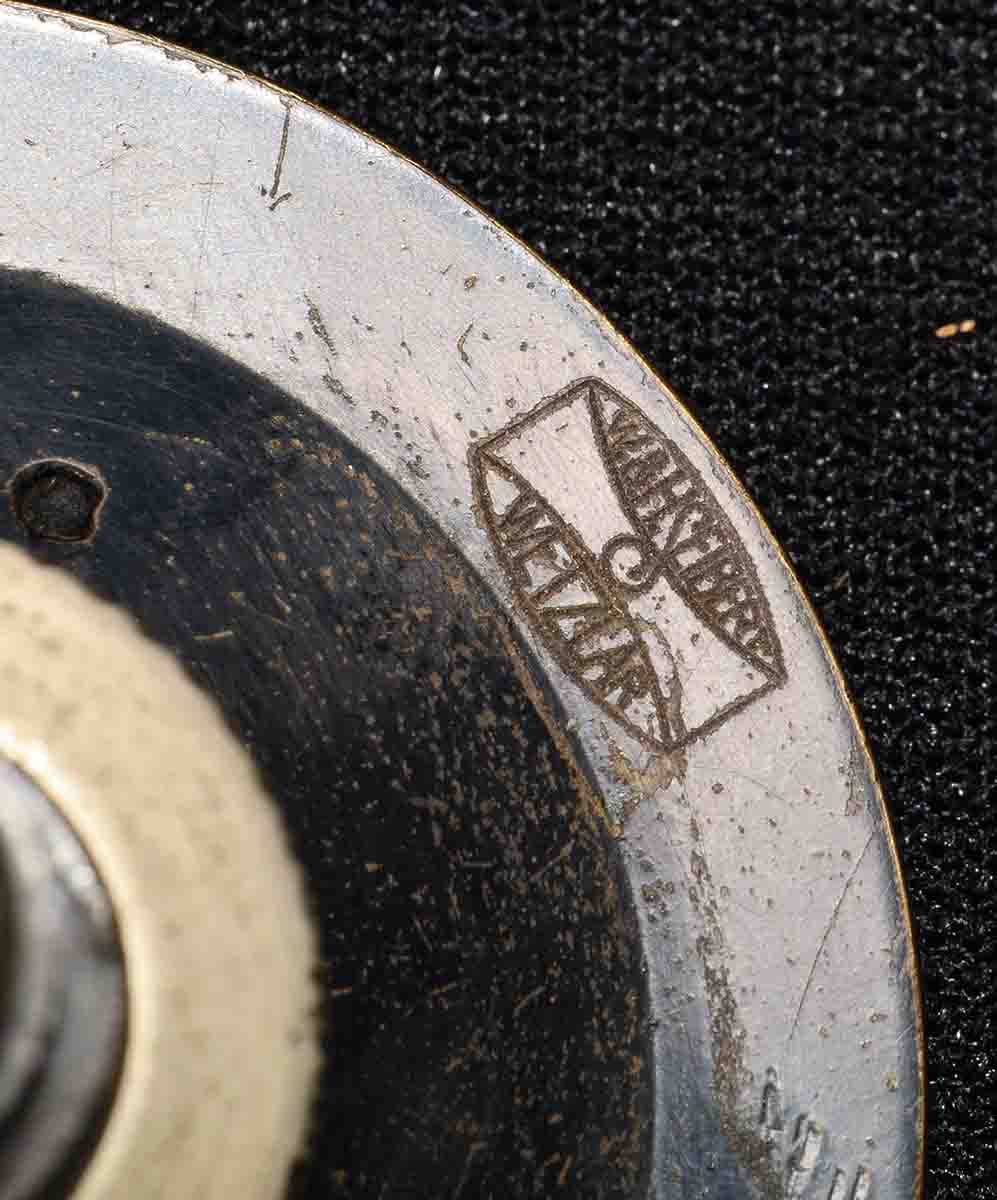 What, then, is this rifle? Overall, it displays all the signs of the simplification that was taking place in mechanisms of all kinds between 1918 and 1939.
Carl Gottlieb Haenel's grandson, Herbert, lived until 1983, and had distinct memories of the factory before 1939. He told Jesse Thompson that, as late as 1939, a few rifles were still being assembled from leftover parts.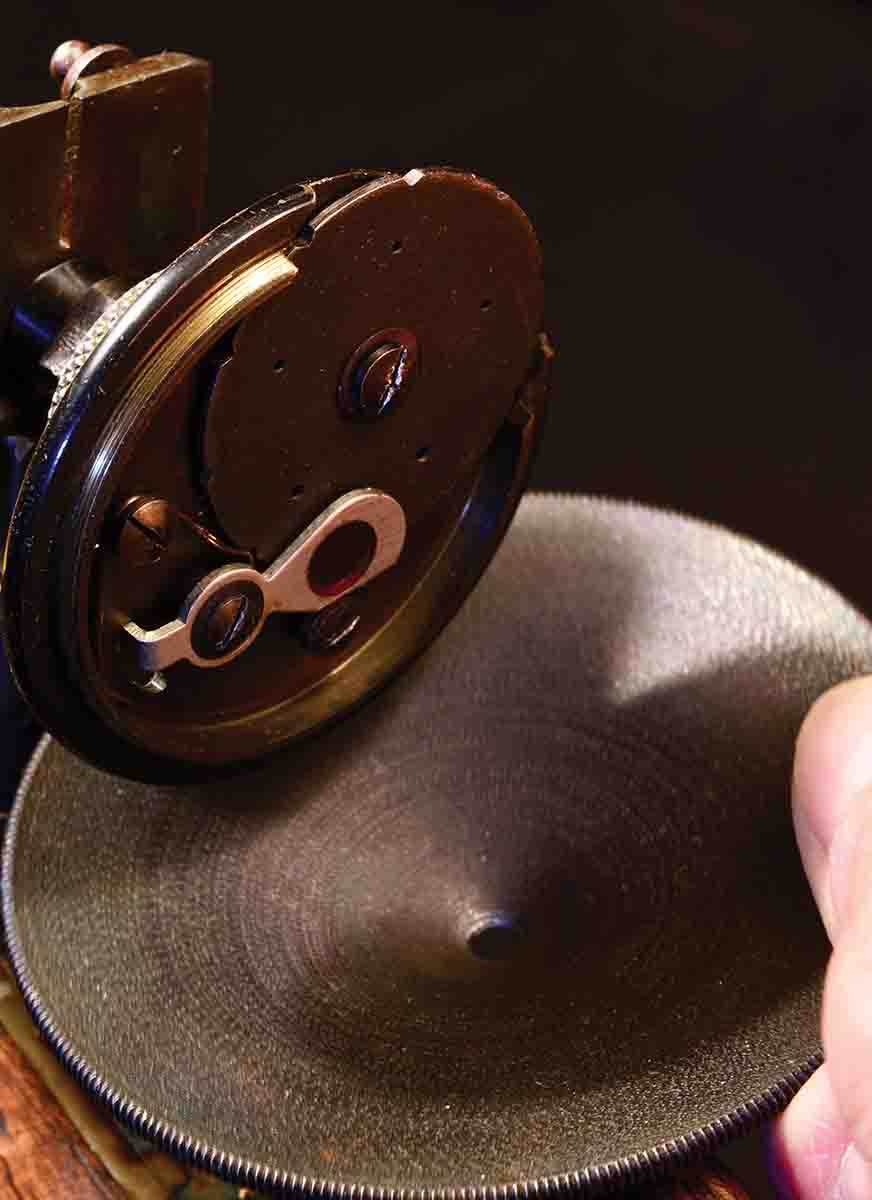 From all appearances, this rifle is one of those although – and this is speculation – it might even have been assembled after 1945. In the chaos that followed the war, proofing of firearms was not at the top of the priority list, and this would account for the lack of proof marks. There is also the possibility that it was pirated by factory employees and sold out the back door. This practice was known in both America and England, although it seems unlikely in a culture as highly regulated as Germany. It could also be – speculation again – that it was built for an American soldier, who brought it home, but since Suhl fell under Russian occupation, this would only be possible if the parts were already sitting in a gunshop in the Allied zone, and then, how would a gun shop get hold of an action marked "Haenel Original Aydt?"
Questions, questions – and nothing in the way of firm, verifiable answers.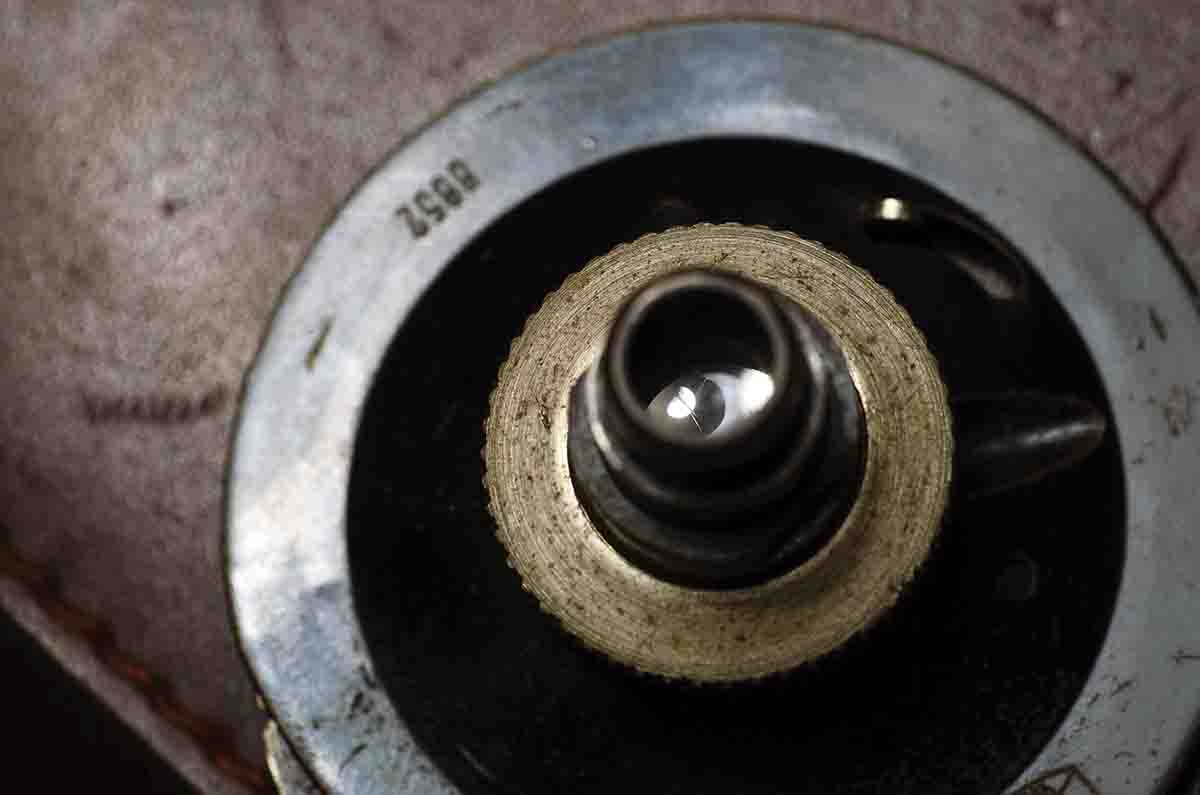 Still, it is a fine rifle, a good example of the classic Aydt, and one whose accuracy far outstrips my abilities as a Schützen shooter. The standard distances were 175 and 300 meters, offhand, and I'm doing well to hit a 12-inch plate at 100 yards.
As for the mysteries, you can never know it all, and there is always something new. Life with Schützen rifles is never dull.