Several "Mauser" rifles grace my gun safes, or at least rifles built on Mauser actions. Unsurprisingly, these actions were stripped World War II Mauser '98s imported following the 1947 Paris Peace Treaties, as most include thumb indents on the left wall of the receiver designed to accommodate military stripper clips. Mauser's 2022 M18 Savanna is a different kind of Mauser, a modern "Das Original" Jagdwaffen (hunting weapons) rifle. The fact Mauser acknowledges that these are true hunting rifles, made for serious hunters, garners my utmost appreciation. I've certainly handled new-model Mausers, admired the German craftsmanship that goes into each one, but this would mark my first opportunity to shoot one.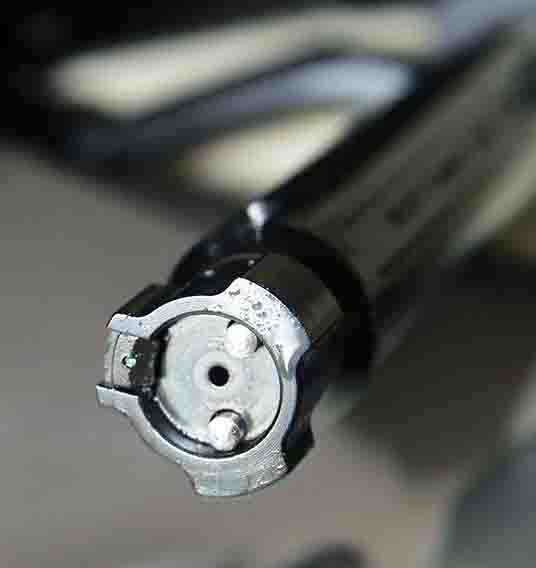 Then, too, my one and only experience with the .270 Winchester – unbelievably limited to but one shot – was with a custom rifle borrowed momentarily in Sonora, Mexico. That single shot took a Boone & Crockett-class Coues' whitetail buck at around 375 yards. It was not an entirely simple shot, shooting across a windy chasm, but the buck went down as if struck by lightning. I held the ultra-light rifle at arm's length in brief admiration, and then handed it back to my hunting client (he had filled his deer tag and we were seeking javelina that afternoon) with an emphatic, "Nice!"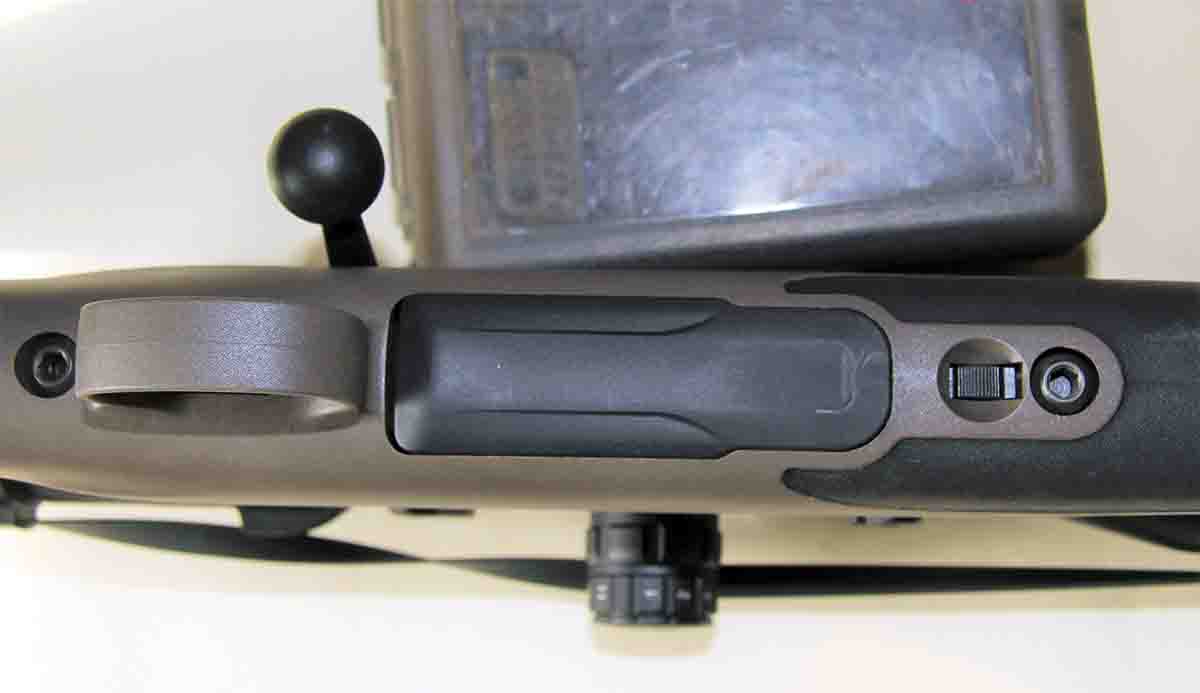 Mauser bolt-action rifles (now owned by the Blaser Group) vary greatly in price and features, from the black-stocked M18 with retail prices from $1,035 to $2,466 (five models), the M12 moving from $1,914 to $2,573 (six models) and M98 with MSRPs between $10,559 to $14,715 (five models). Cost depends on stock materials, wood grades and basic to advanced features. The new Mauser M18 Savanna was engineered to bring this German quality within reach of more shooters and hunters, with a manufacturer's suggested retail price of just a penny short of $700.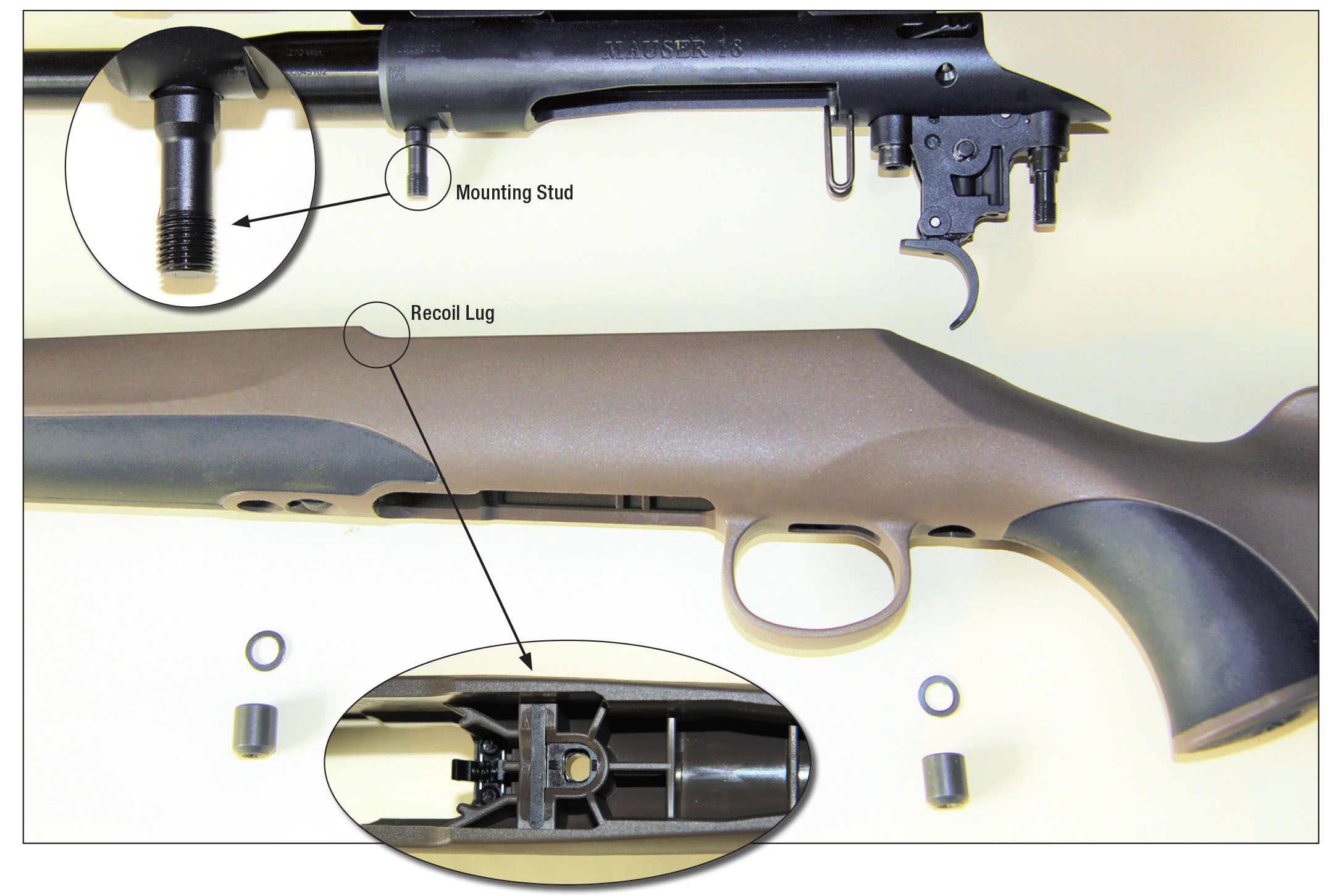 The M18 Savanna lacks fancy wood or metalwork, but it does include a wholly practical tan composite stock with rubberized grip inserts and Mauser's sub-MOA performance guarantee. There is nothing outwardly fancy about this rifle. It is a straight forward and nail-tough rifle made for rough and tumble hunting use – the
Jagdwaffen
in Mauser. This is the German-engineered and manufactured version of, say, Ruger's American Rifle, Mossberg's Patriot or Savage's Axis II – all solid and great shooting rifles designed for serious blue-collar hunters on a budget. The Mauser costs a touch more due to transport and import fees, of course, and well, because it's made in Germany. Mauser bills the M18 as
Volksgewehr
, or the "The People's Rifle." It is essentially a budget-friendly version of the more costly M12. The M18 Savanna was apparently optimized for long-range shooting such as, say, open savannas.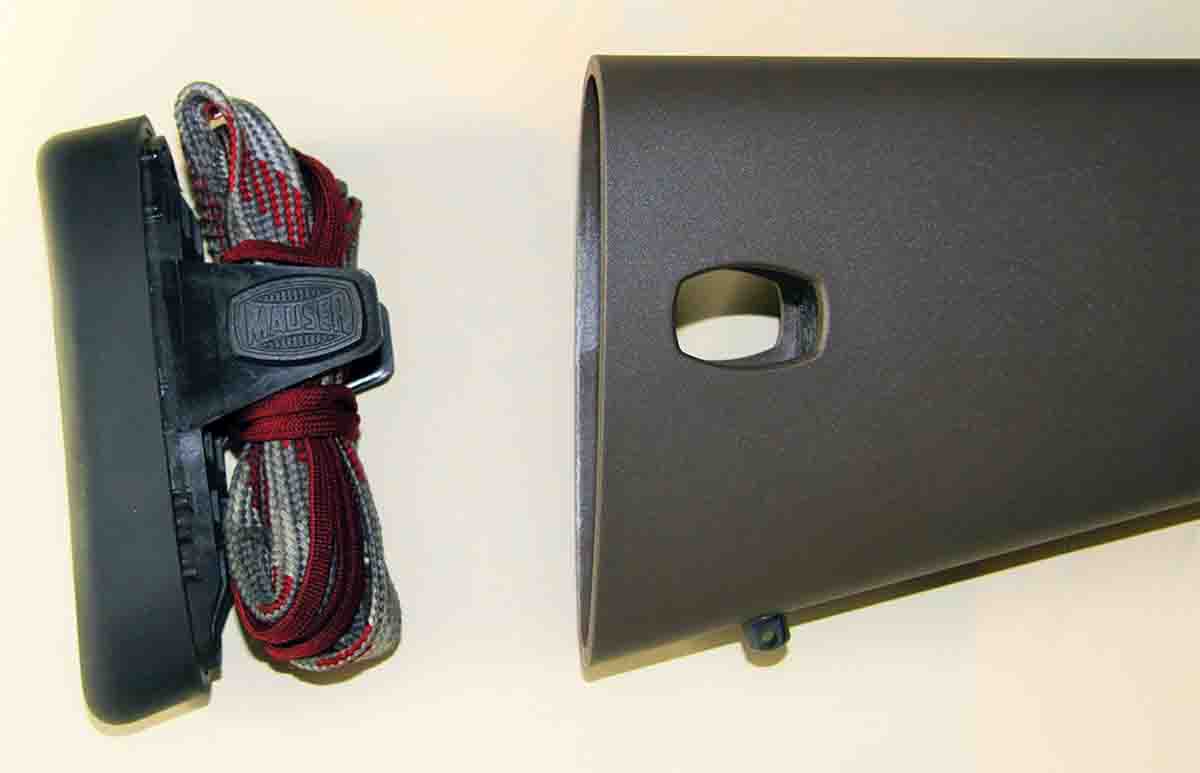 The 6.96-pound M18 Savanna's weatherproof polymer stock is entirely practical, giving hunters a bit of camouflage in the field, the rubber inserts provide a sure grip in wet or snowy weather or while wearing heavy insulated gloves. The stock's design closely mirrors Mauser's original black M18 stock. The trigger guard is part of the molded stock, which didn't bother me at all.
The barrel is thoroughly free-floated, and the action lacks a conventional bedding system. The conventional approach, of course, is a flat recoil lug milled into the action, or sandwiched between receiver and barrel, set into a stock mortis, and including loose anchoring bolts thread through the bottom of the stock. Instead, the M18 Savanna action holds a pair of threaded studs, anchored into the action – one forward and one behind the trigger – that protrude downward through the stock and are secured by hex head nuts, with a lock washer sandwiched between the nut and stock. The rear stud centers through a hole molded in the polymer stock base, the front through a steel pillar with a flat back that butts against a steel cross lug molded into the stock. Structural struts are also molded into the plastic stock to fortify this area. The system is part of the model's cost savings, but also does its job well.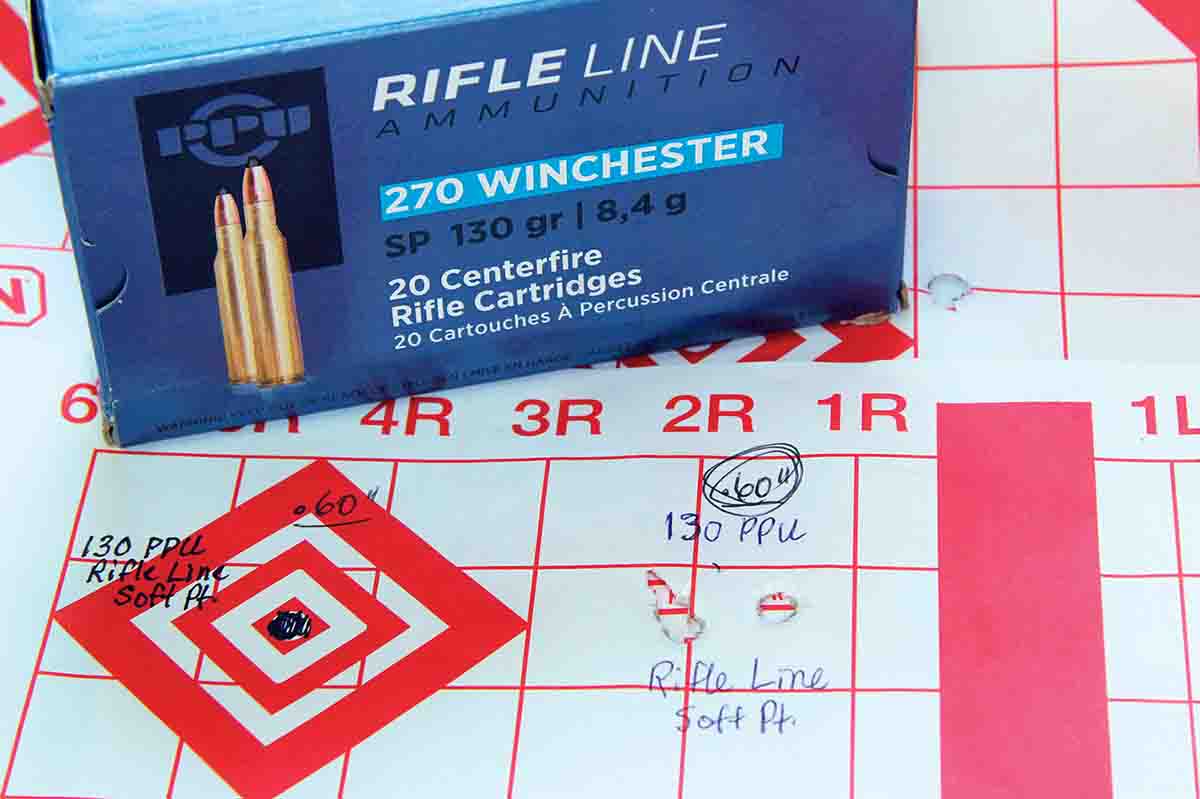 The recoil pad is molded from soft rubber and is attached to a molded plate including side Mauser-logoed tabs that click into the rear of the stock. When depressed, these tabs allow removing the entire pad assembly to reveal a hollow just big enough to store a bore snake or fire-starting material. Front and rear steel sling studs are provided. The M18 Savanna is essentially stripped down to no-frills essentials, while offering Mauser's German-made precision that makes the brand so sought after by serious shooters. Despite its price, the rifle is backed by the same 10-year factory warranty of other Mauser models. Mauser says the company's legendary accuracy and dependability remain, which I was anxious to put to the test.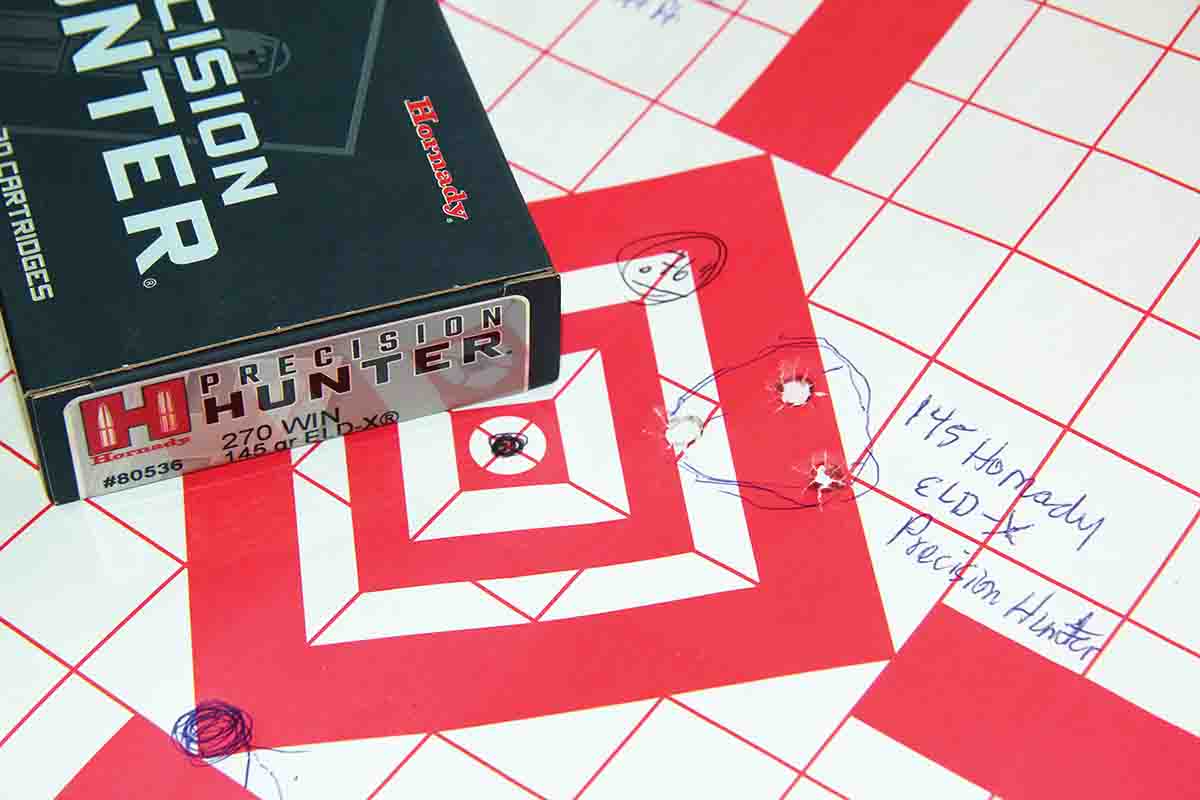 The M18 Savanna includes a ½-28 threaded, cold hammer-forged, German-steel barrel. To this barrel I added my Rebel Silencers S.O.S. Hunter suppressor during testing. The test rifle included a muzzle- crowned 22-inch barrel (24 inches is also offered). The steel alloy used for Mauser barrels is proprietary and barrel and action receive a lustrous blued finish. This muzzle thread pattern is also included on .223 Remington, .243 Winchester, 6.5 Creedmoor and 6.5 PRC and 7mm Remington Magnum chambered rifles, with 9⁄16-24 threads included on .308 Winchester, .30-06 Springfield and .300 Winchester Magnum chambered rifles that are also offered in the M18 Savanna lineup. The receiver accepts Remington Model 700 long-action mounting bases and Picatinny rails, though the test rifle arrived with a Picatinny rail installed for easy optics mounting. The rifle includes no iron sights.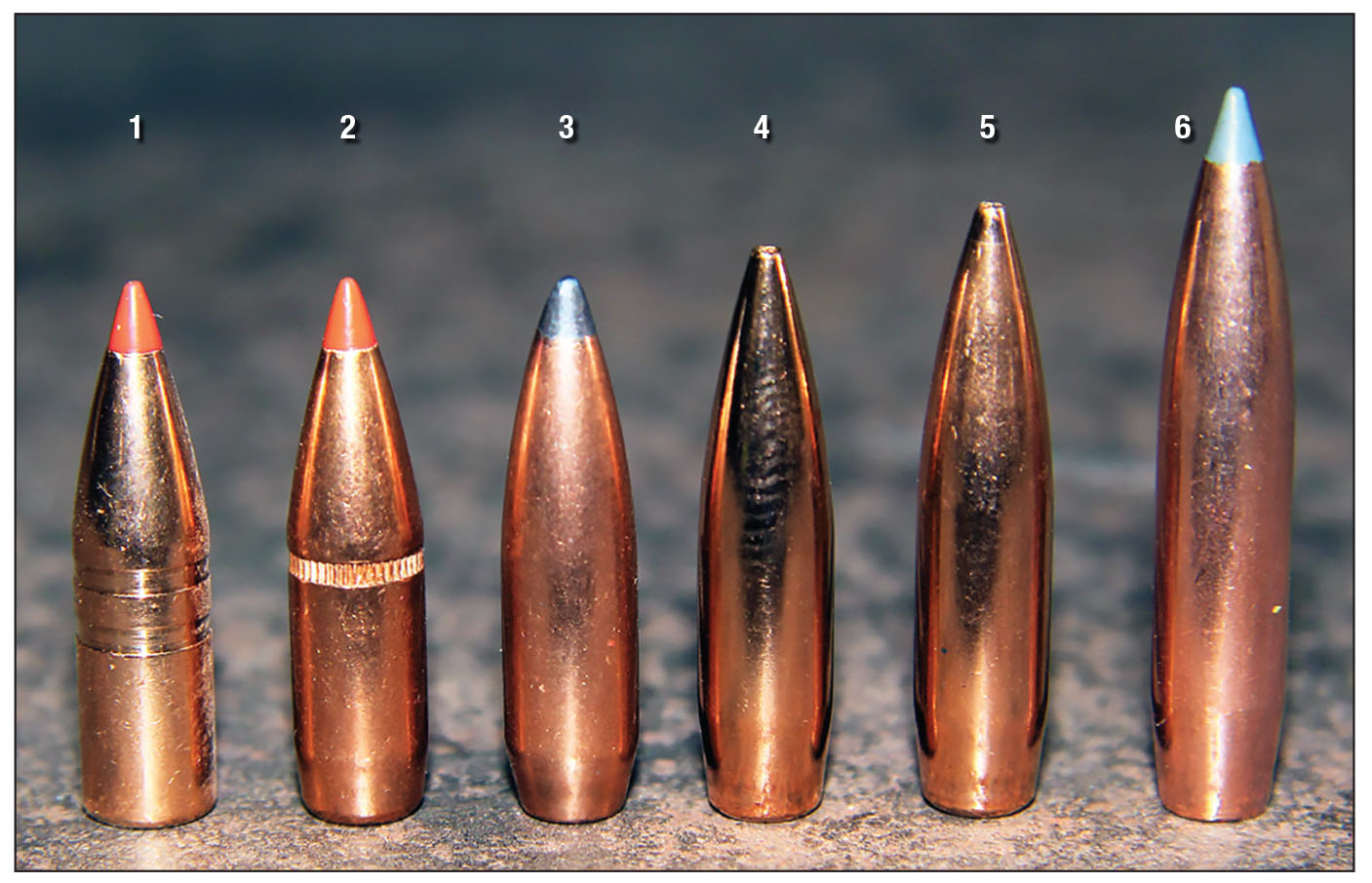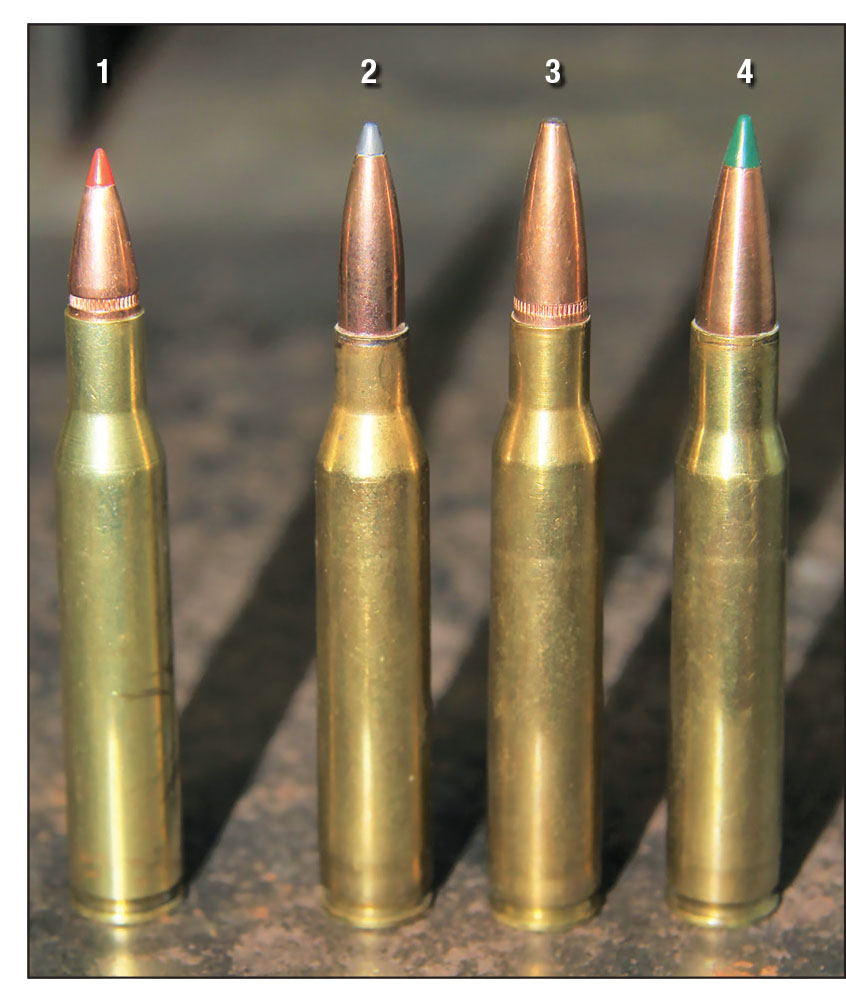 The three-lug bolt includes a 60-degree lift for faster cycling, a rotating mini-claw extractor and dual-plunge ejectors that threw spent cartridges well clear. Throughout testing, the rifle cycled and fed flawlessly, the bolt sliding into battery so smoothly and rounds feeding from the polymer magazine so silently, in the beginning I found myself opening the bolt to determine if a cartridge had chambered at all. Rounds fed from a five-round detachable, double-stack magazine (a 10-round magazine is offered as an option). The black factory magazine fit flush to the stock, matching the theme of the black rubber grip and forearm inserts. The magazine clicked into place positively and did not rattle while handling the rifle. Combined with the 60-degree bolt throw and the oversized bolt handle, follow-up shots could be made effortlessly.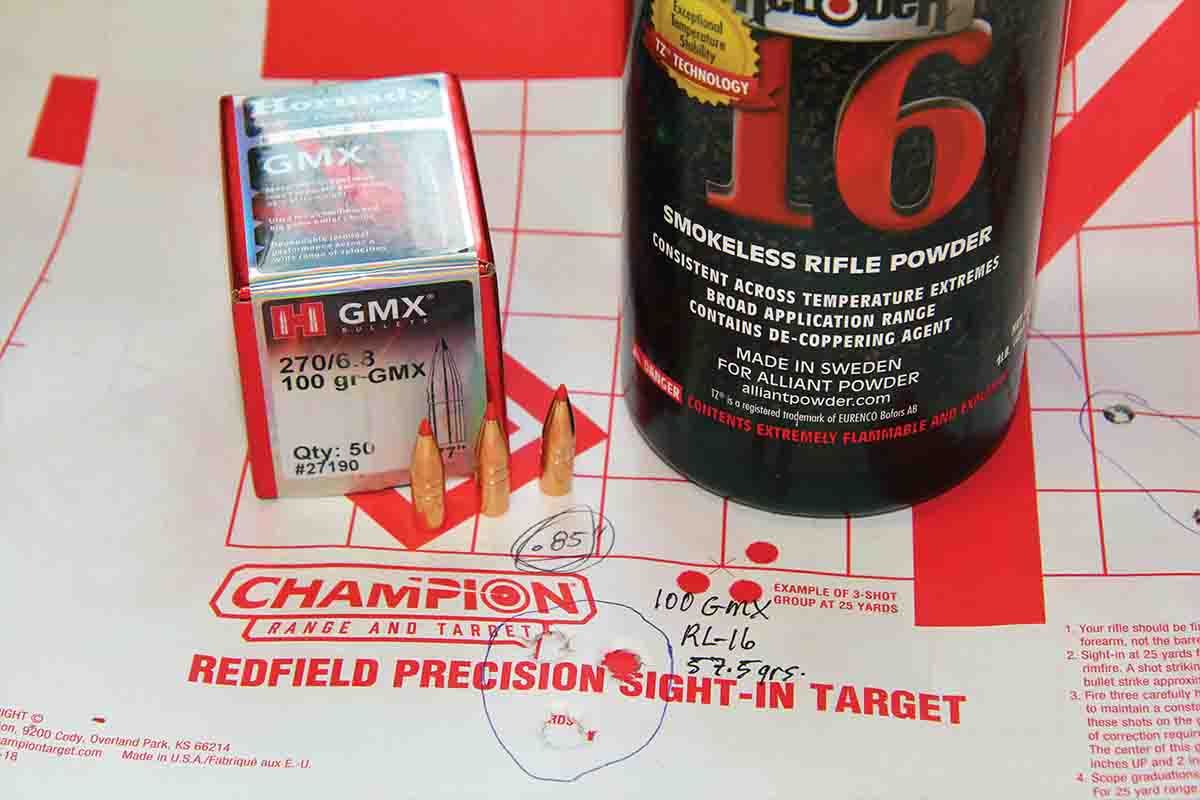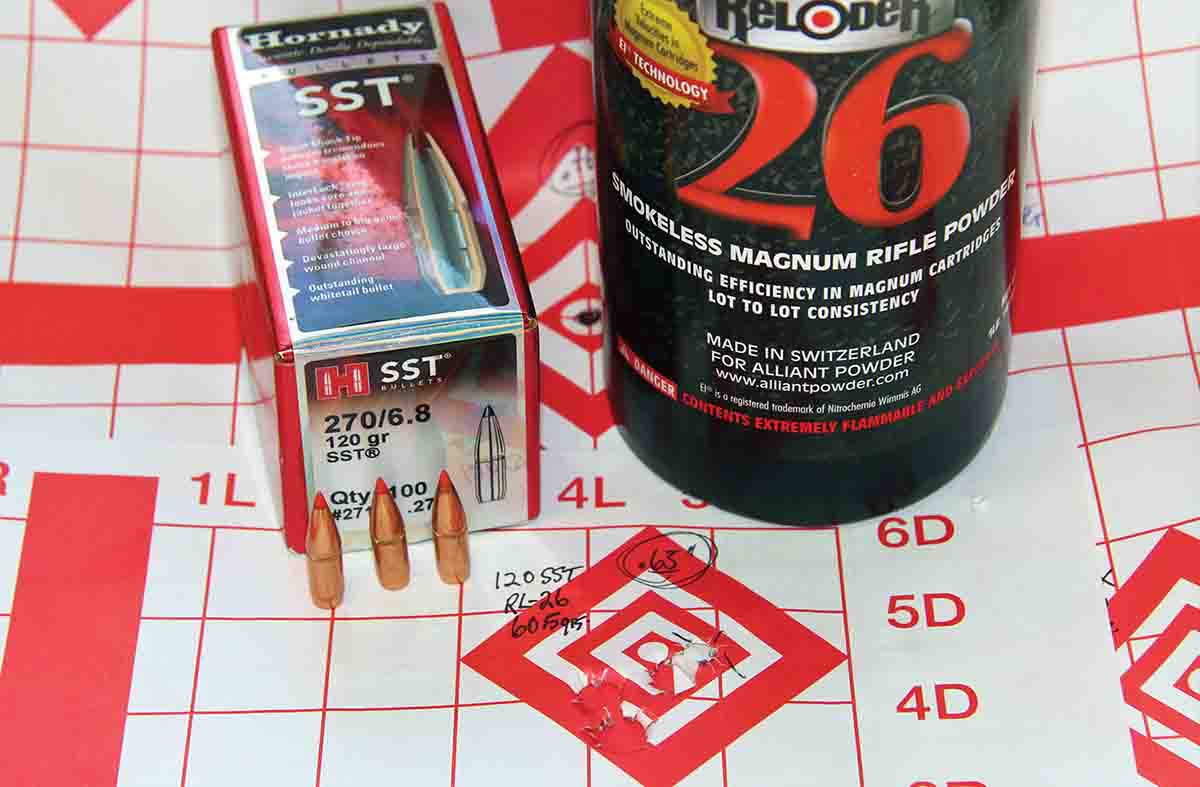 The large ball handle should allow more positive handling in cold weather and especially while wearing gloves. The bolt only grew silkier as testing progressed. The rifle is controlled by a three-position, thumb-operated safety to the right of the receiver, with a rocker-style bolt release opposite the safety. The bolt could be removed for cleaning, and returned, without fuss or undue coaxing. The magazine release is a ribbed button located in front of the magazine well and is recessed to prevent accidental magazine drops, though it proves easy to activate. I liked the fact that depressing this release dropped the magazine into my hand, with no pulling or prying required.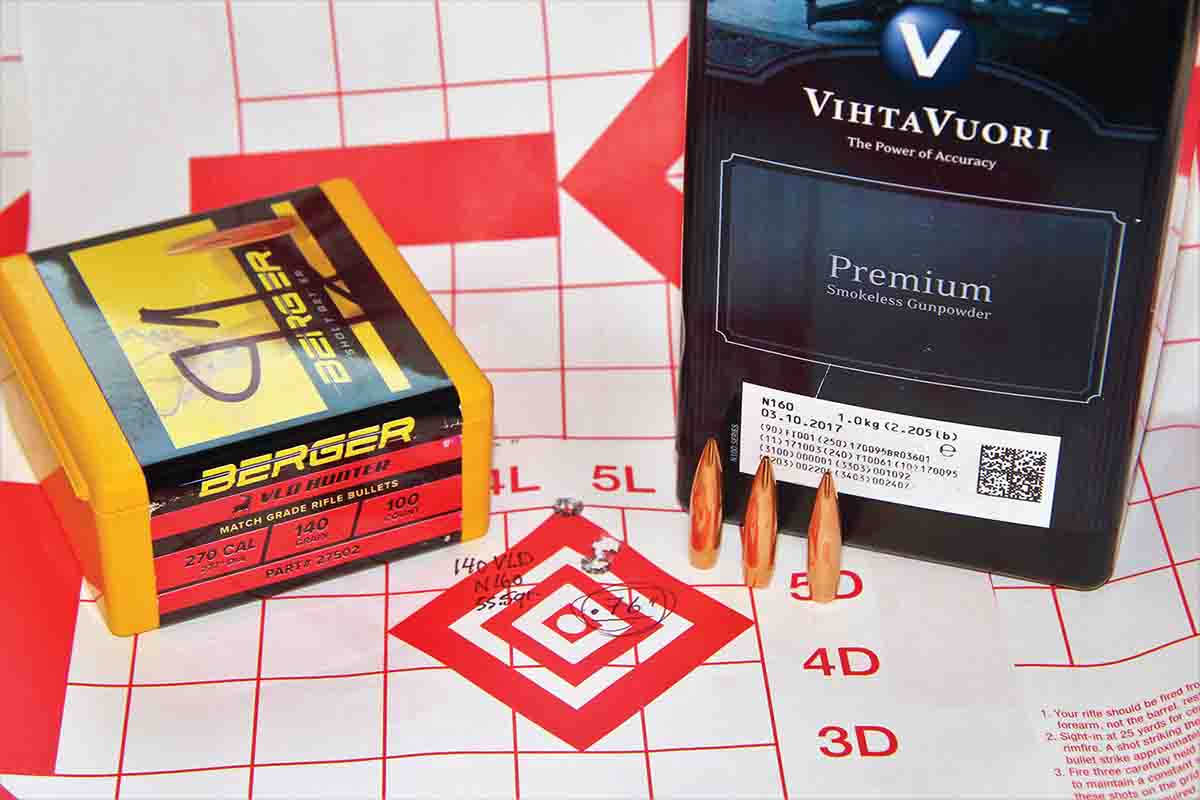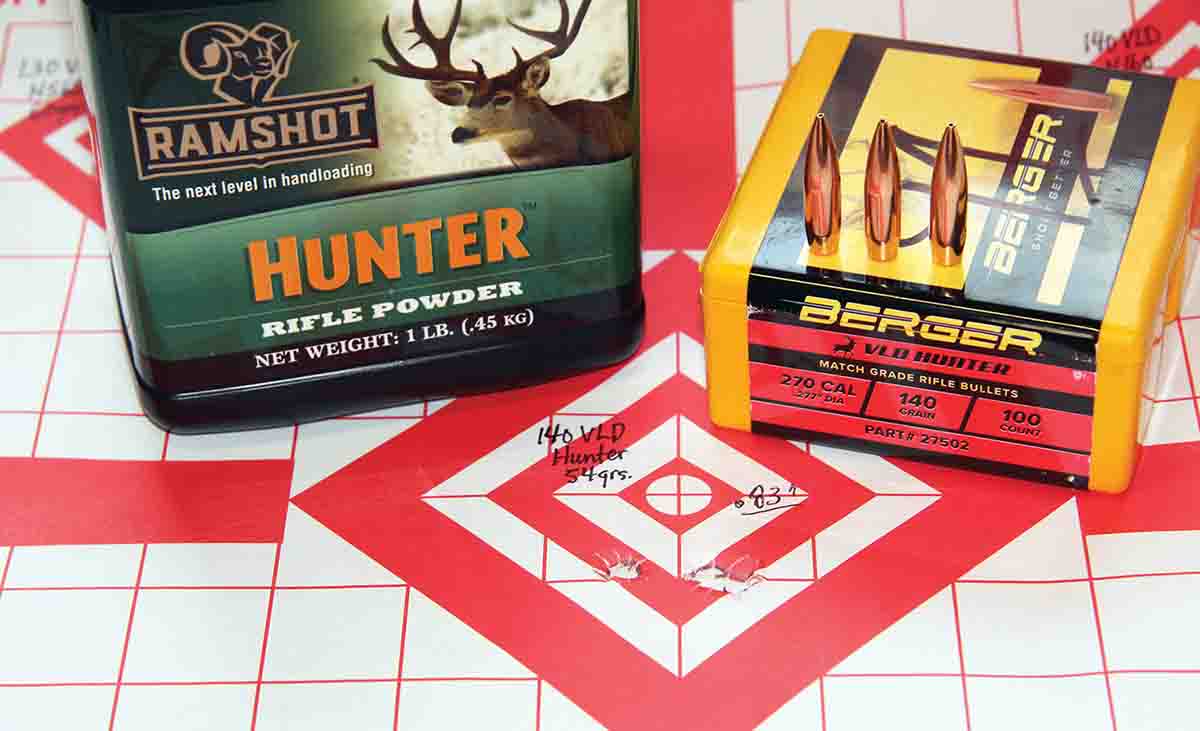 My customized Mausers hold prominent collared claw extractors that provide their much-touted controlled feed cycling, which is conspicuously absent on the M18 Savanna. This is a trend Mauser introduced in the late 1960s with the Model 2000. Mauser labels the M18 system a Voere-style three-lug/60-degree throw bolt, which includes dual ejectors that lock into a barrel extension and against a breech ring. The bolt shroud holds a large cocking indicator.
As tested, including the relatively affordable 2022 Meopta MeoSport R 3-15x 50mm RD SFP scope set in medium steel Trijicon rings (the Meopta rings packaged with the scope proved too high), the rifle weighed 8.97 pounds. The Czech-made MeoSport includes a retail price just short of $450 and meshed perfectly with the Savanna's affordable theme and hunting credentials. Included are 5x zoom, 30mm tube, side parallax adjustment, exposed 0.1 mil locking windage/elevation turrets with zero reset, illuminated 4C reticle and European optics providing 80 percent light transmission for low-light shooting confidence. It is a second focal plane (SFP) scope measuring 13.31 inches long and weighing about 17.5 ounces.
For a rifle at this price point, I really cannot heap enough praise on the trigger system. It proved truly impressive. The trigger is user adjustable from 2.2 to 4.2 pounds by employing a hex key and without the need to disassemble the rifle – such as removing the action from the stock. The trigger included no distracting creep and broke crisply. Out of the box, the trigger broke at 2.75 pounds, so I found no need to adjust it.
The term ergonomic is tossed about quite liberally these days, used it seems, to describe anything with a handle. But the M18 Savanna truly had it. The rifle includes that just-right hunting-rifle weight – not so heavy that carrying it becomes burdensome in rough terrain, not so light that it kicks the snot out of you off a bench. It carried well between the hands and came to the shoulder naturally. All controls, from the spring-loaded magazine release, to bolt release to three-position safety seemed downright intuitive. Zee Germans know how to make a hunting rifle…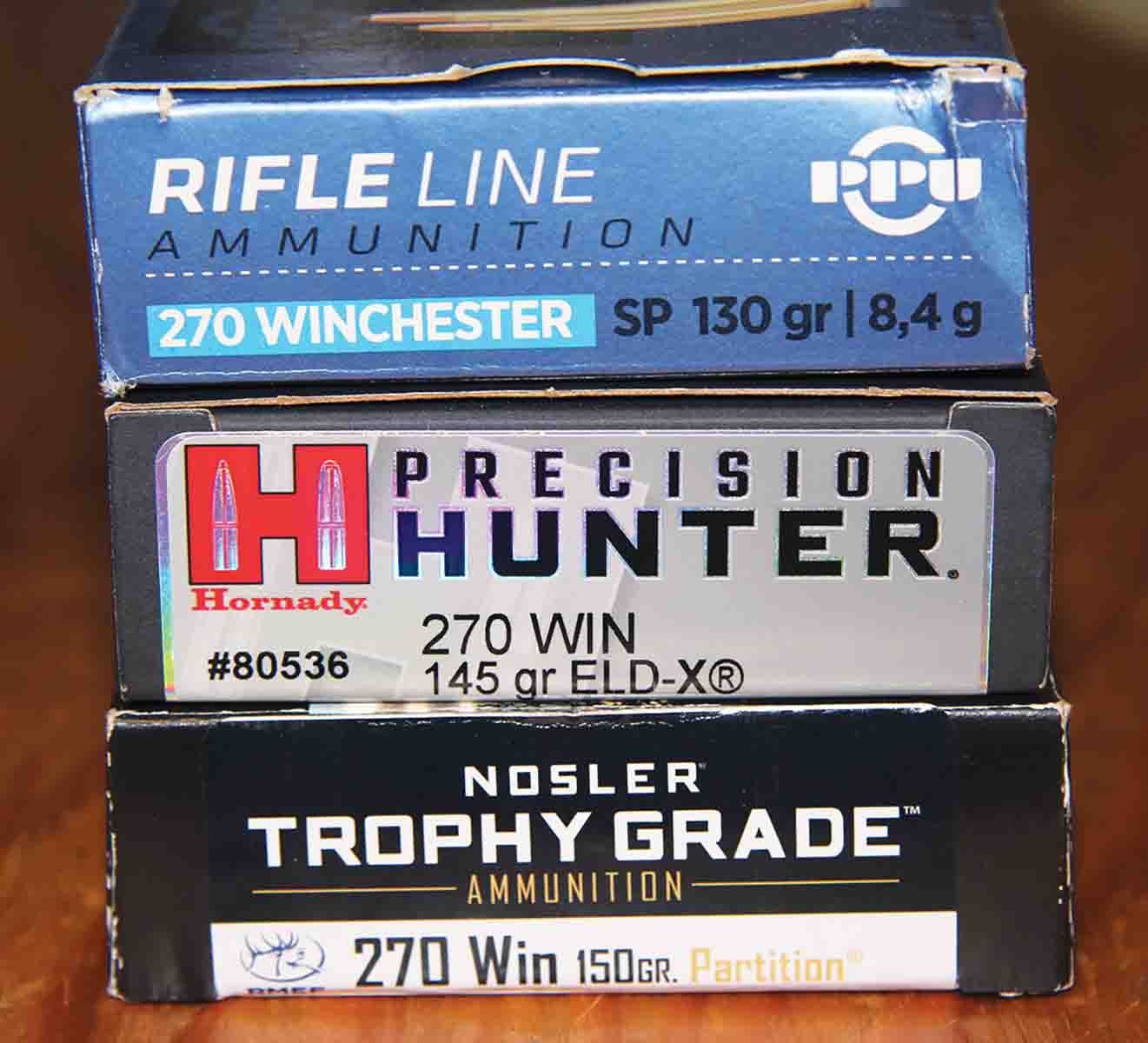 The rifle certainly met Mauser's sub-MOA accuracy promise with all factory ammunitions tested. The Savanna particularly liked Hornady's Superformance (130-grain SST) PPU's Rifle Line (130-grain softpoint) and Hornady American Whitetail (130-grain InterLock), those groups measured .57 inch for the SST and .60 inch for the other two. Hornady's Precision Hunter ammunition, shooting a long-for-caliber 145-grain ELD-X, nearly broke ¾-inch, and Nosler's Trophy Grade rounds tossed a 150-grain Partition in well under an inch. The 22-inch barrel resulted in velocity losses from 69 fps (Nolser) to 188 fps (PPU).
My complete lack of .270 Winchester experience certainly showed in my handloads, with factory ammunition averaging much better groups. I did hit a couple sub-MOA high notes, but overall, my random loads obviously needed considerable tweaking. Though, only three of 12 loads fell outside 1.5 inches, the rifle proving remarkably tolerant of a wide variety of bullet styles and weights. Hornady's 100-grain GMX and 120-grain SST, Sierra's 130-grain GameKing SBT, Berger's 130- and 140-grain VLD Hunting and Nosler's 165-grain AccuBond Long Range were auditioned.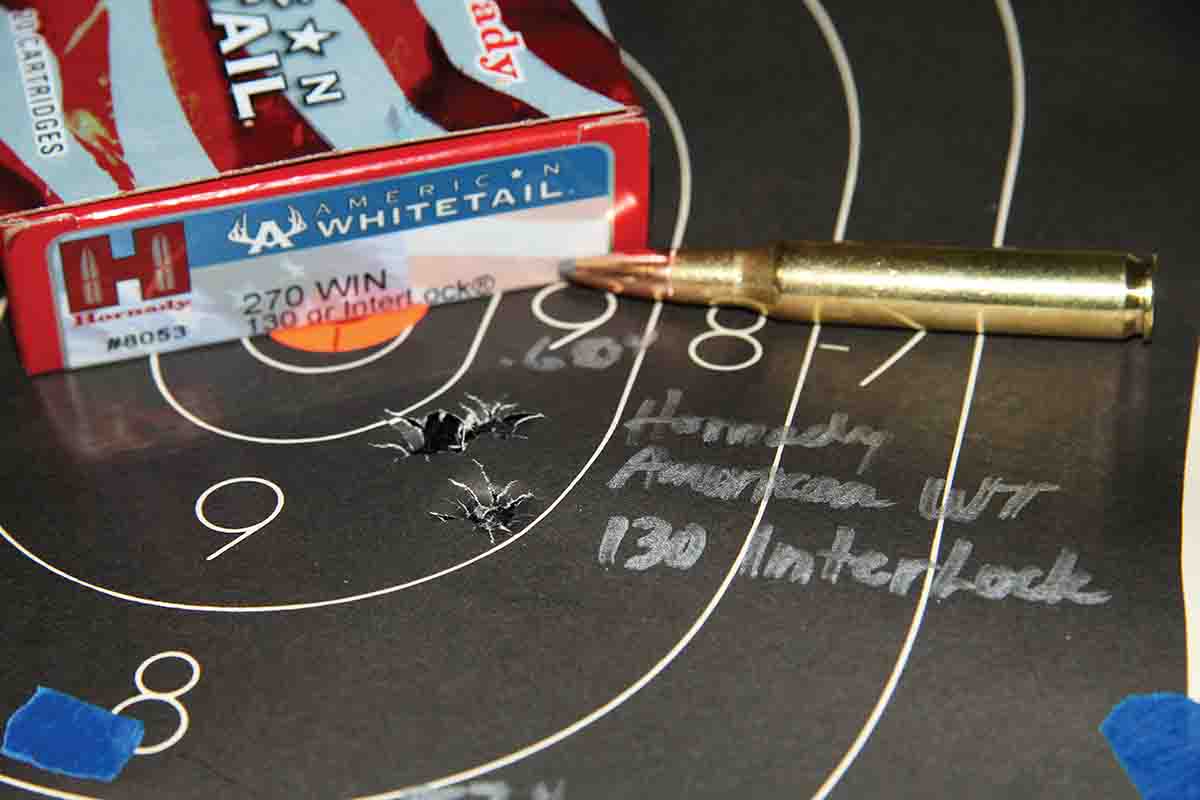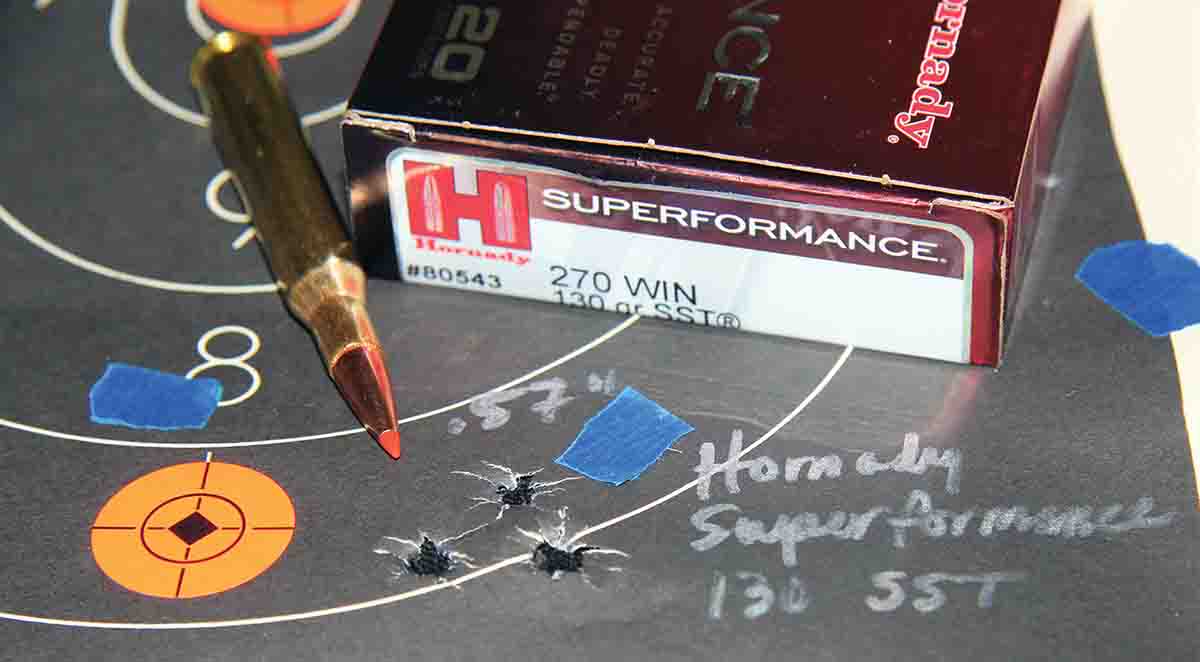 Hornady's 100-grain GMX – a poly-tipped, controlled-expansion mono-copper bullet – seated over 57.5 grains of Alliant Reloder 16 broke an inch, while Reloder 26 combined with Hornady's 120-grain SST produced the tightest handload group of the test – .65 inch at 3,018 fps. The Mauser especially liked Berger's 140-grain VLD Hunting, groups hovering around ¾ inch with 55.5 grains of Vihtavuori N160 at 2,806 fps, and 54 grains of Ramshot Hunter at 2,820 fps. I feared going in that Nosler's sleek, long-for-caliber 165-grain AccuBond Long Range might fail to stabilize from the rifle's standard 1:10 rifling twist and my range's 3,200-foot altitude. While the AccuBond LR slugs certainly did not provide the tightest groups of this test, they also did not produce the worst, with groups hovering around 1½ inches – though more altitude, say 5,000-plus feet above sea level, would likely improve accuracy.
My tastes in rifles have slowly evolved through the years. Years ago, Mauser's aesthetically perfect M98s, with their gorgeous, hand-checkered walnut and engraving would have appealed to me mightily. I certainly appreciate that beauty today, but as I grow older, my tastes have begun to shift irrevocably to the completely practical. So, I really liked the M18 Savanna. It is a straight-forward working rifle, a wholly practical tool with an ergonomic beauty of its own, an accurate rifle and one I would proudly take into the field. As for the 1925-released .270 Winchester cartridge – and my apologies to Jack O'Conner and tradition and all who hold it dear – I have and still do find it a bit, well, boring. Chambered in .243 Winchester or 6.5 PRC, and this would be a rifle I would seriously consider purchasing. Not because I need another rifle – lord knows – but because it is a Mauser and a whole lot of rifle for a little bit of money.