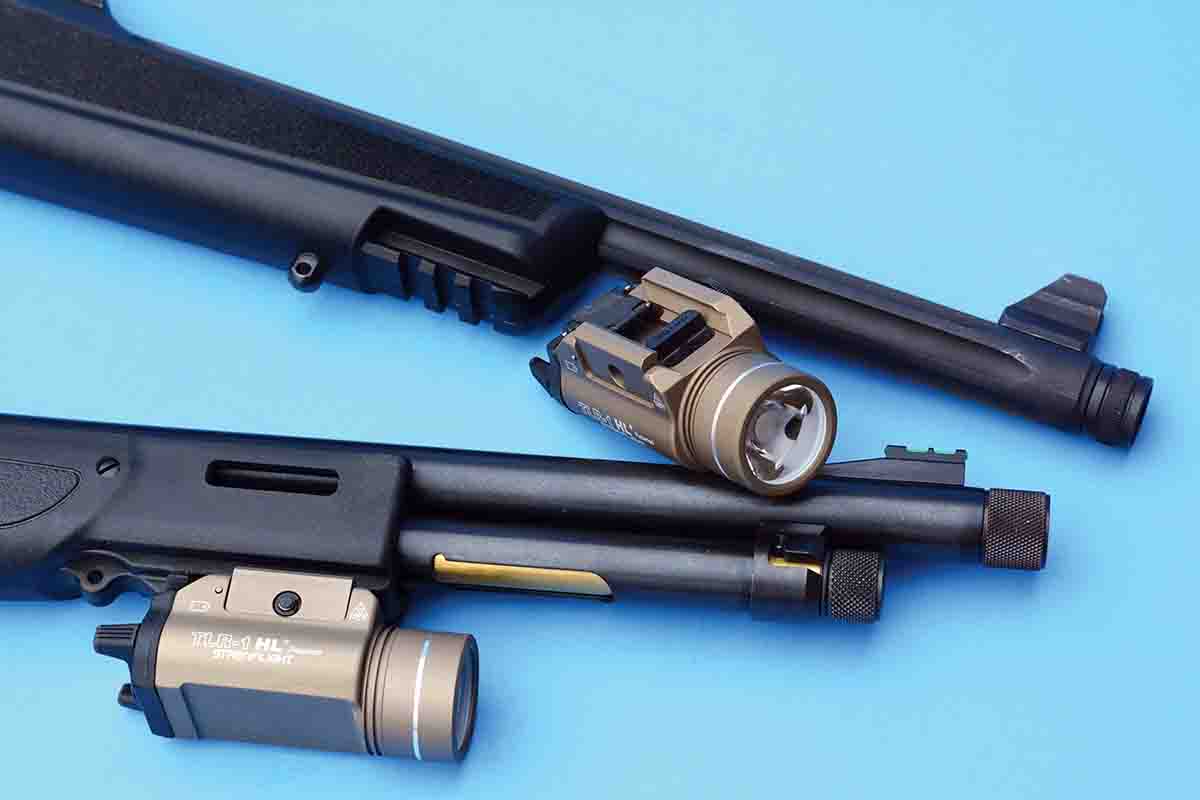 Rifles have really changed over the past few decades. In the post-World War II era, many sporting bolt-action rifles were not even drilled and tapped for top-of-receiver scope mounting, They were equipped only with good old iron sights. Also, it was not that long ago that I was fabricating hardware to attach large and low-power flashlights (at least by today's standards) to rifles to deal with barnyard pests and varmints after sundown. Today, many sporting rifles are standard with cross-slot accessory mounts and/or a Picatinny rail that readily accepts compact, lightweight, yet powerful lights.
Another significant product commonly attached to rifles is the reflex sight (aka reflector sight), or more commonly known as red dot sights. While they have been around for a long time, dating back to 1900, they have been used as a sighting method on fighter aircraft during World War I and to a greater extent, during World War II. They remain in widespread service on modern high-tech weaponry. They have also been ideally adapted to sporting rifles and are widely popular with hunters, competition shooters and used in military and defense applications. Plus, these quality versions are incredibly tough. In spite of advancements in optical sights, comparatively low-tech aperture "iron" sights are still very useful, rugged, lightweight and can provide remarkable accuracy, such as those offered by Skinner Sights. Let's take a closer look at a few examples of each that might be considered as an accessory for rifles.
Streamlight TLR-1 HL LED Flashlight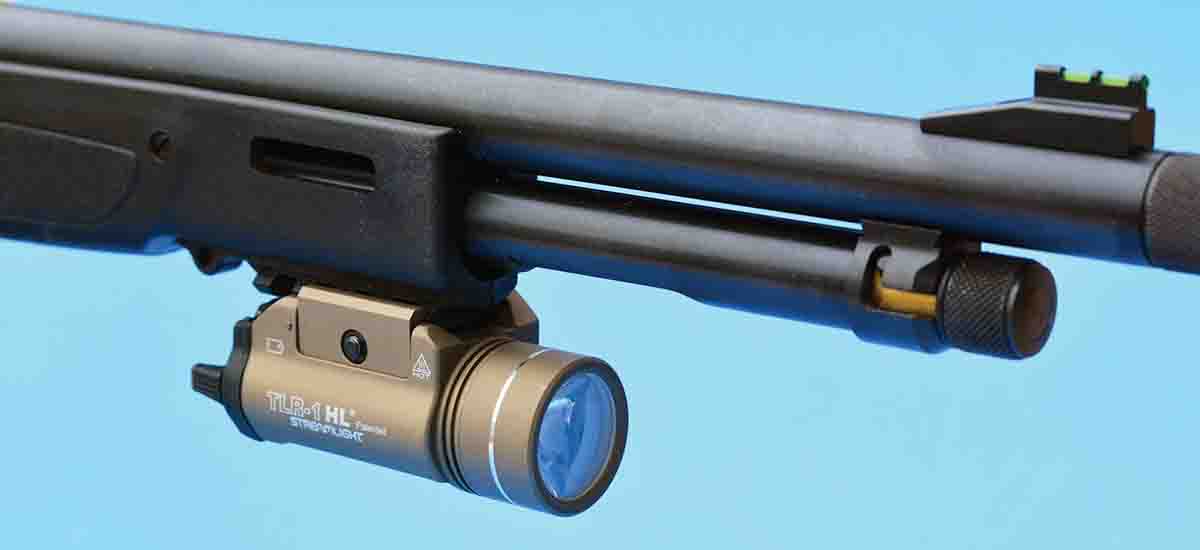 Advancements in flashlight technology in just the past few years have been incredible, which has naturally been applied to ready-to-attach lights for firearms. Competition is fierce and there are products offered that fit almost any budget. With that said, quality products are always the best route, as they work when they are really needed, but neither is it necessary to break the bank to obtain one.
A great product that offers a great blend of performance, reliability and value is the Streamlight TLR-1 HL. It is available with 800 and 1000 lumens and comes in black or dark-earth brown colors, with the latter being used herein. It is powered by two CR123A 3-volt lithium batteries (a very common battery) that are quick and easy to change. It is also rated as IPX7 waterproof.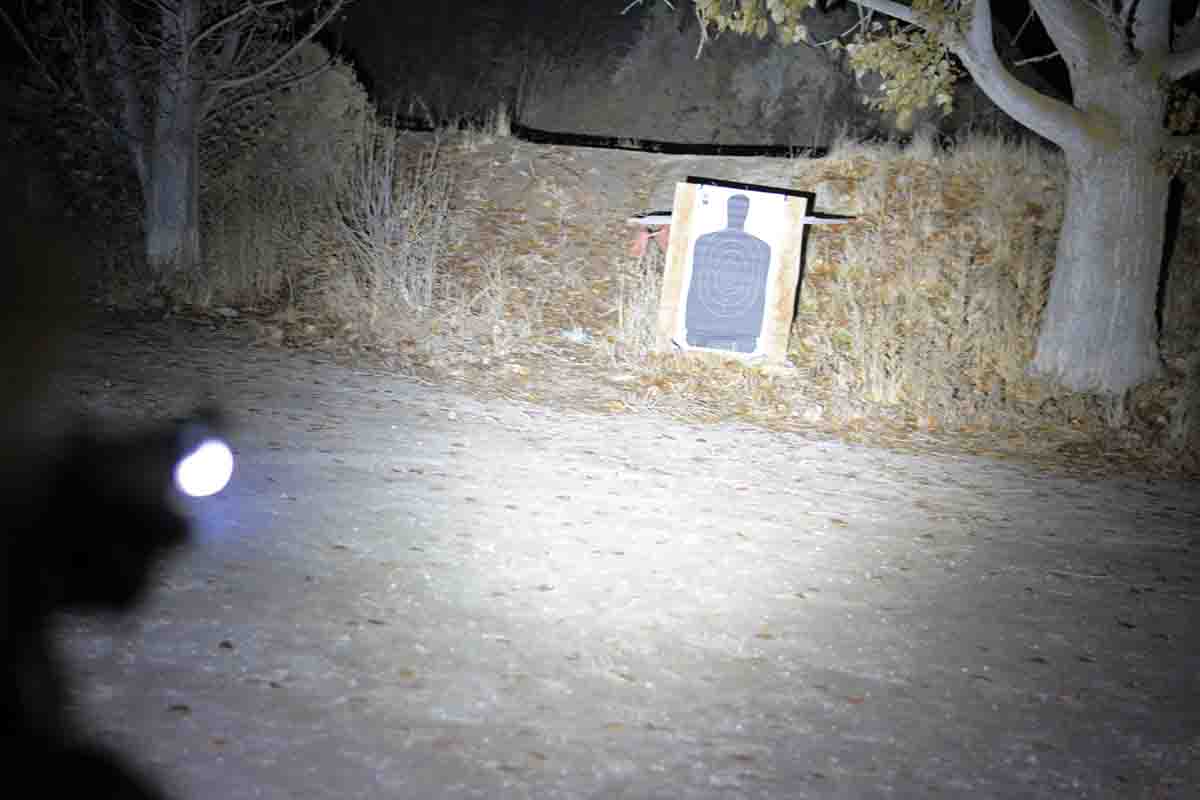 As expected, the housing is fully machined aircraft-grade alloy and features an integral mount to correspond with various rails. It also comes with interchangeable polymer rail keys (or cross-slot lugs) that correspond with different rails including GL, TSW/99, 90two, P320 and 1913. In essence, a perfect fit can be achieved with almost any common rail that will prevent it from working loose or coming off during recoil.
The Streamlight features a dual paddle switch that is located on the back of the housing and easily operated by either right- or left-hand shooters. There are three light modes; including constant, wherein it stays in the ON position; momentarily wherein it turns off as soon as the paddle switch is released and strobe mode. The strobe mode is achieved by turning the paddle to the constant position twice within .4 seconds. The system not only works well, but is natural to use, which is important in any situation where a firearm light is needed in a hurry.
With batteries installed, the Streamlight weighs a tidy 4.3 ounces. The light I tested is the 1000 lumen version, which has a street price of around $140, while the 800 lumen version runs around $125. Either version is fine, but for an extra $15, the 1000 lumen version is the clear choice. It is assembled in the U.S. using parts that are USA-manufactured as well as imported parts. I am very impressed with the Streamlight, as it is bright, reliable and a very useful accessory.
Vortex Razor Red Dot Reflex Sight LED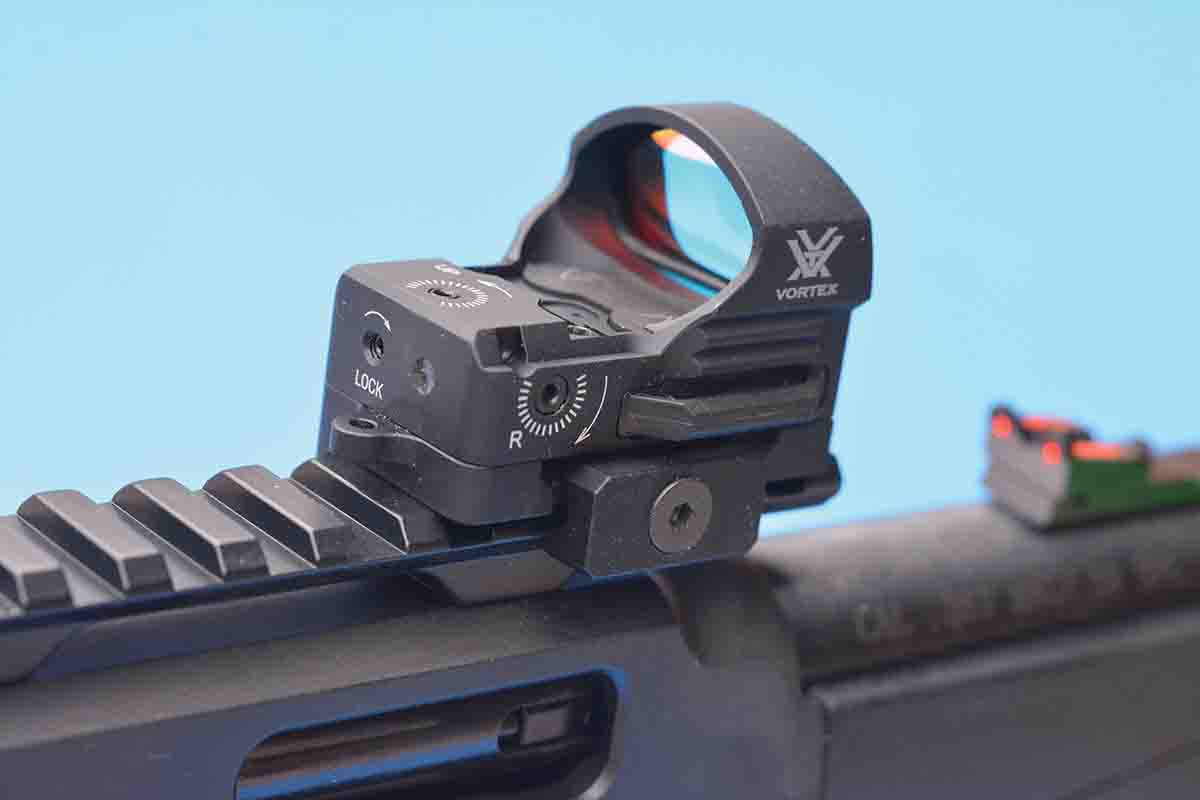 As indicated, reflex sights have been around for 123 years and were immediately used on firearms at that same time (1900). While their popularity on sporting guns was limited for decades due to the lack of commercial offerings, today, they have become widely popular as a sighting accessory for a variety of firearms including handguns, shotguns and rifles.
They are especially useful where a wide field of view is needed, for fast target acquisition and shooting in low-light conditions, but are at their best when used at short to moderate ranges. They are not great choices for long-range or precision work. Reflex sights boast of little or no parallax, so perfect eye alignment with the illuminated dot is not critical. In other words, just get on target and fire!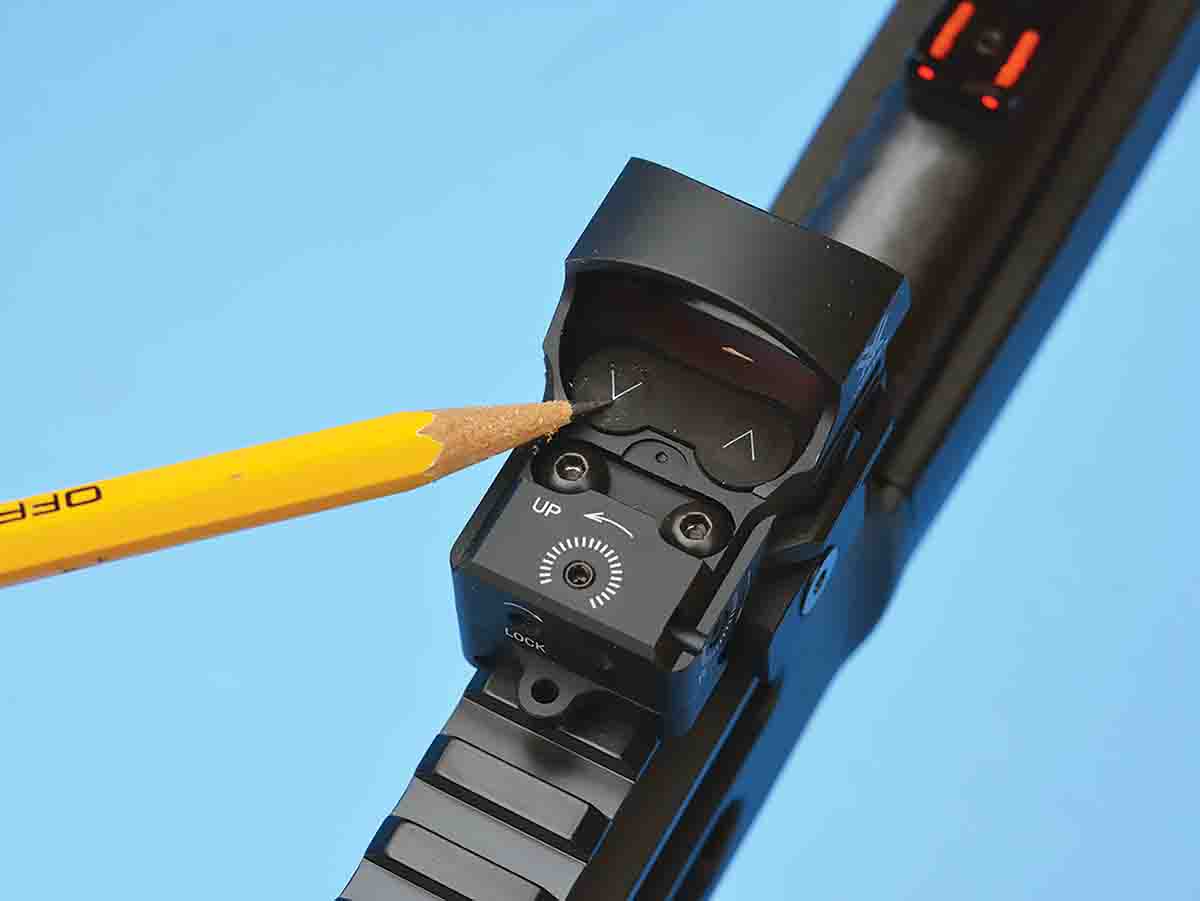 A sight that offers a combination of performance and value is the Vortex Razor Red Dot. It is pre-mounted on a Picatinny rail mount (with other mounting base options available) and features 1x (or no magnification) with unlimited eye relief and has a scratch-resistant coated lens. It is available in either 3-MOA or 6-MOA dot with my test sample being the 3-MOA version. The ON and OFF controls are easy to operate and so are the brightness adjustments that share the same two push buttons. Incidentally, there are 10 brightness levels to allow in-the-field tuning for different light conditions. It is powered by the popular CR2032 battery (easy
to change) that offers about 2,000 hours of service or 83 continuous days. Replacement batteries are available for less than $2. It is constructed of one-piece aluminum and is waterproof and shockproof. Included is a snap-over protective cover for when it is not in use. With a battery installed, the Razor weighs a mere 2.4 ounces, which helps keep the weight of the rifle down, which can be important.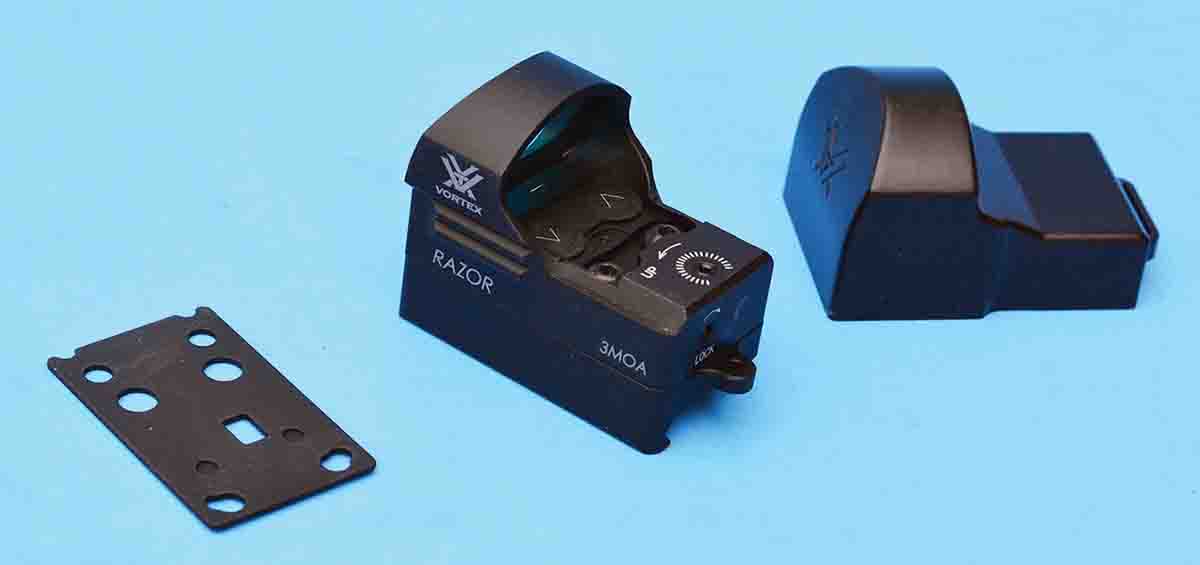 The Razor features 1-MOA click adjustments for windage and elevation. A lock screw secures the adjustments, but it must be loosened prior to making point of impact adjustments and then retightened after changes are made and before firing. During testing and sight-in, adjustments worked positively.
The Razor was installed on a Henry Big Boy X-Model lever action chambered in .357 Magnum. It is positioned high enough that the factory original open sights can be retained. It's lightweight and its compact size help the Henry rifle retain its balance and fast-handling nature and it has performed reliably through many shooting sessions. The Razor is made in Japan and has a street price ranging from $375 to $400.
Skinner Sights Peep Reliable and Peep Express Aperture Sights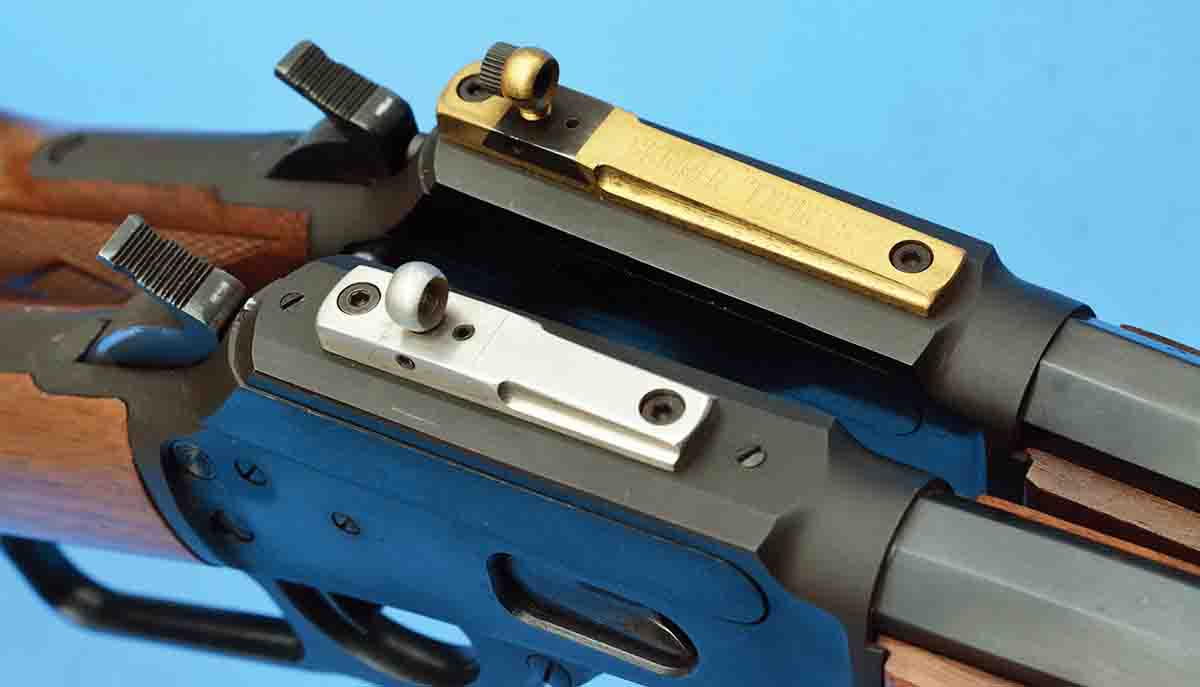 To shooters that have not had the proper experience with aperture sights, they often do not understand their virtues and real potential. When they are mated to a correct front sight including size and shape, and used in conjunction with a proper target, amazing groups can be obtained. I once had a friend that specializes in custom work to AR-pattern rifles come to visit. When he arrived, I happened to be on my shooting range working with an original Winchester Model 1895 with factory aperture sight and had proper targets already in place. He handed me one of his custom AR-15 rifles and asked what I thought. So I retrieved some of my .223 Remington handloads that were match-grade and settled down on the bench with sandbag rests. The gunsmith looked at me like I was losing my mind and then says matter of fact, "It doesn't have a scope, so you won't be able to tell how it really shoots." I didn't say a word, I just smiled and focused on my shooting. The first group, fired at 100 yards, consisted of five shots and measured just under a half-inch, while the second group was basically the same size. He said, "I saw it and I don't believe it…I have never seen anything like that!" The principle is easy; the human eye has the ability to perfectly center the front sight in the center of the aperture hole. There is no parallax or fogging. They are not sensitive to sun positioning and "field" size apertures let in plenty of light for good shooting under reasonable light conditions. Also, they boast of being lightweight, accurate and rugged, making them a truly simple, yet amazing sighting device.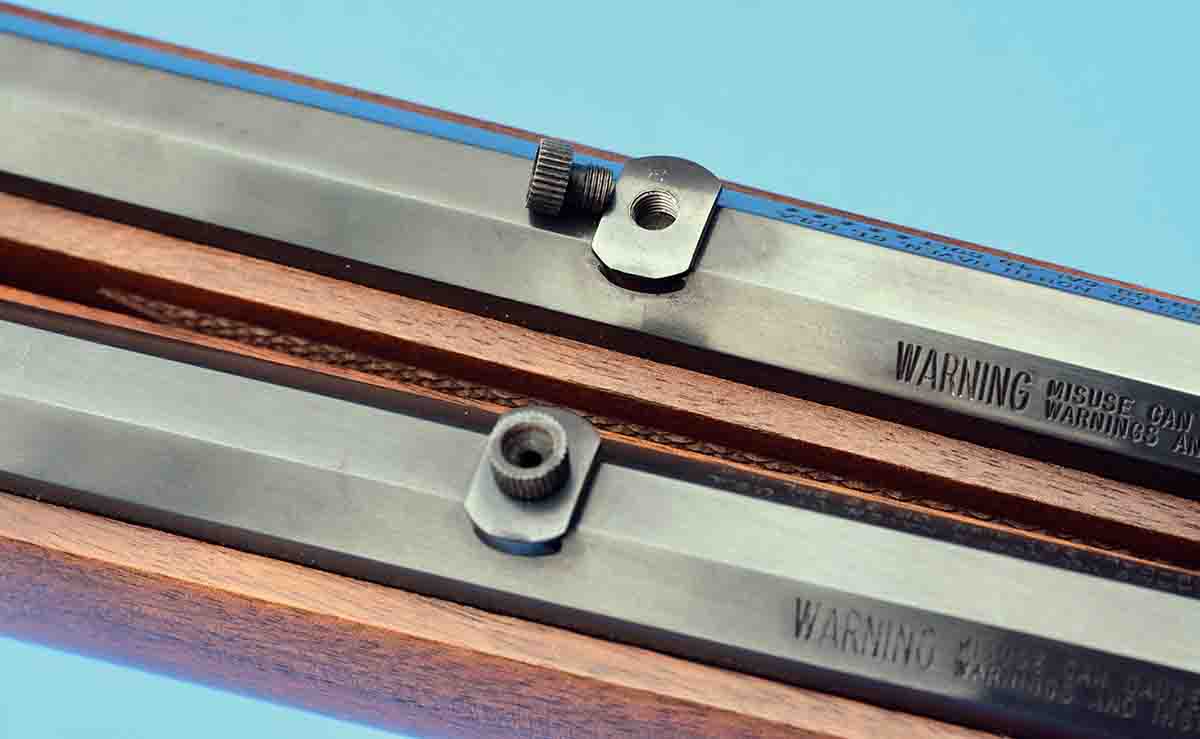 One of the great aperture sight companies is Skinner Sights, which is owned and operated by Andy Larsson and is 100 percent built in Montana. They make many, many products for a variety of guns, but they are probably best known for their sights for lever-action rifles, but especially those for the hugely popular Marlin rifles.
Let's briefly look at three variations including the Express with Scope Mount, Express and Reliable. The Scope Mount version readily accepts Talley quick detachable rings to allow quick change from scope to aperture sight and back without losing zero for either. The Express is a long version of the Reliable and are both best sellers.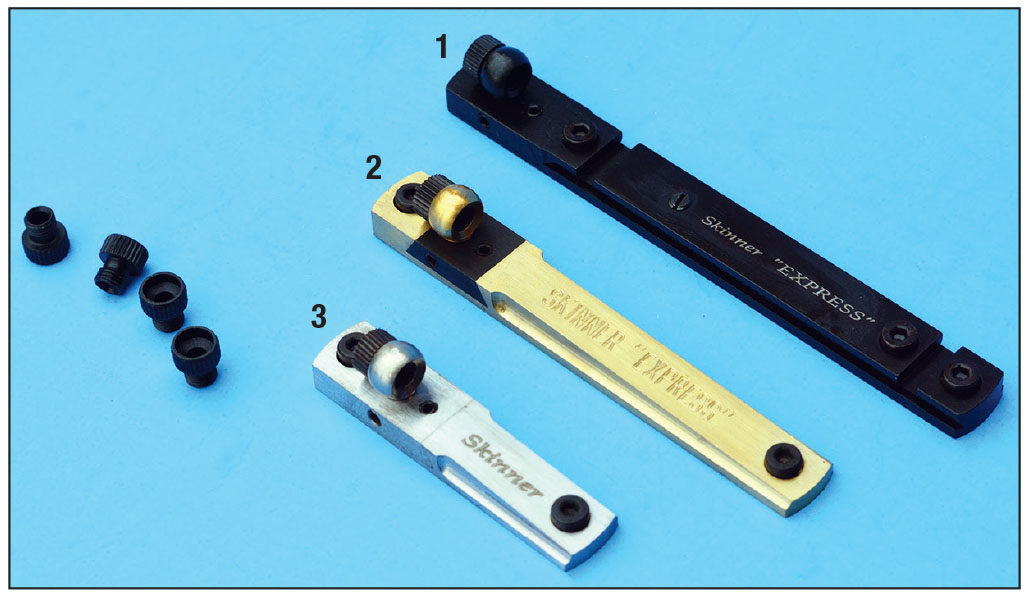 In short, the base of each of the above sights mounts directly to the top of the receiver, which makes them strong, very difficult to break and unobtrusive. They flow with the receiver, making them a handsome addition, but still allow the receiver to be cradled in the hand when hunting, etc. The peep is threaded into a dovetail, which in turn is mounted into the base to allow windage adjustments. To make elevation adjustments, loosen the peep set screw and turn the peep up or down as needed and then set the lock screw. Incidentally, the peep serves as a ghost ring, but is also threaded inside the aperture to allow additional apertures with different hole sizes to be quickly installed as needed. Generally speaking, the ghost ring is excellent for fast shooting, low-light conditions and offers better visibility on moving targets. Smaller apertures are better for more precision shooting. Incidentally, Skinner offers a threaded Dovetail Slot Blank that holds an extra aperture, giving shooters and hunters a readily available optional aperture size. The ghost ring hole measures .200 inch, while extra apertures are available with hole sizes of .040, .070, .096, .125 and .155 inch. The sights are available in carbon blue steel, brass or stainless steel and can be ordered with different component combinations for that custom look.
In weighing a stainless steel Reliable, a brass Express and a blued steel Scope Mount, they weighed 1.1, 1.8 and 2.3 ounces respectively. Many additional models are available including Hepburn, Winged and Tactical. Regardless, Skinner sights are handsome and very practical. Prices start as low as $65 and can be ordered factory direct at SkinnerSights.com or email andy@skinnersights.com.